Oh geeze... where did I last leave off? I literally have no time on weekdays to do anything. Work, gym, eat, sleep. That's my life these days. Occasionally I give myself a day off from the gym but on those days I like to go thrift shopping. Yes, that's totally my thing these days. The only department I like to thrift from is the home and kitchen area. I go nuts in there. I've found some really great things but I'll have to share those some other time.
Today I wanted to catch up on well... everything. But the reality is, the best I can do is catch us up from March to the beginning of April. The rest I shall blog about later.
As you may know, I am very fond of Winners. I've found some amazing stuff from there.
Take for instance these items I've come across before: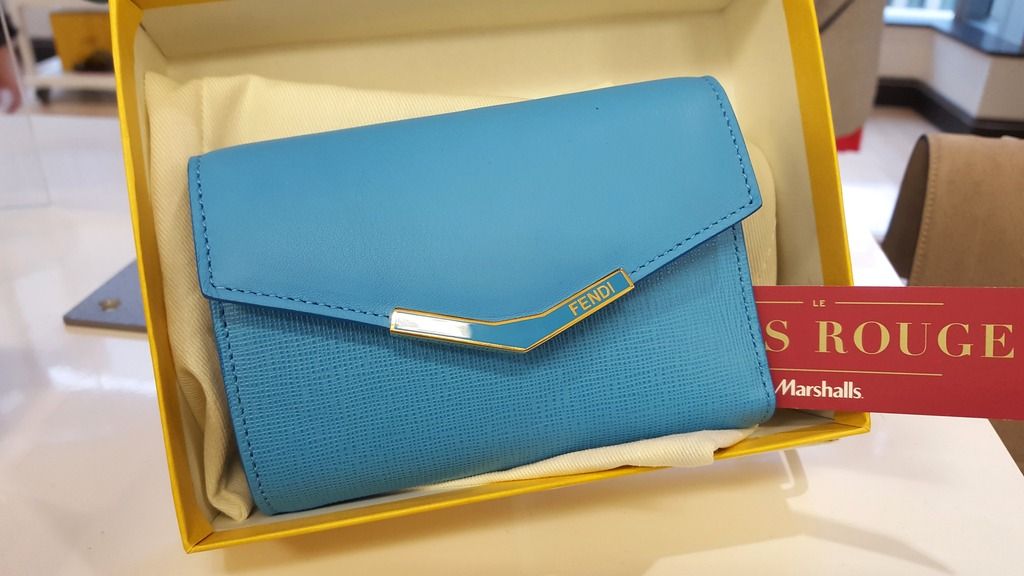 If I had a lot of money, I would have
totally
got this. The colour is
gorgeous!
I would love to buy a Fendi bag in this colour one day.
Hellooo Celine Phantom bag. Not necessarily a colour I would buy but hey, it's Celine. On the right is Valentino.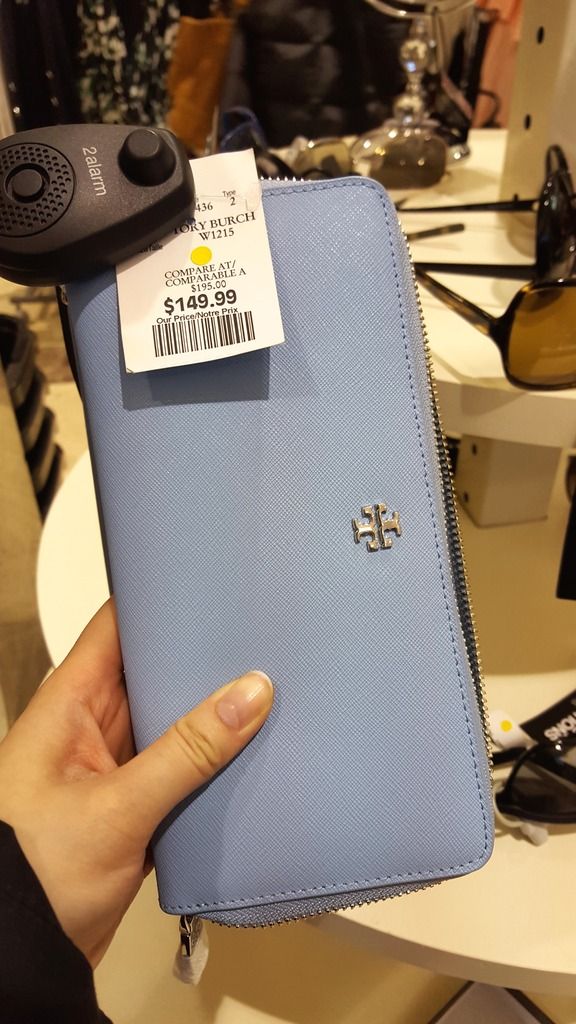 Saw this nice Kate Spade wallet. It was a really nice colour and inside there were a lot of card holders that lined vertically.
The only thing I ended up purchasing that day was this Kate Spade card holder. It's blue on one side and aqua green on the other.
I wish that these Fendi sunglasses fit my face. The shape was perfect for me but since the sides were too wide, it couldn't stay on my face. Too bad.
And look at what I found! Daniel Wellington watches..!! I bought
the one I gave to the Mister
at
online
for a lot more.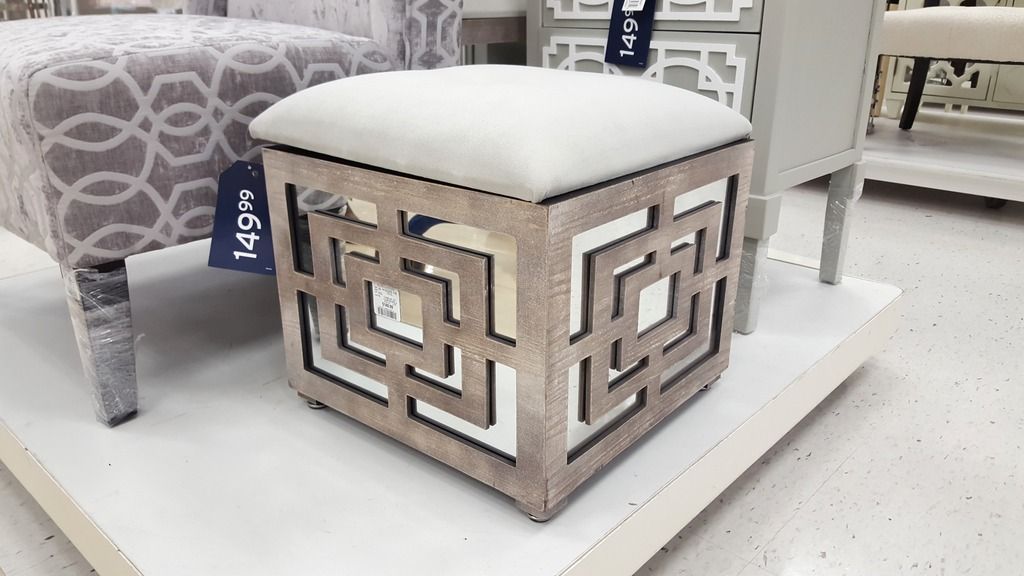 I wish I could've taken this home. It was gorgeous piece. But alas I have no space in my room for it.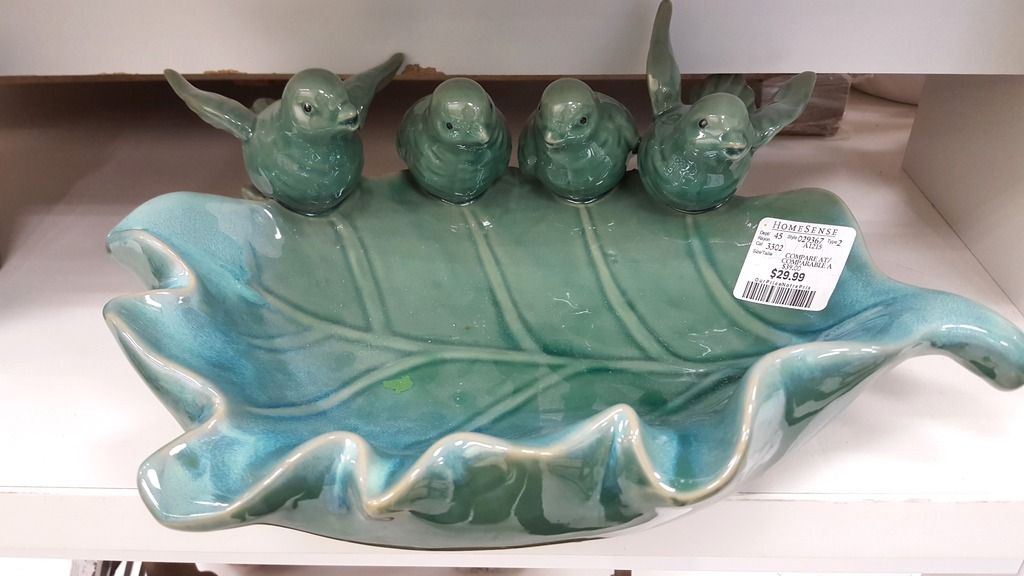 Don't know why but I liked this bird bath.
I've also found some really great brands in the beauty department. Brands that include Estee Lauder, Paul and Joe, Shiseido, Lancome etc. The above is what I picked up while shopping one day.
On another glorious shopping trip to Winners, I managed to find the best Calvin Klein bras, and some were even severely marked down in clearance!! I never was able to find Calvin Klein bras on sale before, but it was all thanks to my sister who notified me. The past few months I've been desperately trying to find nude CK bras and was even contemplating buying them full price from The Bay. These retail for $50+ each! I definitely got lucky.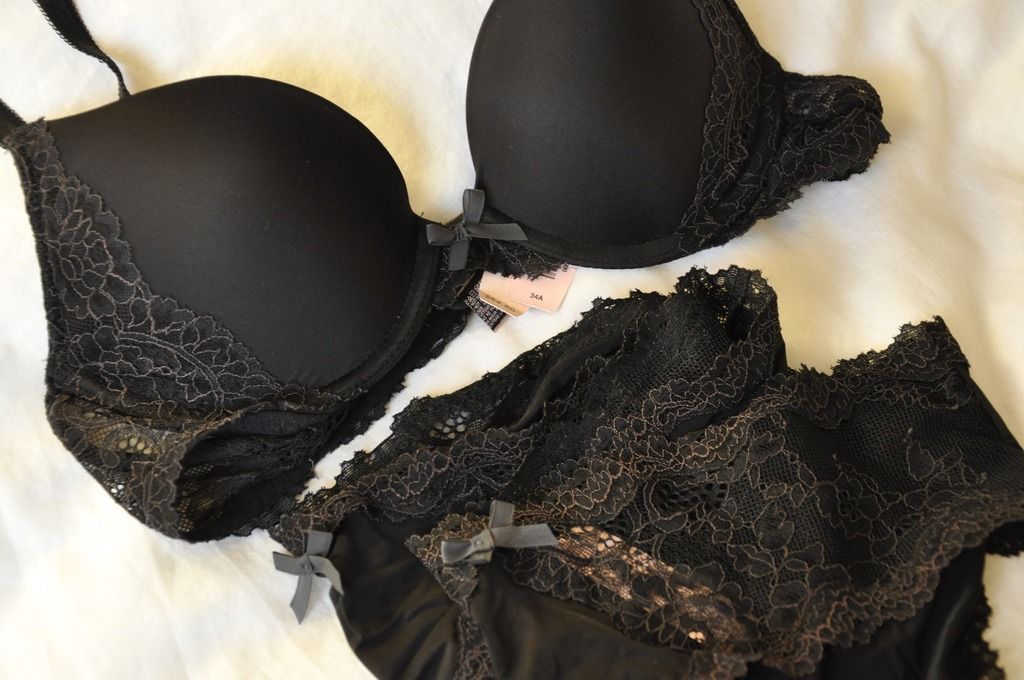 But before buying the Calvin Klein above, I went to Victoria Secret on a mission to finally buy some of their undergarments. I'm not sure if it was because of the particular location I went in, but I barely found any bras in my size- let alone basic bras. The one shown above was the
only
one that I liked in the entire store. It was $54.50 and the panties were around $11-12 each. Since I spent over $75, I got a free tote and sandals that I'll probably never use LOL. I wanted to try Victoria Secret because I wanted to see what the hype was about, but honestly, I'd rather buy the Calvin Klein ones. Not only do they carry the best basic ones, they have the same quality and most are even made better than the VS bras (at least the ones I saw). Plus, the best part is that I can totally score on sales.
The majority of the bras I own are from Calvin Klein. I'm a bit of a bra hoarder, so here is a glimpse of the CK bras I own that still have the tags on. I'm telling you guys, Calvin Klein is the best! And they make really great panties as well.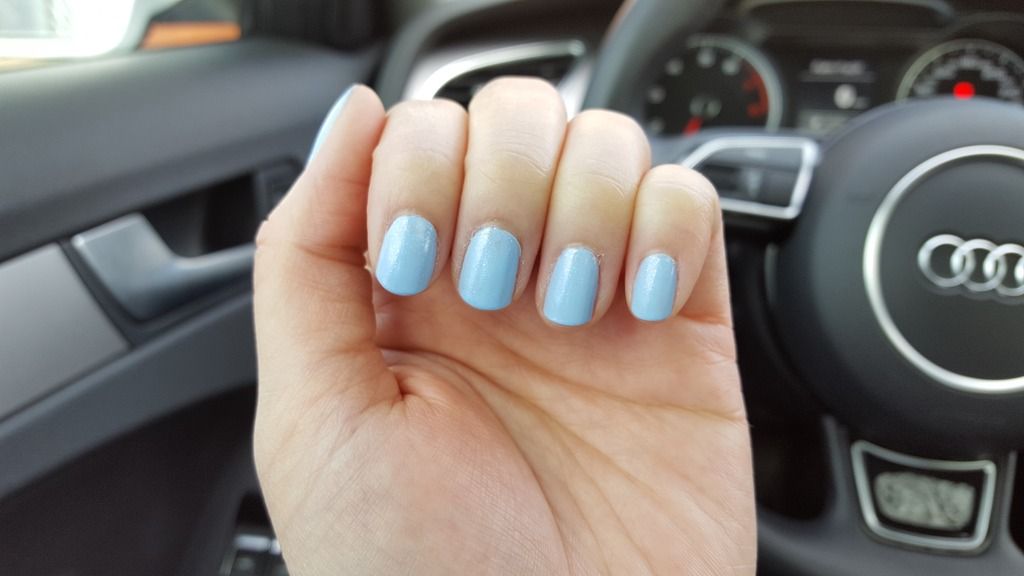 My nails some weeks ago. This is Essie's Pure Pearlfection over Bikini So Teeny. It's the prettiest combo. I haven't had the chance to paint my nails again for some time now :(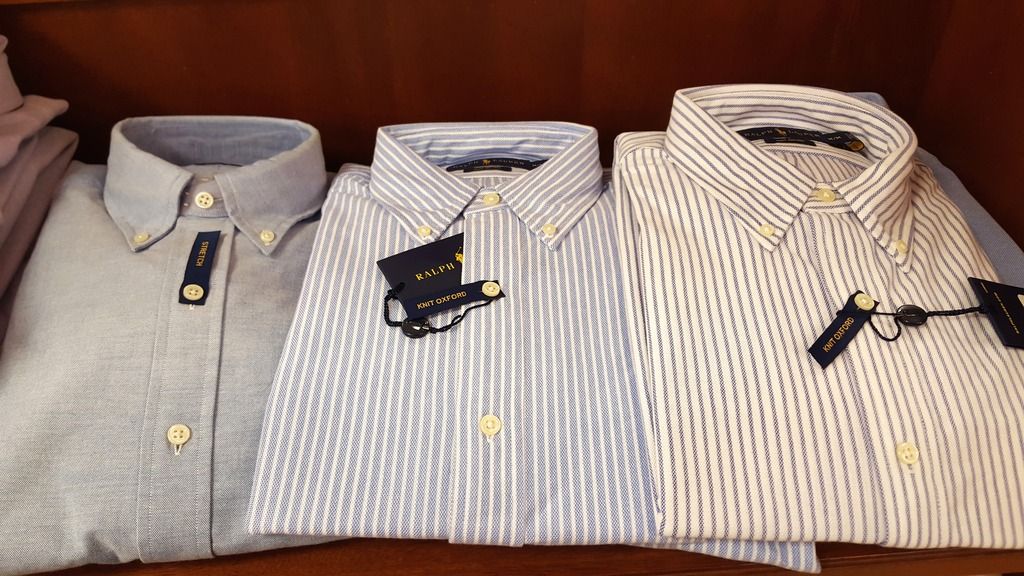 Polo shirts that I'd like the Mister to have one day. Unfortunately Polo never goes on sale... so we're stuck with forking over $100 per shirt. In the end it's worth it though because they're really well made and last for a long time.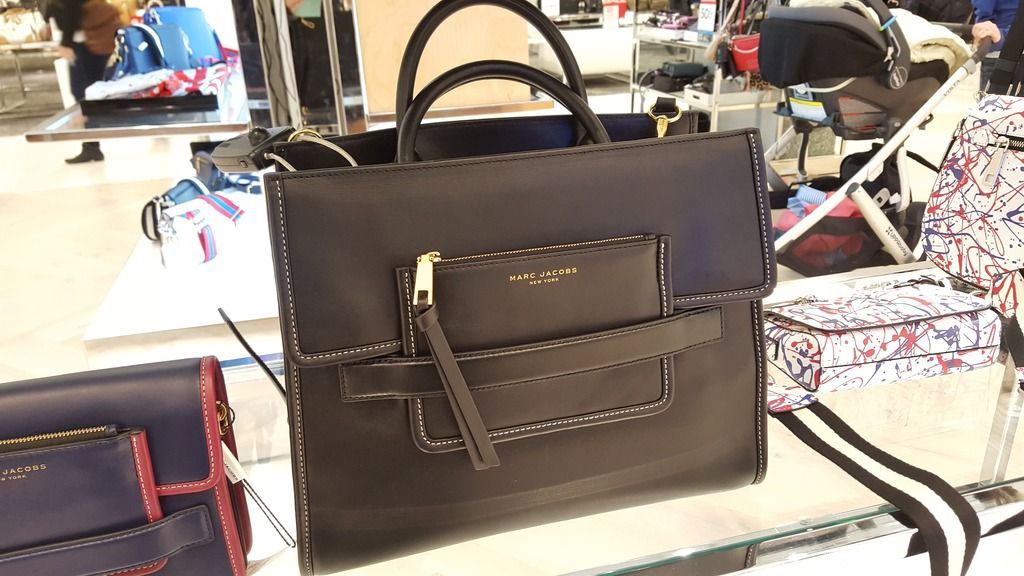 I like the Marc Jacob brand but his style of bags aren't that great in my opinion. This bag is one of the few that I actually like (emphasis on like, not love).
I liked the material and lavender colour of this MK bag. I was looking at these bags because I was shopping around for a bag as a reward for getting promoted at work. I got my bag already but have yet to reveal it to you :D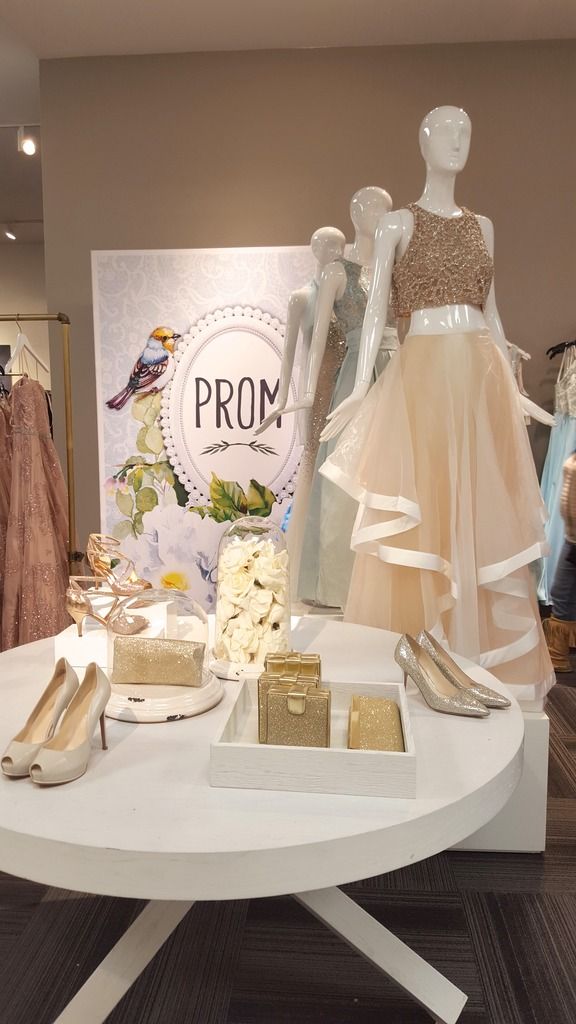 Remember prom anyone? I feel so old when I see prom stuff...
The Mister and I haven't been to Yorkdale mall in ages. Parking is a nightmare which is why we don't like going often. Hell, we even had to wait forever for our drinks at the Starbucks there. Yorkdale is too crowded!!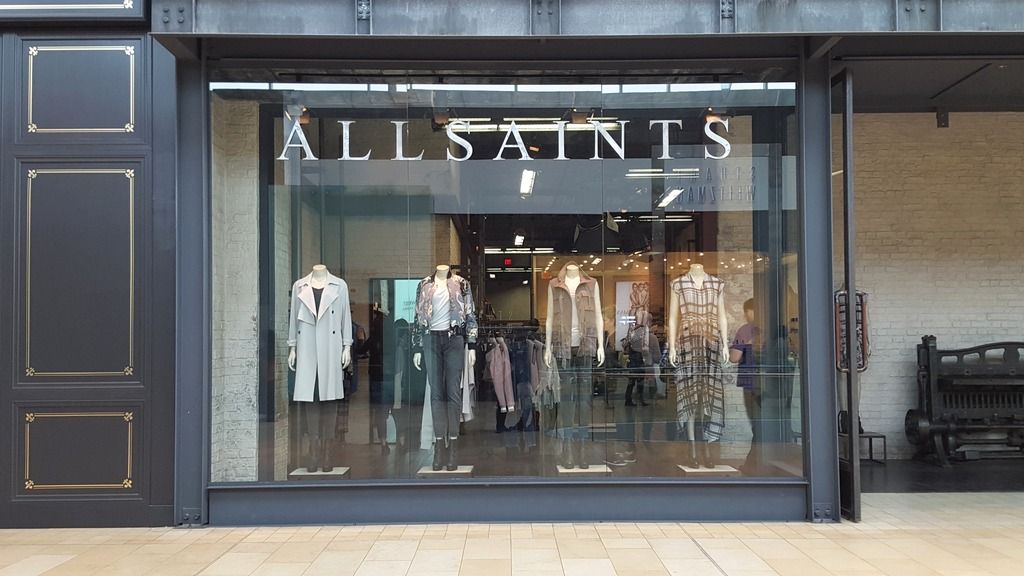 All Saints store. This place is expensive but they have some nice pieces. One day when I'm nearer to my goal weight, perhaps I'll buy something from here.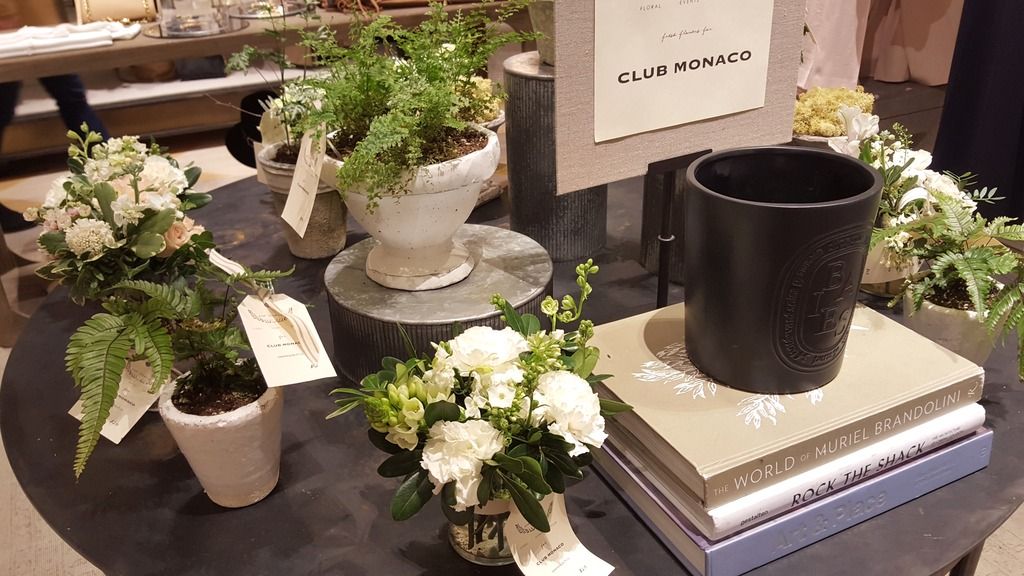 Club Monaco. Another store I'd love to buy from.
These Marc Jacob bracelets are $100 each. I like the look but damn that's expensive for what it is!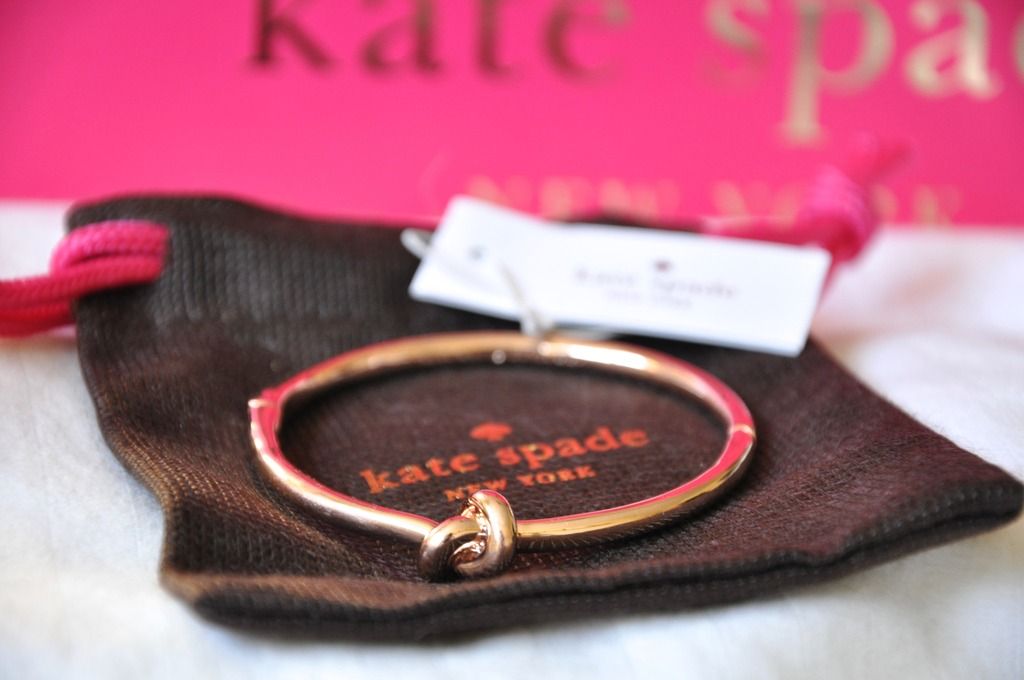 The Kate Spade store was having a 30% off everything sale at the time. I snatched this rose gold bracelet while I was there. I've been eyeing the silver version for a long time, but when I paired the silver with my white gold bracelet my mom gave me and my Pandora bracelet, there was too much silver going on. The rose gold added a nice interest to an otherwise too silver arm candy combo.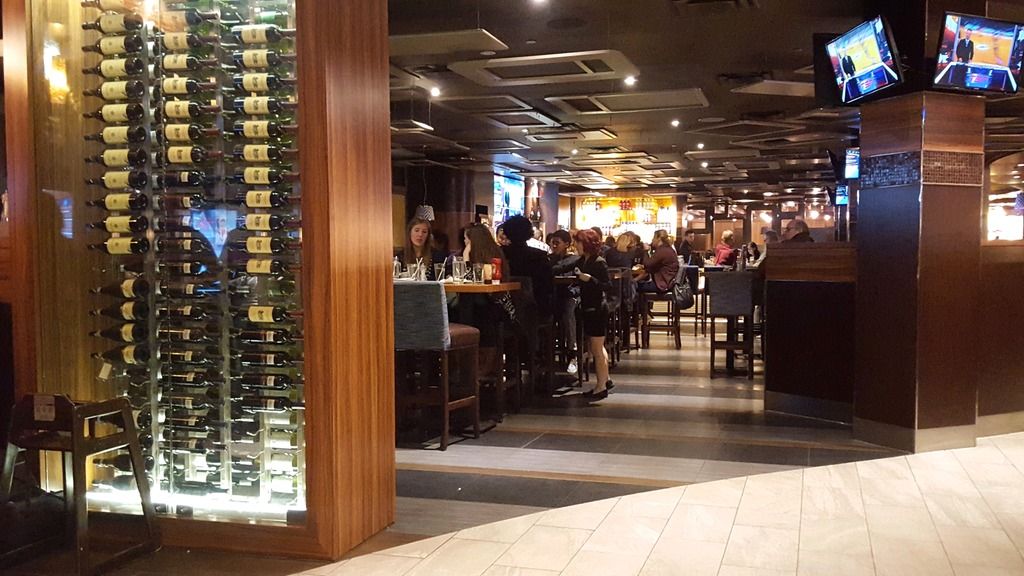 Then we got hungry and decided to visit Pickle Barrel. It was the first restaurant we dined together and had declared our favourite- which is no more since we've realized it's average compared to other places. By the way, we got seated in the most farthest and forgotten place. We weren't even approached by a waiter 10 minutes after we got seated. They apologized but the service we got was just terrible. We totally felt neglected the whole time.
We both got steak... and it wasn't great. I remember eating steak at Pickle Barrel before and I remember it being decent, but this time it was just ok. Not sure if my standards have increased or whether it was just this location or the chef who made it. The mashed potatoes and the caramelized onions weren't that great either. So I guess overall the dish was meh.
For dessert we chose to get the sampler. This is the Tiramisu and Chocolate Mousse. Finally. Pickle Barrel does a dessert right. These were scrumptious!
And to end off the post, here are some clothes I've bought over the past few weeks:
A lightweight Vero Moda jacket that I got on sale at The Bay. I've been meaning to buy one of these jackets since forever. All the jackets I own are a much heavier material than this easy breezy jacket. This has been great for a run to the grocery store or on warm but cool days that still require a jacket but is too warm for any jacket made with a heavier material.
A Vero Moda dress. This dress was initially the dress I was planning to wear to my cousin's wedding in May. Yes, one of my cousins are getting married! Our generation has finally reached that age. Eep! I've actually found another dress though because this one doesn't make me feel comfortable with all the extra weight I'm carrying around. My new dress, which I'll share later is more form fitting and the material is thicker which helps hide any trouble spots I have.
Some Top shop pieces I've picked up. To be honest, the way their clothes fit isn't that flattering (or maybe it's just on my body). The majority of shirts I've bought (with thicker cotton) have a lot of extra material around the waist, so that when I tuck it in my pants, there's a lot of extra shirt hanging around. It's probably made for more thinner girls, because even if they wear oversized, it doesn't make them look fat, it just makes them look almost effortless. On me, it just makes me look 10x bigger LOL.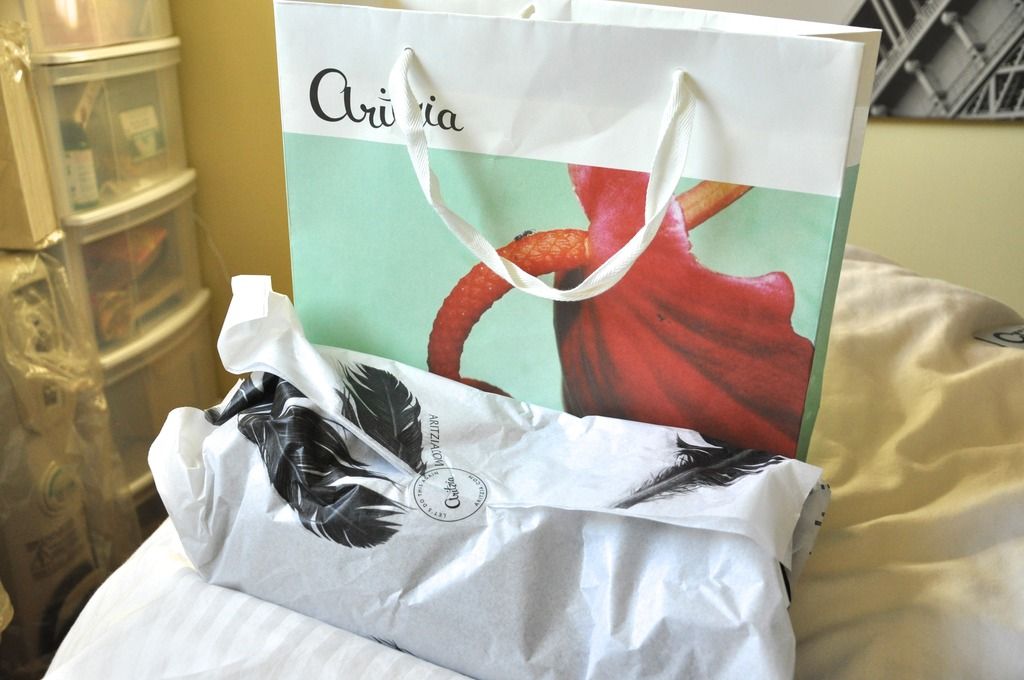 I've recently ventured into some stores that I've never bought from before. One store is Aritzia. I used to hate this store because back in the day everyone and their mom wore TNA yogo pants and carried around the bulky TNA bags. I once came in here trying to find a winter coat but I couldn't find one that I liked. I went in there again recently and tried on several pieces and only ended up purchasing a blazer. There was another chiffon-like top I liked but the price was ridiculous for what it was. Also, I hate their fitting room. There's no mirror inside so you're forced to go outside and let everyone see whether or not you look hideous or not. And the rooms are just curtains all round which make you feel like someone could accidentally open your "room" at any given time. Luckily I got smart and used the front camera on my phone to try to see if the clothes fit on me or not. It's not the best way to try on clothes but honestly half of those things looked dreadful on me and there was no way I was going to go parade myself outside for everyone to see. I swear this store was made for only people who are confident with their bodies.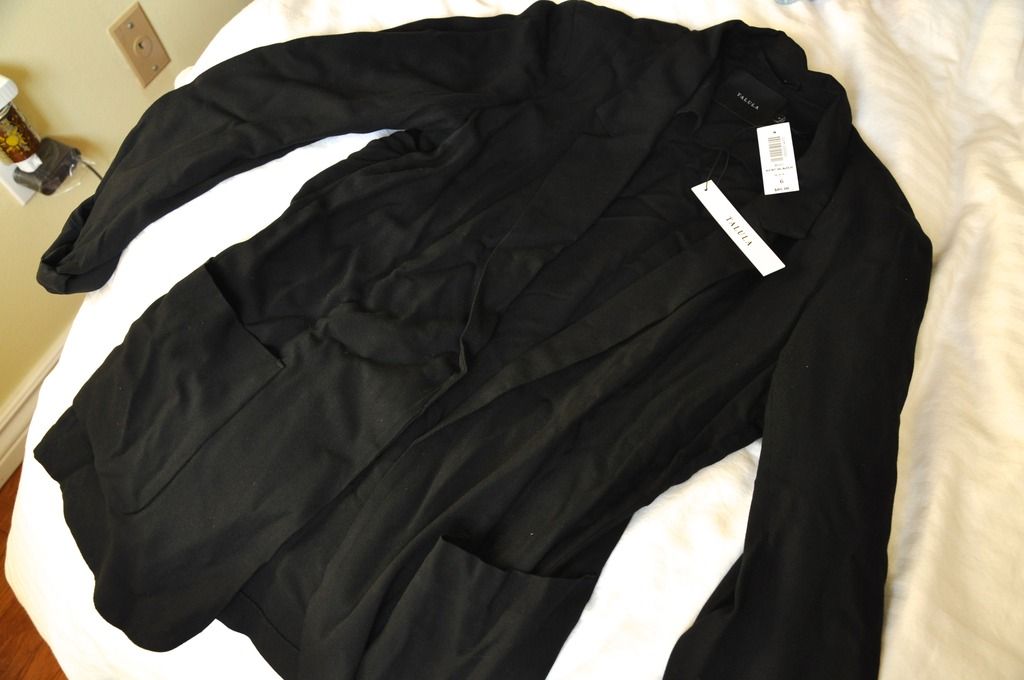 Anyway, this is the blazer I picked up. I like how it's more casual because the majority of blazer I own are all very formal and structured. This blazer I can wear up or down and can wear everyday without feeling too dressed up.
Lastly, I bought a pair of Logan pants from Banana Republic. This is another purchase from a store I've never shopped from. Their clothing is actually pretty nice. I've never bought before because there was no need since I had never worked in an office environment before. As you can see, the pants are a size 8; I used to be a size 6. I can't fit 90% of my pants :( Need to get back on track. I bought these because the cheap black pants I bought from
Design Lab
at The Bay wore down and got a hole in them. These Banana Republic pants are so comfortable and the material it's made from feels really high quality. Love them.
And that concludes this post for today! I really want to catch up some more and eventually do a post on the thrifts finds I've gathered. Some are really great things! Catch you next time.
"You are not required to set yourself on fire to keep other people warm." -Unknown