The Mister and I celebrated our 3 year anniversary back in March. Actually, it's probably confusing if a new reader comes along and reads "Mister" since it sounds like I'm implying that he's my husband lol. Make no mistake though, "Mister" was intentional since there is no other form you can call a man except Mr and Sir. With women at least you could use several forms: Miss, Ms, Mrs, Madame, Lady. One day when we get married, I'll be Mrs. and I'll refer to him as Mr.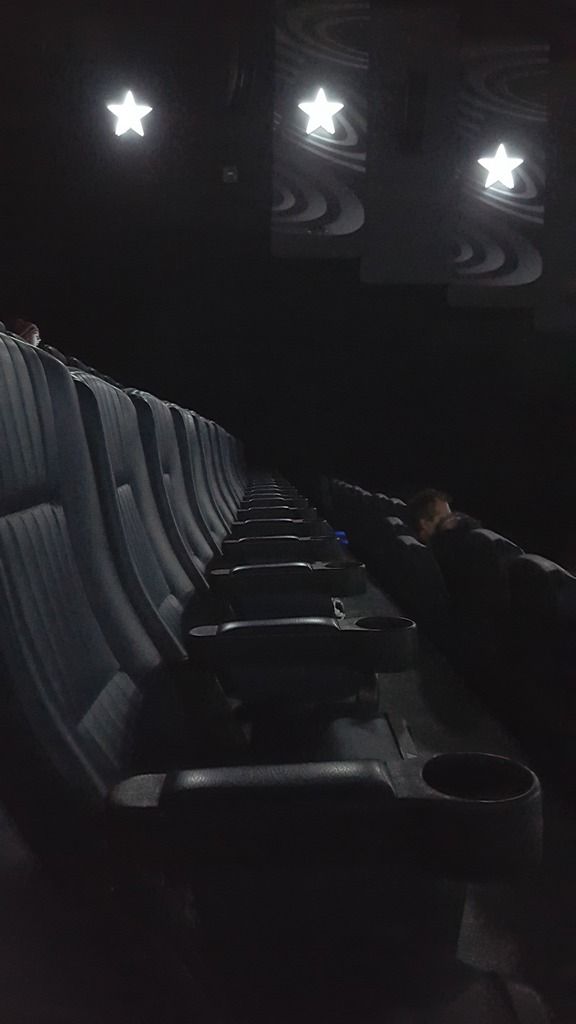 Anyway, this year the Mister planned it out. In the daytime we went to go watch Deadpool which we heard rave reviews on... it turned out be neither of our type of movie. We didn't really enjoy it. Actually, I thought it was okay and the Mister downright hated it. I gave it 2.5/5 and the Mister gave it a 0/5.
Then came the surprise dinner that the Mister had planned for us. I knew nothing about where he was taking me to eat except that it was a French restaurant (since he knows how obsessed I am with Paris, plus we had a great time in Montreal).
Auberge du Pommier
4150 Yonge St, Toronto, ON M2P 2C6
Taken from the site:
"Auberge du Pommier, the original jewel in the Oliver & Bonacini crown, has been serving Toronto diners since 1987. Constructed around the rustic vestiges of two 1860's woodcutters' cottages, this exquisite French restaurant offers modern French cuisine, inspired service and a 500 label wine selection. Enjoyment of seasonal menus are enhanced by cozy wood burning fireplaces in winter and lush, floral terraces in the summer. Weddings at Auberge du Pommier are breathtakingly beautiful."
The Mister read wonderful reviews on the restaurants, and it gets 4 star ratings!
Auberge du Pommier
is part of a group of restaurants that Oliver & Bonacini owns. They also own Bannock and Canoe- two restaurants that I have been really wanting to go eat at (I just found out now that they are all owned by the same mother company!). Beaumont Kitchen is also another restaurant we want to check out after seeing an ad in Sherway Gardens mall, I believe it's located in the Saks there.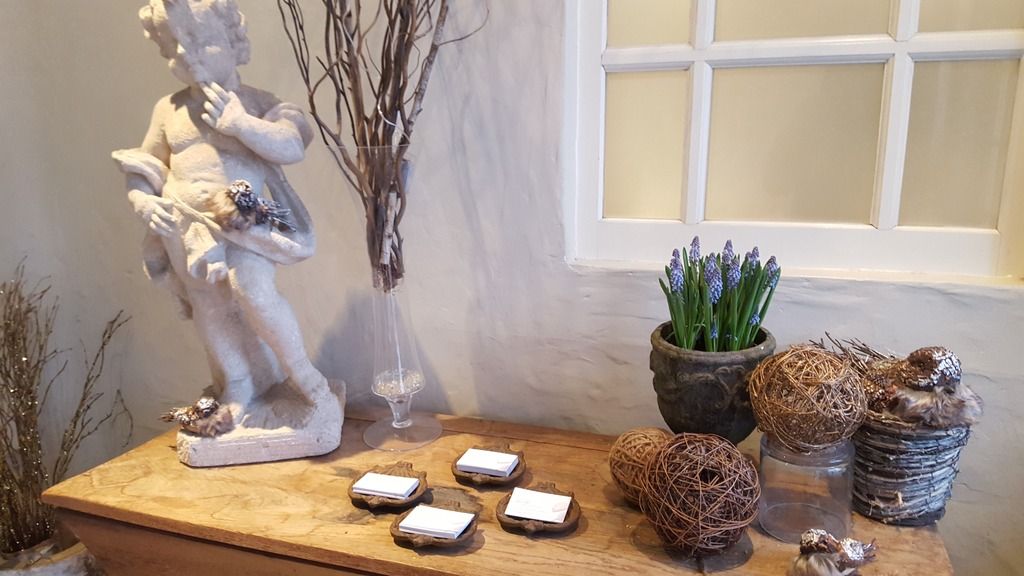 The restaurant looked so quaint and had quite the charm to it.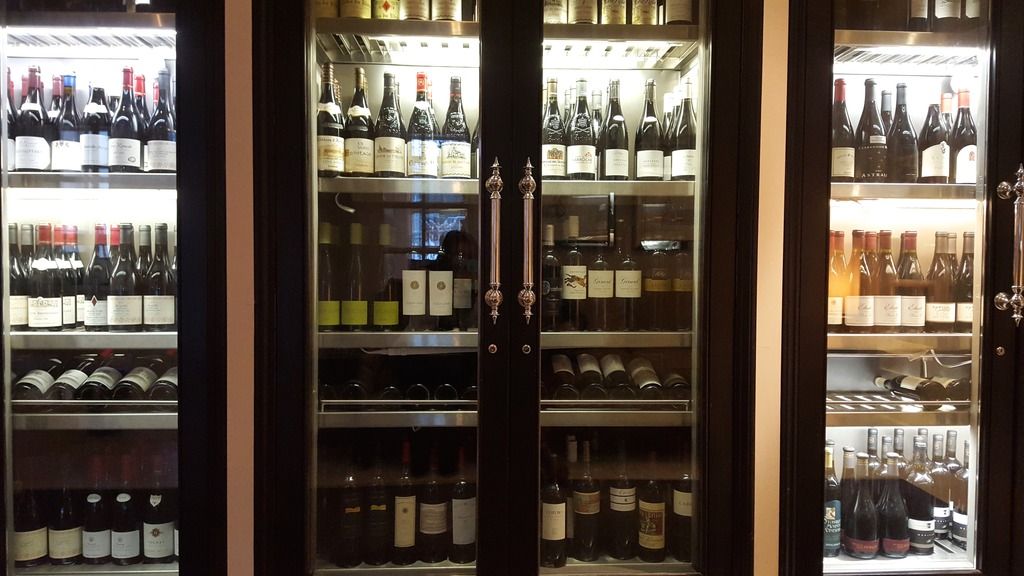 We came early (about 10 minutes before they actually served dinner) so we had to wait a bit.
I decided to be fancy and wear my Zara ankle high heel booties for the first time.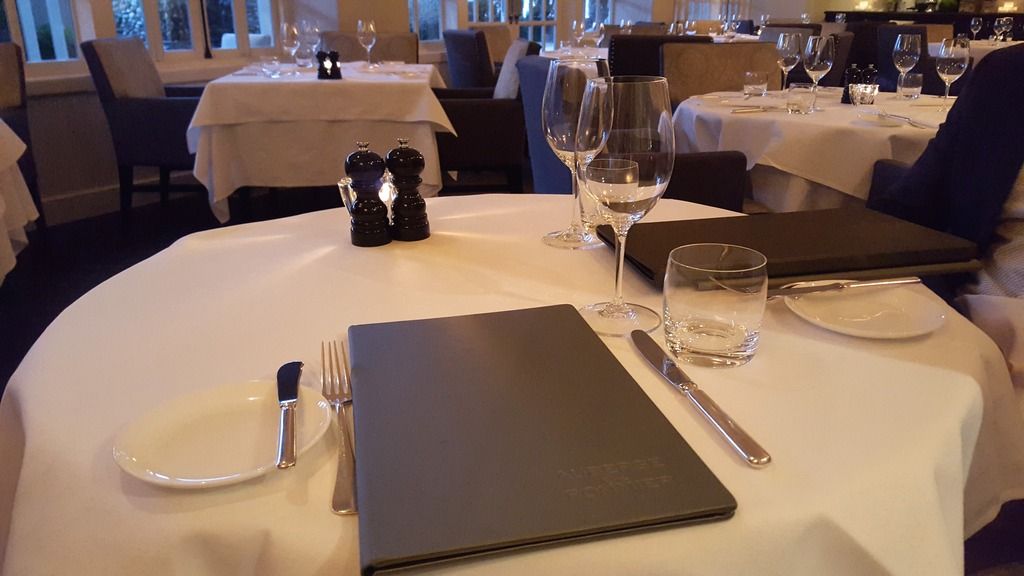 I think we got the best seats in the house that evening. We got seated by the corner by a real working fireplace that had a gorgeous view of the terrace. We really
loved
the crackling of the fireplace. I've always enjoyed the crackling sound but I think this was the first time the Mister was able to enjoy a real one. Soon after he told me he wanted a real one for our future home and that he would do all the maintenance for a real one. I don't think he realizes how much work it is,
but
I reassured him that we could have the same type of thing but in the form of a backyard fire pit instead. Our server told us we were lucky because it's not everyday that they turn the fireplace on. It just so happened that a winter storm was going to hit soon and so they decided to light a fire to keep the place warm. It was
so cozy,
warm and romantic.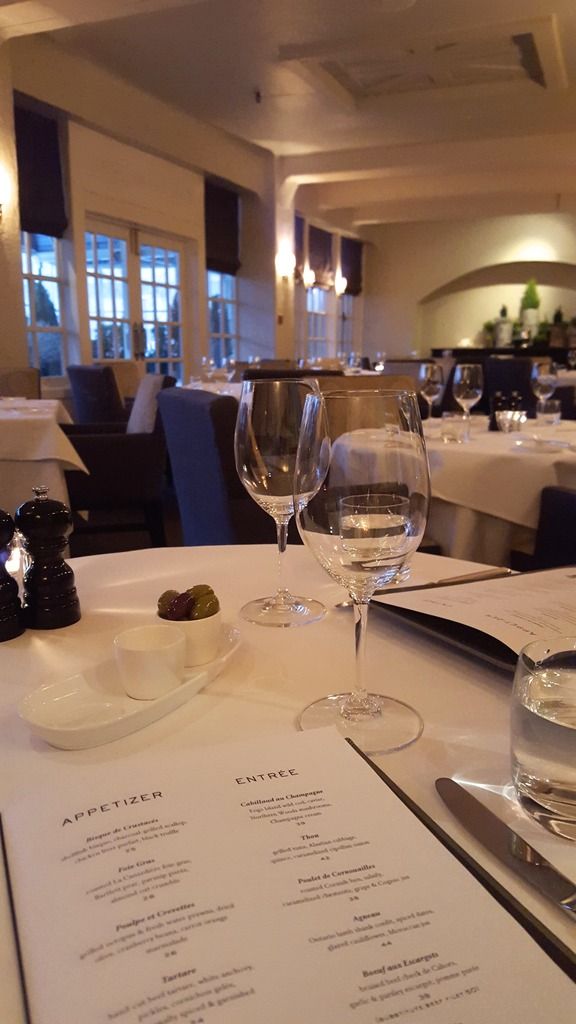 It was so nice to be the only ones there and enjoy the place before other people arrived.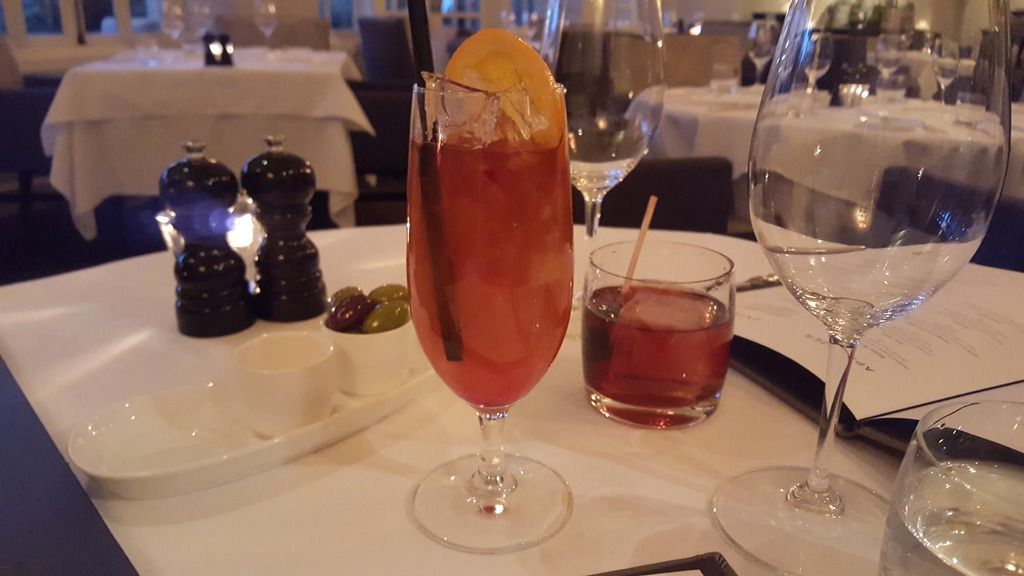 For drinks, I got the Punch Mystique (Kraken Black Spiced rum, orange, pineapple, Peychaud's bitters) while the Mister got the North York State of Mind (Forty Creek Copper Pot Reserve whisky, Taylor Fladgate LBV port, Dillon's DSB bitters, salted caramel). We both really liked our drinks.
Our bread and butter. They offered 3 different types of breads.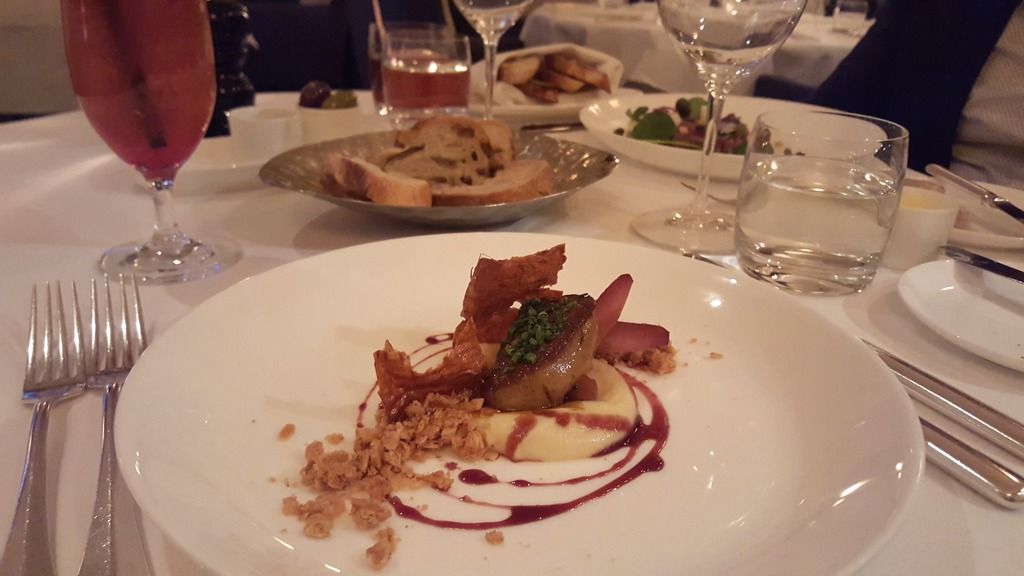 I ordered the Foie Gras which had pear, parsnip puree and almond oat crumble. Absolutely exquisite. The Mister ordered the Tartare which I forgot to take a picture of.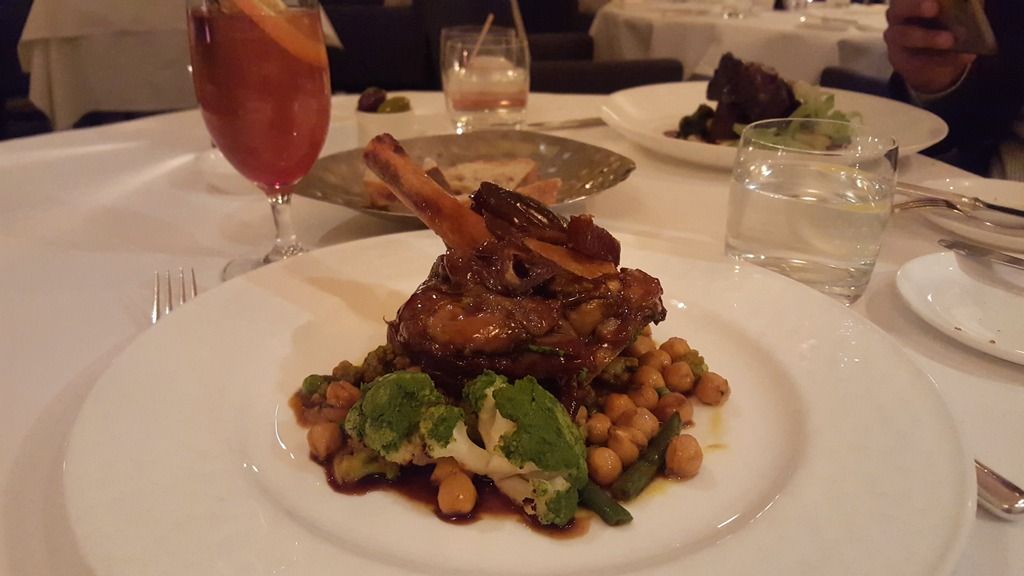 For our mains, I got the Agneau (lamb shank confit, spiced dates, glazed cauliflower and Moroccan jus). This meat was very tender and flavourful. Very good.
The Mister got the Boeuf aux Escargots (braised beef cheek de Cahors, garlic and parsley escargot, pomme purée). He really liked the dish and thought it was delicious. What he didn't realize was that escargot was snail. I didn't notice the word when he ordered it. It wasn't until days later when I looked up the menu online I realized what he ate hahaha!
When we came in, our hostess asked us if we were there celebrating anything. The Mister replied back with 3 year anniversary and I think she thought that we had meant 3 years wedding anniversary? Because when ordered the creme brulee for dessert, we saw that they had wrote "Joyeux Anniversaire de Mariage" LOL. Nevertheless, it was very sweet of the restaurant to do that. By the way, the creme brulee was very good. The creme brulee from
Holder
(in Montreal) and
The Keg
still are the best though, and of course most unique creme brulees are still from
Canyon Creek
. It's times like these that I really am grateful for the Mister because without him, I wouldn't even have a clue to even mention a comparison between these restaurants. We love comparing calamari, steaks, creme brulee, tiramisu and cocktails.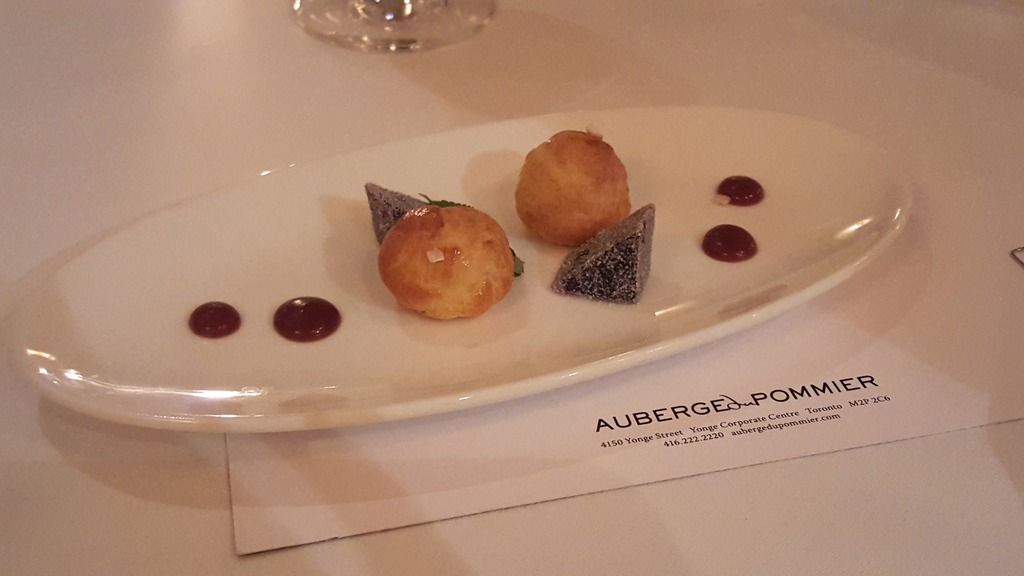 After we finished dessert and paid, we were approached by one of the servers and given this little dessert dish with candied something or another. It was so darling. I can speak on the behalf of both of us that we thoroughly enjoyed our dinner and evening at Auberge du Pommier. I would love to revisit them because we had a delicious dinner in a cozy atmosphere with outstanding service. Well worth the visit and price in my opinion. I highly recommend.
Overall: Ambience A+, Food A+, Service A+, Price A-.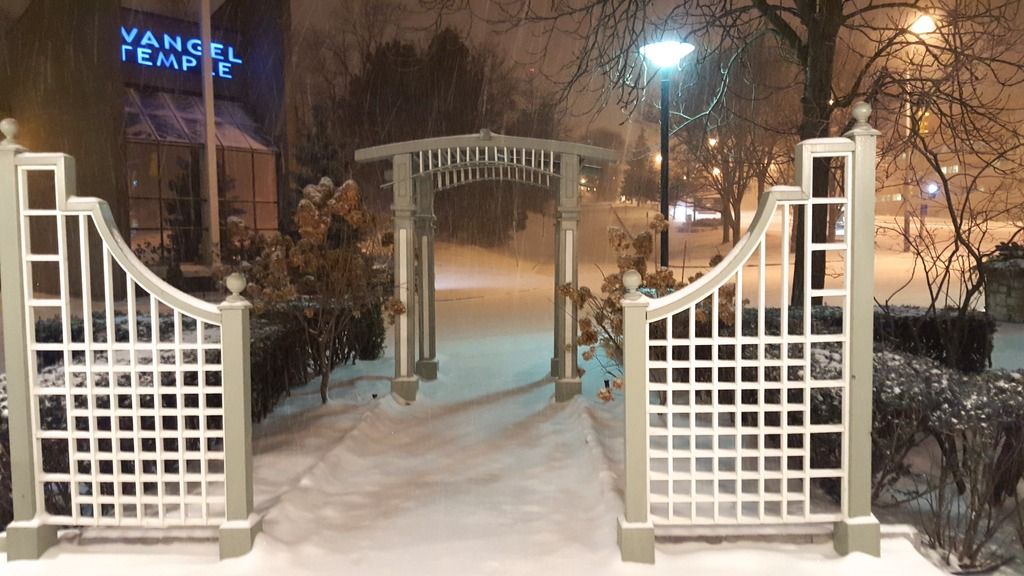 As soon as we got outside, we saw this. So much snow! We were in the middle of a snow storm!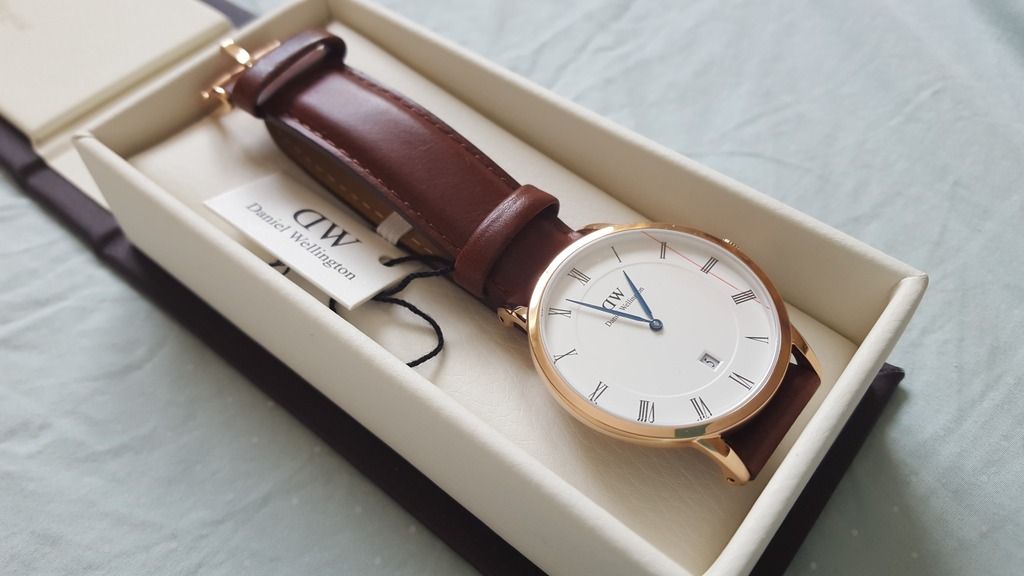 My anniversary gift to him was this Daniel Wellington Dapper St. Mawes 38mm watch. Dapper is well suited to his style. For our 1st year Anni, I had bought him a Fossil watch. That one is more for a casual kind of look. But this Daniel Wellington watch really suits the dapper side of him.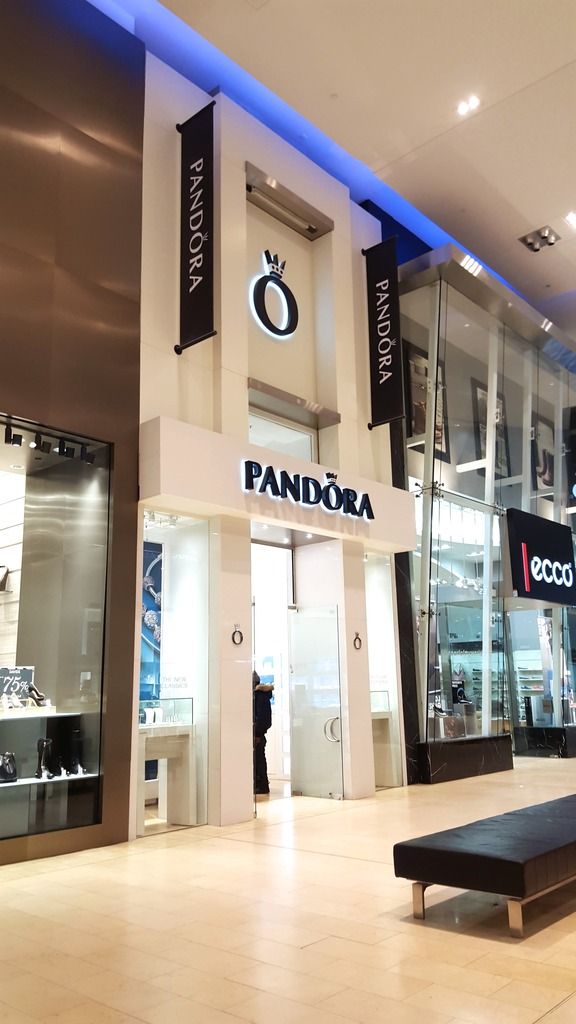 For my gift, he let me choose again hehe. He had actually planned on getting me something but it didn't work out because store didn't have stock of it or something. So, he let me pick.
For some time now, I've been wanting to get a Pandora bracelet. I like Pandora because of the idea that every bead has some sort of memory or life story tied to it.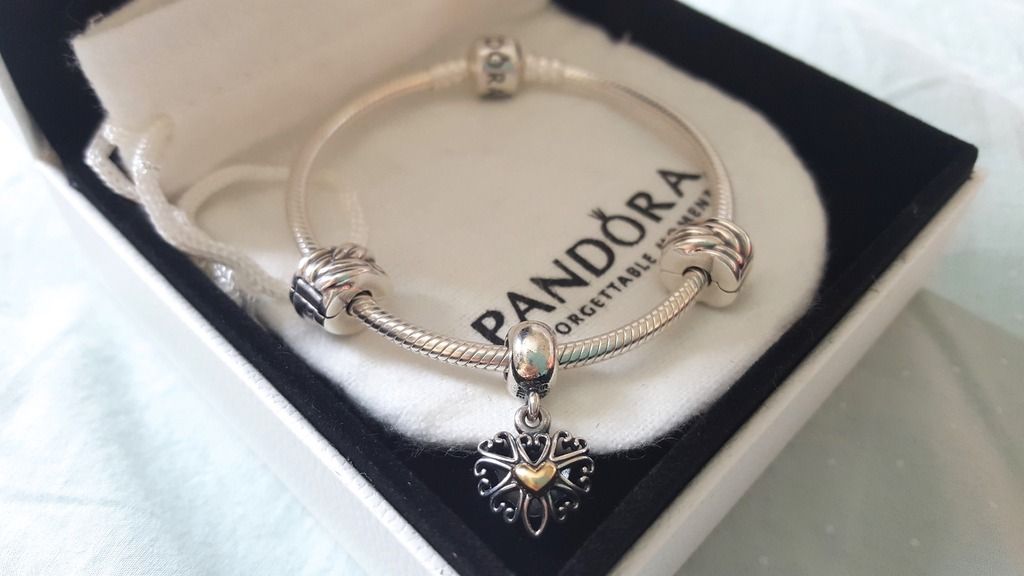 I chose to get the Iconic Bracelet Starter gift set which included two braided clips. To represent the 3 years we've been together, I chose the "Filled with Love" charm. I know it's a bit typical with the heart and everything but it's so pretty that I couldn't help but pick it. I love the design and how it dangles. By the way, the green/aqua colour you see on the charm is not due to discolouration, that's my phone case being reflected off the charm.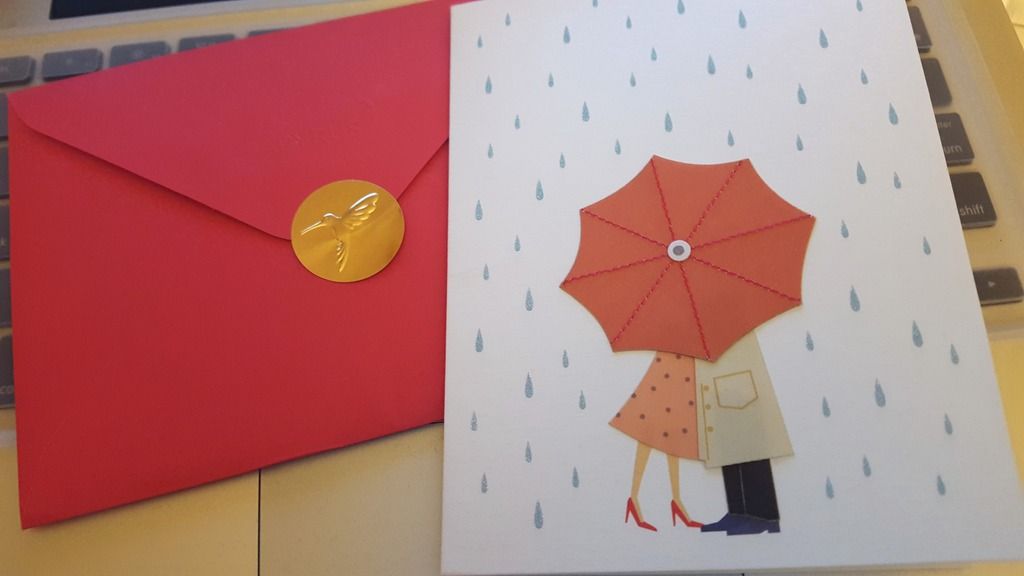 He did get me a very cute card all by himself though. I cherish the cards he gives me.
Hope you enjoyed the post. I have a lot of things I want to share in terms of purchases. And of course I wish I could blog about other things like beauty as well but I just can't! I always seem to have so much to blog but no time to do so! Ahhh!
"When asked how they managed to stay together for 65 years the woman replied, 'we were born in a time, where if something was broke, you fixed it... not throw it away.'" -Unknown