February was a super busy month for me... and March will be too! In all my years of blogging, I have never once missed a month where I didn't blog. So, updates! I have been promoted from being a s@les @ssociate to L0gistics C00rdinator! That would explain my absence from blogger because I've been super busy with work trying to settle into my new position. I'm thrilled that I don't have to deal with customers on a regular basis (it gets exhausting, trust me); and I'm super happy that I'm working in an office environment! At last, I now have a "title".
I've also joined the gym because 1) I want to be more active and healthier and 2) I've gained weight and I need to lose that plus some more. So right after work I hit the gym, which also is another reason why I have little to no time to blog. I do mostly cardio for now on the elliptical, bike, and treadmill.
So, I'm going to try to zip through some photos in this post, but I also have other posts coming up that I have to do like my birthday, Valentines, anniversary etc. As you can probably tell, I have a lot of catching up to do! Hang tight!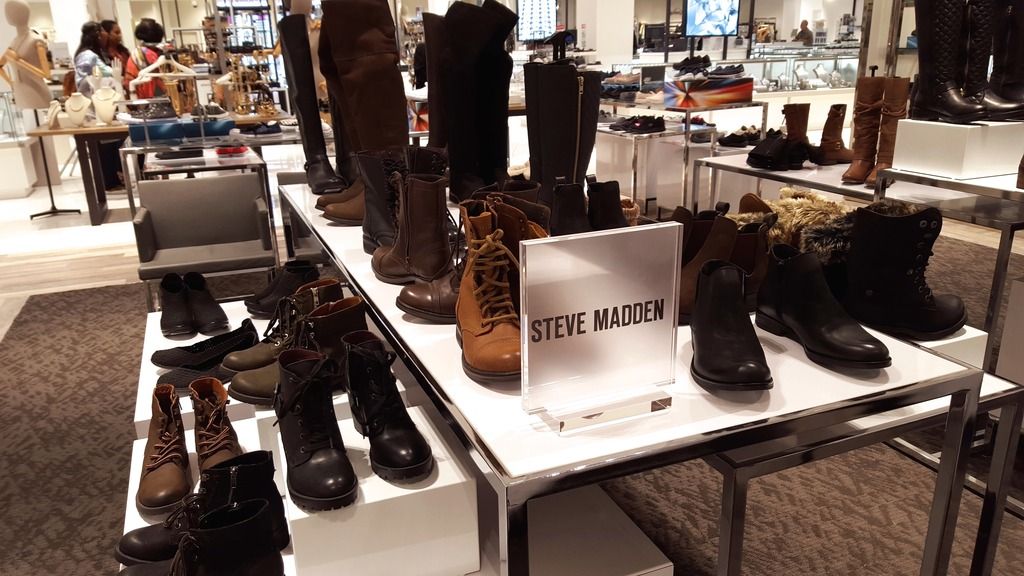 I forgot to show you guys these pair of Steve Madden boots that I got in the Fall. The Bay was having a 30% off sale at the time so I took advantage of it since I was eyeing them anyway (as if I need any more ankle boots right?). C'est la vie.
Then I couldn't resist getting these pair of high heel ankle booties from Zara. They looked so nice for the price, I just couldn't pass them up! They look quite fierce on, plus I don't own anything like it. That's enough to justify getting them, right? Right?!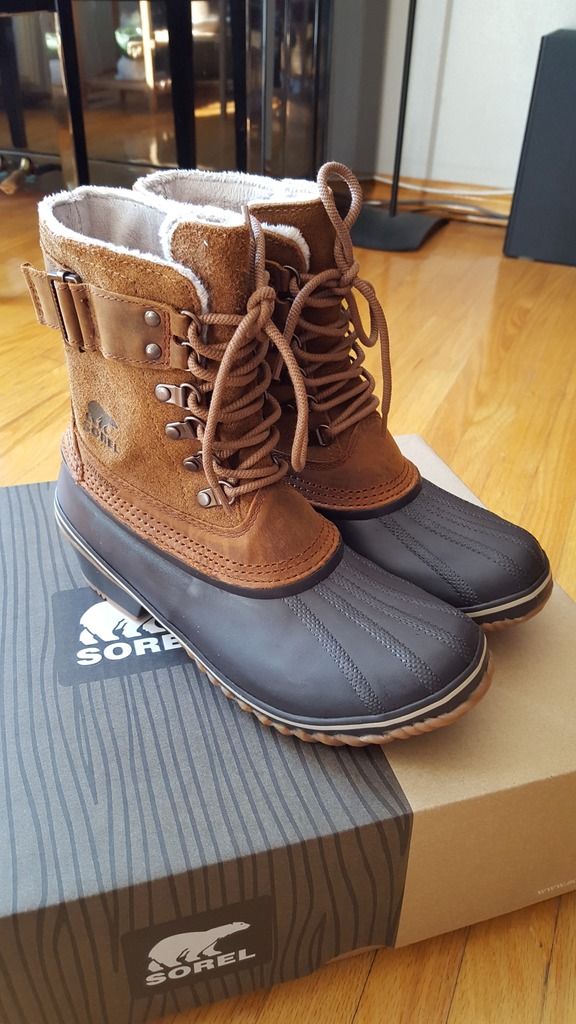 And because it's winter, and that fact that I didn't own a winter boot... I finally bought myself a pair. Winter in the snow has been
so much easier
since getting these
Sorel Winter Fancy Lace II in "Elk, Grizzly Bear"
. I should have bought myself a pair of winter boots years ago! I've always just let myself suffer trying to avoid salt and snow while ruining my leather boots. I saw
Extrapetite
featuring these and they looked super cute on her so I thought I'd give it a try. So glad I did, if it wasn't for her, I would have never even considered these. They're currently still on sale but I would size up because they do run small. I normally wear an 8 for boots and I bought a 8.5 and they fit perfectly.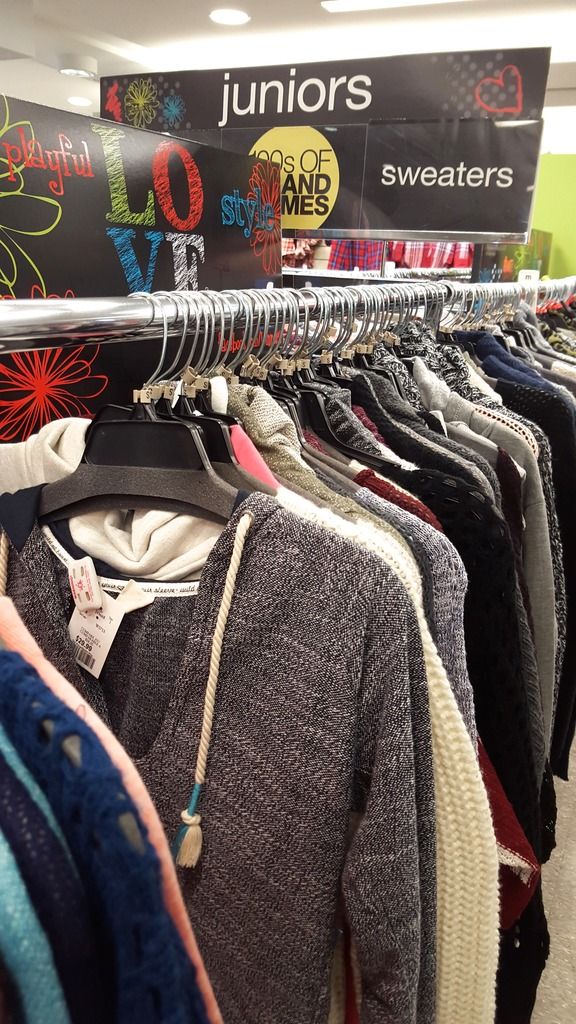 As I get older, the more I realize how many things have changed since I first entered my 20s. I was at Winners looking through some of the clothes in the Junior's section. After flipping through some of the hangers, I realized why I haven't shopped in the section the last couple of years... it's because everything was so "young" looking! I used to shop this section back in high school and could even get away with it when I was in University... oh, how old I've gotten! Next year a decade would have passed since I graduated from high school- OMG.
The clothes I wear now are much more sophisticated compared to the hoodie, jeans, and sneakers I wore throughout high school and for half of my university years. Pictured above is a Zara blazer I bought a couple months back. I came across it while browsing online and thought it looked like a great quality blazer. The camera picked up more blue than it really is, in person it's a navy blue. What really drew me to this blazer was the thickness and texture of the fabric. I've received plenty of compliments already.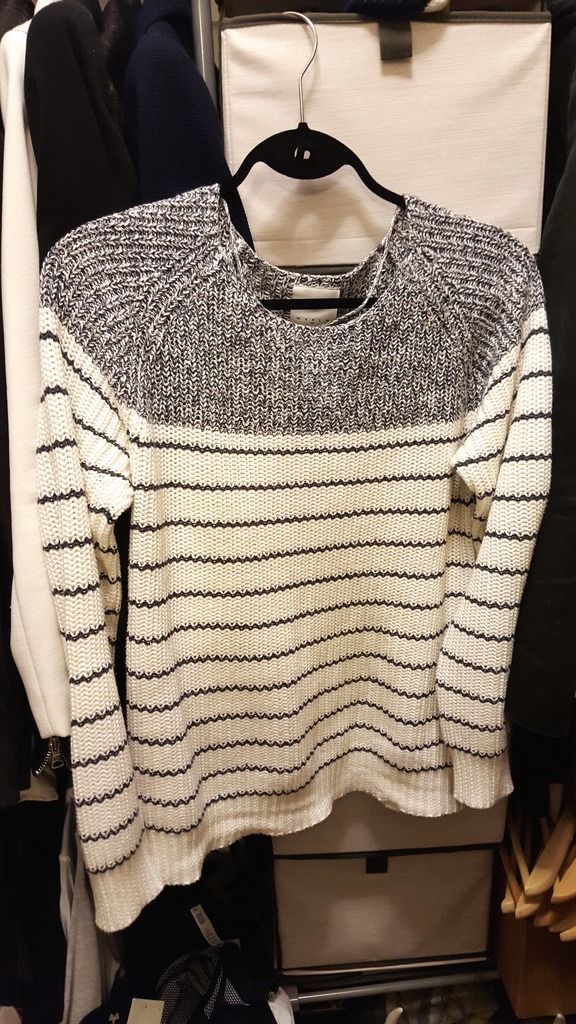 This Vero Moda sweater caught my attention immediately when my eyes set upon it. It's so different from anything I have and the quality of the sweater is really great. I've already received several compliments on it.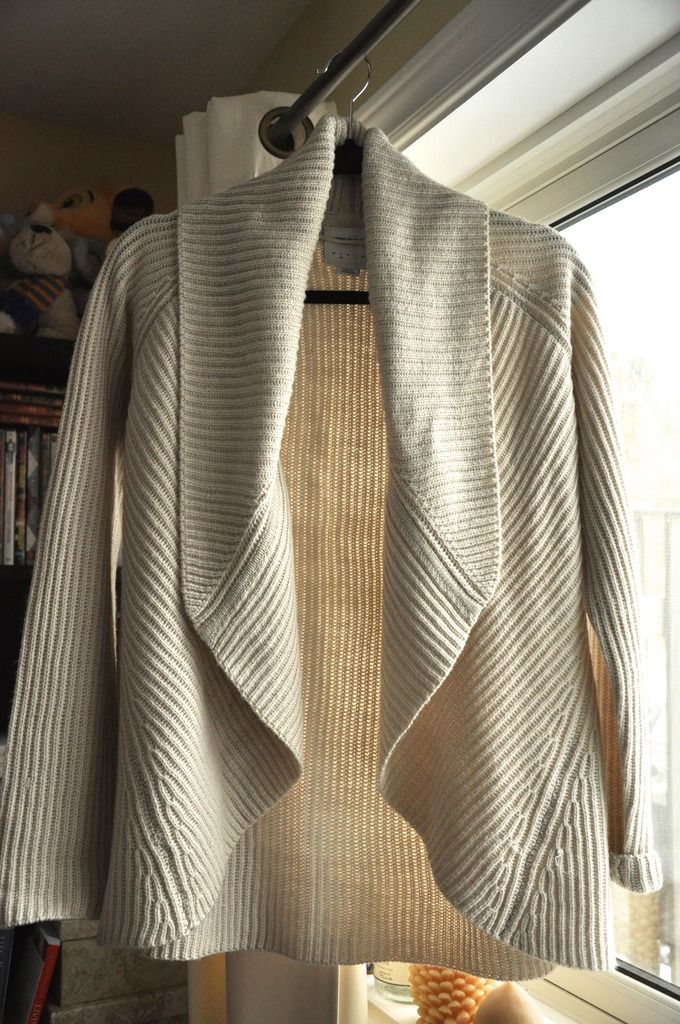 I also got this Vero Moda sweater on sale at The Bay. It's the exact sweater I've been trying to find for a long time. It's a really beautiful sweater, however, the fabric easily snags to everything and anything! I've already had a few threads sticking out and one that was so severe that it created almost a hole in the sweater.
I picked up all of these pieces from TopShop. I love the fabric of the button up shirt. I need to find more just like it. I haven't worn the striped t-shirt yet but the fit is really nice. TopShop's tanks are so good! The fabric feels soft, it doesn't warp after you put it in the wash, and it doesn't ride up when I wear it. I own 2 whites and 1 black and I'm going to go back and get more soon.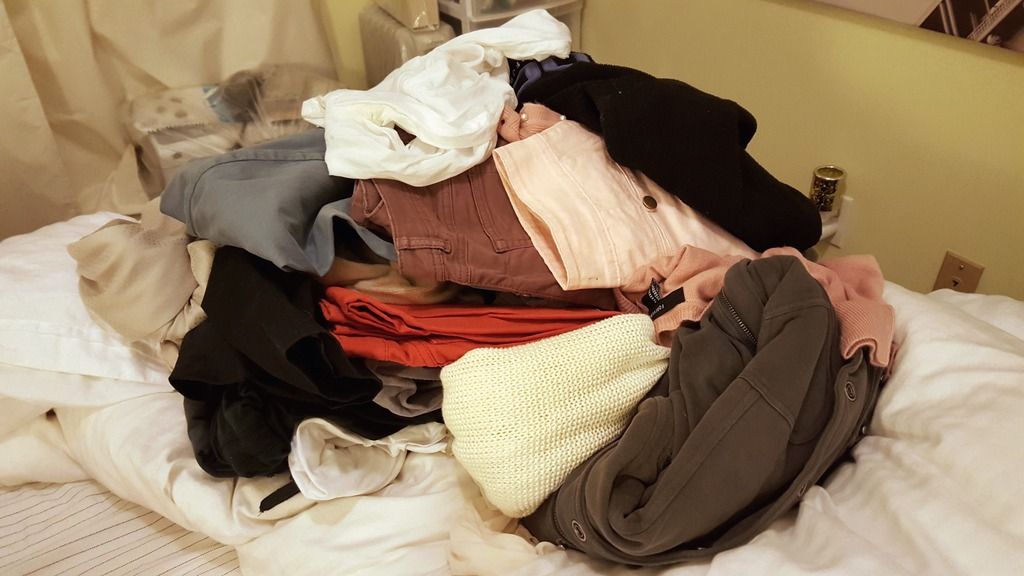 It's ok that I got a few items because I recently donated a bunch of clothes to Goodwill. I did, however, pull the white sweater from the pile in the picture above after a second inspection.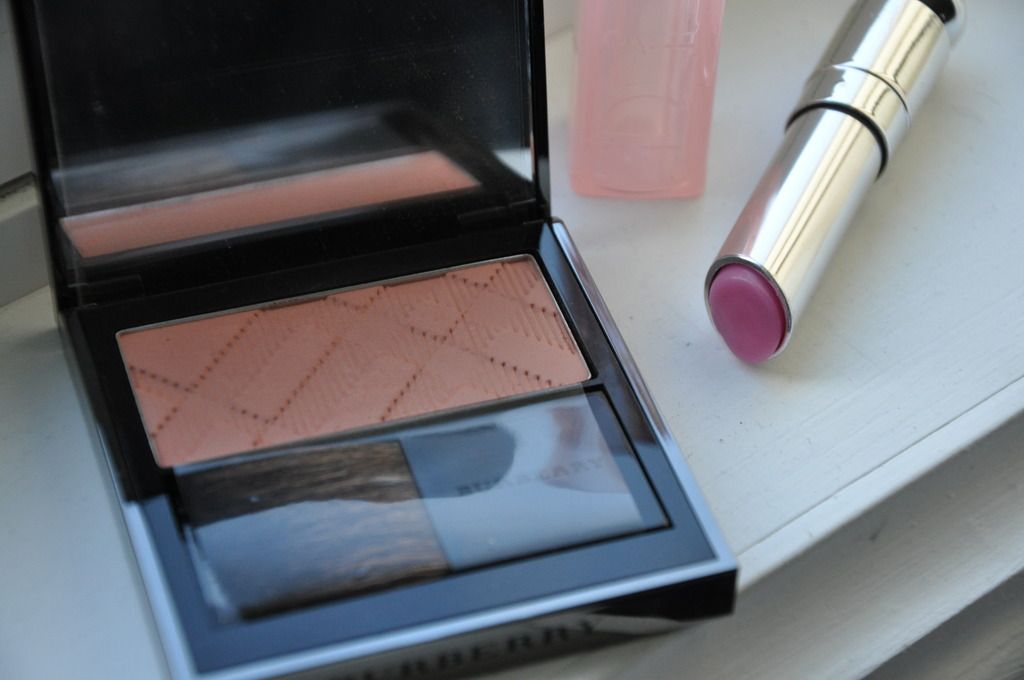 Sephora gave VIB Rouge's a $20 gift card during the Holidays and I used it towards this Burberry blush in "Tangerine". I've been wanting to get this colour for a long time but I kept putting it off. It gives a lovely peach colour to my lips and looks pretty natural. I also picked up the new Dior Lip Glow in "Lilac" from the Spring 2016 collection. It looks very pretty on and gives a nice hint of deep pink to my lips. It's limited edition so once it's gone... it's gone.
I really like the shape of this Coach bag. I don't own any triangular shaped bags so it'd be a nice addition to my closet. The only thing about it though is the odd and awkward shape when you open it up. I'd definitely have a hard time getting anything in or out of this bag.
This Marc Jacobs bag is one of the few bags from them that I like. I don't know why but I haven't seen many good styles of bags from Marc Jacobs (at least in The Hudson Bay stores).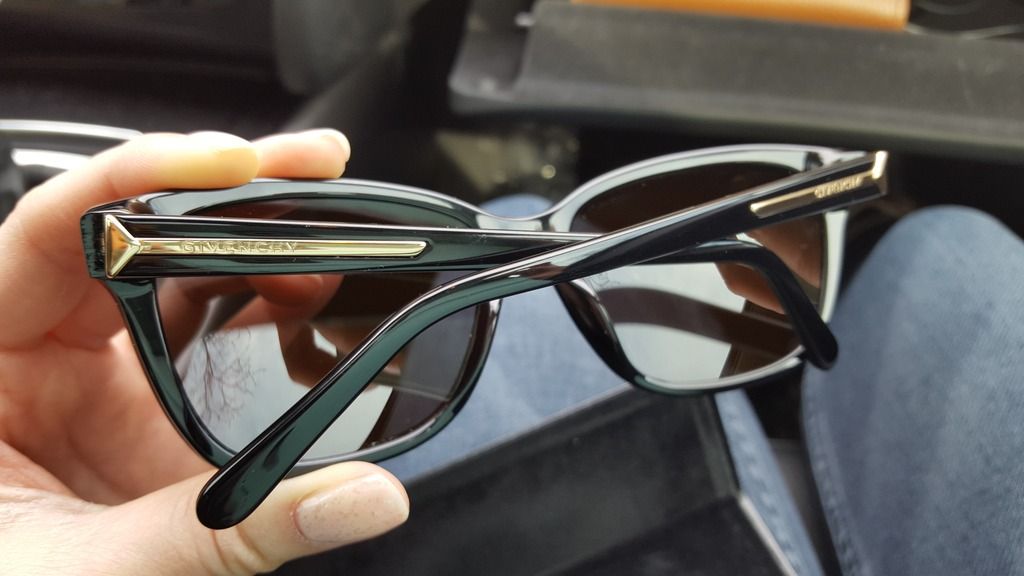 I found a really great find at Winners. Givenchy sunglasses. The picture shows more brown (I guess because of the sunlight) but in person it's what you would see as a pair of black shades. I absolutely love the gold detail on side, it's so chic looking. I got it for $100.
My nails in January. I didn't have enough time to do this nail colour for the New Year so I did it after New Years. This is Essie's 2 coats of "No Place Like Chrome".
Couch shopping with my mom. We were unsuccessful in settling with any because none fit all of the criteria we were looking for. Some were very close though.
Finally ventured into Pier 1 Imports and saw the Hayworth collection of mirrored furniture I see everyone mentioning on Youtube.
Food adventures...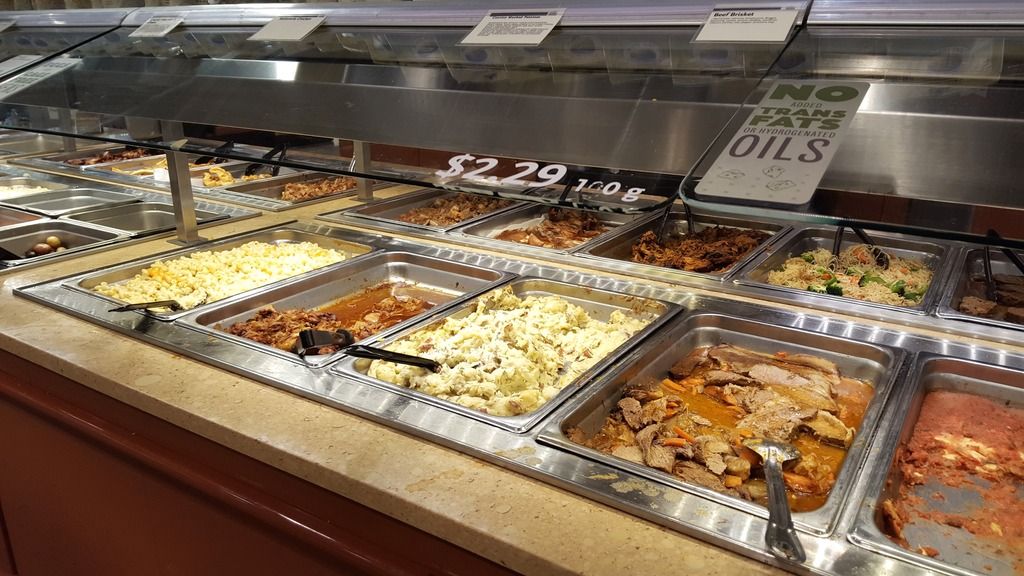 Whole Foods.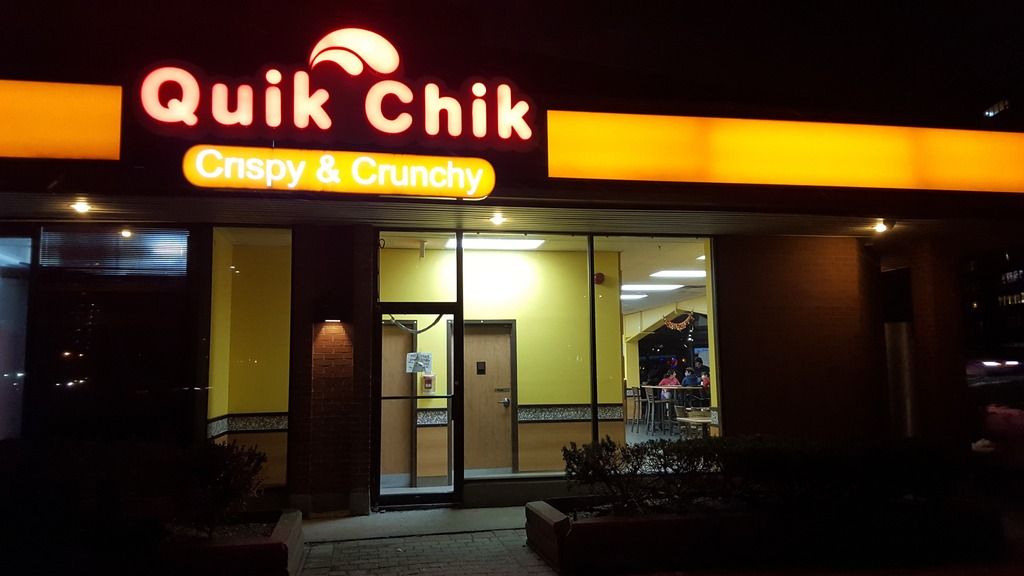 Quik Chik
3355 Hurontario St #1, Mississauga, ON L5A 4E7
Taken from the site:
"All our products are made with only premium 100% Halal hand slaughtered fresh Canadian chicken. We guarantee that our chicken is as wholesome as it is delicious and juicy. We proudly source all of our chicken on the bone from our trusted local suppliers. They in turn source this chicken from Canadian farmers, delivering it to our stores fresh throughout the week."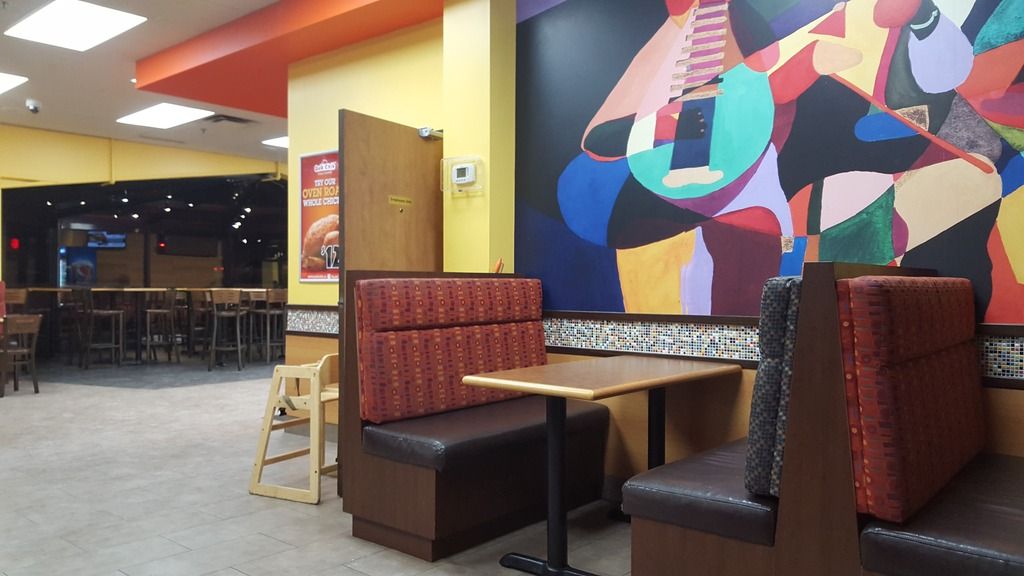 Their restaurant seating is better than the usual fast food chains. I like how they make the seating more like a restaurant. Plus showing the news on tv is nice to watch.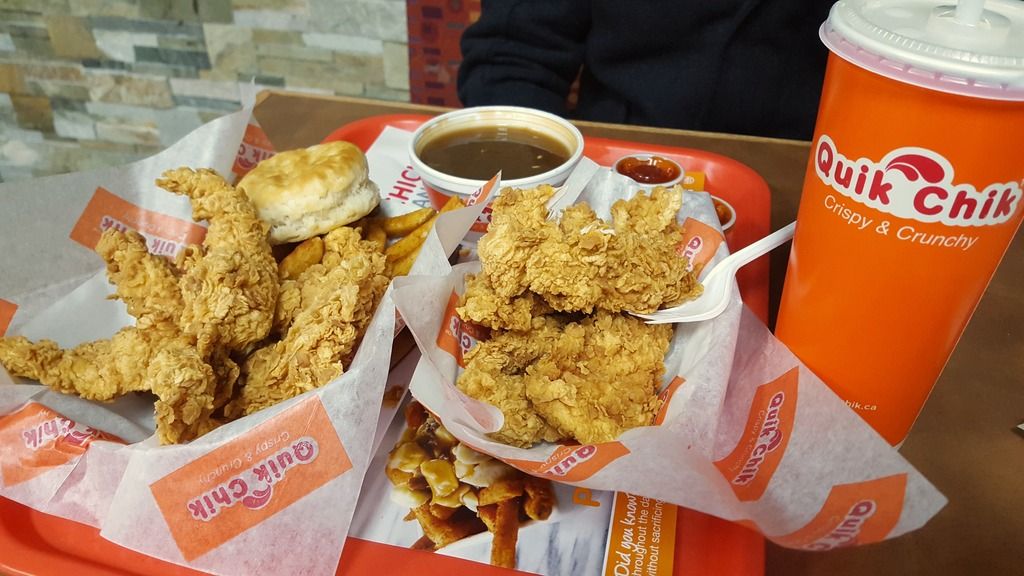 Quik Chik's
chicken is seriously tasty. They make the best chicken tenders in my opinion. They're crispy, tender, flavourful and not dry. They also make yummy fries that are seasoned with a kick of heat too. Their other chicken like drumstick and chicken thigh could use a little work though, it just doesn't compare to Popeye's.
Overall: Ambience A-, Food A-, Service N/A, Price A.
Ikea
1475 The Queensway, Etobicoke, ON M8Z 1T3
Taken from the site:
"Whether you choose to eat a full meal or some afternoon snacks, we promise you a pleasant IKEA Restaurant experience that's easy on your wallet. Look for organic foods, too."
Ikea! This isn't the first time me and the Mister have gone to eat at Ikea's cafeteria together, but I never reviewed it before I think. Of course, they are famous for their Swedish meatballs. The whole meal of the Swedish meatballs is perfection. From the meatballs themselves, to the mashed potatoes and the lingonberry sauce... mmmm. Talking about it makes me hungry. Their other foods, like the mac and cheese, garlic bread, and soups could use a little help. They don't taste that great, in fact, they taste just that- cafeteria food.
Overall: Ambience B, Food B, Service N/A, Price A
I love the look of big industrial looking lights for a kitchen.
"Whoever is trying to bring you down, is already below you." -Ziad K. Abdelnour