You guys know me enough to know about my obsession with HBC. There's something about the stripes and Canadian heritage history that just pulls me in.
I've already shown you guys one of these towels (
chunky
, shown right) when the Mister and I went to the
beach
. Well, not too long ago some of the HBC items went on sale, so I got another towel but in the other style (
cabana
) where the stripes lay vertically instead of horizontally. I really love these beach towels because they're thick, big and they absorb water well. I got them for $30 each but right now they're on sale for $25 each so it's an even better deal now.
I also picked this Cozy Chunky Polar Fleece Throw for $30. Fleece throws are great to snuggle in on a cold winter night. I get cold easily so I actually use two fleece throws under my down duvet to keep warm at night. Both of those throws I got years ago, one is from Chapters and the other is HBC's
Multi Stripe Polar Fleece Throw
. Because I used those fleece throws daily and under my duvet, they got roughed up and lost their softness. I plan to keep this new fleece throw more nicely. It would be a great throw to have when you're sitting on the couch or something.
I went into Canadian Tire one day to look for a few things I've been meaning to pick up and stumbled across this Bernardin canning kit in the clearance section.
Originally it was $60 but it got marked down to $30 and then $20!! I immediately dove into the aisle where all the canning supplies were to find out if it was really a good deal or not. I found the rack that sits inside the pot and saw that it alone costed $20! I was totally getting a great deal.
The kit was marked down because it was missing pieces like the funnel, can lifter, bubble remover/head space gauge and jar lifter... but those are generally just extra stuff you really don't need. What did come with the kits was the pot, rack, 4 small limited edition mason jars, pectin and dvd. I already bought a jar lifter in the clearance section from Winners previously thinking that one day I would get myself into canning (what a coincidence). I also picked up a funnel because it's easier and cleaner to can when you have one, and of course I got myself a case of 1L mason jars.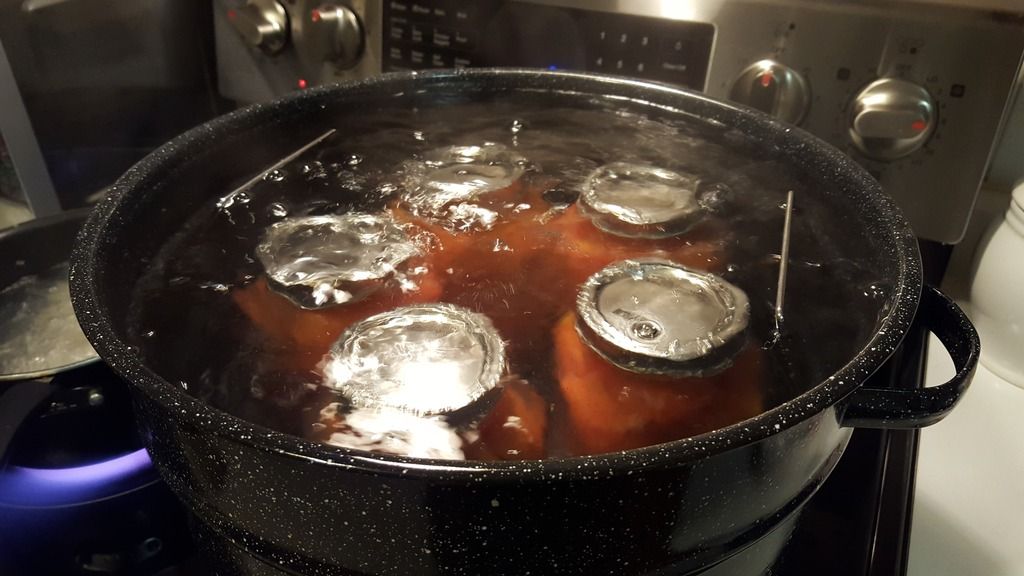 A brief overview of the canning process. I canned my home grown tomatoes and a bag of tomatoes I got from Walmart for $1.
Since switching jobs, I've had more free time after work to get things done. I've cleaned and reorganized all the drawers to my vanity dresser and now I'm in the process of cleaning the closet and my jewelry collection. I hope one day when I have good lighting and time, I'll take pictures of how my closet looks now and show you. I had plans to do a closet organization post a long time ago, but it kept getting put off due to lack of time and lighting. Now that things have changed, I hope I can do that sometime soon.
My nails last week. This is Nicole's "Follow Me On Glitter" from the Kardashion Kollection. It's still one of my favourite nail colours of all time. It does good opaque coverage with one coat but I paint two coats to get the absolute full effect. The colour is really unique and absolutely gorgeous, texture and consistency is wonderful. Application is also very easy and it dried very quickly.
But... the staying power totally sucks! Because it's a glitter polish and the formula is a bit thicker, when it chips, it chips off in chunks. This basically lasted me 2 days before this happened. It sucks because the rest of my nails were still okay until it happened again to another nail the next day. Beautiful colour but staying power is dreadful. Removal was a pain lol.
"Do not let what you can not do, interfere with what you can do." -John Wooden