So it's not as if I didn't do anything this Summer. Before the Mister started his new job, we embarked on our last weekend together because his new job is a bit unpredictable when it comes to having weekends off. We wanted to make the most of it, so we decided to go to the beach- plus he had promised me that we would go swimming this Summer.
I thought we were going to go to the Toronto beach or something... but he suggested we go to Sauble Beach. He's been there but I haven't. We rented a car because it's about a 3 hour drive from Toronto. We were a bit rushed because we left a little late in the morning thus I totally forgot to take a picture of the exterior of the car (doh!). The car we rented was the
2015 Chevrolet Malibu
in white, it was so new that there was only about 9000km on it. I'm not a fan of Chevrolet but the car turned out pretty nice.
Having a car and traveling somewhere with it felt so good. I was surprised at how well we began to like the car. The interior was okay (I didn't like the center control dashboard, the lights were cool) but the exterior started to really grow on me (especially because it was white and it looks better in person).
We stopped by a gas station to buy a car charger because we forgot to buy one when we were still in the city. It was cheap and flimsy but it still costed a whopping $20 (totally got ripped off but we needed it badly for the GPS on the phone). We also grabbed some lunch at the McDonald's next door.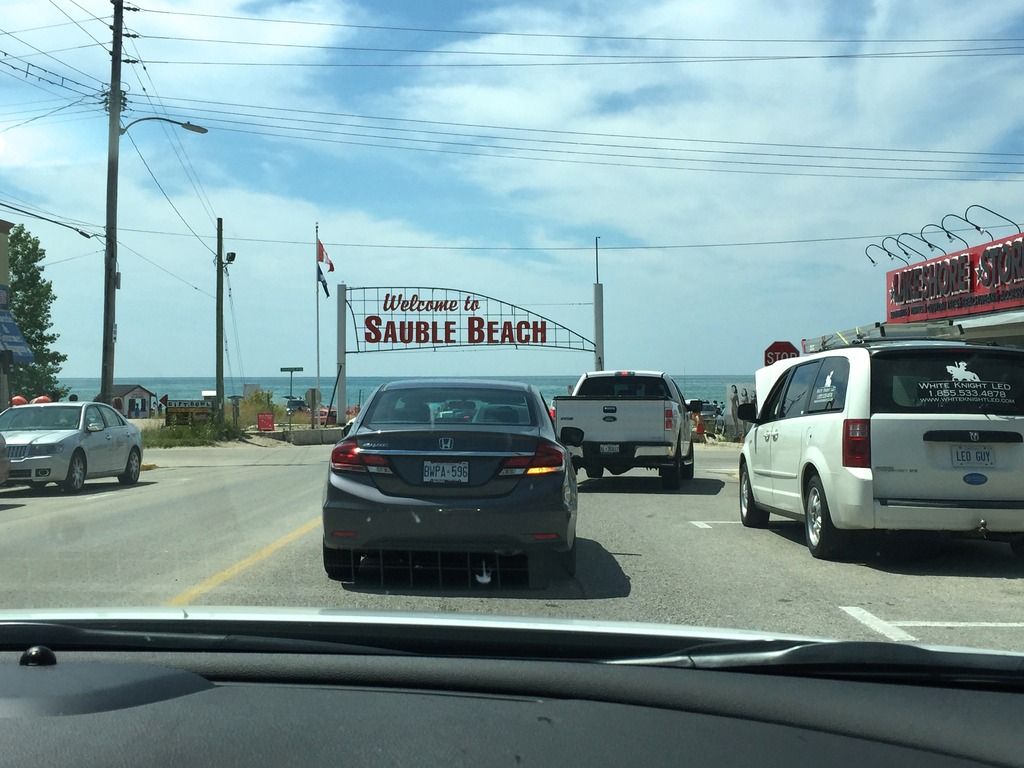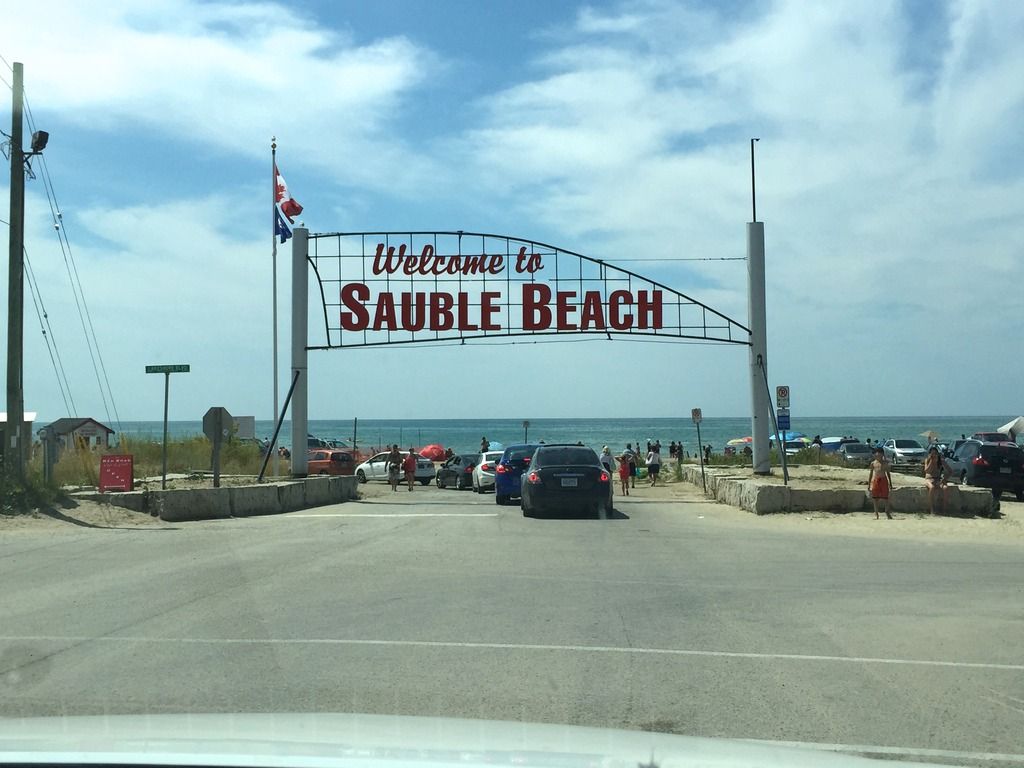 Finally after what seemed like forever, we made it to Sauble Beach. It was packed... but less packed than Wasaga Beach. We got lucky and found a nice parking spot.
Our ghetto beach setup. The Hudson Bay Stripes Towel is a new purchase. One day when we get our own car, I'll be more comfortable to bring more things, such as food and extra towels.
Going to the beach, I knew that the Mister didn't know how to swim. What I didn't know, however, was that he had a phobia of it. I didn't understand why he was so afraid of the water until he told me he never played in the bathtub as a child and his father never let him swim. I thought that when anyone said they didn't know how to swim, it meant that they didn't know the method of doing so... phobias never even came to mind. I also recently learned that a coworker feels the same way as him. I was very proud of him at the end of the day though because he challenged his fears by going deeper into the water.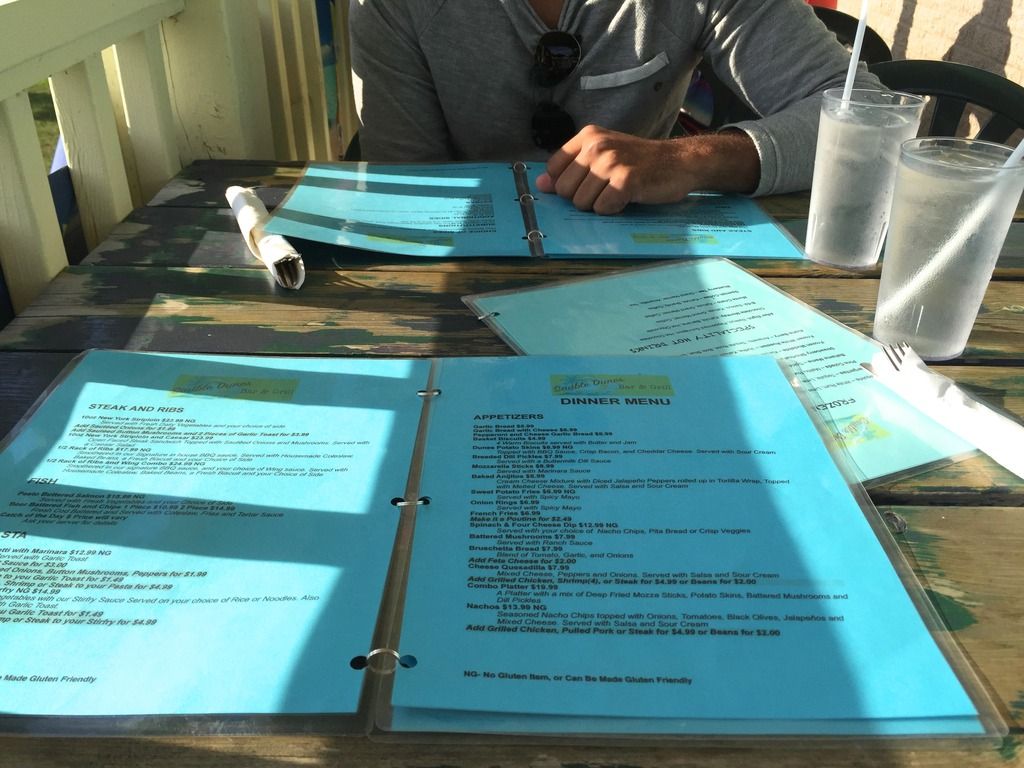 Sauble Dunes
11 Southampton Pkwy, Sauble Beach, ON N0H 2G0
Taken from the site:
"Sauble Dunes Bar & Grill serves up delicious food in a relaxing beachy atmosphere with excellent service. Enjoy the Sauble sunshine on our licensed patio. Full bar with a large selection of liqueurs, wine and 10 beers on tap. Big screen TV's with all the current sports. Open for Breakfast on Sunday."
After a good day at the beach, we started to head home but I was in dire need of a washroom. The Mister spotted
Sauble Dunes Bar & Grill
and suggested we go to eat there as well. I forgot to take a picture of the place (I forgot to take a picture of a lot of things that day) but if you
click here
you'll see that the building is very... colourful.
I liked how they had patio seating, we thoroughly enjoyed eating outside. Believe it or not, this was the first time the Mister and I ate outside at a restaurant before. I hope next Summer we'll take more advantage of the weather and eat outside on terraces/patios often.
I liked their little condiments basket.
The Mister got the 1/2 Rack Ribs with Wings combo which was nice and tender, and I got the Hamburger and Fries (added bacon and cheese) which was tender and juicy with a nice crispiness from the bacon.
Food and service was good, it's basically what you would expect from a restaurant of this kind.
Overall: Ambience A, Food A-, Service B+, Price B.
Then it was time for our long ride back home. You can see in the above pictures how cool the lights were in the car. When he returned the car the next day, we felt a bit empty inside. Having a car is a luxury, that's for sure.
At the time we thought the beach was going to be the last weekend, but his job got delayed so we were able to spend one more weekend together. Luckily the Taste of the Danforth was happening that weekend. First we stopped by the Winners on Bloor though because as I've
mentioned before
, I've been shopping around for kitchenware. Then we started walking all the way to Broadview from Bloor and Yonge lol. It was a bit of a stretch but it was a nice walk.
This is the view of the Don Valley Parkway from the Bloor Viaduct bridge. The morning was a bit gloomy but the skies cleared and it was a beautiful day to be at an outdoor event.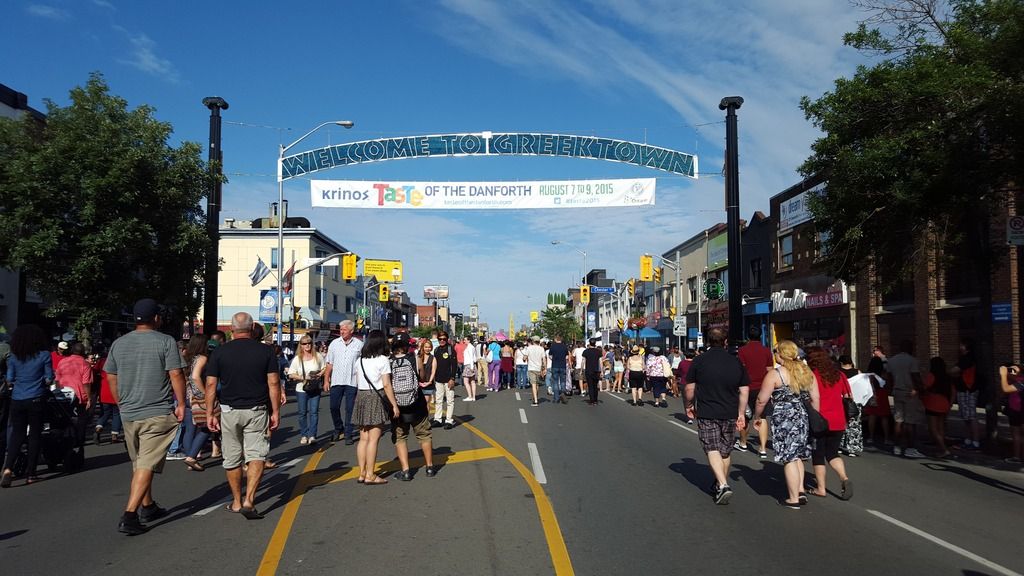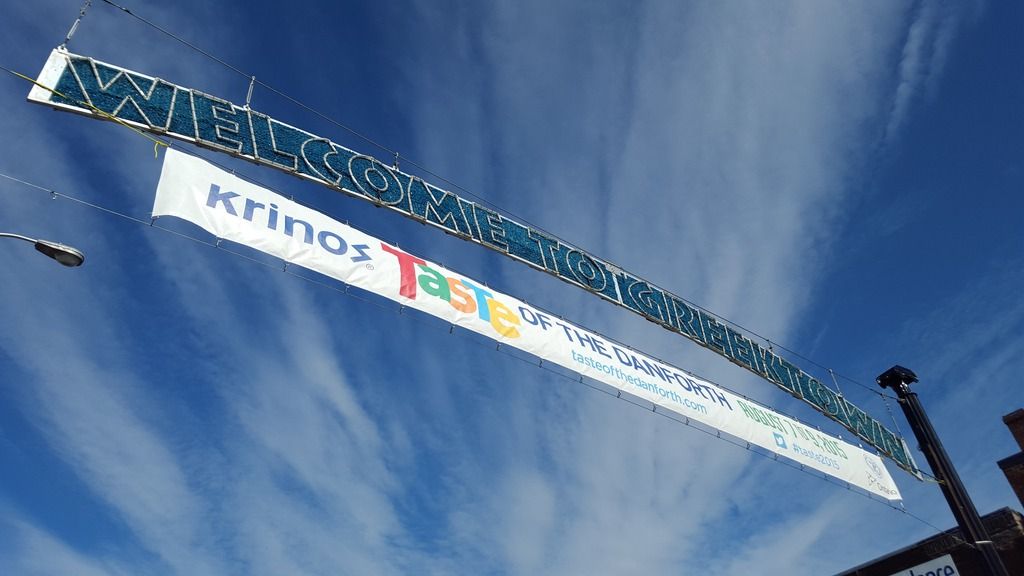 We were mentally prepared for the crowd, because we knew the place was going to be jam packed.
First stop, lemonade. I was hella thirsty from our walk. This lacked a bit of flavour and it was a bit bitter.
And because we didn't have patience to wait in the very long lines for the more popular foods, we opted for the other foods, such Sher-E-Punjab. We got the Butter Chicken and it was pretty good.
Green Basil Thai restaurant. We got the Chicken Curry, it was okay.
Pulled Pork sandwiches. This was also just okay. The guy gave us 2 for 1 at least.
Casa Sushi. We got Calamari and Takoyaki and it was tasty.
And of course, Roasted Corn! The way it should be done! A lot of time I see signs for Roasted Corn but then when you buy it, it's not even the slightest bit charred. This is the right way in my opinion!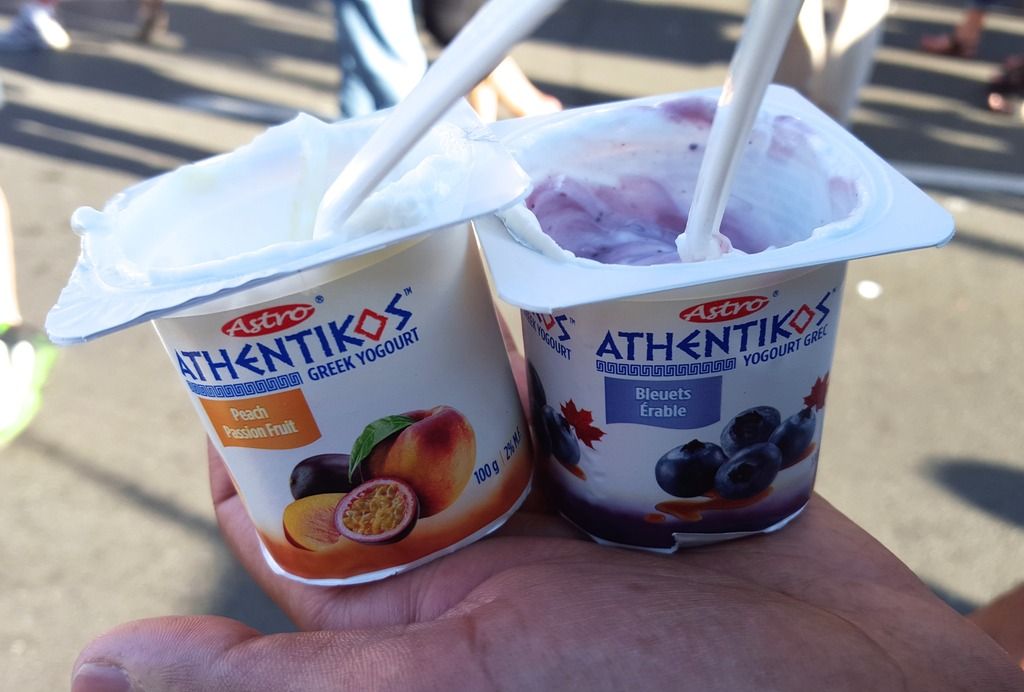 Free yogurt. I'm sold on these Astro Athentikos Greek Yogurt. They tasted so good! We also got a couple useful coupons that I'll put to good use.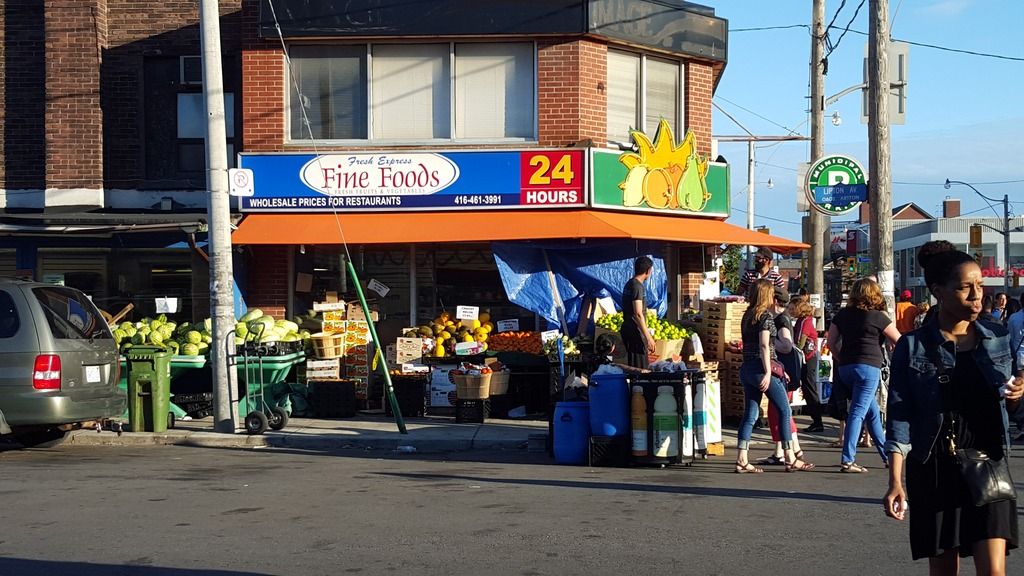 Before heading into the subway, we saw this guy outside this grocery selling strawberries for 3 for $5. I kept debating on whether to get it or not, but I eventually decided to buy since it was super cheap. He was so high up and the stacks of strawberries were so high up that I couldn't see the strawberries he was giving me. I paid and looked into my bag to discover that that dirtbag gave me wet moldy almost-gone-bad strawberries (they were hidden within and at the bottom). I immediately went up to him and told him I wanted to exchange the strawberries because the ones he gave me were all bad. He took them back and instead of grabbing the strawberries from where he got them before, he reached further in the back to where the better strawberries were (albeit they were not the freshest of fresh either, but they were better than the moldy ones I got). The guy didn't think I would be smart enough huh? Trying to cheat me. Well guess what I'm Asian! I always double check!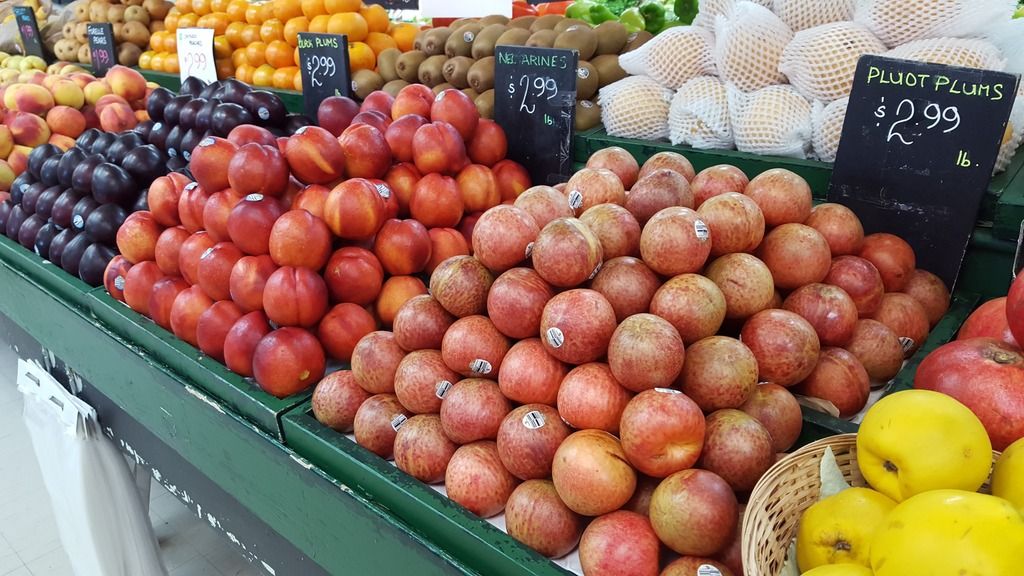 And if you really want true fresh fruit and veggies where you don't have to question whether or not you'll get cheated,
A.J. Lanzarotta
is the place to shop. They do wholesale and sell to restaurants all over, but they're open to the public as well. They have the most sweetest plums I've ever eaten in my life. The one I showed you in this
post
was
the sweetest
, so sweet that the skin wasn't even the slightest bit bitter. But now the stock is gone :( They have other black plums that are sweet and juicy too but not as sweet as the original one I tried.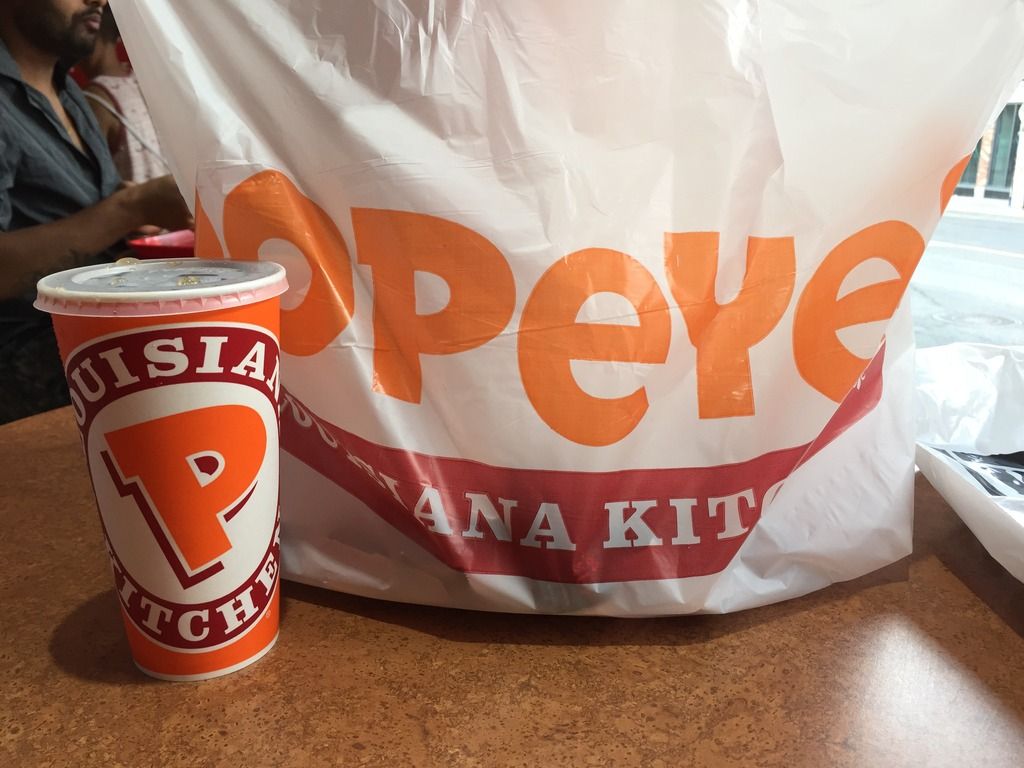 Popeye's
589 Yonge St, Toronto, ON M4Y 1Z4
Taken from the site:
"Forty years ago in New Orleans, Louisiana, a taste sensation was born. What began with one small restaurant and one big idea turned into a craze that swept the nation – and the world."
And on an unrelated note, I never blogged about the time when we ate at
Popeyes
. This was the first time for me and it was delicious!! Although I like KFC's seasoning, their chicken is way too oily and salty at times. Popeye's is more crispy and less oily. Their chicken is so tender and juicy. They could work on their chicken tenders though because their tenders taste a little dry (Quik Chik's tenders are far superior).
Overall: Ambience A-, Food A-, Service N/A, Price A.
I haven't visited Mac's Convenience store in a long time. Anyway, I used to go there with my cousin because she introduced me to this awesome milkshake. This time, however, the milkshake was kind of too thick and much too sweet. I felt like I was trying to sip ice cream lol!
And lastly, the Mister and I
finally
got to watch Mad Max. I liked it, I would give it 8/10. Also, I love the Orville Pop Up Bowl Popcorn! It makes it so much easier!
"Your relationship with your spouse should come first. The children's foundation is your marriage. You can't grow up happy in a broken home or a home where parents argue all the time. Never be so focused on your children that you forget about the one who is helping you raise them." -Unknown