Work, work, work. I don't know what it is but I've been working 9+ hours everyday and it's kind of draining me. I feel like I have no more time to do anything. I used to have free time to blog, watch youtube, garden, among other things. Now it's near impossible to keep up with any! I need a vacation asap. I plan to work a couple more months at this place and that's it. I seriously need to find myself another job because this place isn't doing me any justice.
I'm slowly chipping away at these Montreal posts. It feels like it's never-ending, and because I haven't been blogging about much else, I have a lot to blog about on piling up on the side. Sigh. When did I let blogging feel like a chore? Hopefully it won't feel like this anymore after I'm done with these Montreal posts.
Read about
Day 1
,
Day 2
,
Day 3
of our week long trip to Montreal back in August 2014.
On day 4 of our Montreal trip we had a lot on our agenda and a lot of sightseeing planned. I was determined to learn a few things about Montreal this day.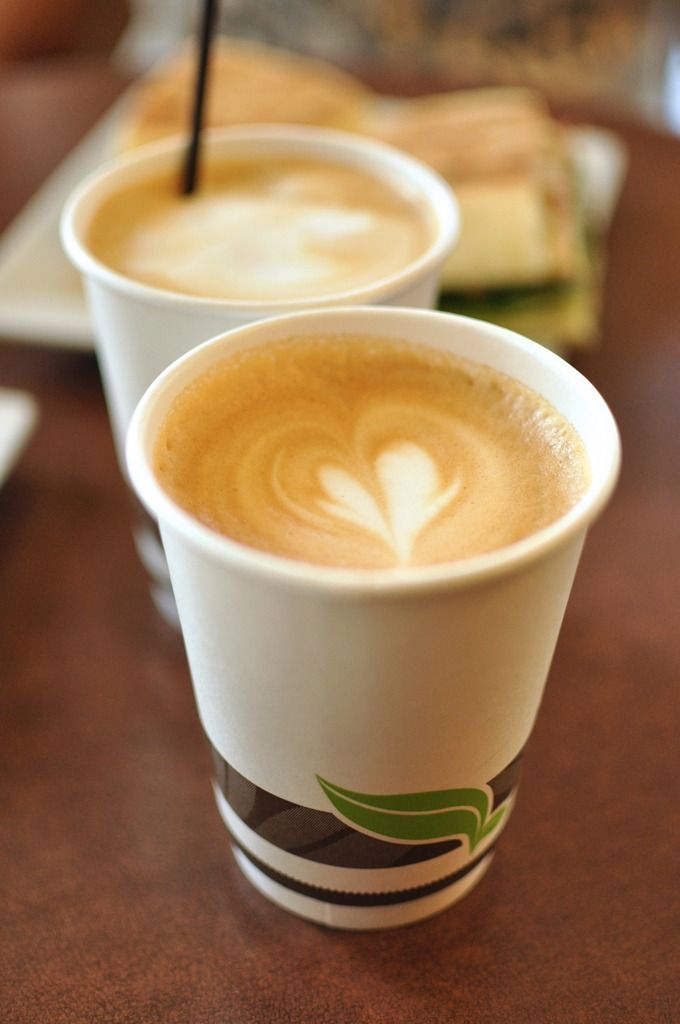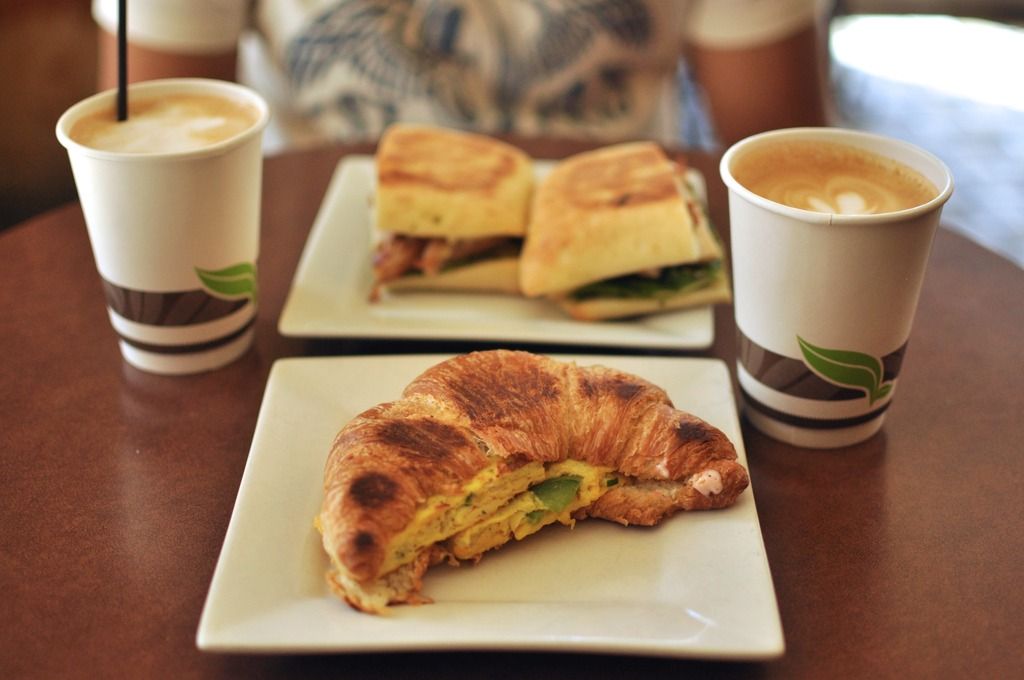 But first, breakfast at Cafe Castel. We seriously love this place and could not get enough. I wish I can go back right now.
Saw this sign full of useful information and attractions while waiting for the train. I would love to come back and visit some of these places we were unable to go to. I think my travel guidebook touches up on almost all of these.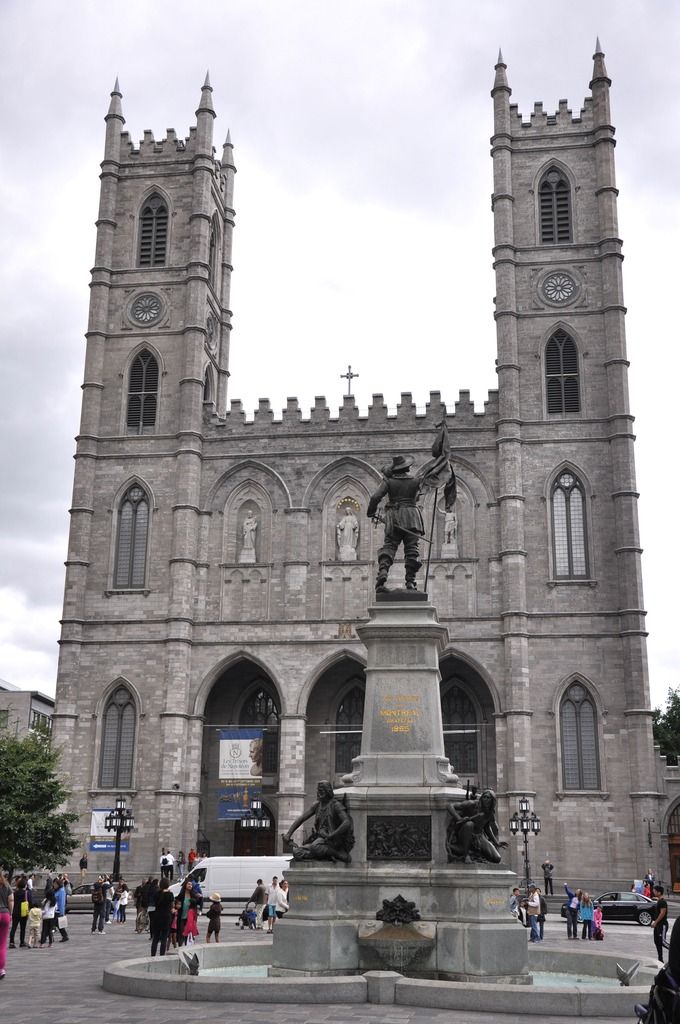 First stop, Place D-Armes Square where the
Basilique Notre-Dame
, a Gothic Revival church, is located. Admission to go inside was $5. There were tours available but we decided to explore on our own.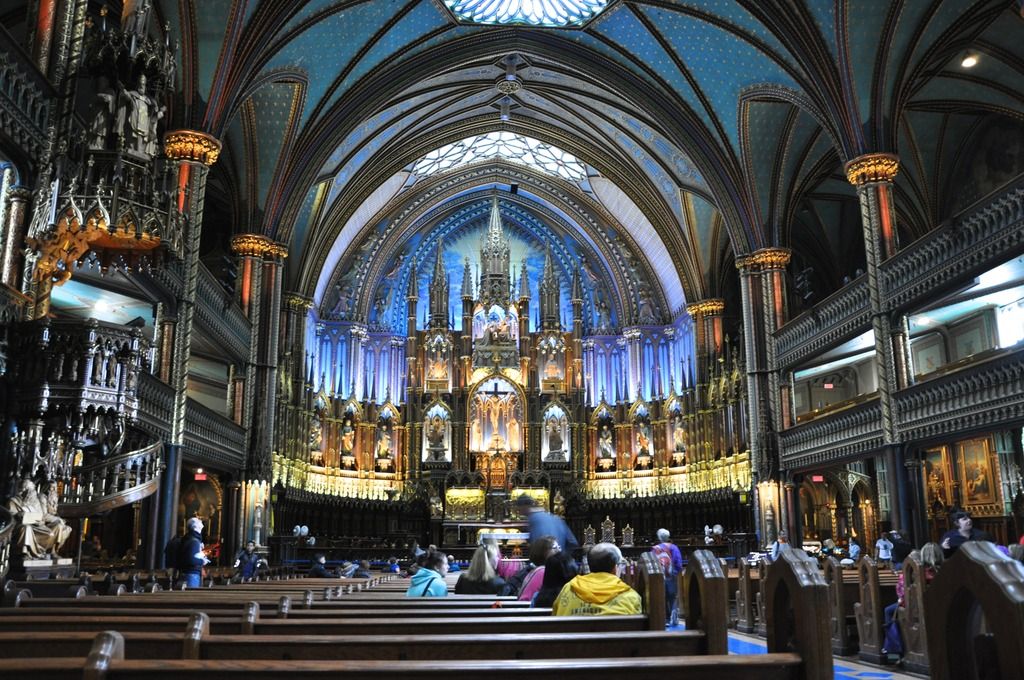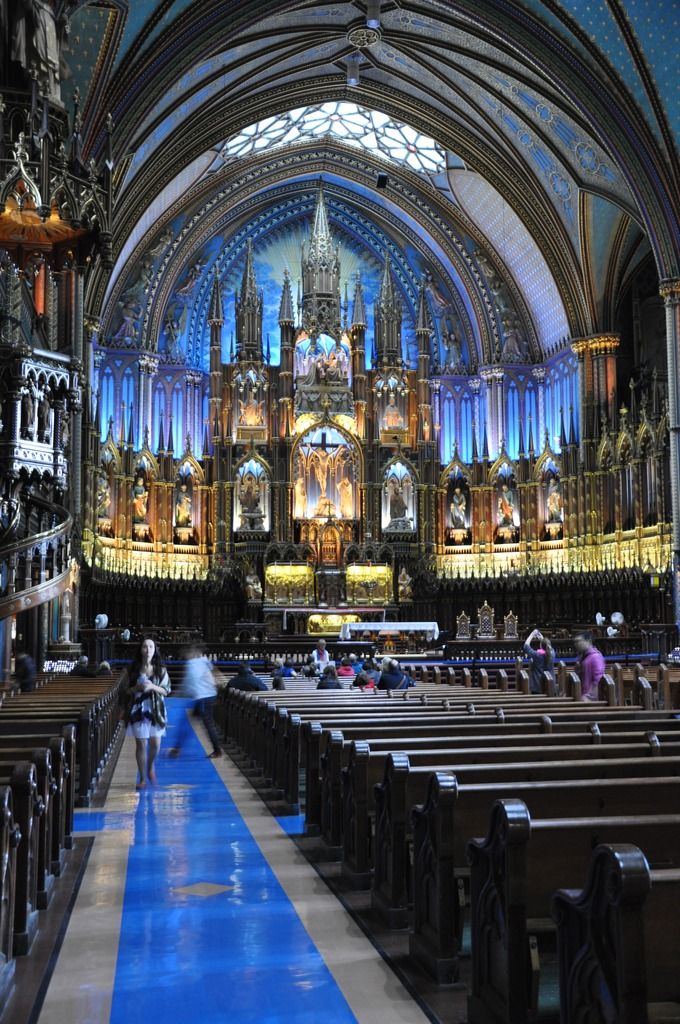 I don't think I was the slightest bit prepared to be face-to-face with such a beautiful sight. The architecture was something to behold and everything was just absolutely breathtaking.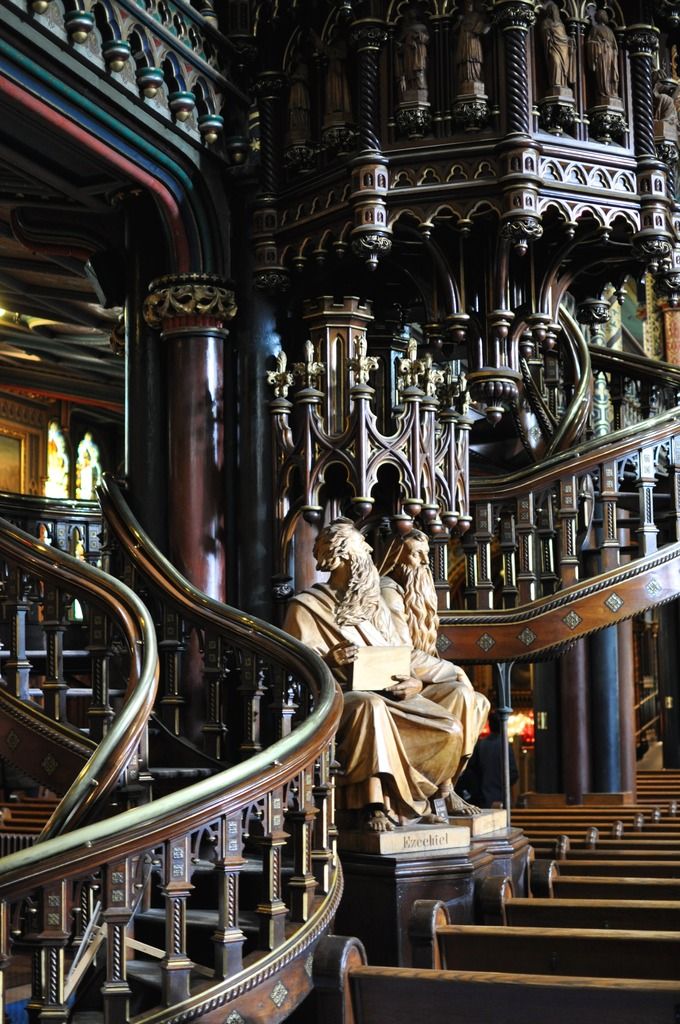 I have a thing for architecture, and this place just blew my mind. All the wood and carvings were all by hand without a single nail! Impressive.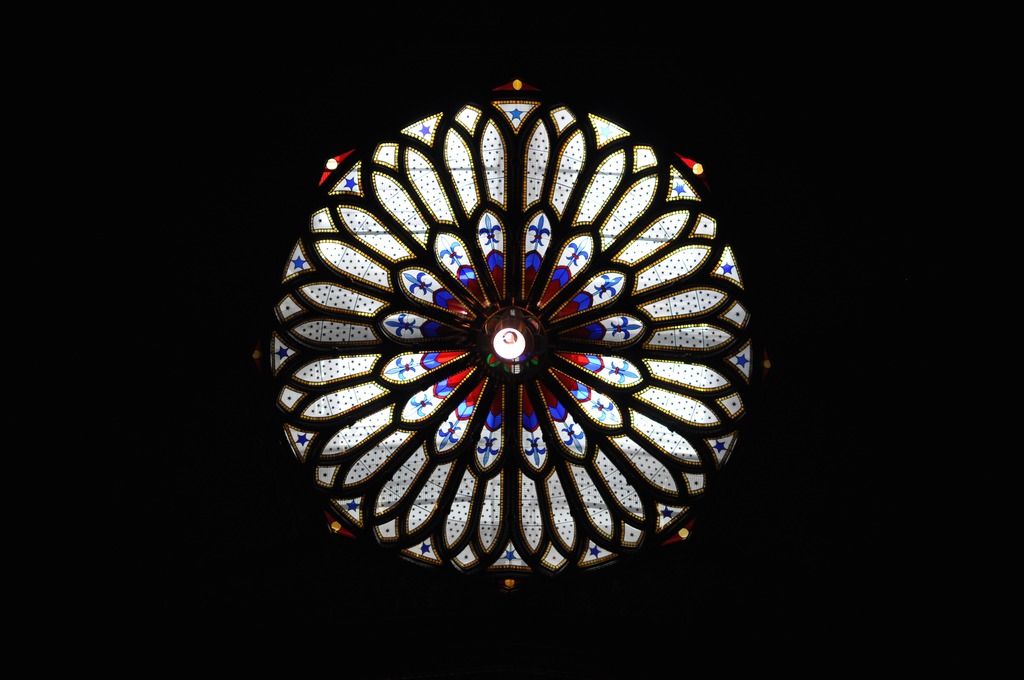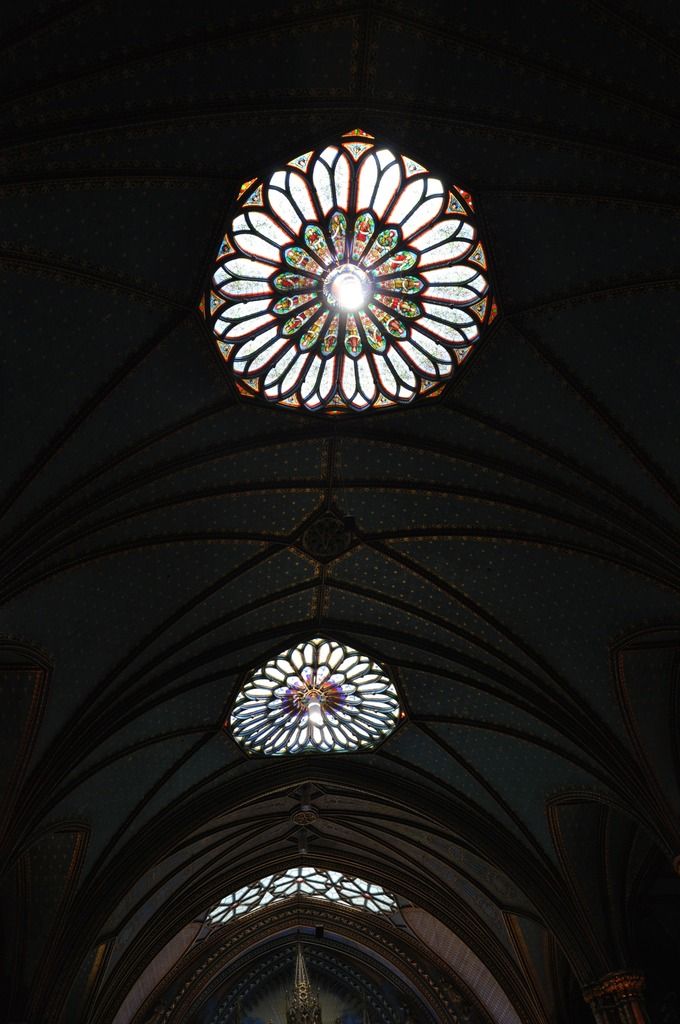 The detail put into this church was just so intricate and delicate; together it all comes together to make one magnificent piece of art.
Here is the view of the other side with the organ.
The back of the church was also beautiful in its own right.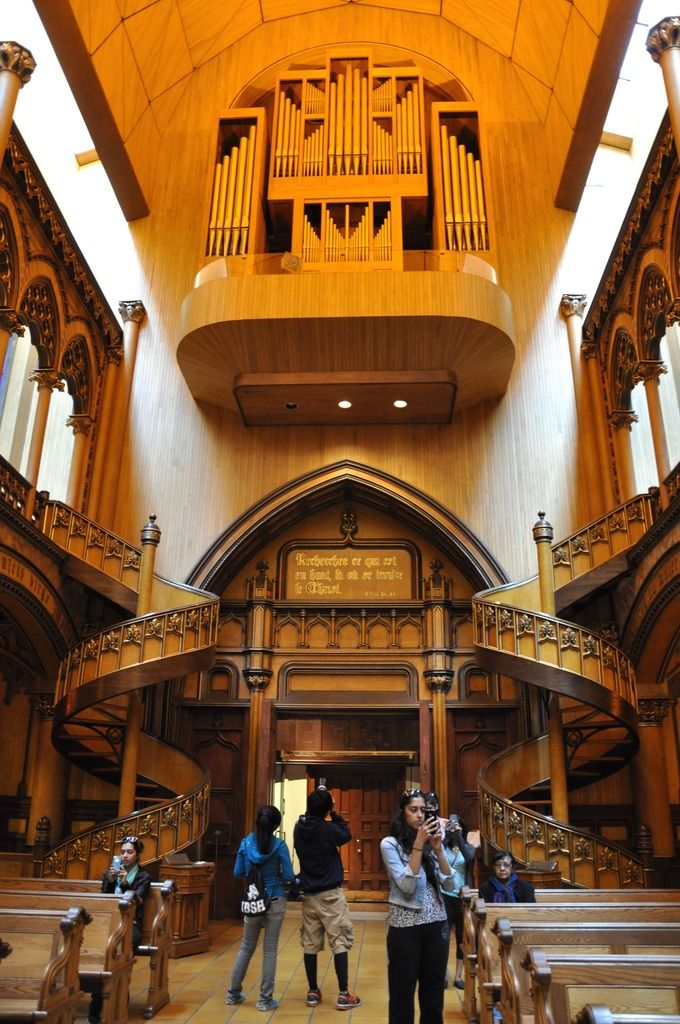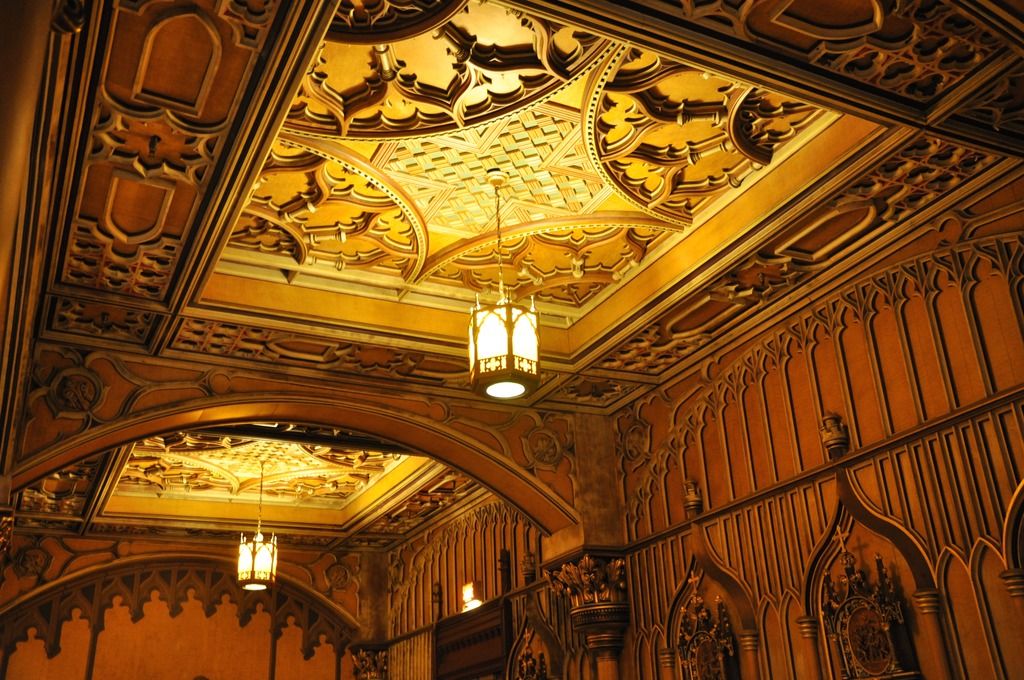 I can't get over the extravagant detailing!!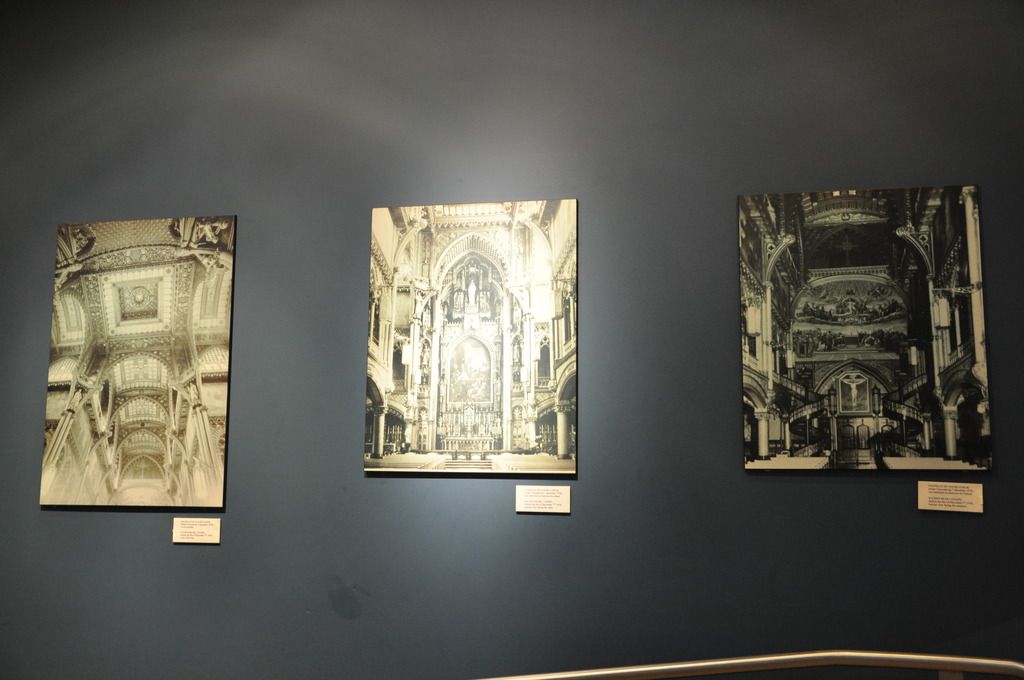 While waiting for the Mister while he goes to the washroom, I noticed a set of pictures on the wall. I read the little inscriptions underneath the photos to learn that the back of the church had been rebuilt after the original architecture had been burned down by a fire. No wonder the back looked different than the front. The old pictures show equally impressive architecture of what was originally there.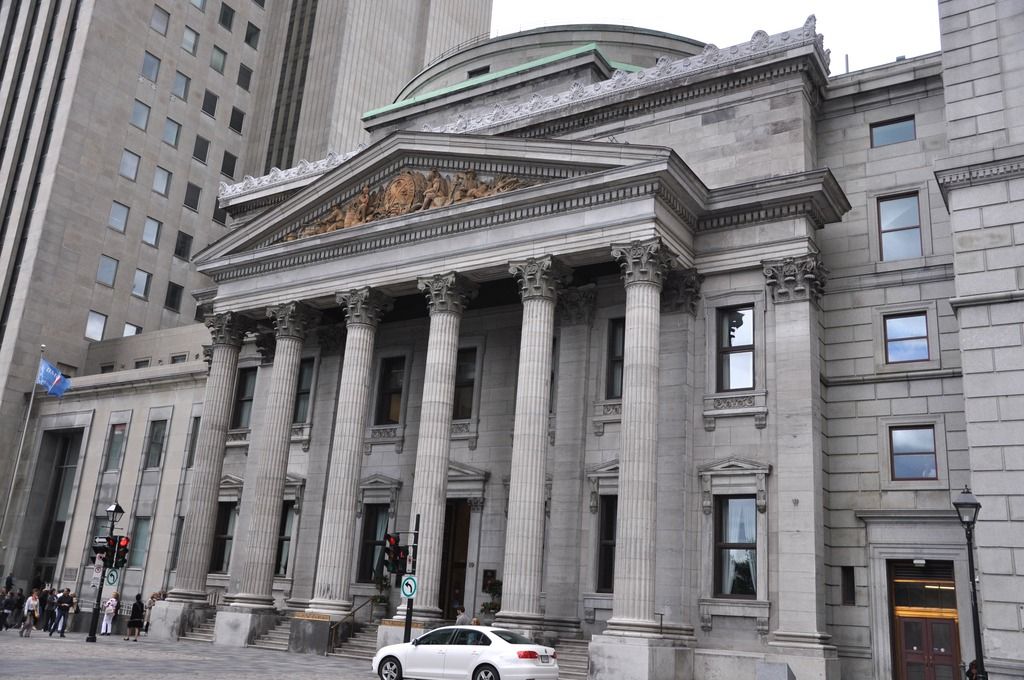 Also in the Place D-Armes Square was the historic
Bank of Montreal Head Office
building, Canada's oldest chartered bank built in 1847.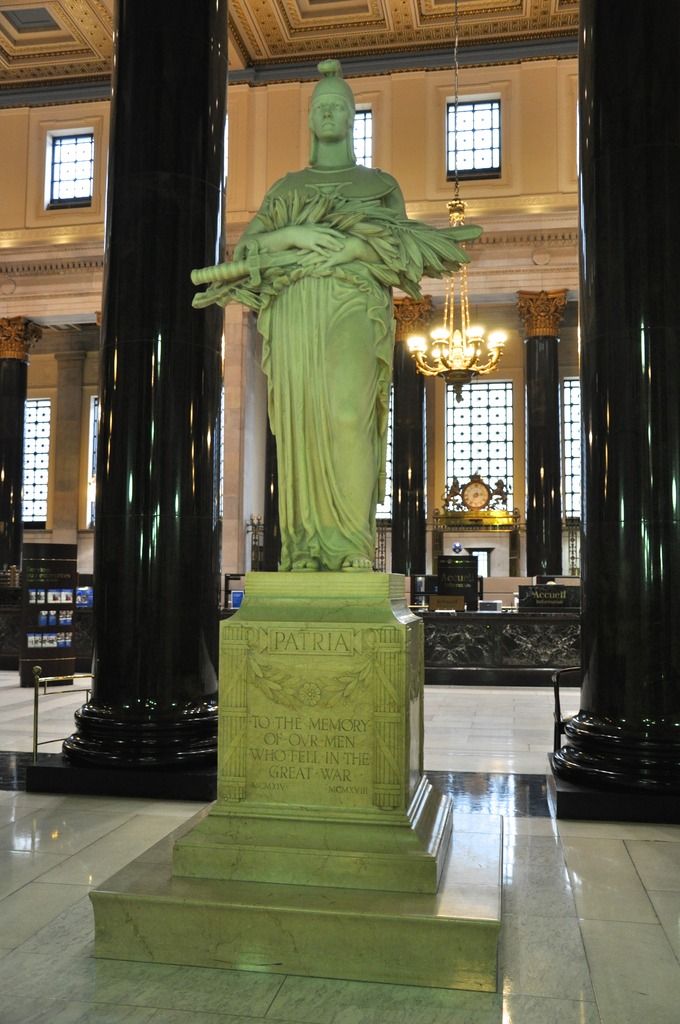 They also have a money museum in the back (free admission) but unfortunately no pictures were allowed.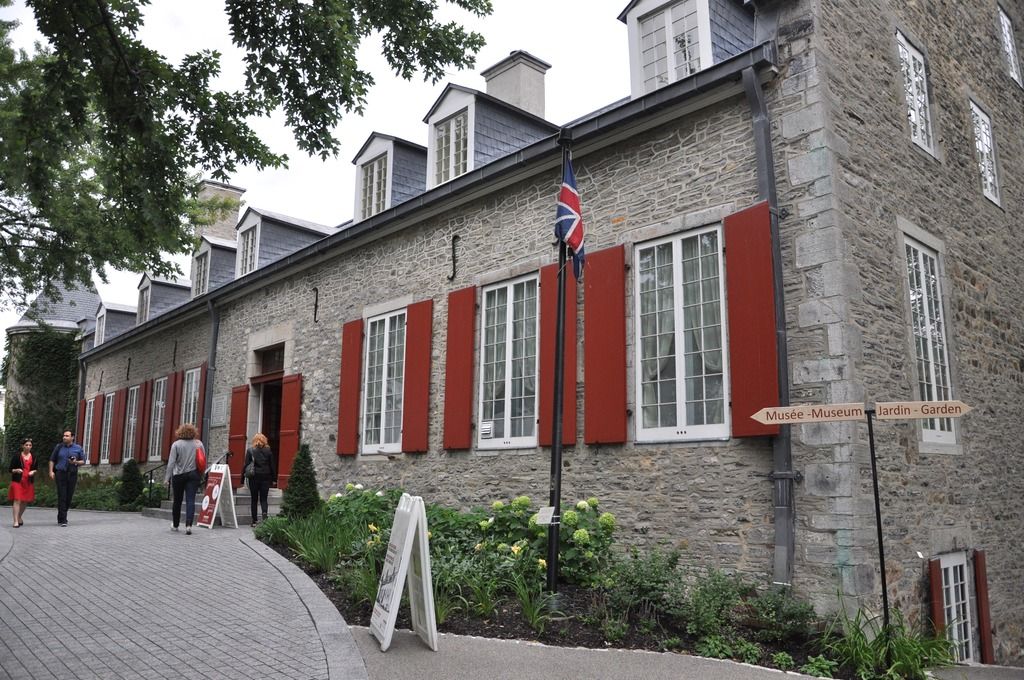 Then we headed to go see
Chateau Ramezay
museum- the home of French governors in the early 18th century. Admission was $8.50 per person.
This house was built for Claude de Ramezay who apparently spent all his money trying to maintain it. It was used as a headquarters during the Revolution. Can you just imagine how this place in Montreal used to look like? It doesn't look like it was surrounded with much... but now it's in the vicinity of all the hustle and bustle!
My favourite room in the whole house.
There are 15 interconnecting rooms in total. I think this museum would have been worth it had we had the patience and time to actually read and learn about everything.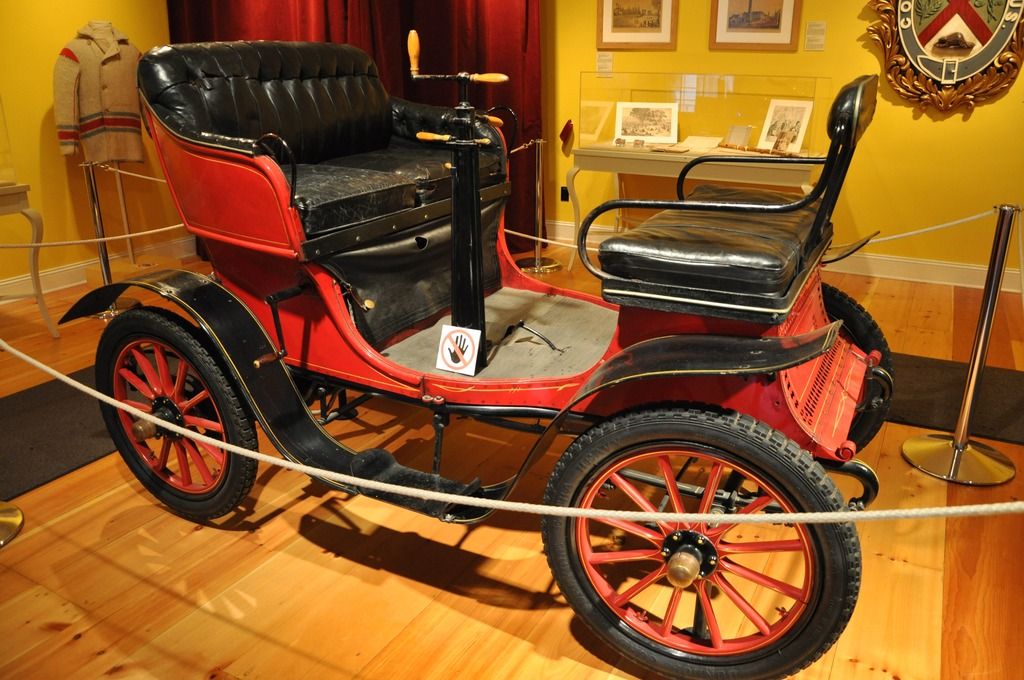 Can you imagine trying to steer this thing?
The basement was kind of creepy because it was unfinished. It had these small rooms with mannequins and it was eerily quiet and deserted which made it even more creepy.
At the end they had these really interesting stories of real people who were publicly punished for their sins. We really enjoyed reading their stories. Back then they were pretty harsh on those who did not follow proper societal behaviour.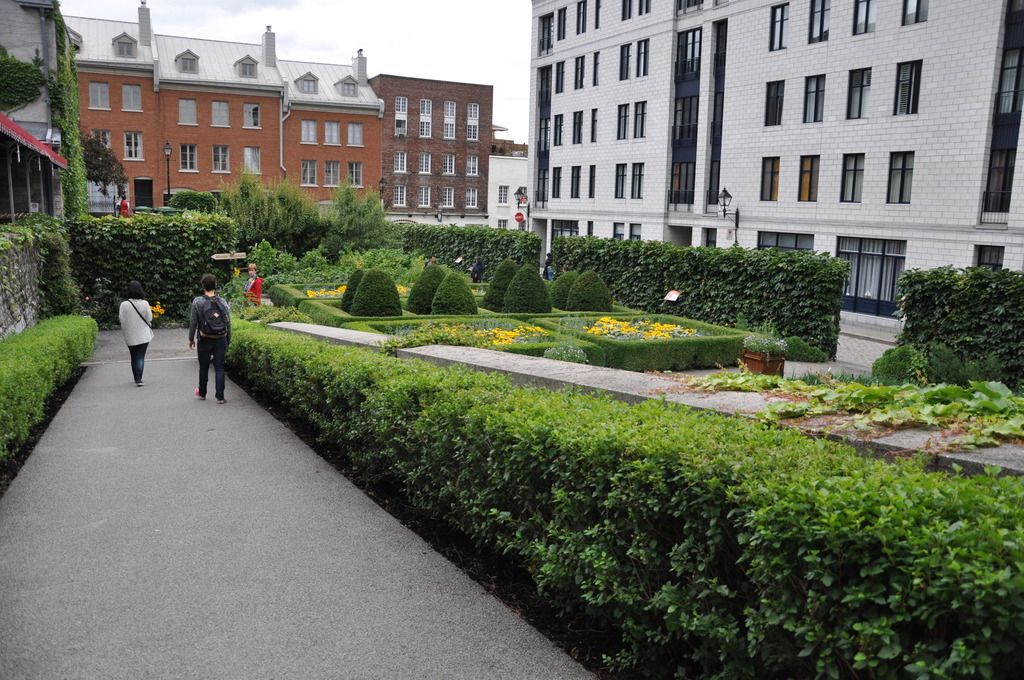 Then to end our visit, we visited the Governor's garden at the back of the house, a recreation of a horticultural garden from the 18th century.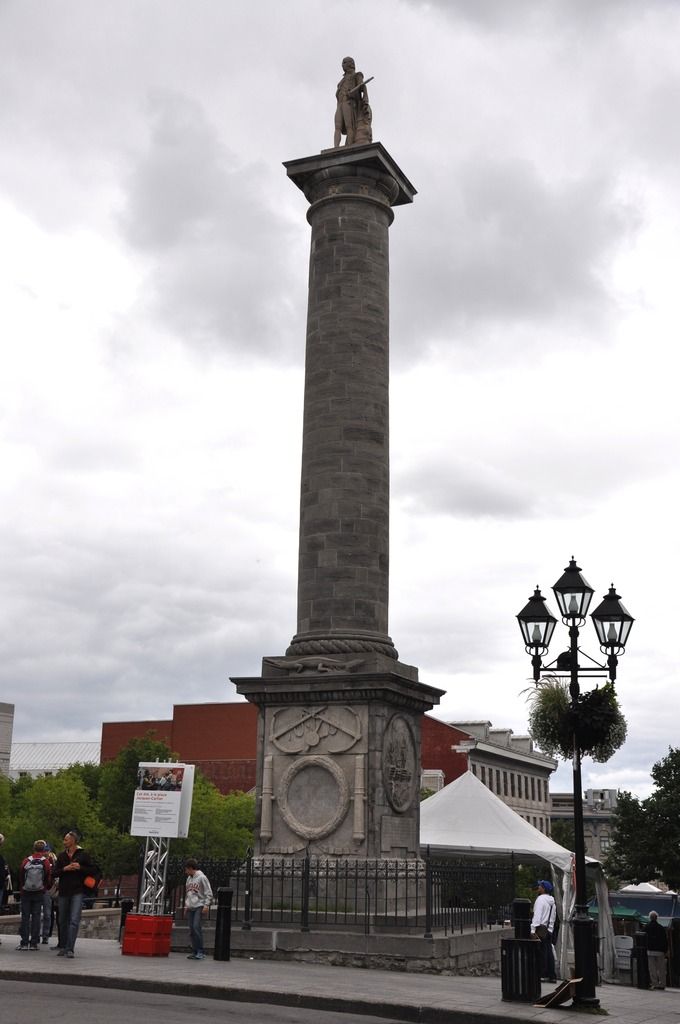 We exited into Place Jacques-Cartier, the liveliest place in Old Montreal. Above is Colonne Nelson, a monument of Admiral Nelson after he defeated Napolean's fleet.
Hotel de Ville
, Montreal's City Hall. This is where a French leader went out on the balcony and yelled, "Vive le Quebec libre!" (Long live a free Quebec). Too bad it's not accessible.
By this time, we got thirsty so we got us freshly squeezed orange juice from this stand. It was really good!
Then we saw this souvenir shop and of course, being total tourists, we went in.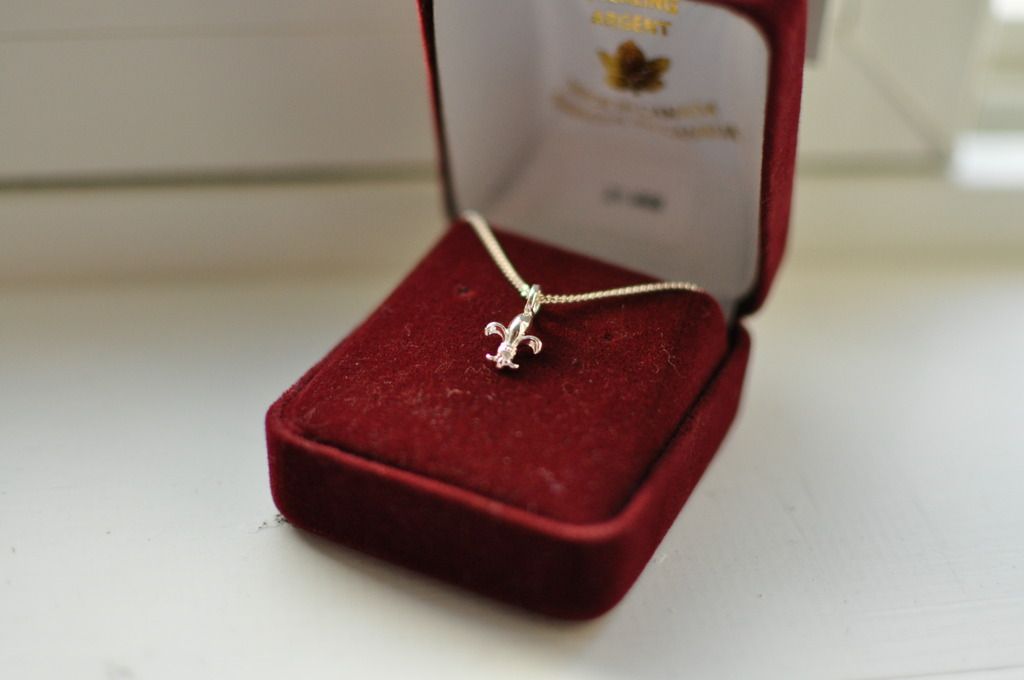 There was the usual souvenir things but I wanted something that I could wear to remind me of our time here. I saw this dainty fleur-de-lis necklace and figured it was the exact thing I was looking for. It was at this point that the Mister insisted he pay for it and when I realized that he was dead serious about wanting to pay for everything on this trip. Everything we've been to and everything I got from Day 1 has been so far bought by him. He was determined to finance the whole trip. He's such a sweetie bear and it was a very sweet gesture even though I felt like we should be a team in this.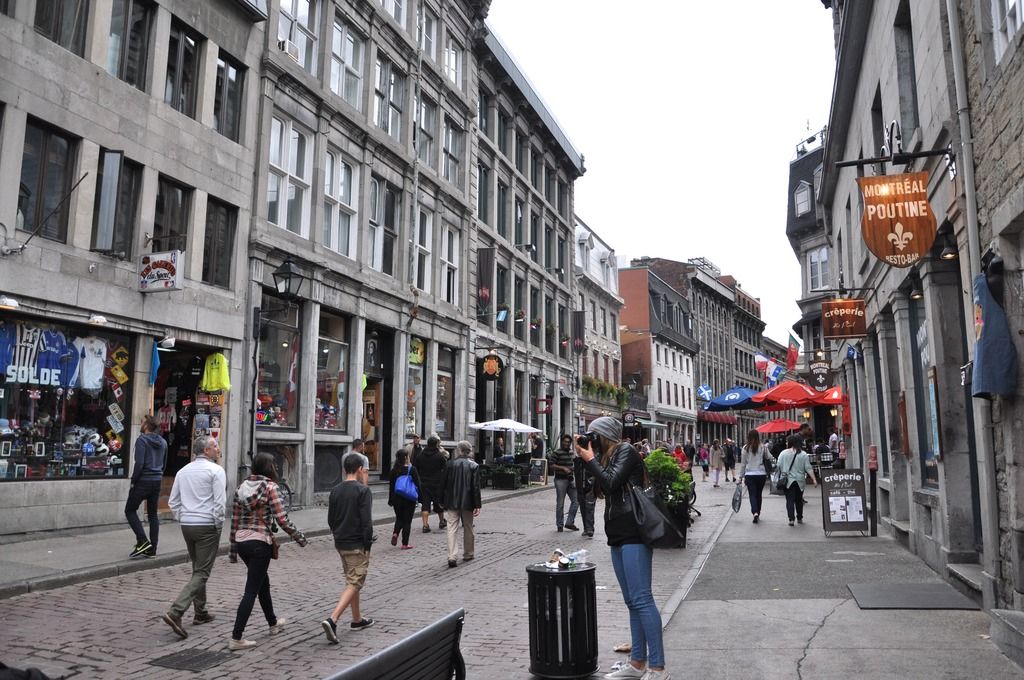 We explored and walked around a bit. The above is Rue St. Paul, Montreal's oldest street, which is lined with shops, boutiques and restaurants.
We walked around the Old Port Quai King Edward and even stumbled upon an outdoor market selling bits and bobs.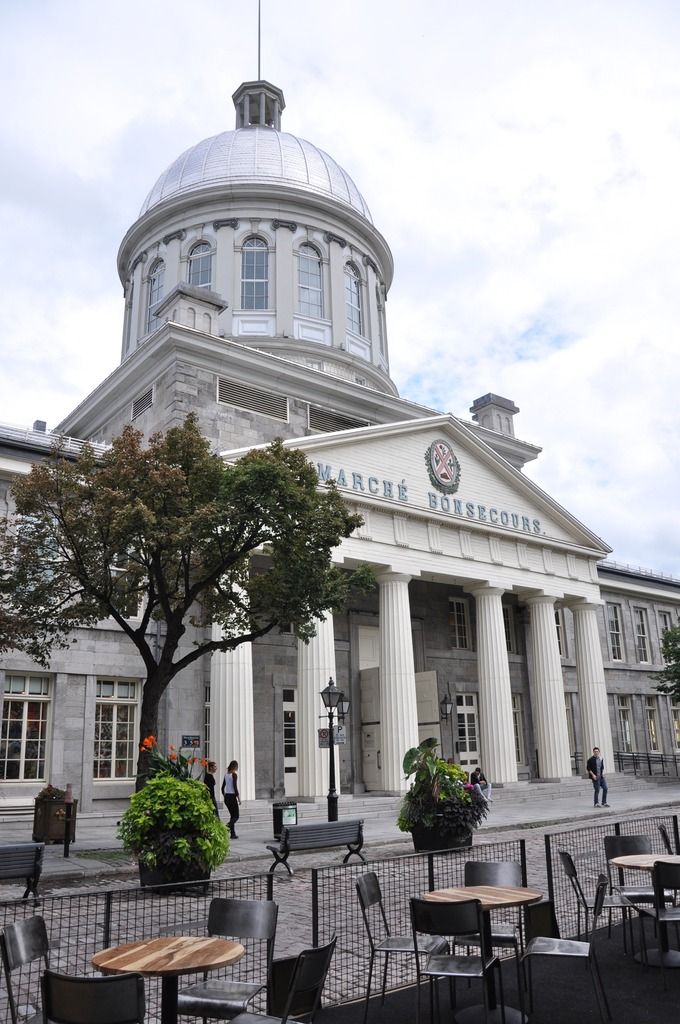 We then ended up at Marche Bonsecours.
Marche Bonsecours has been a place of many things, from a farmer's market to a concert theatre, and briefly as Montreal's City Hall at one point. It reopened in 1992 and now is a gallery full of shops selling a variety of different goods.
At this point we were really hungry, so we decided to go to
Le Club Chasse et Peche
after reading a little about it in my travel guidebook. So here comes the very embarrassing story of our trip.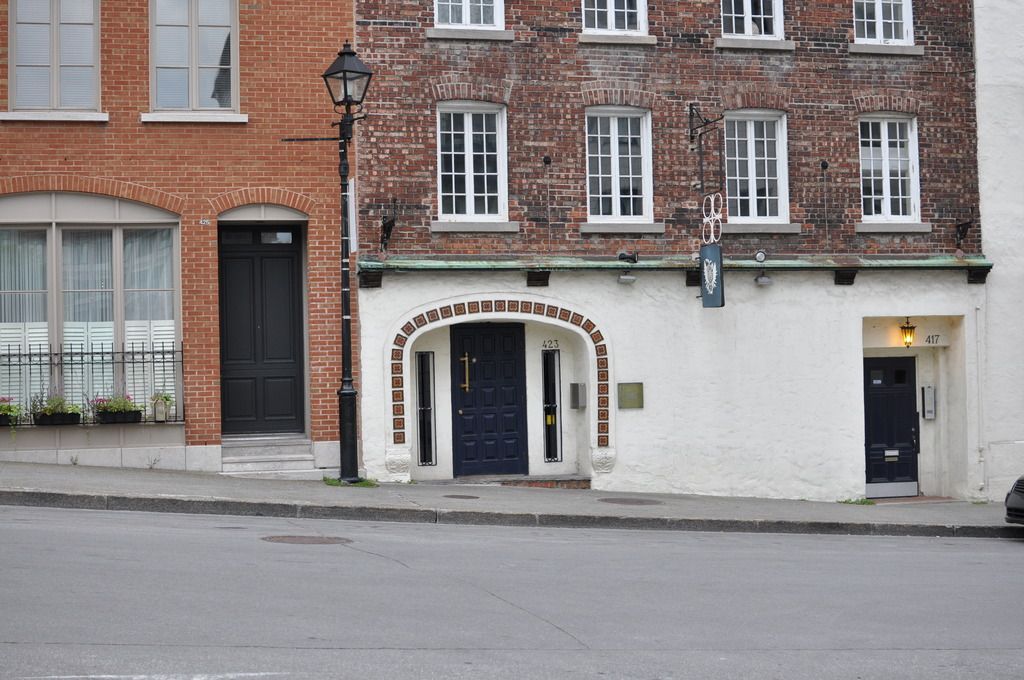 Le Club Chasse et Peche
423 Rue St-Claude, Montréal, QC H2Y 3B6
Taken from the site:
Nothing is written on the site about the restaurant...
Can I just say, that I didn't realize the restaurant was a FINE DINING restaurant?? I guess I should have had a clue seeing how secluded the restaurant looked from the outside... or maybe looked closer to see $$$ written beside the restaurant name in my book.
As we approached the restaurant, there were two people dressed in suits having a smoke outside. The moment we opened the door, they walked in after us. Little did we know, it was the owners.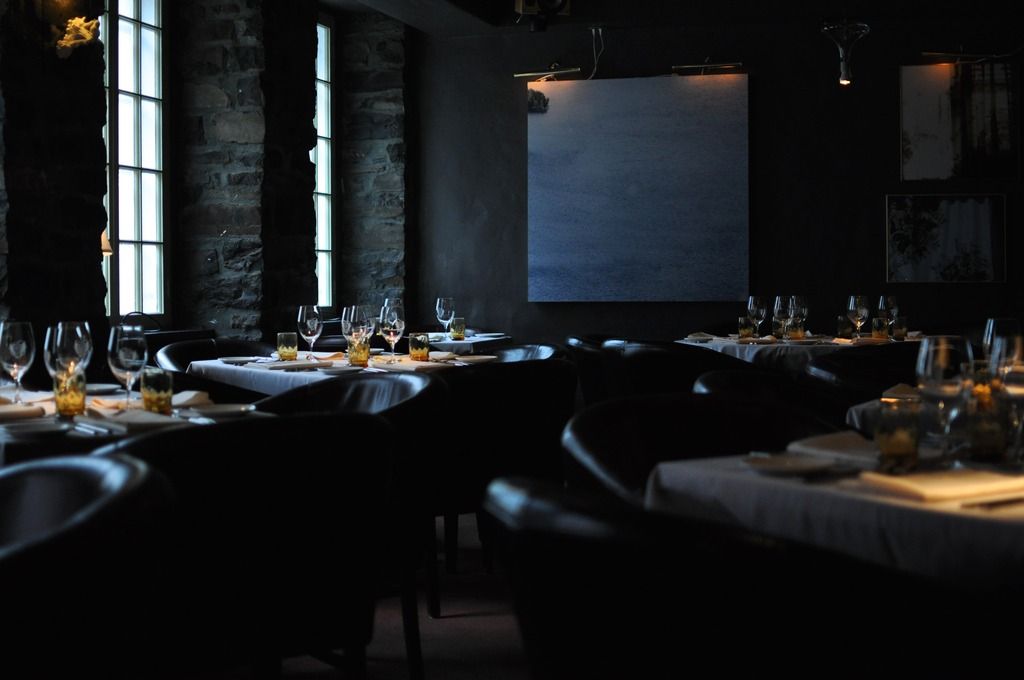 I can't begin to tell you how embarrassed we were. The few people around us were execs all wearing dresses, suits and ties. The Mister was wearing a very casual t-shirt and jeans, and I was wearing a rolled up blouse and jeans. We were also lugging around a shopping bag full of stuff, my camera, along with my purse. Does it sound as bad as we felt yet?
If not, let me tell you how it started. First we were handed a slim menu. I quickly glanced at it and realized it was all in French and that I wouldn't be able to understand a thing. We panicked and asked the server if we could get an English menu and they chuckled and told us that we were looking at the
wine menu
... OMG so embarrassing! The Mister had a slight clue that he was looking at one but didn't say anything to me for some reason... I have no prior experience nor no knowledge about anything about alcohol, so forgive me for not knowing that I was looking at an exhaustive list of the most ridiculously expensive alcohol.
At this point the owner came over (probably because we looked like we were completely lost) and handed us the actual food menu after we settled on just water. The menu was very particular and only had a handful of choices to pick from (that's when you know you're in a hella expensive restaurant). He started talking and talking and kept talking about the menu items, and although he was super nice and accommodating, I swear I didn't think anyone could go in such detail. He definitely knew his stuff, as should any owner.
And if we didn't already feel overwhelmed and out of place as it was... we decided to share our appetizer because holy hell the scallops were $18!!! So, we each got two pieces each... Presentation was on point, taste was fabulous... price? I'm sorry but $18 for how little we got is ridiculous no matter how tasty.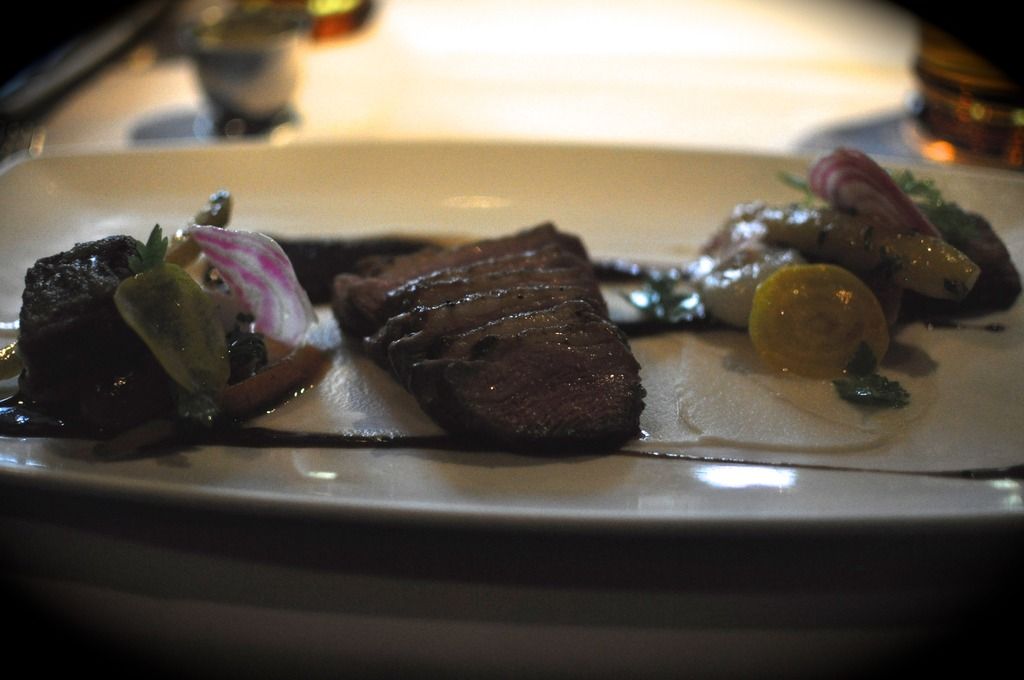 I ended up ordering the Duck, $36. I added the prices because I just want you to see how expensive it was. As you can see, five small pieces of duck meat. I don't have a good shot of the food because it was kind of dark and I felt extremely awkward pulling out my camera to take a picture.
The Mister got the Lamb, $42.
Because I knew our bill was going to be in the 3 digits, we opted to not get any dessert.
They also gave us bread and butter... and kept giving us bread probably because they figured we'd be starving with what little we had on our plate. I'm not purposely giving this place a bad rap because their service was impeccable and their food was good... but the price was just beyond us at that point. We didn't expect it and it's not like we could just walk out after seeing the prices, right? Because that would only make it more awkward.
You know what it felt like? It felt like I was in one of those movies where the character tries to cut and eat the food in the smallest pieces they can. I was thoroughly shocked when they presented me with the dish. It looked more like an appetizer than a main dish. I could have, of course, stabbed the scallops with my fork and put the whole damn thing in my mouth. And don't get me started on my duck meat because I think that was the most expensive piece of meat I've ever eaten. The food was completely overpriced. We paid $110 for a shared appetizer (a morsel) and two mains- no drinks, no dessert. We would have walked out starving if it hadn't been for the bread and butter. Ambience was stuffy and uncomfortable, but I guess that's our fault for being in the wrong place, dressed in the wrong attire and not expecting to be fine dining.
Overall: Ambience B-, Food A, Service A+, Price F.
I felt so bad for the Mister because it was my fault for suggesting this place without knowing what it fully entailed. We were thrown off our budget for sure :( And once we got out I swear it was like breaking out of jail. We could finally breathe; we were free. We laugh about this whole incident now but at the time it was too embarrassing. He even said to me that we'll come back again one day but properly prepared hahaha! Never again will we put ourselves through this scenario. Research first!
After our hella expensive meal we headed to Ben and Jerry's for some much needed ice cream dessert :D
I've only ever had Ben and Jerry's out of their tubs that they sell in convenient stores, never in a cone before! It was great. Very yummy ice cream in a very tasty waffle cone. I can't remember the flavour I got but from the picture it looks like cookies 'n' cream.
Then we walked to explore around a little more and came upon this little shabby chic shop called Magasin General. This was my most favourite shop during our whole trip in Montreal. I followed my travel guide pretty closely but this little gem wasn't even mentioned in there. The store was like Chapters and Anthropologie but with more character. It had so many interesting trinkets and bits and bobs jammed packed in there. I came back here another day and was allowed to snap one photo of the interior. I'll share that picture when I blog about that day.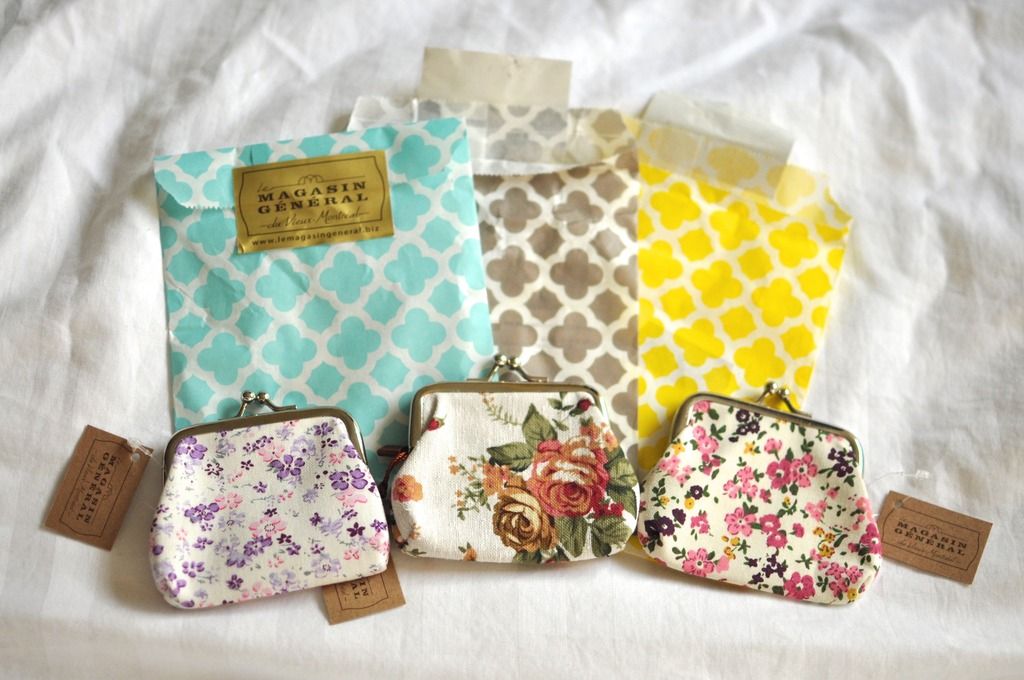 During this visit, I picked up three coin purses; one for me (the first one) and the other two for my sisters. The pattern on each one fit each of us perfectly. I couldn't believe what a coincidence it was. The cashier was super nice and packed each little coin purse in a separate bag because I said they were gifts.
We continued walking around and enjoying the streets and atmosphere of Old Montreal. Then we came upon this little old alleyway. The Mister had a mini photo-op here haha.
Place Royale. This public square used to be a place of exchange and once was a marketplace until the 1800s. It's importance these days seems to have faded- which is very unfortunate since this place has some historical significance.
As the sun went down, we called it a day and took the subway back. As we walk from the station to our hotel, we admire the houses along the way. I have to admit though, they look kind of spooky at night.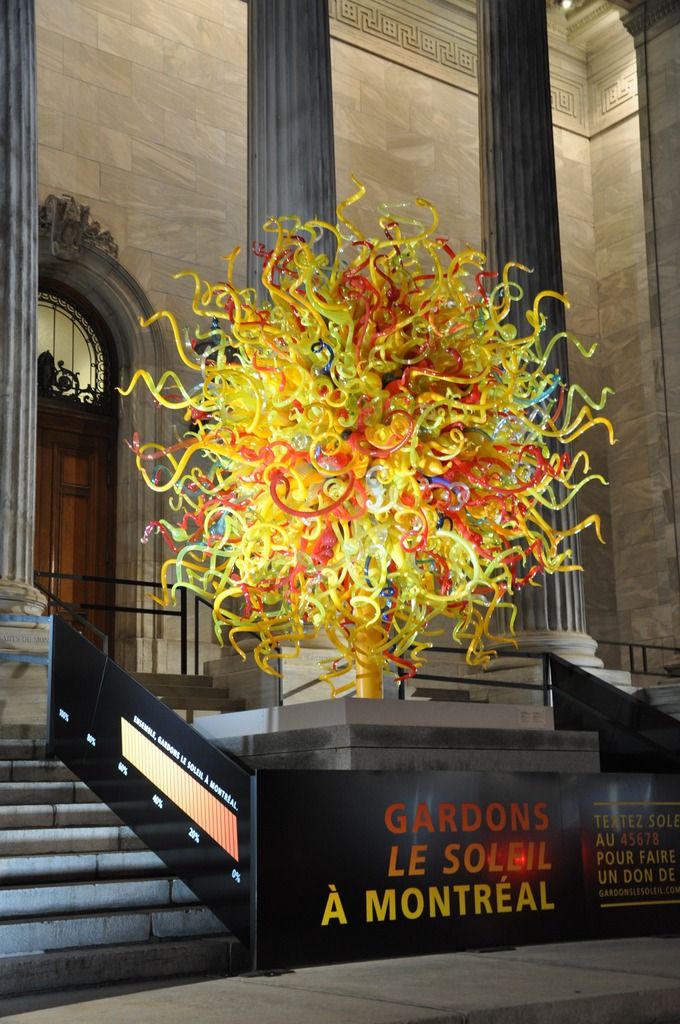 I think we would have really enjoyed visiting a museum, but we didn't have time to fit that into our trip this time.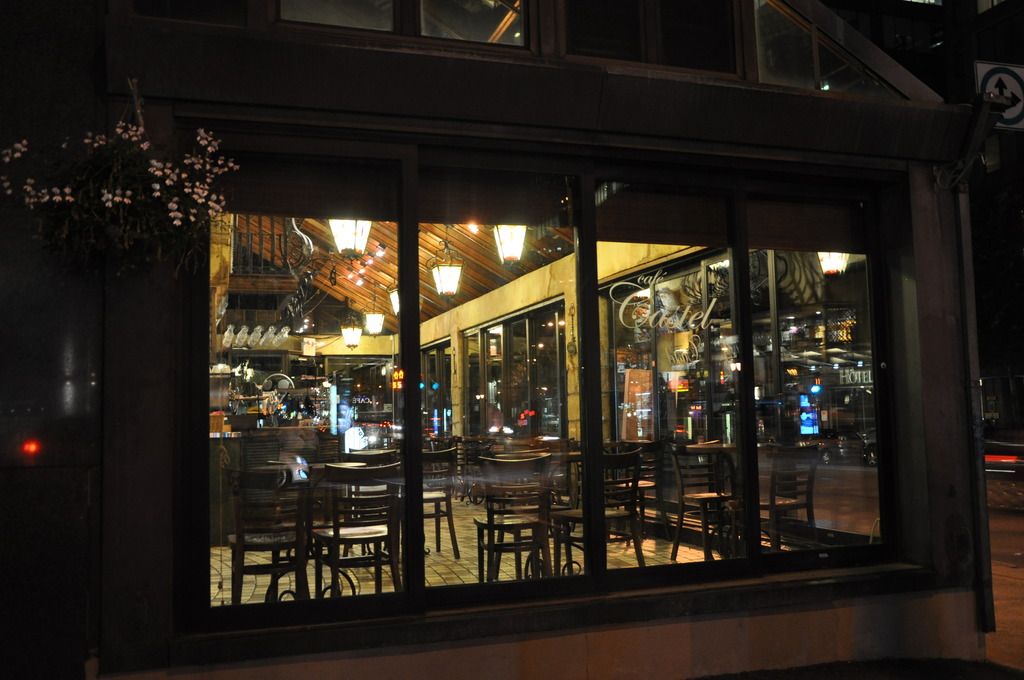 Finally arrived back to our hotel after a long day of lots and lots of walking.
At the time I was watching one of
Judy's vlogs
where Benji tries to do the
Black and Tan
, a beer cocktail made with pale beer and dark beer. So, the Mister and I tried to do the black and tan using the beers (Guinness Draught + Budweiser) he bought on Day 2 of our trip.
On another note, I think our next big trip will be to New York. I talked to a coworker and she was telling me how you would need to stay about a week to fully take in all that New York has to offer. I figured that much since our Montreal trip. The Mister and I managed to see and do a lot within a week and I think we covered Montreal pretty good even though there's still so much more to explore there! I can imagine New York being even more fun and I foresee a lot of money being spent on shopping... haha!
p.s. Sorry my blog posts are mostly about lifestyle right now. I have no energy and no time to fit in beauty, decor, fashion and all the other things that I love ;( I hope I'll somehow manage to find time soon, but for now, this is all I can do.
"The poorest people have the richest souls." -Unknown