I'm on Season 6 of Gilmore Girls! I read about how the show was abruptly canceled a few years back? I hope the ending isn't terrible... but with most shows that get canceled, usually our imagination has to do a little bit of work to fill in the blank spaces.
We're well into 2015 now with the month of February already on our doorstep. January kind of flew by which is sad because it's my birthday month. But before I can even share any of that, I must share with you my family outing to Ripley's Aquarium back in December!
It was my sister's present for my mom to bring the whole family here. My sisters have already been here before, but it was the first time for me, my mom, and my brother.
**If you plan to go to Ripley's Aquarium and don't want to spoil anything for yourself, please feel free to skip this post because I took a lot of pictures.**
The entrance seemed a little more geared towards kids- which is understandable given that a lot of families come here with their children, and the fact that a lot of schools plan trips here too.
This tank was the first group of fish we saw. It was so cool seeing a school of fish grouped together. I kind of felt bad for them though because they were just swimming in one place due to the man-made current. In the ocean they could at least swim far and wide and go somewhere.
There are some really weird looking creatures in the depths of the sea. You got the usuals like king crabs that you sea at the market, but then there are the weird ones like the one at the bottom right picture. I didn't have my dslr with me so the pictures aren't as clear, plus it didn't help that it was dark so I couldn't capture some of the details of these fishes. I do like the fact that they tried to mimic the natural habitat to the individual fishes though, so I'll take the dark lighting over human entertainment any day.
The octopus was pretty cool. We saw the tentacles and underside pretty well but not much else (the other octopus was hiding behind a rock). The glass has been warped because of the shape so when you try looking in at the octopus, everything just looks contorted.
Because I was with my family, I wasn't able to take as much time as I'd like to read and learn about everything- which is what makes these places worth going to. I might come back another day to read everything.
You can't tell from the picture, but this tank was so awesome. It was a HUGE cylinder shaped tank, and it felt like you were in there with them. It was really hard taking pictures of anything because there were so many people.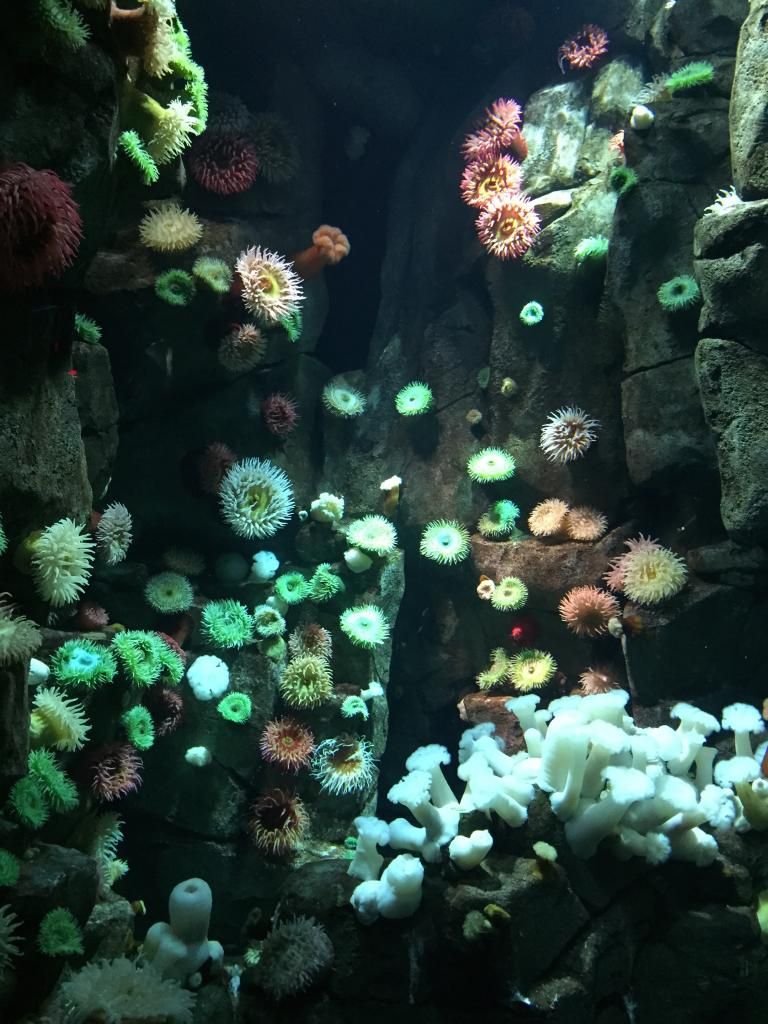 I like how colourful these sea urchin were. Everything looks better in person by the way.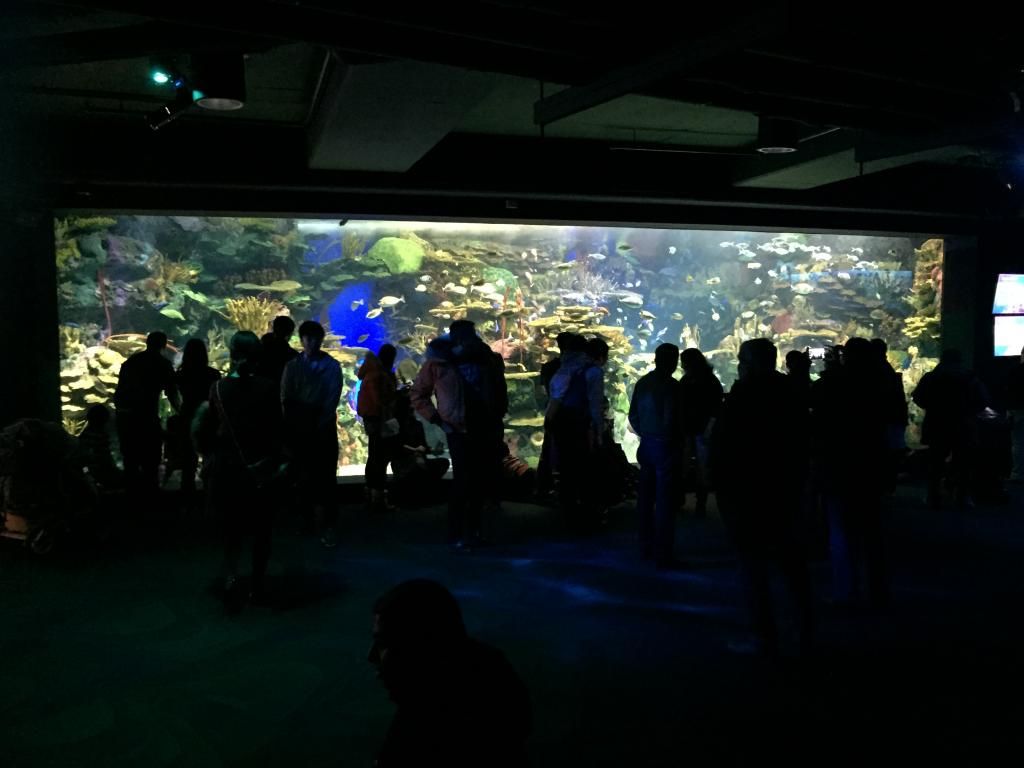 This tank is my favourite. It was so bright, alive, and full of colour! My mom has a fish tank at home and one day when I have my own house, I want one too. I would like mine to mimic the ocean like the tank above.
And then there was the "Dangerous Lagoon" an underwater tunnel where there's a moving walkway for you to stand on to enjoy the view from all over.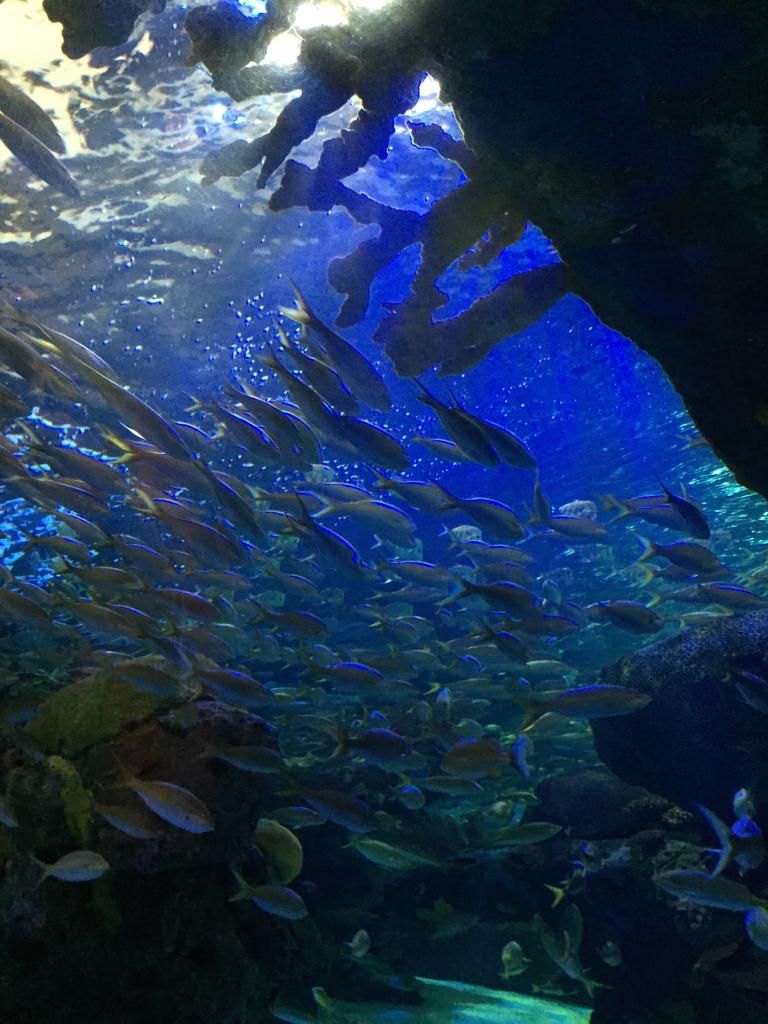 At times you felt like you were swimming with the fishes, sharks, and stingrays! It was really cool.
Whenever I see a lionfish, I'm reminded of that movie, Deuce Bigalow Male Gigolo, where the Rob Schneider is house sitting and accidentally breaks the fish tank with the lionfish in it lol.
This seahorse is one of the most amazing creatures I've seen. It has evolved to mimic the seaweed and plant life in its natural habitat. It looked so graceful and fragile.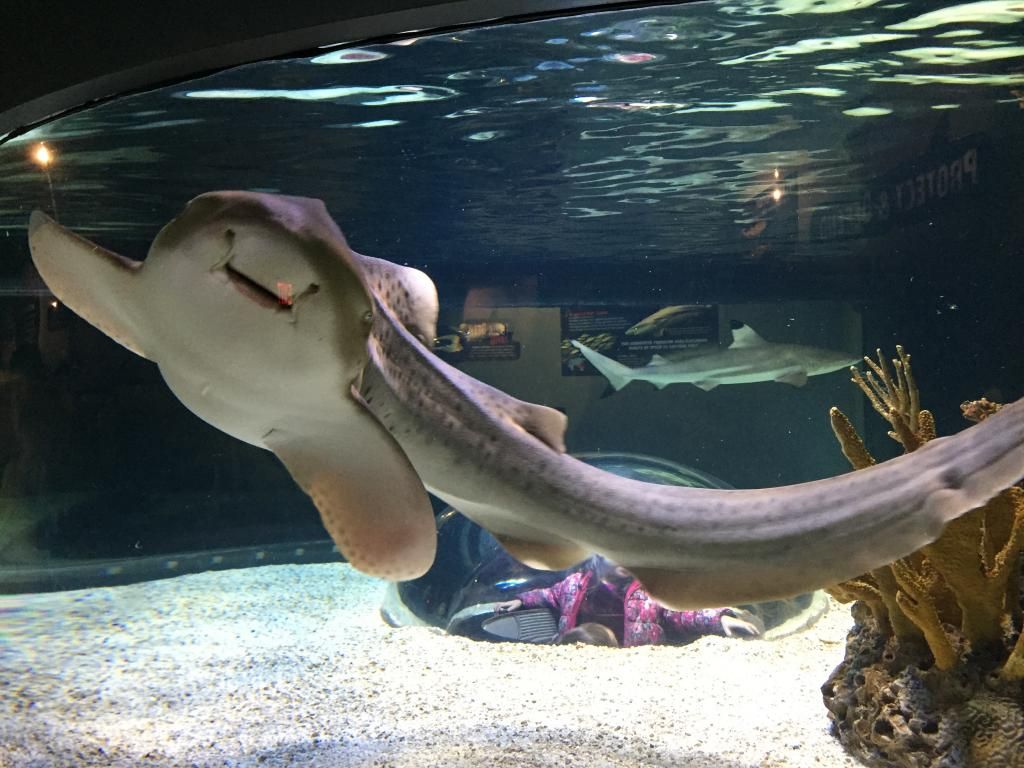 I felt absolutely terrible for this shark because it was swimming continuously around in circles in what could be the smallest tank ever for a fish this large.
Apparently I just missed the stingray swimming up as my mom told me. These looked pretty big.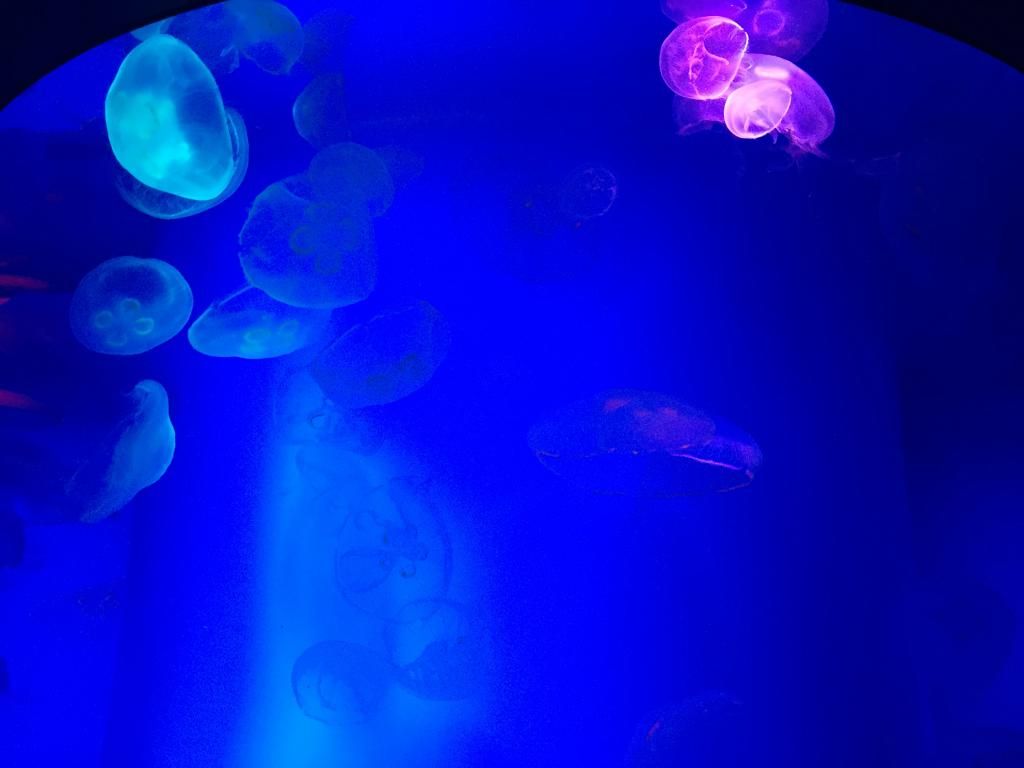 The jellyfish looked like they were digital, I swear. Ripley's could draw up a digital version of these jelly fish and I could probably not tell the difference- that's how tv-like it was. The light and colour change these jellyfish do are so fascinating.
These little jelly fish guys looked real in person at least. Boy, I'm not sure what happened to this picture when I uploaded, but the photo in my folder doesn't look as bad as this. Although, that doesn't take away the fact that when I do look at the quality of these pictures, I really wish I would have thought to bring my dslr with me. Some of these photos are just awful... my apologies.
The gigantic filter tanks that maintain the water in the fish tanks. Man, it must take a lot of work to keep them clean because cleaning the fish tank at home can be quite the burden... I can't begin to imagine the upkeep it takes to maintain all those delicate fishes.
I have never seen a shark's egg before. You can see the little ones moving inside the egg. It was really neat.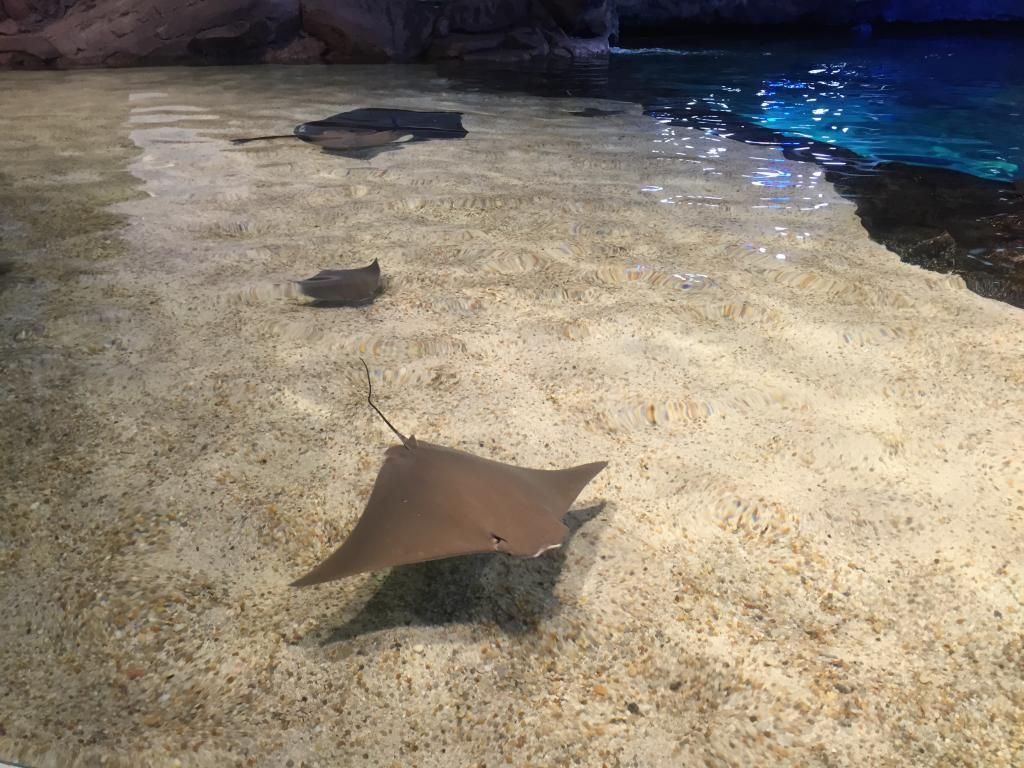 And then, we get to the end. Here you could freely touch a stingray if you wanted to. I didn't want to because I didn't want to get my hands wet, but my sister did.
This little backdrop in front of the giftshop was neat. It'd be better if you didn't see the lines, but at least they tried. The backdrop at the Biodome in Montreal was much more realistic; you'll see when I share my vacation pics. I didn't end up buying anything at the giftshop because I felt like my trip there wasn't as fulfilling as I'd want it to be. You really have to read and learn to make this trip feel worthwhile. Otherwise you'll just stare at fish and feel like that's all you got out of it.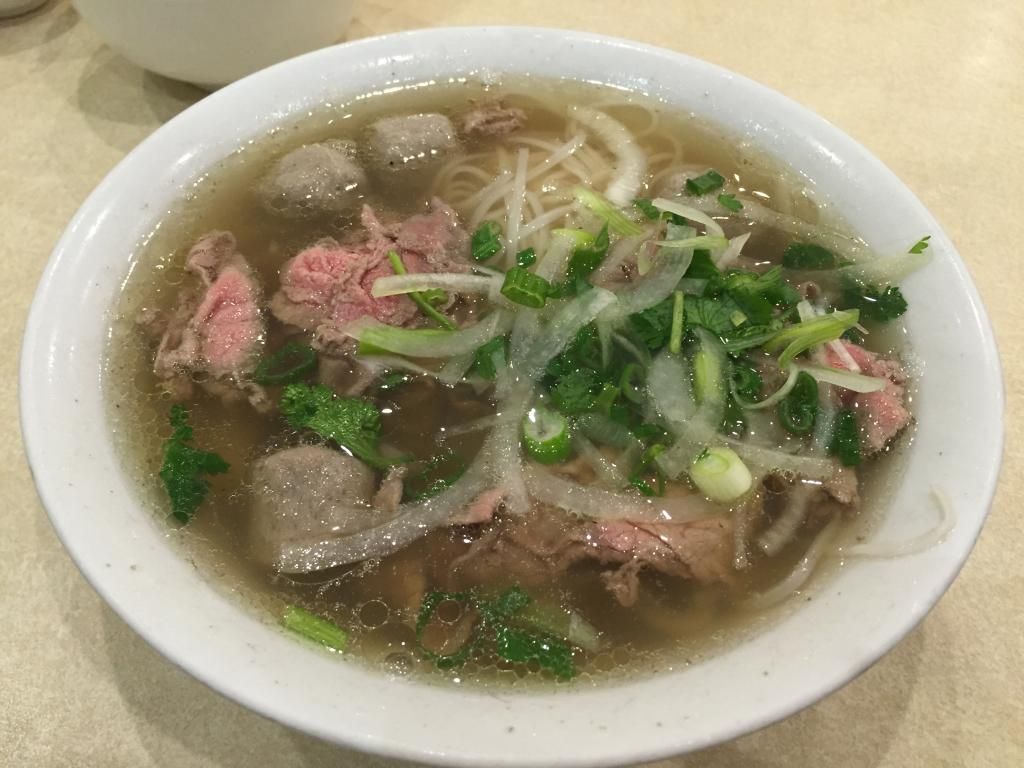 After we left Ripley's Aquarium, we went to go eat pho at Pho Mi Asia. I got my usual, Pho Tai Bo Vien. Yum.
"We should all start to live before we get too old. Fear is stupid. So are regrets." -Marilyn Monroe