You guys know the drill by now. Every year Sephora has two major sales, one in Spring and one in Fall. I've been pretty good this year with not buying so much cosmetics as compared to last year. Last year I achieved VIB Rouge status because I dropped a ton of money on YSL lipsticks among other beauty treasures.
Fellow beauty addicts, do you feel me?
But this year I managed to keep away from Sephora since I focused on using up the products I already had.
Above is my "empty" Dior powder foundation compact. I was determined to use the last bits that came off the pan, but after a couple of tries, it got all over the place so I gave up on that. Still, I was so pleased that I finally finished it! Using up products will be easier for me now since I can apply makeup everyday to work.
I will be losing my VIB Rouge status at the end of this year, but I have achieved VIB status until the end of next year. I checked my online order history and discovered that the last Sephora order I placed was back in June (when I had a promotional code for reaching VIB status), and the order I made before that was for the VIB sale back in April. I must say, I'm pretty darn proud of myself. I continue to look forward to digging into my collection and rediscovering lost treasures. But with that being said, as a beauty enthusiast, I still enjoy discovering new treasures which is why I took advantage of the 20% discount Sephora offers only once a year.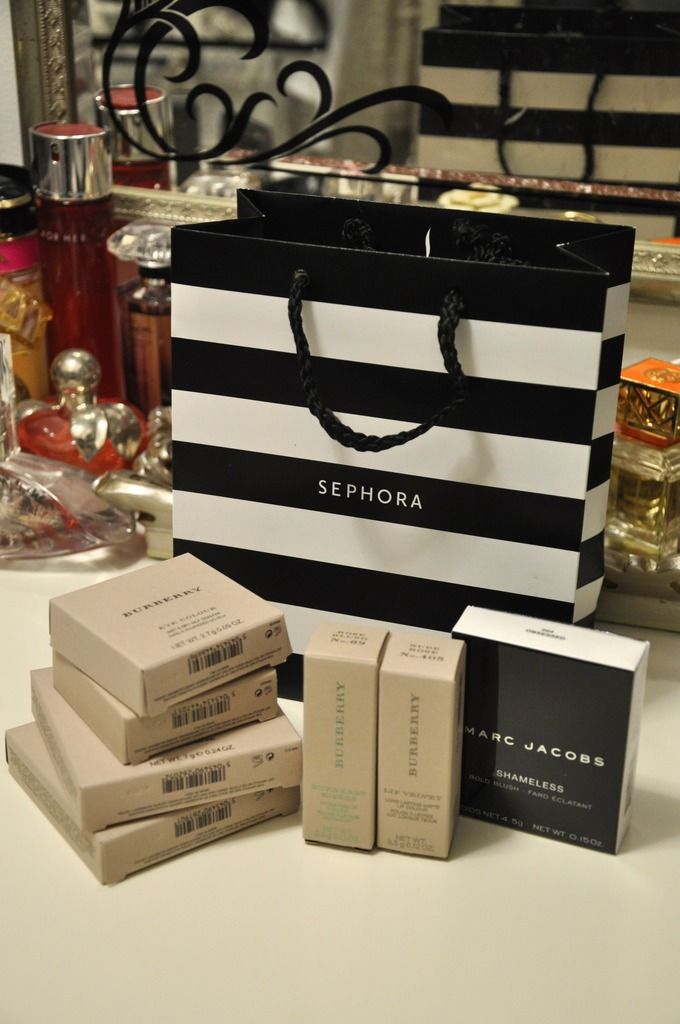 This time it was all about Burberry (with the exception of a blush from Marc Jacobs). I was so excited the day I found out Sephora started to carry Burberry. Burberry cosmetics is so hard to reach at times that I never had many opportunities to look at their products and buy them. My first Burberry product were two eyeshadows that were gifted to me by my sisters for my 21st birthday (my gosh that sounds so long ago *cries*). I still have them and they still work like new.
I knew for sure that I was going to get "Earthy Blush" #7, which will be great for contour as well as a natural blush, and "Cameo" #2, a beautiful natural muted pink- something right up my alley. I also ordered the "Tangerine" #6 but they sent me "Blossom" #5 which I already have so I sent it back. It sucks because I really wanted to try the "Tangerine" blush. Funny enough, the day I bought "Blossom" at the Burberry store, I was debating between "Blossom" and "Tangerine". I finally settled on "Tangerine" but for some reason when the sales lady came I said that I wanted "Blossom". I didn't realize the mix up until after I left the store hahaha. I swear it's like "Tangerine" isn't meant to be for me.
For eyeshadows, I got "Pale Barley" #102 and "Mulberry" #204. These shadows are pretty popular, especially "Pale Barley". I haven't tried them yet, but swatched they look beautiful!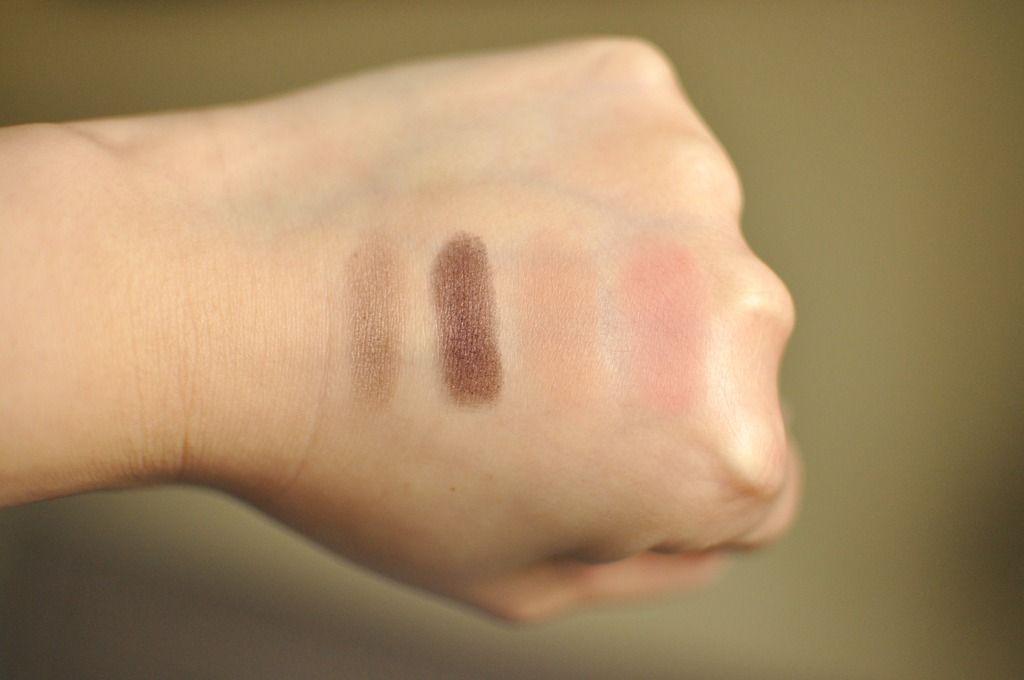 From left to right: "Pale Barley" #102, "Mulberry" #204, "Earthy" #7 and "Cameo" #2.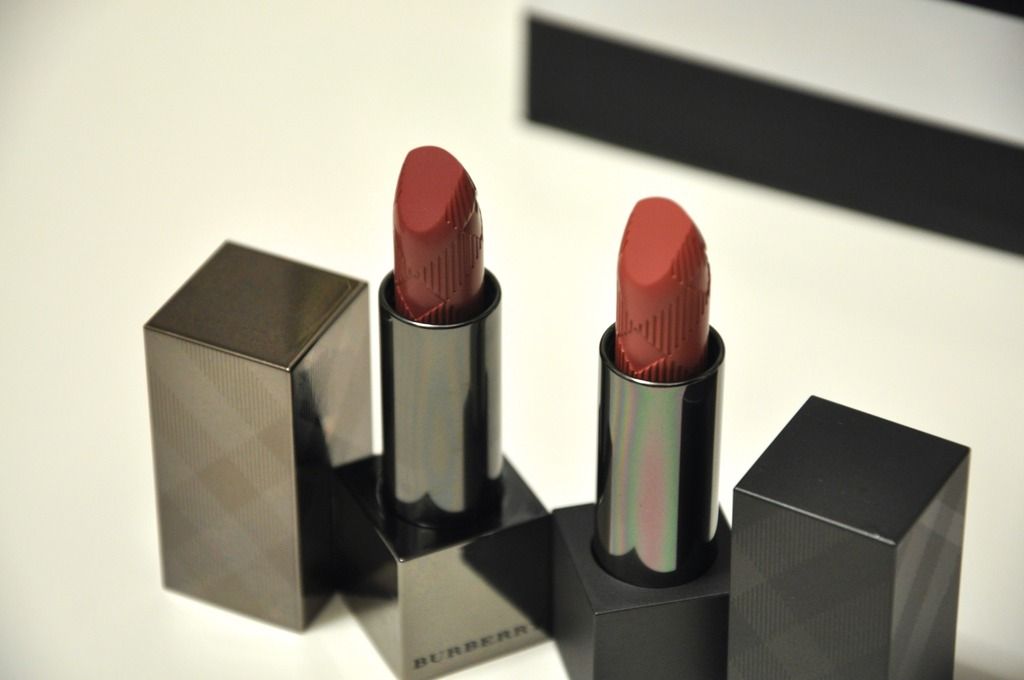 Then I got a Burberry Kisses Lipstick in "Rose Blush" #89 and Burberry Lip Velvet in "Nude Rose" #405. I tried these in store before the sale and both feel great on the lips.
Swatch of "Nude Rose" Lip Velvet on the left, and "Rose Blush" Kisses Lipstick on the right. I love love love "Nude Rose". It's from the lip velvet line and is the most perfect matte lipstick formulation. I love the look of matte lipsticks but hate how dry they make my lips, but this lipstick has a velvety feel which makes it very comfortable to wear! The colour is
gorgeous,
it's right on the mark of my-lips-but-better colour. "Rose Blush" is a pinkish brown lipstick from Burberry's Kisses line of lipsticks. These lipsticks have a satin finish to them and they feel great on the lips too.
I am officially in love with Burberry lipsticks. I was tempted to pick up "Oxblood" from the Lip Velvet but perhaps some other time. I wish I delved into these Burberry lipsticks sooner because I've been missing out!! I haven't been this excited about a lippie since I discovered YSL lipsticks! (This discovery might kick-start a bad thing... my wallet, eek!).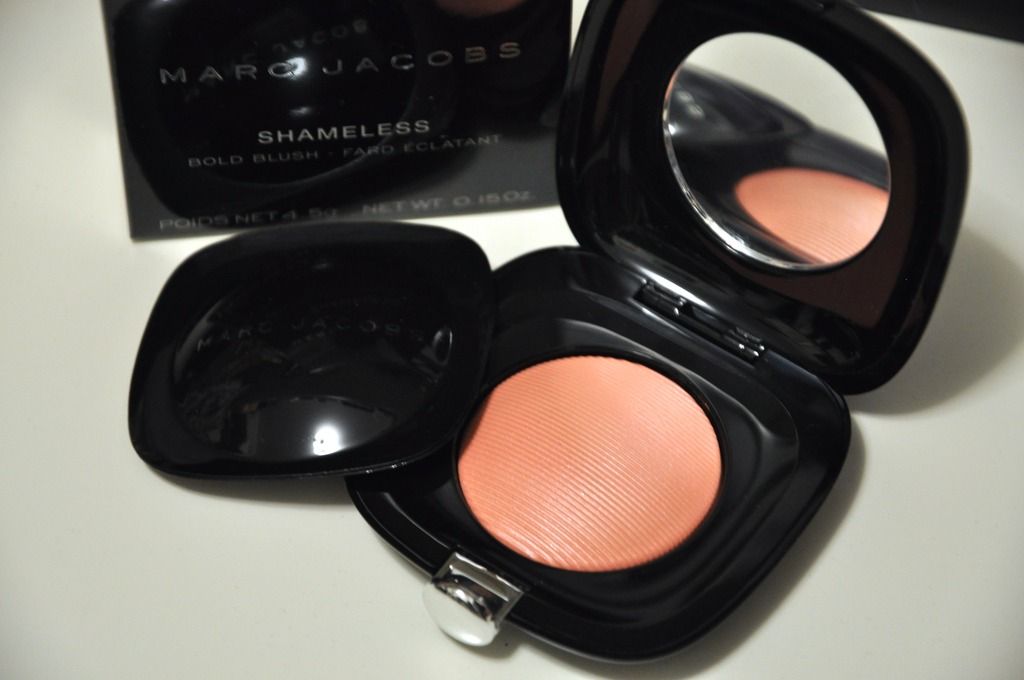 The last item I got is this Marc Jacob Shameless Bold Blush in "Obsessed" #204. It's described as a warm pink but it looks a little more peach in the pan to me.
These were my nails in October. I was Halloween-nail ready. This was Essie's Luxe Effects "As Gold As It Gets" over a Rimmel "Black Satin". I call this combo Black Galaxy because it looks almost like granite.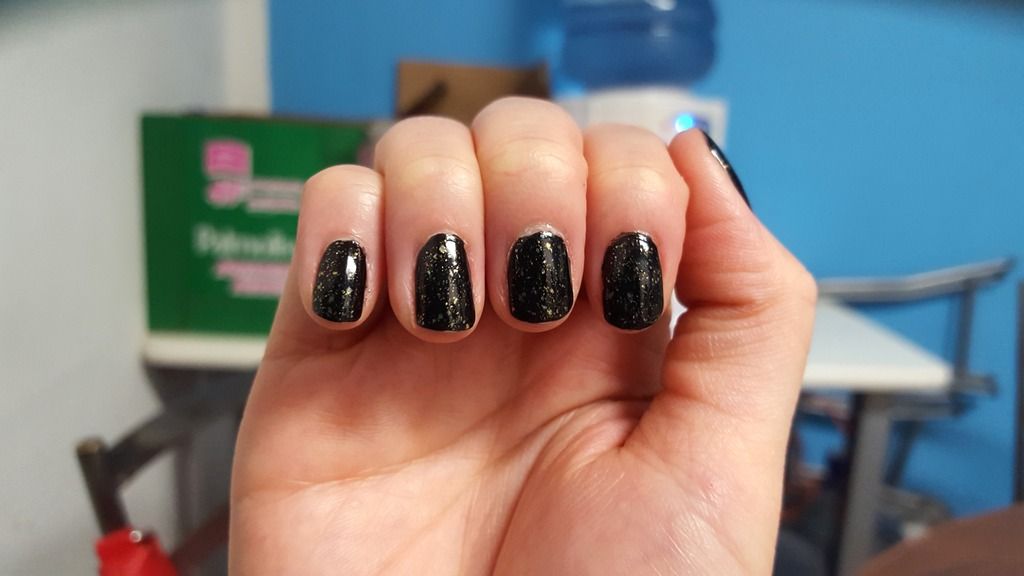 The less of "As Gold As It Gets" you apply, the more your nails look like real granite.
Orange-Glazed Chicken Drumsticks. This is the recipe that Judy and Benji praised from Blue Apron. I actually thought it tasted a bit bland. It's a good base recipe but I would definitely tweak it the next time I make it again.
And Benji's chocolate chip cookies! I also tweaked his recipe because his version was way too sweet for me (and that's saying something because I have a major sweet tooth).
Oh and wish me good luck tomorrow. I have to work a 13 hour shift because my workplace needs us employees to work after hours because they're throwing a party for their clients. I'm going to be so tired by the end... I hope I can survive lol.
"I may not be there yet, but I'm closer than I was yesterday." -Unknown