Ever since I started my new job I've been able to wear normal clothing everyday again. No more bulky sweater, thermal clothing, hat, boots or gloves. It wasn't until I dug into my closet everyday that I was fully aware of how much clothing I had. I can literally go on for weeks without doing any laundry. I have a lot of tops and shirts in my closet but there were certain key pieces of clothing that I didn't have much of.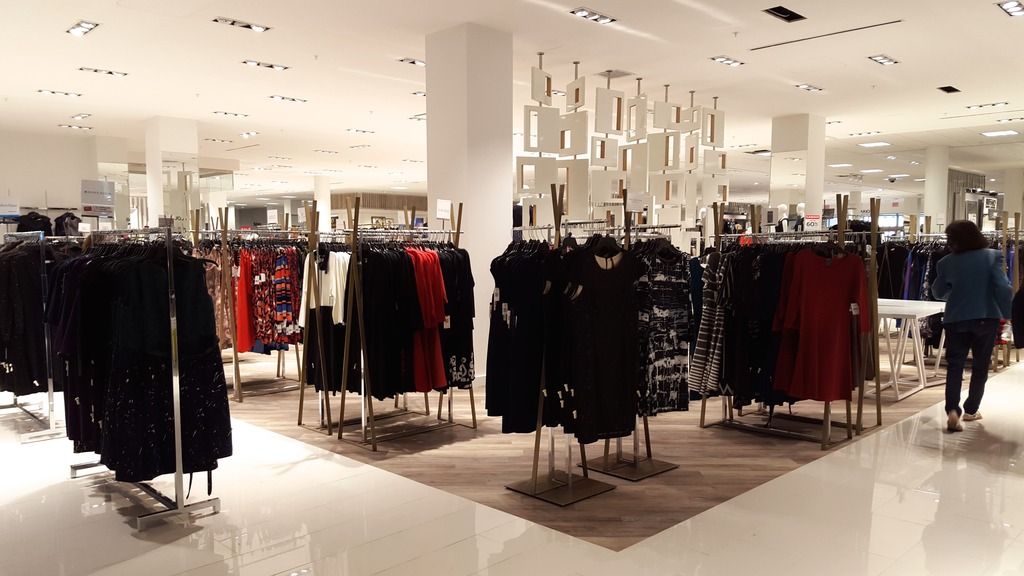 So I went shopping during one of my days off and I ended up finding a lot of clothes. It was the most clothing I've ever bought in one shopping trip, but thankfully I had no buyer's remorse because I was on a mission to buy a lot of clothes. Above are pictures of the newly renovated The Bay at Square One. The place looks great and still has the essence of The Bay which I like. There's already plenty of upscale departments like Holt Renfrew, plus Nordstrom and Saks is set to open in Canada soon too. I'm glad The Bay upgraded but not to the extent where customers feel like everything is out of their budget.
Finally! A large enough full length mirror for me to take a picture of my outfit of the day. I'm wearing a navy sweater from Vero Moda, Zara pleather jacket, Zara jeans and Steve Madden riding boots. My necklace is from Target and I'm wearing Dior Addict Extreme Lipstick in "Bonne Aventure."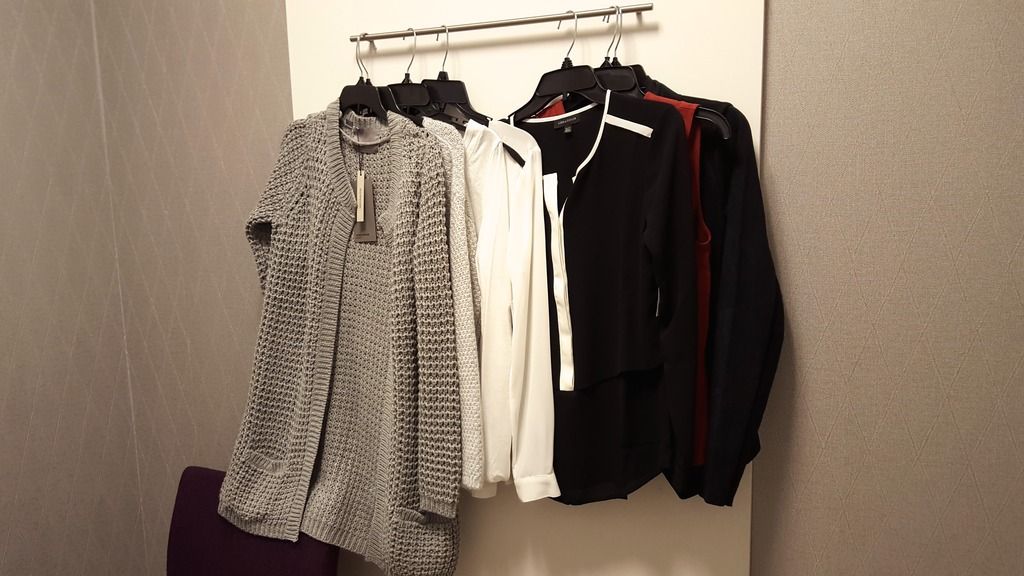 These pieces are what I ended up bringing to the change room.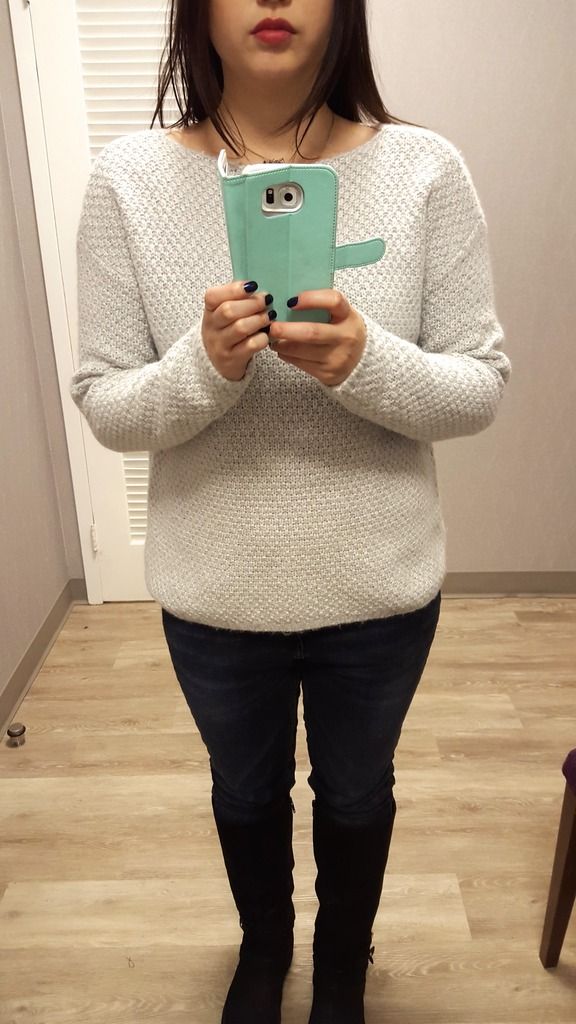 I kept debating back and forth on this
Lord and Taylor seed knit sweater
. I love the colour, the stitching and the texture of the sweater, but the 30% off of Lord and Taylor items that day didn't seem high enough to justify this particular purchase. Now it's currently 40% off thanks to Bay Days. I might end up purchasing it, but I'm not exactly sure yet.
I LOVE this top from Lord and Taylor. The brand itself is new to me but I really ended up liking their selection of clothing. I like this top because it slims me down and I could also wear it tucked in because there are two pieces of fabric that overlap each other.
Okay... I confess, I picked up a few clothing pieces that aren't for work. I couldn't help myself! One of those pieces is this faux suede blazer from Lord and Taylor. This was a bit on the expensive side but at least I got 30% off. I think it'd be great for layering, especially under my pleather jacket. I don't have anything like it so I think it's a great addition to my closet.
I also picked up this orange red top and this checkered sweater from Vero Moda. I like both because they're very different to what I normally wear. The orange-red top was only $20 in clearance and the cashier even commented on how nice the colour was.
I already bought this cardigan by Vero Moda in the black speckled colour earlier this season, but because I loved it so much, I also got it in the oatmeal colour (not shown). It wasn't included in the sales but I bought it anyway because it's great to wear to work.
And lastly from The Bay, I got these pair of pants in the colours black, grey and khaki (khaki is the only one shown) by Design Lab- a subsidiary company of Lord and Taylor. These are only originally $30 but they're on sale for $20! What a steal! Keep in mind that the cheaper price point does reflect in the quality of the pants. I sized up for the black and grey colour because I'm wearing those to work. The khaki is in my true size because that's reserved for everyday wear.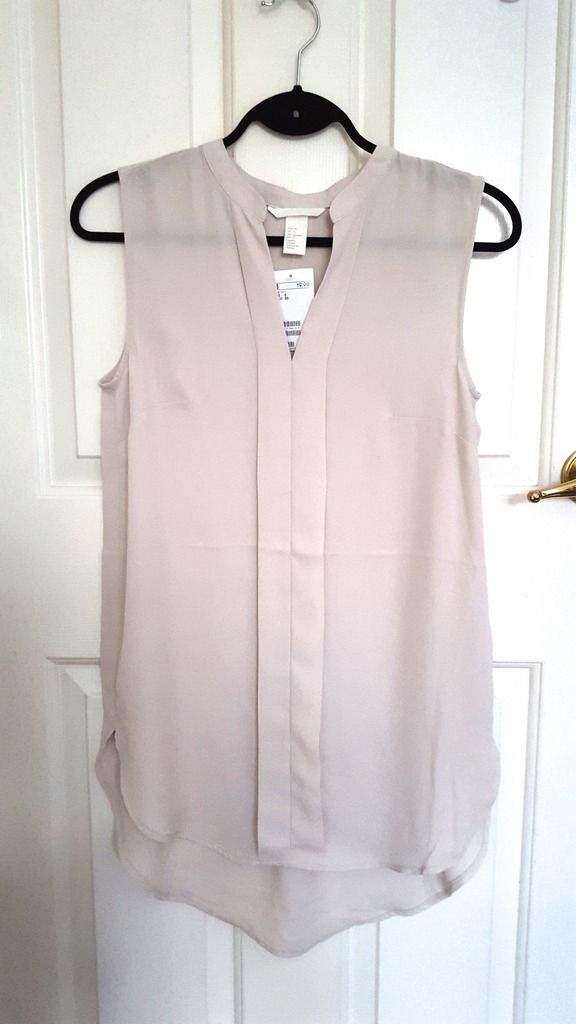 From H&M I got this chiffon-like sleeveless top and this off-white cream coloured sweater. The sleeveless top is very long on me but it looks superb when it's tucked in.
The boxy sweater is from Forever21. It looks a bit funny on me in the picture but in person I think it looks great. I could never find a boxy sweater that looked right on me, and so when I tried this on, I was a bit shocked that it actually looked decent!
This off-black shirt is also from Forever 21 and it looks so good tucked and untucked! It was this very shirt that I finally got the hang of the "tucked-in look". Before I could never get it to look right on me.
And now, from my favourite store of all time... Zara. As I was browsing I came upon this
top with frills
and completely fell in love with it. It looks
so good
under a blazer. I wanted it in the navy and the curry colour as well but it's sold out in-stores and online =( I plan to wear this when I have to help out with my workplace's Christmas party that we're hosting for our clients.
The other Zara piece I got was this
long vest
. I've seen Wendy from Wendyslookbook wear a lot of these kind of pieces and I've always admired them. I still need to look at more inspirational outfits before I wear it out myself. Still, it's a great unique piece to add to my closet. The last vest I've ever worn was from Esprit years ago, but those were short and more structured.
After all that shopping, I got hungry and grabbed a quick bite from A&W in the food court. It's not the same as when you eat at the restaurant versus the food stand.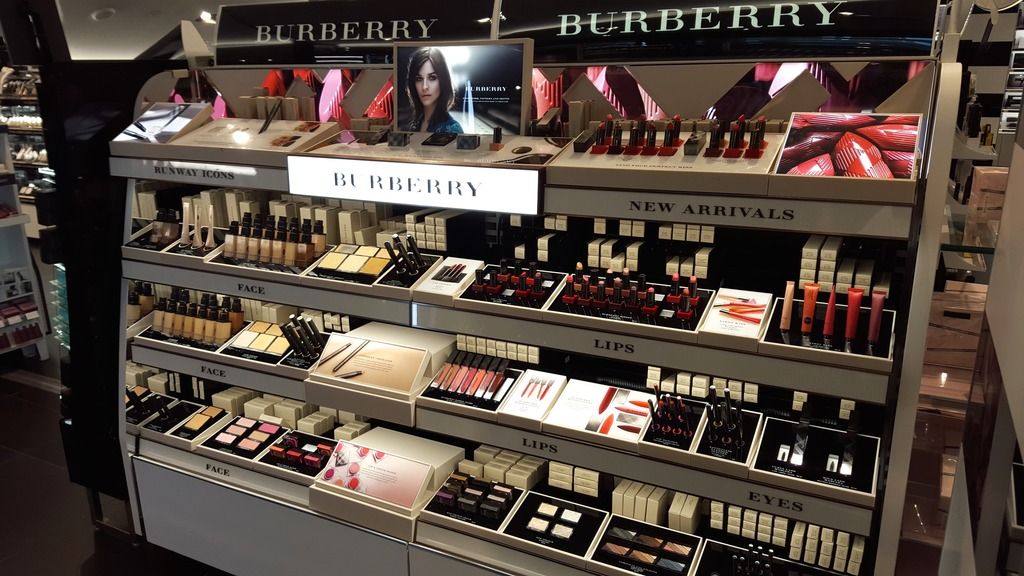 Then, no shopping trip is complete without a visit to Sephora. I came here to specifically look at the Burberry cosmetics. Burberry is more of a prestige brand so I didn't see anyone looking at their products as another brand like Nars or Urban
Outfitters
edit: I meant Urban Decay... obviously haha.
I looked at their lipsticks and their blushes. I plan to get some when they have their 20% off sale- coming soon hopefully!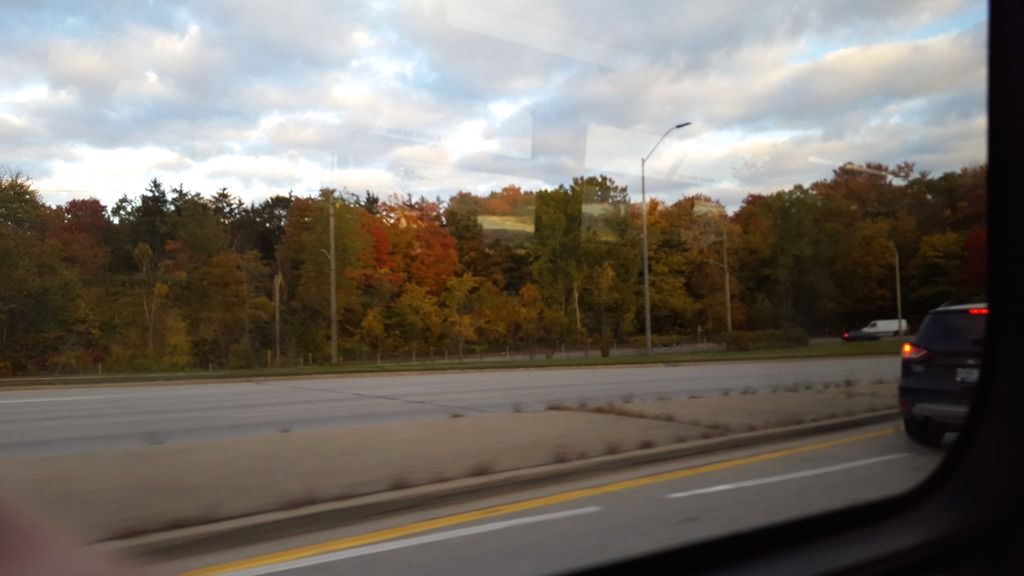 Going home on the bus by my lonely self.
I know Summer is over, but I thought I'd share with you the sunglasses I bought from Quay. Quay is an upcoming Australian brand that has become quite popular among youtubers and fashion bloggers. I didn't find out about the brand through the fashion world though, I discovered the brand earlier this year while browsing Urban Outfitters' website. Each pair were about $50 each- which isn't bad at all.
I fell in love with Quay's
My Girl sunglasses
in blue but unfortunately they were completely sold out. After Summer was almost over, the My Girl sunglasses came back in stock and I was finally able to get my hands on them. They look a bit big on my face but I rock them anyway.
I saw these pair of sunglasses,
Envy sunglasses
from the Quay x Amanda collection on Urban Outfitter's website about a month ago. They remind me of Rayban's classic wayfarer which is why I was so drawn to them. I think they look really good on me. They fit my face perfectly!
Hope you guys had a great Halloween. Now that Halloween is over, it's onto Christmas! My favourite holiday! :D
"Learning and experience is only valuable to you if you apply it." -Unknown