Happy Thanksgiving! I think you'll agree that we're both thankful that I'm finally finished with these Montreal posts (thank goodness!!!!). I won't ever take this long to blog about a trip again because this was just ludicrous. Even the Mister and sister were shocked when I said I'm finally finishing up these posts now, "Still???" Yeah... too much photos to go through, so much work, and no time. Hopefully that won't happen again in the future.
Read about
Day 1
,
Day 2
,
Day 3
,
Day 4
,
Day 5
, and
Day 6
of our week long trip to Montreal back in August 2014.
The morning of Day 7, we woke up a bit late. The Mister went downstairs to fetch our last breakfast from Cafe Castel. We decided to eat it in our room. I got my favourite Cafe au Lait and a slice of marble cake, and the Mister got himself a chicken sandwich.
After we ate our late breakfast, we hung around the room for a bit before heading off to eat a late lunch/early dinner at our next destination.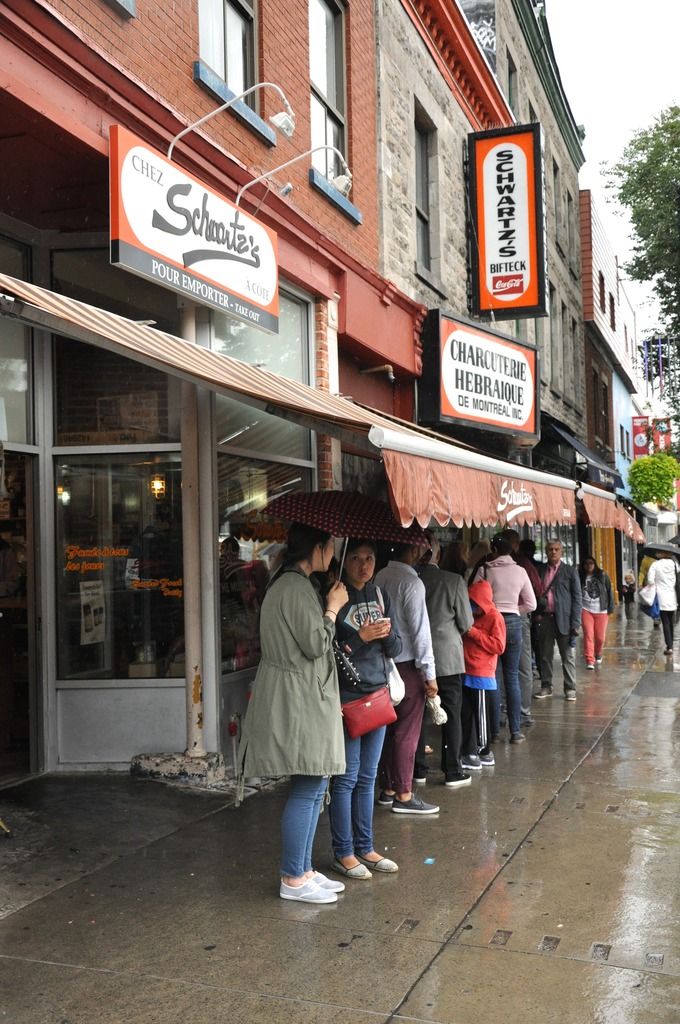 Schwartz's
3895 Boul St-Laurent, Montreal, QC H2W 1X9
Taken from the site:
"World famous Schwartz's, serving the best smoked meat from the original recipe of spices since 1928. Imagine walking through the door and taking a step back 80 years into 'Main Street' history in Montreal. A 'true' Montreal landmark that has welcomed celebrities and visitors from all over the world. Schwartz's was founded in 1928 by Reuben Schwartz's, a Jewish immigrant from Romania, and our restaurant has been in the same location ever since, on boulevard Saint-Laurent, where it now is tucked in around funky storefronts and trendy boutiques. The restaurant is single white-tiled room containing several rows of narrow tables. Come and enjoy a unique experience.
We've protected our tradition for over 80 years by maintaining the standards of old. Unlike other smoked-meat purveyors, who add chemicals to their briskets, Schwartz's prepares smoked meat the old-fashioned way using a secret blend of fine herbs and spices marinated for 10 days. Our smoked meat is smoked daily and contains no preservatives; just the award winning taste and freshness that have brought celebrities from all around the world to our tables."
There's always a line outside of the world famous
Schwartz's Deli,
a Hebrew Delicatessen, even on a rainy day. We waited for maybe 15 minutes before we got in.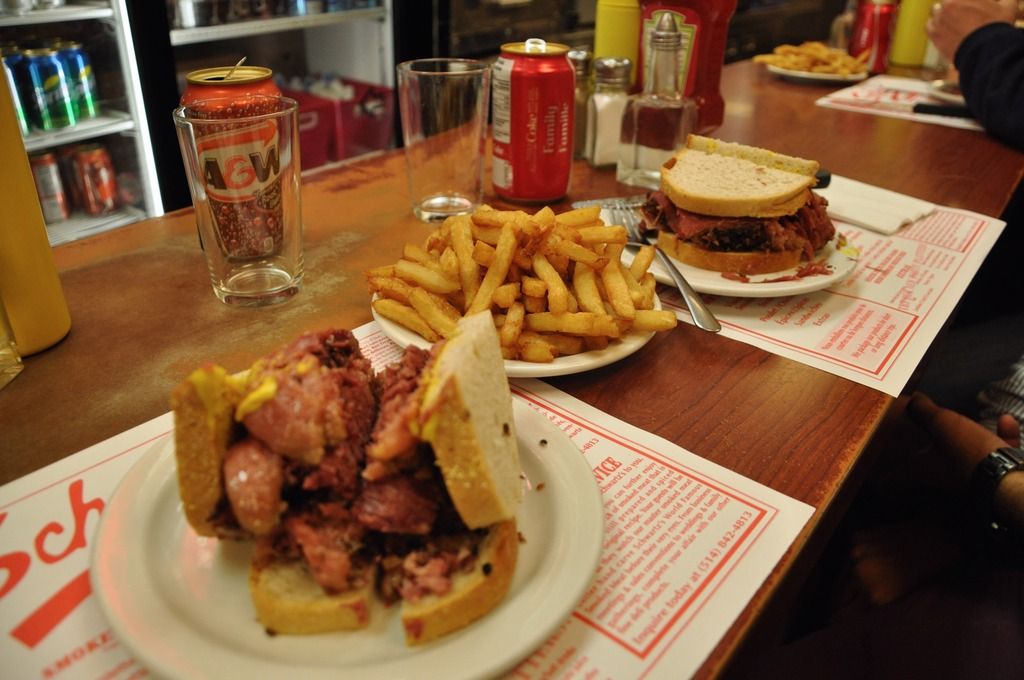 We both ordered the original Smoked Meat Sandwich, a root beer and a coke, and a side of fries to share. Just look at how tender and juicy the meat looks. And boy was it ever delicious. This is hands down the best smoked meat I've ever had in my life. I did, however, have a bit of a hard time finishing it though because I was still a bit full from the breakfast I ate in the morning. I did manage to eat all the meat though because I didn't want it to go to waste. There were fries left over and some bread on my plate. Hopefully I didn't offend them.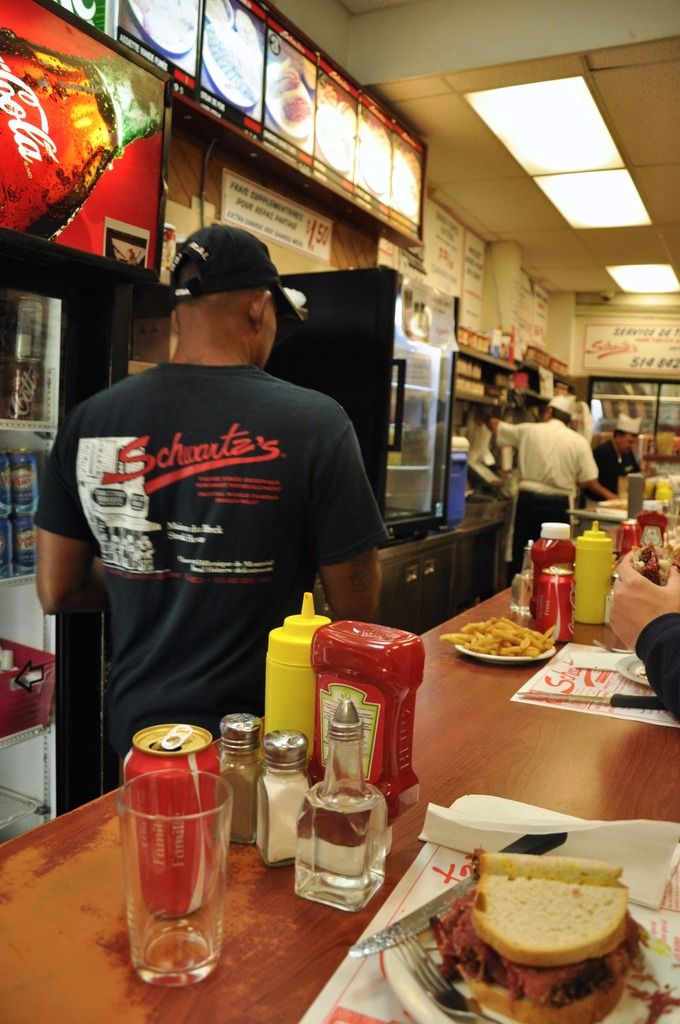 The Mister constantly has mentioned over the past year about how badly he wants to go back and eat there again. That's why he wanted to buy a sandwich from the Montreal deli vendor at
CNE
, but obviously that one tasted nowhere near to Schwartz... it actually tasted bland- no good, don't even try it lol.
Service was good, same as what you would expect at any diner. Atmosphere was a little chaotic, busy, and crowded though.
Overall: Ambience C, Food A+, Service A-, Price A+
.
Next door they sold the meat in a vacuum seal plastic wrap that you could take home with you. I was tempted but was afraid that it would spoil in the heat on our journey home. Instead, I bought a jar of the Steak and Beef spice for my mom and a 3 set jar of spices for myself that included the Steak and Beef spice, Poultry seasoning, and French Fry Seasoning. To this day I have yet to open them. I just haven't had the chance to cook with them yet.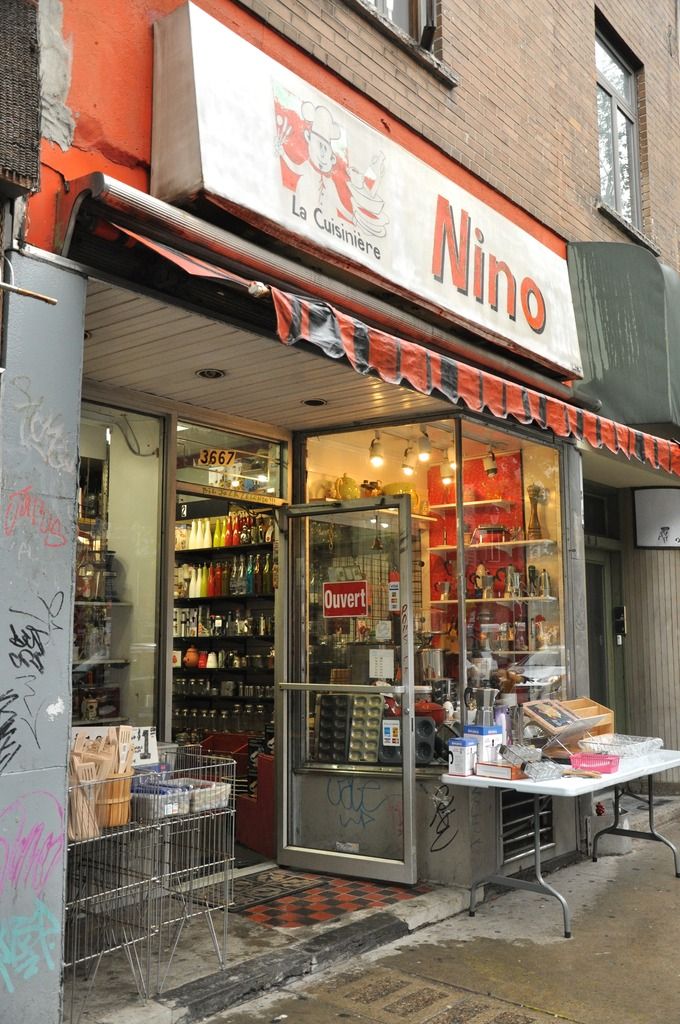 Then we walked the streets to our next location when we stumbled upon this store called Nico. It had a lot of kitchen and house ware stuff so we decided to go in to take a look to see if they had any interesting tea stuff for me.
The only thing that interested me from the store were these tea strainers. I later realized that the ball strainers are relatively common in stores, but the one on the left is pretty unique. It looks classy and reminds me of high tea so I was happy to have found it.
Juliette & Chocolat
3600 Boul St-Laurent, Montréal, QC H2X 2V4
Taken from the site:
"Juliette & Chocolat is a unique concept: a dessert restaurant dedicated to chocolate. Our six restaurants offer table service or service to go, as well as a Gift Boutique to bring home our chocolate treats."
Next stop,
Juliette & Chocolat
. By the time we arrived, it was midday, so it felt right for something sweet since we were still pretty content with our meal at Schwartz's (we started the day late).
I loved the interior. Modern mixed with an old-world feel.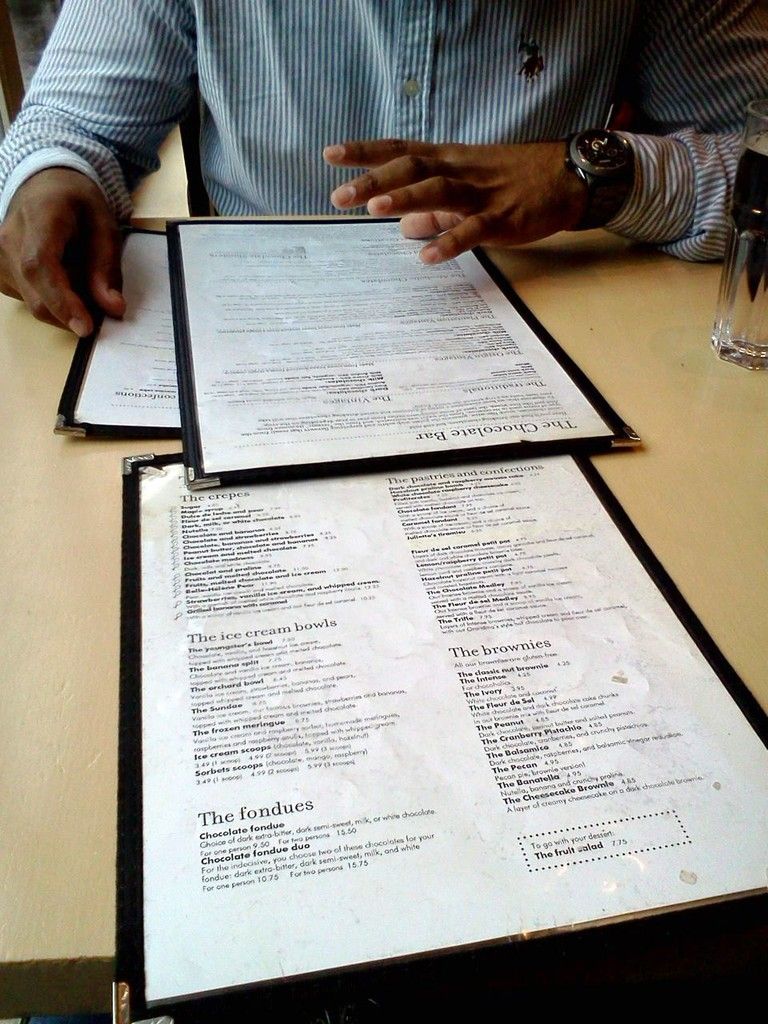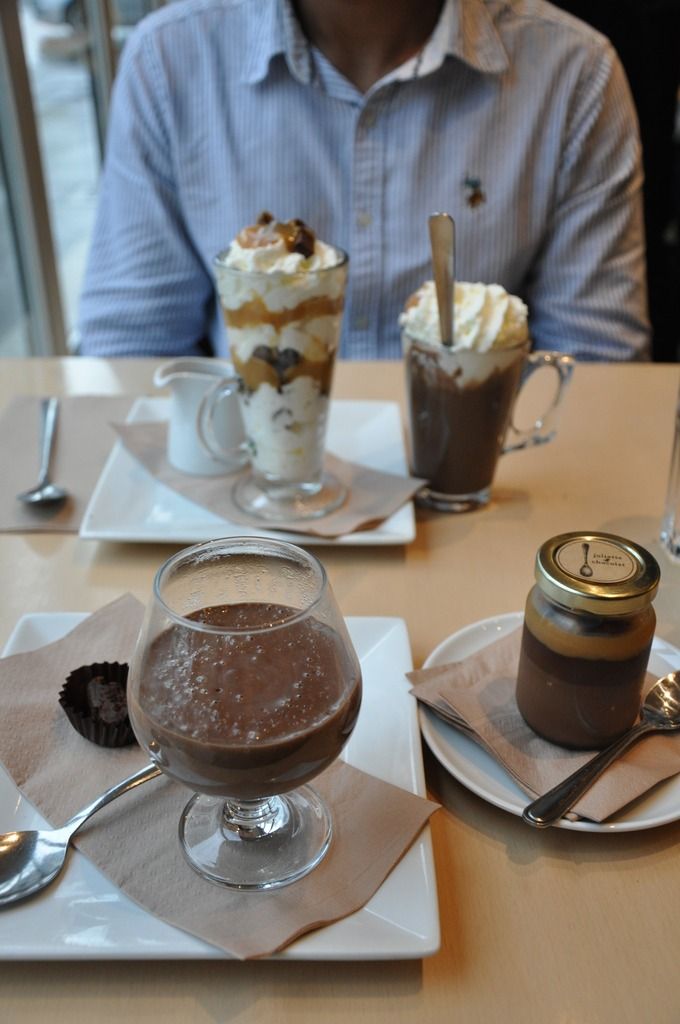 We each ordered 2 desserts, and I think our server probably thought we were mad haha. Service was okay, they took a while to finally greet and serve us but the server was nice though.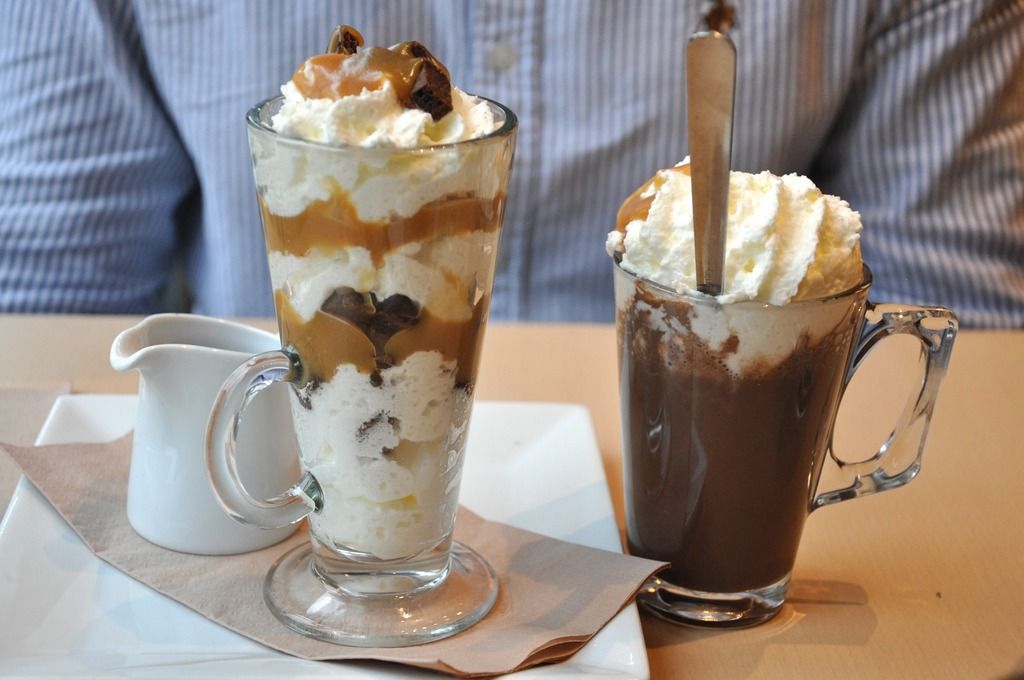 The Mister ordered two desserts that both had caramel in it. We didn't know that his would be so large.
I ordered the Mangaro (65% cocoa, dark chocolate) and the Fleur de sel caramel petit pot (layers of dark chocolate mousse, cocoa ganache and fleur de sel caramel, and dark and white chocolate brownie bites). By the end, we were both dying from death-by-chocolate. Way too much sugar and chocolate for us haha. I don't know what we were thinking or expecting.
Overall: Ambience A+, Food A+, Service B-, Price B
.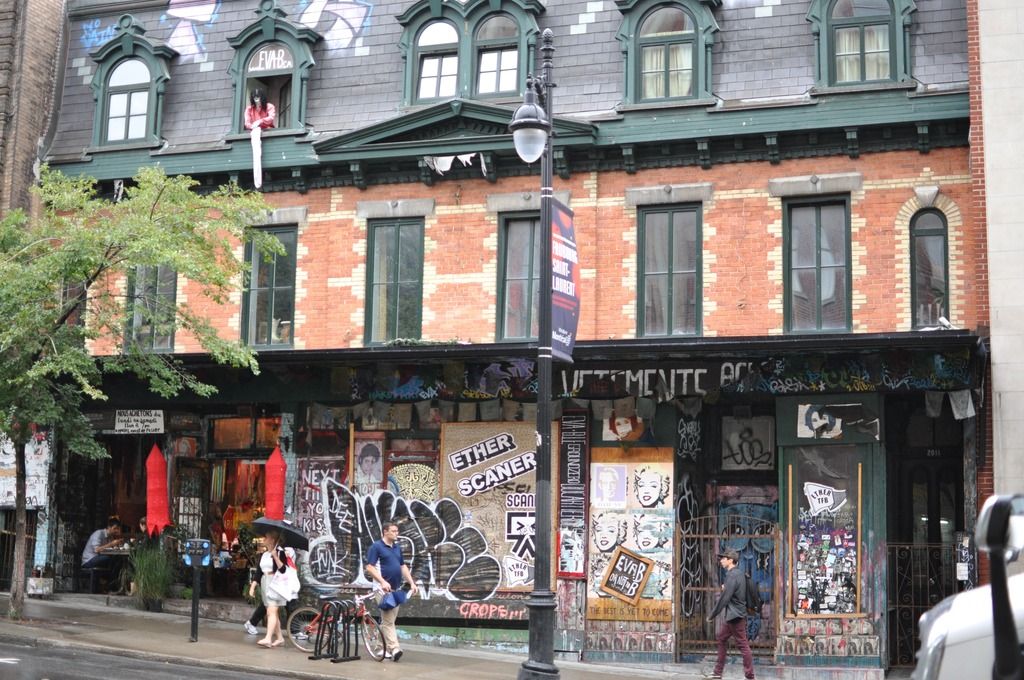 Then we went off on another walk towards the metro station, and along the way we saw this creepy halloween-ish building. Not sure what it was but the mannequin above is freaky.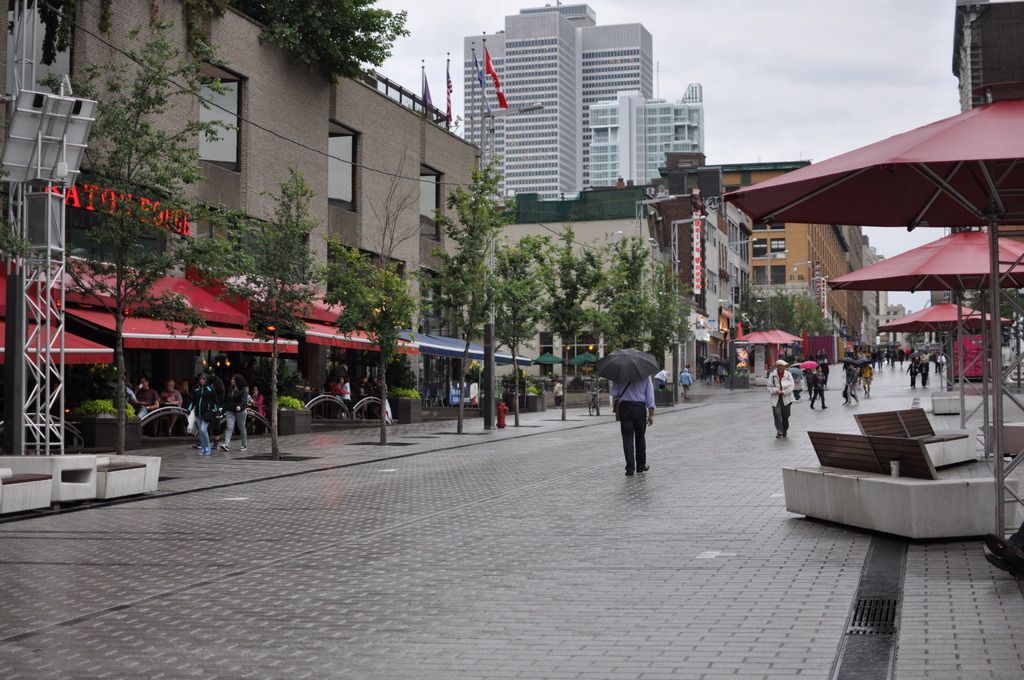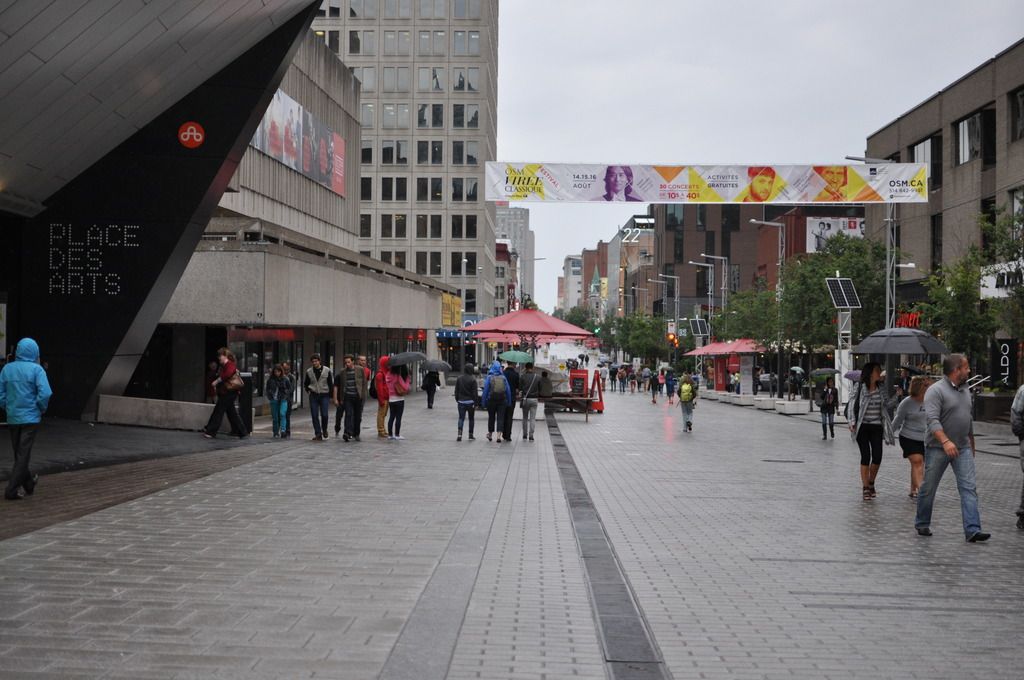 A walk through Rue Sherbrook Ouest. We explored a bit here before we headed back to the hotel as night fell.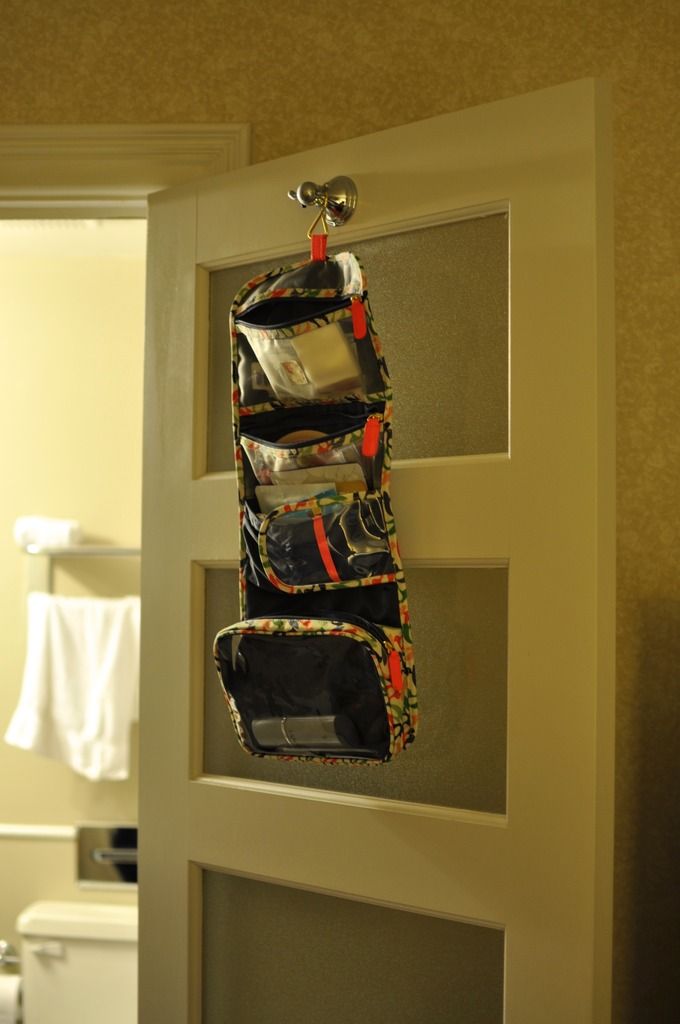 Back at the hotel I took some pictures of my things. Here is my handy dandy toiletries bag that conveniently could be hung on the bathroom door.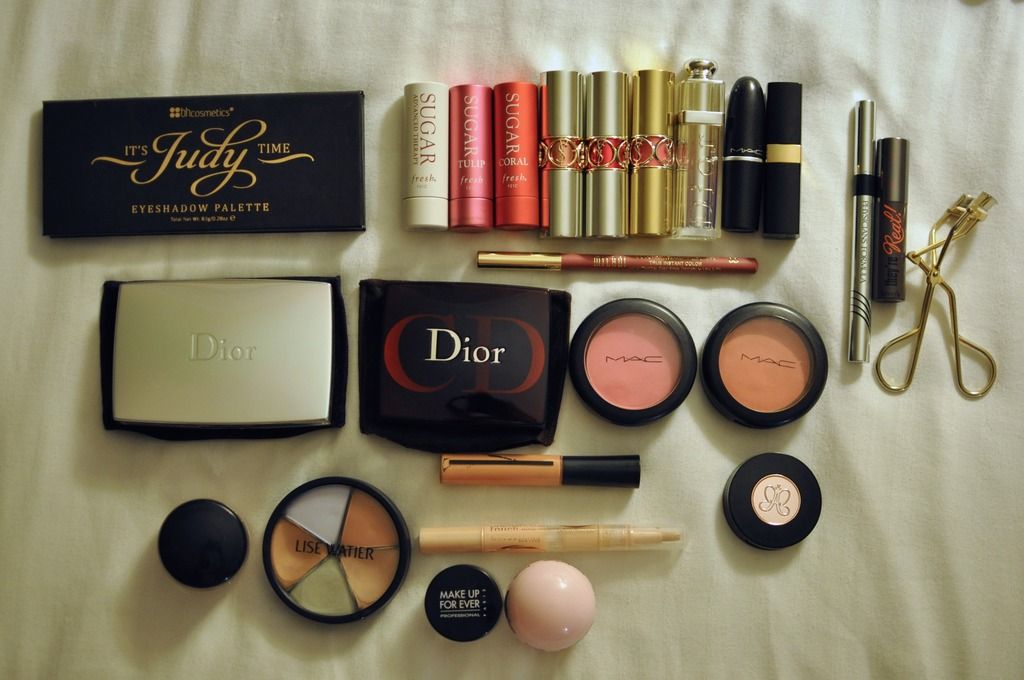 This is all the makeup items I brought with me. I didn't bring too much- except for the 9 lippies which admittedly I went a little nuts over. The rest included an Itsjudytime eyeshadow palette, Dior foundation powder, Dior bronzer, two MAC blushes (coral and pink), primer, Lisewatier concealer, Maybelline brightener, setting powders for concealer, Anastasia brow powder, Physician's Formula liquid eyeliner, Benefit's They're Real mascara and an eyelash curler.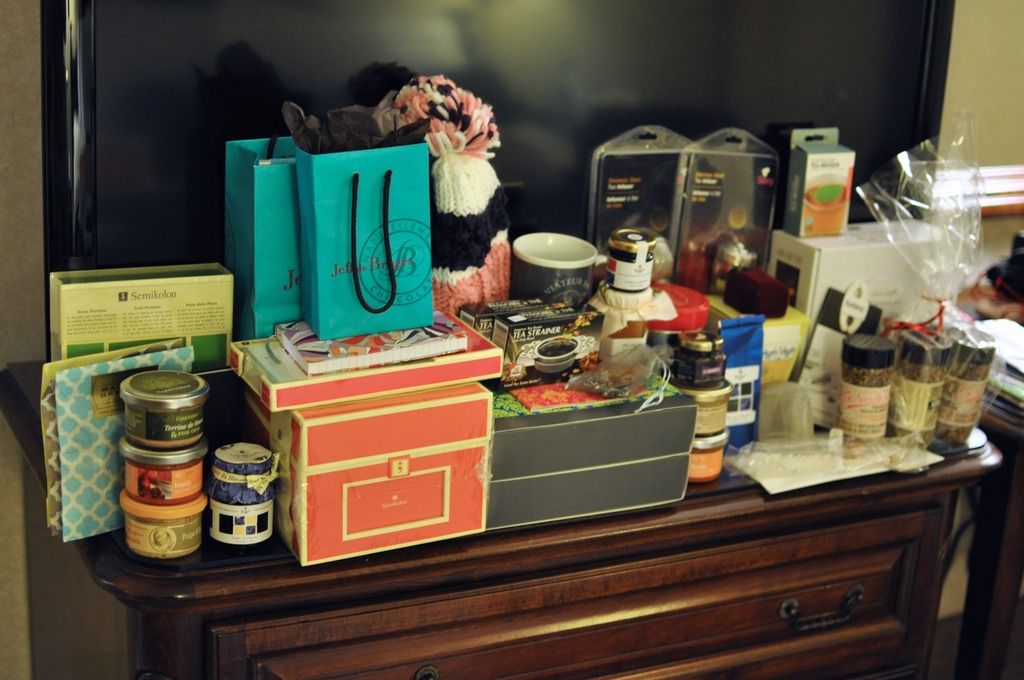 Behold my Montreal haul altogether. It didn't seem like I bought that much each day but it all adds up in the end. In there includes gifts for my family, so some of it isn't for me. However, that doesn't excuse the fact that I went overboard with the purchases :S I've noted that for future travels because this cannot happen again lol.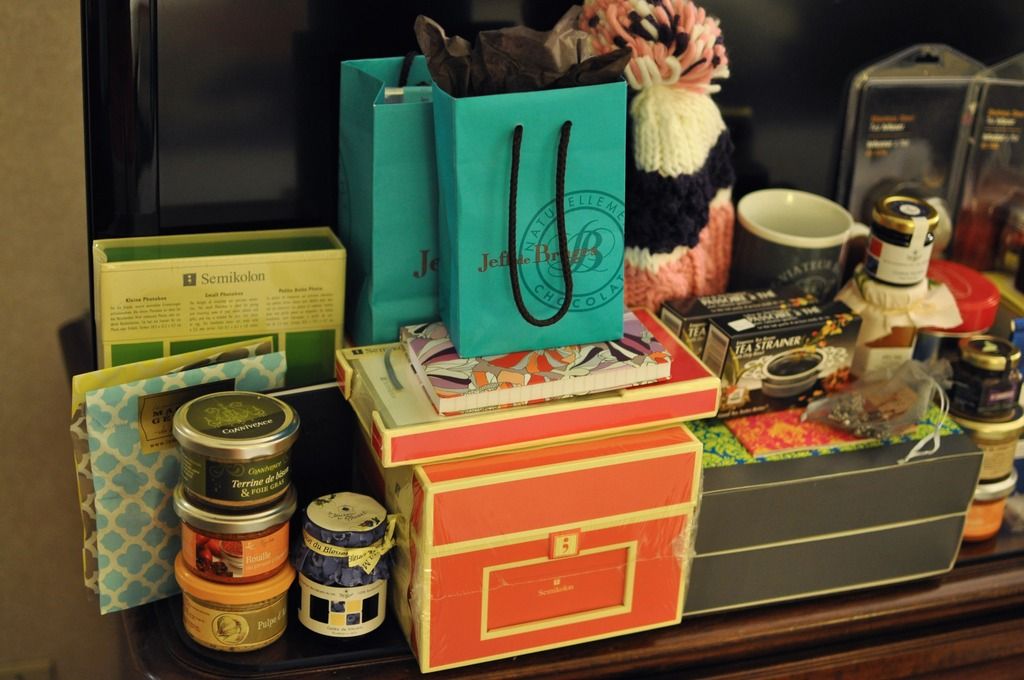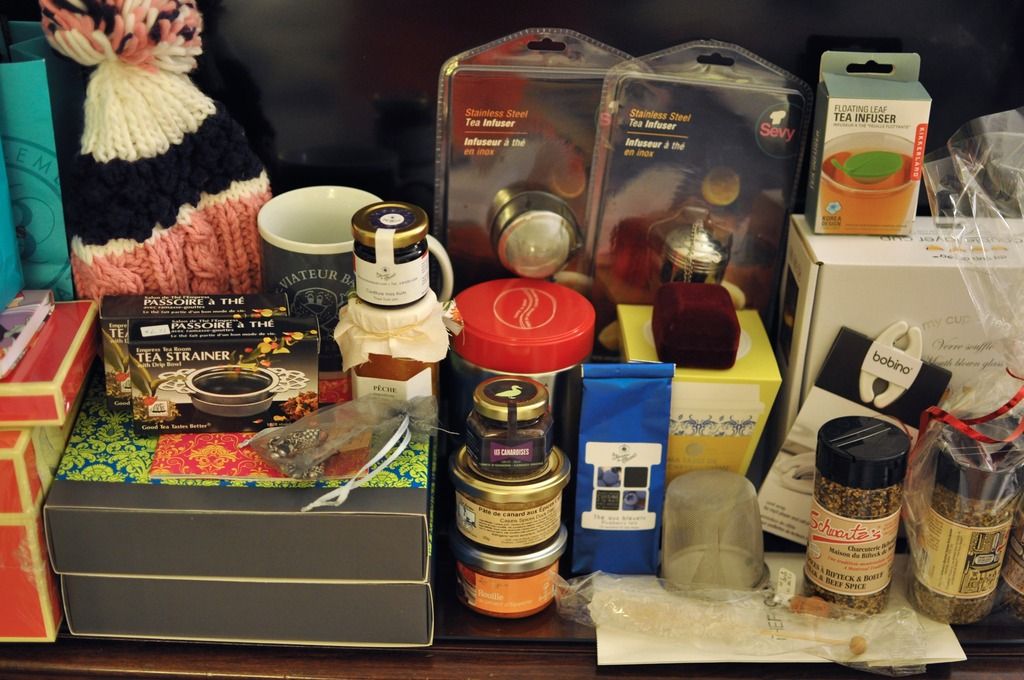 A closer look at all the stuff I bought. Funny thing is, in the beginning I had a hard time finding anything to buy, I was so afraid I wasn't going to find any gifts or anything to bring back. I think because of that, I bought things in the beginning that I probably wouldn't have bought, had I known the other things I would later buy existed (get what I mean?). But looking back, the only thing I would change is one box of macrons, no hat or sugar candy stick or jams or small tea cups, and buy fewer jars of the quebecois spreads and whatnot. The rest were things I genuinely wanted and part of the reason why it looks so big is because of the packaging. I felt a little guilty but the Mister said it's not much and reassured me that as long as I enjoyed myself, that's what mattered :) But seriously, lesson learned because a lot of money was spent on things that I would have rather not bought had I known it would end up being this much.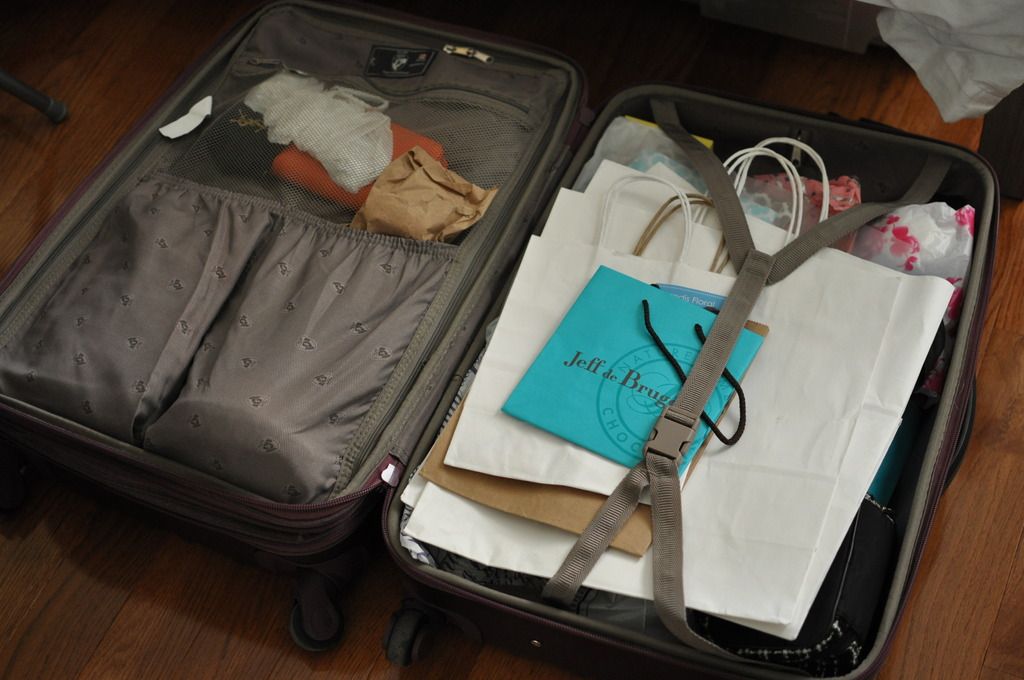 My luggage with everything packed away.
The next morning we woke up pretty early to grab coffee at Van Houtte. It was our last time walking the streets before we left.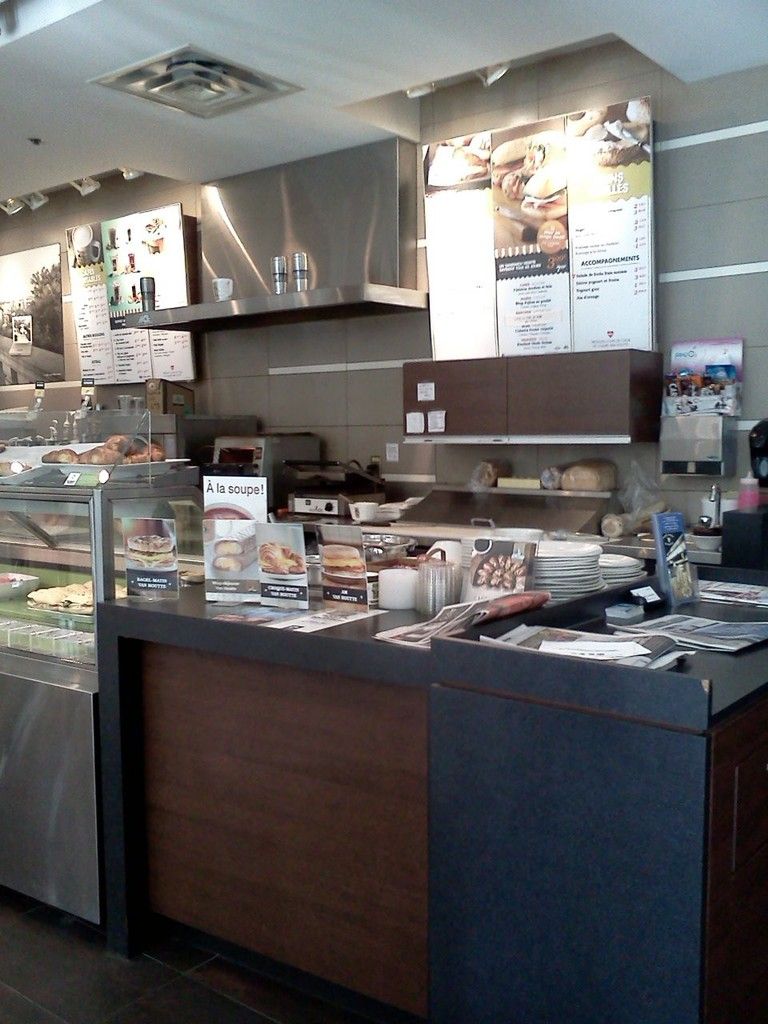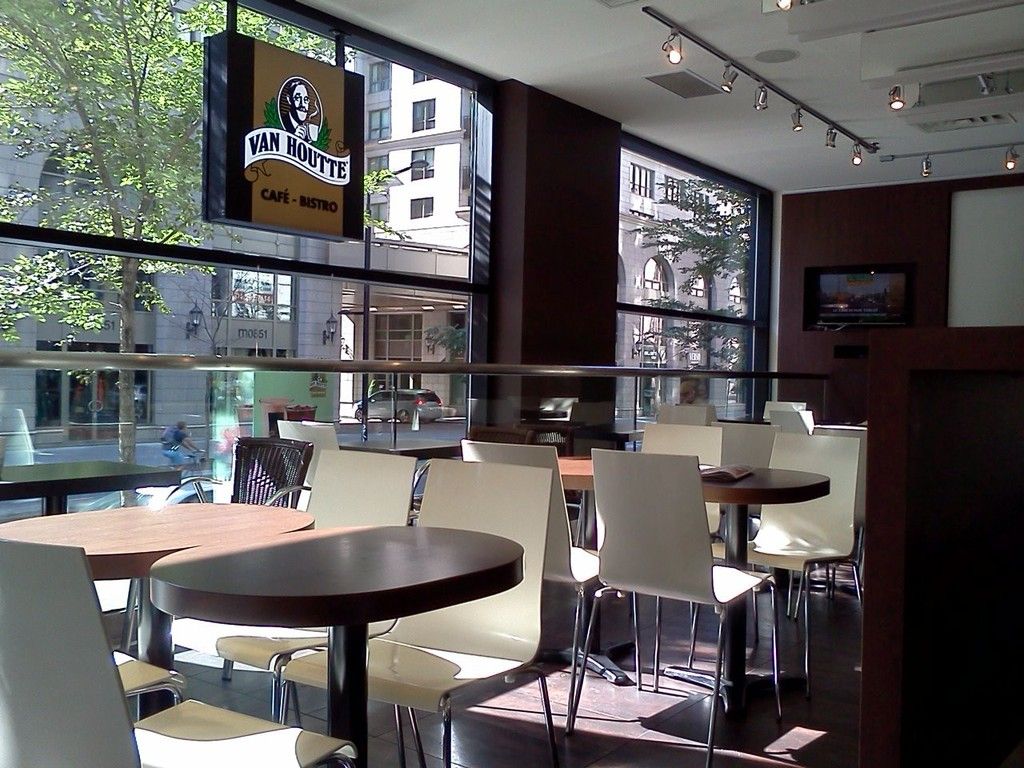 Van Houtte is the same coffee ground I bought at Walmart some time ago so that's why I wanted to visit one their locations.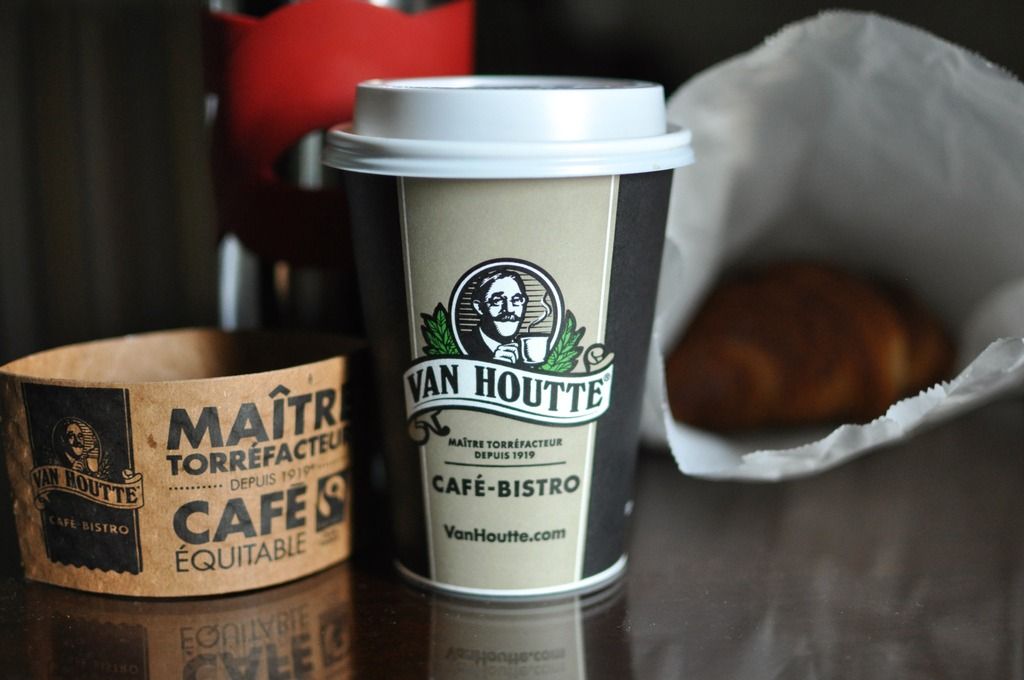 We also grabbed a croissant too. The coffee and the croissant both tasted good.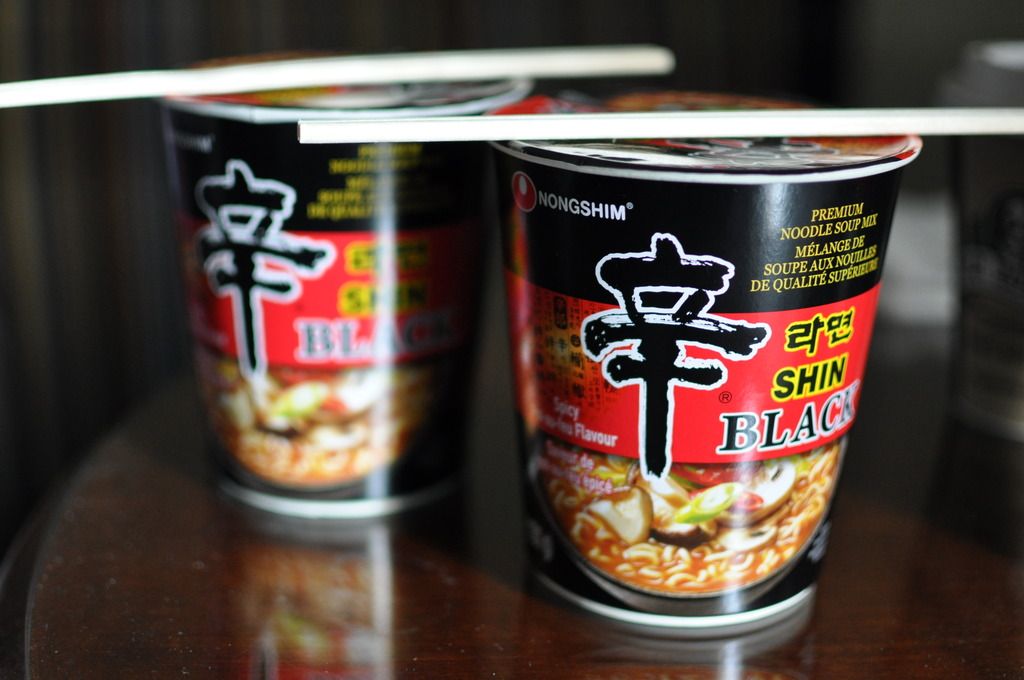 Because we wanted to make sure that we were full before heading back, we ate the ramen cups I brought along in my suitcase (just in case for those late night munchies).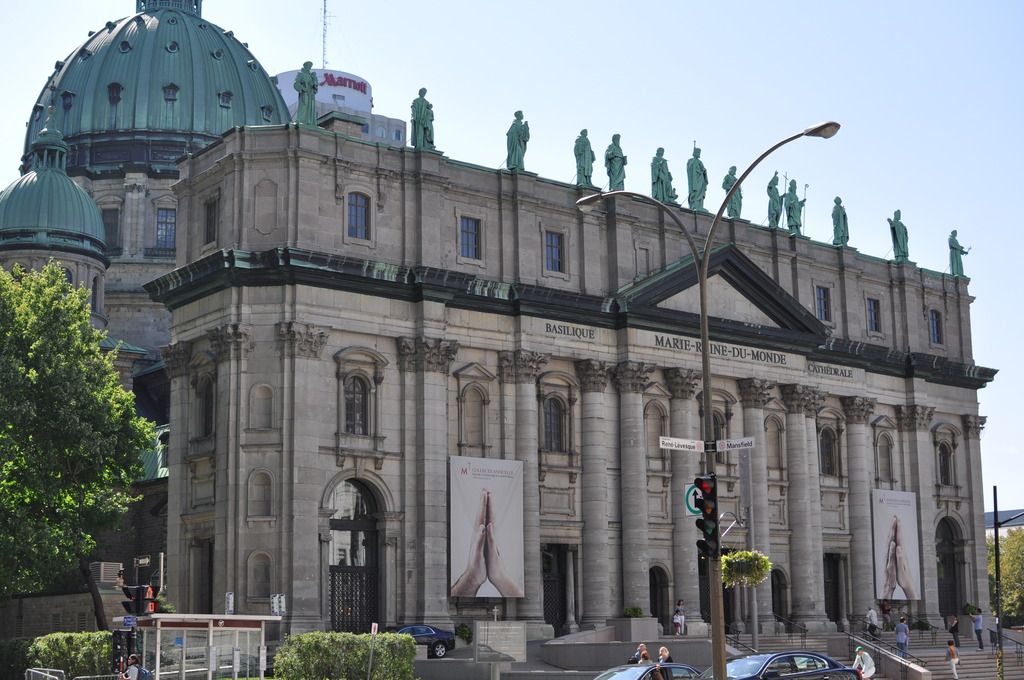 On our journey back to home. This time lugging our suitcases back was a bit easier because we knew exactly where we were going- unlike when we first came here and totally got lost trying to find the hotel.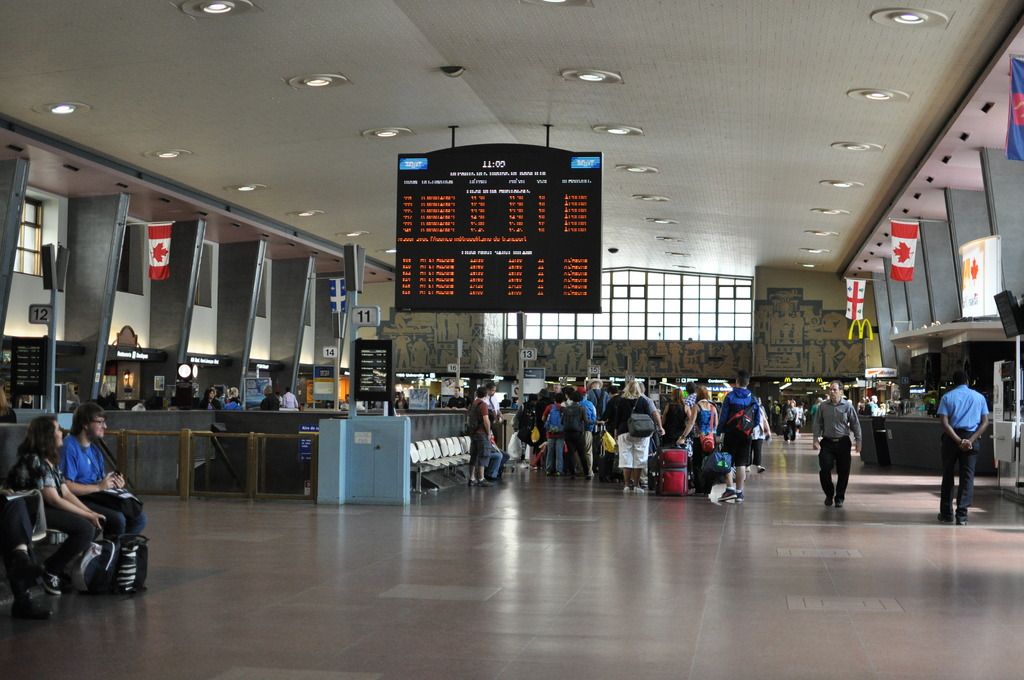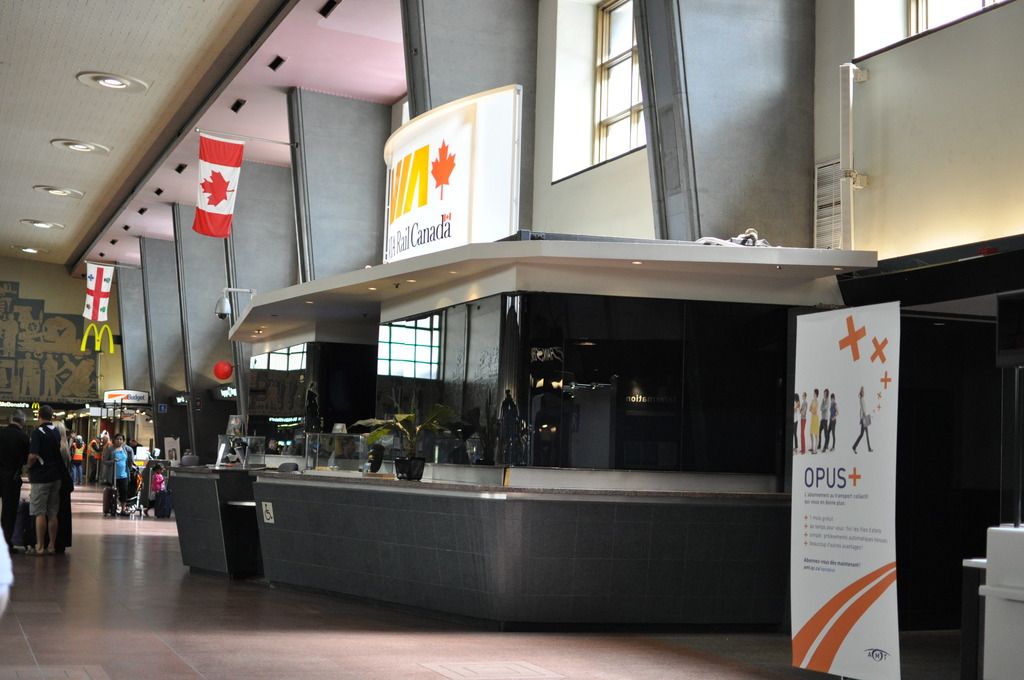 Montreal Central Station.
Our ride on the Via Rail this time around was
hell
. We were seated at the back of one of the train cars where there are four seats facing each other (like how the GO Train is). The only thing was, it was really stuffy especially when you have your laptop and bags. It also didn't help that the guy you're sitting across from is tall and bigger. I felt so crammed and uncomfortable. Worst ride ever.
Anyway, I hope my fellow Canadians have a Happy Thanksgiving spending time with family, friends and loved ones. I'll be spending it with my family cooking up some food and eating it. The Mister couldn't join us as he had to work unfortunately. Catch you in my next post!
p.s. FYI, I mixed up Day 6 &7. The day's activities are the same but they're categorized under the wrong day lol. That's what I get for leaving these posts for so long I guess. Bound to be a major mistake somewhere (oops!).
"People show us who they are but we see them as who we want them to be." -Unknown