Starting a new job at my new workplace has been a little bit of a roller coaster ride for me. The first week was very overwhelming, there was a lot of information to learn and it was a lot to take in all at once. I had to memorize information regarding the products, remember all the codes, and learn about the procedures related to opening and closing of the store, performing invoices and transactions, balancing the till, processing samples, and learning math calculations all over again (haven't done that since high school!)
When I was still new, I felt very uncomfortable in the small lunchroom. So uncomfortable that a couple times I sat in the car to eat (sounds lame, I know). I was surrounded by people all day and just for half an hour I wanted some quiet alone time- something that was impossible to do when there's only one big round table to sit at in the lunchroom. Eating in the car was for my peace of mind.
As I got to know people, I didn't feel the need to go out and sit in the car anymore. Having questions asked about me died down, and I slowly got more comfortable sitting with my coworkers.
Another great perk about working at this place is that I get to wear NAIL POLISH again. For 3 years I couldn't wear nail polish... but that didn't stop me from buying tons of bottles over the years lol.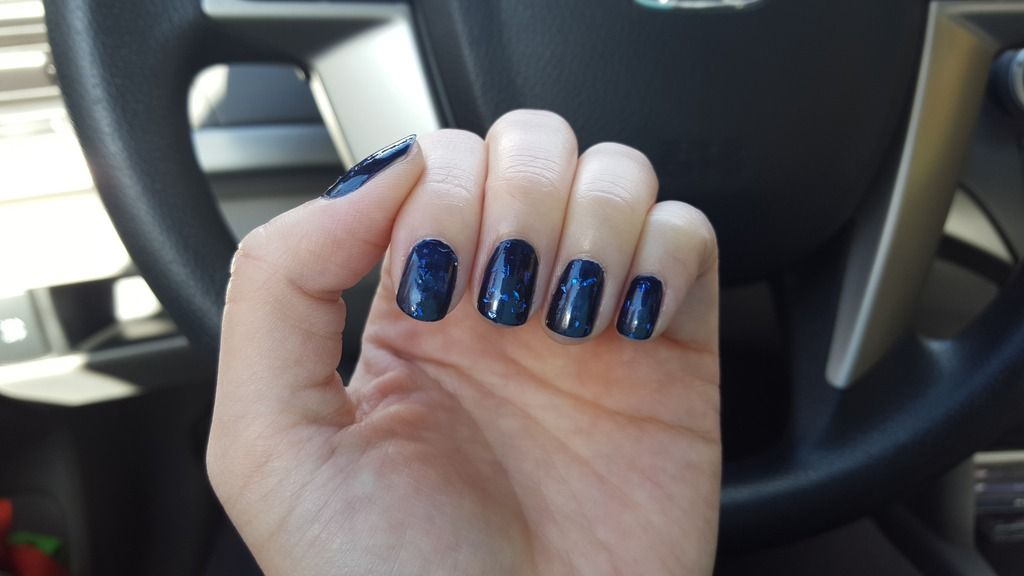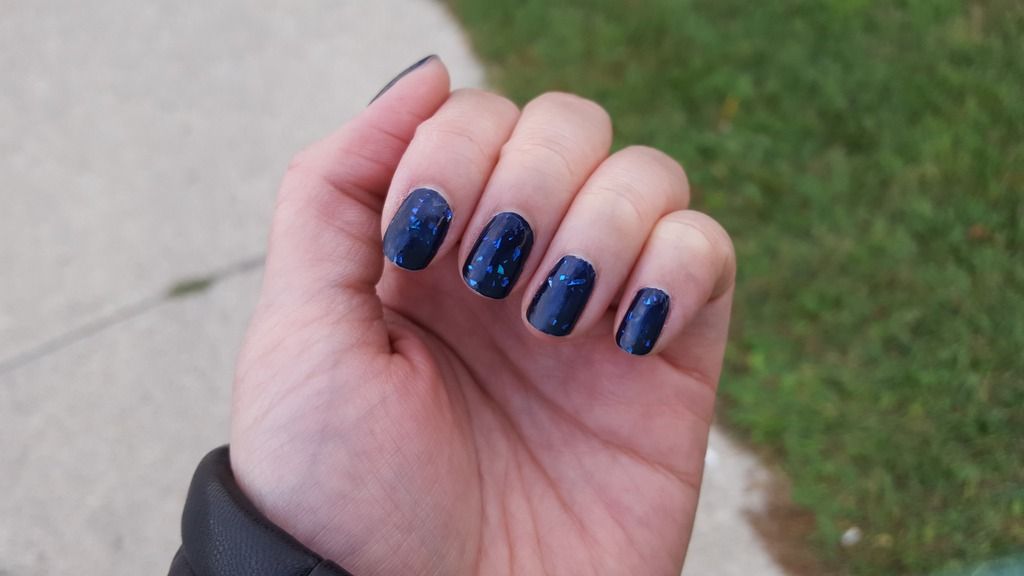 I wore a couple of other colours before this one, but the pictures didn't turn out. This is a deep dark blue colour with iridescent blue flecks of glitter on top. It reminds me of the deep blue ocean and can look a little different in different lighting. It's looks so beautiful on, I couldn't stop looking at my nails when I had it on.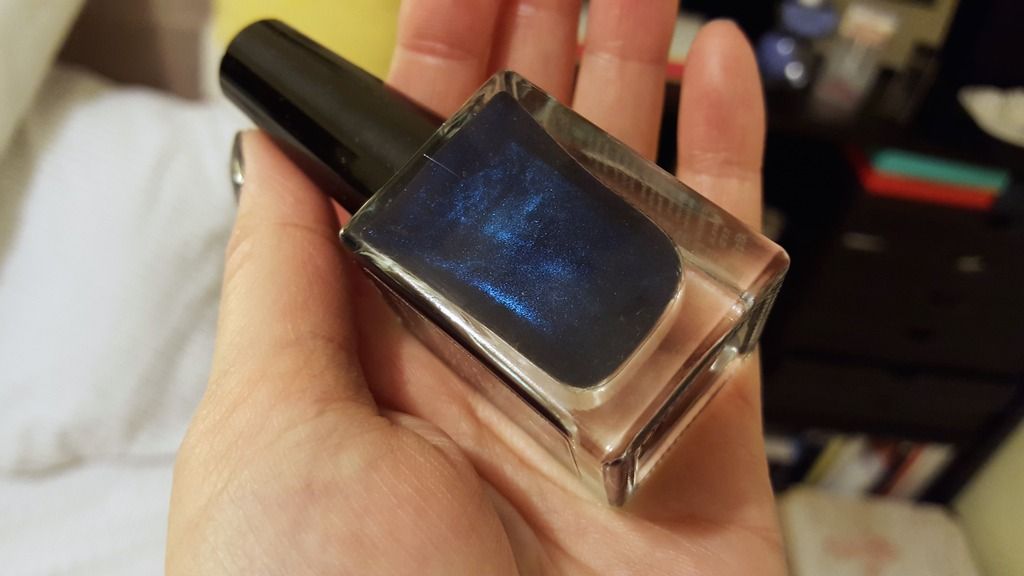 The nail polish base colour I used was Rimmel's Lasting Finish Pro in "Midnight Blue" #420. It's a very dark blue almost black colour. In the light you can see it has micro shimmers. The top coat is by L'Oreal's The Magic Top Coat in "The Holographic" #804. I remember picking up this top coat because I thought it was so unique to all other glitter polishes. I highly recommend trying this combo I call The Deep Blue!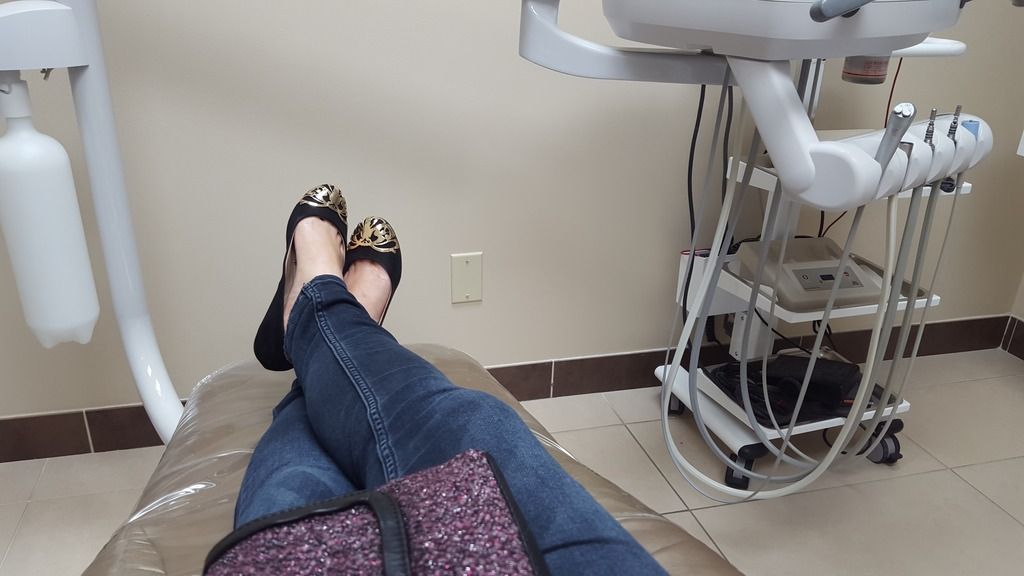 Dentist appointment I went to just before I quit my last job. Had to make the most of the benefits they offered to us employees, right?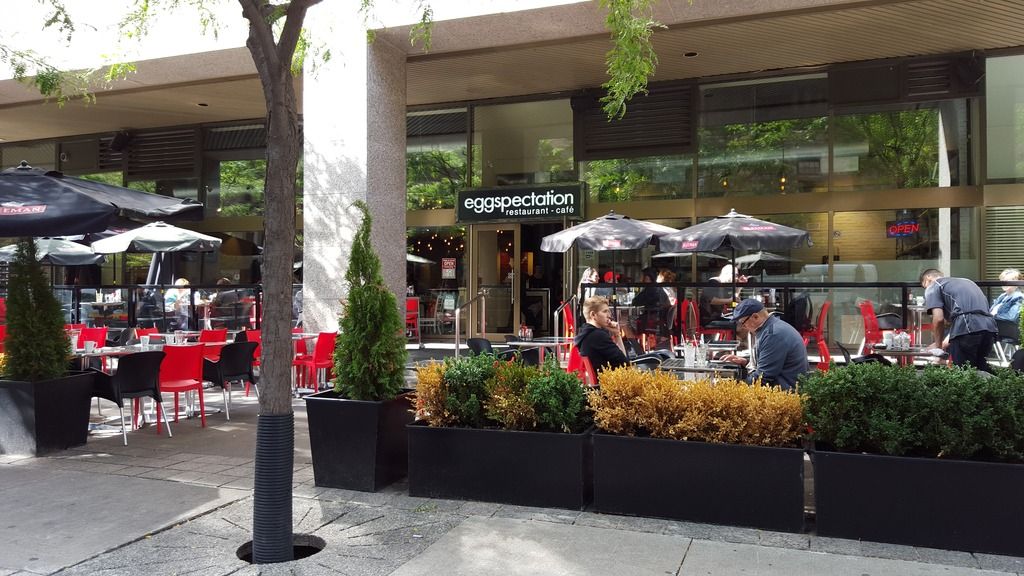 Eggspectation
20 Albert St, Toronto, ON M5G 2C9
The Mister started a new job again just a couple of weeks ago. He didn't like his other job so he quit after just a couple of weeks. Because it's the beginning of a new job, we both haven't had time for each other.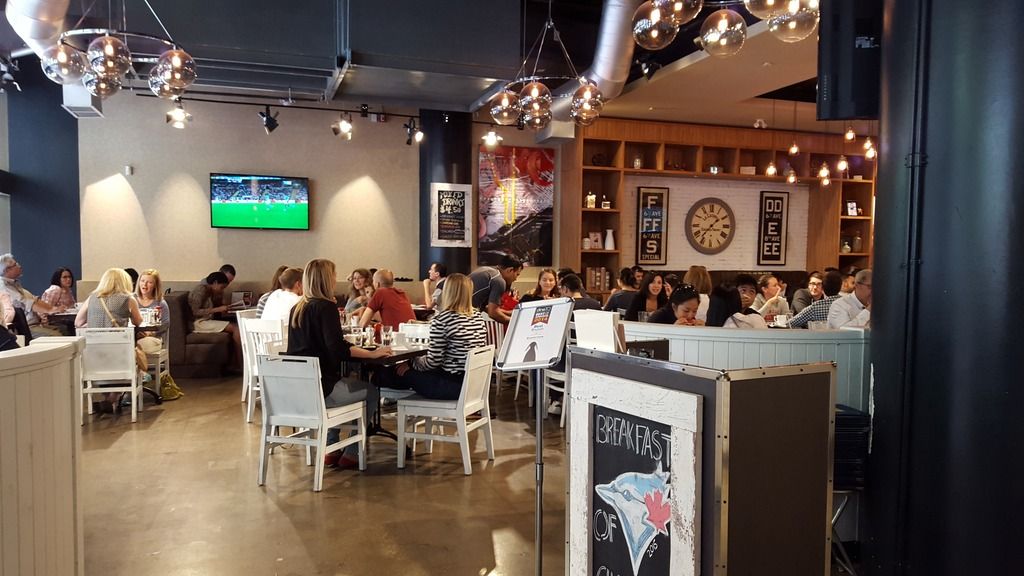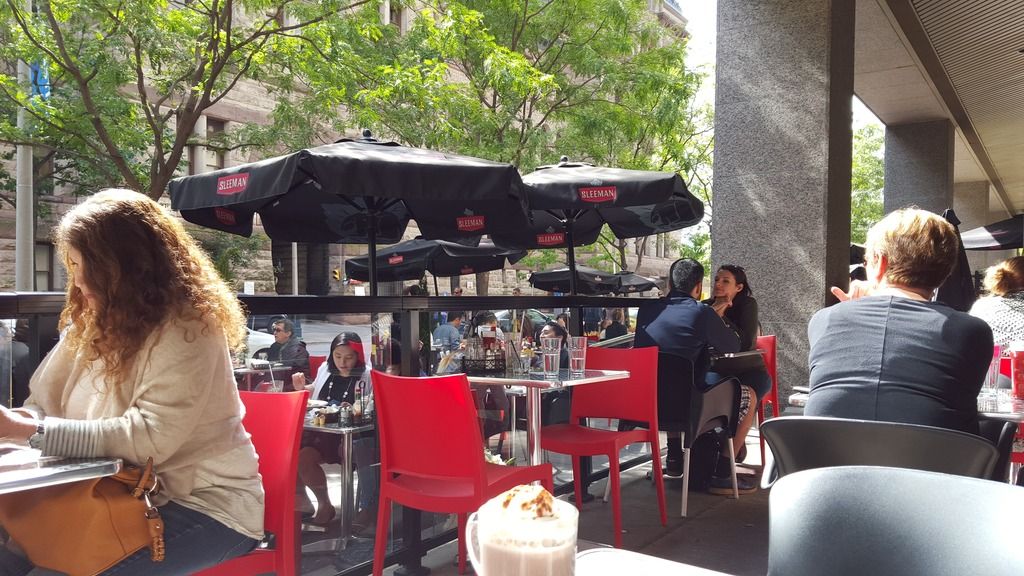 This was taken 3 weeks ago when we went to the
Eggspectation
in Toronto. I only found out a couple months ago that they still had a location here in Toronto. I thought they had gone from Toronto for sure when they left their location on Yonge St. Since we had some time and were downtown that day, we thought we'd swing by and check it out. This location seems to be doing a lot better. They're much more busy and the place looks great! We opted to eat outside on the patio.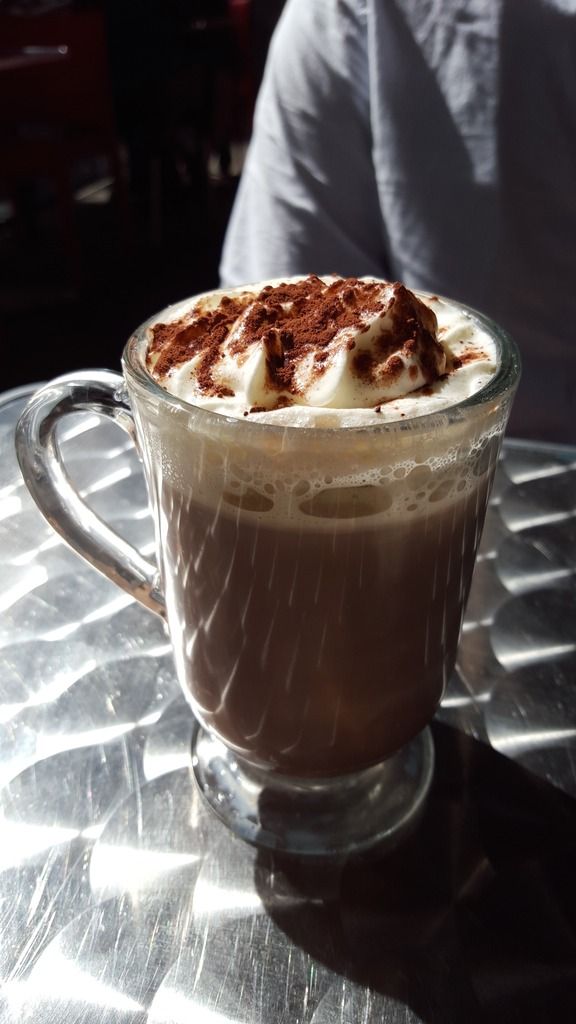 Water for me and hot chocolate for the Mister. Funny thing, I said "just water" to the waiter and he misheard and brought me hot water. Probably thought I was crazy because it was warm that day. Ah well, it was my fault for adding the word "just" in front of water.
I ordered Chicken Benedict and the Mister got the Eggspectation Omelette. This was the first time I tried Eggs Benedict and liked it. We both liked the food and really enjoyed eating out on the patio. It wasn't on a busy and loud street, it was spacious and there was shade provided by the trees. Food, location and service is much better than what I remember at their Yonge St. location.
Overall: Ambience A+, Food A-, Service A, Price A
.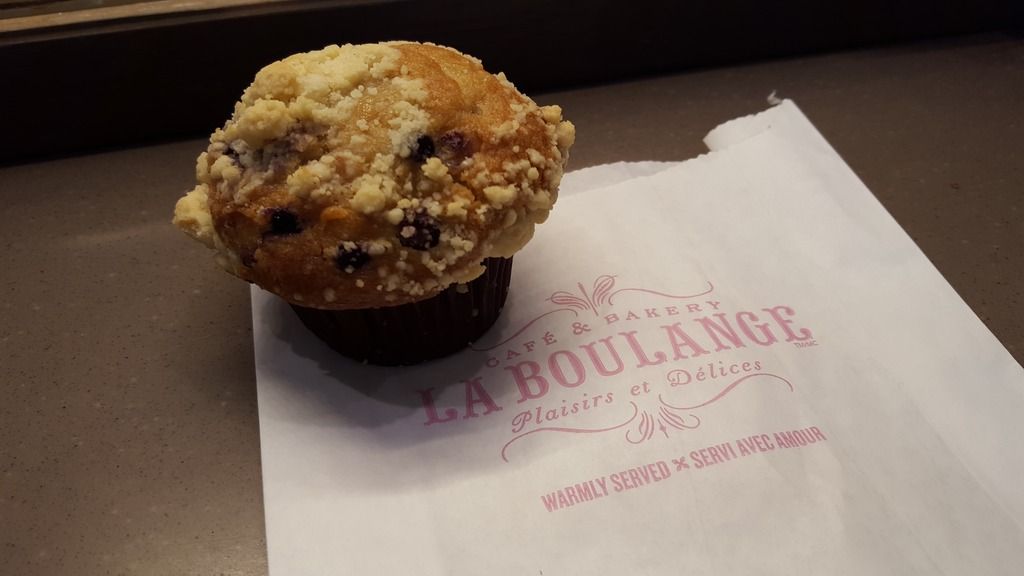 The baked goods at Starbucks now. This blueberry yogurt muffin was bomb.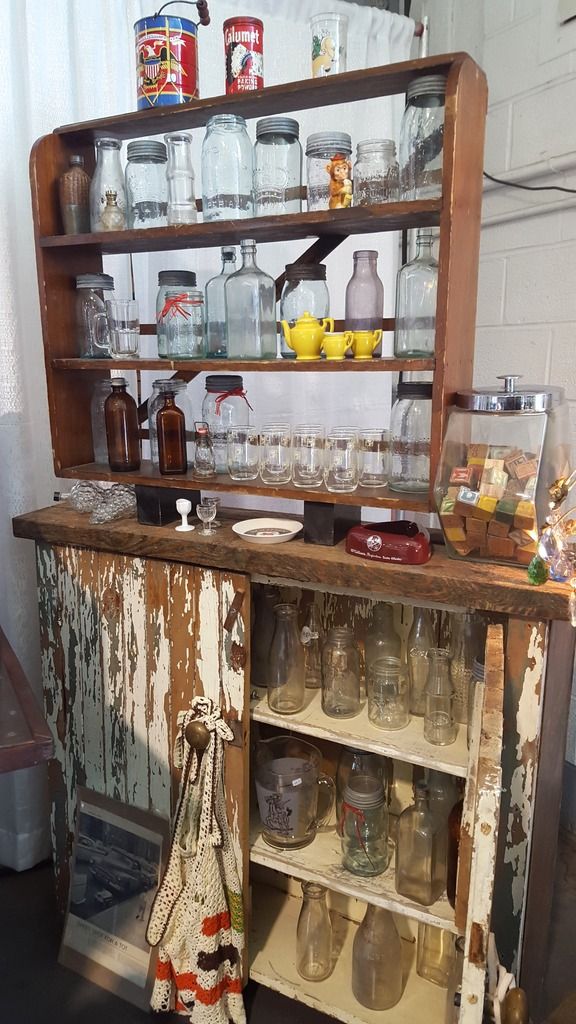 My sisters and I went to the
Toronto Antique and Vintage Market
. There was a $10 admission fee which I thought was pretty steep... but I guess they need to pay for renting out the building and having the market in the first place. It's good to remember to bring water because I got thirsty but refused to pay 4 flipping dollars for a water bottle- outrageous!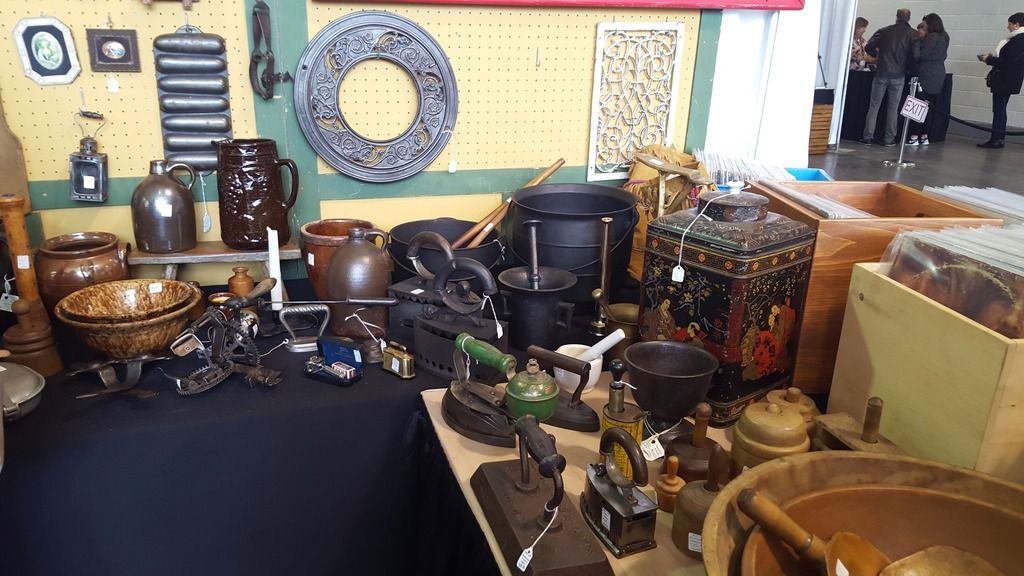 Some vendors had some really nice things for sale. A lot of times there was so much to look at, that I didn't know what to look at anymore.
Beautiful vintage mirrors and silverware. This reminds me the beginning of the Titanic movie, where the scene slowly transitions from showing the objects they discover on the ocean floor to when they were still new and being used by the patrons on the ship.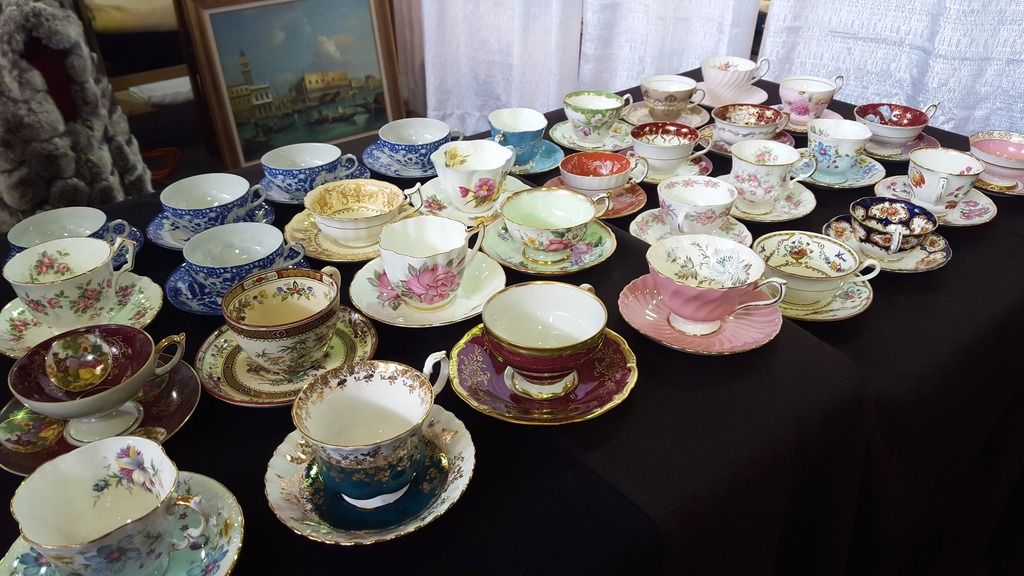 Vintage tea cups. I would love to buy a vintage tea cup one day but they're so pricey at $30+. I guess I wouldn't mind settling for a pretty one regardless if it's vintage. I want a small collection of unique and pretty tea cups. The
mad hatter
comes to mind when I say this lol.
This vendor sold vintage maps- most were at least 100 years old. My sister bought a map of Russia for her boyfriend. I was close to buying a map of Paris but I changed my mind last minute.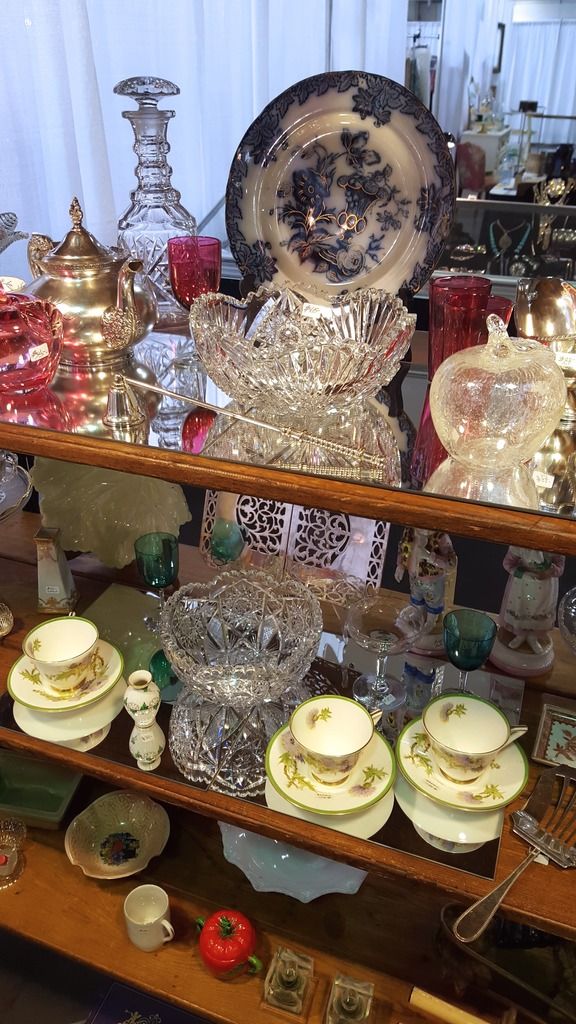 The only thing other than the map that caught my eye were these beautiful crystal bowls. The lady who was selling them told me that they were
American Brilliant Cut Glass
that were popular and made from the 1800s to the early 1900s. Luckily my sister had free data on her phone so I did a little research to learn more about it and to be sure it's what I want. It's completely handmade and you can feel just how heavy it is and how sharp the edges are. When I was holding the bowl to examine it, my hands started to hurt a little bit because of the sharp edges.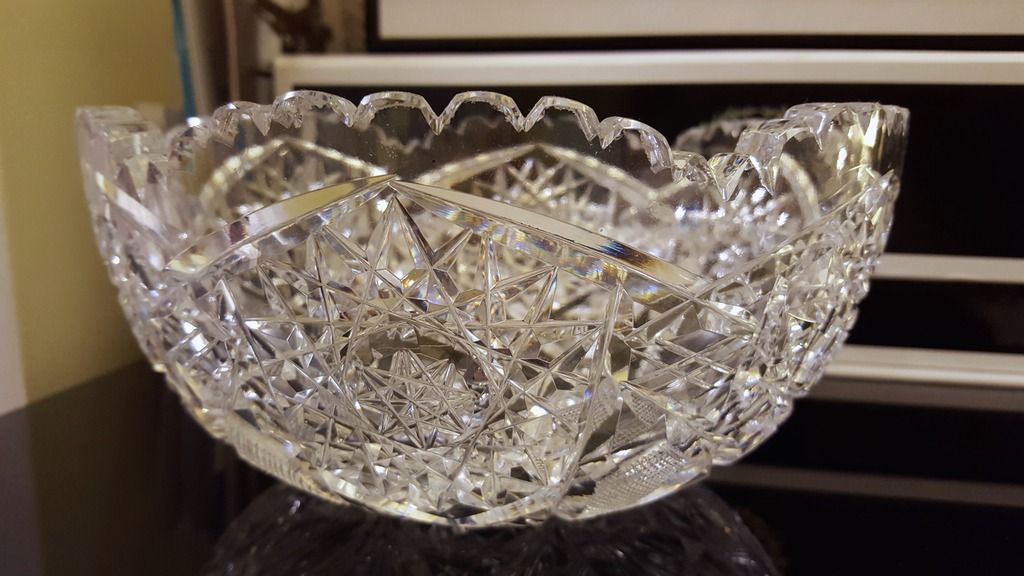 Crystal glass today aren't made the same as these American Cut Glass were. You can clearly see the brilliance and clarity of the glass even under dim light. Usually glass only looks brilliant when shining under a direct light source, but this bowl shines even in the dimmest of lights. The cuts in the glass are also very precise and sharp. It was a hefty price of $85, but it was totally worth it in my opinion (plus identical and similar bowls online were selling for much more). Right now it's sitting on my vanity with some skincare samples in it. One day I would love to put it where the light can shine through it to showcase how beautiful it is, but for now, I like where it sits because it's safe from being accidentally knocked down.
I'm really glad to have come to the market and find the bowl, but honestly, unless you're looking for something vintage and authentic, and you don't mind paying the $10 admission fee, I'd say skip. A lot of the things I saw could be found in second hand stores. But again, if you're looking for the real deal and trust to know who you're buying from, then it was a decent place to browse.
The market was located on the CNE grounds. While we were passing through, we saw that they were still dismantling the last couple CNE rides. I figured it takes a lot for them to set and put up all the rides... but dang! I didn't know it took a whole month.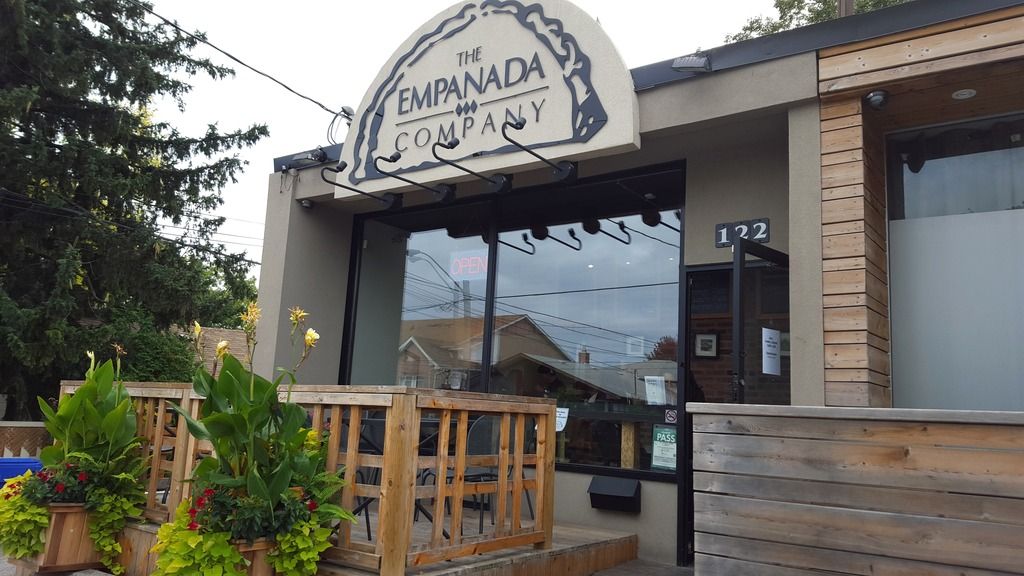 The Empanada Company
122 Fortieth Street, Toronto, ON M8W 3N3
Taken from the site:
"Would like to present to you our collection of traditional and contemporary empanadas. Each empanada is hand crafted and made with only the freshest ingredients using no preservatives or additives.
We have created an assortment of doughs and fillings inspired by countries from around the globe. Try our multicultural empanadas and experience the world in just a few bites."
After visiting the market, we were hungry and decided to eat some empanadas at
The Empanada Company
. My sister heard about this place from her friend who told her they made some really delicious empanadas.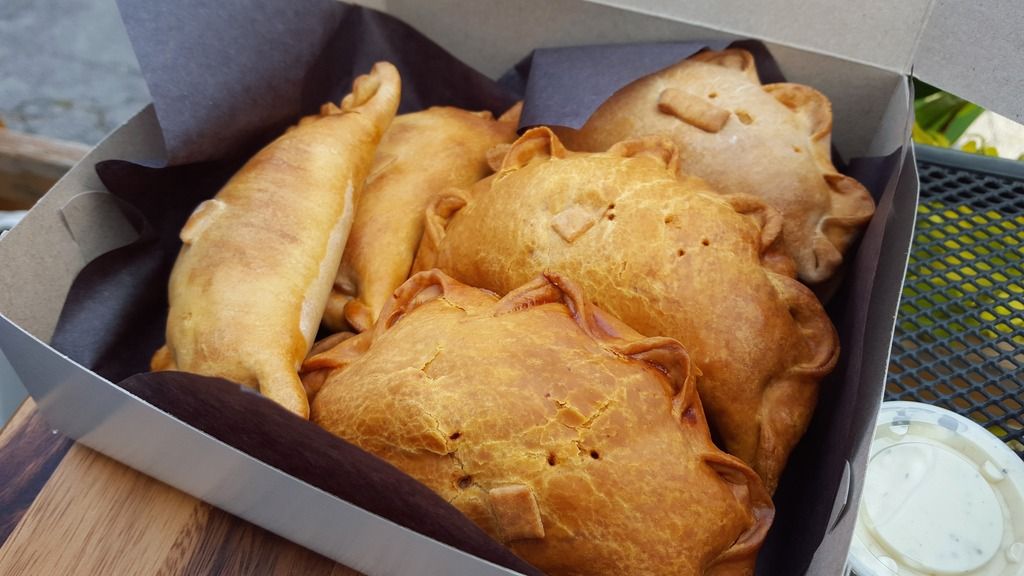 This was the first time I've eaten empanadas and dang it was hella good! It's a very small joint with just a couple bar stools inside and a small terrace outside. You can grab a bite to eat or just grab it and go. Next time I'm hungry before going someplace, I could grab these instead of patties at the subway.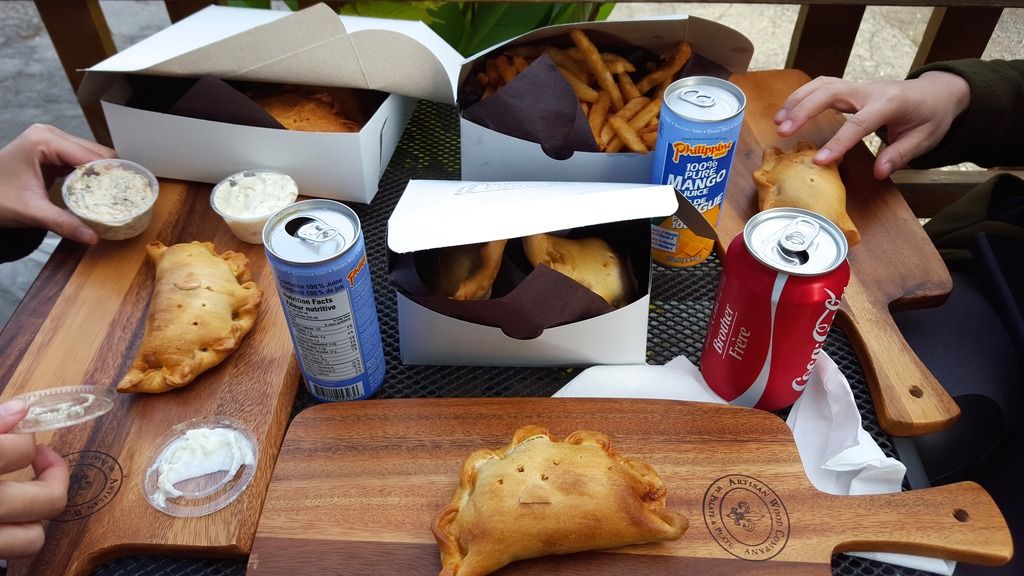 From the traditional empanadas menu we ordered the Chicken Empanadas, from the contemporary menu we ordered the Cajun Pulled Pork Empanadas, and from the mini empanadas menu we got the Smoked Chorizo Empanadas. We also got fries too (I think they use Cavendish fries which are
the best),
and drinks. I saw that they serve churros too... next time I'm
so
getting those!!
The guy taking our order behind the counter was nice and service was prompt.
Overall: Ambience B+, Food A+, Service A+, Price A-
.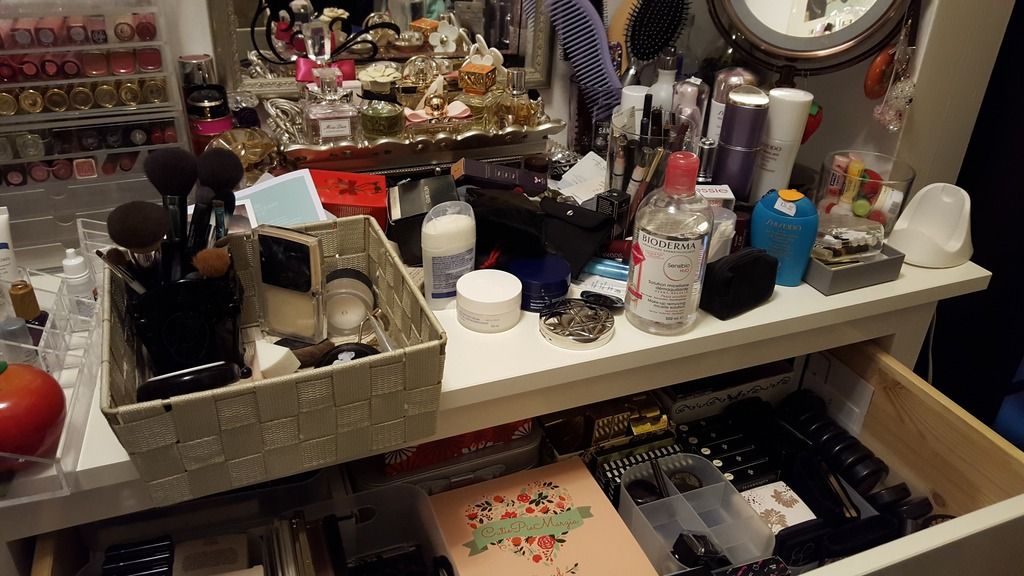 Lately when I have the time, I've been reorganizing up areas in my room that have ended up a bit messy. I managed to reorganize all my drawers in my vanity and I also organized the top too. Next is my closet!
Hot chocolate for the sibs and Mister. Neilson Hot Chocolate is hands down the best hot chocolate mix I've tasted. Forget Nestle Carnation, it just doesn't compare. I also love how Neilson still kept the old fashioned label. It's so old school and I love it! You can get this at Food Grant or Oceans.
Well, I think I redeemed myself a little bit with this post. I felt like I was blogging like how I used to. For some time I felt like I lost that little bit of Natalie touch. Today felt like I was able to sit down and "talk" to you. I haven't felt like that in a long time. Hope to do this some more :)
"The only time you should ever look back is to see how far you've come." -Unknown