It was a toss up between doing my nails or doing this post. And as you can see, I chose the latter. I'm ashamed that it's been more than a year since this trip... so my nails can definitely wait to be painted another day.
Read about
Day 1
,
Day 2
,
Day 3
,
Day 4
,
Day 5
of our week long trip to Montreal back in August 2014.
On Day 6, our 2nd last day in Montreal, we ventured into the regions of Little Italy and Le Plateau-Mont-Royal.
While the Mister was still getting ready, I went out on my own to visit the
Essence du Papier
store in Place Ville Marie. I knew about this place because I bought their agenda and notebook from Chapters before. I liked the craftsmanship of their products so much that I searched up their store location and found out that they were located in Montreal.
The place had a lot of useful stationary. I really love the quality of their products and I'll definitely revisit when I come back.
I ended up getting the same exact small notebook that I bought from Chapters because I love the pattern so much. I also picked up a phone book for my mom because I noticed hers was getting tattered.
I also picked up these Semikolon products which were all on sale. I plan to use the red box to store recipes, the green box to store photos, and the pink notesheets is nice to have when I want to scribble something down.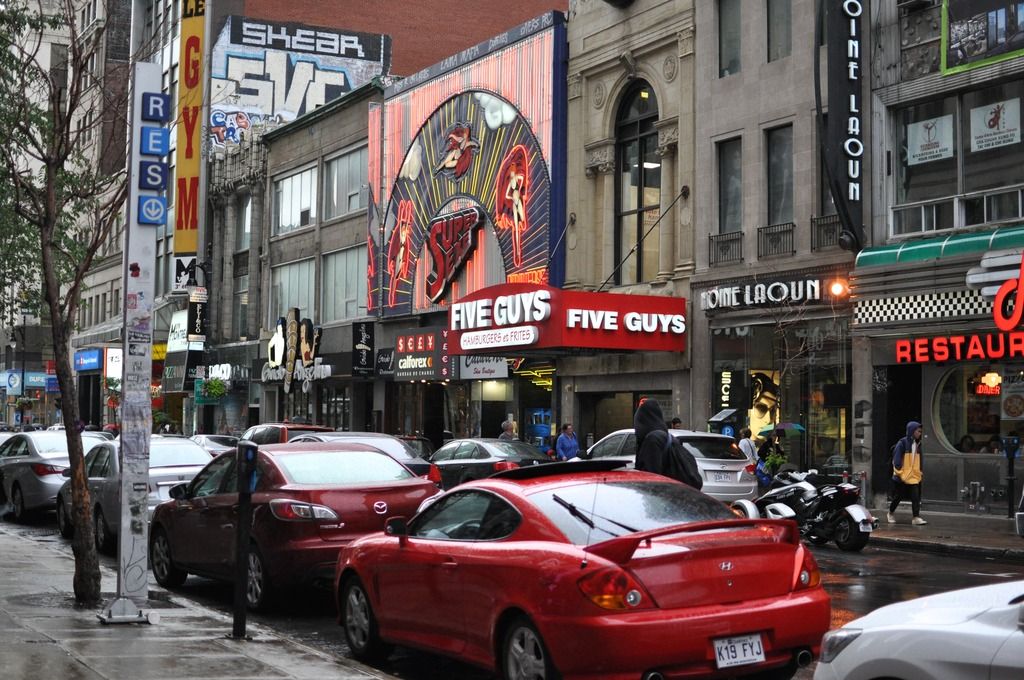 We walked down Rue St. Catherine to take in the energy and bustling atmosphere the street has to offer. Hopefully next time we'll make some time to further explore and shop the street.
Back onto the Metro. Seriously, if Toronto subway was this fast, I seriously wouldn't consider taking the car downtown ever.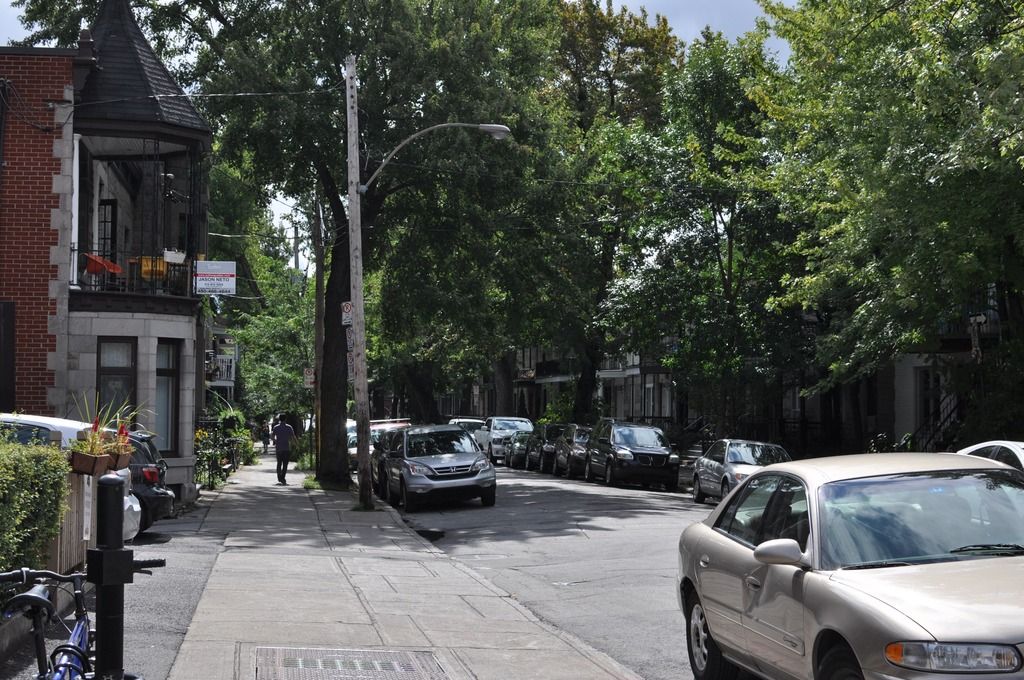 I loved the neighbourhoods that we walked down. It was so quaint and lovely.
First stop, A La Folie. We visited the cart in the Eaton Centre but I wanted to visit the physical store itself too. It was very upscale inside. There was a lot of empty space inside and there were only two long glass displays with their macrons inside.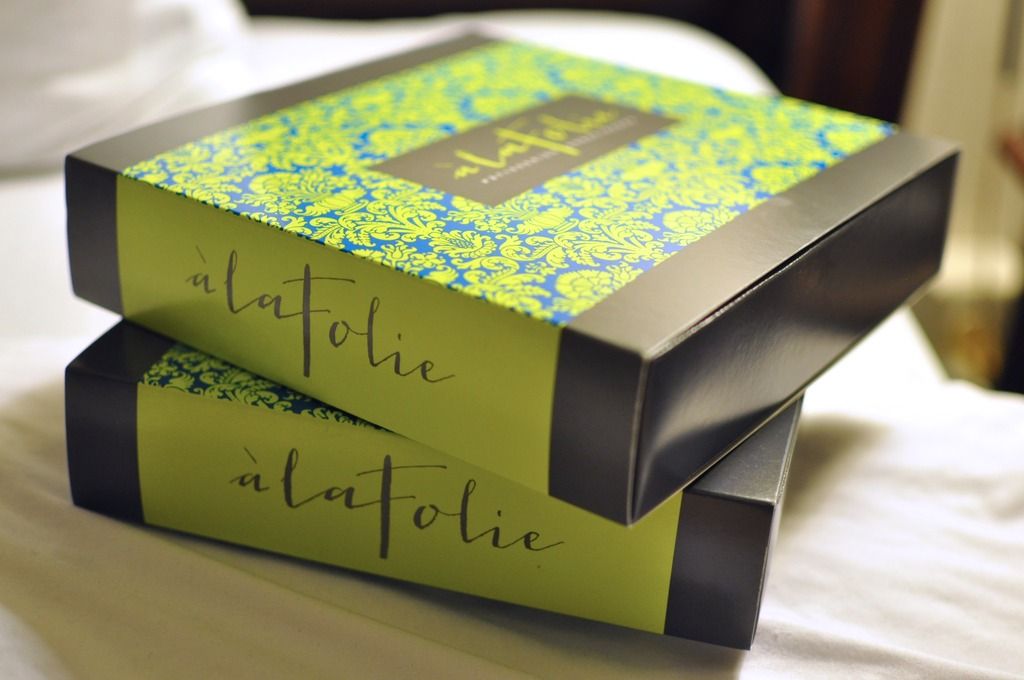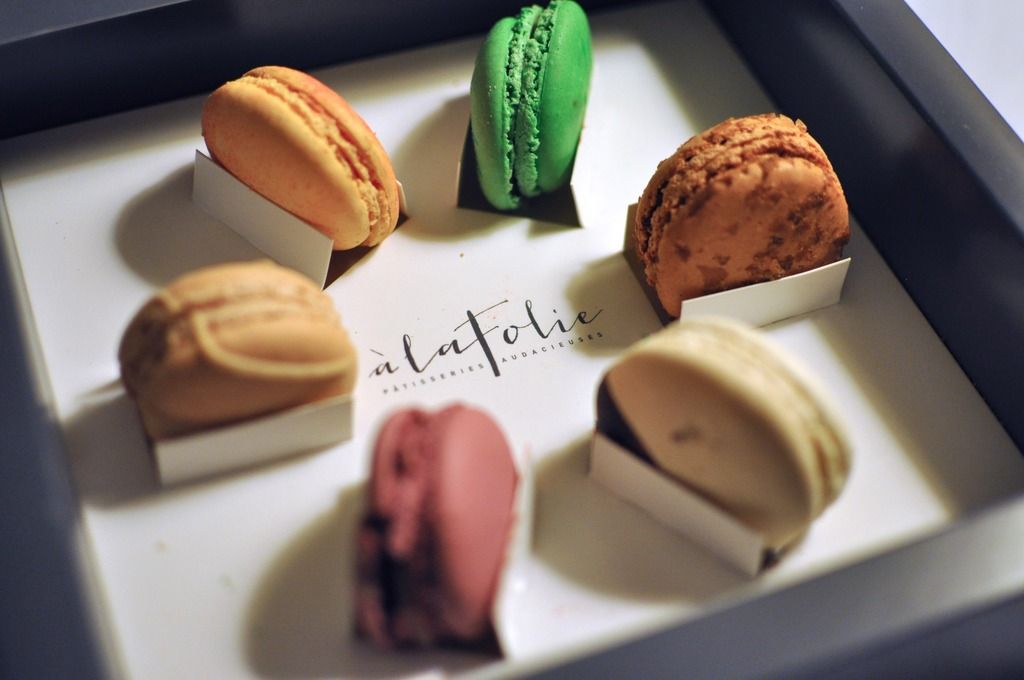 I told you I would share with you my combined purchase from the cart at Eaton and what I bought here at the store. In total, I bought two boxes. I brought them home to share with my family too. They all were so yummy! I definitely would recommend them. I wish macrons didn't cost so much, but I guess it's a good thing otherwise I'd gain a lot of weight from eating too much.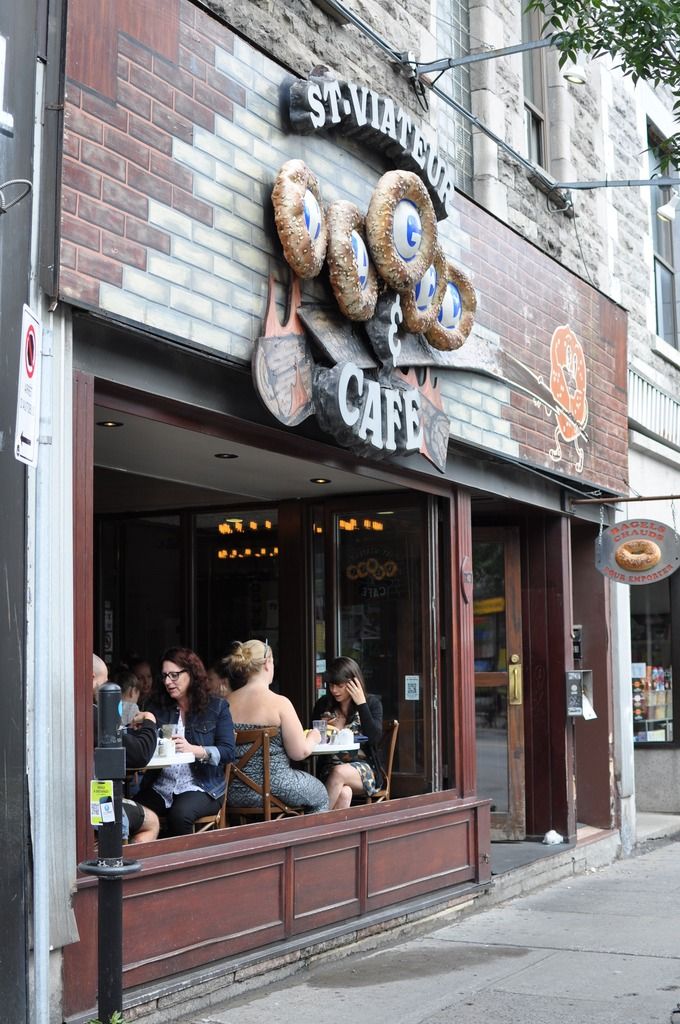 St. Viateur Bagel & Cafe
1127 Avenue du Mont-Royal E, Montreal, QC H2J 1X9
Taken from the site:
"Our world-famous bagels have been enjoyed by millions of people worldwide. In our humble opinion, one of the reasons for their overwhelming popularity is their wholesome goodness! Our bagels have absolutely no preservatives whatsoever and are made with 100% natural ingredients. We have been making them the same way since 1957. Each bagel is hand-rolled, boiled in honey water, and cooked in a wood fired oven that was designed to both cook and flavour the bagel. What comes out of this process is a chewy, slightly sweet bagel that is incomparable to any other bagel being made today. We have never compromised quality for quantity, and because of the fact that we produce an artisanal product; only a limited amount of bagels can be produced each day.
Simply stated, our bagels 'are the ones your grandparents enjoyed made with ingredients your children can read.' St-Viateur Bagel has been baking its famous bagels for over 55 years and is proud to be the longest running bagel shop in Montreal."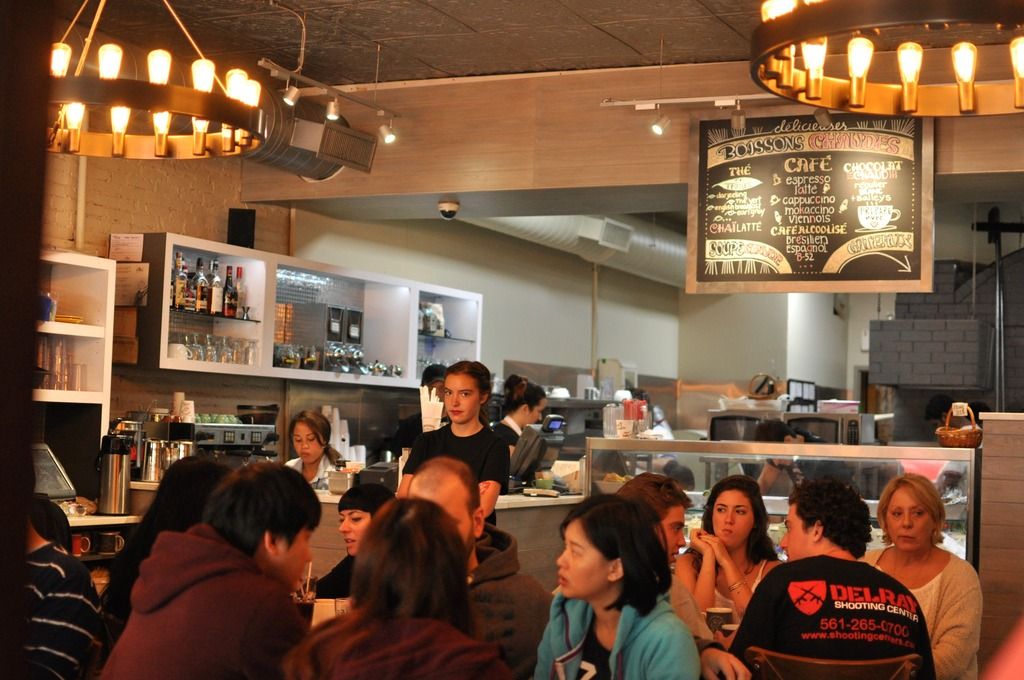 For breakfast we went to the infamous
St. Viateur Cafe
. The place was
tiny
and there was a continuous line that kept forming. I'm going to be honest and tell you straight up that I felt a little rushed. Only because the place was so small and it seemed like they wanted to turn the tables at a fast pace to make way for new customers.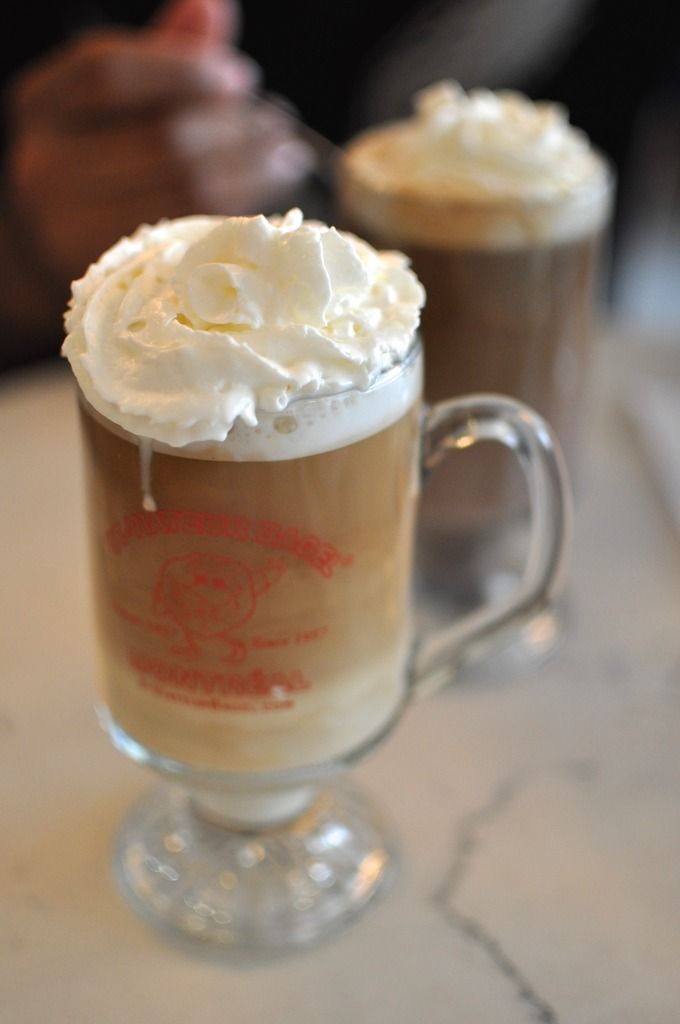 We got some drinks to start (probably hot chocolate and a coffee beverage).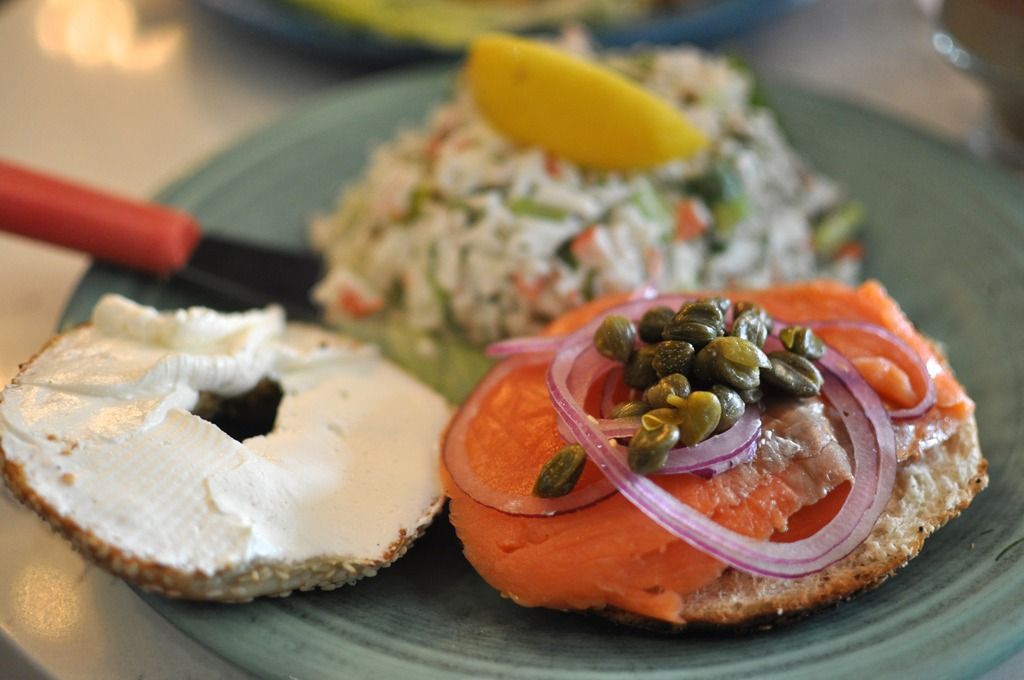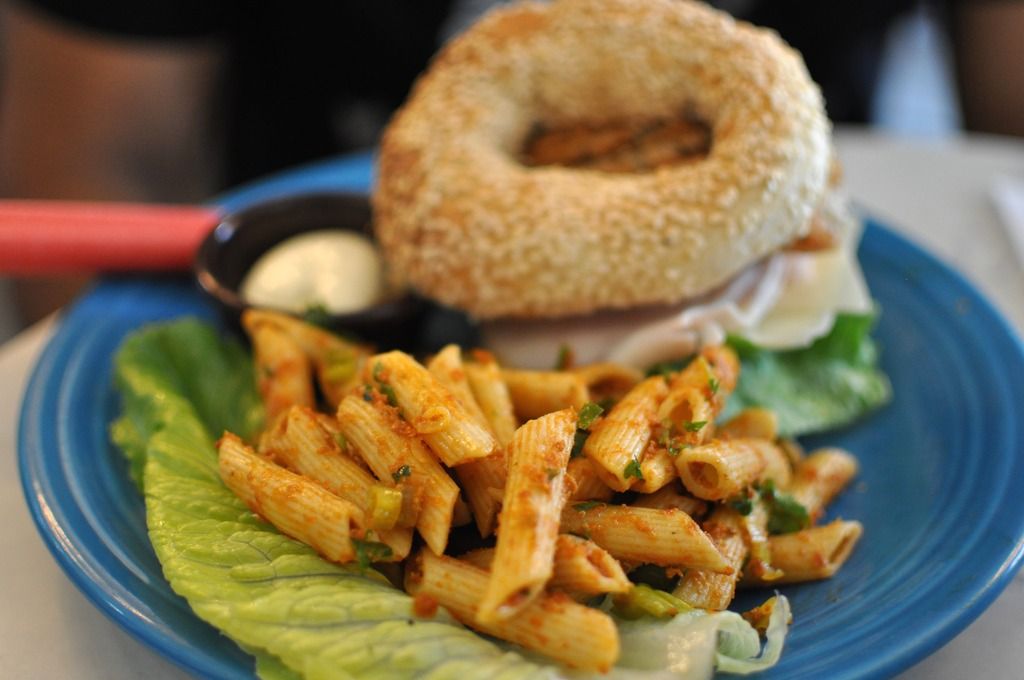 I would be able to tell you what we got if I had a menu to refer to but I can't find one online. What I can tell you is that I got the sesame bagel with salmon and capers with a side of lobster salad (top). I think the Mister got chicken or ham with a side of pasta (bottom).
We liked it okay... it wasn't spectacular in my opinion; what really was the star of the meal (unsurprisingly) was the bagel. It was unlike any bagel I'd ever eaten. It just had the right consistency and the taste of it was just simply amazing. I could eat the bagel alone without anything on it and still enjoy it. It was that good. I contemplated on getting some bagels to bring home, but I ended up not getting any (which I later regretted). Next time we go to Montreal, I'll definitely grab some.
Service wasn't that great. It didn't feel personal nor that friendly. It felt very rushed and the lady was standing there the whole time just staring. Food was served fairly quickly though. Atmosphere was terrible- very small, loud at times, and cramped.
Overall: Ambience D, Food B+ (bagel A+!), Service C+, Price A-).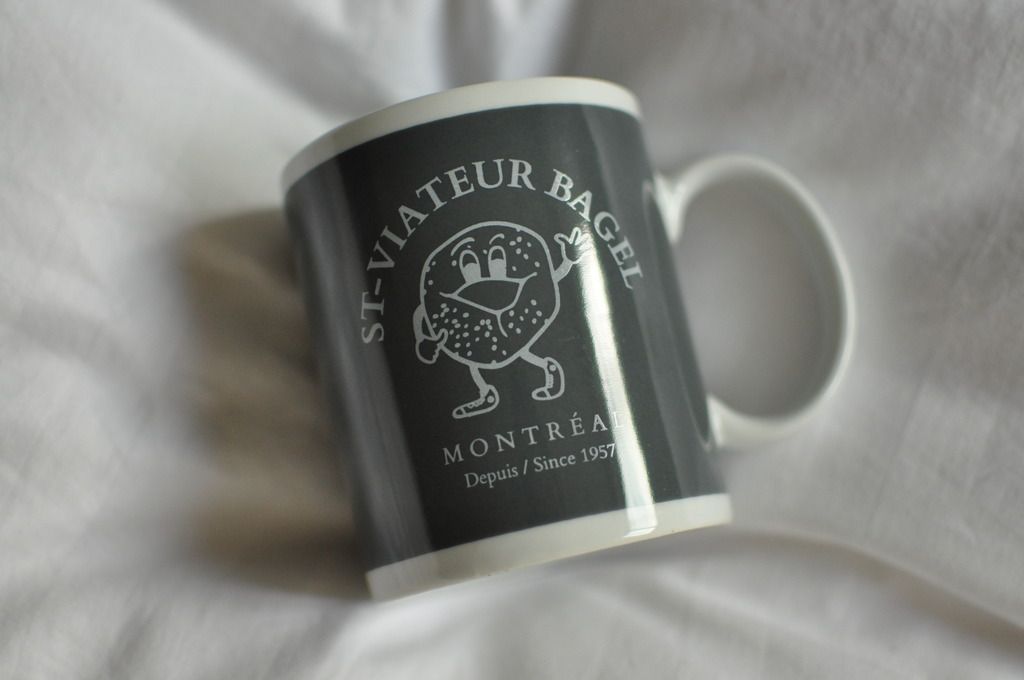 I also got a cup from St. Viateur Bagel & Cafe as my cup souvenir for this trip to Montreal with the Mister. One of the sales associate told the cashier to ring it up for me with what I ordered, but I guess she forgot because it wasn't shown on my receipt.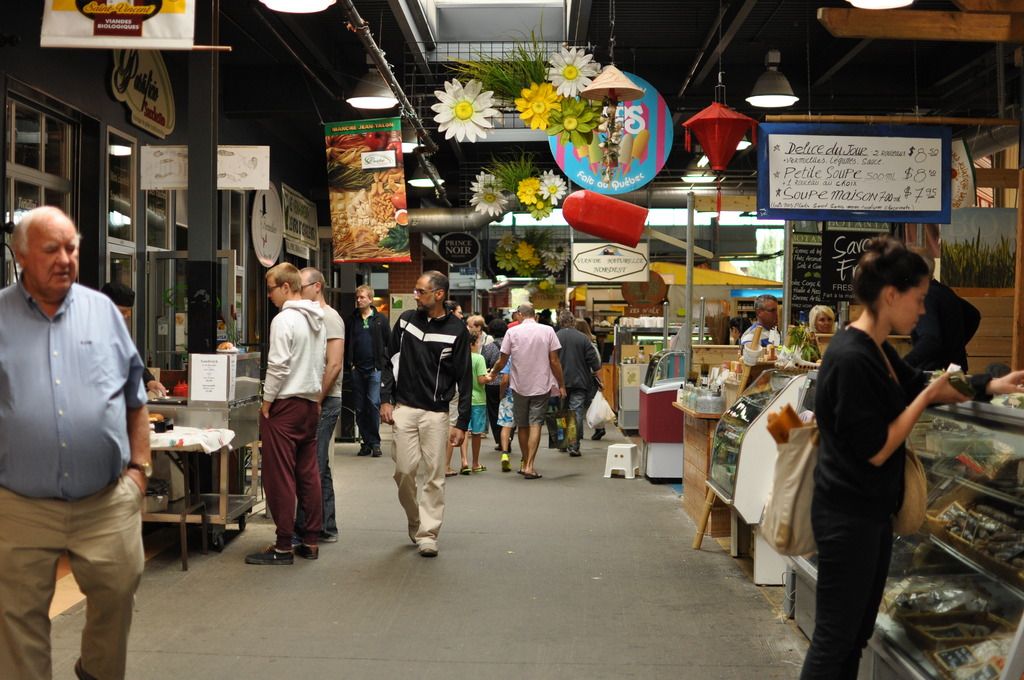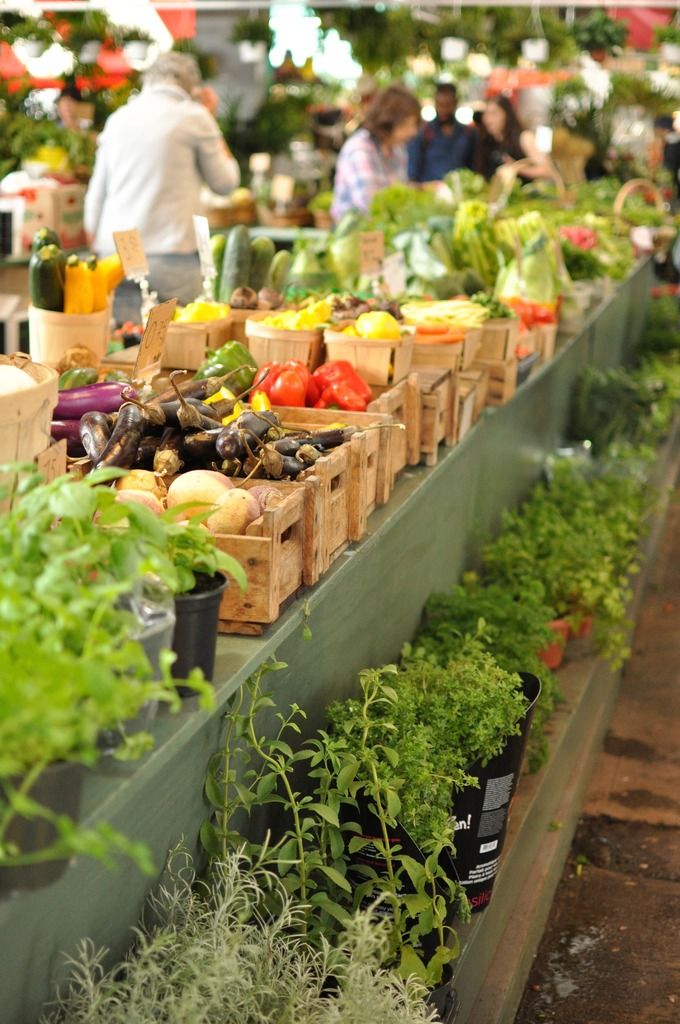 After we ate breakfast, we went to Marche Jean-Talon, a farmers market.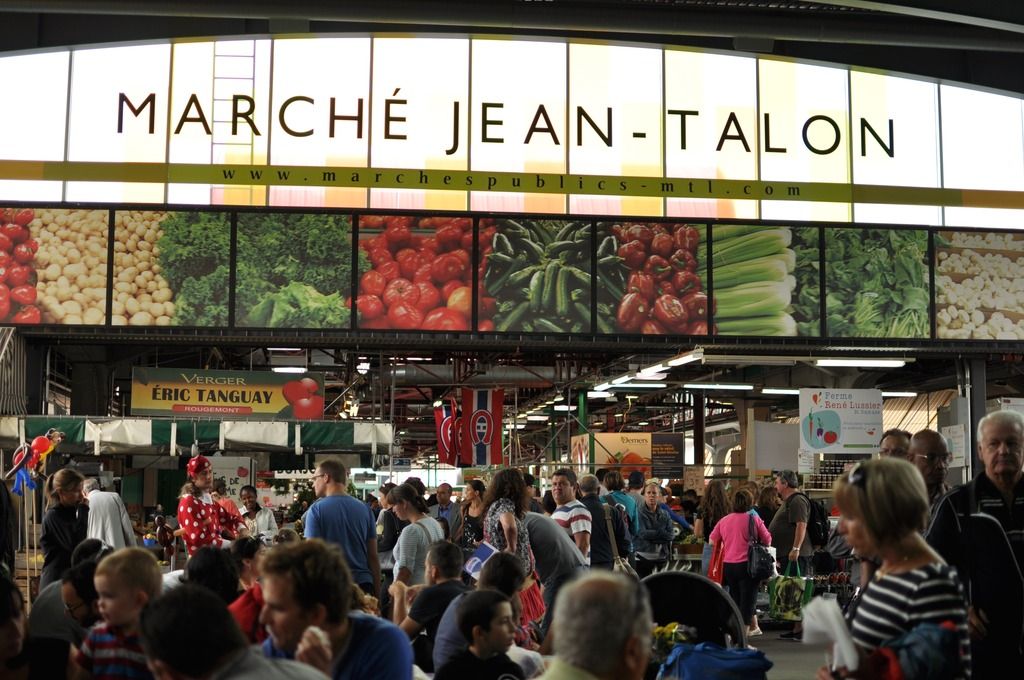 Oh man, if I lived in Montreal I would buy fresh bagels from St. Viateur and buy fresh fruit and veggies from Marche Jean-Talon every week.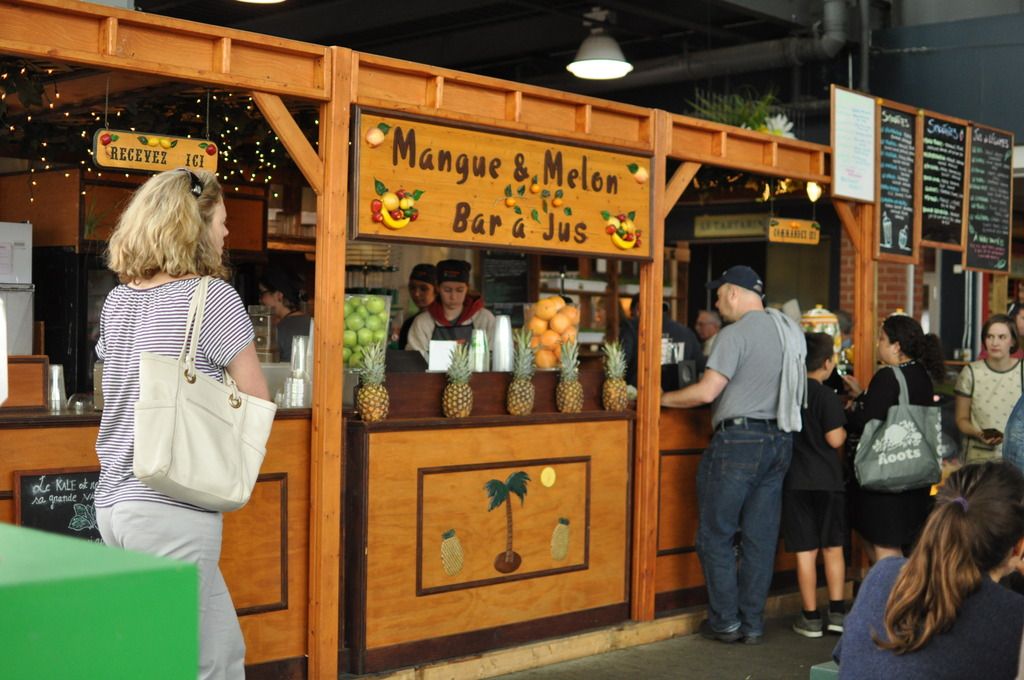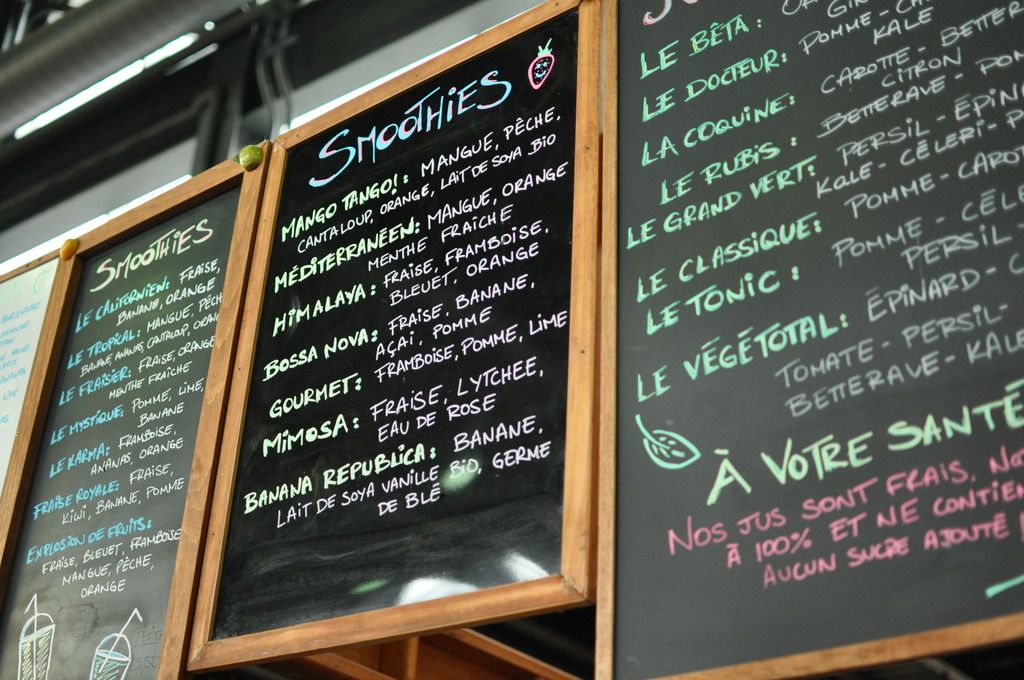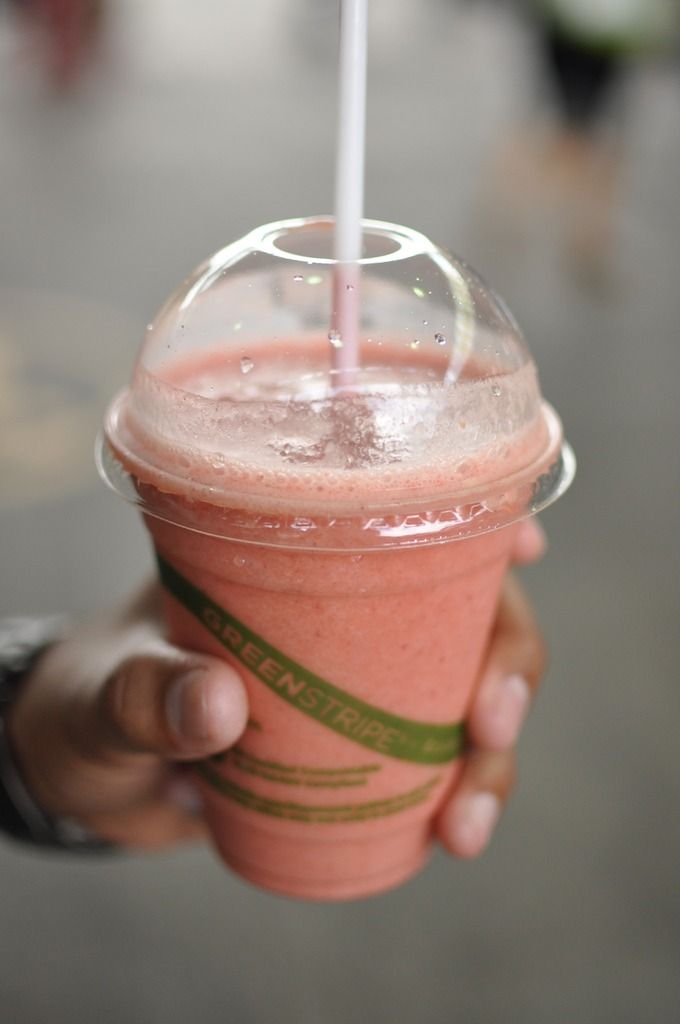 We got thirsty so we got this smoothie from Mangue and Melon Bar a Jus. I can't remember what it was but I know strawberries was one of the ingredients. It was refreshing and tasted pretty good.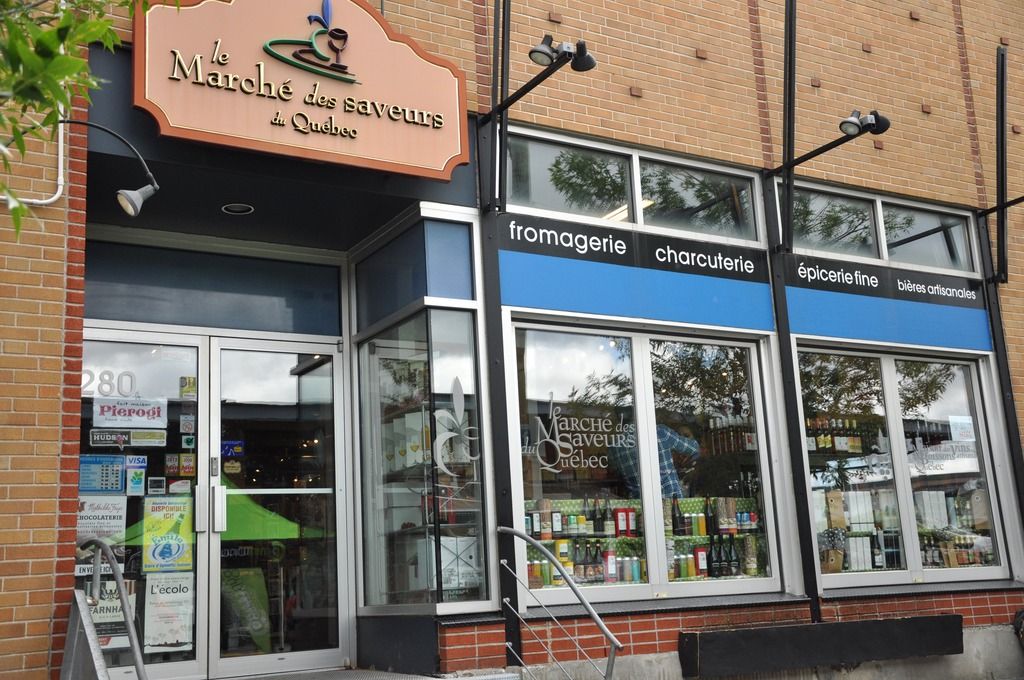 Just beside Marche Jean-Talon was the store that I wanted to visit called, Le Marche Des Saveurs du Quebec. I read that this place had some very unique Quebecois products so I was very excited to see what they had to offer. The store definitely had some unique finds but a lot of it was overpriced. I came across some things that I saw at Le Cartet for cheaper, but you can't deny a good variety of Quebecois products including cheese, tea, wine among other things.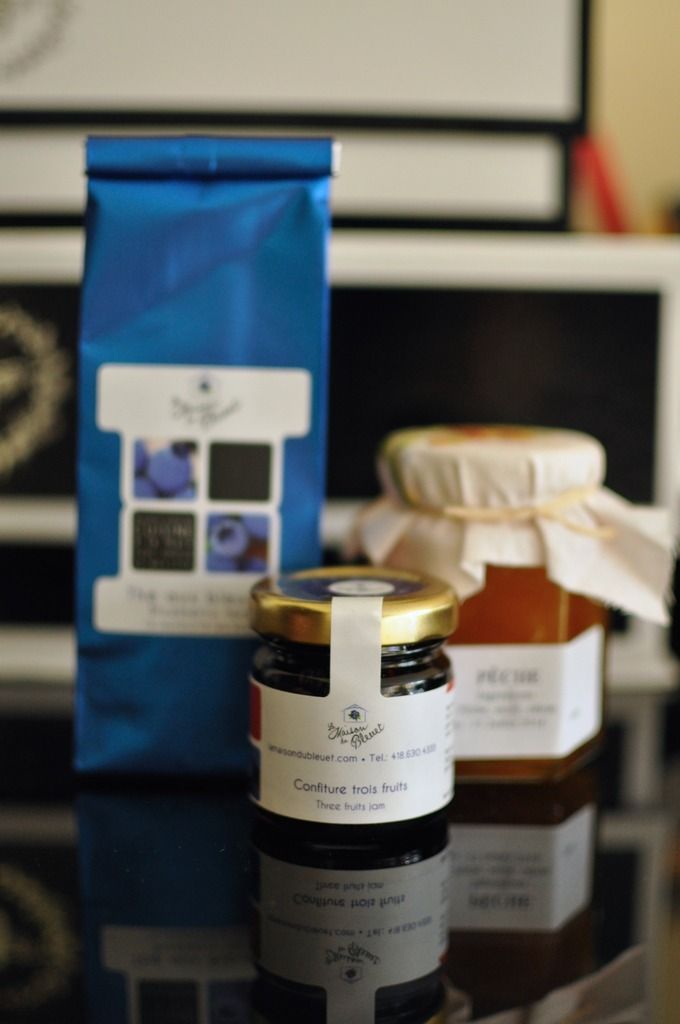 I picked up some blueberry tea, peach jam and three fruits jam. Can you tell I was really trying to get into tea??
Saw the actual St.Viateur bakery. Again, I got tempted to buy bagels but I resisted.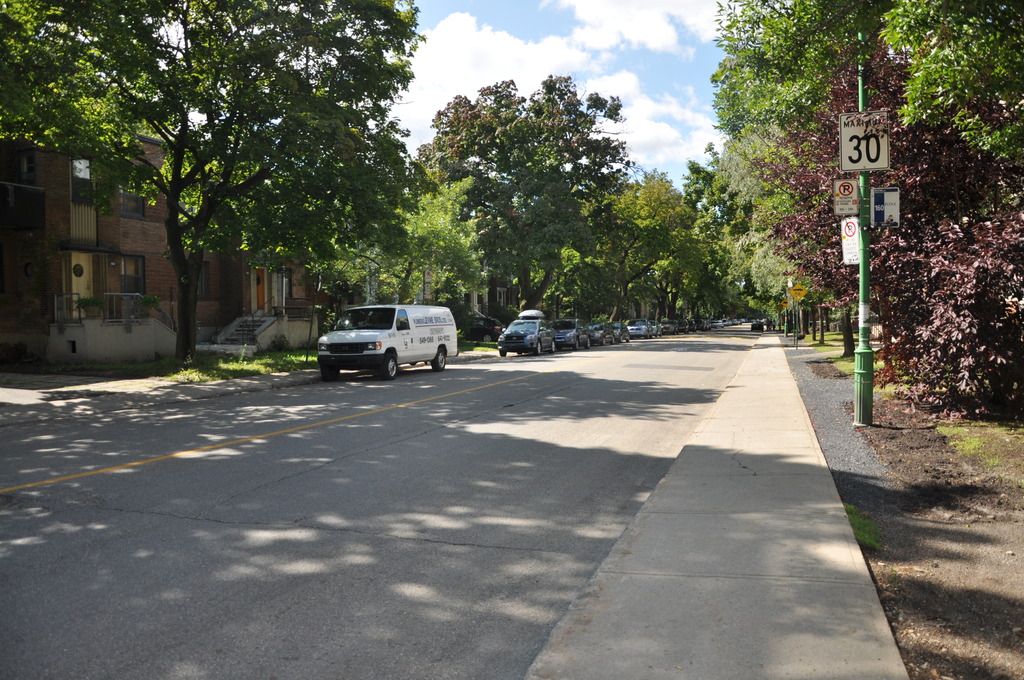 As we walked to our next destination, we really enjoyed the walk through the neighbourhoods. It was so peaceful and beautiful. After a whole week of rain, we got some sunshine; and it couldn't have come at a better time.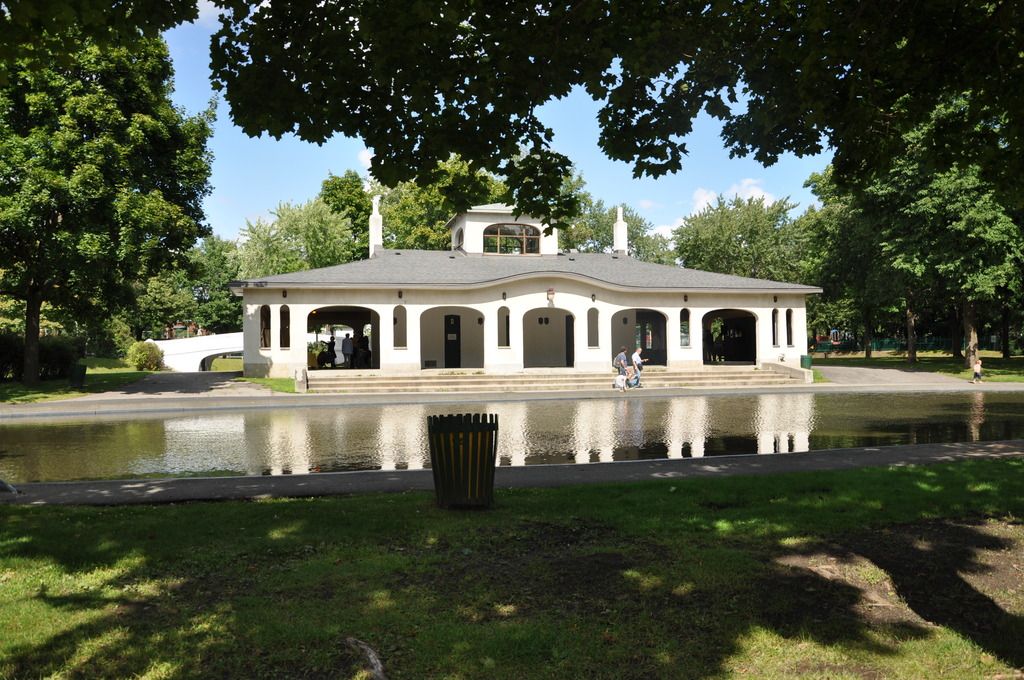 We stumbled upon Parc Saint-Viateur as we were walking. It was such a beautiful park within the neighbourhood. I wish Toronto had more scenic areas to walk in. I tried going to the washroom here but the doors were locked.
Finally we reached our destination,
Maison de the Un Amour de Thes
. As I mentioned before, at the time I was still trying to get into tea so I wanted to visit another specialty tea store. Because I was still new to tea, I didn't end up buying any tea from here because the store was small, empty and all the teas were all tucked away in canisters. The selection there was great but daunting for a newbie like me. I simply did not know where to start!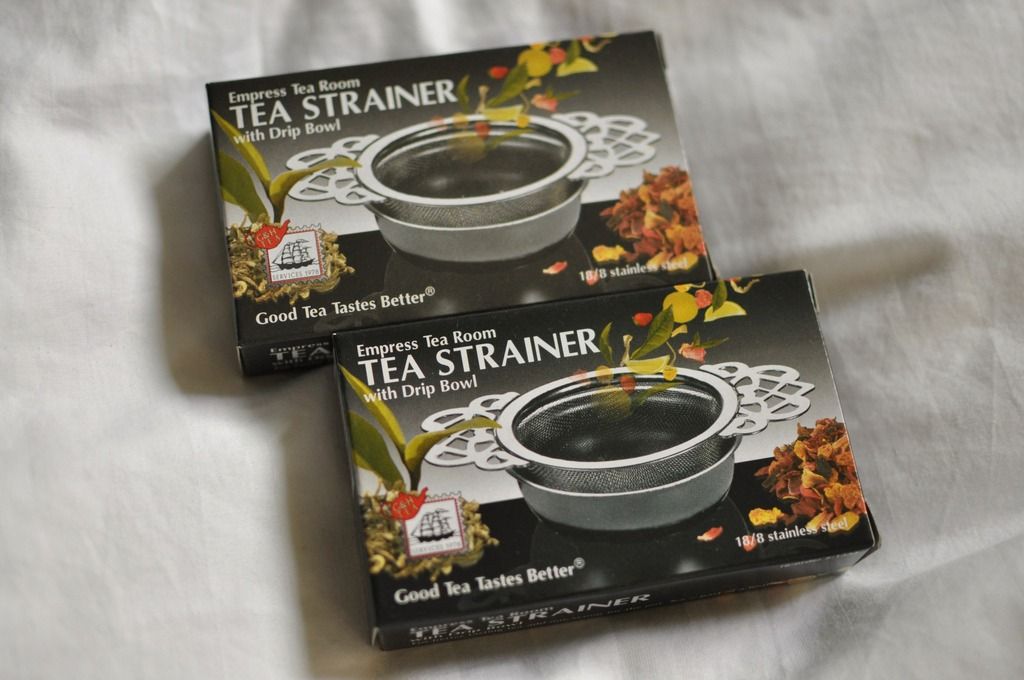 All I ended up getting were these tea strainers with drip bowl. These are great to use for loose tea leaves because they'll catch any stragglers from getting into your cup of tea.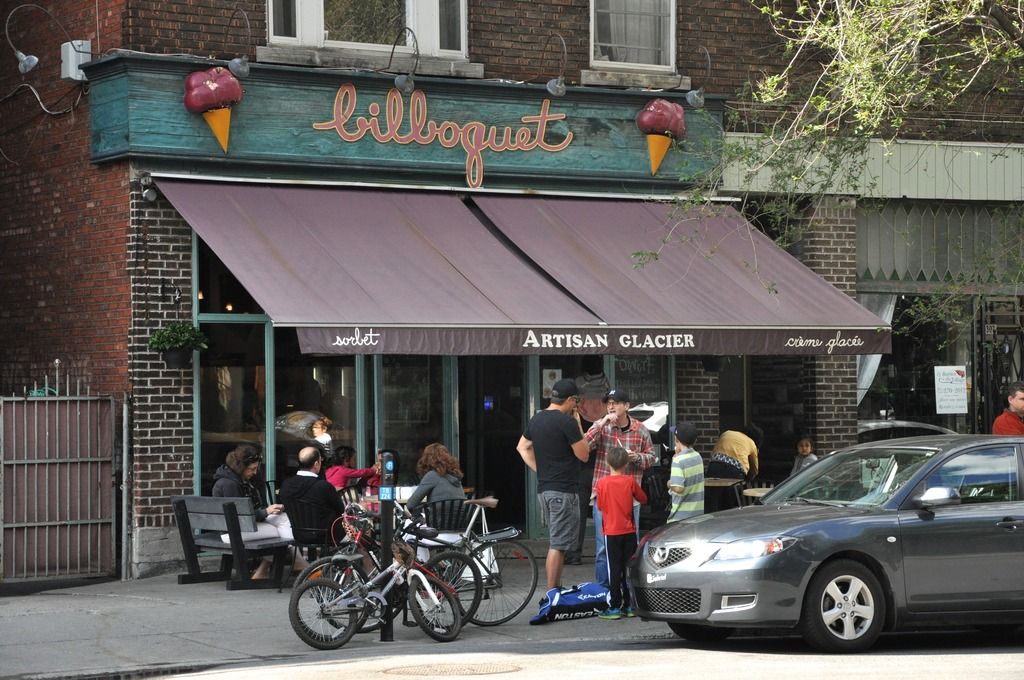 Le Glacier Bilboquet
1850 Rue Des Cascades O, St-Hyacinthe, QC J2S 3J3
Taken from the site:
"Since its creation in 1983, the key corporate objective has been to produce the highest quality of ice creams and sorbets possible. All our products are handmade (no automatic production lines) with the highest quality ingredients. There are no additives or artificial colorants. Le Bilboquet uses only fresh 3.25% milk, 35% pure cream and 100% fruits and juices. Cookies, brownies and other confections that are incorporated into our ice creams are mostly produced by our own in-house pastry chef."
Nearby was the ice cream place we wanted to eat at called
Le Bilboquet
. You pick the type of cone you want and then what flavour ice cream you want.
We each got two different flavours but I seriously cannot remember what they were. What I do remember was that it was seriously some good stuff. I liked it just as much as I like the ice cream served at
Dairy Cream
(remember, it's different from Dairy Queen!!). The only downside is that, just like Dairy Cream, there weren't many seats available. Despite that, the upside is their service was quick just like Dairy Cream and their ice cream is equally bomb! I definitely highly recommend this place!
Overall: Ambience A-, Food A+, Service A+, Price A+.
Then we walked back to the Metro so we could go take the train to Parc Jean-Drapeau.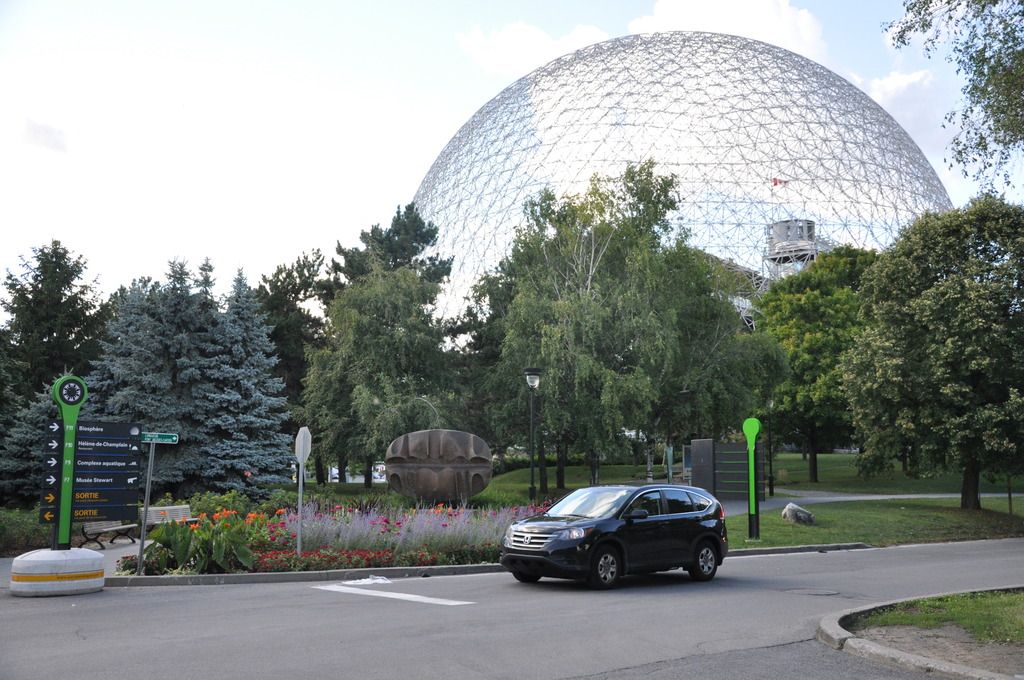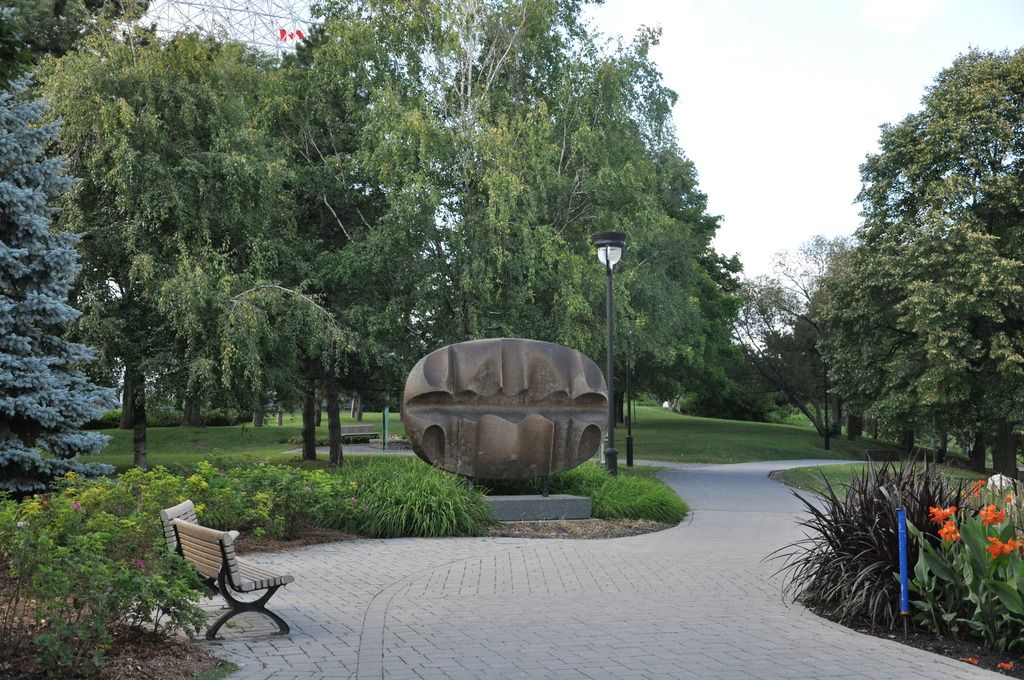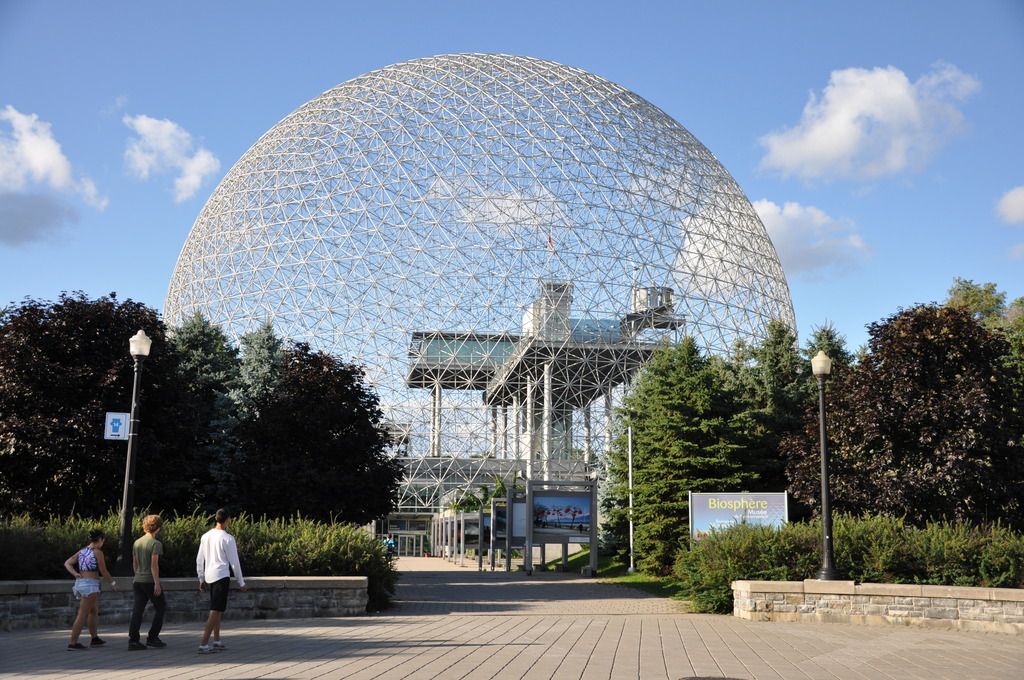 The Biosphere in the background was so beautiful.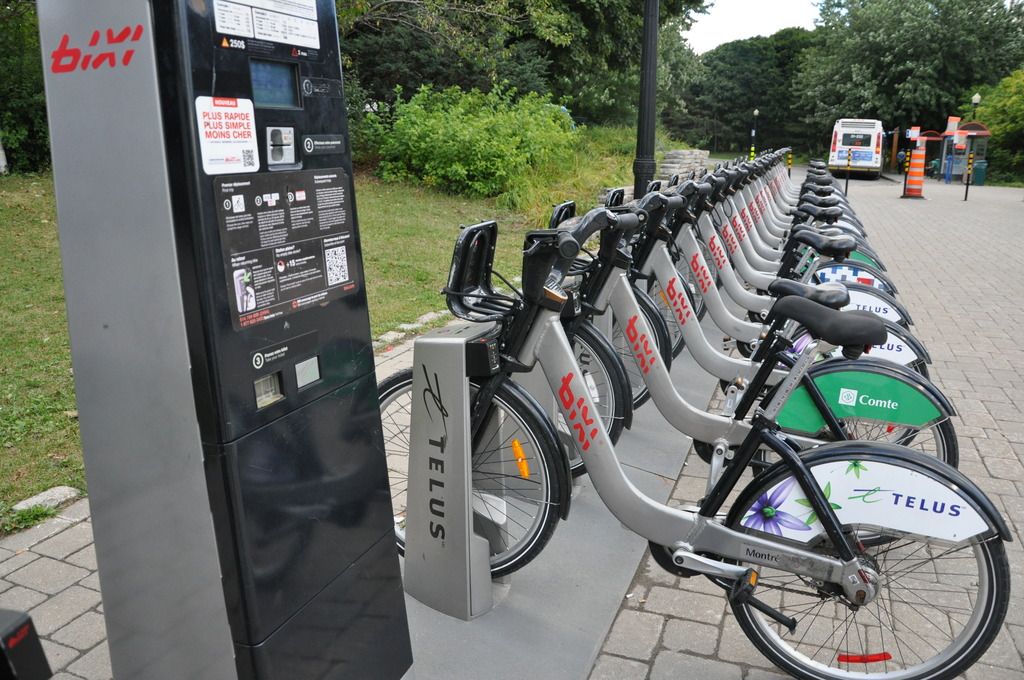 We were very close to renting out some bikes so we could bike around... but it was sprinkling and I didn't have a place to securely place my bag.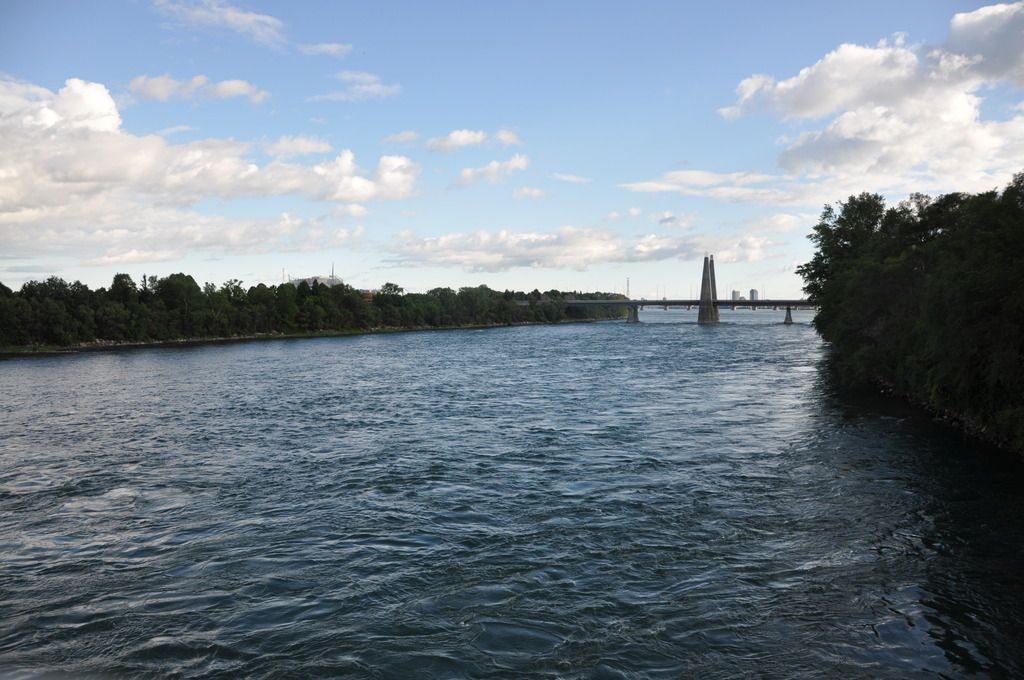 We found a strange area where there were stone bleachers and another area where people can exercise in the park (it was so interesting). After spending some time walking around, evening rolled around and we found ourselves hungry.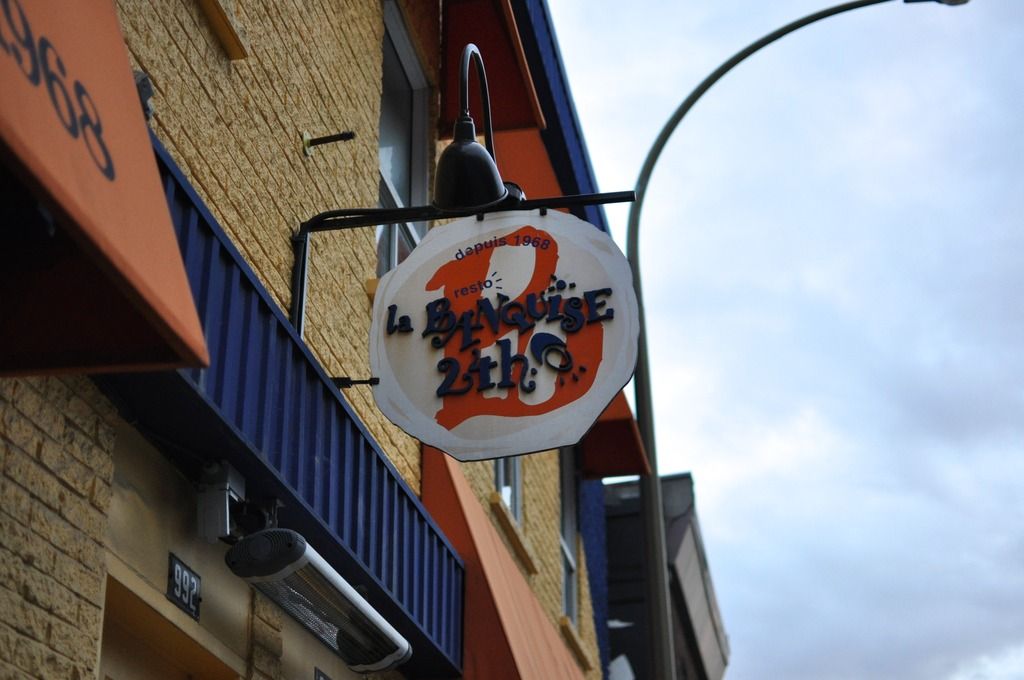 La Banquise
994 Rue Rachel E, Montreal, QC H2J 2J3
Taken from the site:
"La Banquise, originally a small ice-cream shop, first opened its doors in May 1968. The following fall, its founder and local fireman Pierre Barsalou, decided to transform the enterprise into a 24-hour snack bar. At the time La Banquise specialized in amazing good hot-dogs and legendary fries.

Poutine first appeared on the menu at the start of the 1980's. Originally, Classic and Italian were the only two varieties offered. In response to repeated requests and very satisfied customers, the restaurant's poutine choices quickly multiplied. Today, we offer no less than 30 different types of poutine."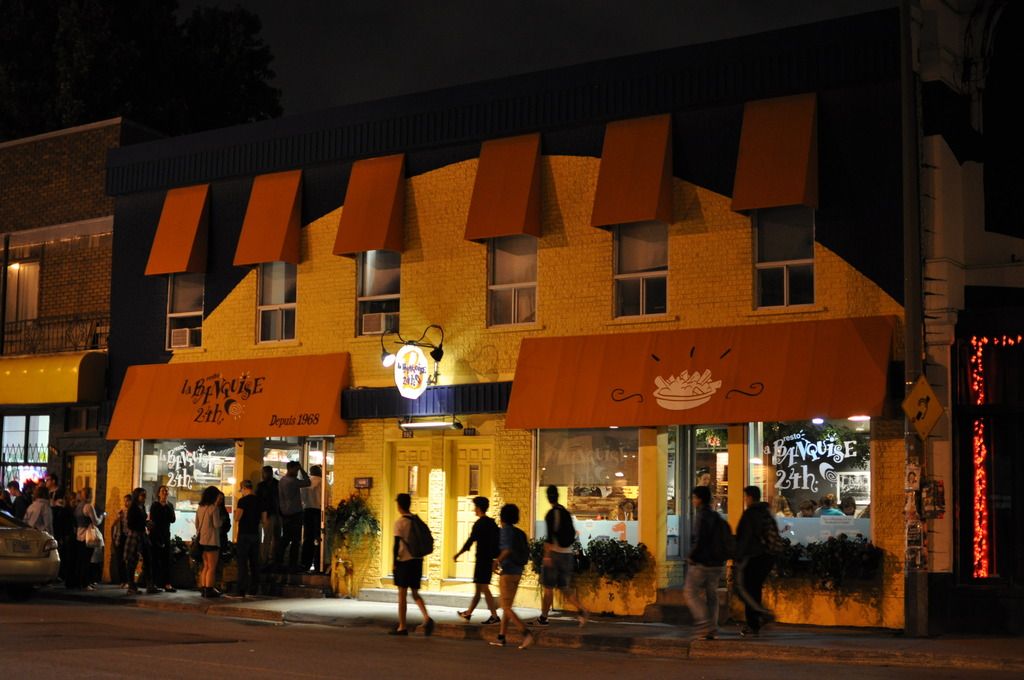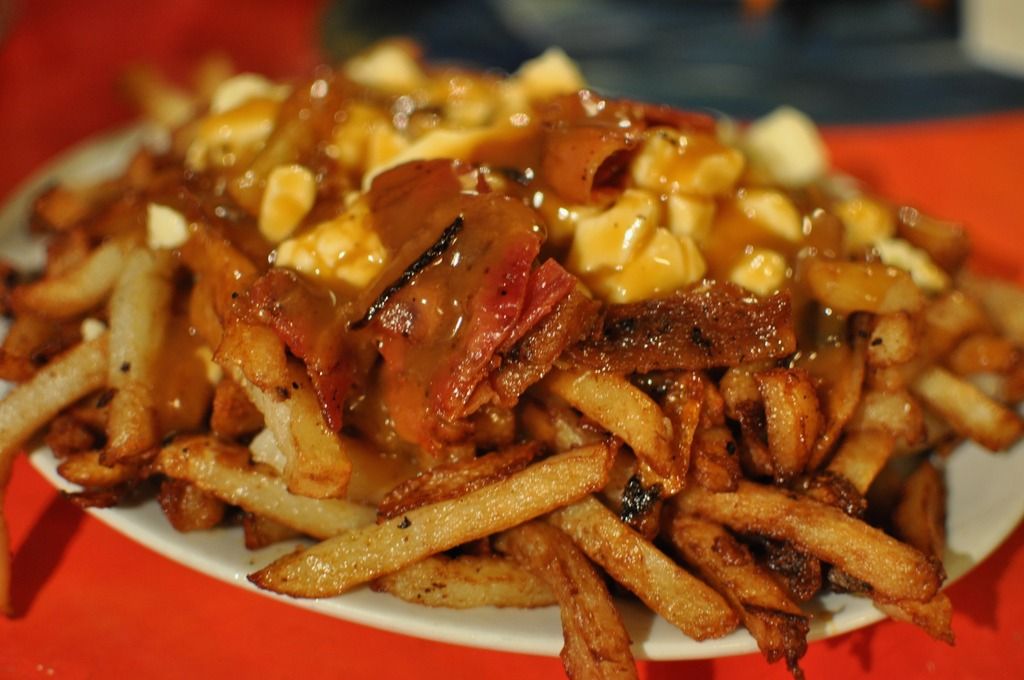 We headed back in-land and went to one of the most famous poutine joints,
La Banquise
! I really did not like the atmosphere of the place to be honest. It was stuffy and loud, and there was a huge line that you had to wait for a long time before you got in. Service was slow and poor. Our waitress took literally forever to take our order and then serve it. She was also not attentive either. We were waiting for a long while to pay and leave as well. I think it's better to just get take-out, that way you get served faster and you don't have to sit in that kind of atmosphere. Perhaps the time of day is important when considering coming here. We went around 6-7pm which is probably one of the most busiest times you can go. The poutine, however, was really delicious. We really enjoyed it a lot. It was the best poutine I've ever had.
Overall: Ambience C-, Food A+, Service C, Price A.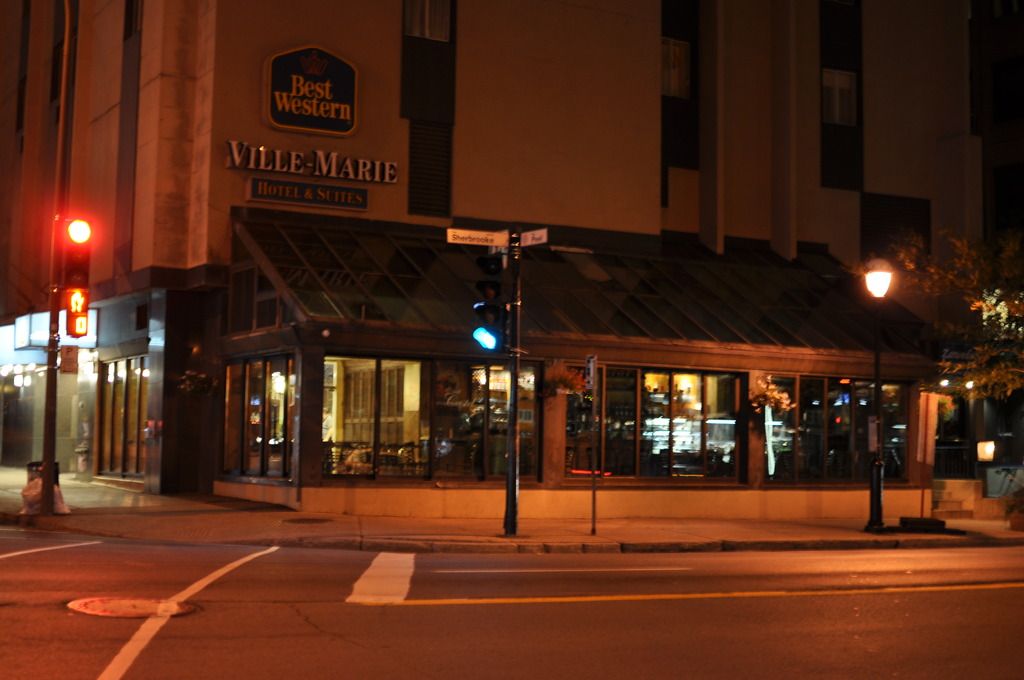 Finally, our home away from home. It feels so nice to have a place to go to after you're done for the day. I seriously am grateful everyday to know that I have a place to go to.
Today at work I got a true genuine compliment, "You're really beautiful." In no way did he intend it to be creepy and it didn't come off as creepy either. It made me smile and obviously I said thank you (it made my evening). Usually when people tell me that, it's either creepy or the guy is being flirtatious. Makes me want to vomit in my mouth sometimes to be honest. But today, today was nice to get a no-strings-attached compliment. Those are very rare.
p.s. This is the second last post of these Montreal posts. Next one will wrap up the whole series! Finally!
"With age comes wisdom, but sometimes age comes alone." -Oscar Wilde