When I get the itch to blog, I really make it a point to get down to business. I wish it was possible for me to blog everyday. It's weird because I never run out of things to blog about. I constantly have posts piling up and I always find myself falling behind. If you want instant updates about what I've been doing or sneak peeks of future blog posts, be sure to follow me on
instagram
.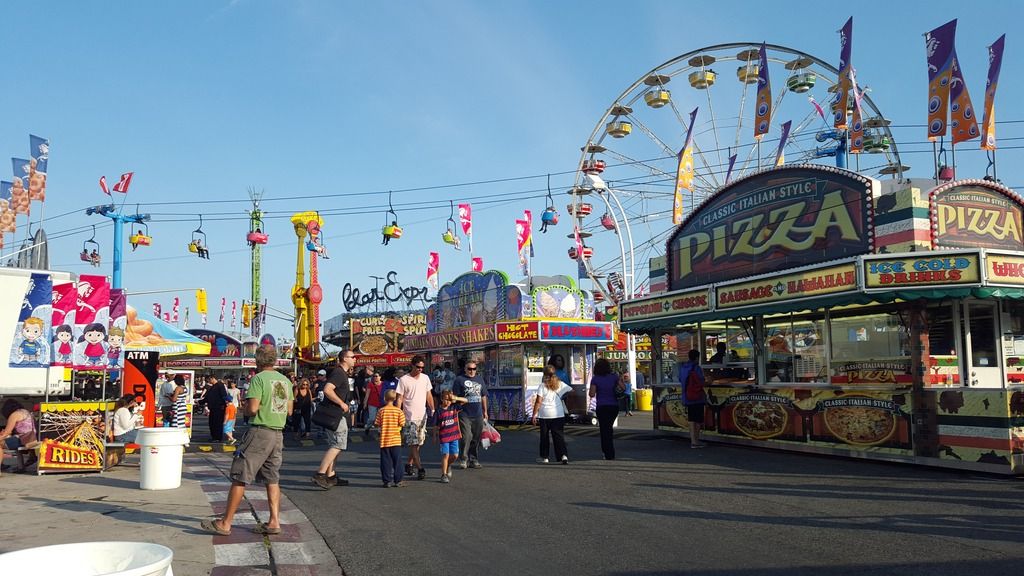 The CNE (Canadian National Exhibition) just ended earlier this week. This year CNE was a bit of a let down for me, despite the fact that I ended up going three times. The first time I went with my cousin, and the other two times I went with the Mister. There were a few new exciting vendors and new discoveries for me though, so it wasn't all that bad. I'll be combining everything together and blogging about it that way.
The third and final time I went with the Mister, we went by GO train. The first two times though, I went via TTC. My cousin showed me a quicker way to get to the Exhibition place and I'll be forever grateful. I used to go all the way to Union station, but now I know I can get there through Dufferin station. I knew about the different routes to get to the CNE but I never bothered to try.
Taking this route brings me to the Dufferin Gate entrance. This entrance was originally the main entrance to the CNE. It's the same entrance I remember going through as a child when my mom would take the whole family to CNE. The
Dufferin Gate
itself has been rebuilt three times. The first two original entrances were much more substantial, the second being more extravagant than the first. The second entrance was torn down during the construction of the Gardiner, then replaced with a much more simpler entrance, which is the one that exists there now.
I never come on this side of CNE because it's just full of kids attractions, but because we came on this side, my cousin introduced me to this Churros stand called
Pancho's Bakery
!! I've always wanted to eat churros but I could never find a place that sold it. I was so excited to eat some.
Seriously, it was bombdiggity. My cousin shared with me the first day, and I got it twice again each time I went with the Mister hehe. I equally like both the caramel and chocolate flavour. Yummers! This will definitely be another tradition (just like Tiny Tom Donuts) that I get every year when I go to CNE.
I wanted to drink some coconut water but they didn't have any. Instead the Mister and I tried this Watermelon drink that costed a whopping $10. It tasted okay but it was totally a rip off. I knew it the moment I asked how much it was, but I wanted to try it anyway since we like trying new things.
Caught a Busker show. These guys did crazy acrobatic moves on each other while being humorous. Their humour was a little over the top so the show was just okay for me.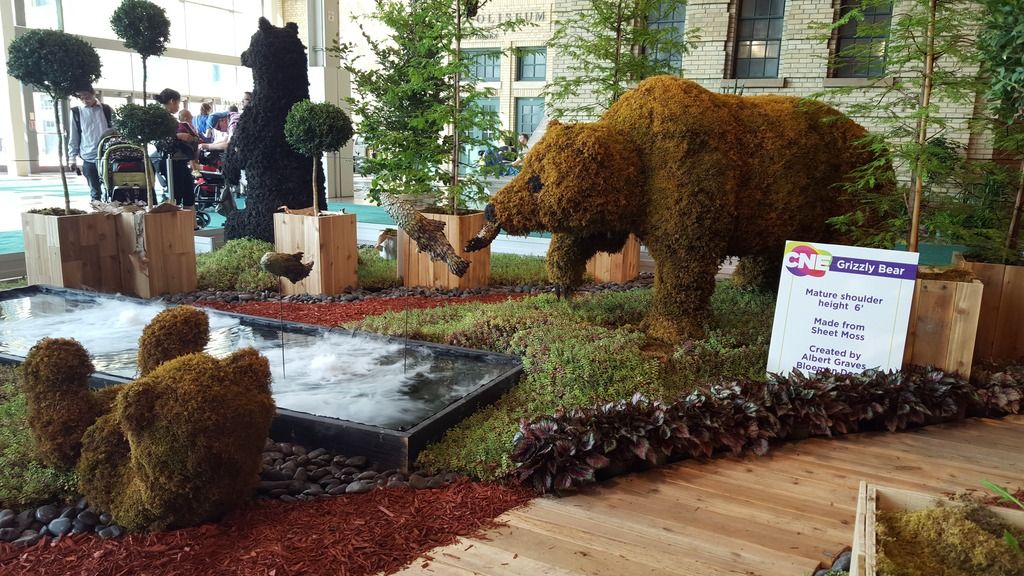 In the Garden Show area, they had an interesting wildlife display that had sculptures of bears made out of moss.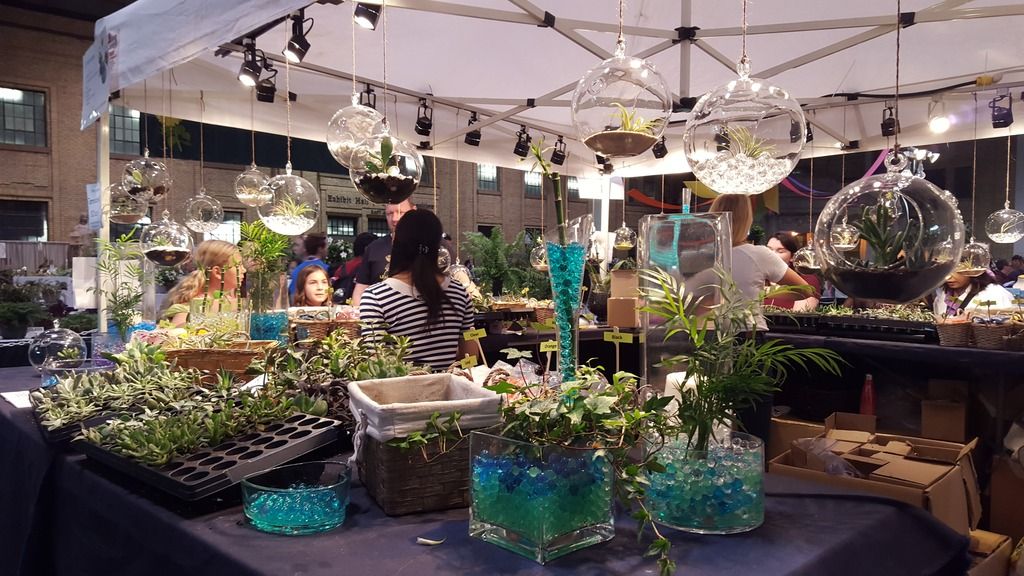 Then I saw this neat Terrarium stand and thought I'd dabble my fingers into getting my own terrarium. I remember wanting one when Chapters Indigo sold them but the price was a bit steep, and by the time they went on sale, I was no longer interested.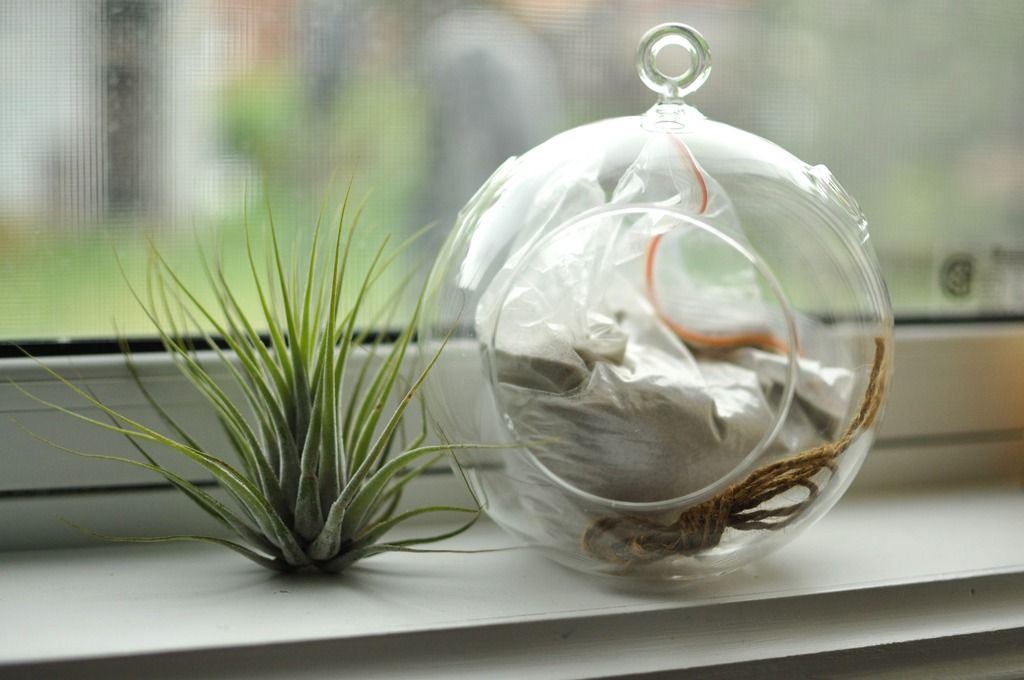 They were selling this $20 kit that came with a small round glass container, your choice of medium (I chose white sand), and your plant of choice. After I got it, I realized how much I started to love caring for an air plant. They're so easy to maintain because they can grow on virtually any surface! No soil required! I wanted to go back to CNE to get myself some more air plants that were selling for $4 each, but unfortunately on the day I was supposed to get them, everything closed early (7pm) because it was the last day of CNE. I'll show you guys how it looks like once I put it together.
Wooden Roses Booth. Every year we've made it a tradition for the Mister to buy me one wooden rose.
This year I got the blue one. One day I hope to have a full bouquet of them! So far I have three from the three years we've gone to CNE.
Every year this guy balances these rocks on other rocks. I don't know how he does it.
The International Sand Sculpting Pairs Competition. My favourite was the Idea Factory (bottom two pics). I like the concept of the eggs being an idea. Both the Mister and I voted for that one. Overall, the sand sculptures this year wasn't that great in my opinion, I've seen better in the past.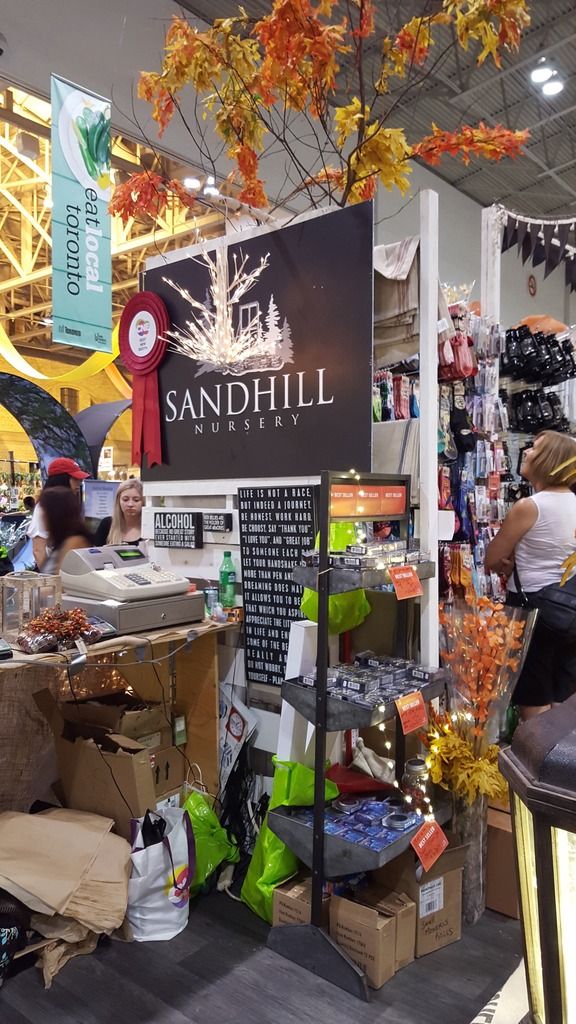 In the At Home Pavilion, I literally stumbled upon this gem called
Sandhill Nursery
. It was their first year at CNE and they won the award for best new booth. I was astounded by how lovely their booth was. Everything was beautiful and evoked such a charming, warm, and cozy Autumn/Holiday cheer. It was refreshing to see since it was so bloody hot out that day.
Their store is located far up North where it's probably serene and tranquil. If I had my own house with a backyard, I would have bought so many things from here. I can imagine my backyard now... it would be my sanctuary!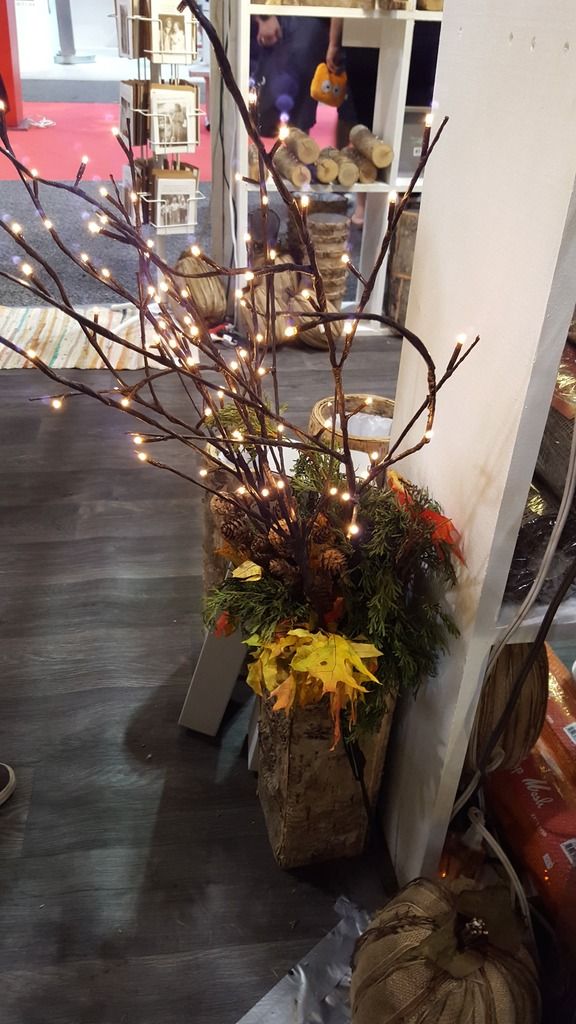 I was in awe with their lights and was very close to buying the willow lights shown above.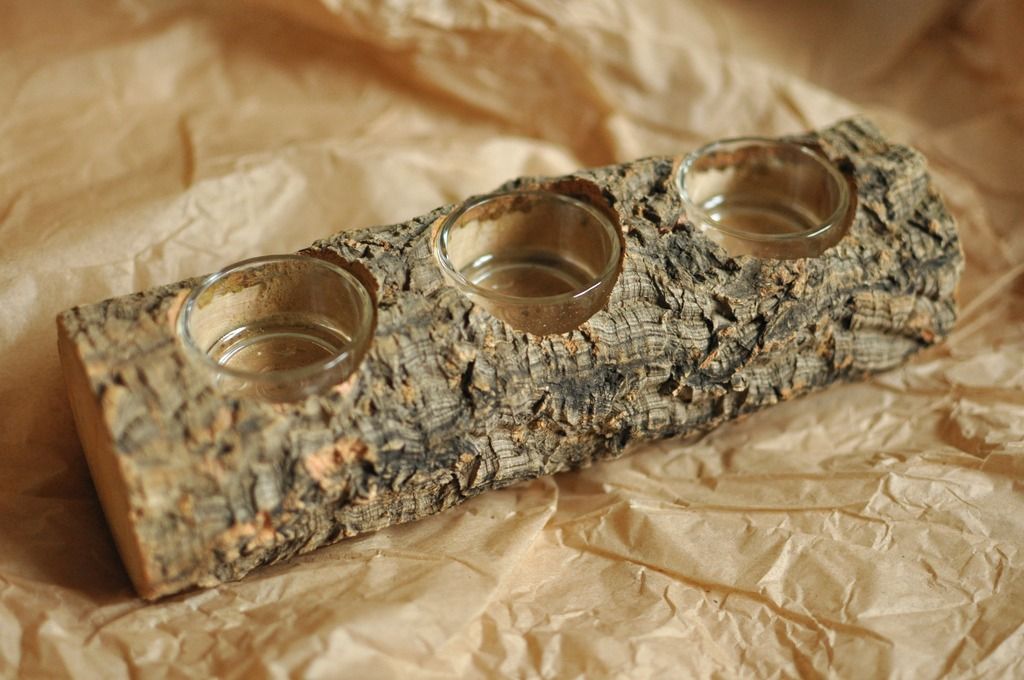 I was good though and only ended up getting this tea light stump. I can see this on a patio table or if indoors is preferred, it would look lovely on a mantle (provided you have one). The lady I talked to told me how they were taken by surprise at how well they were doing. They were even running low on some of their stock. I bet they'll be back next year since they got such good business this year.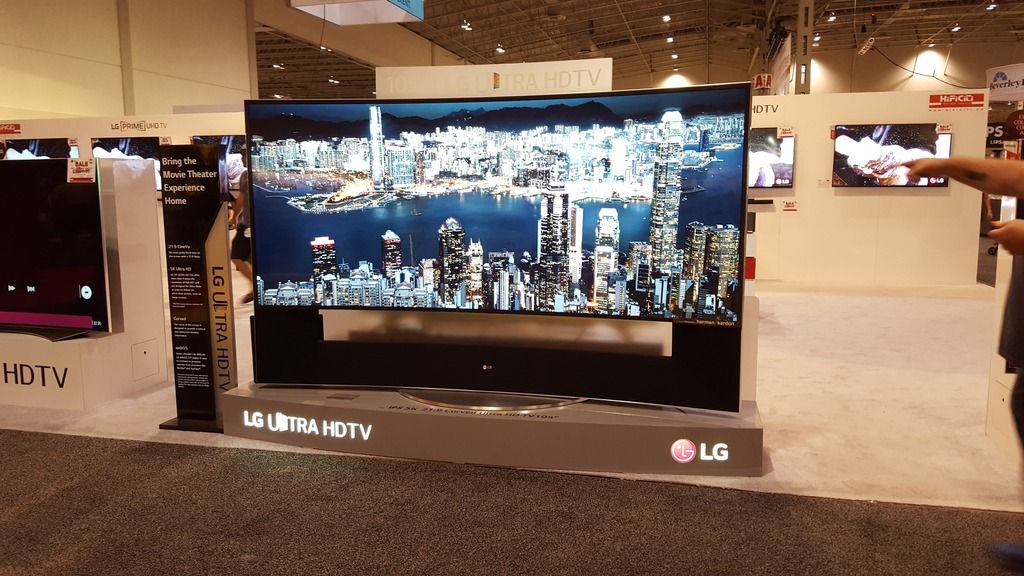 Right next to the area was this huge LG curved HD TV. The Mister had his eyes locked on it. He asked how much it was... and the guy said it was a whopping $200,000. Um... no thanks.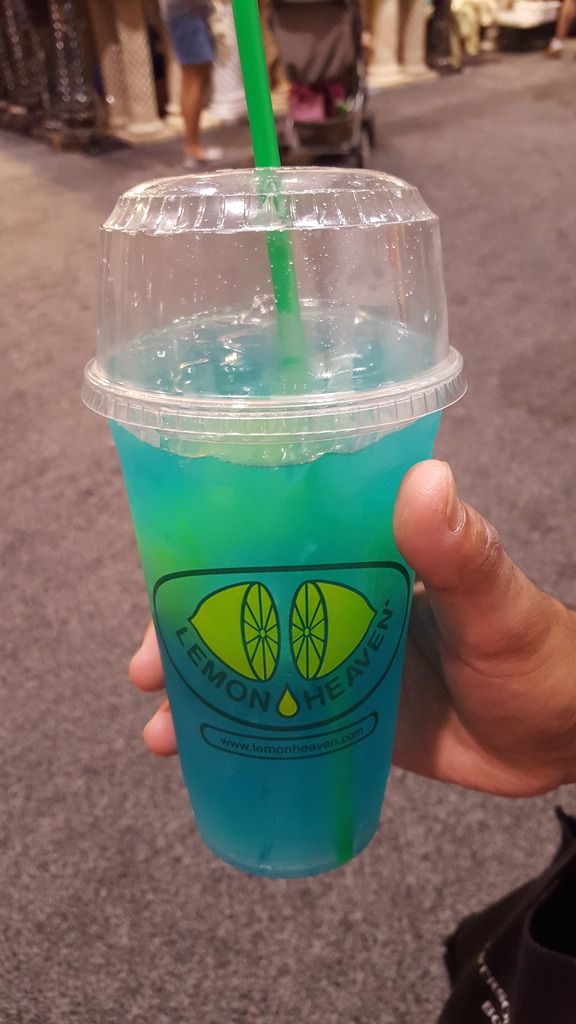 Got thirsty and grabbed some Blue Raspberry Lemonade from Lemon Heaven (the same company we bought from when we went shopping at the
Toronto Premium Outlet
).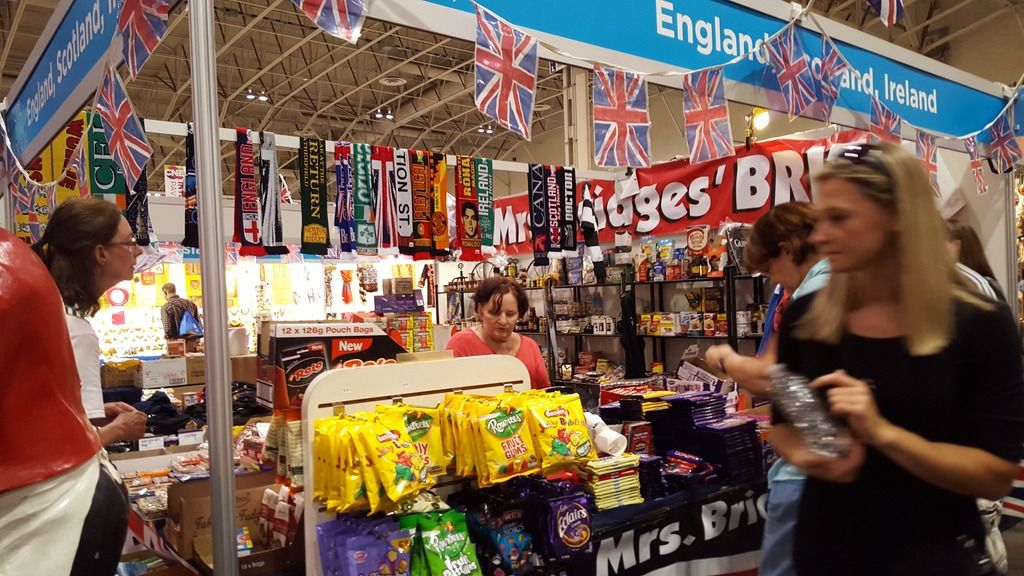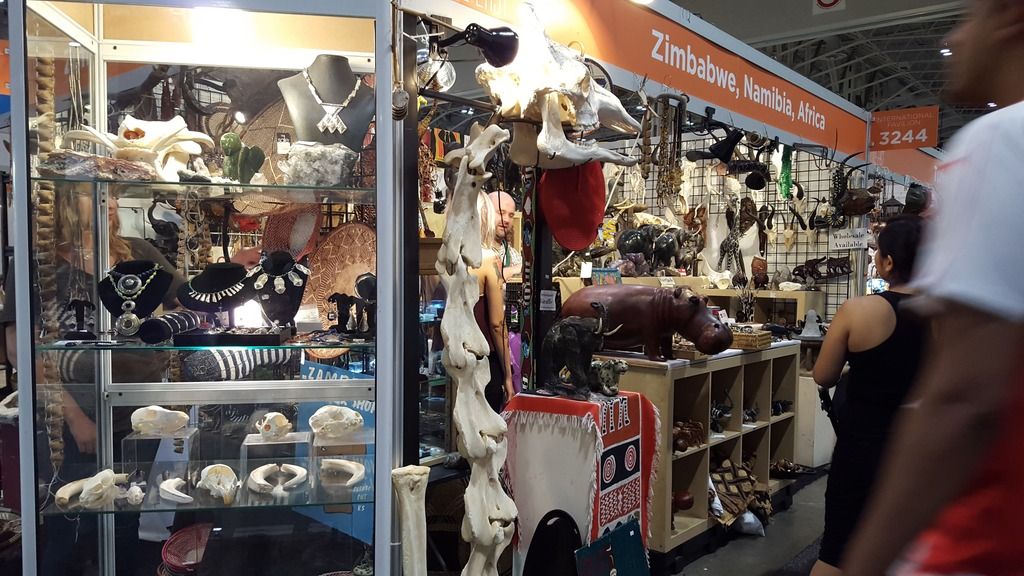 Then we explored the International Pavilions. Above were some of my favourite booths. Seriously, the cascading Turkish lights are so cool. This year was disappointing because there were less booths available and fewer variety of countries present too.
The only things I bought were from these booths below: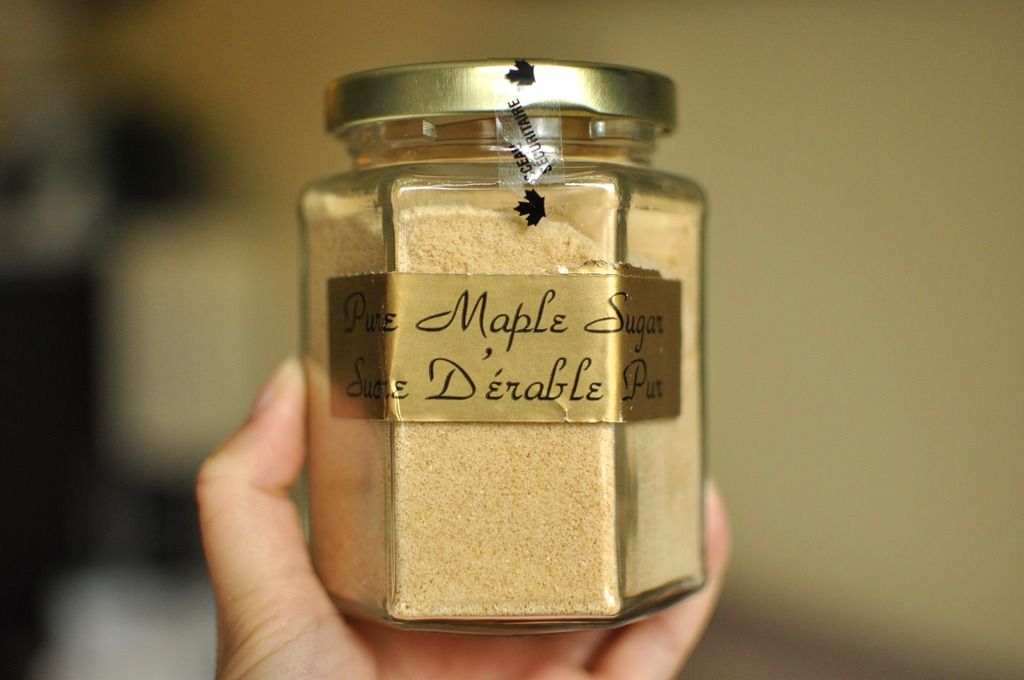 I got a jar of Pure Maple Sugar from a First Nation owned and operated booth. I tried a sample of their maple syrup and it was seriously good stuff. I didn't get it though because I don't eat much food that requires maple syrup. I'm kind of kicking myself though because I just remembered that I want to make homemade pancakes for the Mister. Perhaps next year I'll pick up some if they make an appearance again.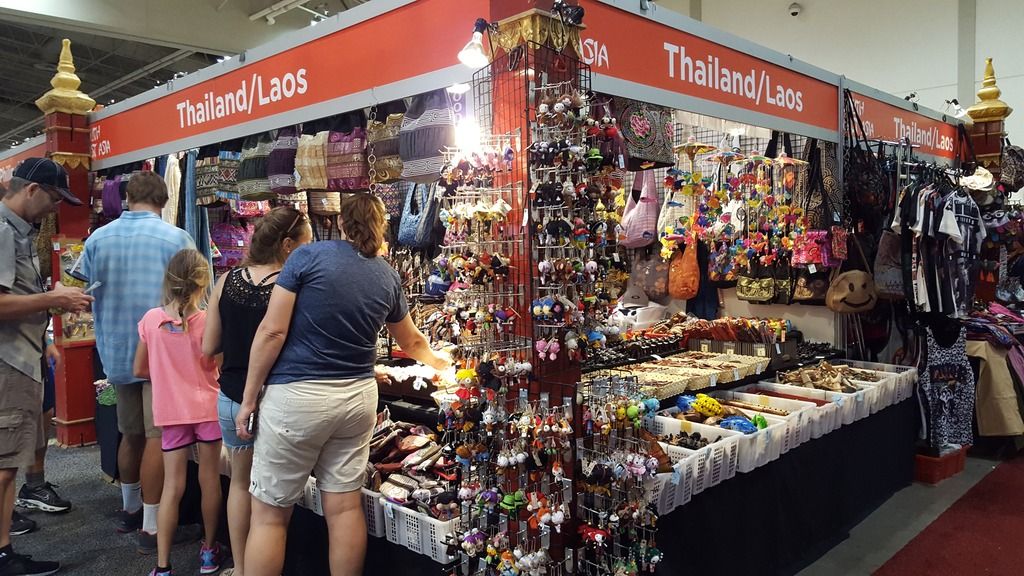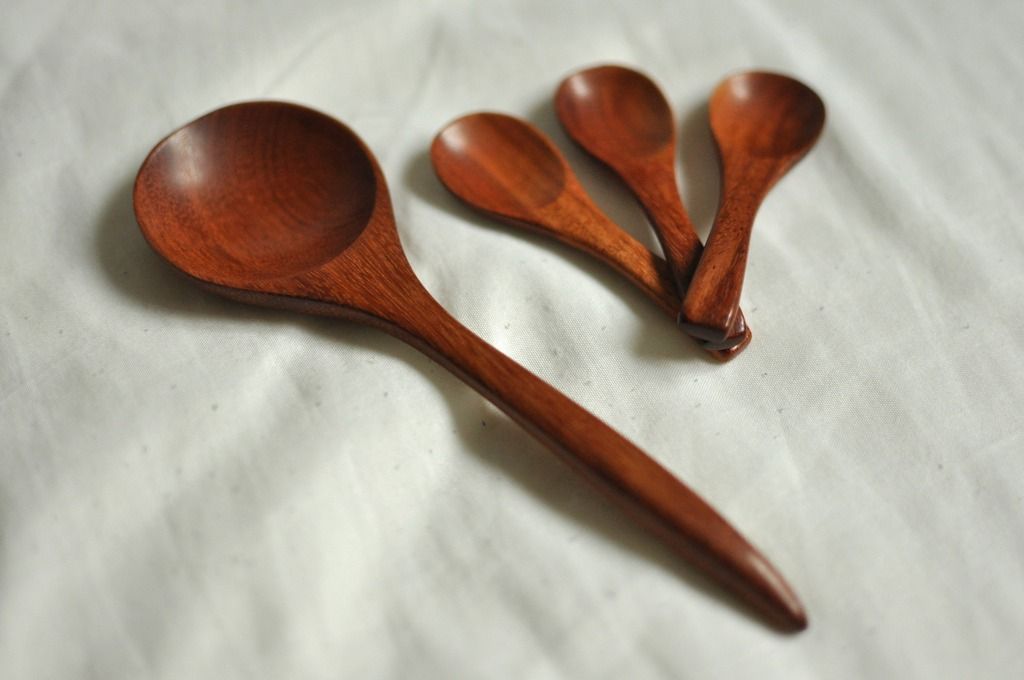 I picked up these wooden spoons from this Thailand/Laos booth. I'm so happy that I came upon these because these would be perfect in spice/seasoning jars. The bigger spoon will be for sugar and the smaller ones for things like salt etc.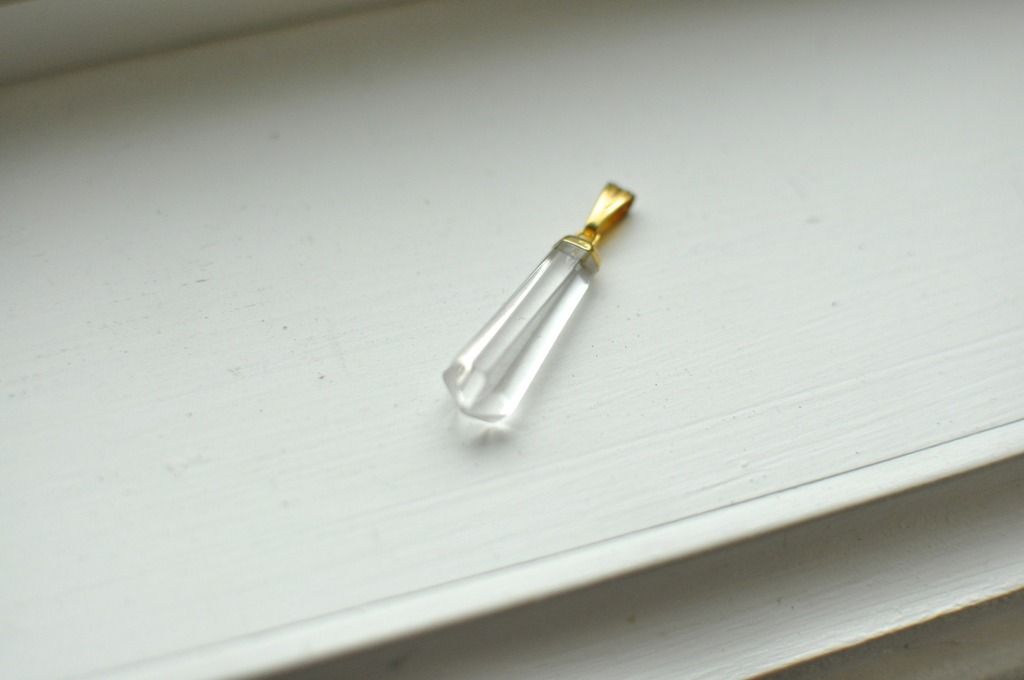 This stone pendant was on sale for 50% off at this Brazil booth. I liked how simple it looked, and I'm sure it would look great layered with other pieces.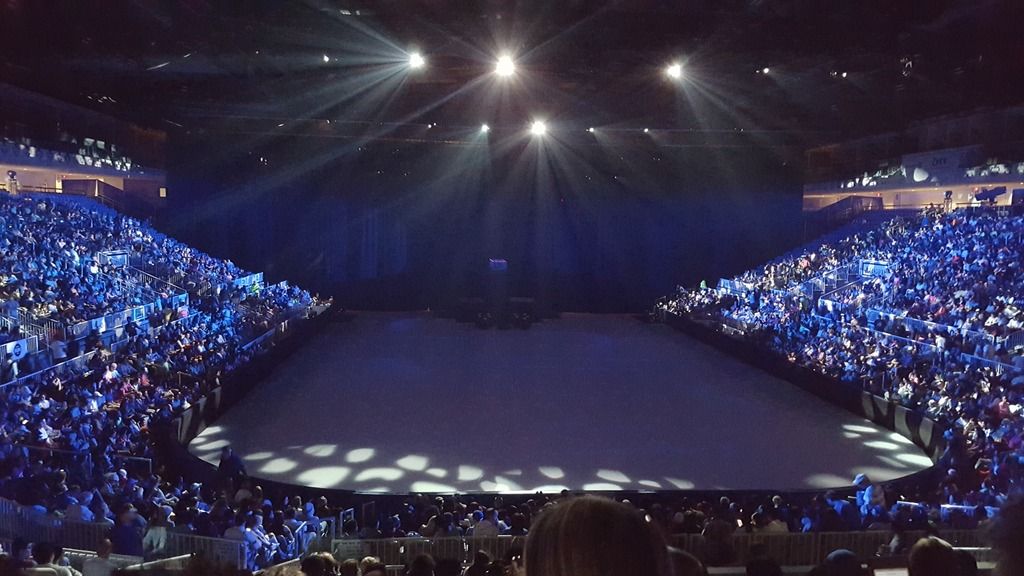 Then I saw the Ice Skating and Aerial Acrobatics show twice (once with my cousin the other time with the Mister). Ice skating went on hiatus for two years but now they're back. I was less impressed with this show than previous year shows because I guess I prefer a full acrobatic show than ice skating to be honest.
The ice skating couple to the right were crazy... he kept throwing her around and around like she was a doll or something. It looked quite dangerous but they looked like they knew what they were doing.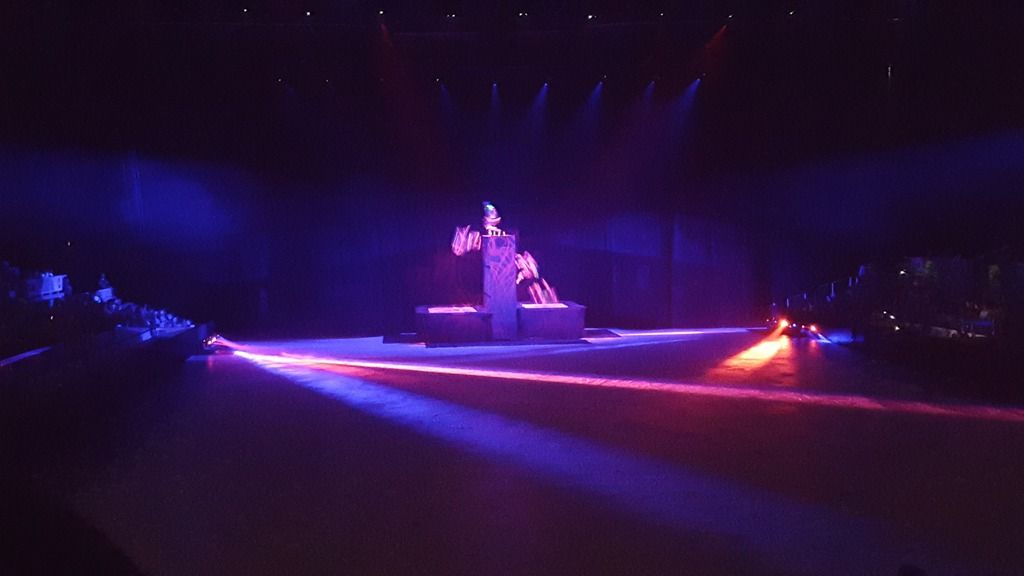 An acrobatic show that went from day to night with neon glowing costumes. They were bouncing up and down doing cool jumps from the stand to the trampoline and back. They had the crowd pumped.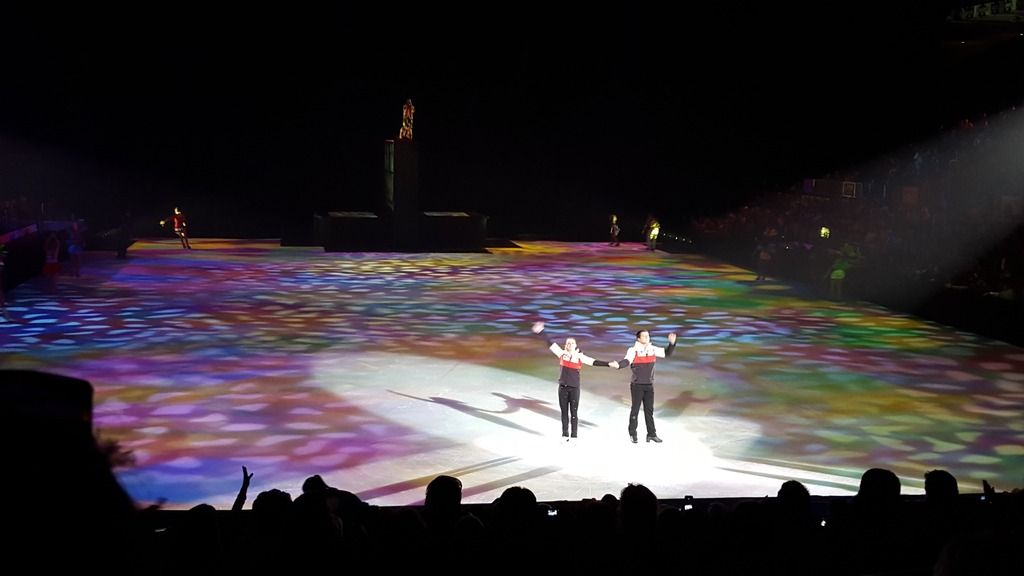 The major celebrity stars of the show, Canadian Ice Dancers Tessa Virtue and Scott Moir who won the Gold Medal in Ice Dancing at the Vancouver Winter Olympics in 2010.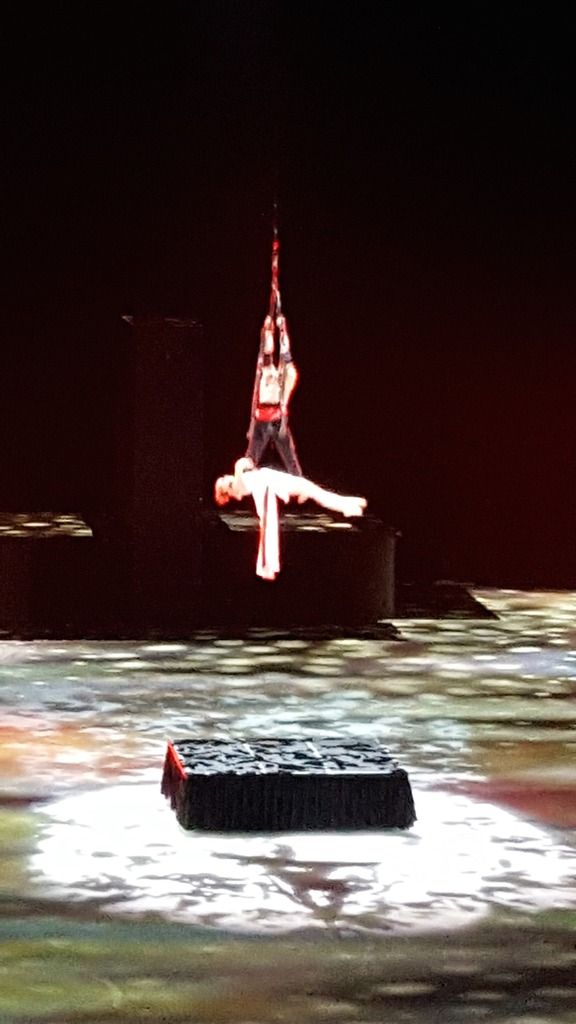 The performances with this duo, Dominic Lacasse and Karen Goudreault (husband and wife) doing acrobatics mid air were my favourite. They're so strong and incredibly skilled!
Here they are again showing us just how strong they can be. They even started going round and round the pole while being completely horizontal.
Then we went to the Warehouse Outlets but there was literally nothing there.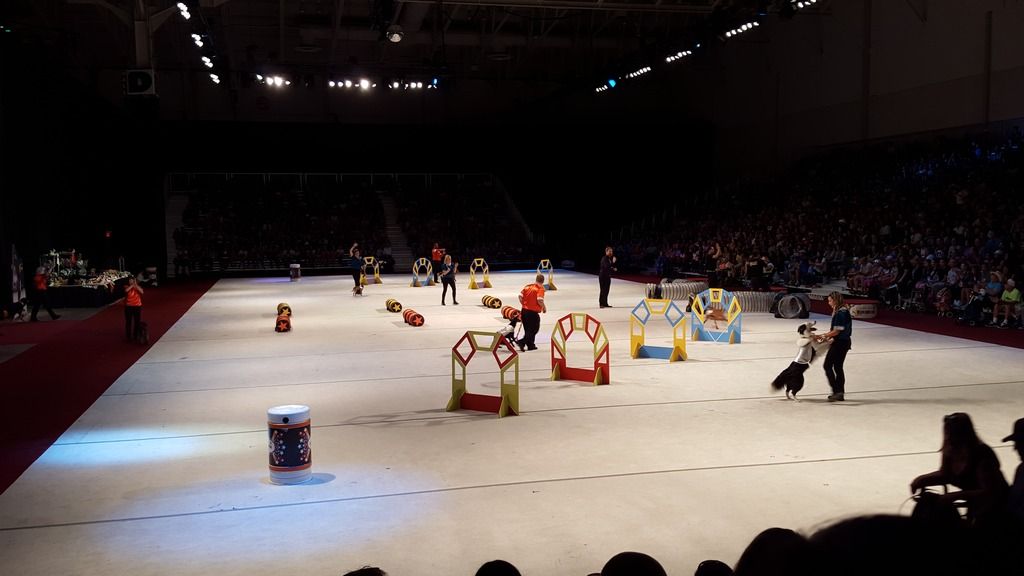 The SuperDogs Show, this year's theme was Hollywoof. This show was also subpar for me.
And over the course of the three days that I went, I ate lots of food! :D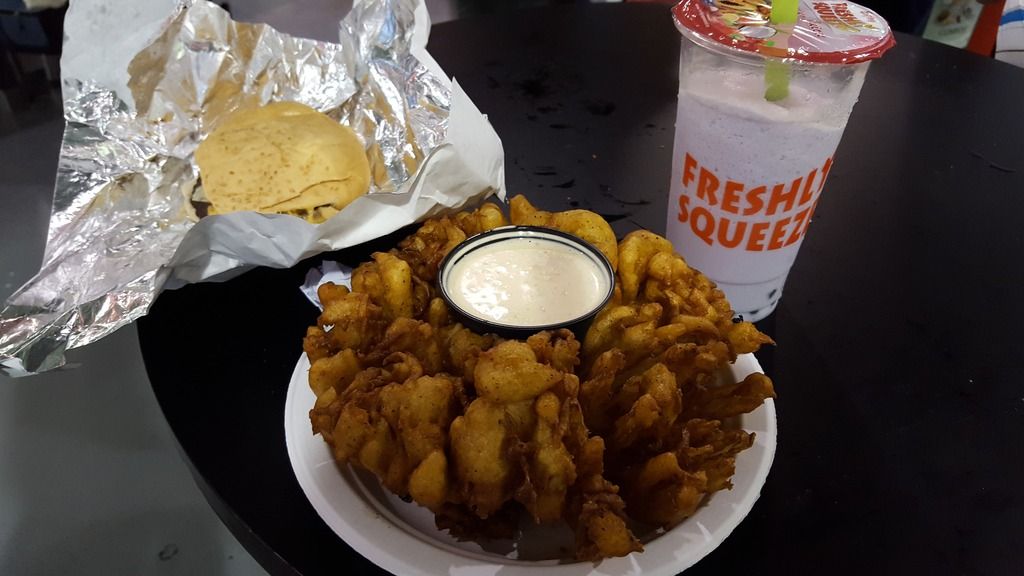 With my cousin I was only able to eat the Colossal Onion (I shared with her too). Because it's so fatty and filling, I couldn't eat anything else.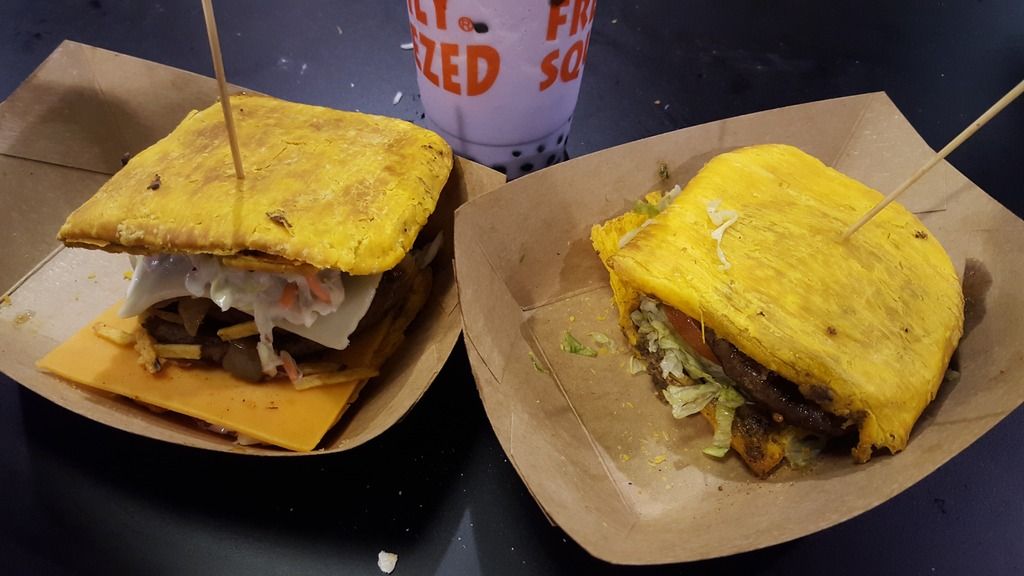 With the Mister though, I can share all my food. First round, Bub's Badass Burgers. We wanted to try something new and interesting so the Mister got the Bad Boy Burger and I got the One Love Burger. So many people kept coming up to us asking if it was any good. At first it tasted pretty good, but the more you ate, the more you realize it just tasted okay. Next time I think I'll try their regular burgers because the meat was pretty juicy and tender.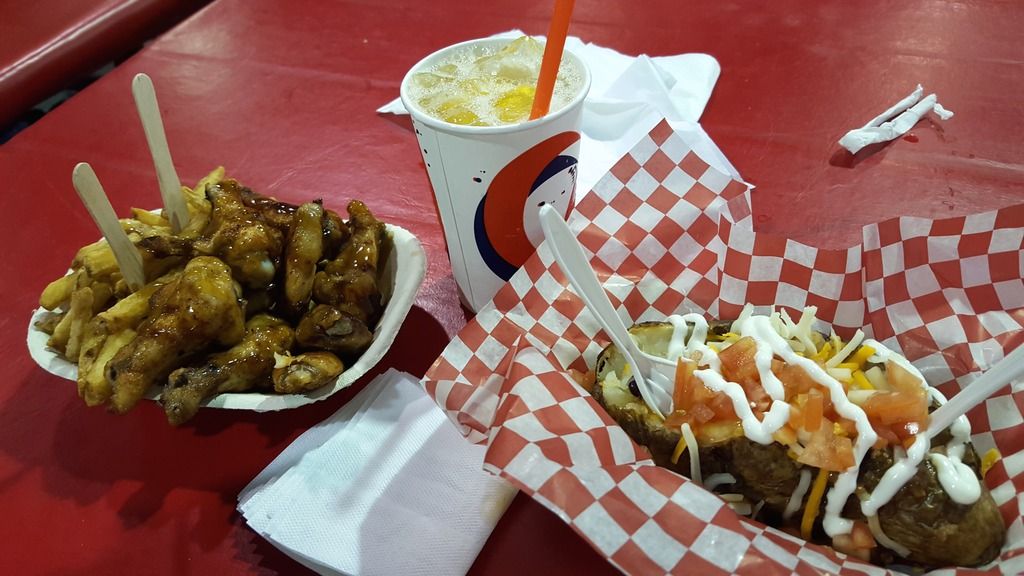 Second round that day, we got some food from a couple of our favourites places, Daytona Chicken Wings and Loaded Baked Potato. The Mister chose Chili Cheese Baker this time and we didn't really like it much.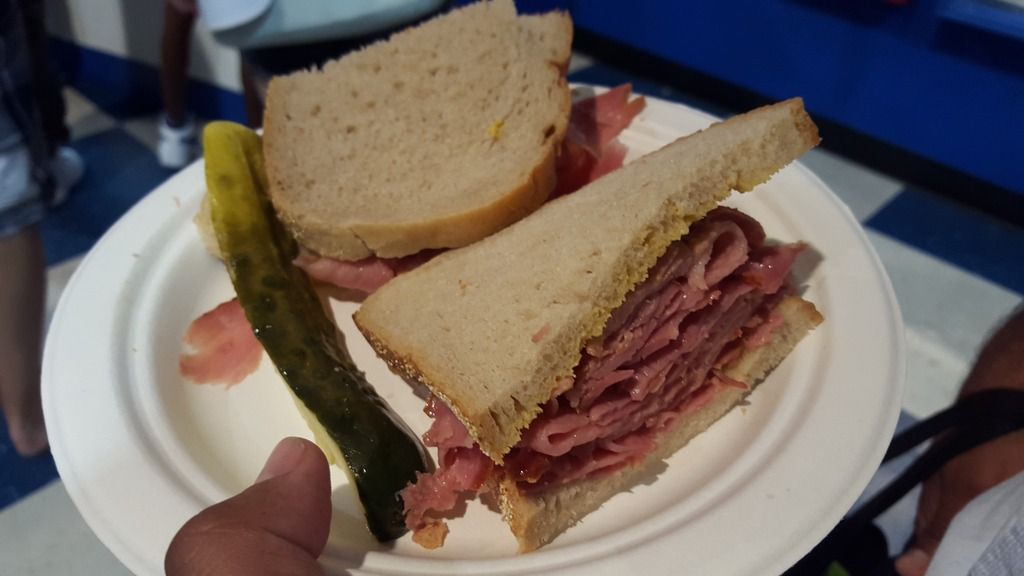 He also wanted to try Montreal Deli because he wanted to eat smoked meat. I told him it definitely wouldn't be the same as the Schwartz Deli we visited in Montreal, but he wanted to try anyway. I was right haha.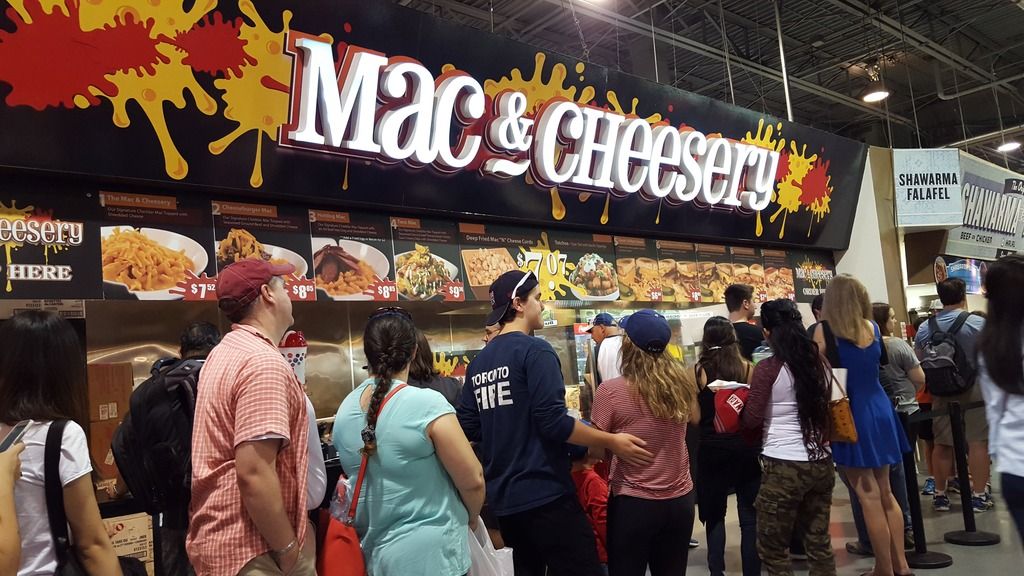 The third day going with the Mister we got, an oldie but a goodie, pulled pork from Pull'd. To mix it up I wanted to try something from Mac & Cheesery (a place I was eyeing the day I went with my cousin). I wanted to get the Cheeseburger Mac but they ran out of beef so they substituted with bacon instead. It still was so good! And we made it even better when we ate the pulled pork with it! I think next year we'll be eating that combination again.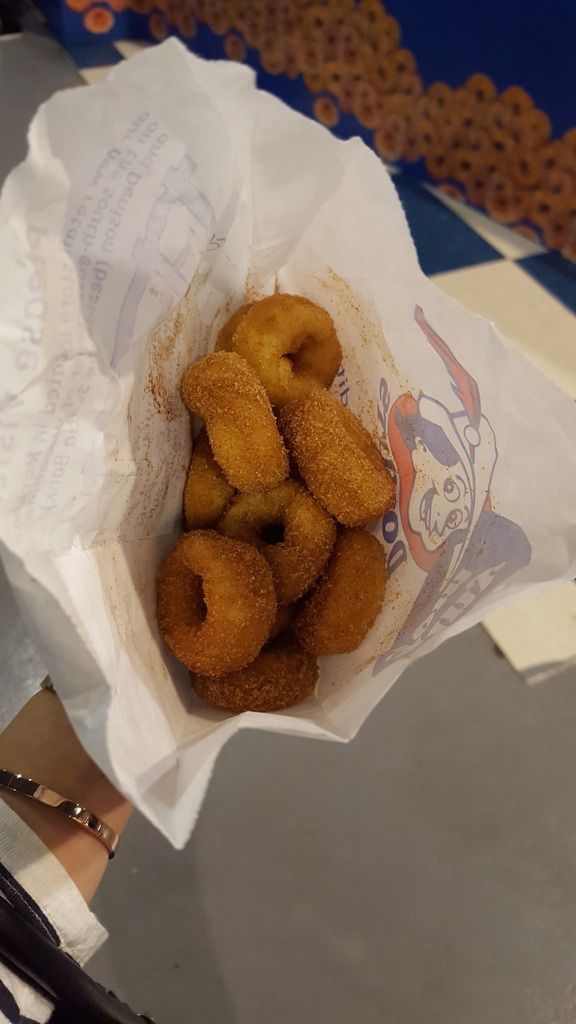 And of course, I always look forward to eating Tiny Tom Donuts. I got it once with my cousin and again with the Mister. Nom nom nom.
We don't play games at the Midway Games because we don't like to gamble... but I managed to find a shooting game that I've been telling the Mister about. He's very good at aiming but the game is tricky because every time you shoot at the paper, the paper goes flying upwards. That's why it's hard to win.
Got myself a Blue Raspberry Slushie because I was thirsty. Blue raspberries don't exist but for some reason they make it sound so appetizing and taste so good.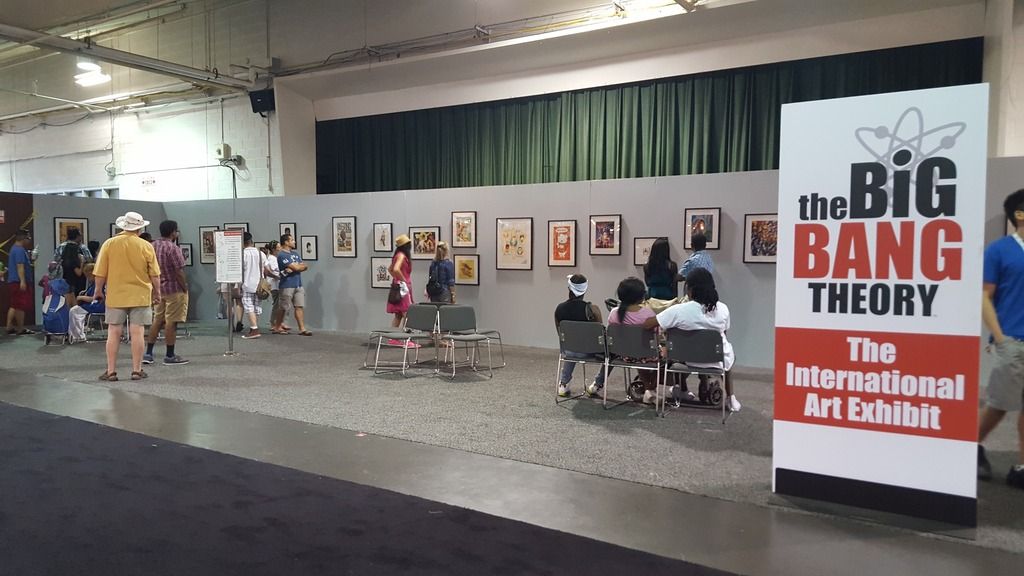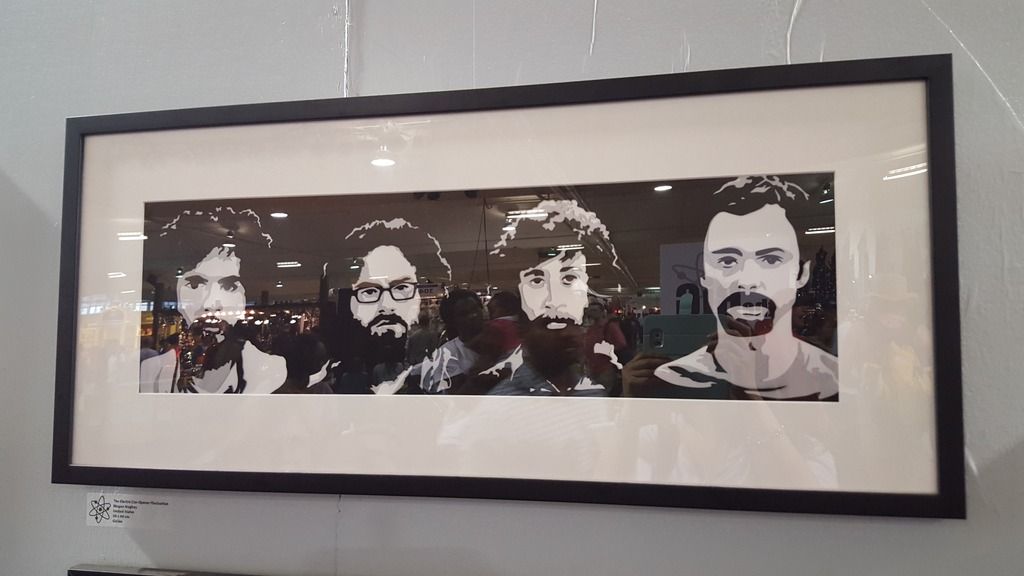 We dropped by The Big Bang Theory: International Art Exhibit. The exhibit has already been to United States, Spain, France, Italy, Mexico and Russia before coming here to CNE. The ones shown above were my favourites. Doesn't alternate universe Sheldon Cooper look so cool?!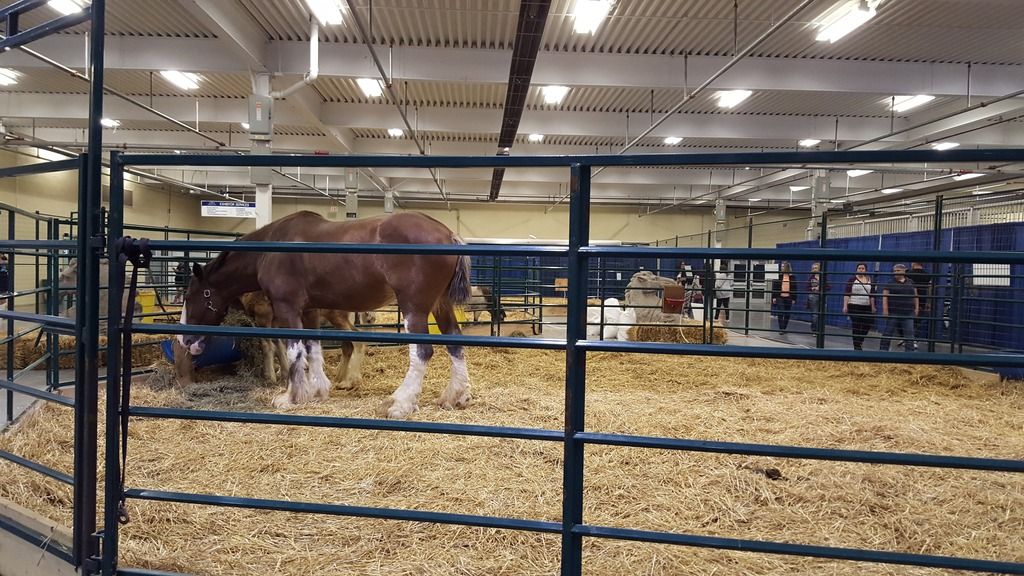 Then we visited The Farm. The horse reminds me of the horse from Beauty and the Beast!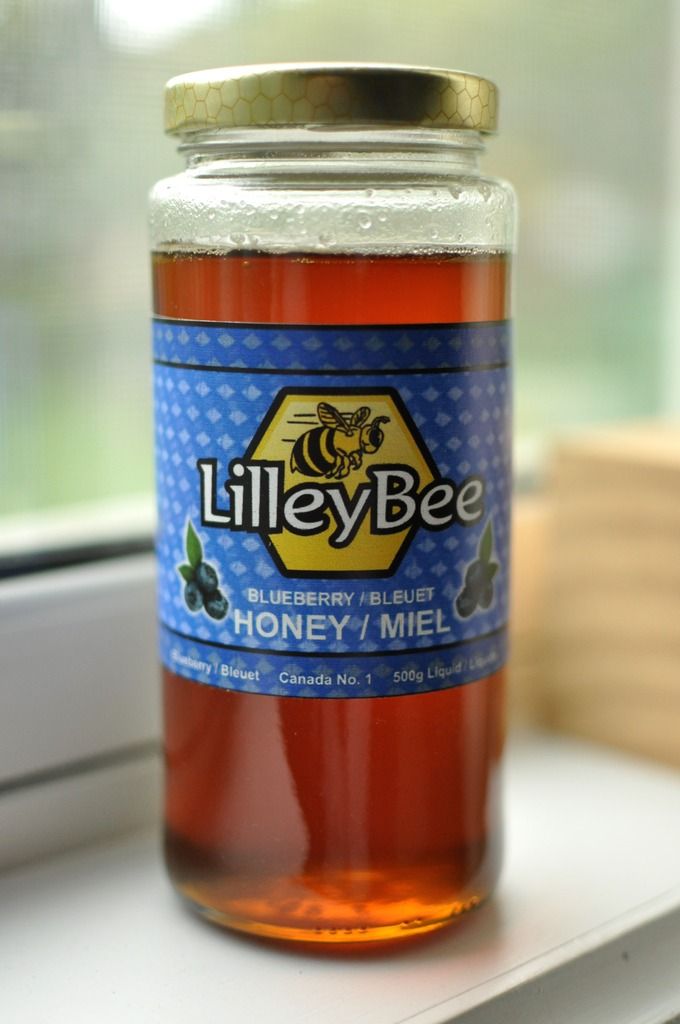 We visited the Ontario Honey Producers and got myself some Blueberry Honey. I swear it'll be the only time I get blueberry honey because I watched a documentary about how it's bad for the bees to harvest honey from only one type of flower. Their diet needs to be rich with other types of nectar from different plants just like how we need to eat a variety of foods. Blueberry honey tastes sweeter and richer than ordinary honey, but the cost to the health of bees isn't worth it. I just wanted to try it once but that'll be it for me. If you ever want a more richer tasting honey, try buying honeycomb and extracting the honey yourself. It's seriously richer than any honey I've ever tried- including this blueberry one.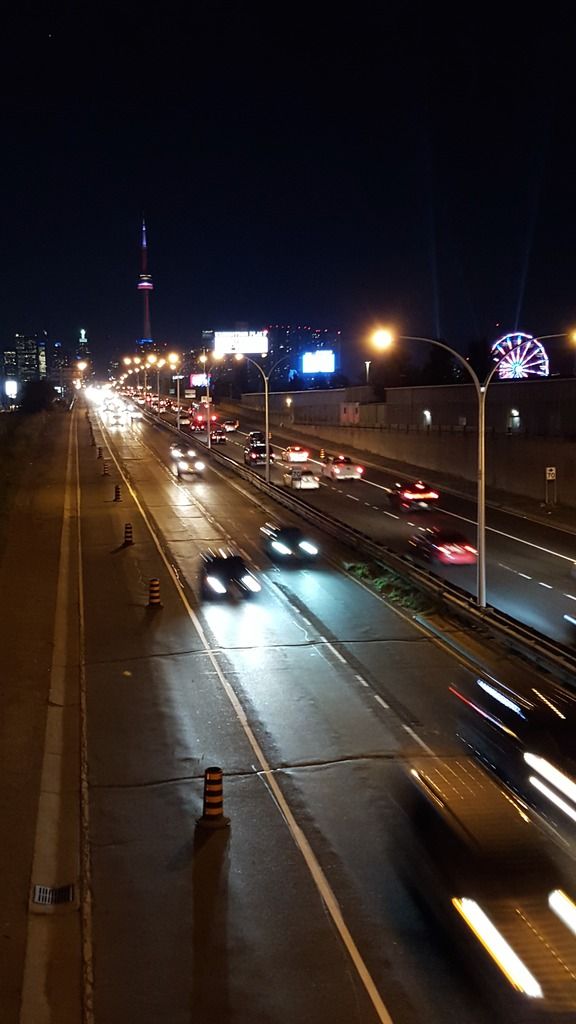 Home time via the Dufferin Gate with my cousin.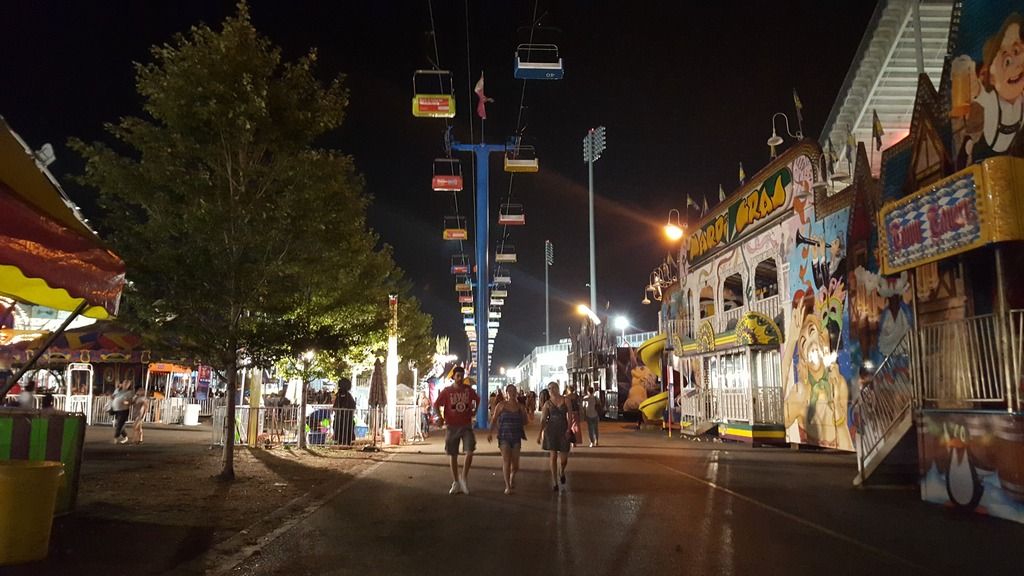 This was on the last day of CNE. The Mister and I have decided to never go to CNE on the last day again because every building closed early (7pm) and all the rides and food vendors shut down at 9pm. They run out of food (I couldn't get any curly fries), I couldn't visit any of the shopping areas because they closed, we couldn't go back to eat at the Food Building, and we couldn't ride on the Skyride this year because the ticket booth closed early and the ride closed down soon after D': It was also a very sad sight because you would see people packing up and things closing down. It's really not fun to see everything close down. I definitely wouldn't recommend going on closing day. Bye CNE... see you next year <3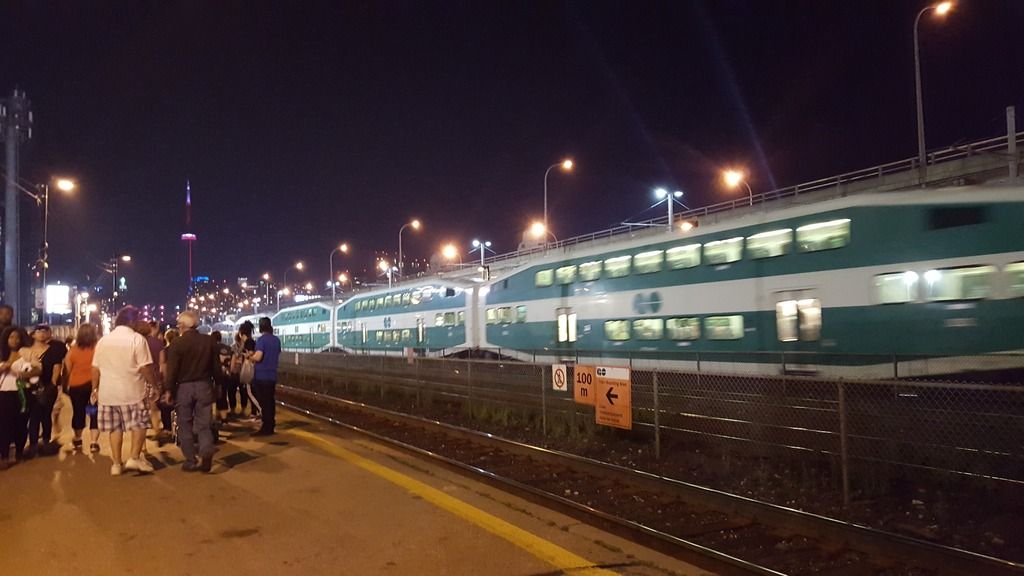 Going back home on the GO.
Underground tunnel of the GO station. It looks creepy but it reminds me of the scene in Titanic when Rose tries to swim back to Jack with an axe. Random I know haha.
FYI, this post took me all day to do. At least I was productive today. Hoped you enjoyed!
"We're all so desperate to be understood we forget to be understanding." -Unknown