When my sisters and I heard about how the Pan Am Games were coming to Toronto, we knew we wanted to at least attend one event. A lot of Torontonians were hating on the whole idea of hosting the Pan Am Games, but for the most part, they eventually ended up embracing it. Unless a city is unfit to host the games (financial reasons etc.), I don't see the harm of bringing such an event to said city. It's a celebration, a showcase of athlete skills and talents, brings tourism to the city and leaves behind major infrastructure that any city could use. An example for Toronto is how they finally revamped the Toronto Waterfront just in times for the Games.
Transit for Pan Am ticket holders was free the day of your event. While I was sitting on the bus, I saw a Summerlicious ad and a Pan Am Games ad right next to each other. It was quite the coincidence because we were going to participate in Summerlicious right after we watch the games.
Pachi! The Toronto Pan Am Games mascot.
We went to Nathan Philips Square first to join in on one of the festivities taking place all over the city.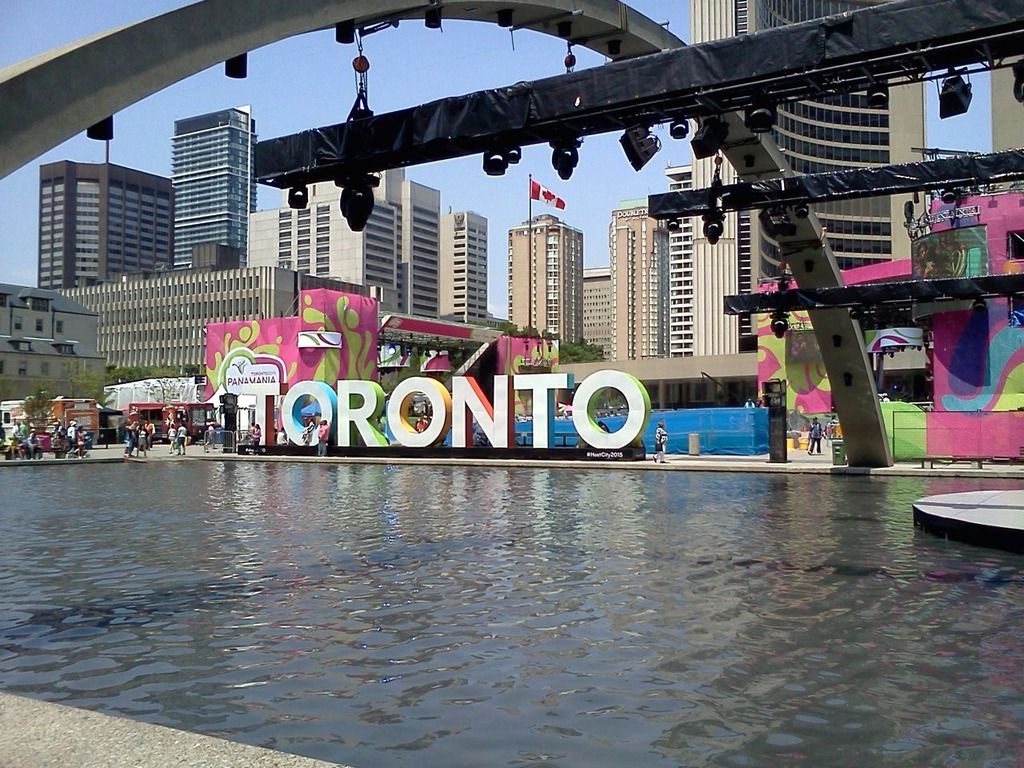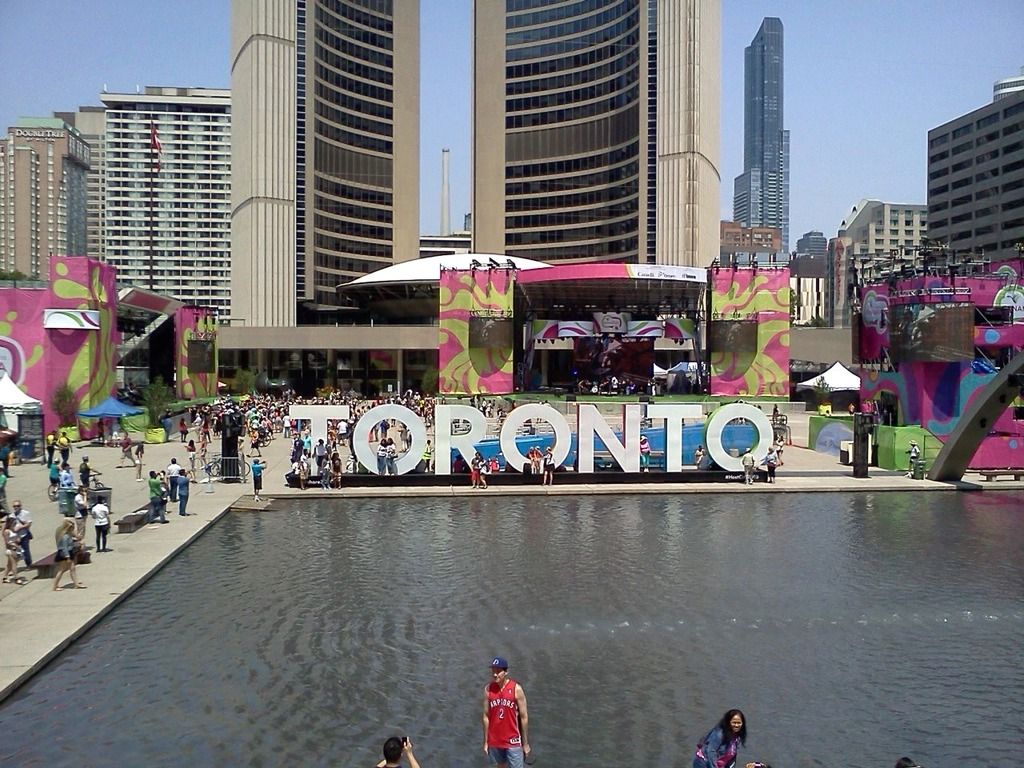 The thing that caught our eye was the Toronto sign (which later was the most photographed object in Toronto). When we took these pictures it wasn't swarming with tourist attraction yet. This was just the beginning.
Then it was time to head to the Pan Am Park located on the Exhibition grounds. The place was packed!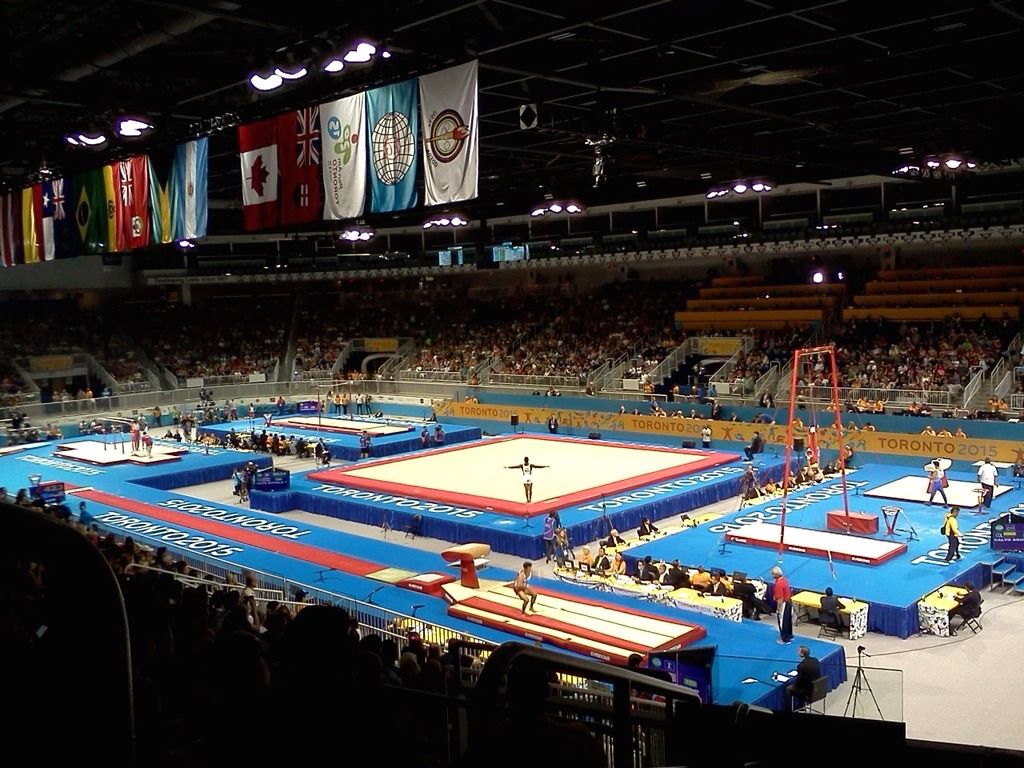 When chose to see the Artistic Gymnastics because the other events we wanted to go see were sold out or too costly. The things these athletes can do with their bodies is incredible.
The view from my seat.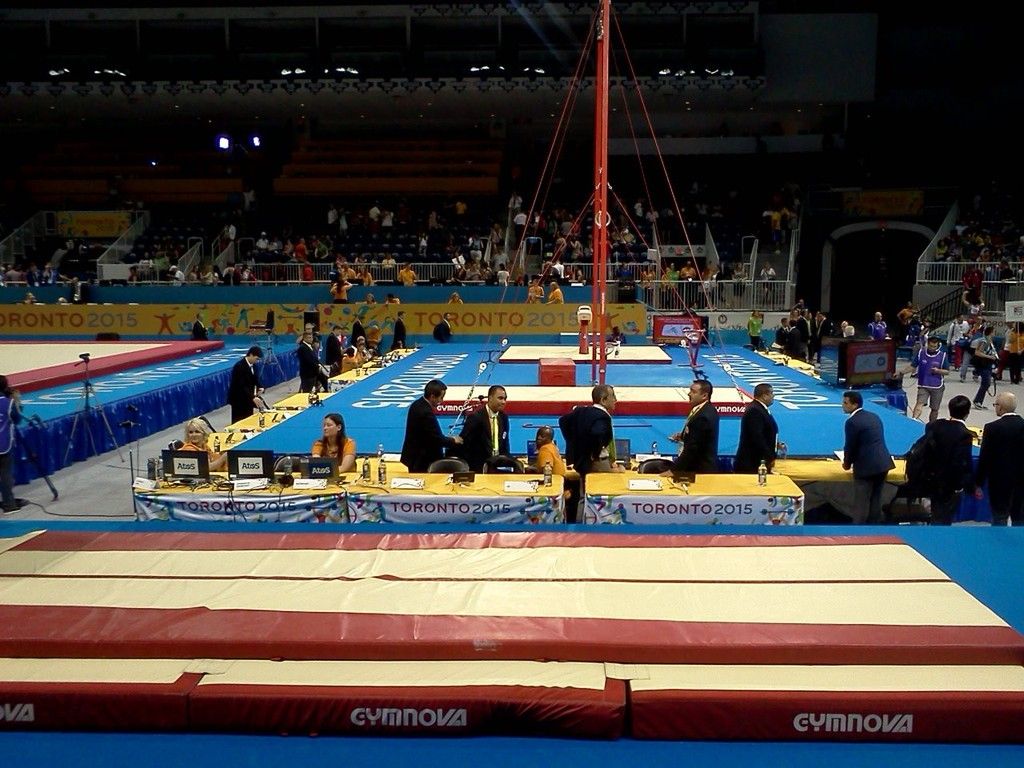 Right after the event ended. Canada placed 4th or 5th but this was not the finals.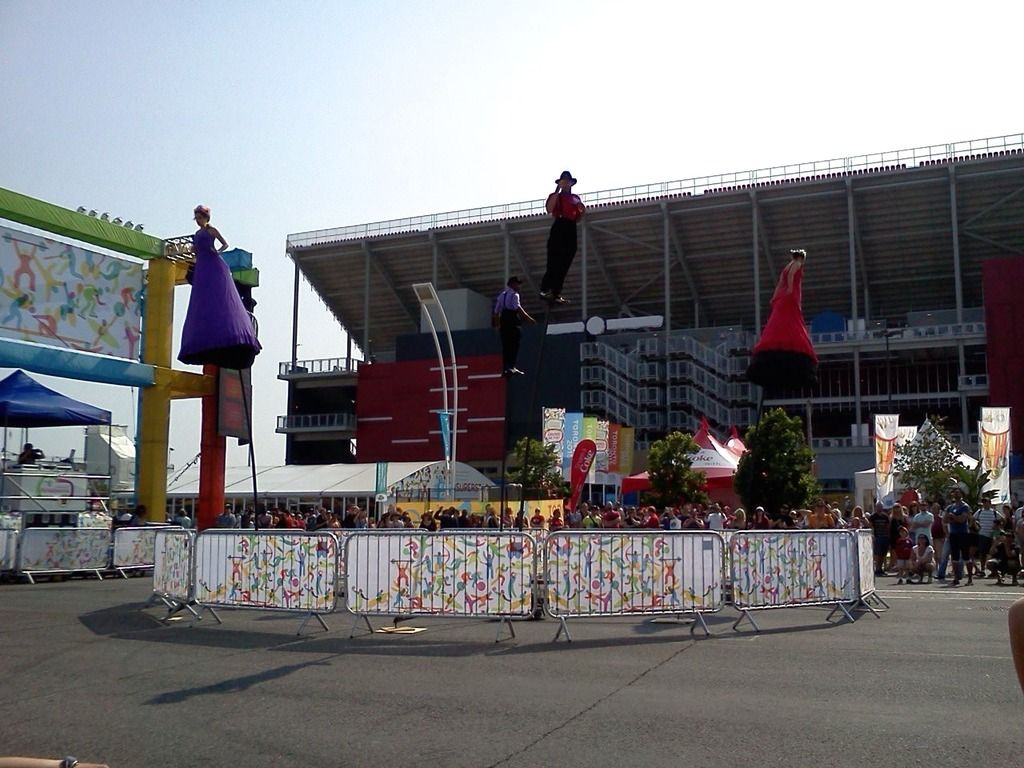 Outside was this really weird showcase of people on these bars that would swing them around and around.
I wanted something to remember my day here at the Pan Am games, so I got myself this mug. I'm a collector of mugs so this fit right in. We also picked up a free cloth that you can use to dust your electronics (forgot to take a pic).
We had some time before our reservation at the restaurant so my sisters took me to the Liberty Market area. We didn't go in but they told me that I should come back here to check it out.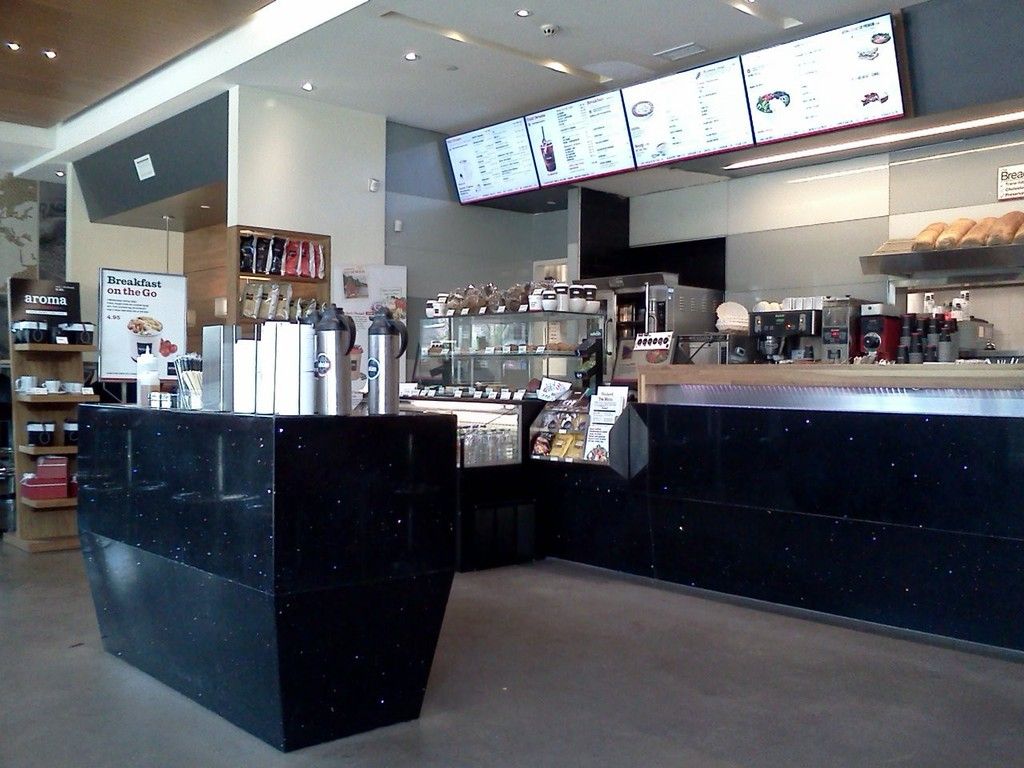 The reason why we didn't go in was because we spotted Aroma. I liked how this particular cafe was arranged. There were plenty of seats (even outside seating) and it was a very calming and relaxing place to talk and enjoy one another's companies.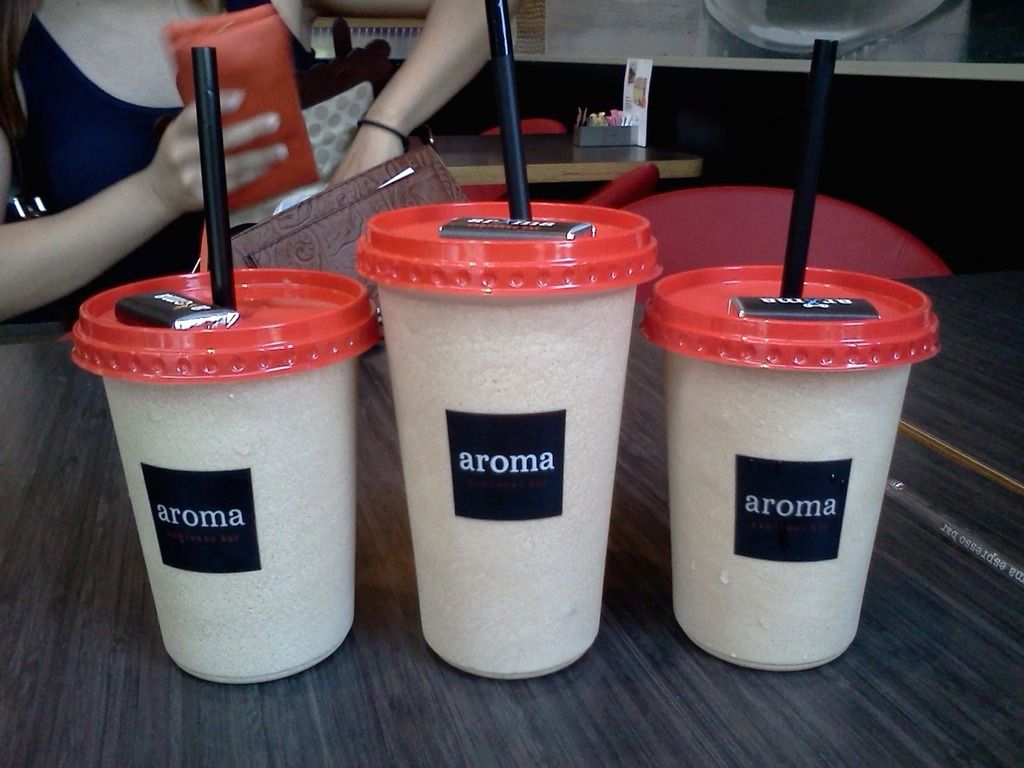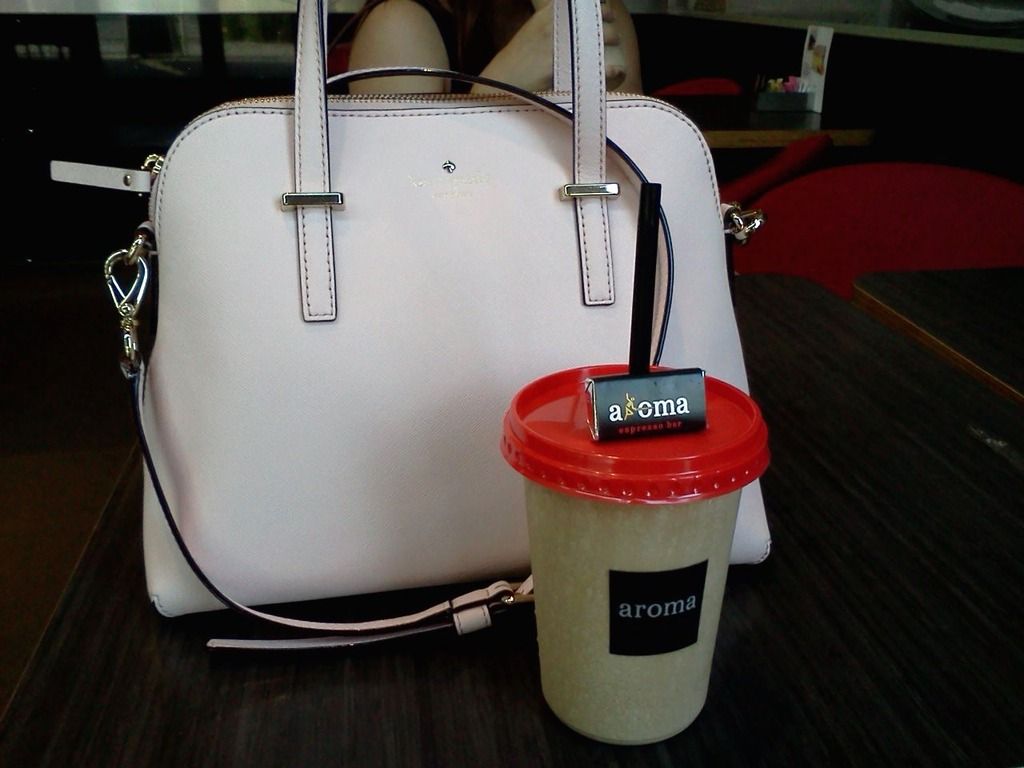 Mine, my elder sister's and my younger sister's. Their little chocolates also had the spirit of the games!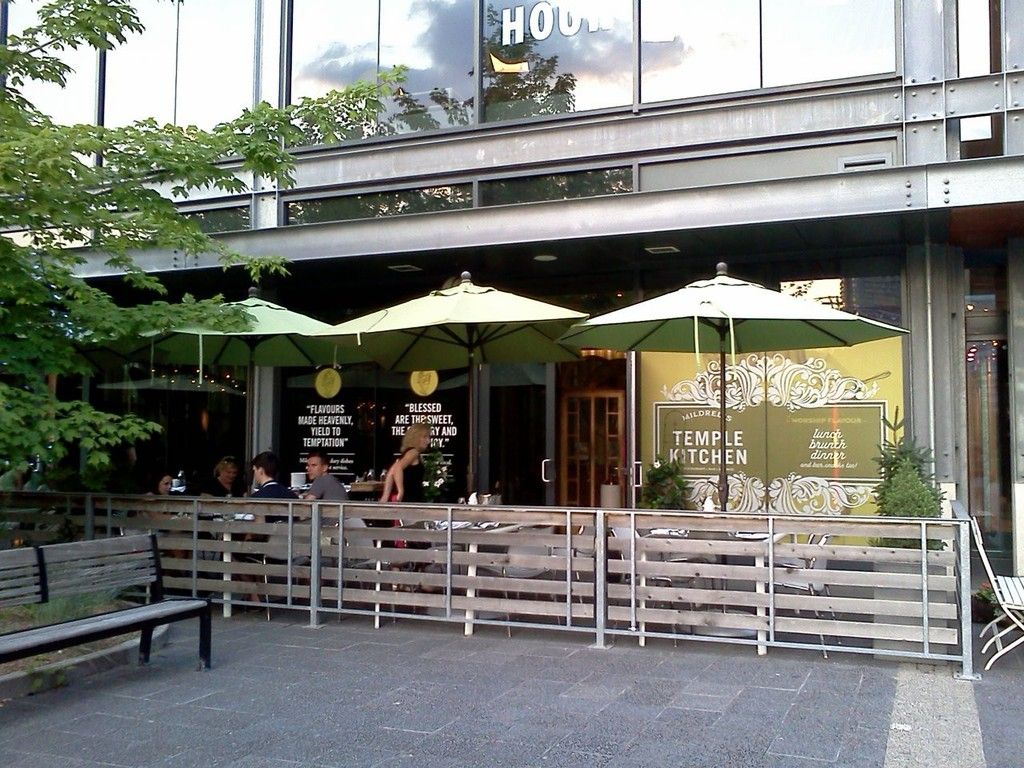 Mildred's Temple Kitchen
King Liberty, 85 Hanna Ave, Toronto, ON M6K 3S3
Taken from the site:
"Mildred's Temple Kitchen opened with a heartfelt philosophy. We're here because we love food, people and the simple pleasures of life: our temple is the place where we practice our devotion. Here you'll find seasonal fare, prepared with reverence for its source, and served with pleasure."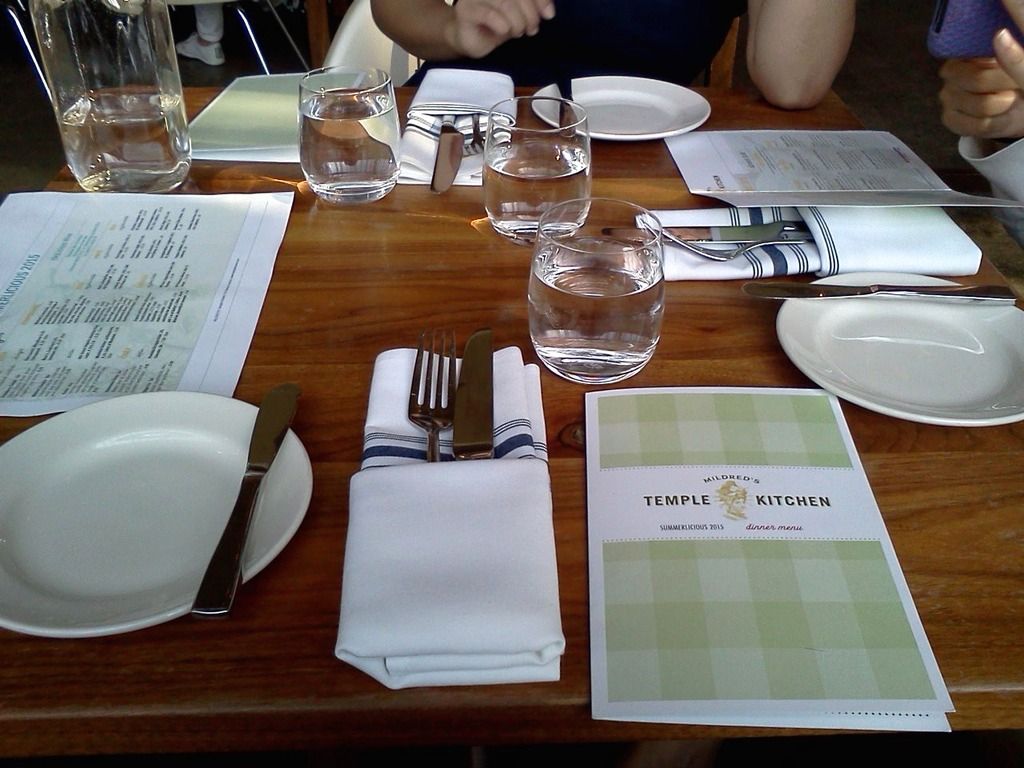 Our restaurant of choice was
Mildred's Temple Kitchen
. The prix fixe meal here was $35. The place looked very fresh, quaint, calm and tranquil.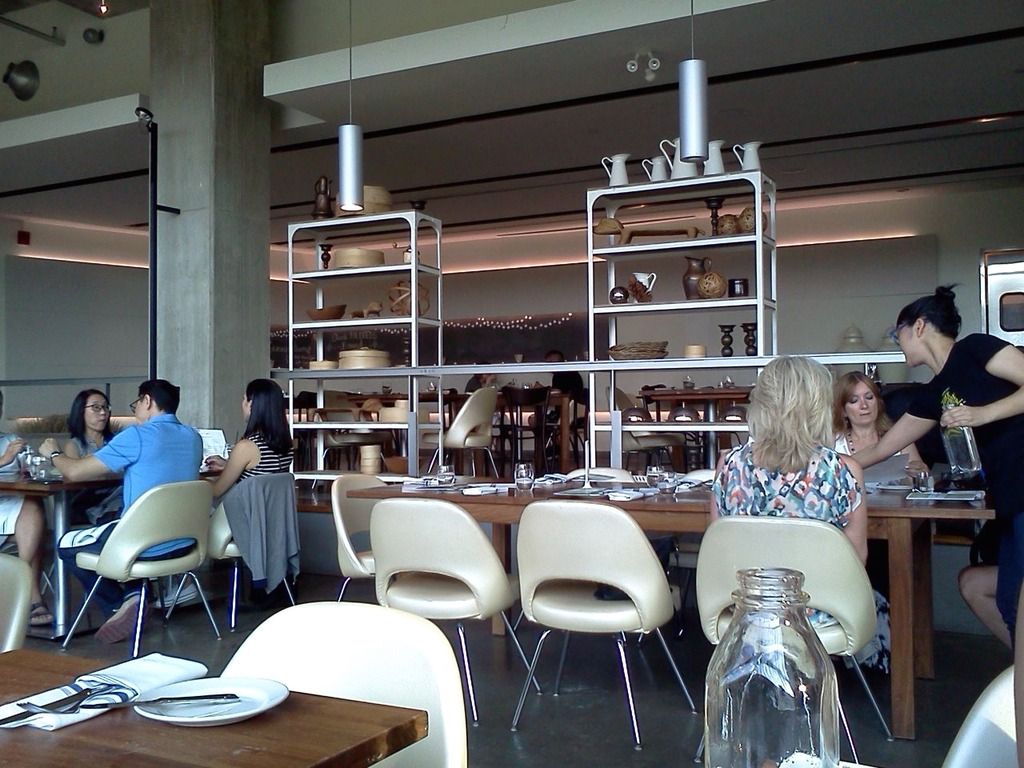 I
really
liked their decor. They had a rustic charm going on.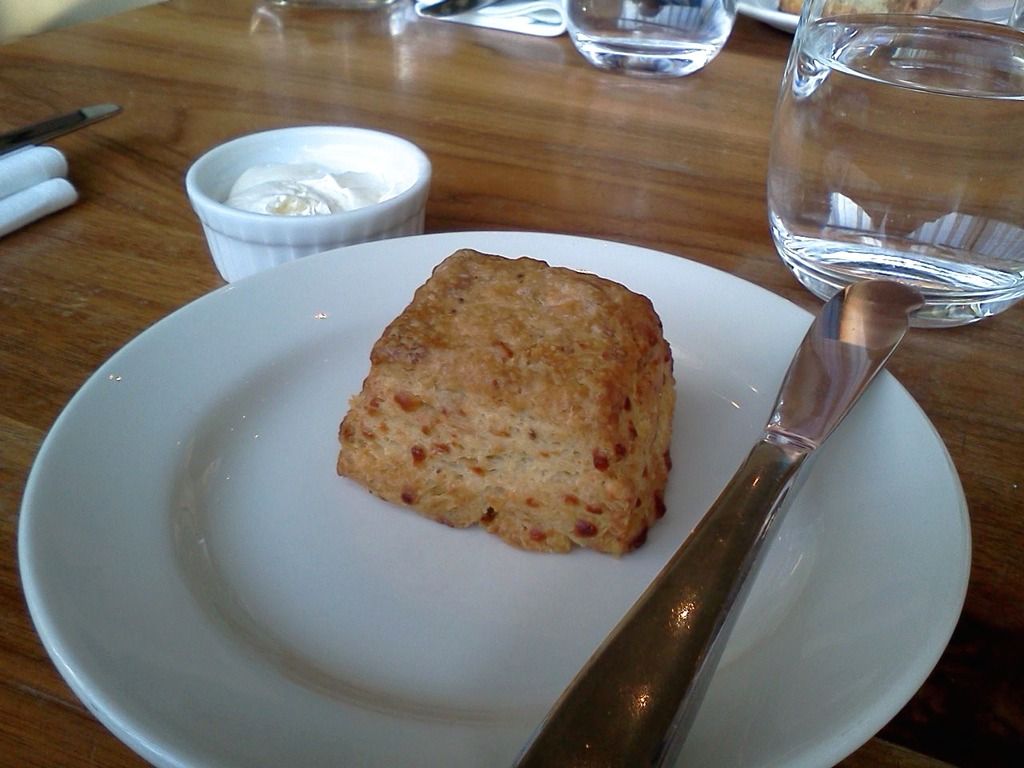 First they served us their flaky buttermilk biscuit that they bake fresh everyday. I liked it; it tasted good.
For my appetizer, I got the Soup of Sweet Corn (lime, chili, coconut milk topped with crab, sour cream and crispy tortilla). I really enjoyed it. It was creamy and had a little kick of heat.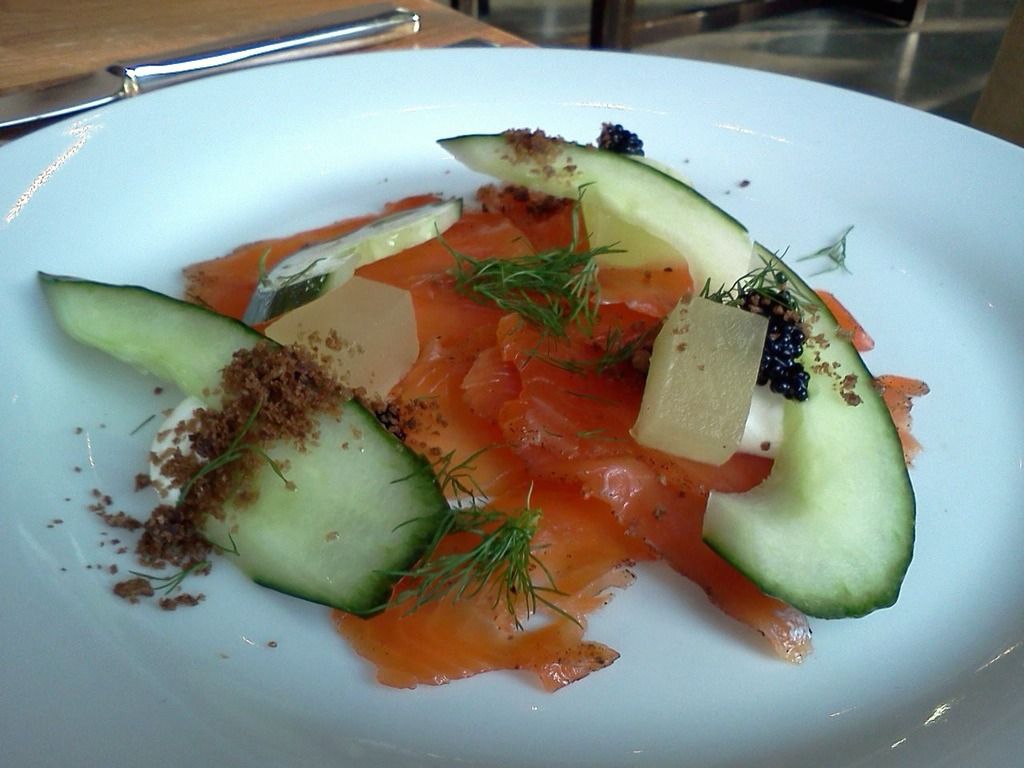 My sisters both got the House Cured Trout (with pumpernickel crisp, whipped cream cheese, citrus compressed melon, lump fish roe, cucumber and dill). They seemed to like it.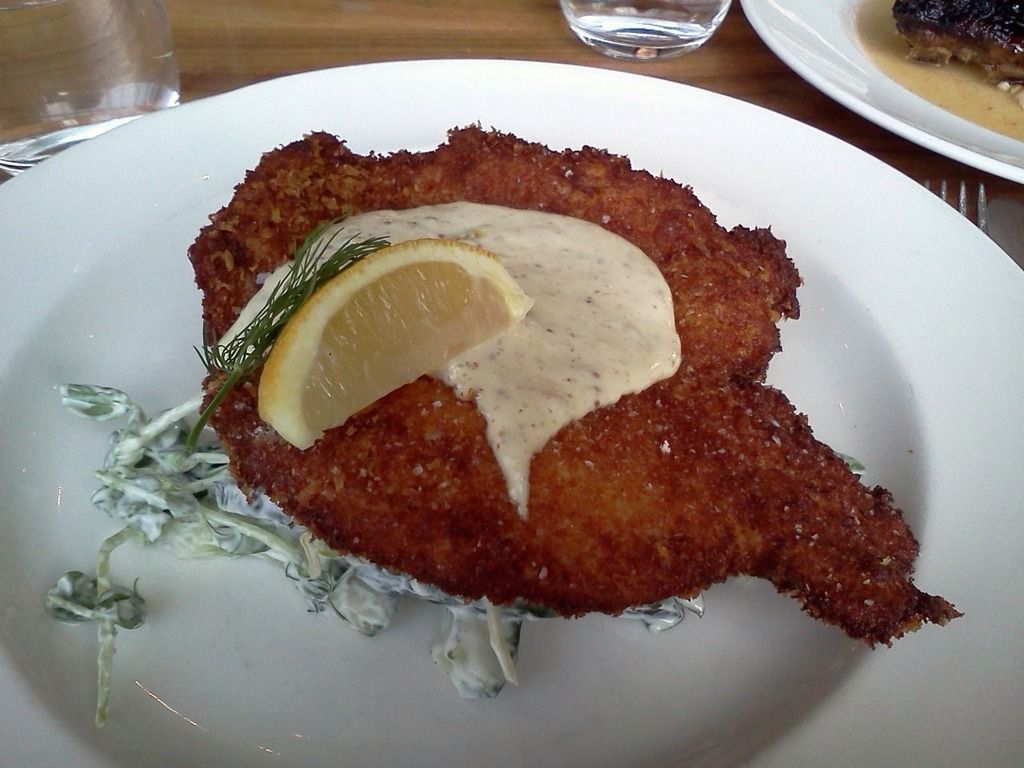 For my main, I got the Crispy Panko Fried Chicken Schnitzel (with crushed new potatoes, cucumber-dill salad and lemon caper aioli). I found this dish to be okay. There was far too much for me to handle so I didn't manage to eat it all.
Again, both of my sisters got the same thing which was the Coffee Smoked Baby Back Ribs (with aged cheddar grits, garlic braised greens and ham hock broth). It looked a little burnt but they I believe they also like it okay.
For dessert I got the Strawberry Shortcake (Earl Grey Tea cake topped with bourbon macerated berries and Chantilly crème). I really liked this too! It was the right amount of sweetness and you could really taste the delicate taste of strawberries.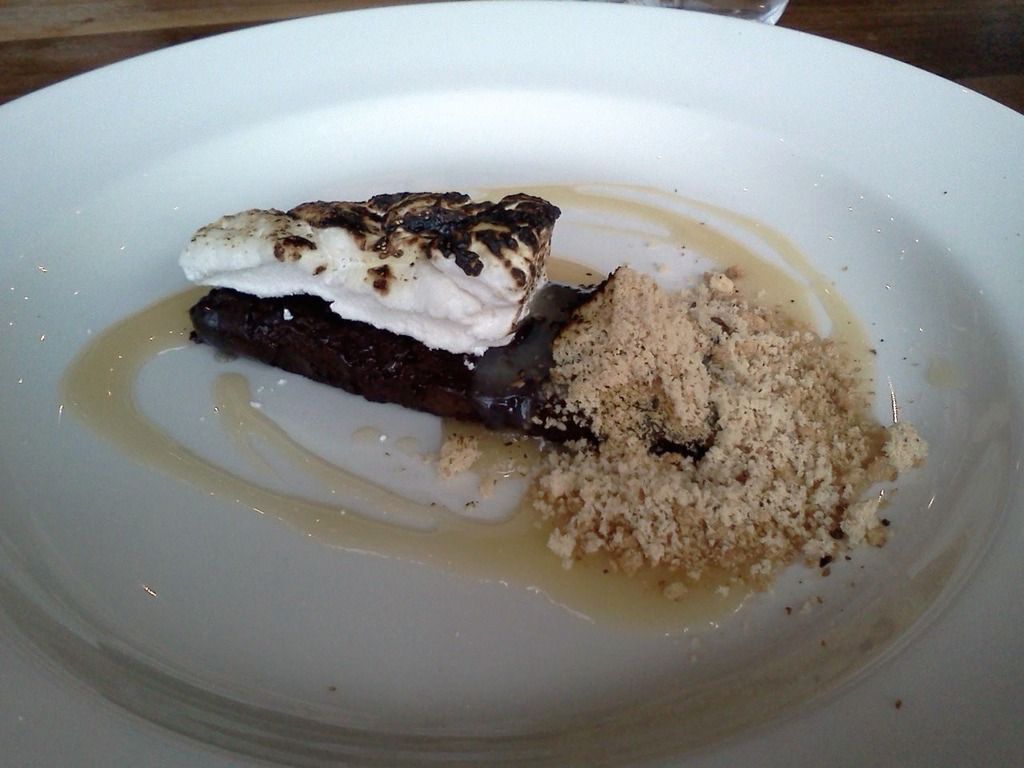 My elder sister got the S'mores (chocolate pâté topped with toasted marshmallow, sea salt toffee sauce, candied hazelnuts and graham cracker crumbs). She liked it but this was really sweet.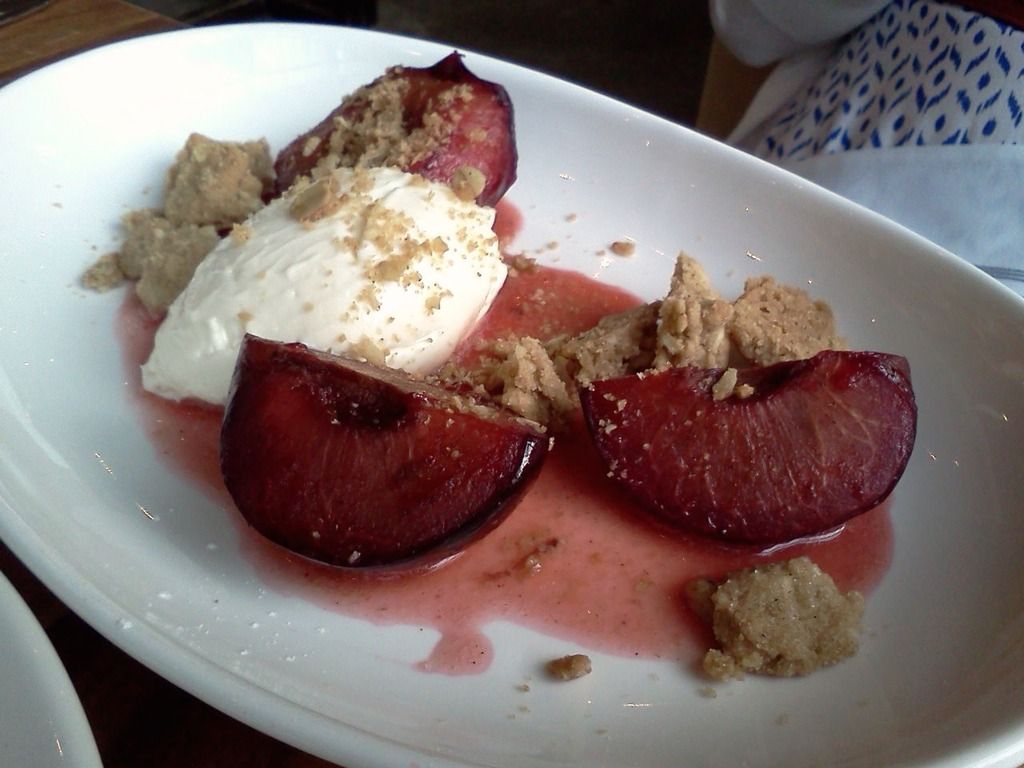 And my younger sister got the Sugar Plum (spice roasted black plums with honey mascarpone, vanilla syrup and toasted oatmeal streusel). She didn't really like this dessert and I wasn't a fan either after tasting a bit of it.
So Mildred's Temple Kitchen is a bit of a hit or miss. The place is charming though and I hear brunch is amazing here? The place is very spacious, inviting and open. They even have a patio which is nice to eat outside in the Summer! The crowd is very tame and the noise level is just about right. And the service was great, our server was really nice and very attentive.
Overall: Ambience A+, Food B+, Service A+, Price N/A
(price on the site seems a bit high: B).
Within the area I spotted West Elm!! I didn't know that there was a West Elm in Toronto!! I'll have to come back to this area to check it out one of these days. Ah! I'm so excited just thinking about it.
Then we took the GO train home. This was the first time I ever rode the GO train. The wait took a while before the train arrived, but once we got on, it literally took 15-20 minutes to get us home as opposed to the usual 1 hour trip via subway and bus. It was quick and I'd do it again if I ever was in a bind to get home fast.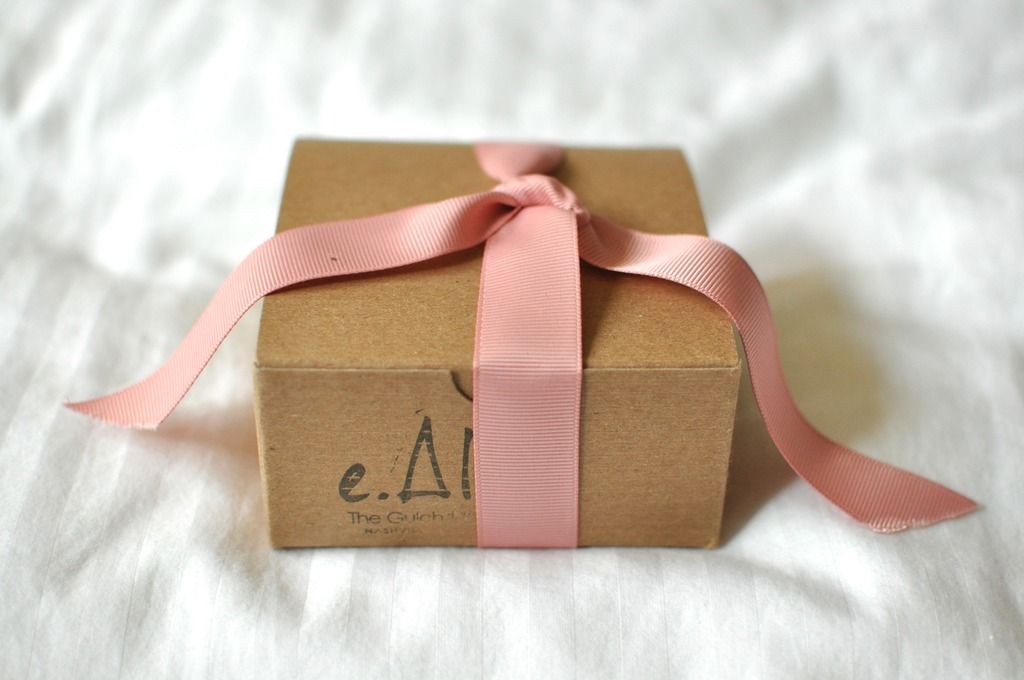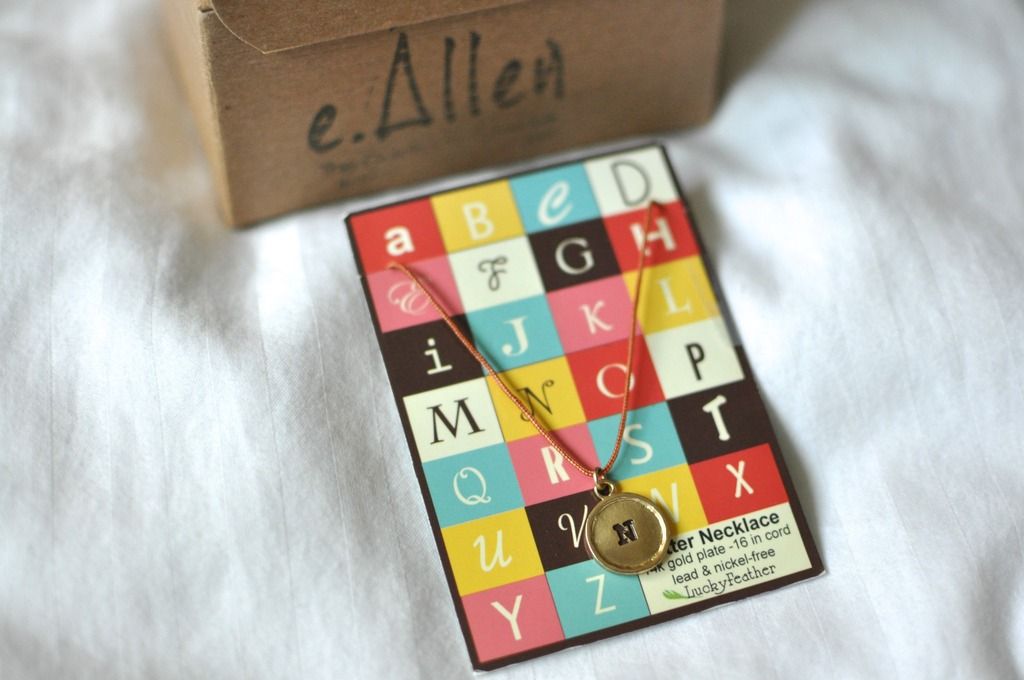 And speaking of my sisters, my younger sister travels a lot for work and often she brings back souvenirs for us. The above is a dainty charm necklace she brought back from her quick trip to Nashville, Tennessee. So sweet of her to think of us even when she's away. Thanks sis!
"If you're still searching for that one person who will change your life, take a look in the mirror." -Unknown