As you guys know, shopping is one of my favourite pastimes hehe. One of my coworker (an Auntie) also
loves
shopping. From what she has told me, I believe she likes shopping more than I do. Apparently she can go shopping from the moment the mall opens until the mall closes. I, myself, like shopping, but I can't go for more than a few hours. I get tired easy and my patience tends to run out haha.
She invited the Mister and I over to her house for some homemade pho, North Vietnam style, which I've never tried before. It tasted similar to the Southern version but apparently the soup base is less sweet. I also found it interesting that they ate the pho with
Chinese donuts (Youtiao)
, long golden brown fried breadsticks, which my family typically eats with congee.
After our meal, she served us some green tea. My family doesn't do these traditional drinking tea after our meals or anything so it was really nice for me. My family is very casual, we don't even eat breakfast, lunch or dinner together at the dining room table. We basically eat wherever we want- usually at the kitchen counter or on the coffee table in the living room while we watch tv. I know it sounds terrible... but it wasn't always like this. Somewhere along the way we grew up and we got less formal. One day when I have my own family, I would like to sit down together to eat. It's a great way to catch up with one another and I think it's important to have quality family time.
| | |
| --- | --- |
| | |
| | |
| --- | --- |
| | |
The Mister and I were suppose to go to the Mississauga Waterfront Festival that day, but she insisted that we go shopping with her at the Toronto Premium Outlet- which none of us have ever been to. The place was nice. They even had an outlet for The Bay! I never knew one even existed. Unfortunately I wasn't able to check it out because we ran out of time in the end. Maybe next time.
But first things first, we had to quench our thirst! Lemon Heaven was the beverage stand we bought from. I got the Strawberry Lemonade and I thought it tasted alright.
After drinking, we walked into several stores and obviously I checked out my favourite ones too.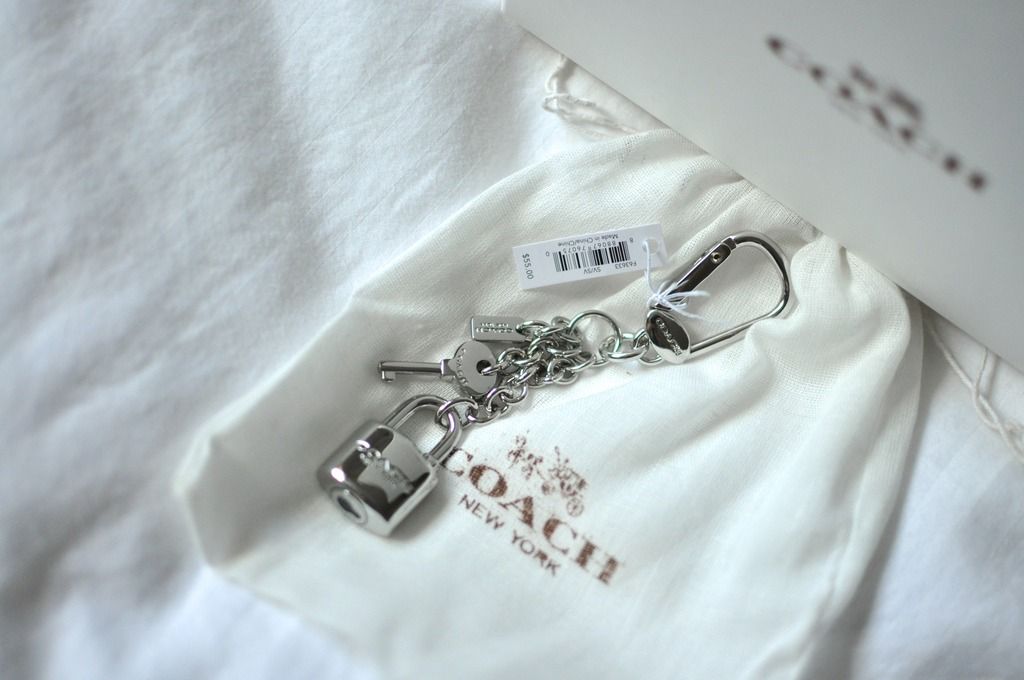 The whole entire Coach store was having 50% off. There were many styles of bags to choose from. I didn't find any that I thought was worth spending money I wasn't planning to spend in the first place. I did, however, manage to find a cute little bag charm. I've been wanting one and luckily I got it for $19.50 (original price: $55)!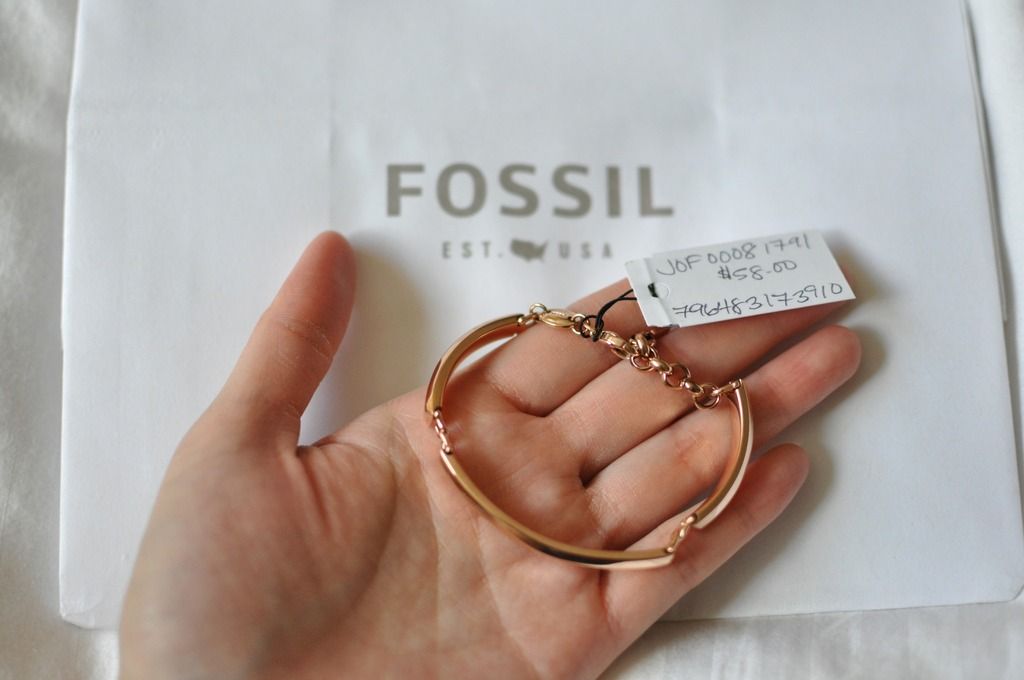 Then we went walked into Fossil and I was amazed at the selection of watches and other things they were selling in there. If I ever want to get another watch from Fossil, I'm definitely going to first head here to see what they have. That day, I managed to find this charming rose gold bracelet. These types of bracelets are my favourite kinds to wear, and fossils makes beautiful arm candy. This was also 50% off at $29 (original price: $58).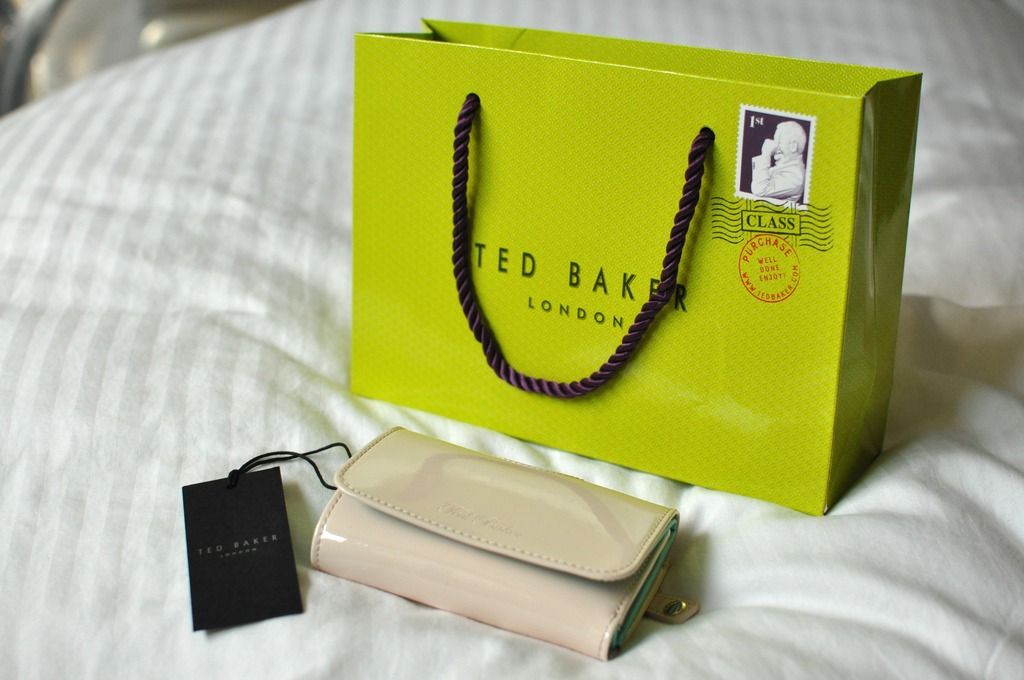 And then... we walked into Ted Baker.
I wasn't anticipating on finding anything really (since I mainly go in just to look at accessories because their clothing is way out of my budget right now). Plus I already bought a
Ted Baker makeup/toiletry bag and jewelry case
previously from a sale, so there's not much else I would need.
But then I stumbled upon this super cute wallet while browsing their merchandise set out on the table. I love the colour combination of the toned down beige and the bright mint colour (I gravitate towards mint and I think it's now safe to say it's my favourite colour). I've seen this style of wallet before in their stores, but this time I found myself really mesmerized with it. I'm not a fan of trifold wallets, I'm a lover of accordion style wallets because they can hold so much, but this one was different. It has a lot of compartments inside, plus a super adorable coin purse within it (there's French bulldogs inside)! Albeit it can't hold as much as my
Juicy Couture accordion style wallet
, it's the best in terms of organization that I've seen for a trifold wallet. This will be a great wallet to use when I carry my smaller bags.
The last store I bought things from was J.Crew. I was hoping to find some nice discounted jewelry but unfortunately they pretty much had nothing. What I did end up purchasing though were clothes! This was the first time I ever tried on and bought J.Crew clothing.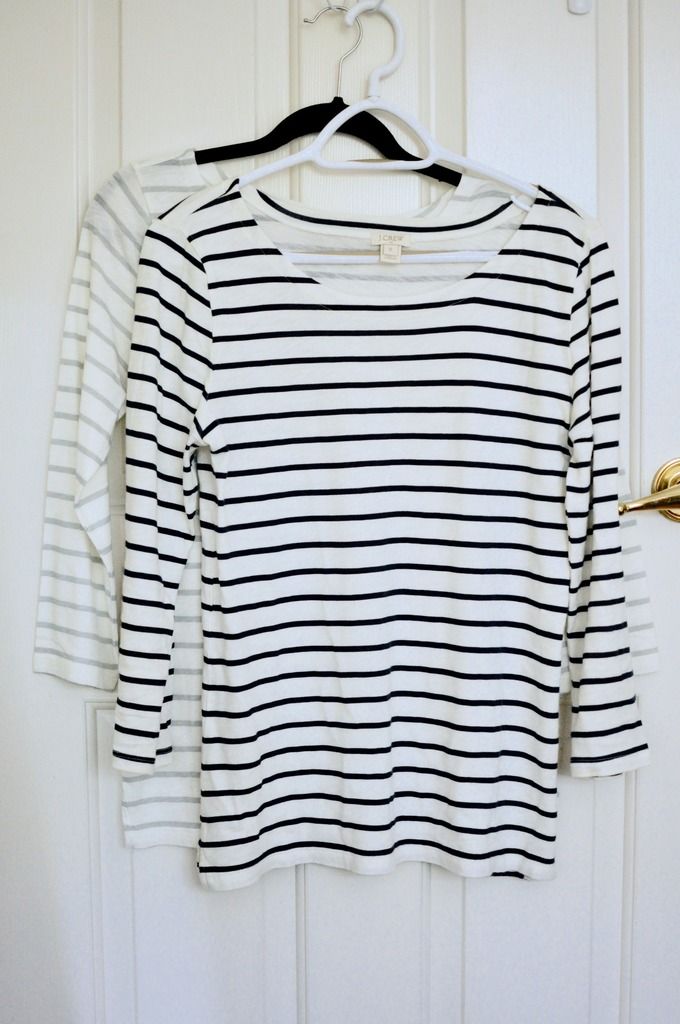 These are identical tops in different colours (I loved how it looked on me that much). This is very different to what I normally wear, so this was me branching out. Now I'm totally in love with striped tops! I also bought a pair of navy shorts but I forgot to take a picture.
Then we ended the day by going back to her house to eat some more pho before heading home.
The tops from J.Crew and shorts weren't the only clothing I purchased for Spring and Summer this year.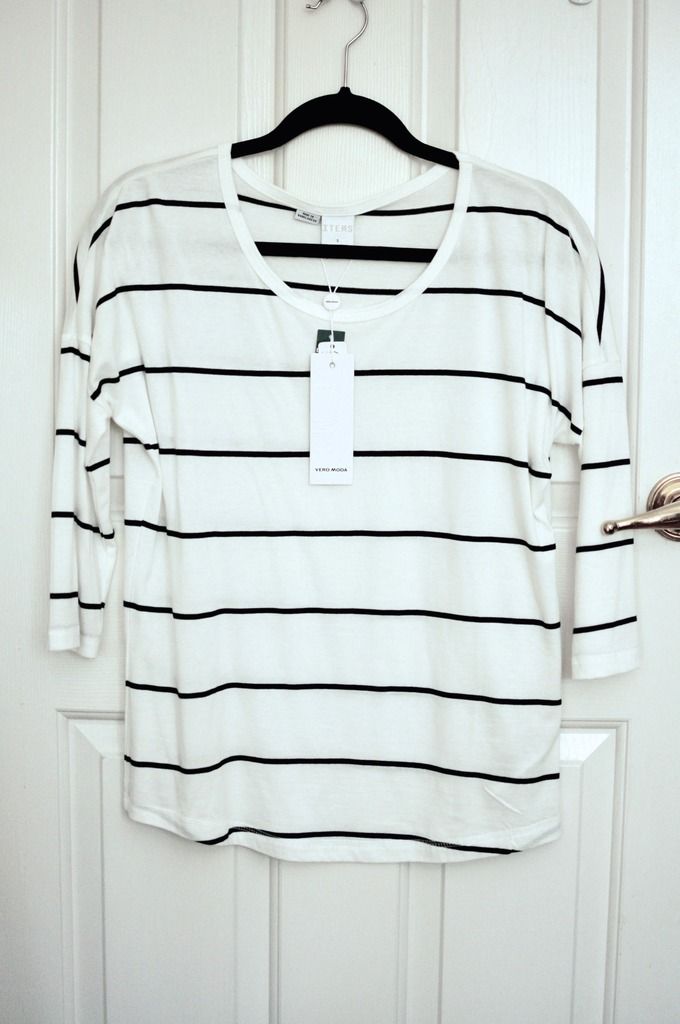 I picked up this top from Vero Moda before I got the striped ones from J.Crew. The stripes are more wider apart and it was my first striped piece of clothing ever to enter my closet. I'm really glad I decided to give stripes a go because I really like the nautical look for Summer!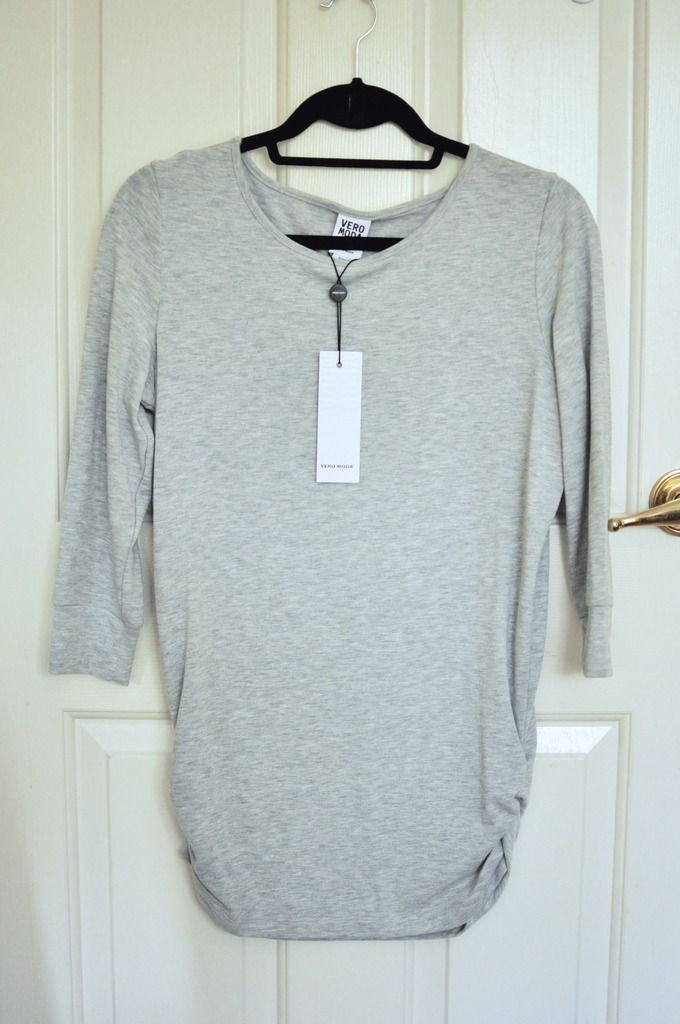 Also from Vero Moda is this grey top that the Mister insisted I get after seeing me try it on. I guess I don't wear casual clothing much when I'm with him so he likes the change haha.
I noticed that I didn't own any basic white tees in my wardrobe (I know, can you believe it?!). So I got one from Topshop (left) and Forever21 (right) when I went shopping with my mom a while back. You can already tell the difference in quality between the two in the above picture.
I also picked up these cute white chiffon-like tank from Topshop (left) and H&M (right). These were inspired by an outfit I saw LisalisaD1 wearing. This is my first time owning Topshop clothing and so far I approve of the quality.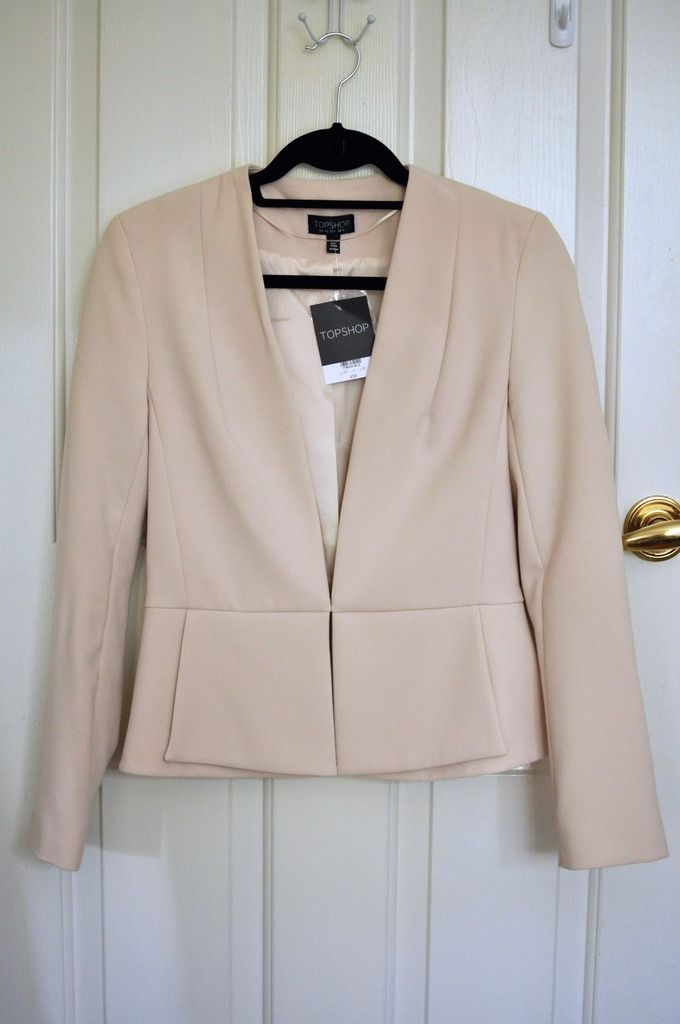 I decided to invest in this Topshop peplum blazer. It really good on and I liked that it wasn't black or white since I already own several of those.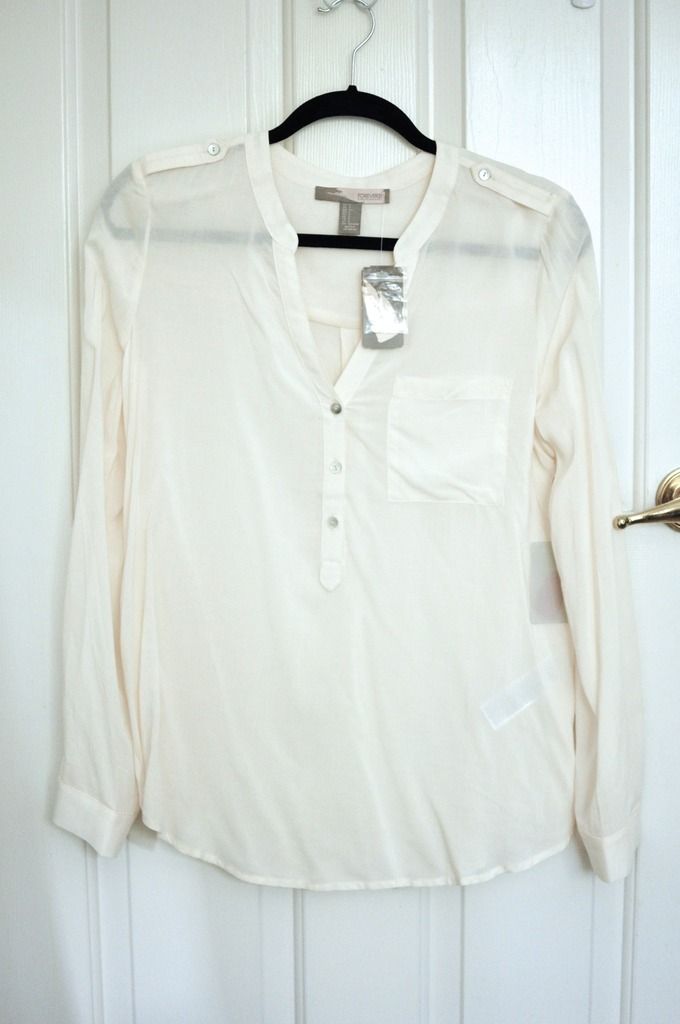 And, as if I don't already own many of these kinds of tops, I picked up this one from Forever21. It has a slight peach hue to it so I allowed myself to get it since it was neither black or white haha.
Brandy Melville has opened shop in Canada for some time now but I never went to go check it out. There clothing is more boho chic which isn't what I'm into. I did buy these bandos though because I thought they would be great under my semi sheer tops, or even opaque tops for when I don't feel like wearing a tank top underneath.
These ones would look nice with lower cut tops in the front because the strings adds some interest to an otherwise plain top. It's a cute look.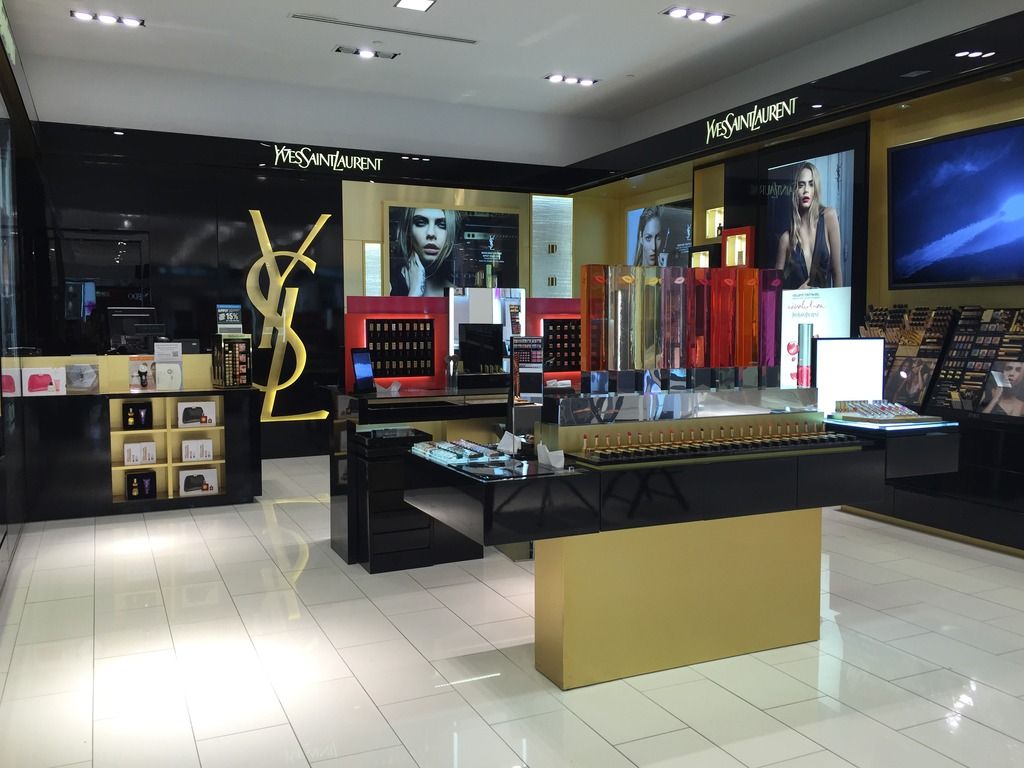 YSL = love. YSL, Chanel and Dior are my top favourite beauty brands. Marc Jacobs is making it's way there but I have to try a few more products before declaring it a favourite.
Marc Jacob jewelry *__* One of these days I'm going to get myself a nice bangle/bracelet.
The last Swiss Chalet dinner for a long time (this was back in May/June). We've decided to only eat at new restaurants we've never tried before or restaurants that we haven't been to in a long time. The problem with us is that we want to try new restaurants but we get held back because like to stick to old favourites. This way, we have no choice but to eat somewhere new.
"Would who she was really be enough?... This is perhaps the greatest risk any of us will ever take- to be seen as we truly are." -Cinderella Movie (2015)