Sometimes my work gets so hectic that I'm forced to do a lot in a limited amount of time. I work pretty damn fast and at times push myself hard. But, I too, have my limits. There is no amount of money that anyone can pay me to voluntarily work myself to the point of injury. Long time readers would know that I currently work in a manual labour job (and have been for a couple years now). I'm very good at what I do even though I don't receive any appreciation for it. I took the job because I needed an easy full-time job to pay off my student debt as quickly as possible- which I did. I'm staying for now because I want to save some money before I quit.
There are days when I feel like leaving on the spot because the company I work for expects too much from their employees whilst giving practically nothing in return. The following list may mean nothing to you, but it's a reminder to me about what I had to do one day for 11 hours:
13 boxes to date (300pcs/box) =
3900pcs
3 heavy larger boxes to date (120pcs/box) =
360pcs
8 boxes to label (300pcs/box) =
2400pcs
18 heavy large boxes to date (120pcs/box) =
2160pcs
2 boxes of cups to label (1000pcs/box) =
2000pcs
2 boxes of lids to date (1000pcs/box) =
2000pcs
Total: 12,820 pcs
So that means, I labeled and dated with a date gun a combined total of 12,820 containers in one day. My shoulders, hands and knees were paining by the end of the night. No one can or is willing to do what I do, and they know it, which is why they expect more from me. Thankfully most days aren't like this. The above example was an extreme example. I would not last if I had to do that everyday. Still, this company I work for is just terrible. They take their employees for granted and I'm sure one day that will come back to them. What goes around, comes around.
Anyway, today is my day off. Instead of giving us tomorrow off, we have today off. I'm taking advantage of my free time to be productive. After I got up in the morning I went outside and pulled out all the weeds that were taking over my vegetable garden. I also replanted some plants into different pots and watered them with some fertilizer.
I swept the house, took pictures for my blog and now I'm going to try to write up several blog posts in hopes to save them to post when I have no time to blog.
The Mister and I watched Jurassic World during the opening weekend. We went to see it in 3D at the Scotiabank Theatre because IMAX was all sold out. You can imagine how excited we both were. *Spoilers* After seeing the movie... we both felt a little let down to be honest. I mean don't get us wrong, it was a good movie, but it was just shy of being a great movie. There was too much talking scenes, yet the story line was not in-depth enough. A lot of scenes should have been cut, like who cares about knowing whether the kids parents are getting divorced? It doesn't contribute to the plot and doesn't develop the characters in any way either. The only relationship I cared about was the one between Owen (Chris Pratt) and Claire (Bryce Dallas Howard). Claire's character development was very good, the kids- not so much. And making the T-Rex the hero? Sounds almost like King Kong all over again. Things I liked about the movie was obviously seeing the park again, the fact that they created a new dinosaur (humans do like to mess with genetic modifications) and the training of the raptors was interesting. I also really liked how they brought back some old familiar things from Jurassic Park (the scene where they find the original park), and who can forget the incredibly nostalgic movie soundtrack. Overall I give it 8.5/10.
A couple weeks ago my sister was dog-sitting for a friend. The pooch's name was Porsche (yes, as in the car).
He was a bit of a weird dog but very well trained. He'd only relieve himself when he went out on walks. Here the Mister is taking him out for a walk.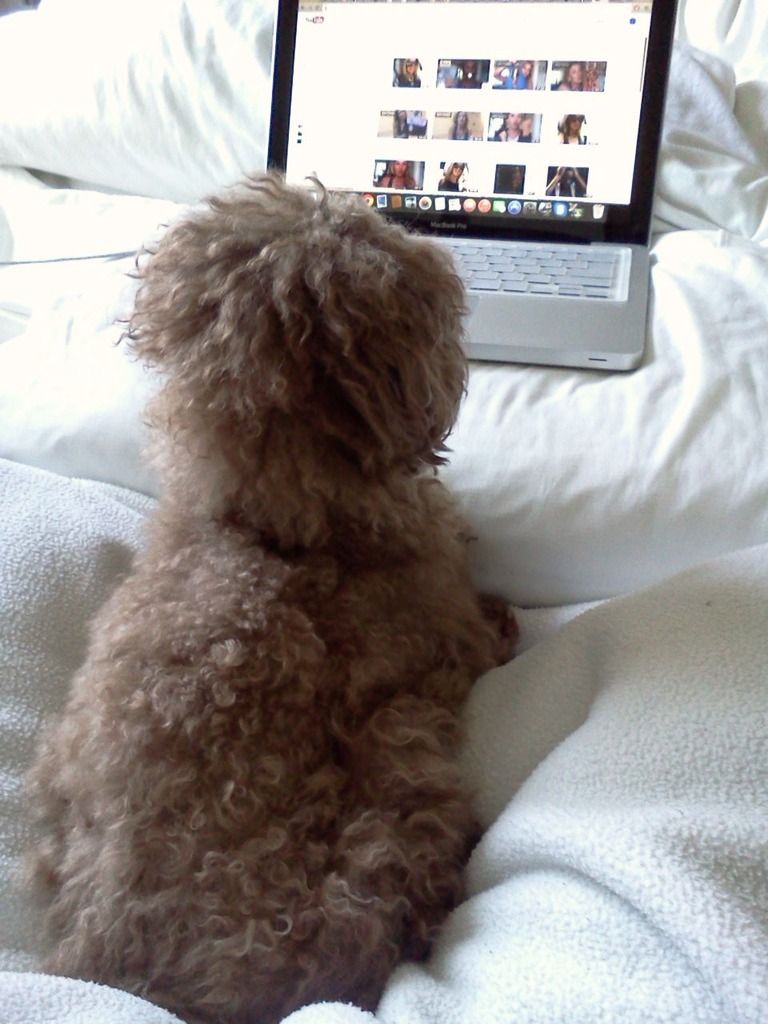 The dog was weird because he was insanely clingy. He likes to be by you and likes to invade your space and sit in your lap. I never thought I'd let a dog on my bed but he was so small and he'd whine if I didn't let him. He was also high maintenance because he doesn't eat dog food, he eats cooked meals. My sister had to make his food with oatmeal and yams and then bake it. If the food ended up being crispy he wouldn't eat it. He also loved eggs and chicken.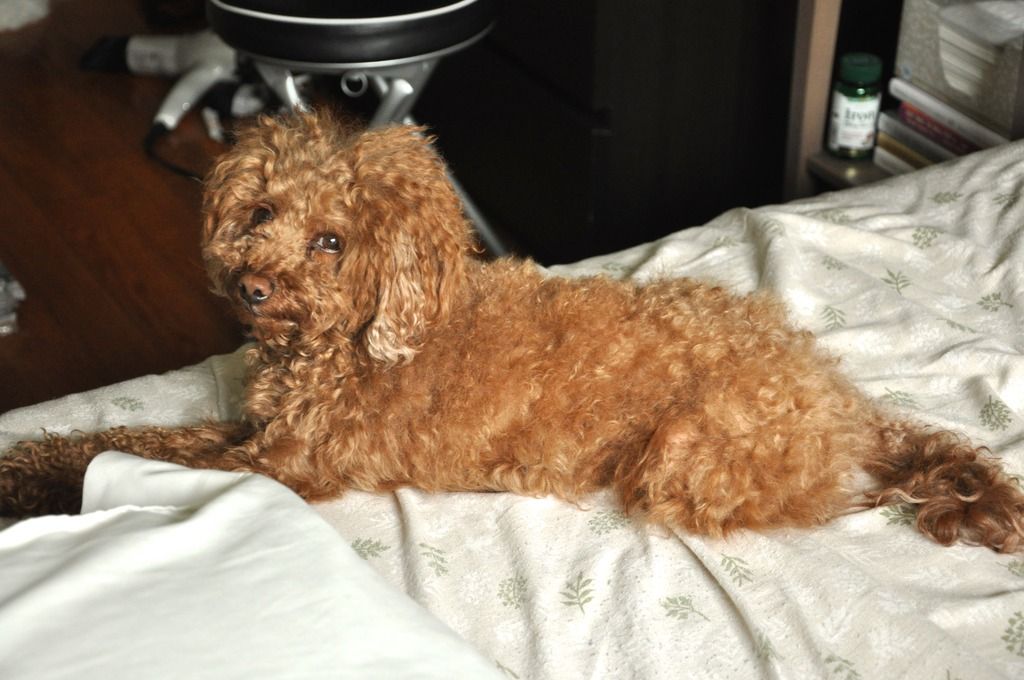 Having the dog around was pretty neat because it gave me some insight into what it's like to have a dog. Although it required more maintenance than your average dog, it was quite eye-opening. You need to have the time and day to walk it, groom it, bathe it, take it to the vet and if you ever travel, finding a dog-sitter can be troublesome.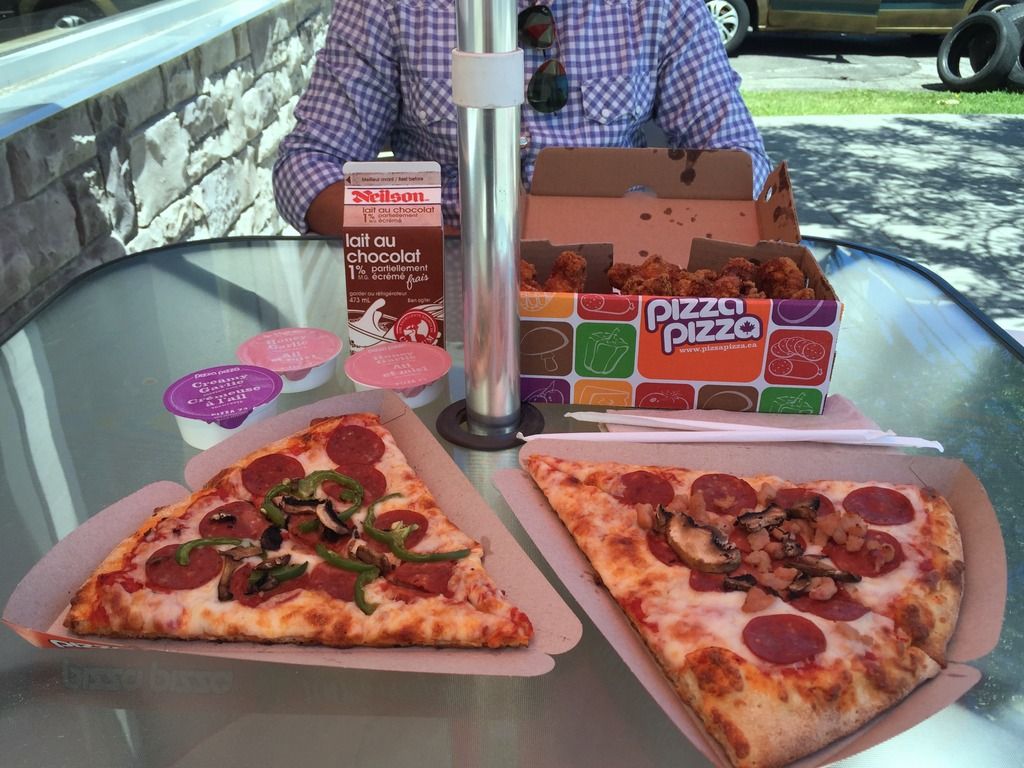 Having some pizza and chicken wings because, as you know, there's not much places within walking distance to eat near my house. And if you're wondering why we never cook, if you can see how busy the kitchen can be and look at how crowded my family fridge is, then you'll know why we don't even try.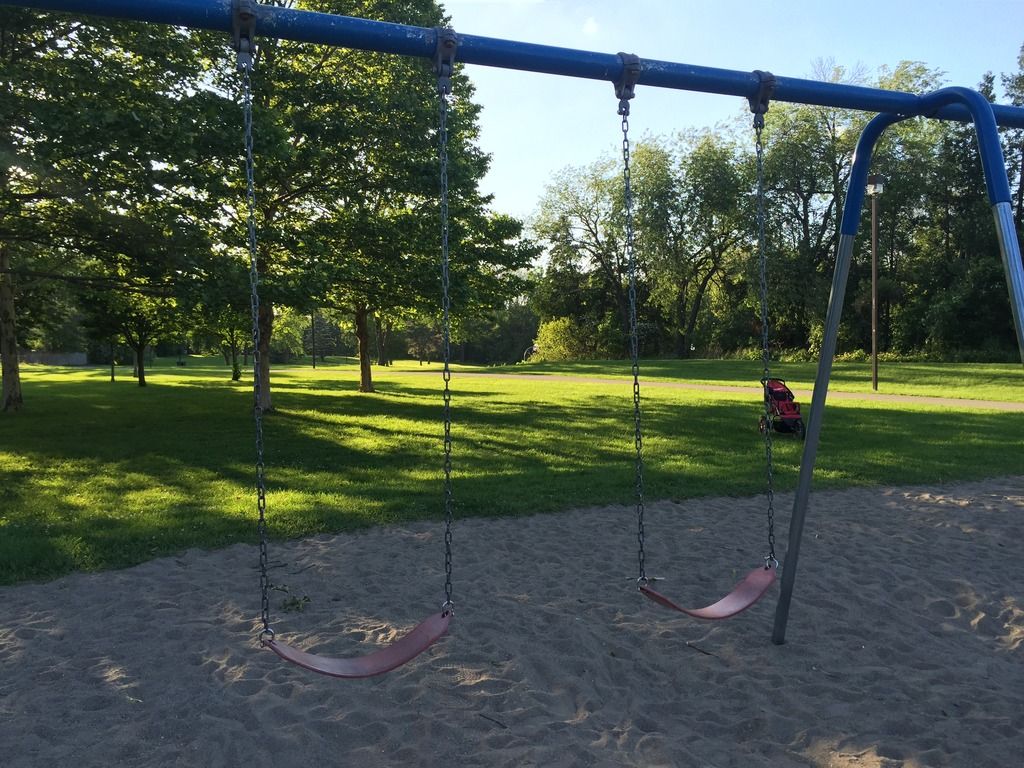 The Mister and I have not been to the park in ages- let alone swing on a swing.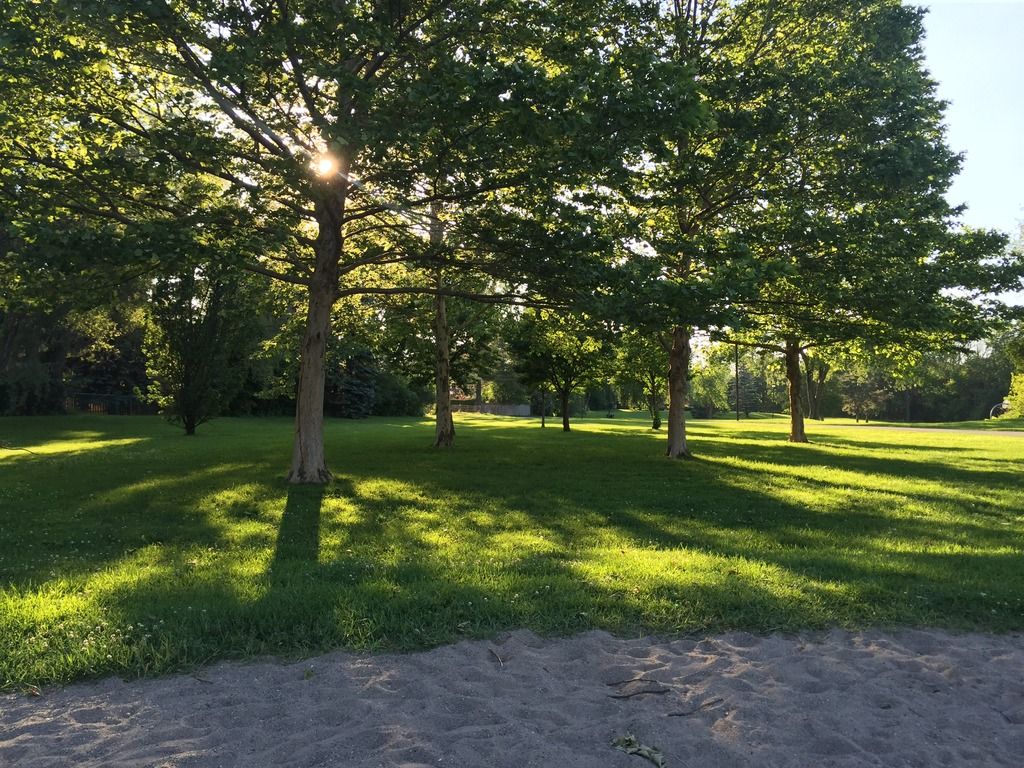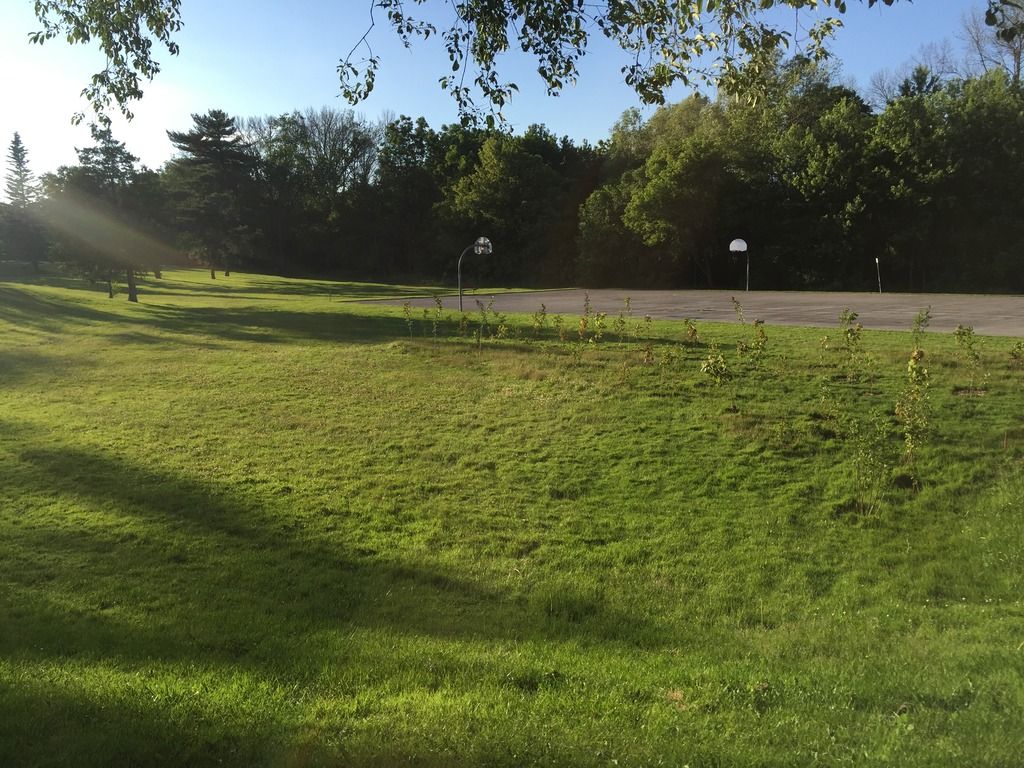 Back when I was in middle school, I remember sneaking away to this park during lunch hours with my friends. They swapped out the old playground with a new one though, and just below this hill you can see that they planted new trees.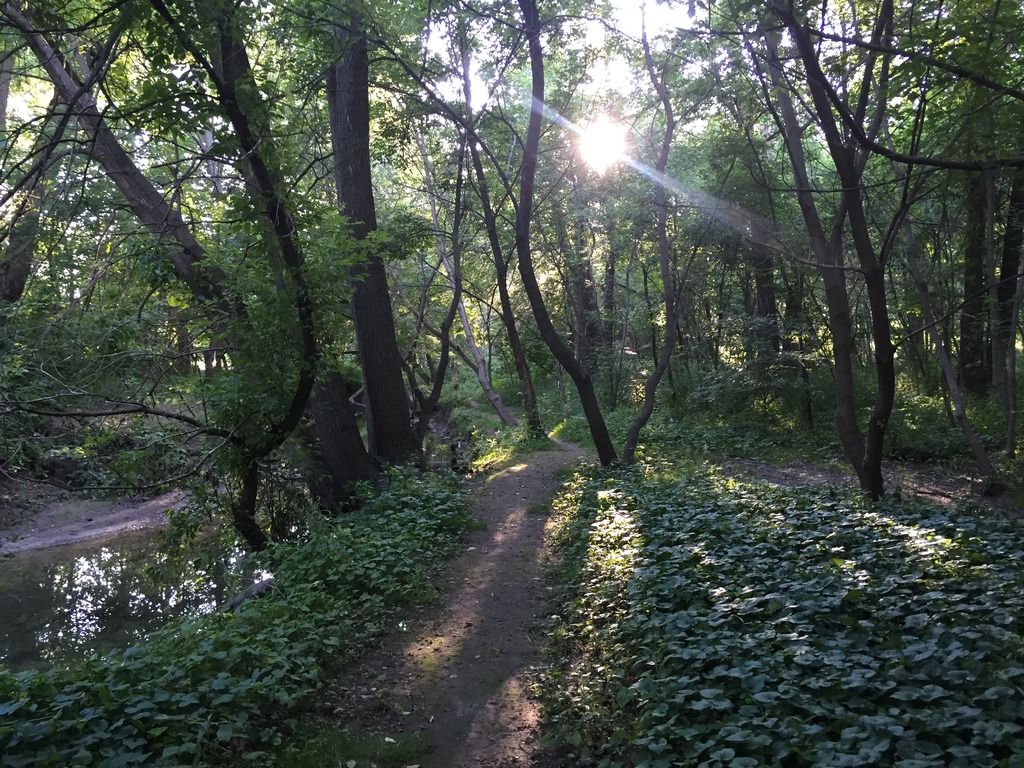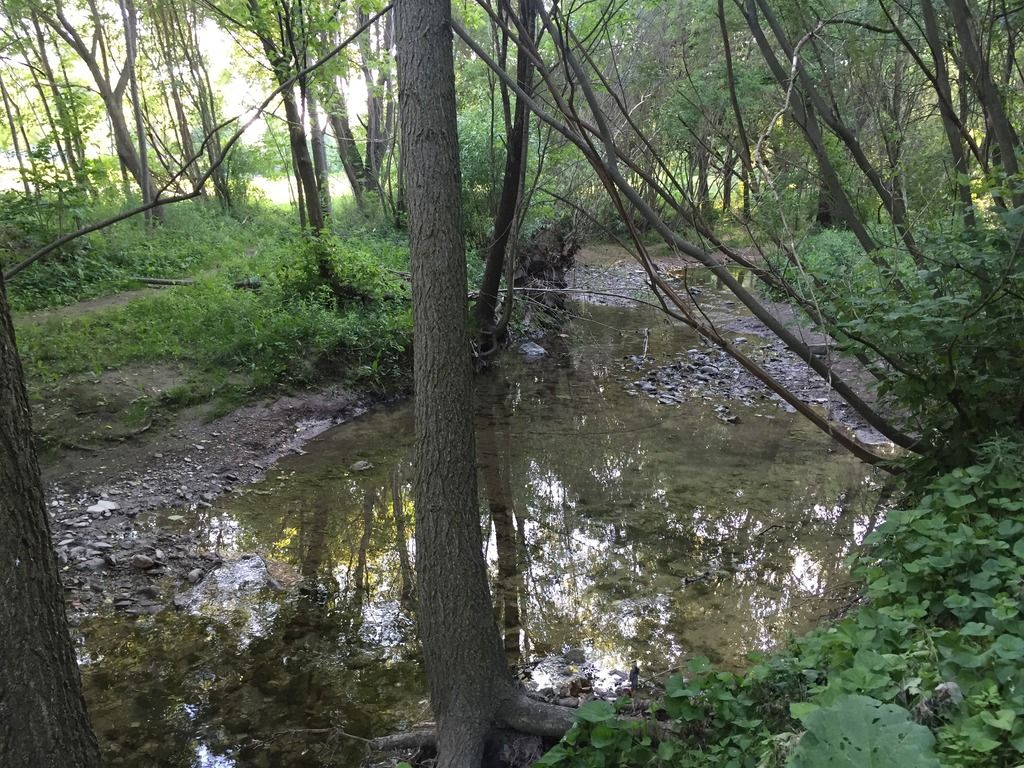 It was a really nice day that day. In that park there was also a wooded area with a creek that you can explore. The picture makes it look bigger than it is. Back in middle school my crazy friends and I walked through this creek with our shoes.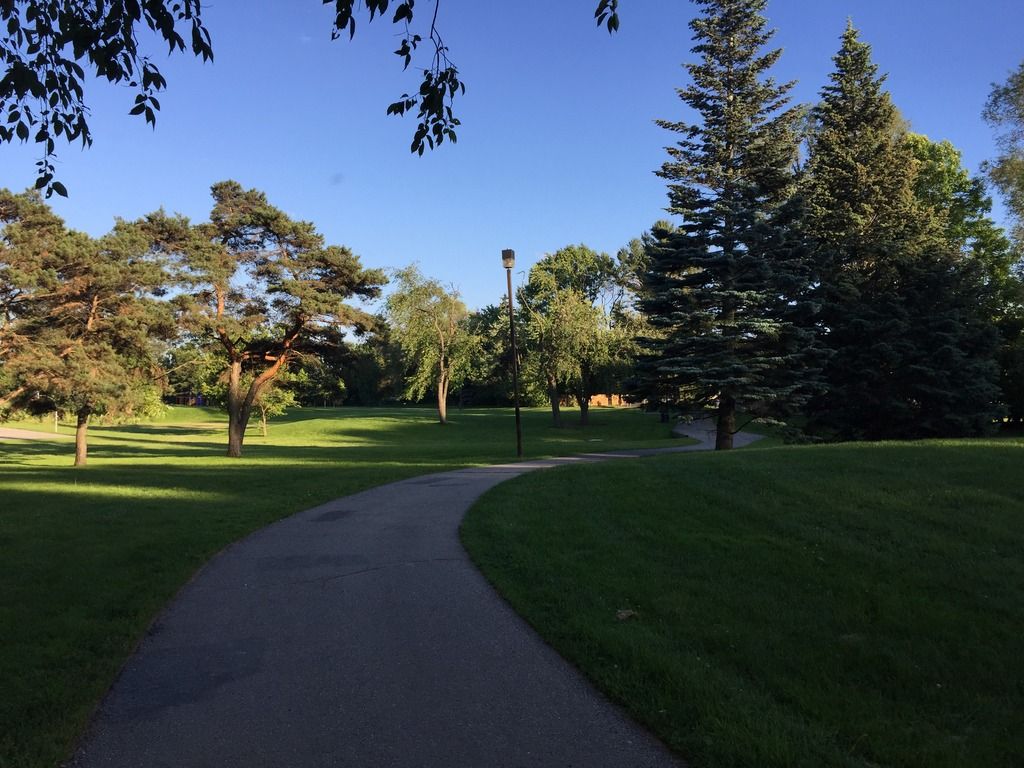 Home time :)
A couple of beverages we had on the go while shopping downtown on separate occasions. The Vitamin Water was what the Mister wanted to try and it turned out tasting really good. If you know me, you'd know I can handle eating sweet things. The new Tim Horton's Creamy Chocolate Chill however, was disgustingly sweet. I don't know if the person made it butchered it? But if it's suppose to taste like pure sugar and chocolate, then count me out! Blehck!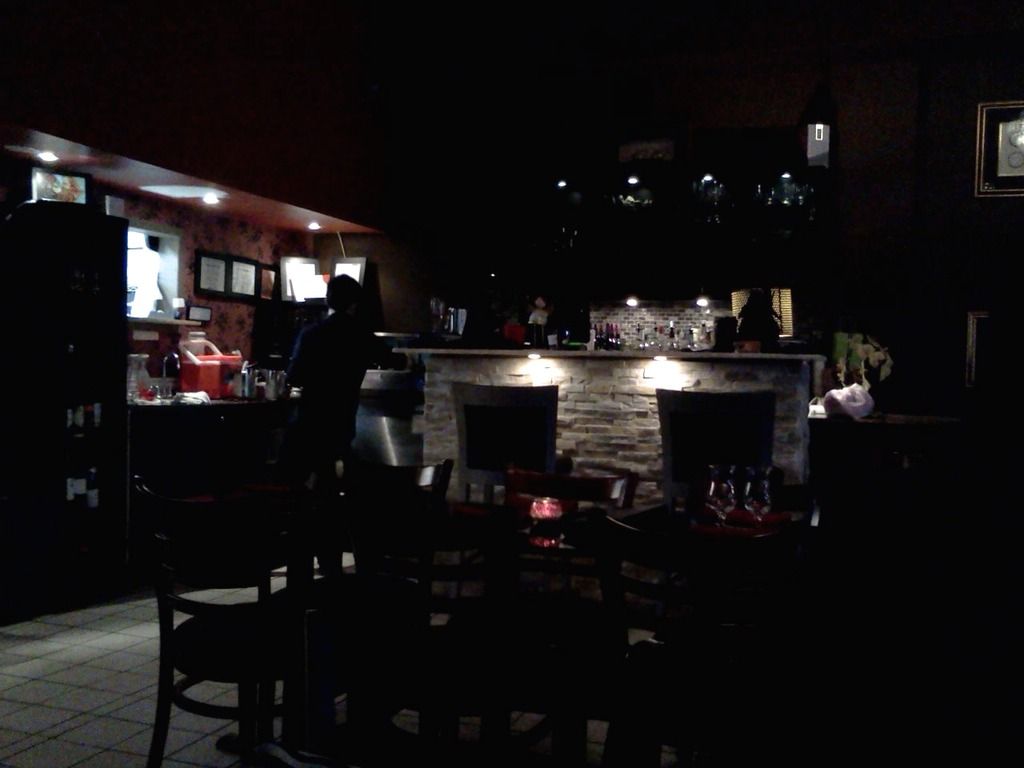 We visited
Taste of Thailand
recently. We haven't eaten here in so long. The Mister told me how he loves the ambience of restaurants like this- lights dimmed and cozy.
We ordered the typical, Calamari for our starter and Golden Curry with rice for our main. Mmmm.
Lastly, I saw one of my friends post
this link
on Facebook. It's a good read if you want to know which sunscreens to avoid. Kind of sucks because a lot of the major brands like Neutrogena and Coppertone are on the list. And the ones recommended are the ones I've never even heard of before! I don't know if I'll completely avoid it in the future but I'll definitely avoid it for my face (I'm using the Shiseido one now anyway). There are a lot of bad things we're using and eating. It's the whole thing about going natural... but that's just not in my cards. Remember, sunscreen is better than no sunscreen.
"Always let your conscience be your guide." -Pinocchio