Spring Spring Spring! I am loving this warm weather! The skies are blue, the sun is shining, the buds are forming and the weather is neither too hot nor too cold. With Spring comes Spring shopping. I have a whole stash of things that I want to share with you but I'll hold off until I feel like I've got everything I wanted to get (I'll make separate posts too so I can blog in more detail). You can expect to see clothes, lots of jewelry (because I'm obsessed at the moment), and some things I got from the Sephora 15% off sale. But the most exciting purchase will be made this weekend :D I'll reveal it when I get it. Everyone keeps telling me it's going to change my life! I think so too.
I was so good in March when I barely bought anything. Then my younger sister started telling me about how she's feeling "spend-y" and that just opened up a can of worms for me :S I'll definitely be scaling back this month to get myself back on track.
Read about
Day 1
and
Day 2
of our week long trip to Montreal back in August 2014.
Eggspectation
1313 De Maisonneuve W, Montréal, QC H3G 2R9
Taken from the site:
"At Eggspectation, we're committed to innovation and achievement. Surpassing your 'eggspectations' is what inspires us to be extraordinary. We strive to give you the best possible food quality and service while maintaining a relaxed and pleasant atmosphere. Welcome to what we call 'le cirque des œufs,' an all-day experience."
So on Day 3, Wednesday, we headed out to eat breakfast at
Eggspectation
- one of our favourite breakfast spots!
There used to be one in Toronto... but unfortunately they closed down a while back :(
So hitting up Eggspectation was a definite must for us. [OMG! I just checked their website and there's a location at Bell Trinity Square in Toronto! I just read someone's review and they mentioned that the restaurant is same one that moved from the Eaton Centre. They're under new management and they have new staff and apparently the food and service is better. I wish I knew about this sooner because I thought that they just closed down! The reviews sound great, I can't wait to check it out!]
The decor of the place wasn't really that interesting. I remember when there was another really nice location years ago when I went with my family. The small tables (the ones we were seated in) were also too close to each other. I felt very crammed in.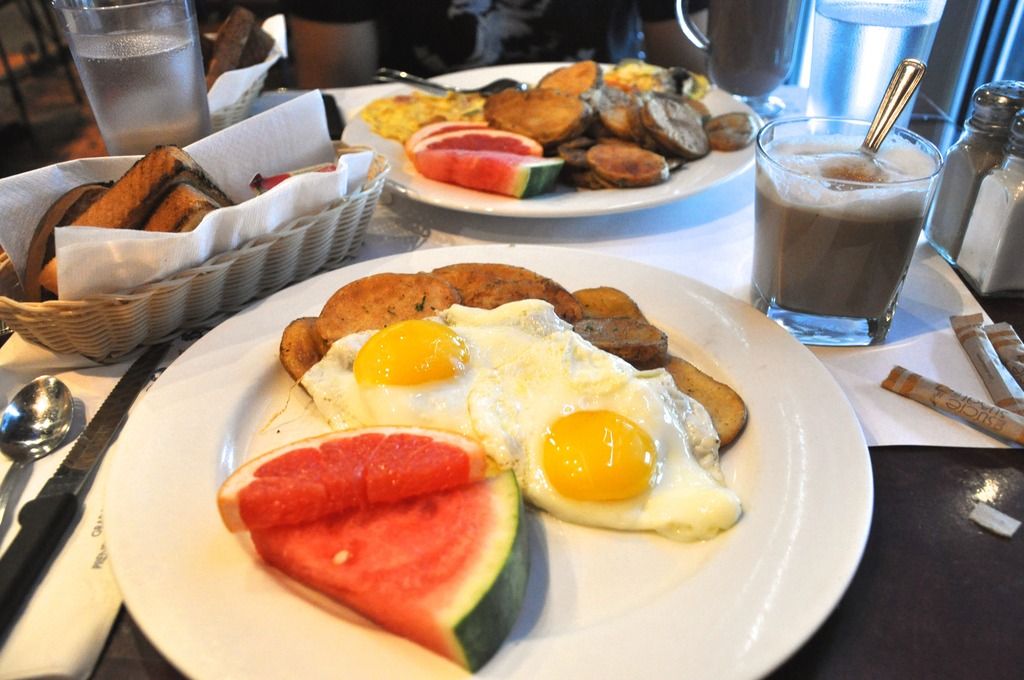 I got my favourite breakfast item, Eggstravaganza and the Cafe au Lait. Looking at the picture now, I don't see any bacon on my plate... I think they may have forgotten it? I didn't notice it at the time LOL! As for the Mister, he got the Eggspectation Omelette and Hot Chocolate.
The food at this location was okay, and so was the service- nothing spectacular. But, I can't believe they forgot my bacon. Too bad since we really looked forward to this place.
Overall: Ambience C, Food B, Service B-.
After we ate, we headed to the
Biodome
(or tried to because it was literally pouring the whole day). I was really excited about this place because I read in my travel guidebook about how this place recreates some of the most amazing ecosystems of the Americas. It houses many animal and plant species for you to explore and learn about.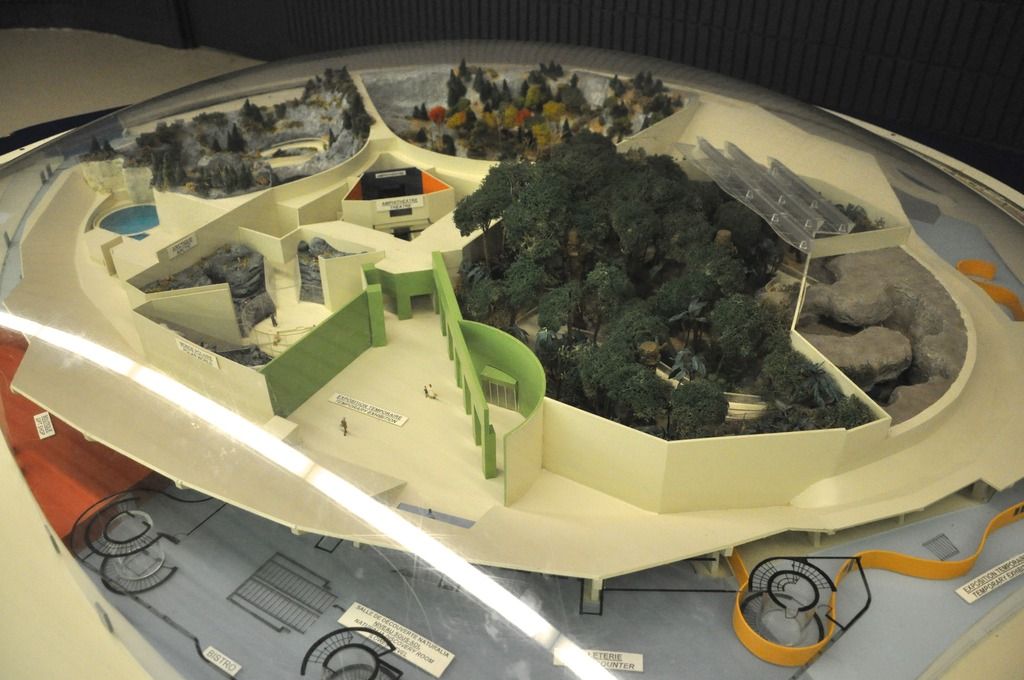 I really like how these places have a 3-D model. The Jardin Botanique may have been my favourite, but the Biodome was the Mister's favourite. Interestingly enough, the Biodome used to be an Olympic stadium of some sort (
velodrome
). After the games were over they converted it to this Biodome to make use of the structure. How neat!
The line was
super long
. The moment we stepped into the building, we were faced with the end of the line. In the top picture, you can see the line beside the people who are sitting down and eating.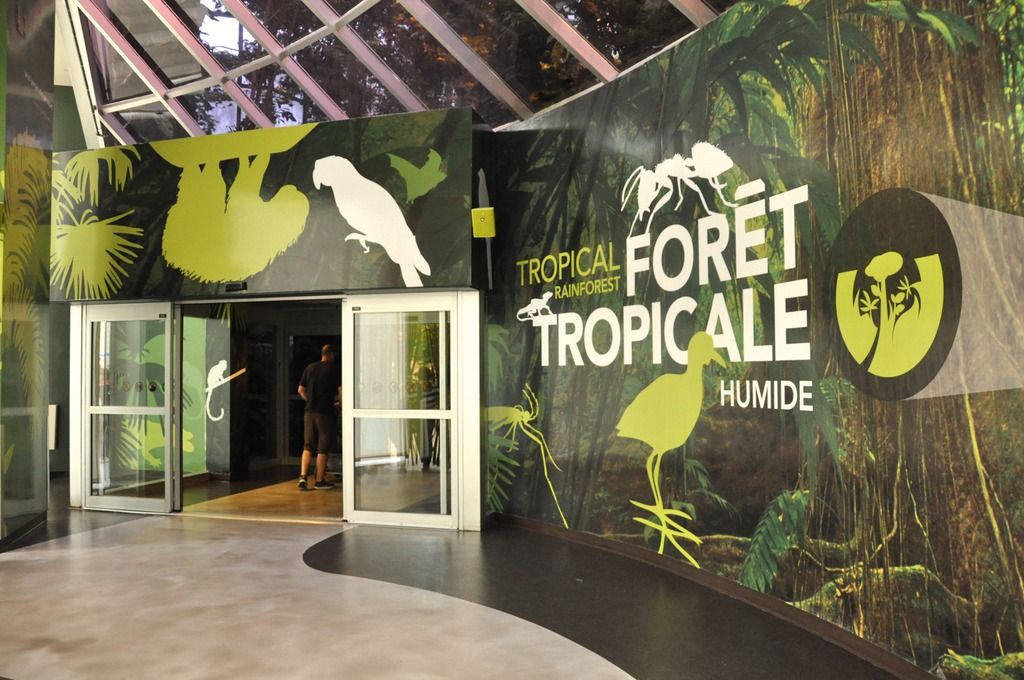 The Tropical Rainforest was my favourite. It was SO humid here. The second I stepped in, the lens on my camera fogged up.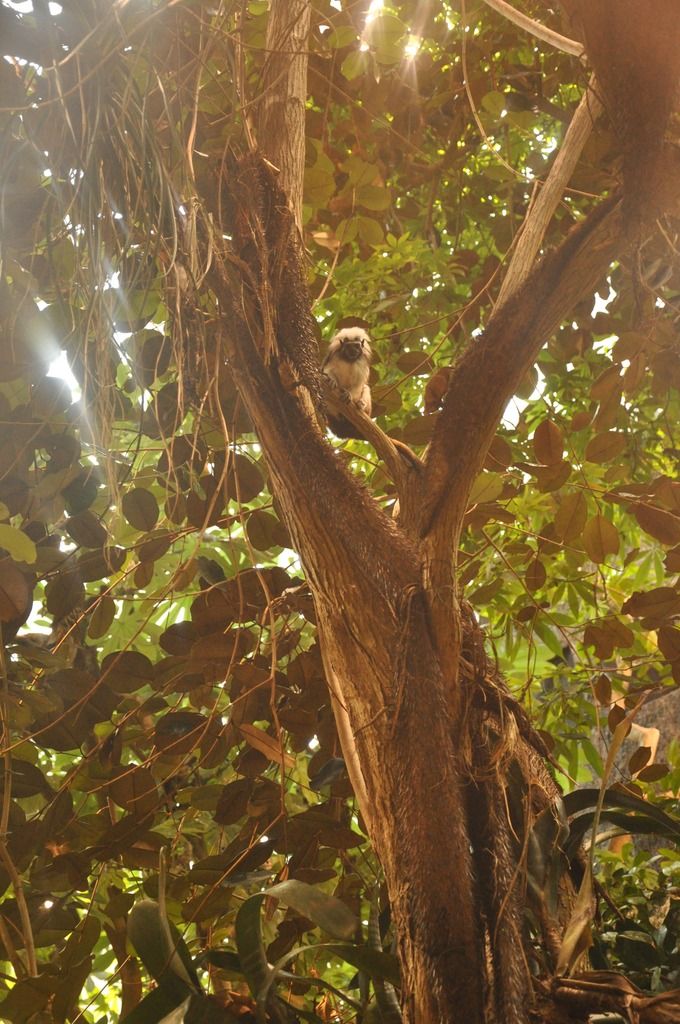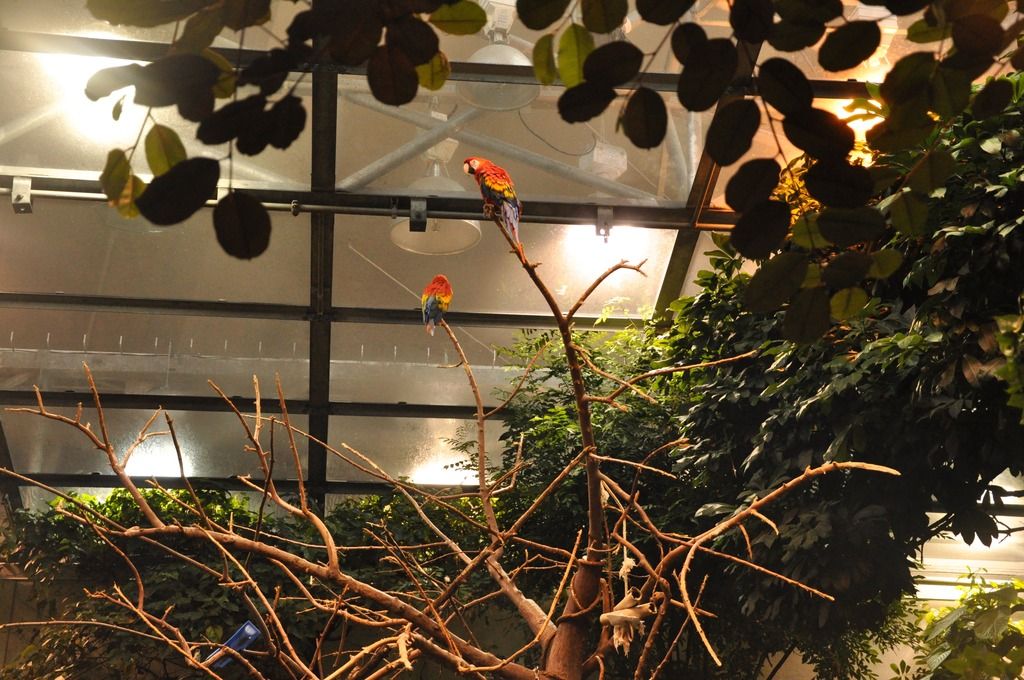 There were quite a few animals here. The alligator (or crocodile?) was so still that it almost looked like a statue. I loved how the little turtle waddled on by as if minding his own business.
I liked how they really made it feel like you were in a real tropical rainforest. I felt like I was under a small waterfall here.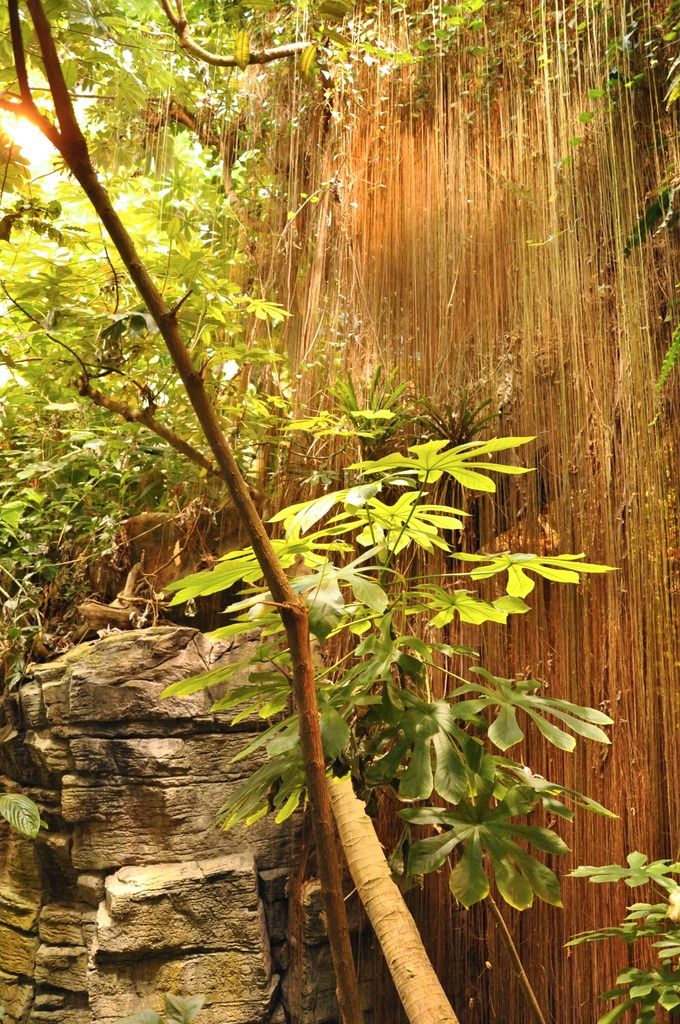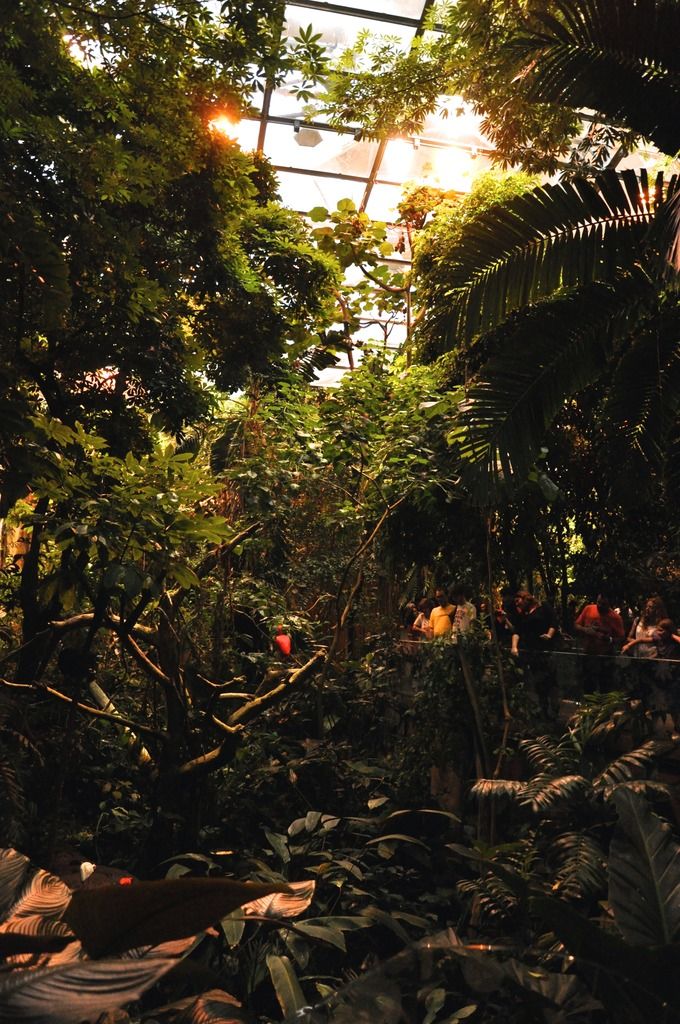 They did a really great job capturing the essence of a tropical rainforest as if you were actually standing in one.
The Laurentien Maple Forest was a refreshing cool place to enter into after feeling so humid and warm in the tropical rainforest.
The whole time I was in complete awe at how they managed to recreate such beautiful scenery. I mean, look at that beehive- that's attention to detail.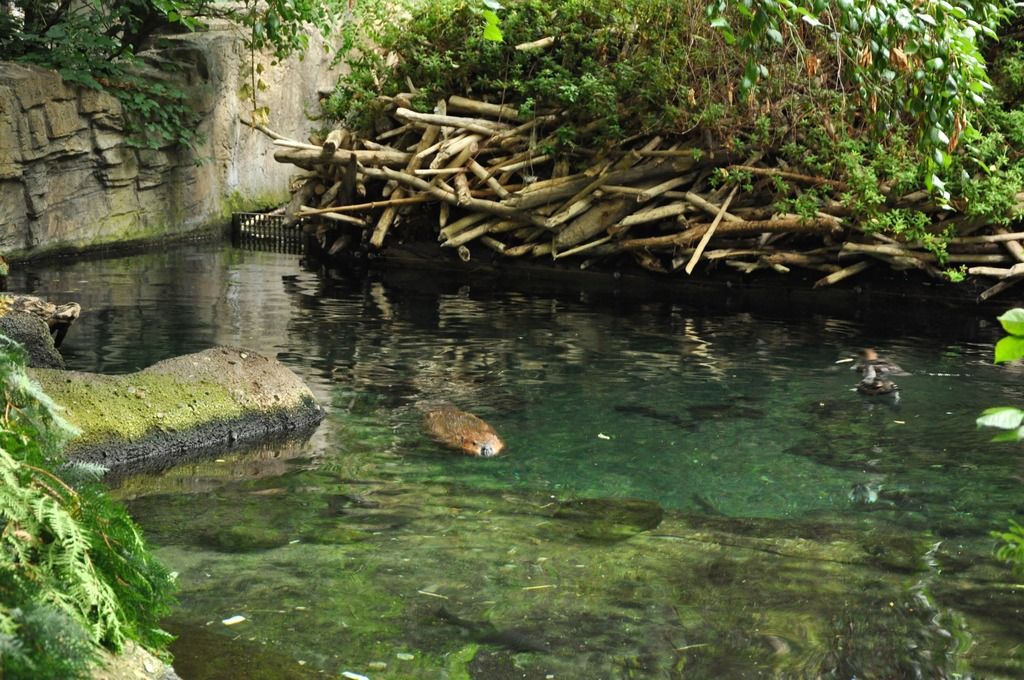 This little beaver guy was one of my favourites. He looks so cute swimming around with his big flat tail dragging behind. Believe it or not, this was the first time my eyes have set on a real live beaver.
I'm guessing that's a porcupine. It looked so mysterious sitting up on the edge.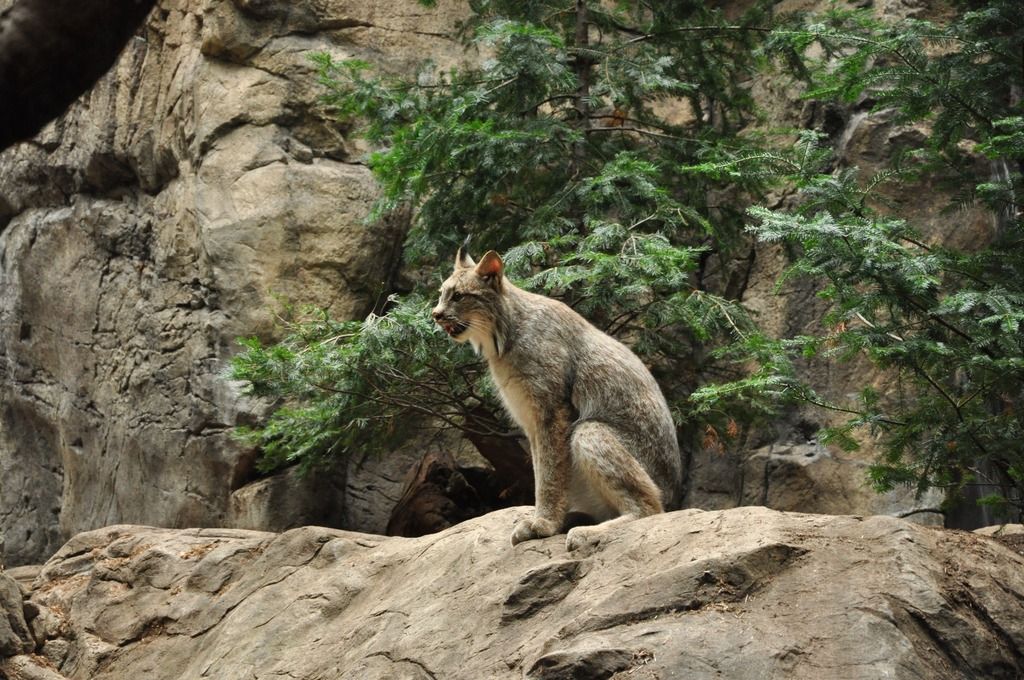 This photo took
forever and a half
to take! The lynx kept moving around, jumping here and there (although I don't blame it since that's all it can do). Plus, it didn't help that I couldn't get my camera to focus. I felt bad for the lynx because it's enclosure didn't look that big from what I could see. They belong in the wild :( I just hope that there's another bigger area for it to roam around in that can't be seen from where we stand.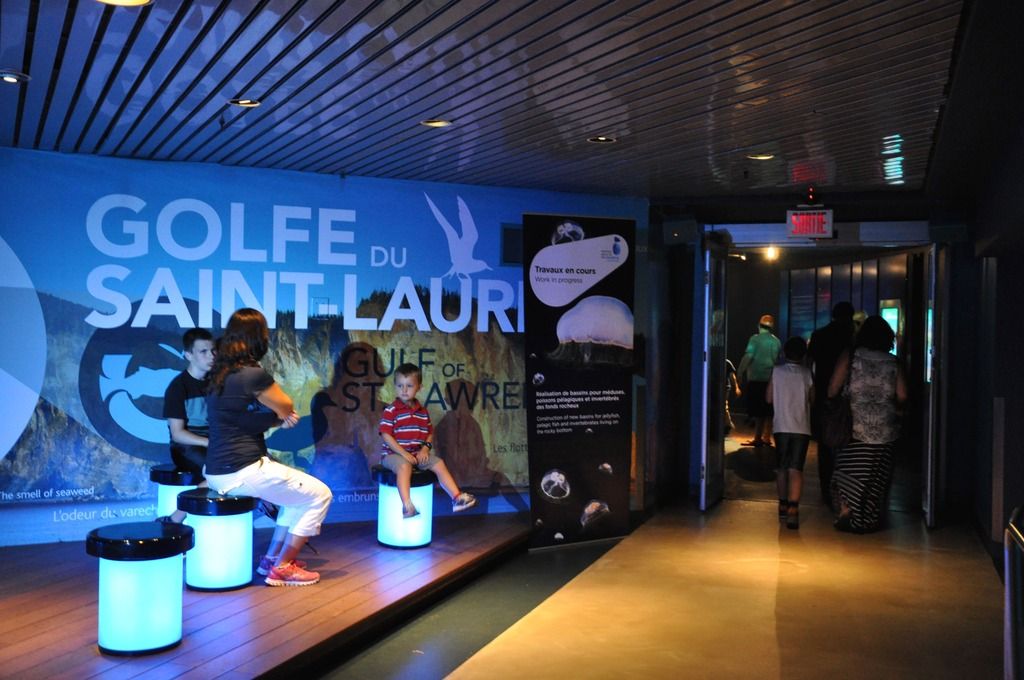 Gulf of St. Lawrence was pretty cool.
The underwater viewing area looked a bit murky but perhaps these fish live in dark places.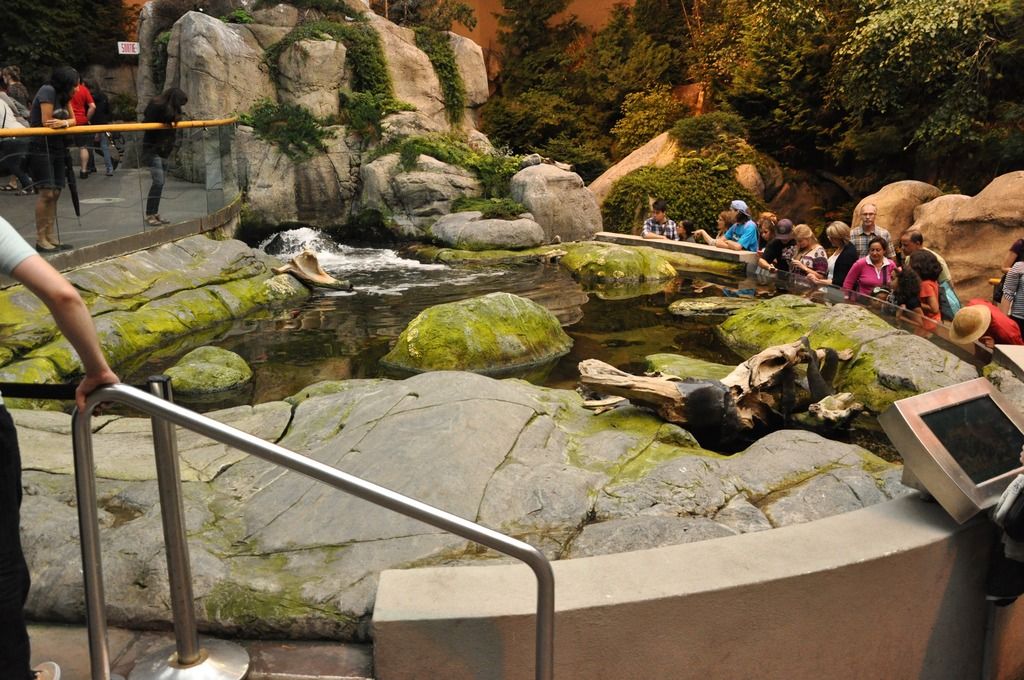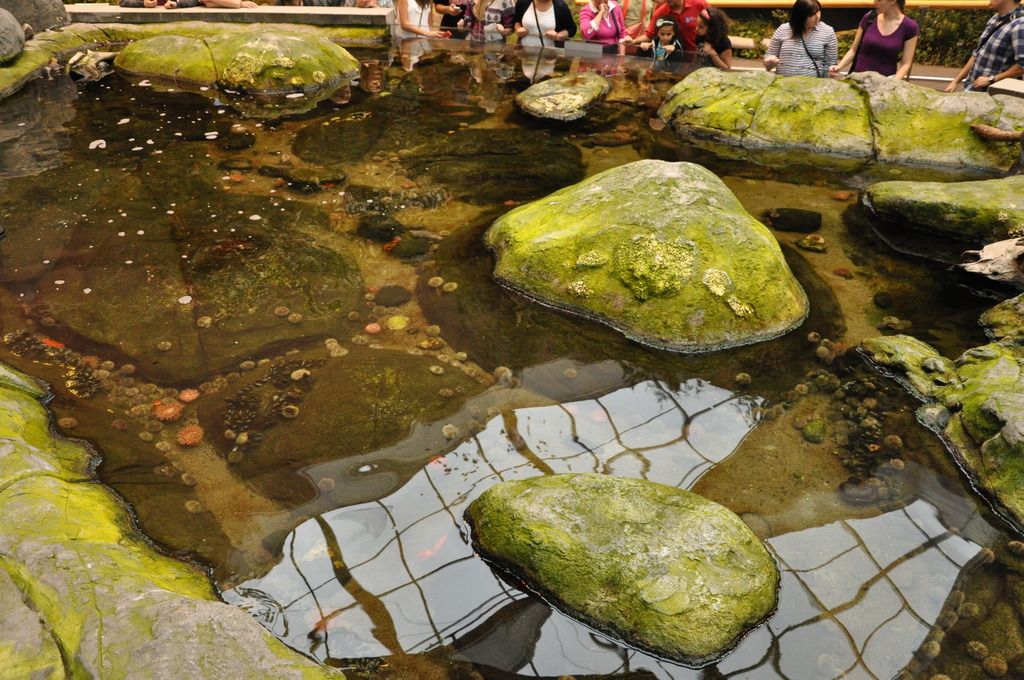 People crowding around to see the sea urchins.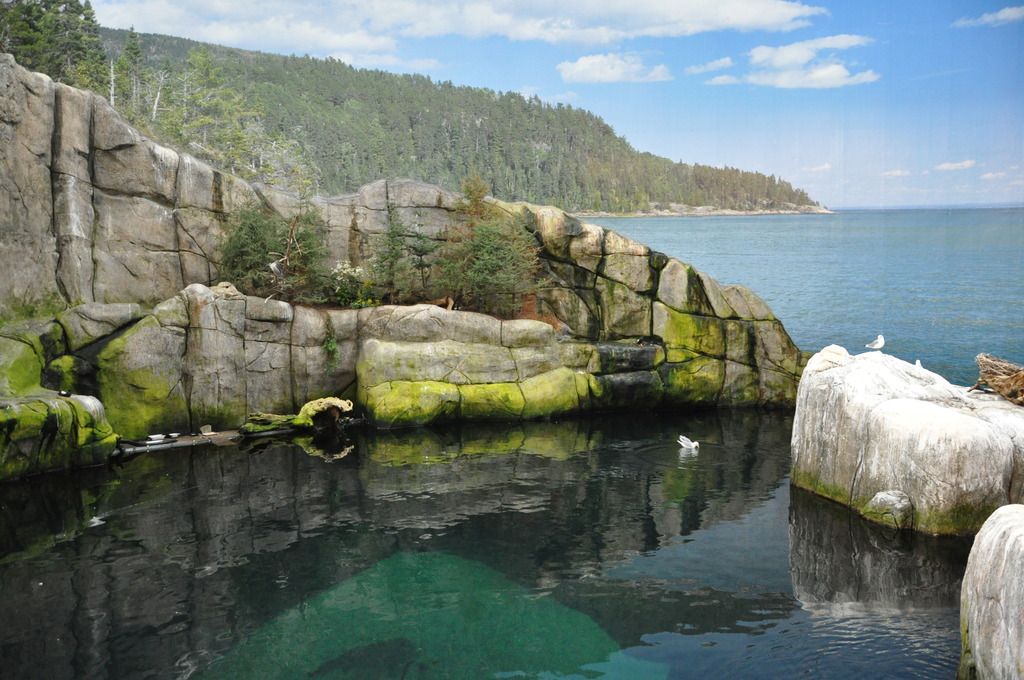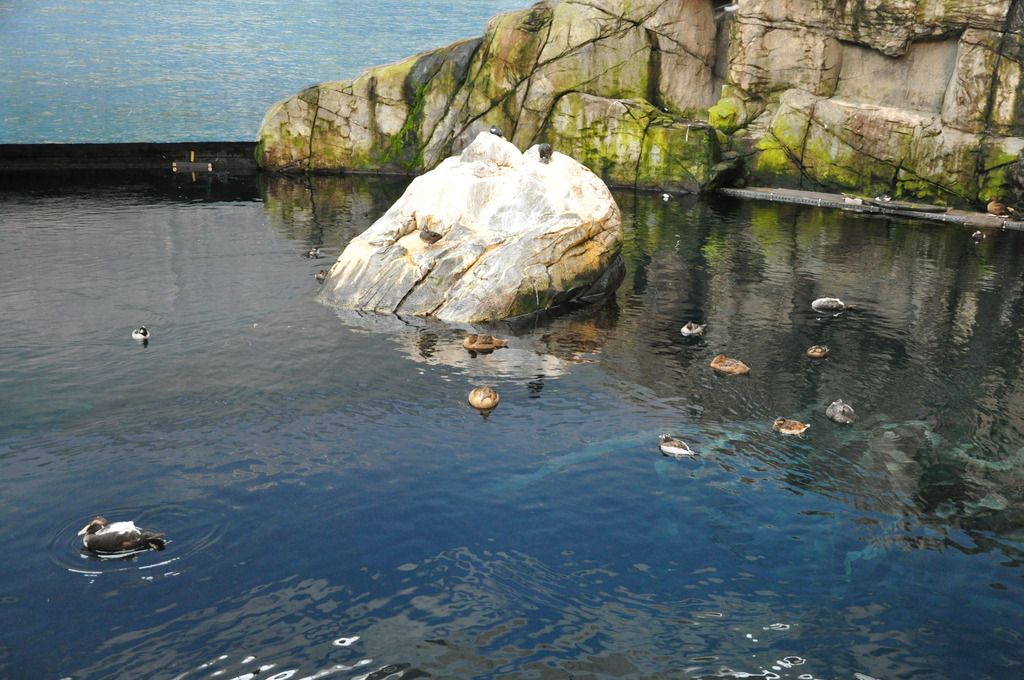 This gulf view was really really spectacular. It looked like we were actually
out there
instead of
in here
. There were birds freely flying around too! In the first photo you can see the edge of the platform we were standing on (it really wasn't real!).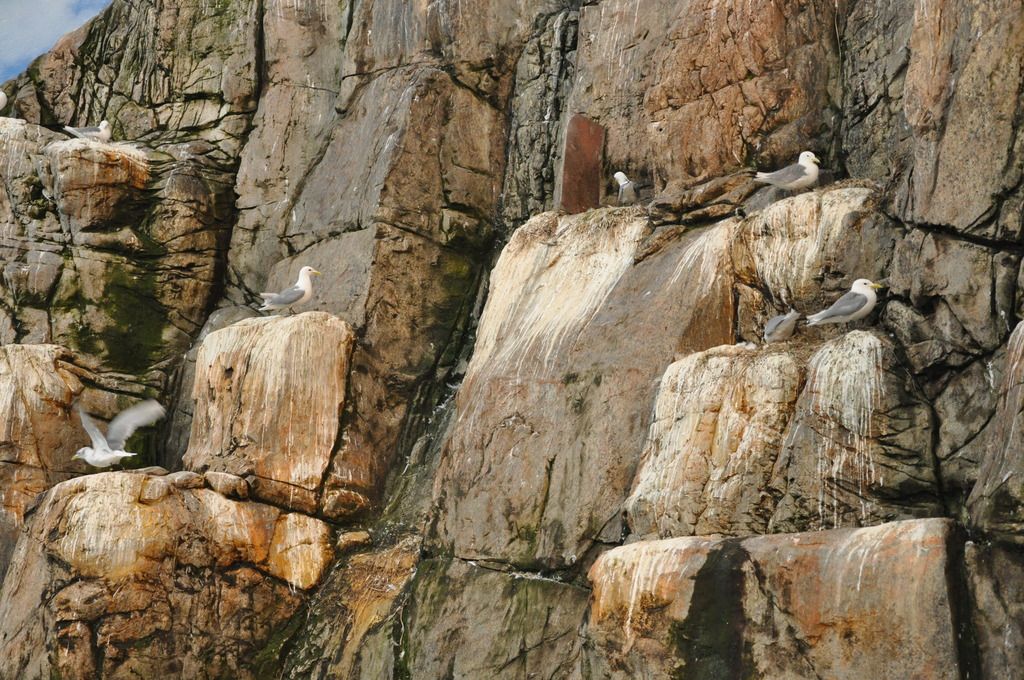 Seagulls are evil and so is their poop. I remember being pooped on once in middle school. No one ever forgets their constant squawking.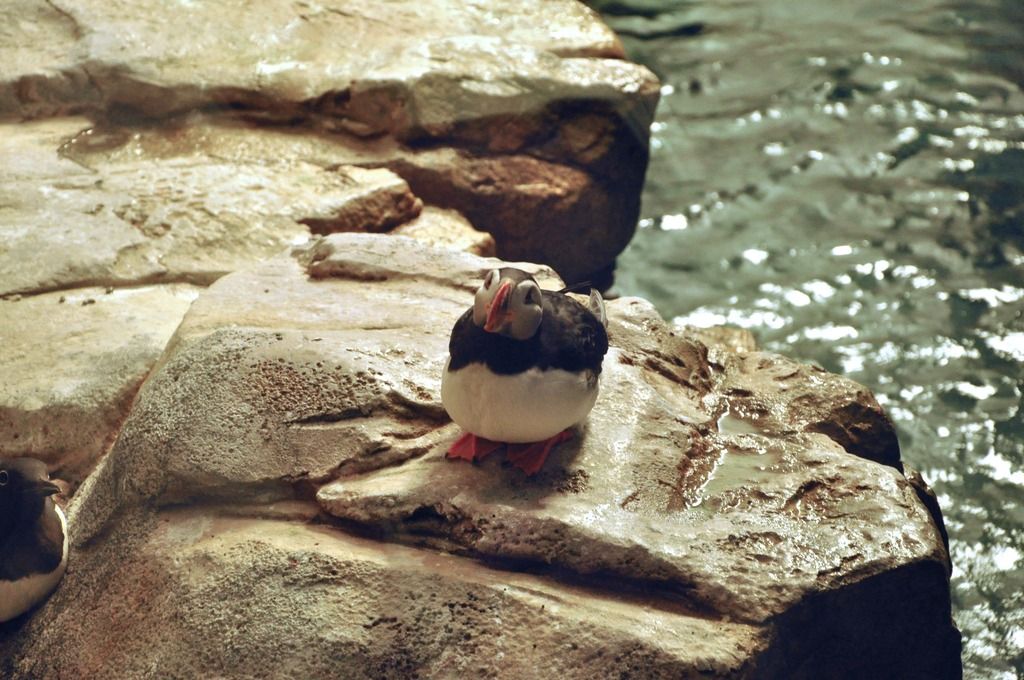 This little puffin was my absolute favourite guy. He walked over, looked at me, and then snuggled down for his photo op. What a cute little guy.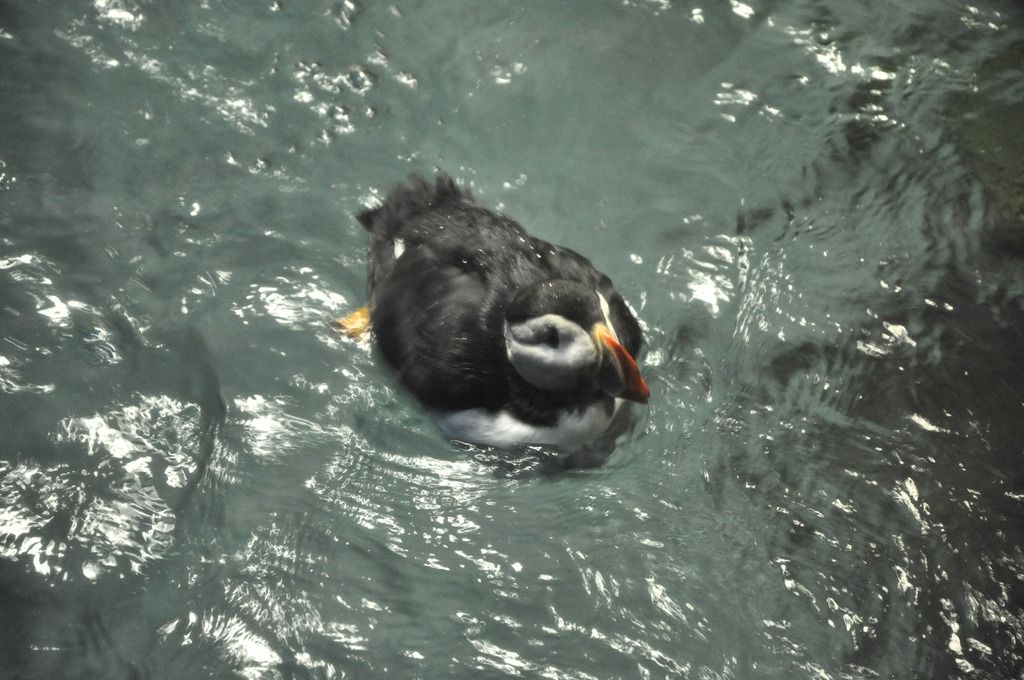 The puffins lived in these small enclosures and often dived into the water to swim against the current.
The Mister loved the penguins. Here they are being fed.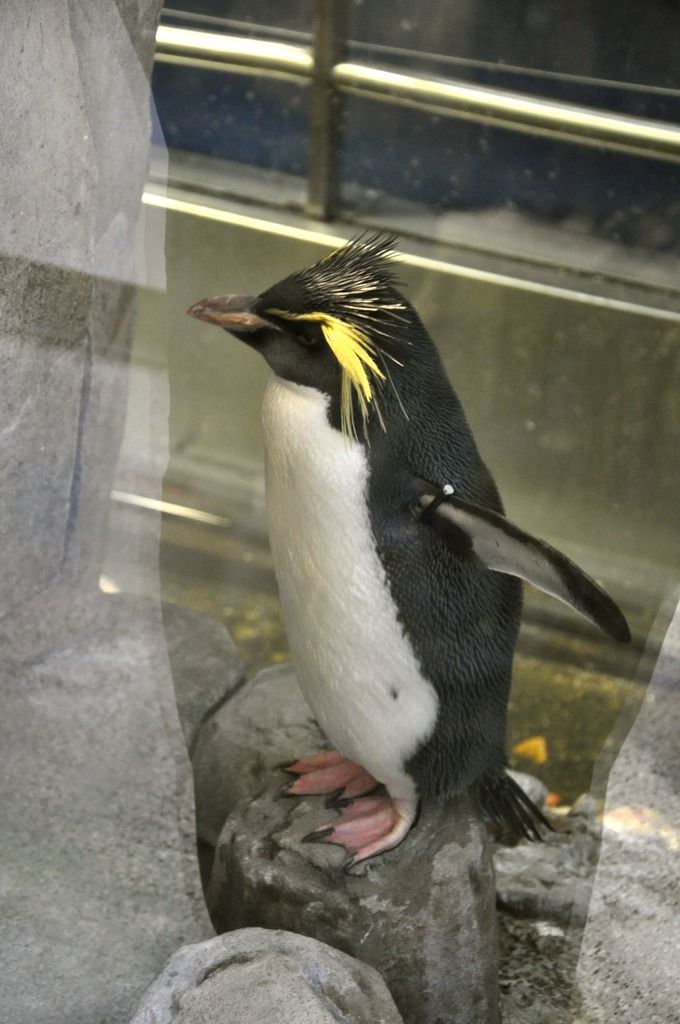 Then way out in the corner as you leave the exhibit was this penguin hiding behind a rock. It was so random because he was so far from the rest of the birds.
We exited out into this place with this cool looking tree with a lizard and some turtles under it.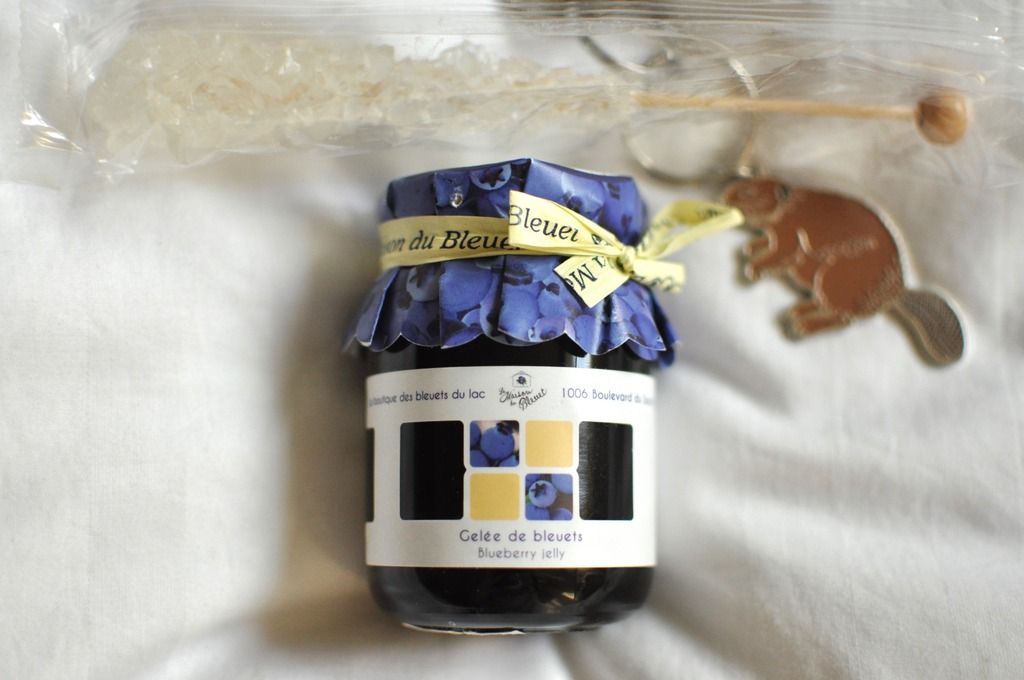 Then we headed into the gift shop (of course). This is what I ended up getting. I got the blueberry jelly to spread on some crackers because I wanted to get myself into tea (something to eat with my tea). I really wanted to find something with puffins to remind me of my little guy, but I couldn't find anything. Instead, I chose to get a beaver keychain since I loved the cute little beaver too. And lastly I picked up a rock candy because it reminds me of the time when I was in gr.7 on a class field trip in Montreal.
Back then we used one-time use cameras and I bought rock candies from a candy store since I couldn't find anything I wanted. In a desperate attempt to get something to remember my trip by, I bought a
TY beanie cat
that I still have to this day. The rock candy was straight up sugar and it didn't taste like much of anything. I guess when you're a kid, sweet things taste very different. I remember dreaming of having a bowl of sugar or condensed milk for breakfast when I was little.
m:brgr
2025 Rue Drummond, Montréal, QC H3G 1W6
Taken from the site:
"Jeff Dichter and Steve Belitzky, having sold their manufacturing business, were looking for an adventure. While Jeff was on the corporate committee of the Montreal Children Hospital foundation, he was instrumental in putting together the "7" charity dinner (featuring 7 courses prepared by 7 chefs), a $5,000-a-plate event held at Moishe's. The event raised $500,000 in 2005.
This event turned their attention to another possible venue for fundraising: a burger bar. A percentage of all restaurant sales would be donated to Montreal Childrens Charities. They developed, redeveloped, refined and changed concepts and plans for the new venture. They went on several tasting trips – New York, Las Vegas and anywhere they tracked down a rumour or great burgers. Every burger joint in Montreal was sampled."
For dinner we chose to eat at
m:brgr
. I read in my travel guidebook that this place makes some really good burgers so I wanted to check it out while we were in Montreal.
The place looked a bit empty but that was probably because outside was literally pouring down rain. I wore sandals because I knew that my flats would be completely soaked if I chose to wear those.
The concept here is to build your own burger. First you chose your brgr, then you pick your bun, add cheese, and lastly you pile on your choice of toppings. The left picture was my burger. I got the AAA Beef Brgr, regular bun, mozzarella cheese, house smoked bacon, caramelized onions, arugula and a fried egg to top it off. The Mister chose the Pulled Pork Brgr, regular bun, mozzarella cheese and house smoked bacon (the pulled pork burger has its own toppings included as well).
For our "fries" we got the French Fried Onions to share. These were very different compared to what I normally would expect from reading French fried onions. I was happy though because they were absolutely delicious! I loved munching on them!
And for my drink, I got a Vanilla Milkshake, yum.
The food was
so good
. I loved my burger- it was savoury, tender, and very juicy. As I already mentioned, the French Fried Onions were really good, and my milkshake was very yummy as well. Service was good too and hopefully so when it's actually busy. The place was modern looking with a mural running along the walls, they also had a bar too.
Overall: Ambience: A-, Food A+, Service A.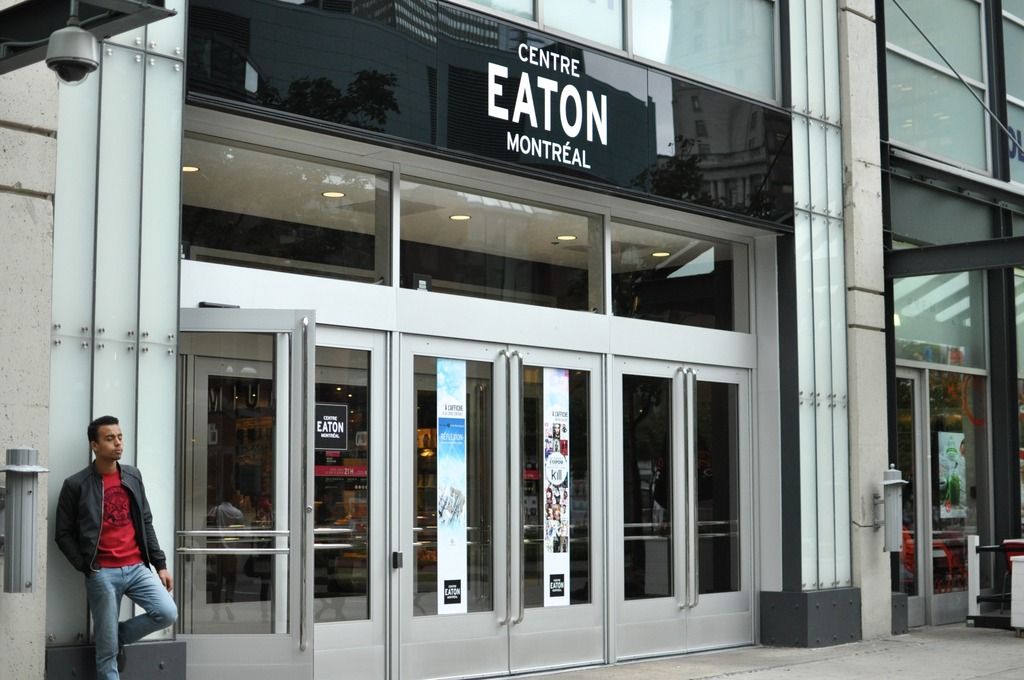 Then we headed into the Eaton Centre to actually explore the mall this time around. I still can't believe they have a place called Eaton Centre in Montreal too. I went to the FaceShop to get myself some blemish spot treatments because surprisingly and unfortunately I was breaking out a lot. We saw lots of things like the Sweet Factory- a candy store that has long left the malls back in Toronto. We also went into all the souvenir shops looking for a mug because I like collecting mugs as a souvenir to places I've traveled to. I already own a Montreal mug but that was when I went with my family. I had my eye on a couple but none stood out to me.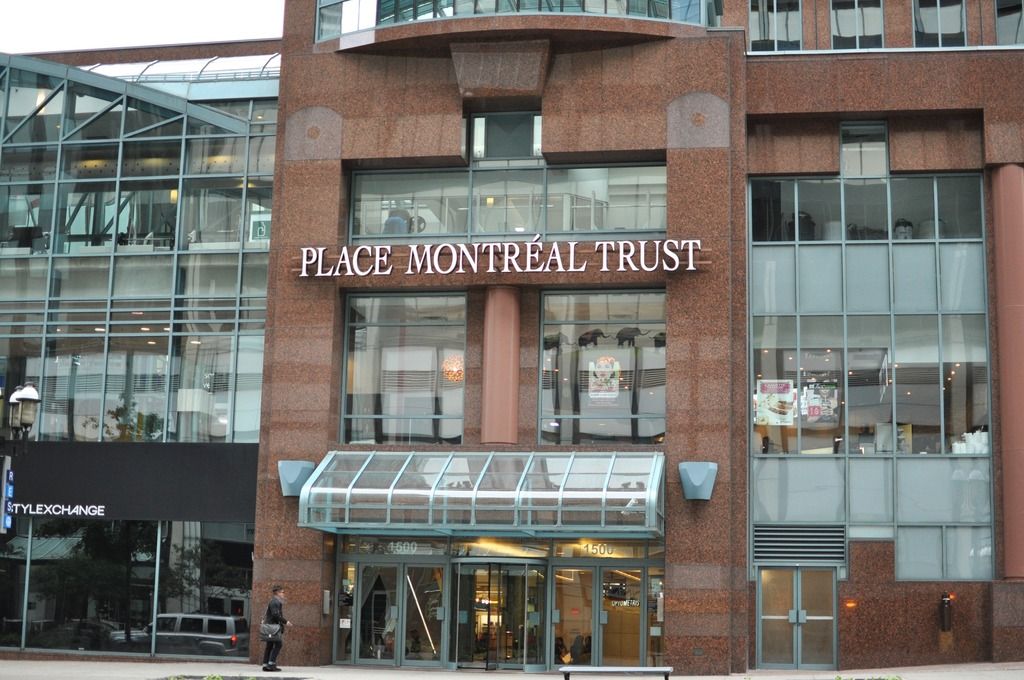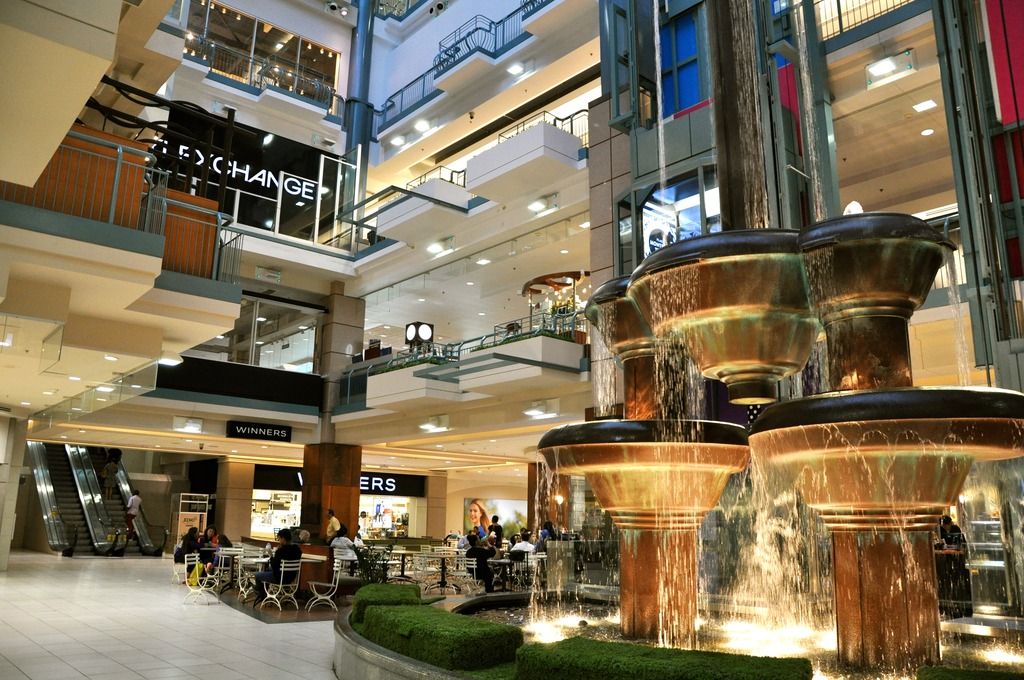 Then we headed over to Place Montreal Trust which connected directly to the Eaton Centre. I really liked their water fountain here.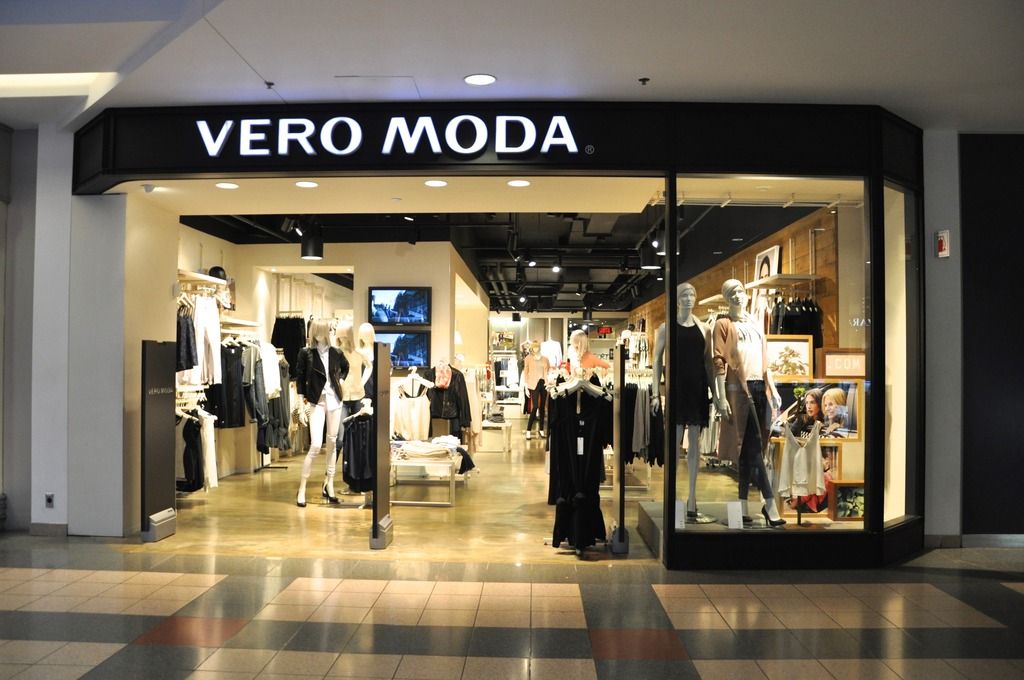 We saw Chapters Indigo, Winners, Dollarama and a free standing Vero Moda store! Too bad I didn't find anything of interest. I never knew they even had their own store here in Canada. I wish they had one in Toronto.
We went into this interesting looking store called Omer DeSerres. It's an arts and craft store/organization/everything kind of store. I ended up finding this useful cord wrap by Bobino for my headphones so it doesn't get into a tangled mess in my bag.
The last place we visited was
Jeff de Bruges
where they sell fine decadent Belgian chocolate . You can buy already prepared chocolates or you can choose the special ones in the glass case and build your own box. Above is what I got from
two shopping trips
.
On this day, I only bought
one of the pouches
that contained chocolate animals. They were running a special and I think I bought it for $3-4. They're praline so they taste very similar to Guylian Belgian chocolate seashells. The plus side is knowing I have Guylian to fall back on since I can't get these chocolates in Toronto. The guy working there was also
super
nice. He was handing out full sized samples of these pralines. After I sampled one, that's when I knew they were good enough to buy.
Phew! That was the longest Montreal post yet! We tried to cram in as much as we can on the third day because it was the middle of the week and I wanted to do everything. It literally took me forever to do this post so I hope you at least enjoyed.
"The grass isn't greener on the other side, it's greener where you water it." -Unknown