I swear I didn't forget about my Montreal posts... it's just that I'm a bit backlogged with my posts so I'm trying to get them out of the way before I can blog about Day 2. Work hasn't been that busy these days so I'm trying my best to blog whenever I can.
The weekend before the long Easter weekend that just passed, I took the Friday and the Monday off so that I could enjoy a super long weekend. I did that because my workplace hasn't given me a long weekend since... well, forever. It wasn't always like this, but somewhere along the way, they just stopped giving us a break.
That Friday I had plans to go out with my sisters to go see
Alton Brown Live Show
. If you're a Food Network fan, you'd know who
Alton Brown
is- one of the coolest chefs ever. I really admire him and I like how he explains cooking through science; it's very neat. So, when my sisters caught wind that Toronto was on the map for his tour, they asked me if I wanted to tag along (of course I did!). Luckily it was on the Friday I was planning to take off anyway.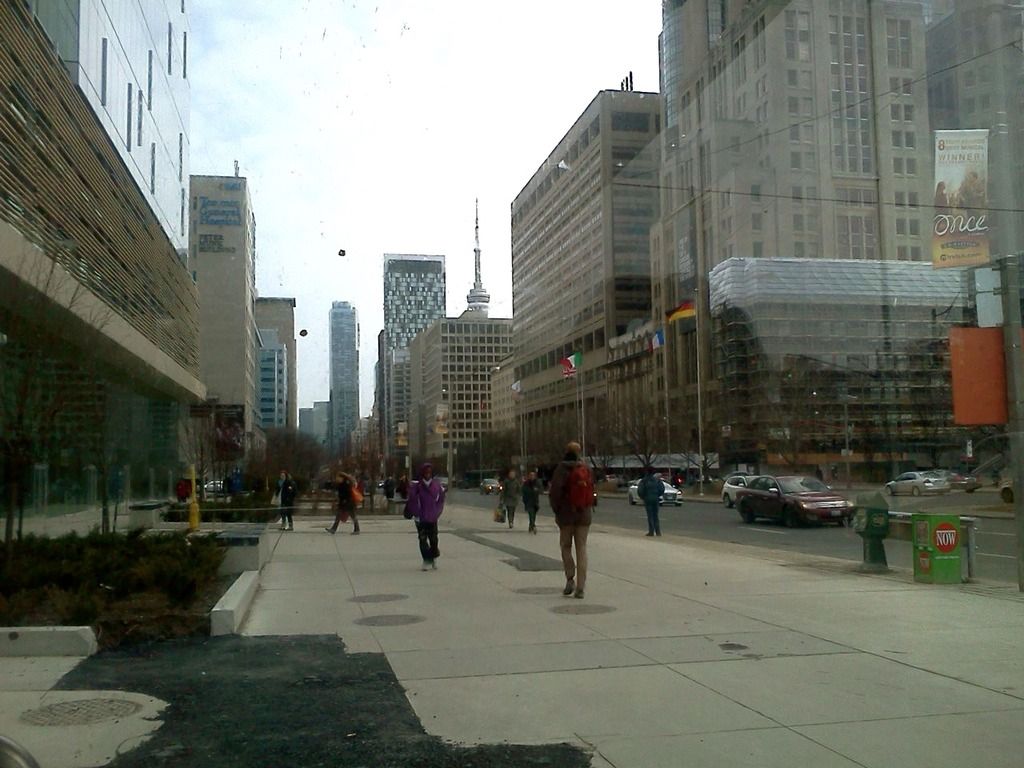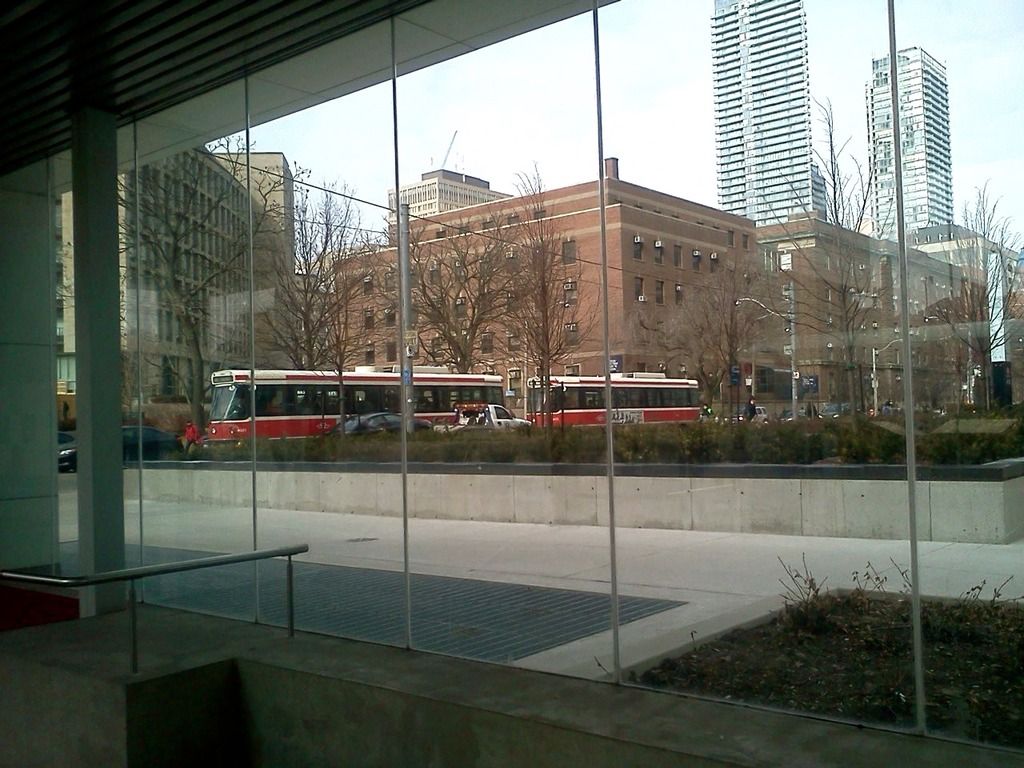 My older sister and I were to meet up with my younger sister downtown after she got off work. It ended up being pretty cold that day even though at first it didn't look like it.
We headed for shelter at the MaRS Discovery District Centre. I've never been to this place before but apparently their goal is to commercialize publicly funded medical research and other technologies. It basically looked like a huge research centre but with some interesting aspects to it. It's not everyday you see a side of a building indoors.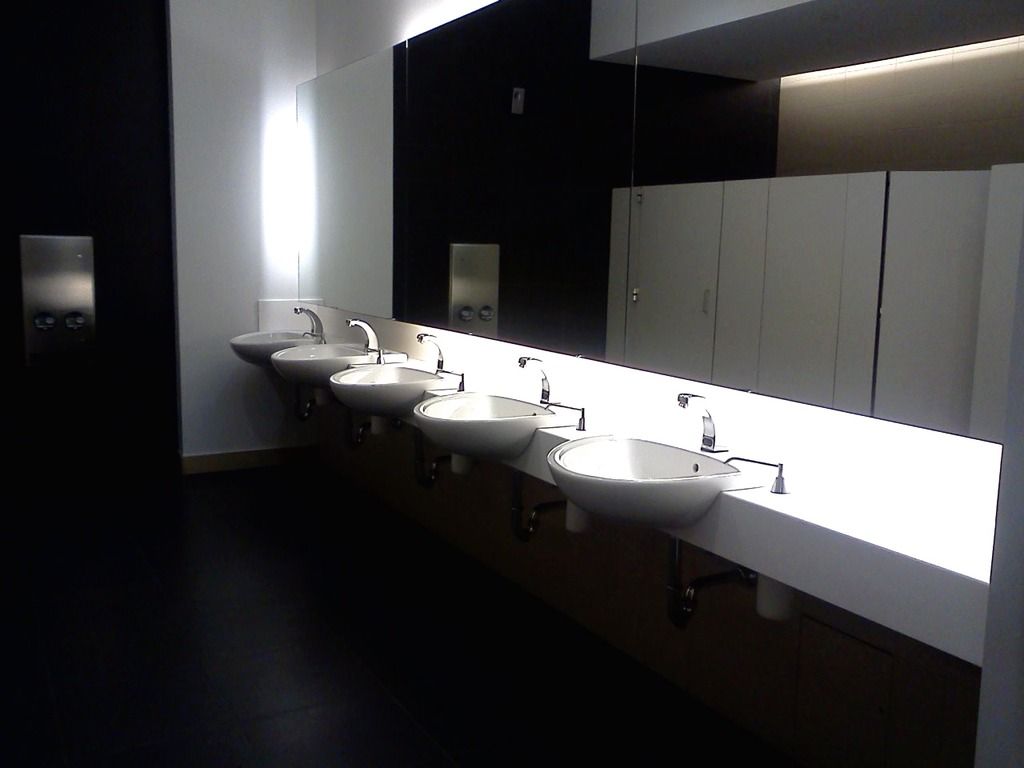 I also liked their washroom. I have a thing about public washrooms. I hate using them but when I enter a nice one, I really like/admire it.
Fresh Off The Boat
404 Queen St. W, Toronto, ON M5V 2A6
Taken from the site:
"An urban asian seafood centric sandwich joint located in the heart of Queen west in downtown Toronto. Best known for our Soft Shell crab sandwich, the wildly popular F.O.B (our interpretation of an asian po-boy) and the Fu-schnicken (our interpretation of an asian surf and turf sandwich ). We create memorable seafood sandwiches that transcend cultural boundaries."
After meeting up with my younger sister, we headed off to go eat at
Fresh Off The Boat
before seeing the show. None of us have been to the place but my older sister wanted to check out the place after seeing a ton of Instagram photos of it. It looked interesting enough and I liked the decor of the place, but the layout was just awful. There was a small bar-like seating (barely fits 6) and two tables that seated 4 people each. The place was tiny! They could have fit a lot more seating in if they had planned a better layout.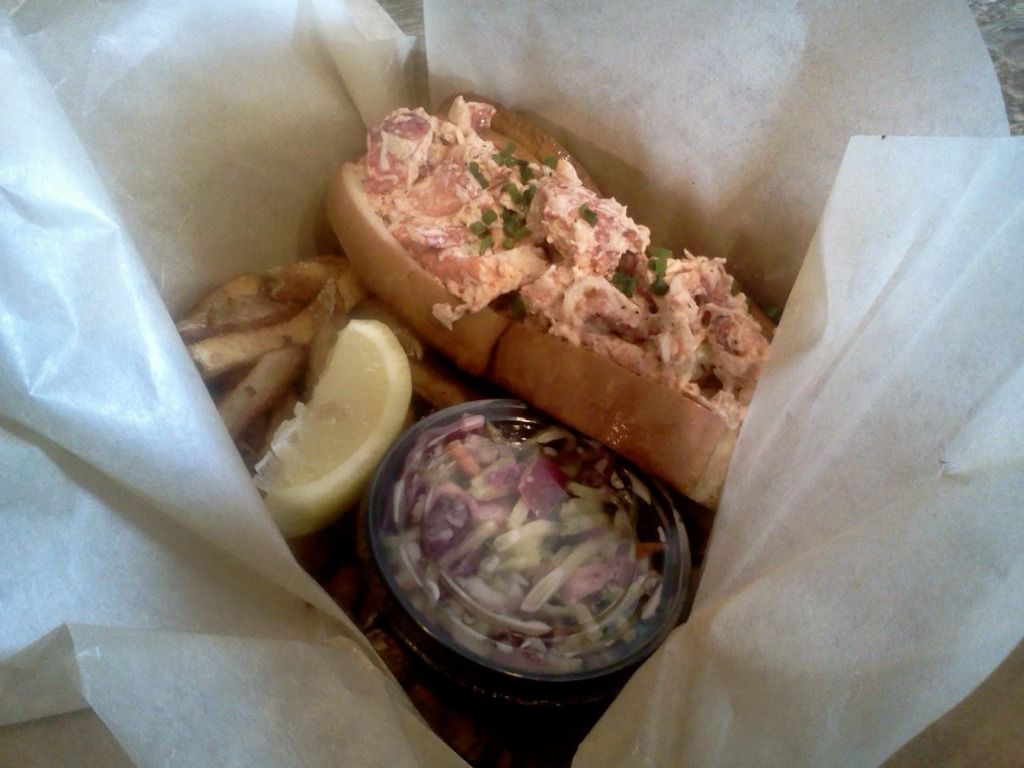 I ordered the Lobster Roll and it tasted good. I've never eaten one before so I don't have anything to compare it with. The fries were fine, but the coleslaw was absolutely scrumptious!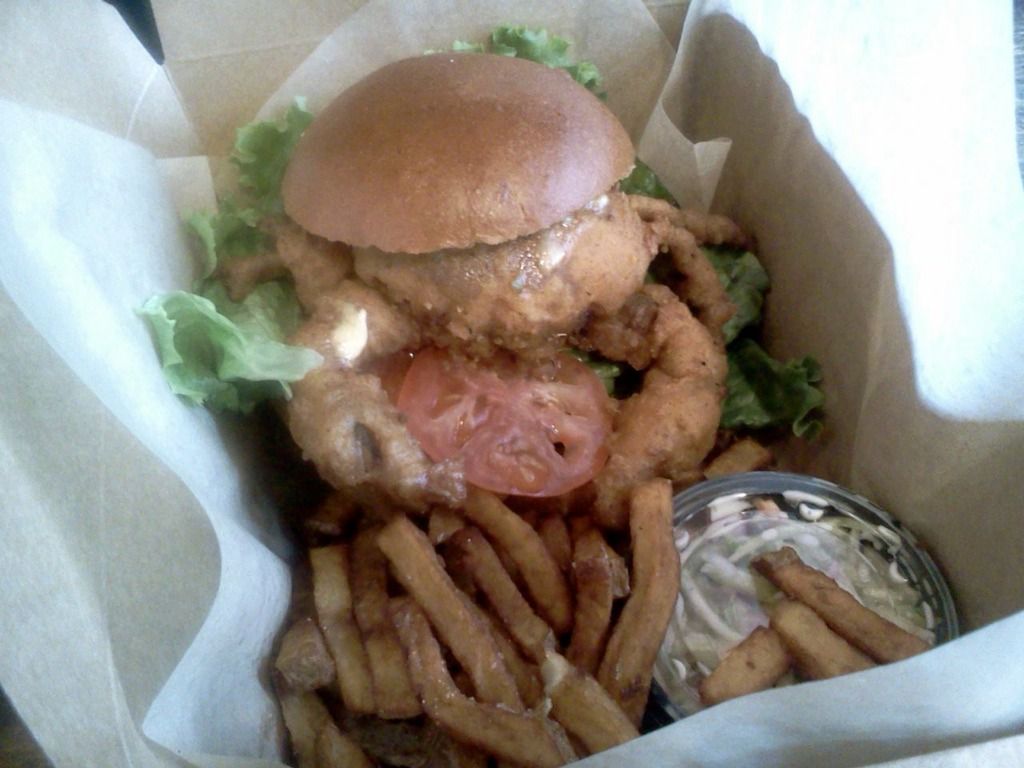 Both of my sisters ordered the Soft Shell Crab sandwich. It looked so cool! They said it tasted alright. Not the best but not bad either.
Overall: Ambience B+, Food B+, Service N/A.
Then we went to Fran's for some dessert. This was the first time I'd ever been here although I've been meaning to go with the Mister for some time. I won't review the restaurant this time though because we only ordered dessert.
I got the Famous Float (ice cream in root beer) and my sisters got the promo milkshakes 2 for $8- flavours were Chocolate Cake and NY Cheesecake. I liked my root beer float but my sisters didn't really like their milkshakes. First off, one of them wasn't even cold, and they both had a weird texture. My younger sister thought that the milkshakes would have the concept/taste of the cakes... not literally be a drink made from blending a cake.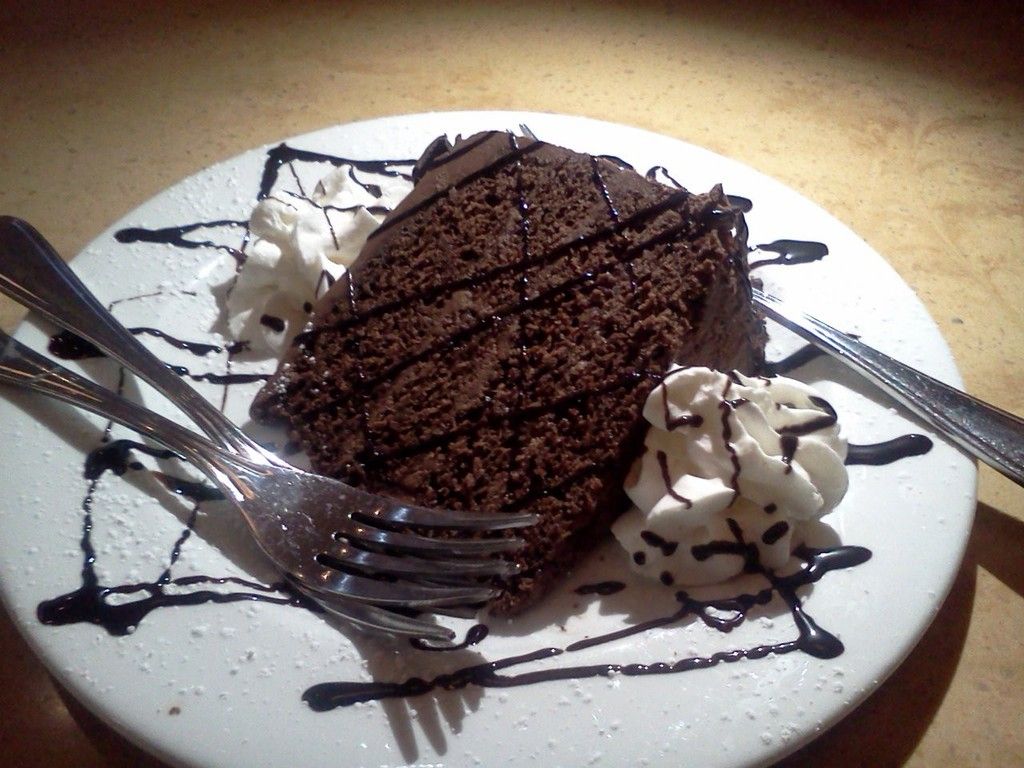 We also got their chocolate cake. It was really sweet but really good. Apparently their dessert of the day that day was a smaller slice but double the chocolately goodness. Thank goodness we just went for this one because the sweetness was more than enough.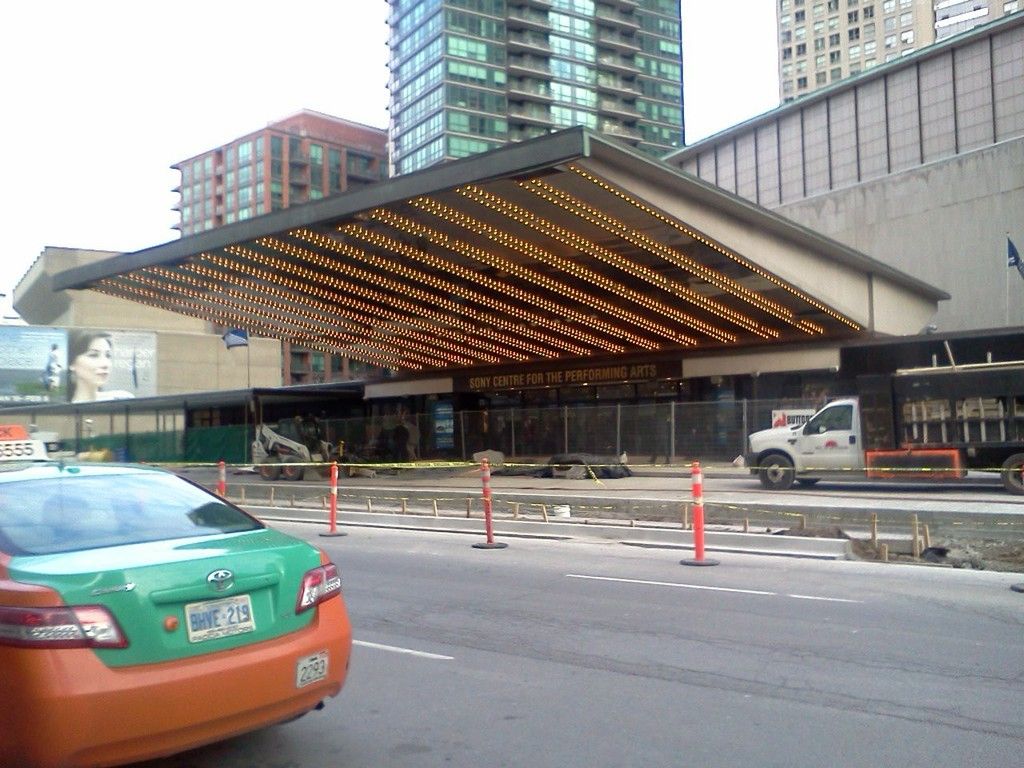 Then... it was time for the show (8pm).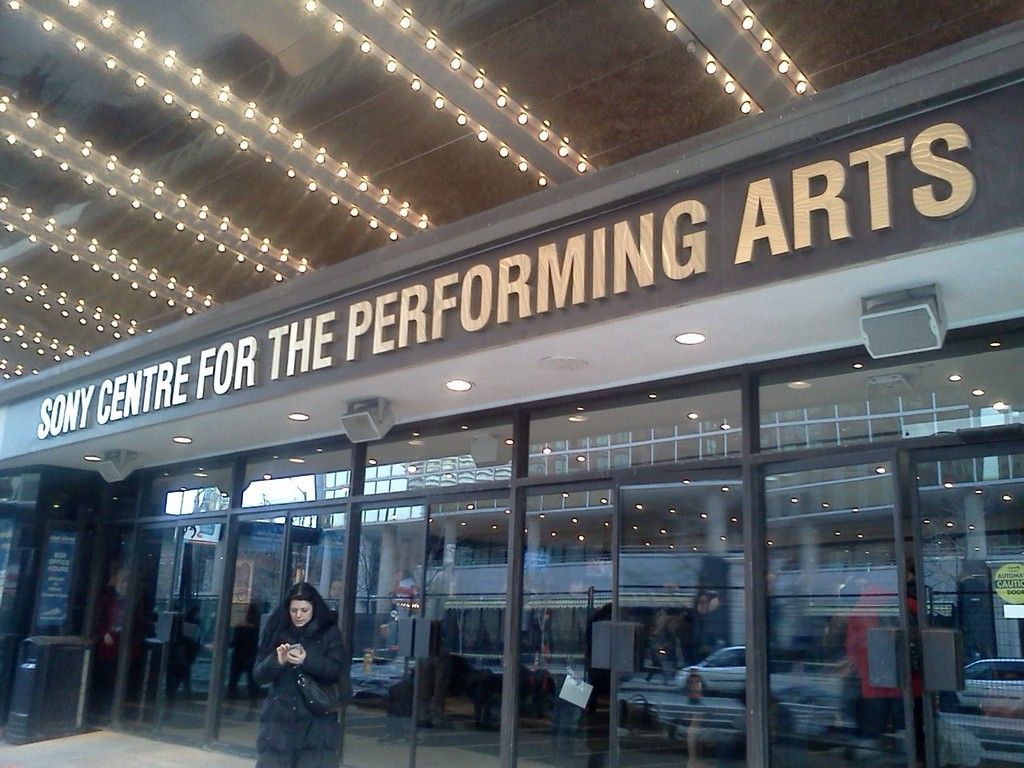 It took place at the Sony Centre.
The show was beyond my expectations. It was entertaining, educational, funny, and pure fun. He told funny stories- "Chickens don't have fingers", "Trout doesn't belong in ice cream", "The most critical cooking skill is to use salt", and "Never eat a shrimp cocktail in an airport". And he did two demos on stage, one being his Jet Cream machine which used a fire extinguisher to make ice cream, and the other was his very impressive Mega Bake Oven, a life-size version of the Easy Bake oven for young girls. For both demos he picked volunteers from the audience to help him, and the both of them made the show even more worthwhile.
He made chocolate ice cream with his Jet Cream machine and actually cooked a pizza from scratch using his Mega Bake Oven equipped with large stage lights that produced an incredible amount of watt power. Although our seats were kind of far, we were lucky that the seats in front of us were unoccupied leaving us with a great view of the show.
It was a great day (and super long weekend!) for me. It gave me a little taste of freedom from the cold, damp, and depressing place I work at. Quitting is something I'm looking very forward to sometime by June/July. Also, I'm sure you've noticed the crap-tastic photos my phone takes. Soon that won't be an issue because I'm planning to get a new phone! Guess which one.
"Life has not been the party that we had imagined, but since we're already here, let's dance." -Fernando Aramburu