Weekends are the highlight of my life right now. I hope one day when I get a day job and have my own home, I'll be able to look forward to winding down every evening as well. But for now, weekends is when I can relax or go out and enjoy myself.
I haven't been to the theatres since watching
The Hobbit - The Battle of the Five Armies
in December of last year. The Mister and I used to frequent the movies a lot, but lately there hasn't been anything really interesting in theatres. We did, however, go see Cinderella back in March. I honestly didn't even know this movie was being made or was coming out until it was showing in theatres. I caught wind of it after seeing MAC come out with their Cinderella collection. I guess I live under a rock.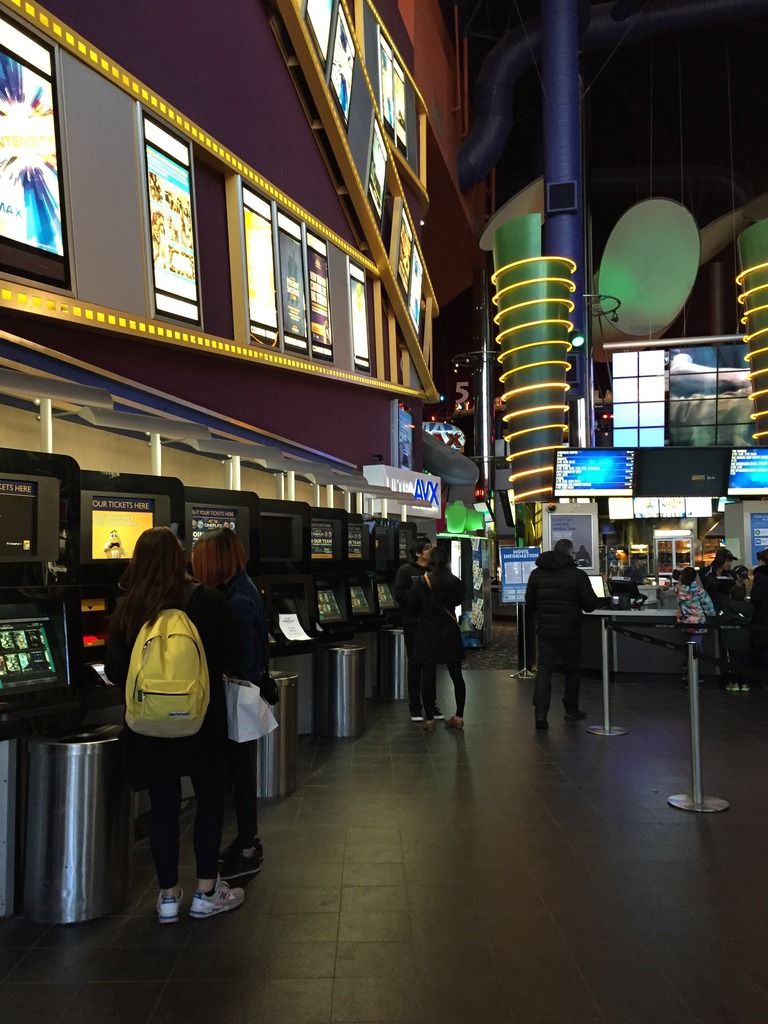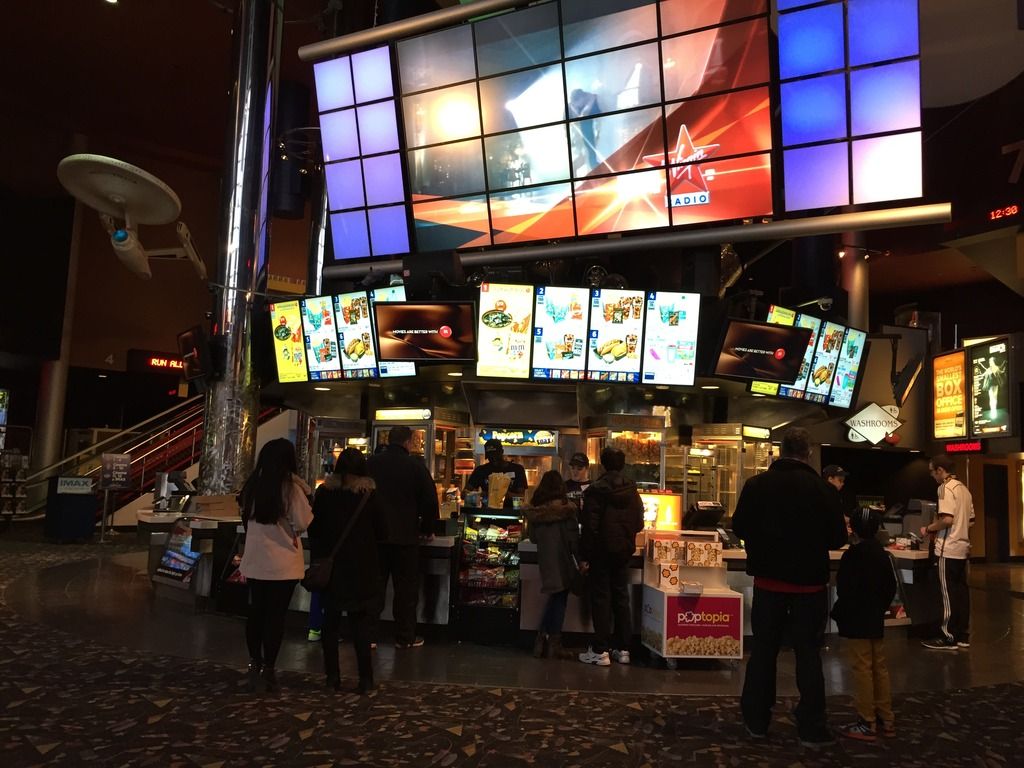 Back to where the Mister and I first started =) We frequented here a lot during our early days of dating. I like buying tickets at the machine because I can do two transactions to get 100 scene points per ticket. I like their new machines too; they're easier to use and they look better.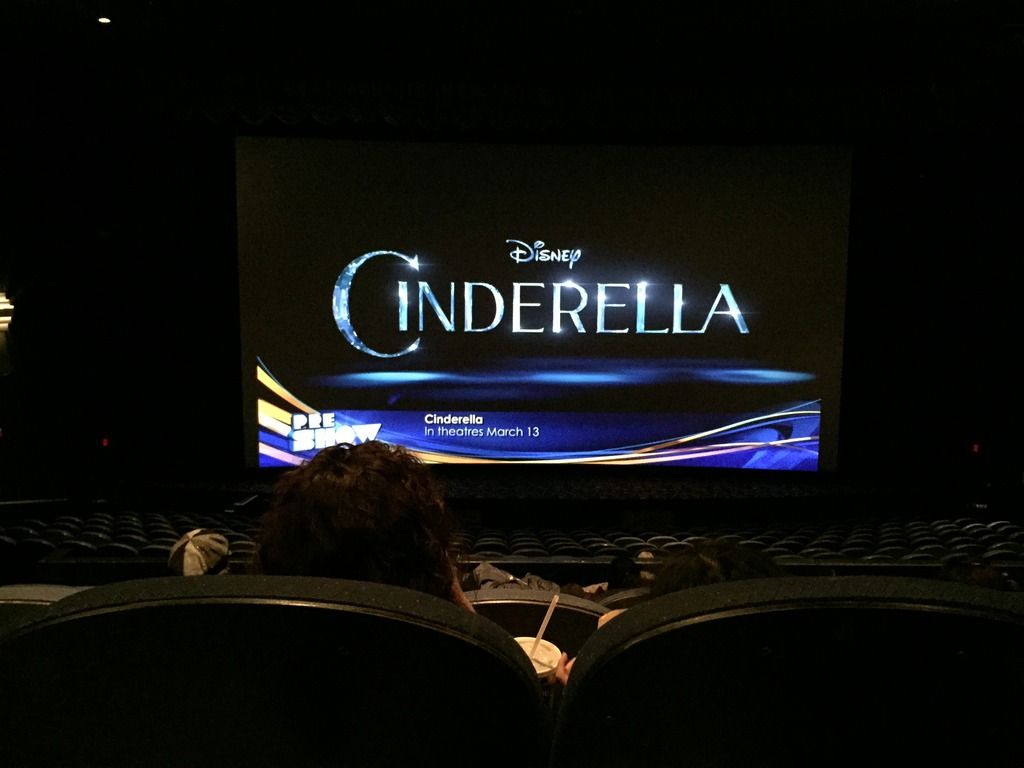 The movie was great. It was basically a re-telling of the original fairytale, so don't expect any major twists to the story. I give it 9.5/10 because I like to see some more creativity with the storyline to add something new to something old. Plus, I didn't really like Helena as the fairy godmother. She seemed too confused and disorganized to be the fairy godmother I know from the original fairytale. I did, however, really like the addition of the life lesson to have courage and be kind. I find it adds more dimension to the storyline and explains why Cinderella is the way she is.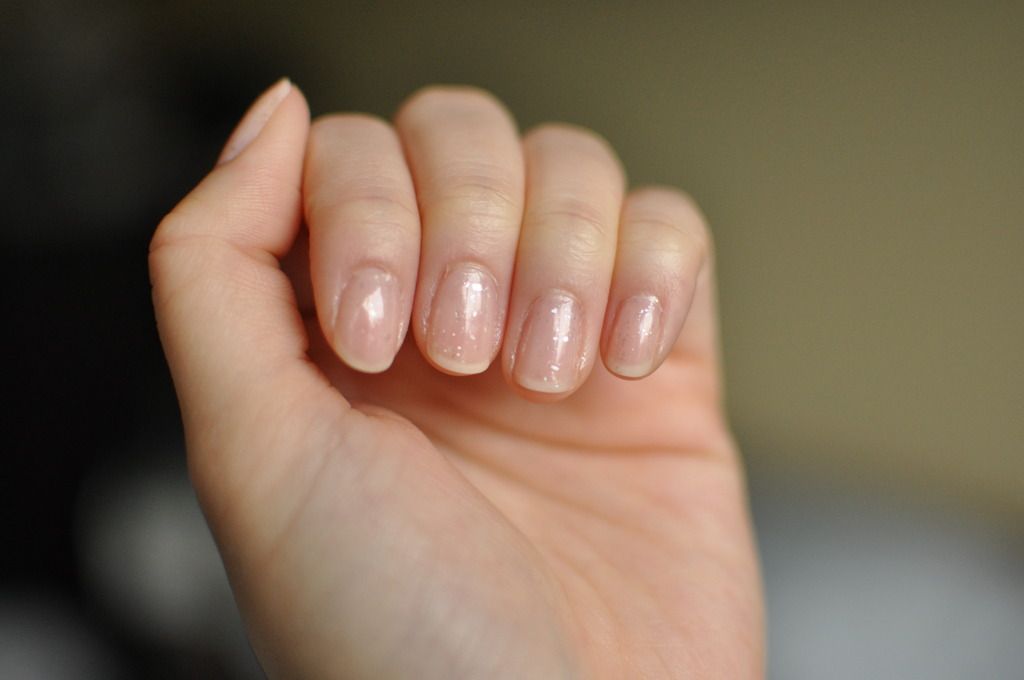 I painted my nails with "Glass Slipper" by Sally Hansen on top of "You Callin' Me A Lyre" by OPI unintentionally, but turned out completely fitting for the movie!
Then we hit up Target after the movie. One of the last times I'll be able to shop at Target in Canada.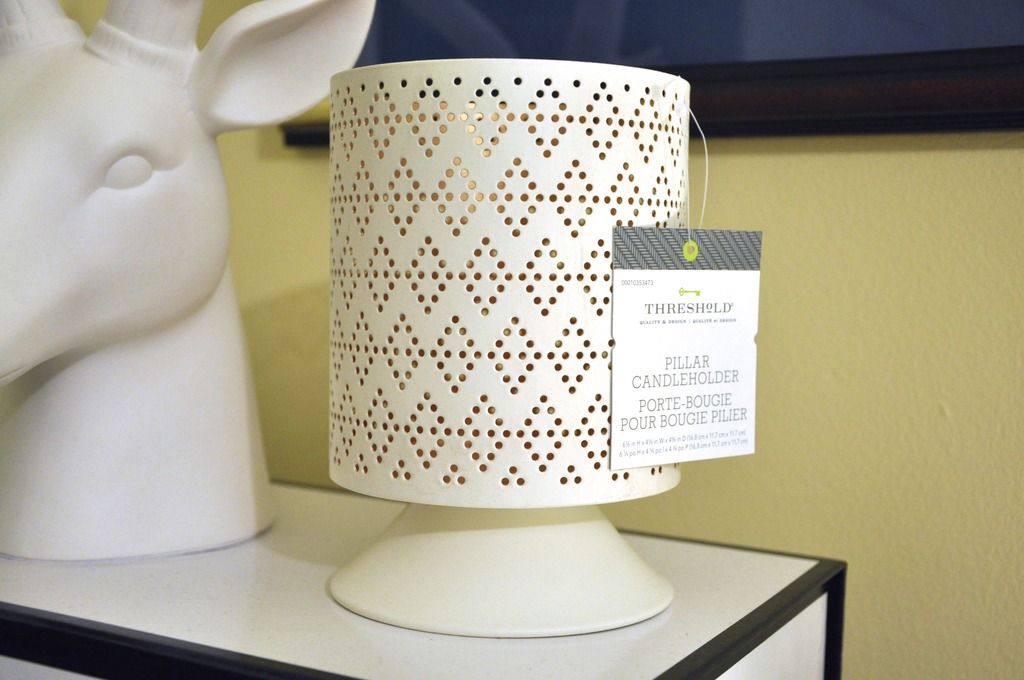 I didn't find anything this time around but I did pick up a few things during an early trip when I was by myself. This candle holder was too cute to pass up. I like how it's white and it looks pretty when the candle lights through the tiny holes.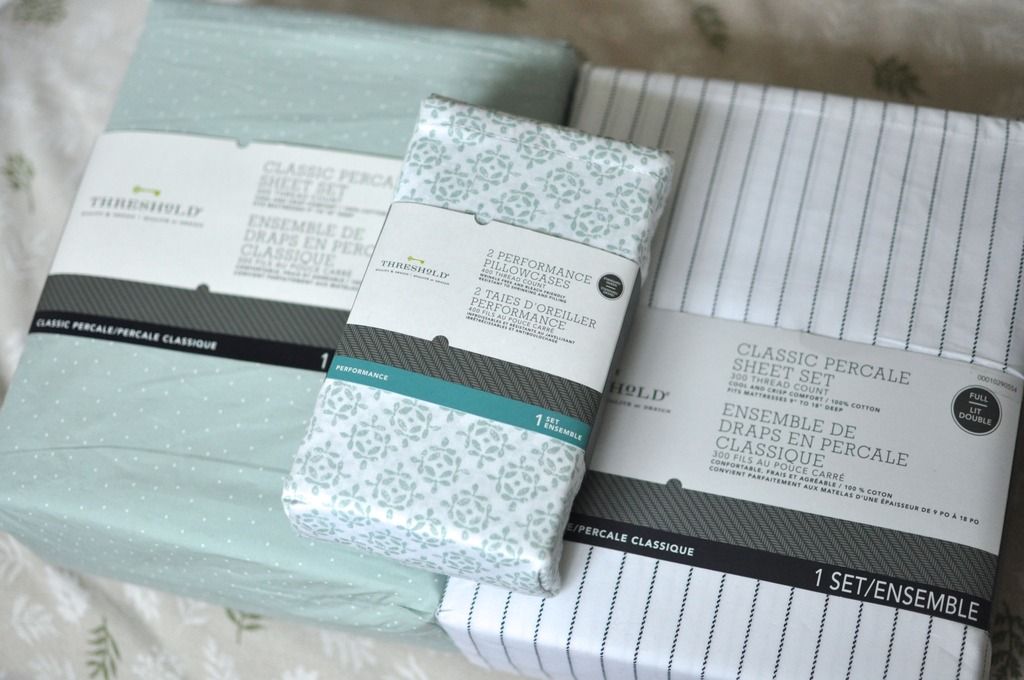 I also bought some bed sheets and pillow cases, and a couple more of the
diffusers
you guys know I love so much. I wanted to get the full sheet set of the pillow cases (shown in the middle)... but by the time they marked the bedding down to 40%, they were sold out of the full/queen size. So, I ended up settling with the pillow cases which was better than nothing.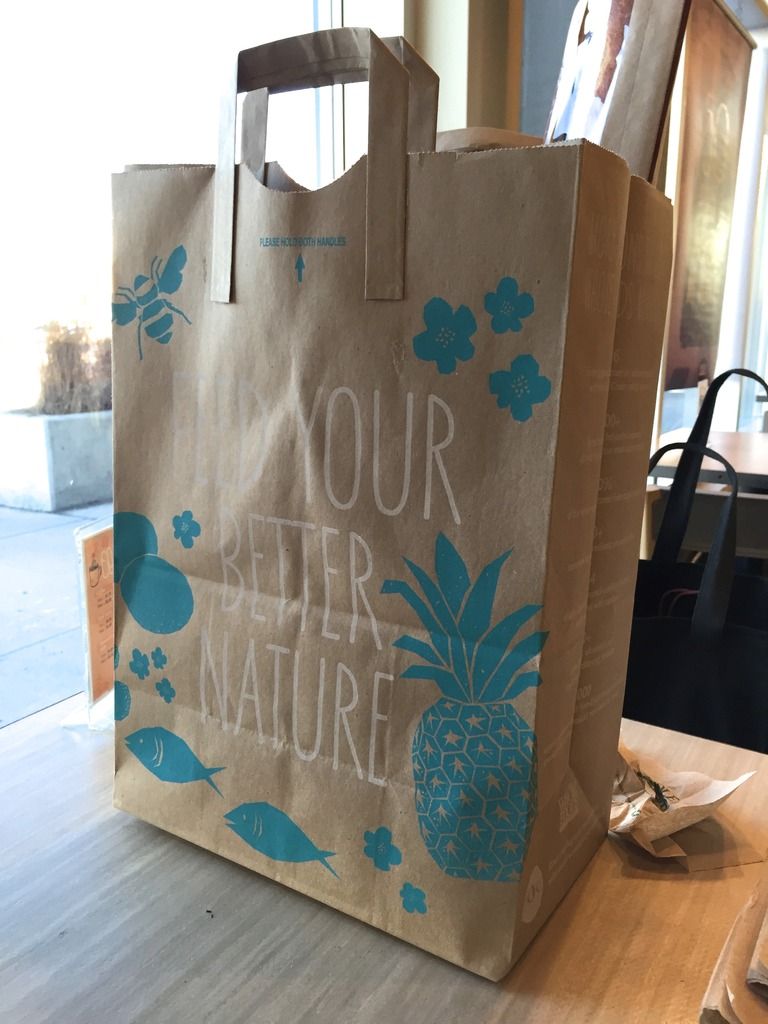 Then after walking around in the mall for a bit, we got hungry and headed to Whole Foods.
I grabbed some brie cheese and a baguette to take home.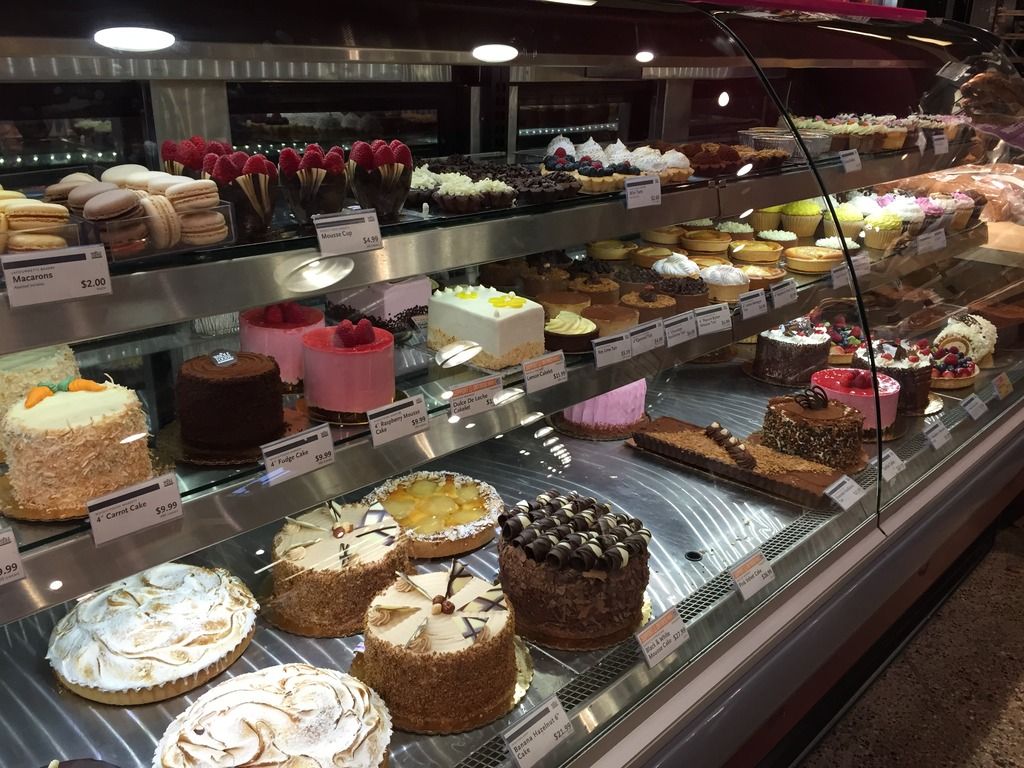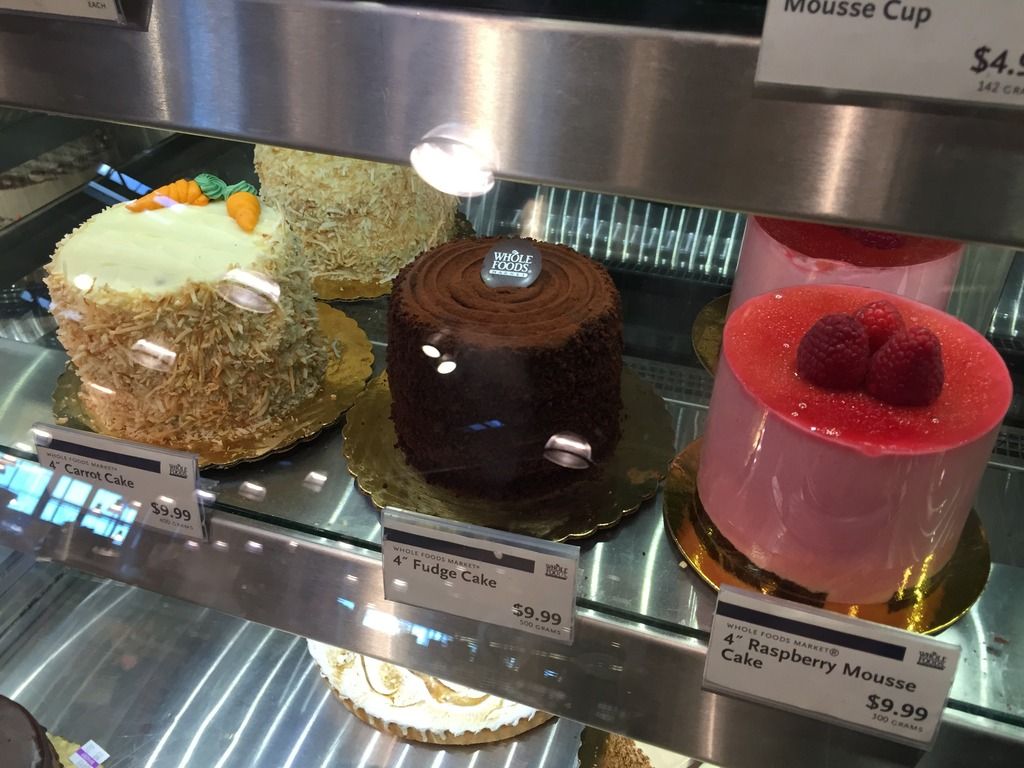 We browsed around in the dessert section and was tempted to get everything!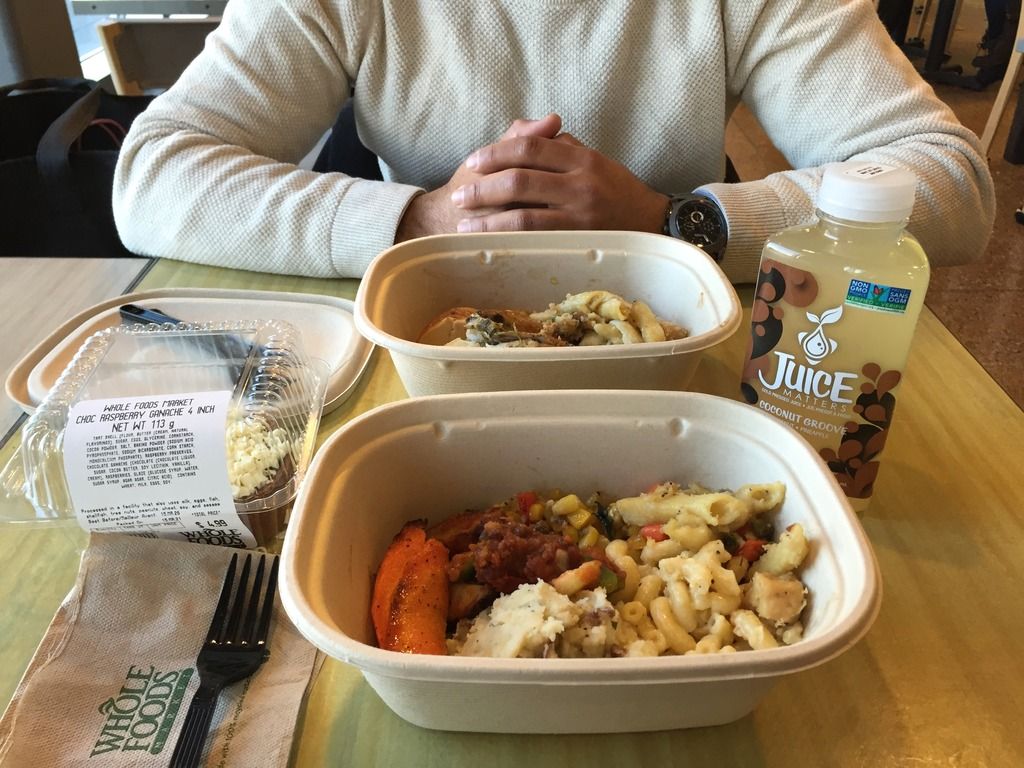 This time we shared this Coconut Pineapple cold pressed juice. It tasted okay. It wasn't nearly as yummy as the other
coconut pineapple drink
. The dessert we ended up choosing was this Chocolate Raspberry Ganache. Omggg... this was so good!! I hope they have this again the next time I go because I want to eat it again!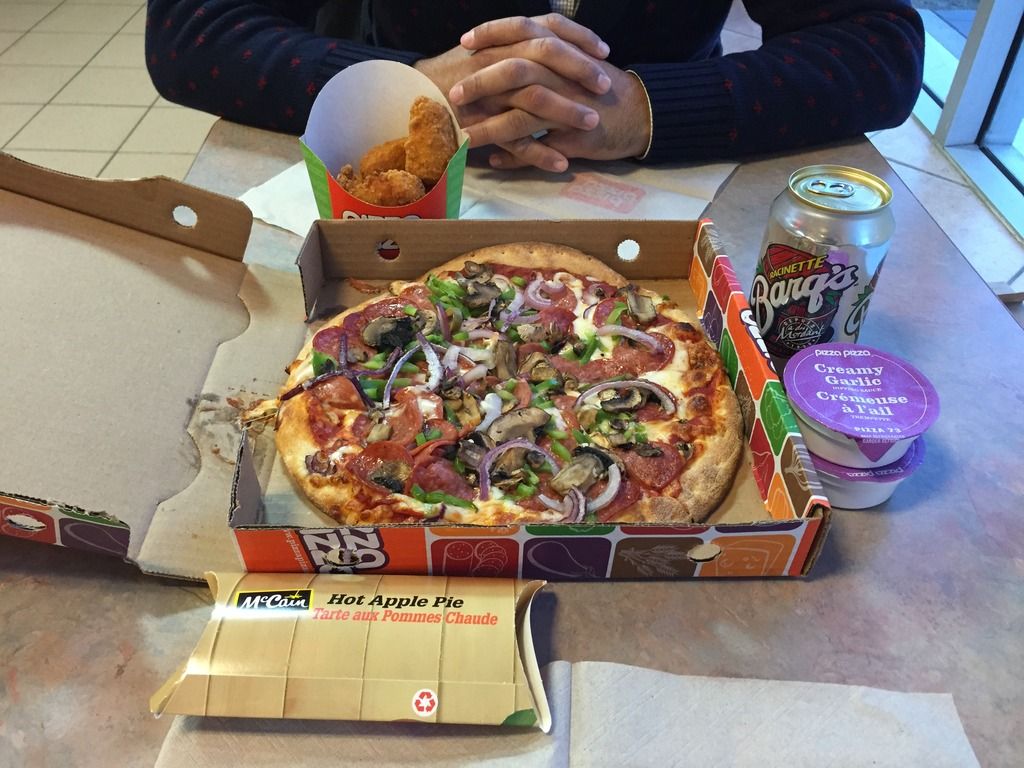 One night we went to Pizza Pizza because there was nothing to eat at my house and Pizza Pizza is within walking distance. This time we ordered a large pizza with all of my favourite toppings! Pepperoni, green pepper, mushrooms and red onion. The pizza kind of looks like they butchered it... but at least they gave us a lot of the toppings. The Mister introduced me to their chicken bites as I've never tried this before. It was really good stuff.
Weekends also make me happy because it's a chance for me to find really great things when we go shopping.
Take for instance this Michael Kors travel bag that I found at Marshalls. Initially I thought it was a cosmetic bag until I saw card slots inside. I find it a bit weird but for $30 I'll manage to turn a blind eye. It has this cute nautical feel to it and I think it'd be perfect to carry around in my bag in the summer!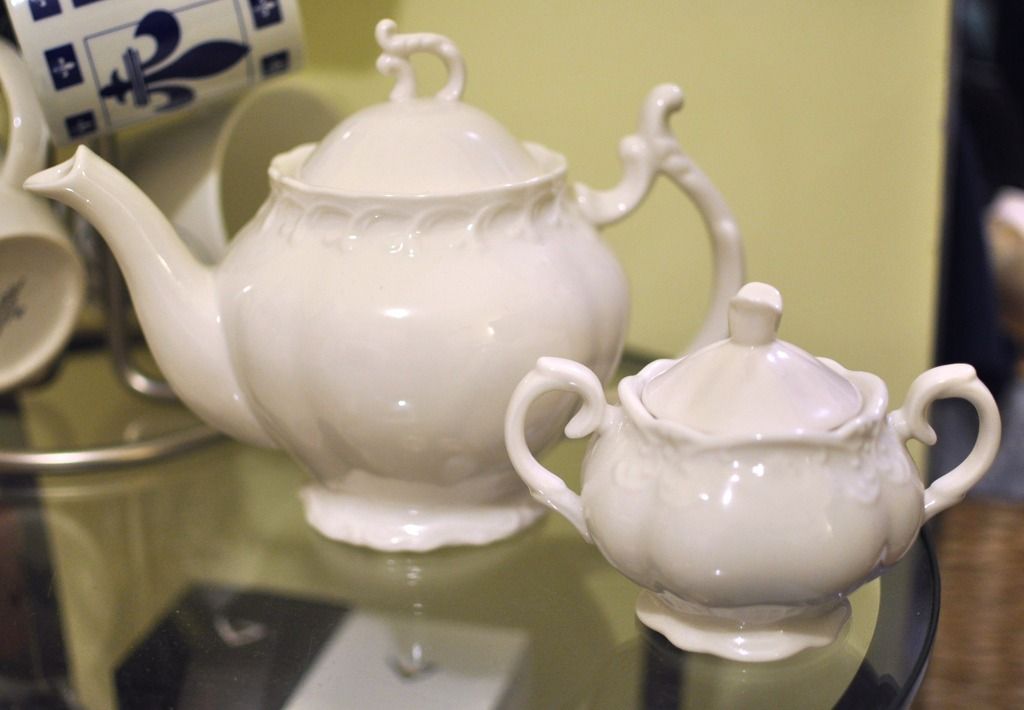 Or how about this awesome teapot and sugar bowl? I was in the market for an elegant white teapot and was even considering buying a teapot at the Hudson Bay for $80. Luckily I found this gem at Marshalls for only $12.99! You just can't beat that. I really love the detailing and I love the spout because it pours tea out in a nice steady stream.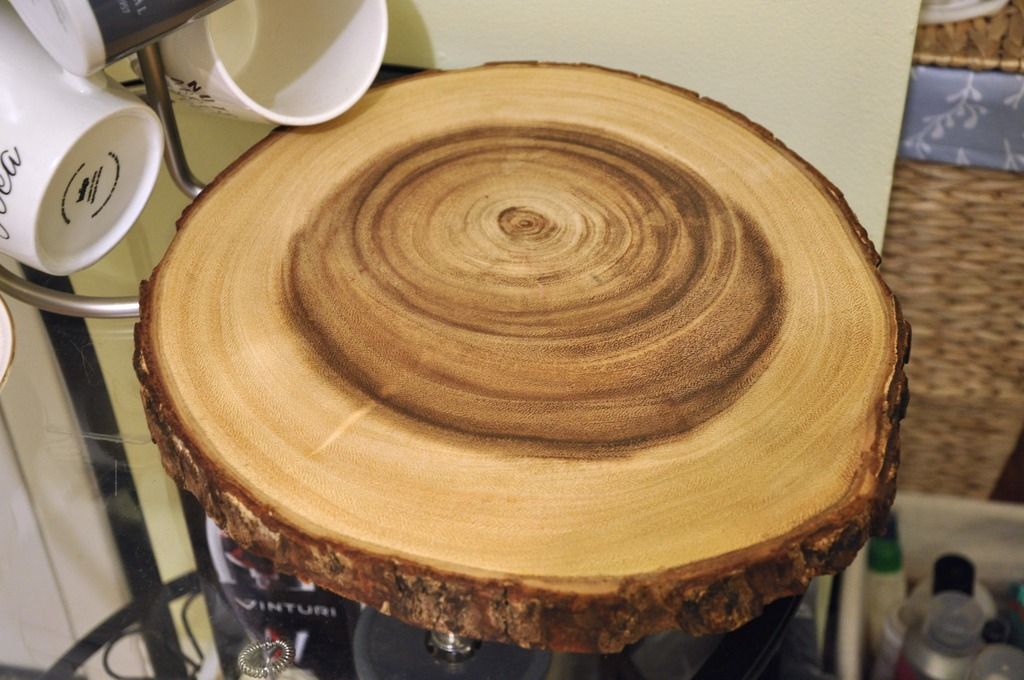 Acacia Wood Server at Chapters since last year. Fortunately I decided against it because I didn't have a place to store it. But, as you can see, I am now in possession of one because I found this wood server at Winners for only $12! That's half the price of what I would pay if I bought it from Chapters. Score!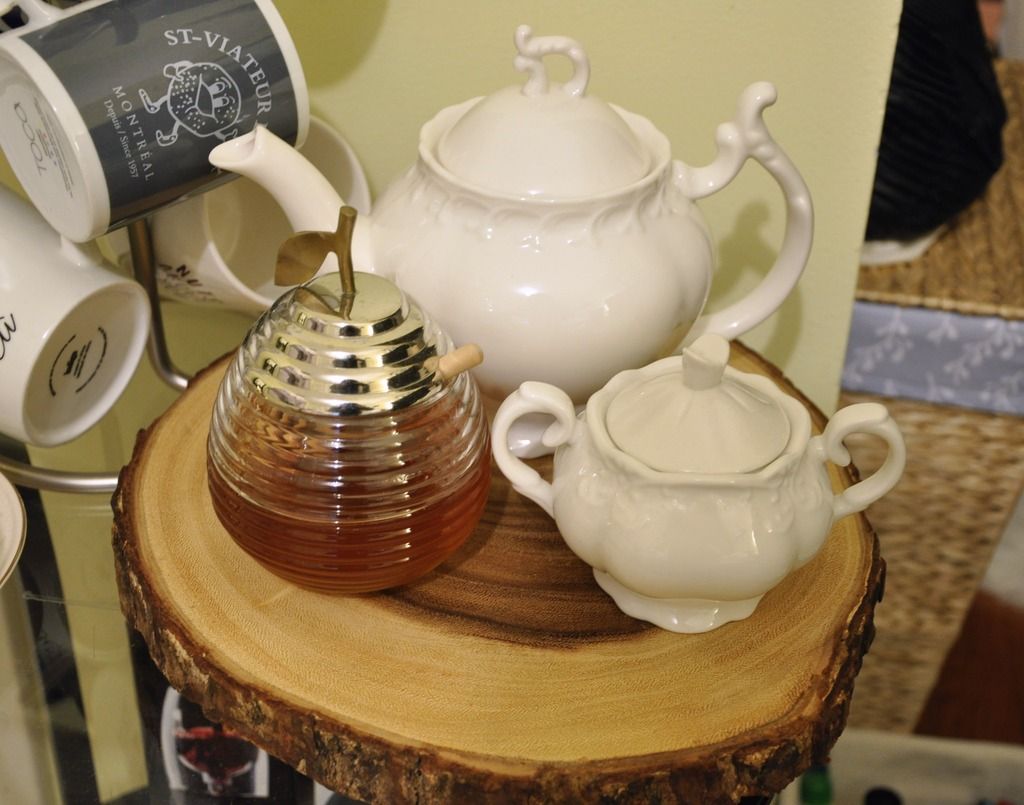 And I even managed to find a place to store it and display it too.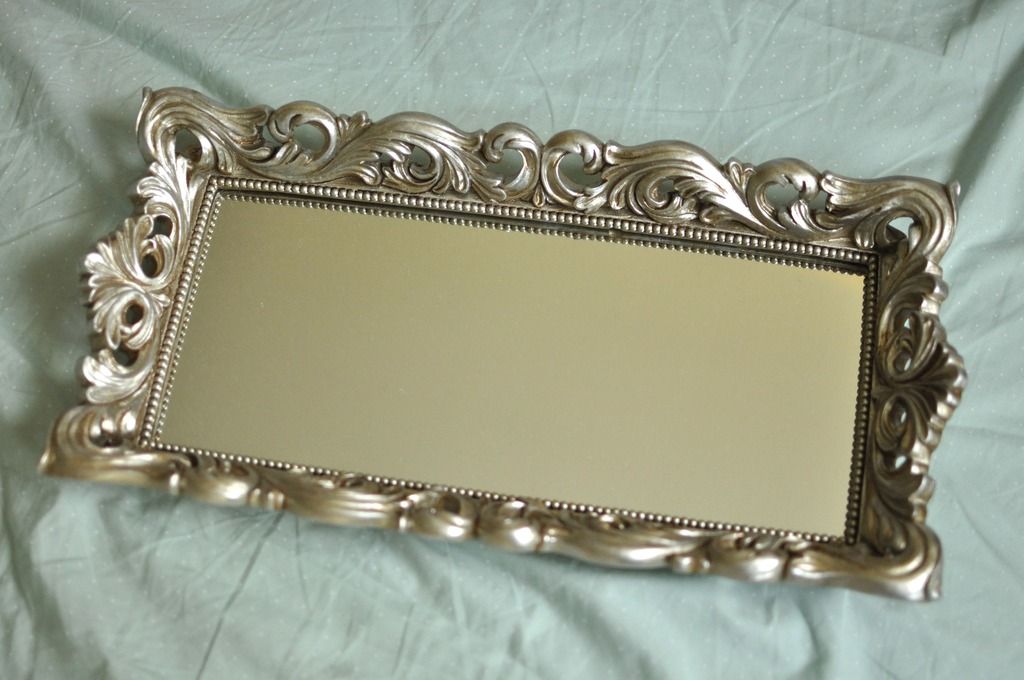 And last but not least... I found this beautiful mirrored tray at Marshalls. It was only $14.99. You have no idea how happy I was when I stumbled upon it. I love the detailing.
I keep forgetting to share youtube videos that I find interesting. This one was really sweet and made me cry. His devotion reminds me of the Mister :')
"I want to tell you a secret that will see you through all the trials that life can offer. Have courage and be kind." -Cinderella Movie (2015)