My goodness... my work has been crazy busy as of late. I didn't even have any time to do anything for the past week when I came home! Luckily yesterday and today I have some breathing room because I don't have to label a couple things since we only need those for Monday. Now that I have some time, time to post about Montreal Day 2!
Read about
Day 1
of our week long trip to Montreal back in August 2014.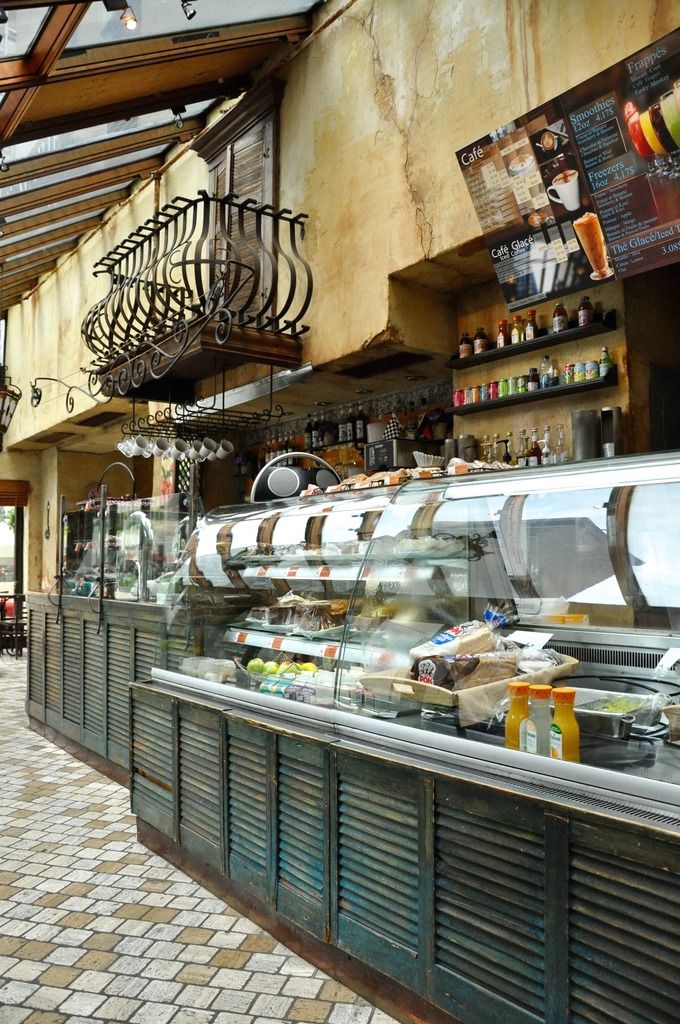 Day 2 was the first official day to kick start off our adventures in Montreal. After we got ready, we headed downstairs determined to give Cafe Castel another try. All the reviews I've read about this place all raved about how great the food was. Surely our mediocre meal we ate the day before was not a good indicator of what is to be had at this place.
This time around I ordered the Egg Cheese Croissant, a slab of Marble Cake, and a Cafe au Lait. The Mister got a Turkey sub (if I remember correctly) and Coffee. Our breakfast was
marvelous
. I especially loved the egg croissant. The croissant was flaky and buttery, and the egg was fluffy and flavourful- absolutely scrumptious!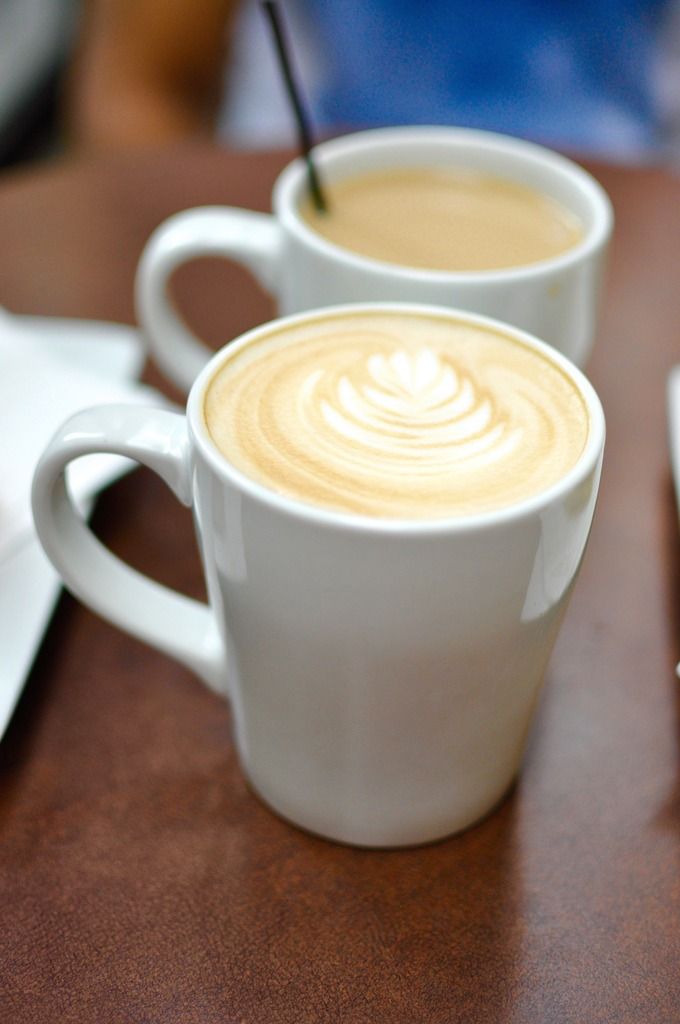 The cafe au lait ended up being my favourite coffee drink too. This time, Cafe Castel was a winner! I highly recommend checking out this place if you're ever in Montreal wanting to grab a quick bite or want something for breakfast or lunch.
The weather changed drastically from the sunny day before. It was gloomy with overcast skies and it also was drizzling occasionally too... something we unfortunately experienced throughout our
entire
trip. In this picture, you can see a peek of Mount Royal.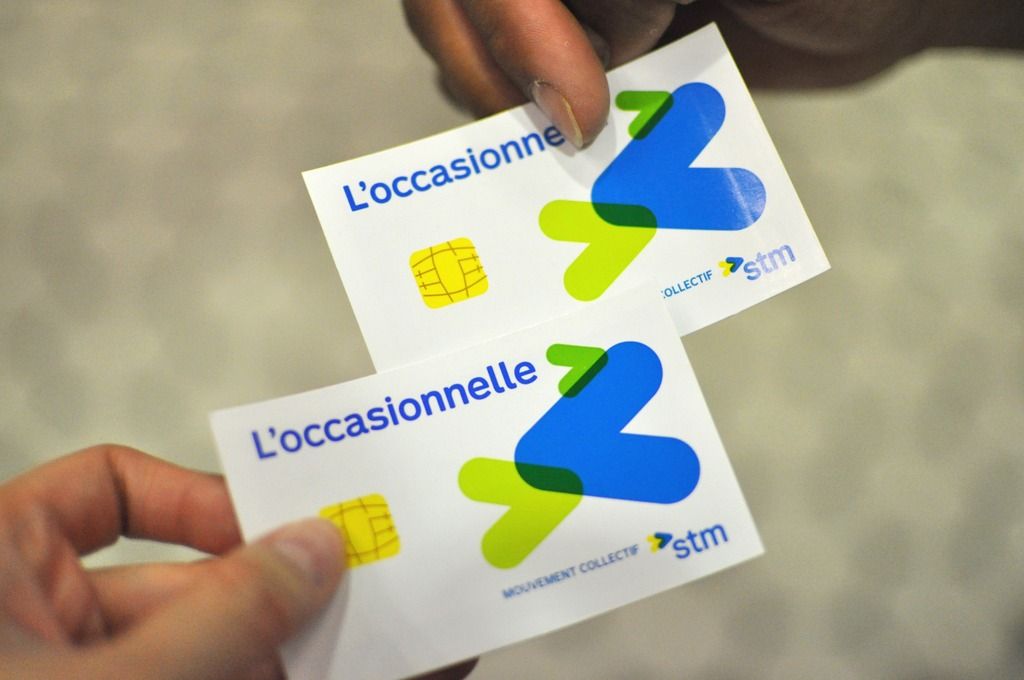 We headed to the metro as we chose that as our main means of transport. We got a little confused about how everything worked, but soon realized that there was a huge line to a vending machine of some sort. It looked like that's where everyone was getting their fares from. It took some fiddling but we soon learned how to use it (we got a little nervous with the huge line behind us). We got the occasional card with unlimited travel for 3 consecutive days- neat and unheard of in Toronto!
| | |
| --- | --- |
| | |
The Mister and I will forever remember Peel and Maisonneuve. Montreal's trains are interesting, and very different to Toronto's subway trains. First off, the trains run on what look like rubber wheels (similar to car wheels). Although there is no screeching sound (something you experience on Toronto subways from time to time), the train jiggles... a lot. And when I mean a lot, I mean completely awkwardly because you can see and feel every part of you jiggling. On some level it made me feel very uncomfortable because who wants their lady parts jiggling?! The trains are also a lot smaller. There's very few seating aboard the train but because the stations are fairly close to one another, it isn't much of a bother to just stand. Which brings me to my next point, the train runs
super
fast. We would board the train and be at our destination pronto.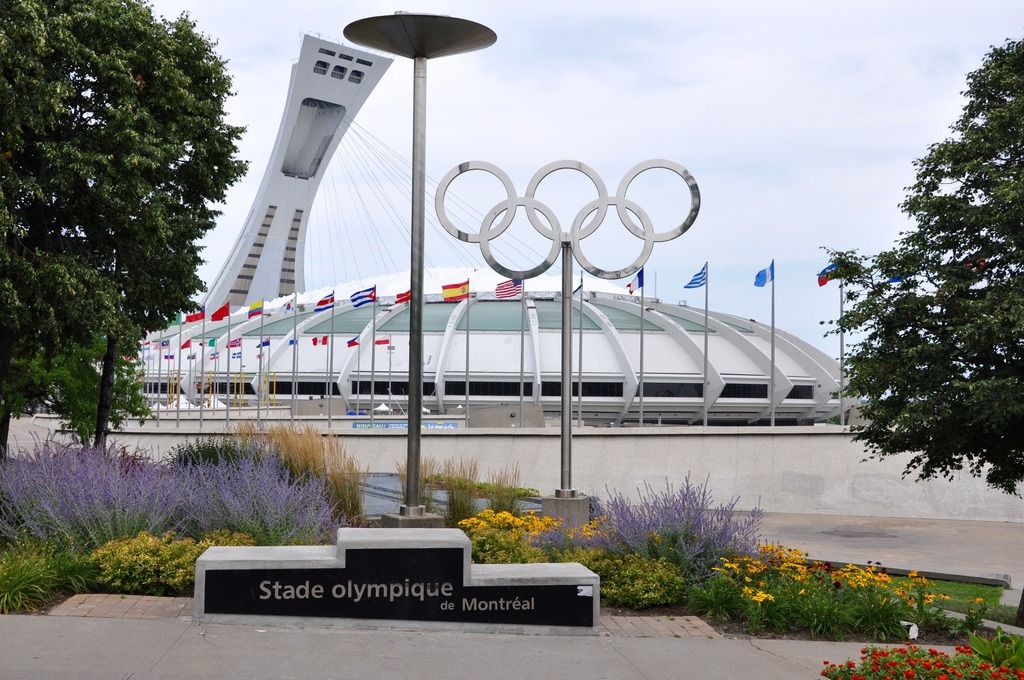 On our way to the Jardin Botanique (botanical garden), we spotted the Olympic stadium that hosted the Summer Olympics of 1976 (I wasn't even born yet!). I want to visit this place when we come back to Montreal again.
We had a little trouble locating the Jardin Botanique because the front entrance was under construction. We were walking up the street (beside the garden) until we were stopped by a French lady who didn't speak a word of English. I guess we looked confused with our map out and she offered to help even though we couldn't communicate with words. She pointed us in the right direction after we pointed to the garden on the map. We were very grateful to her.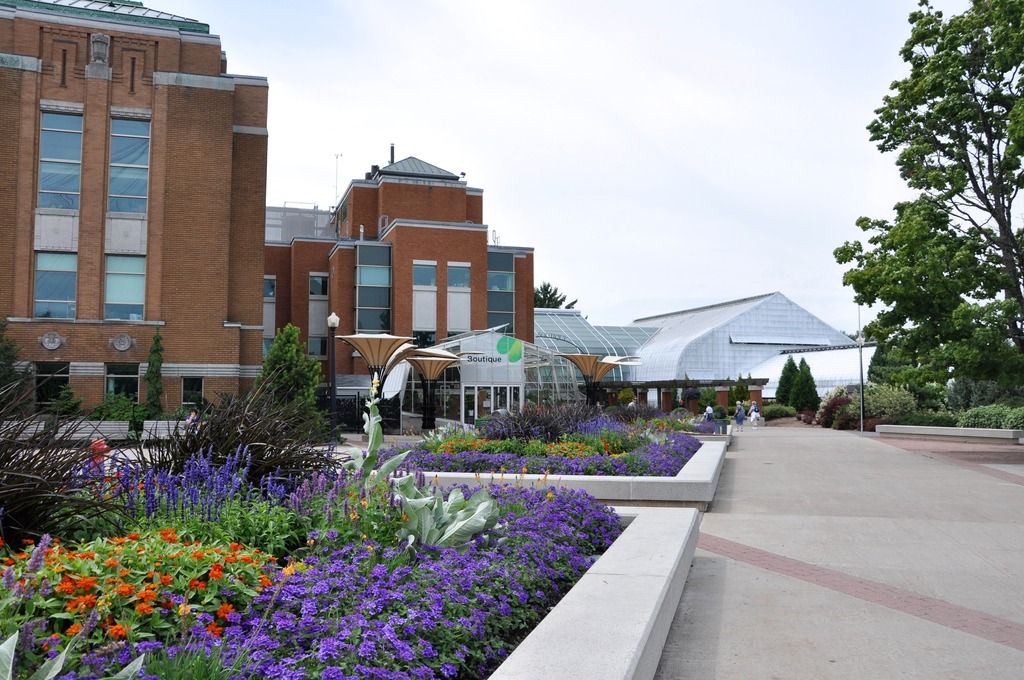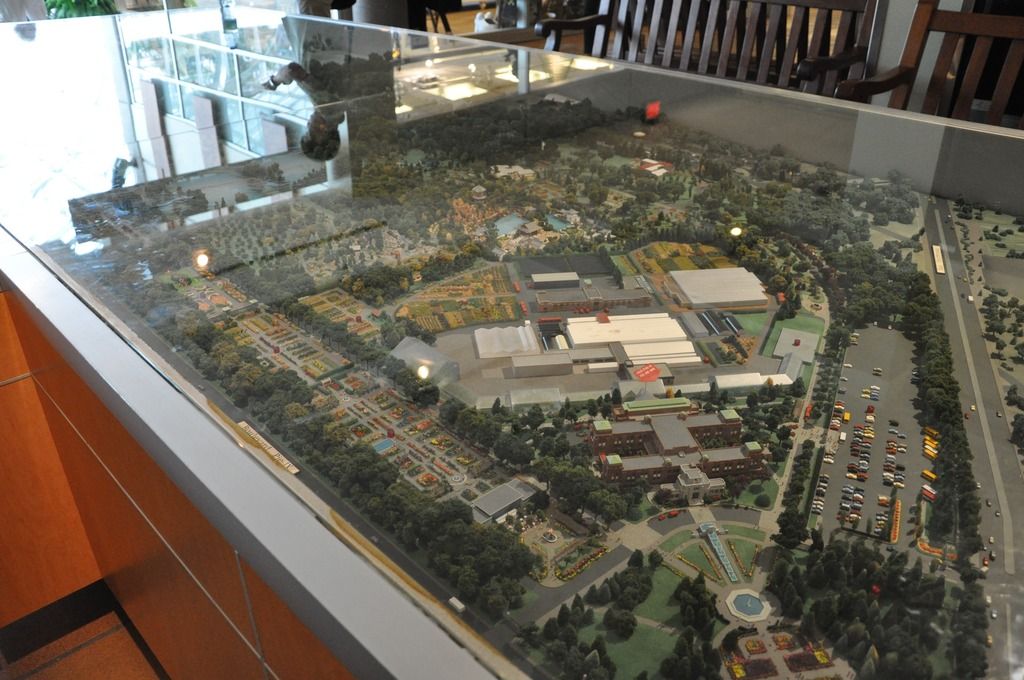 The map and 3d model shows how huge the garden is. Montreal's Jardin Botanique is the third-largest botanical garden in the world. There are a lot of gardens to be seen here.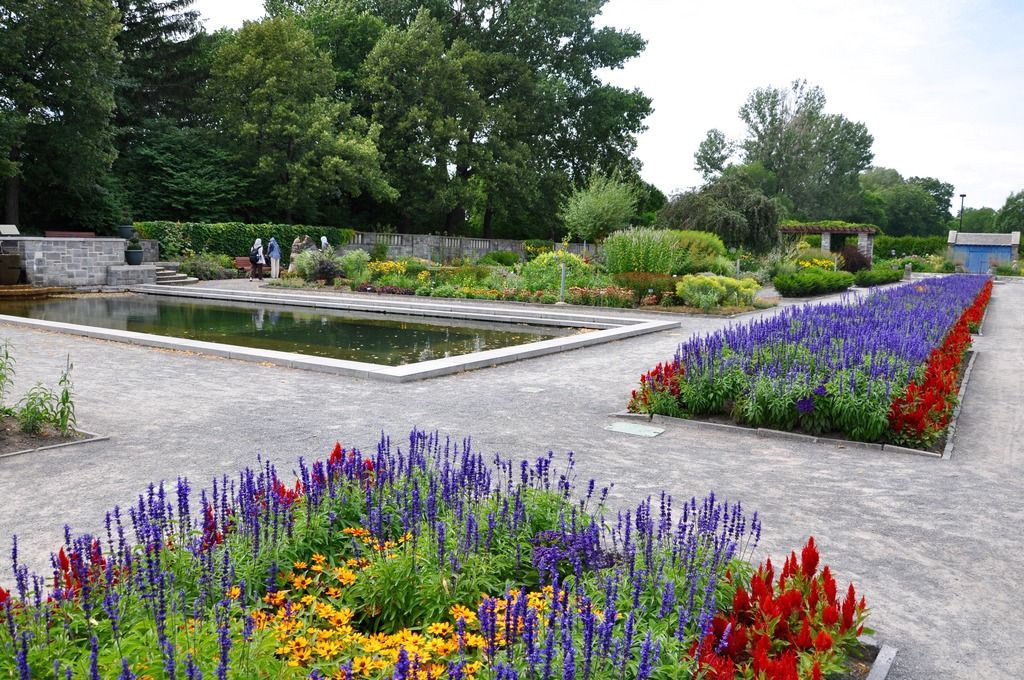 Perennials Garden.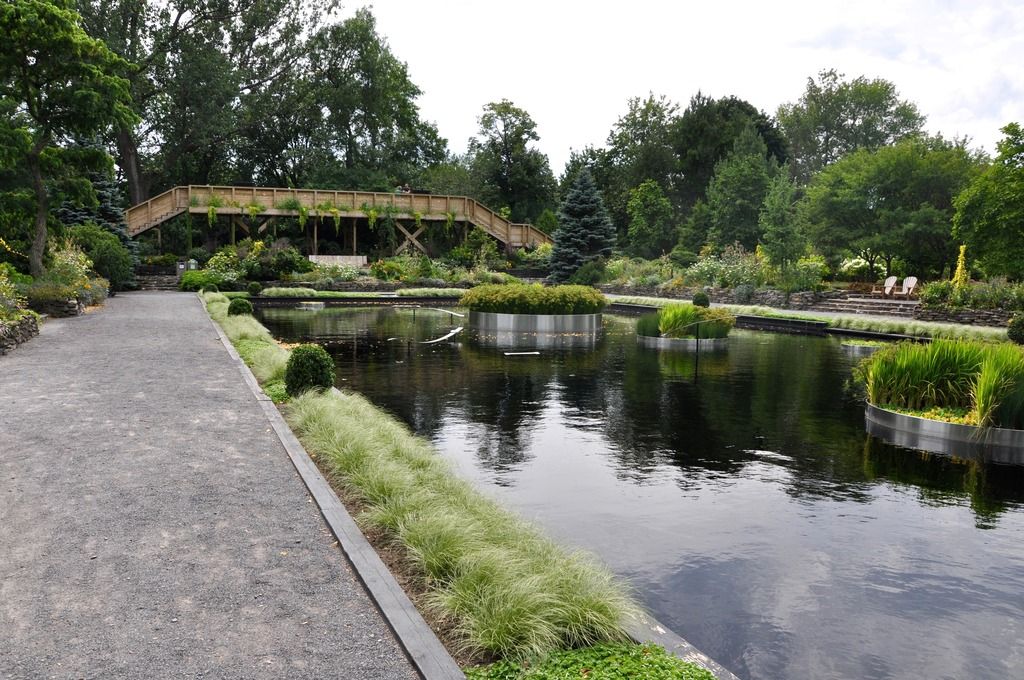 Garden of Innovations. I loved walking in here. I felt like I was walking through the Shire (Middle Earth - LOTR) or something. Everything was so peaceful yet vast. I bet the garden looks even prettier in the Spring.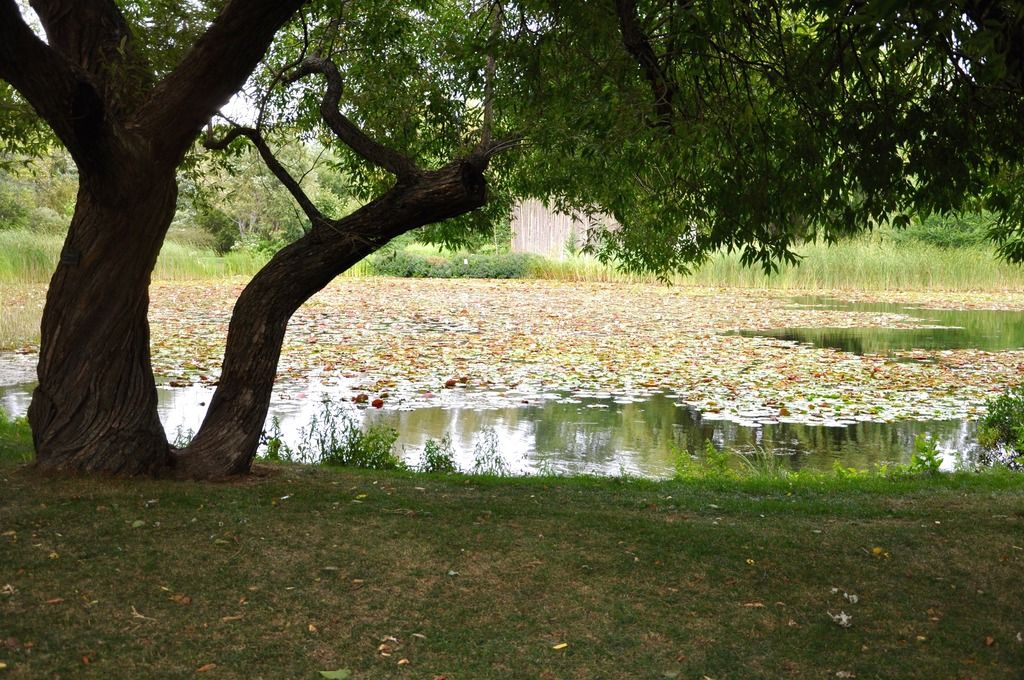 Aquatic Garden. This lawn chair is positioned perfectly to relax and take in the pond's scenery.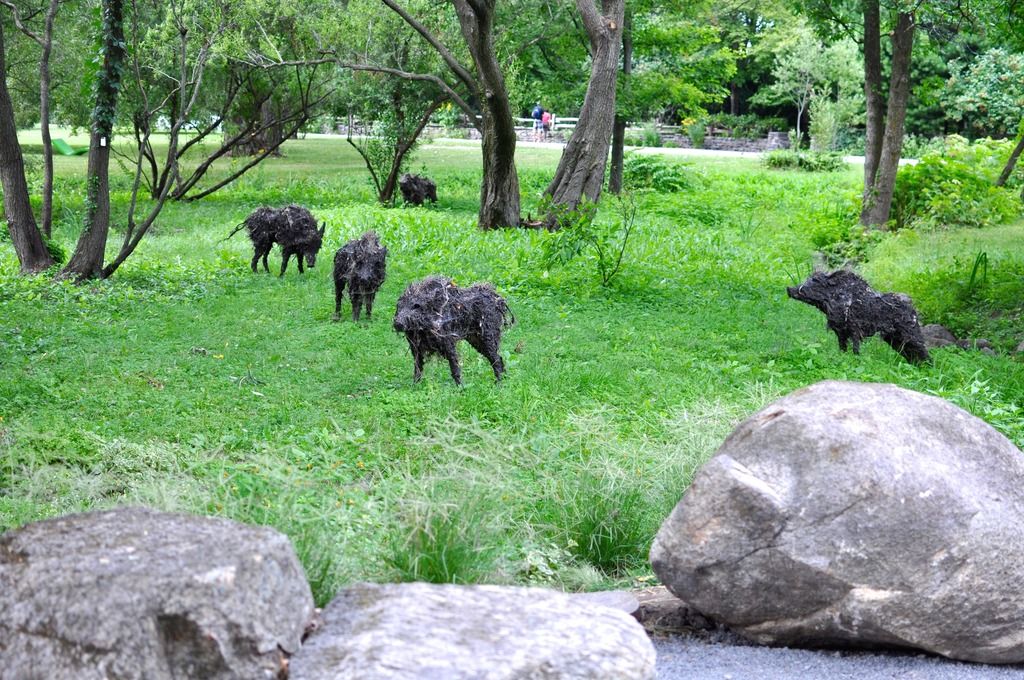 Then there were cool garden art landscaping. Unfortunately we didn't realize there were a lot more to be seen with this type of landscaping if we walked further into the garden. We were running out of time and the skies looked like it was about to rain, so we skipped the upper section of the garden which has a whole bunch of beautiful garden art :( I only knew of this after I we left Montreal and I searched it up on the internet. We also didn't have time to go in the greenhouses either. Next time we come back to Montreal, we'll definitely re-visit and see the things we missed!
We got thirsty so we grabbed some fresh orange juice and a mango/orange can to drink. It was very refreshing, especially when you've been walking around a lot.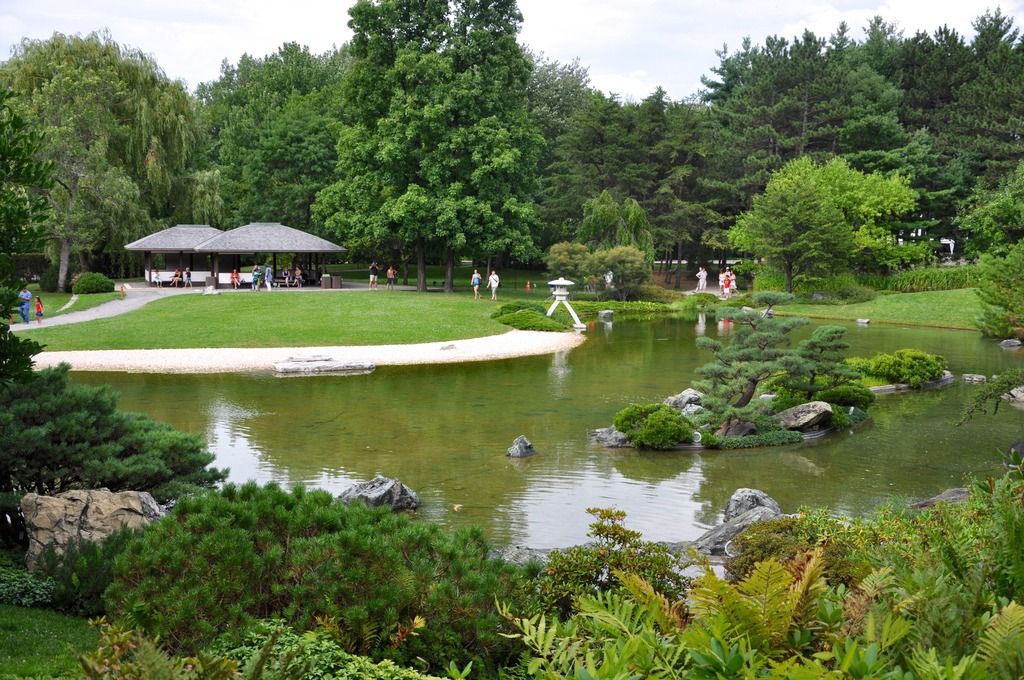 Then we visited the Japanese garden. Very beautiful and serene here.
And the First Nations Garden. Very quiet and peaceful here.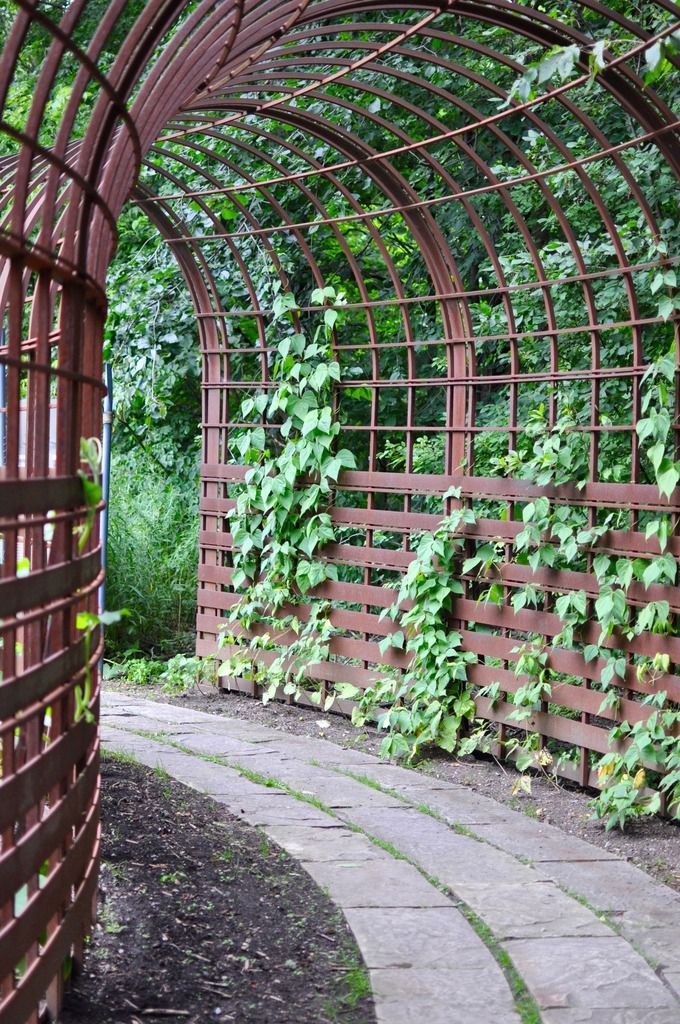 I'm not sure what garden section this was a part of but it made a beautiful backdrop to take a picture.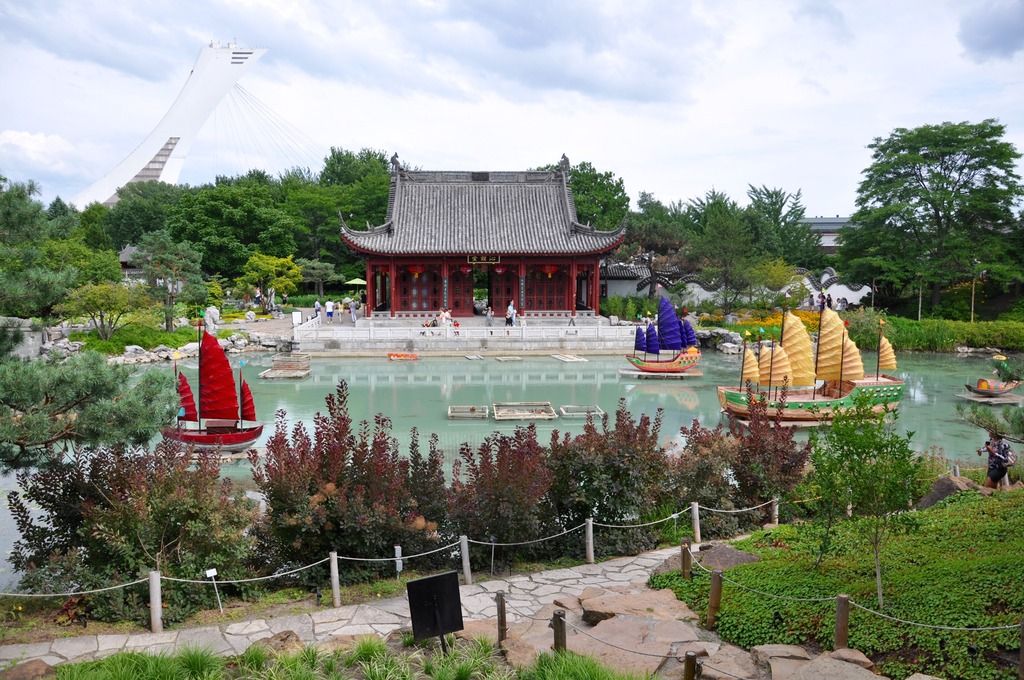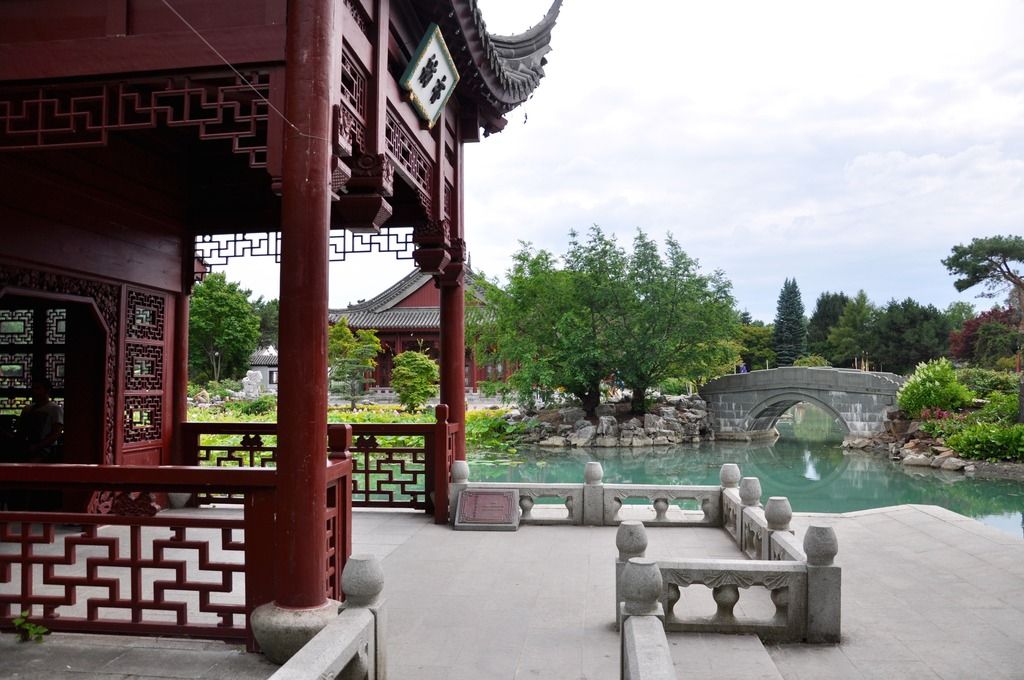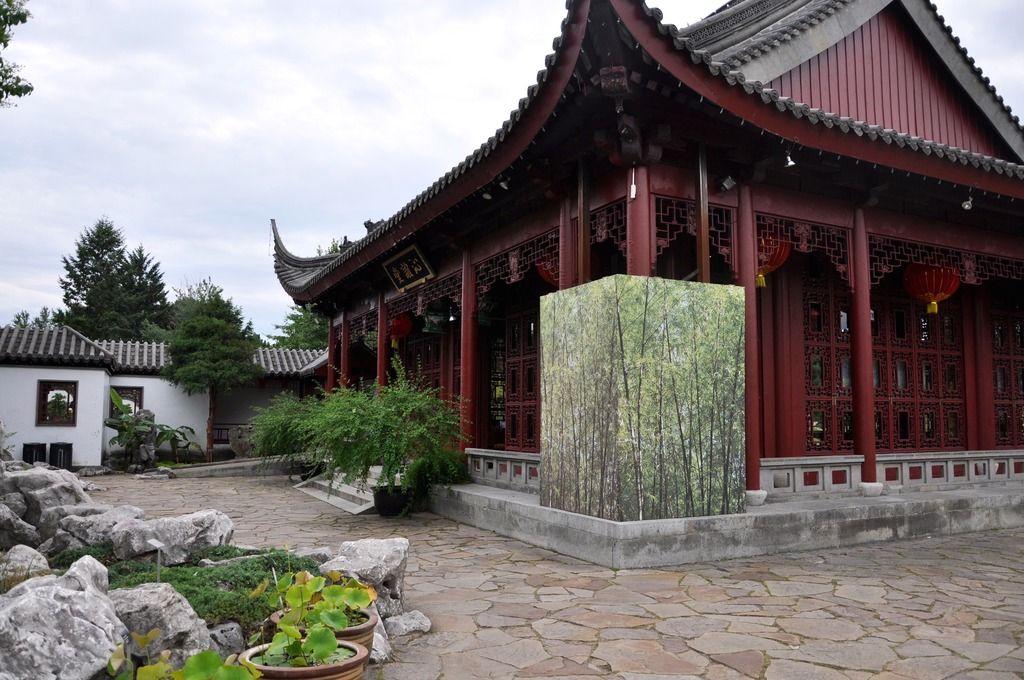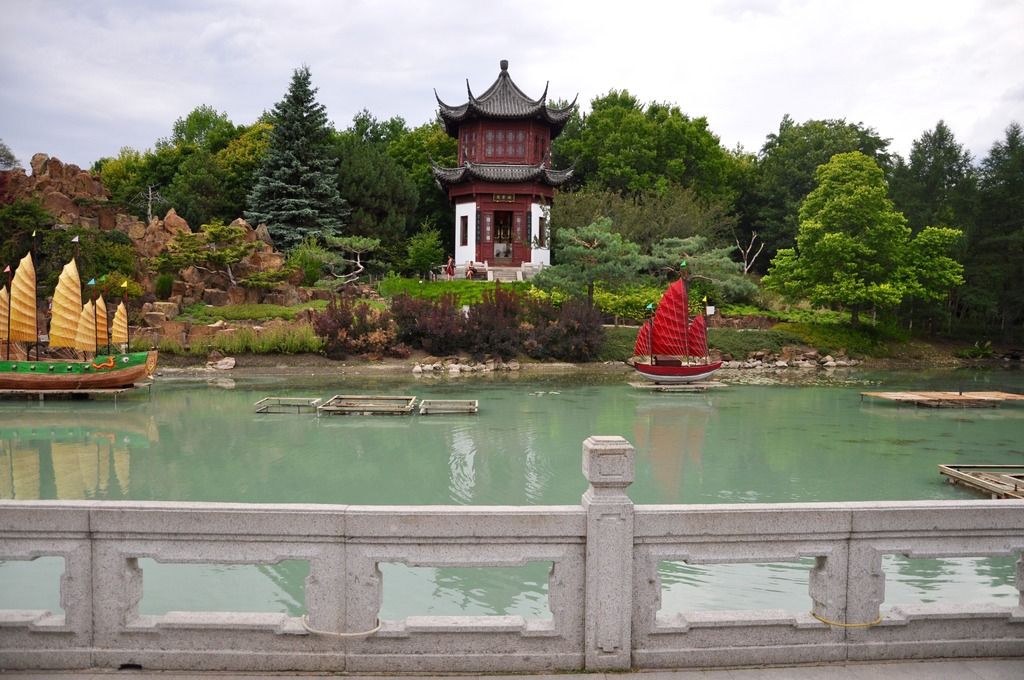 Then there was the impressive Chinese Garden. This place seemed the largest and most detailed.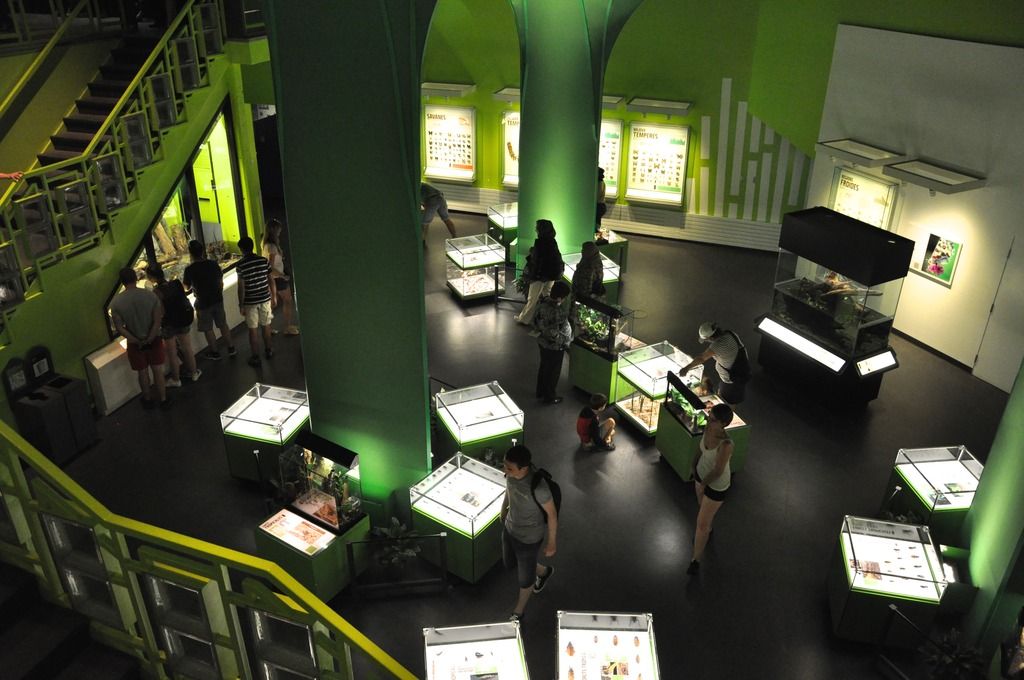 After we finished at the Jardin Botanique, we went to the Insectarium which we already paid for with our tickets into the Jardin Botanique.
It's a small place and there were glass cases with dead insects to look at. I found the place not that interesting. The only interesting part for me were seeing the ants carry leaf pieces on a branch.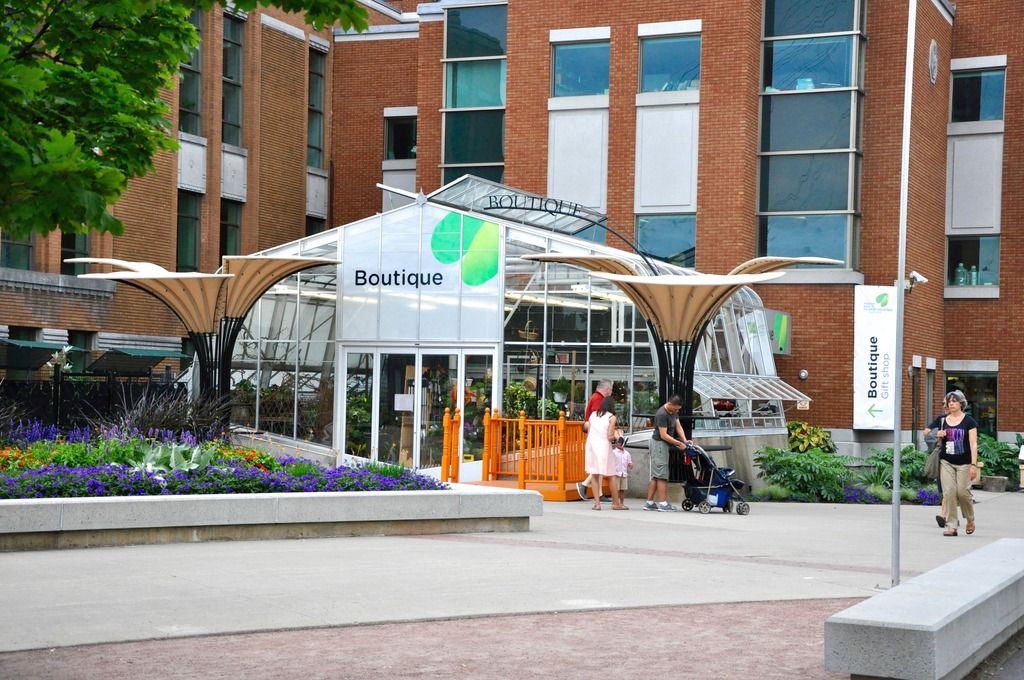 Then we headed into the gift shop, of course, and I got a couple of things to remember my day here.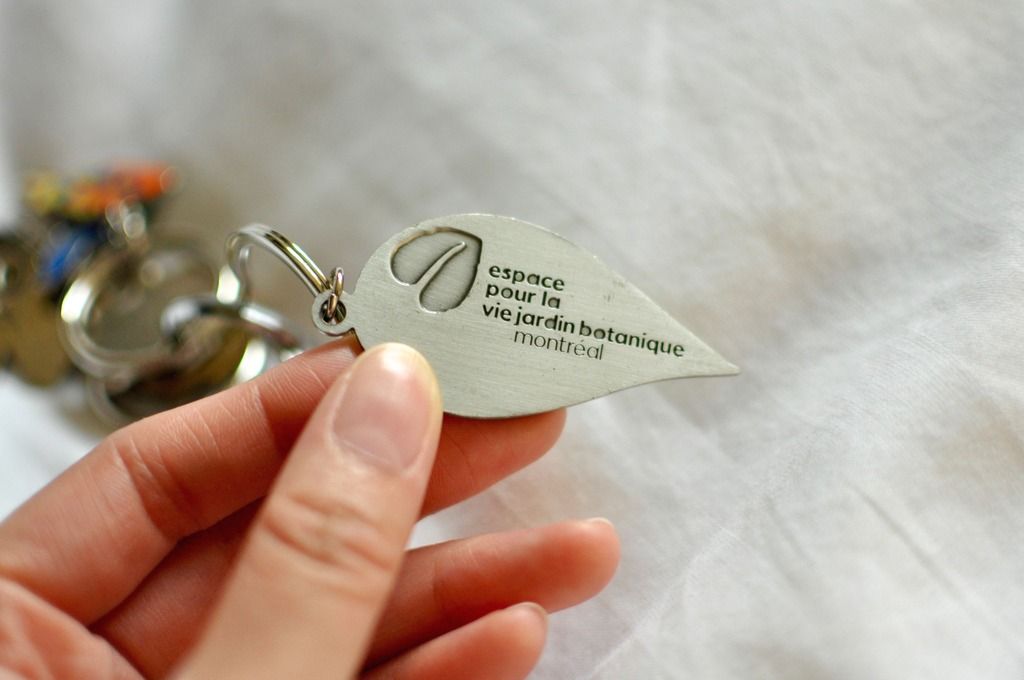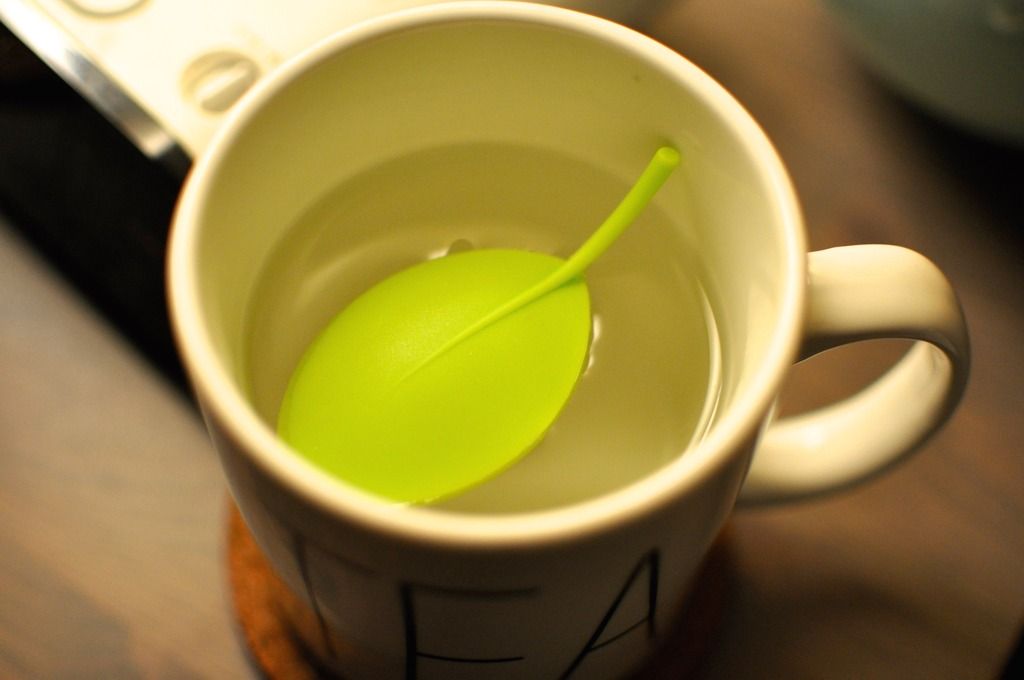 I picked up a metal leaf keychain, a cool leaf tea diffuser that floats in your cup, and a tea strainer.
Believe it or not, that was the whole day. The Jardin Botanique is
huge
so it can take a whole day just to explore around in there. We took a lot of pictures of ourselves because the scenery was absolutely beautiful. I hope to go back one day so that I can see the rest of the garden that we missed- and believe me, we missed a lot. This was one of my most favourite days during the vacation.
For dinner we were too tired to go to any restaurant after being on our feet all day, so we opted for room service. I've always wanted to try room service... but unfortunately the room service we experienced with Best Western Ville Marie Hotel wasn't all that great. The server who came up didn't look like a server but maybe a manager? There was no cart, instead the man came in quickly and carelessly plopped our plates down on the table. We tipped him but honestly the service was so bad I didn't even want to.
The food had a metal covering but it wasn't even that presentable either. Presentation was lacking overall and the food tasted subpar for something so expensive (then again, room service is always expensive). I would not recommend the room service at Best Western Ville Marie Hotel.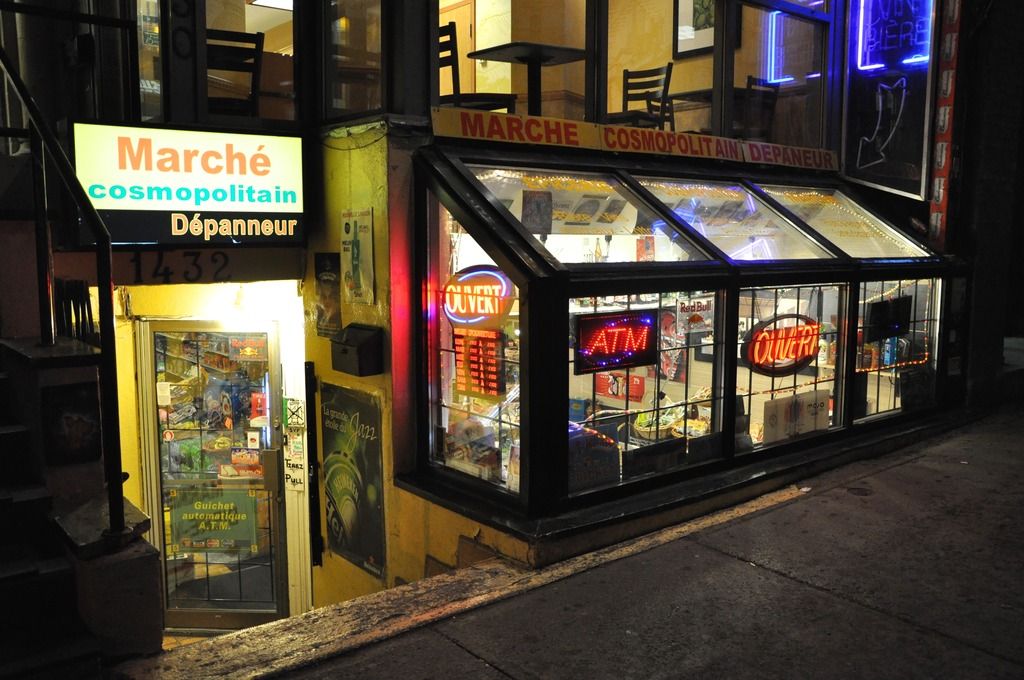 Then we went out on a night excursion to check out Marche Cosmopolitain Beer Convenient Store. Prior to the trip, I looked up online where we could find some beer so that the Mister can enjoy some. It's so cool that a convenience store can sell beer. In Ontario, the only place you can buy alcohol is at the LCBO or the Beer Store (because the selling of alcohol is provincially owned). That will change however as Ontario have passed a motion to allow some grocery stores to sell some beers and wine (with some restrictions).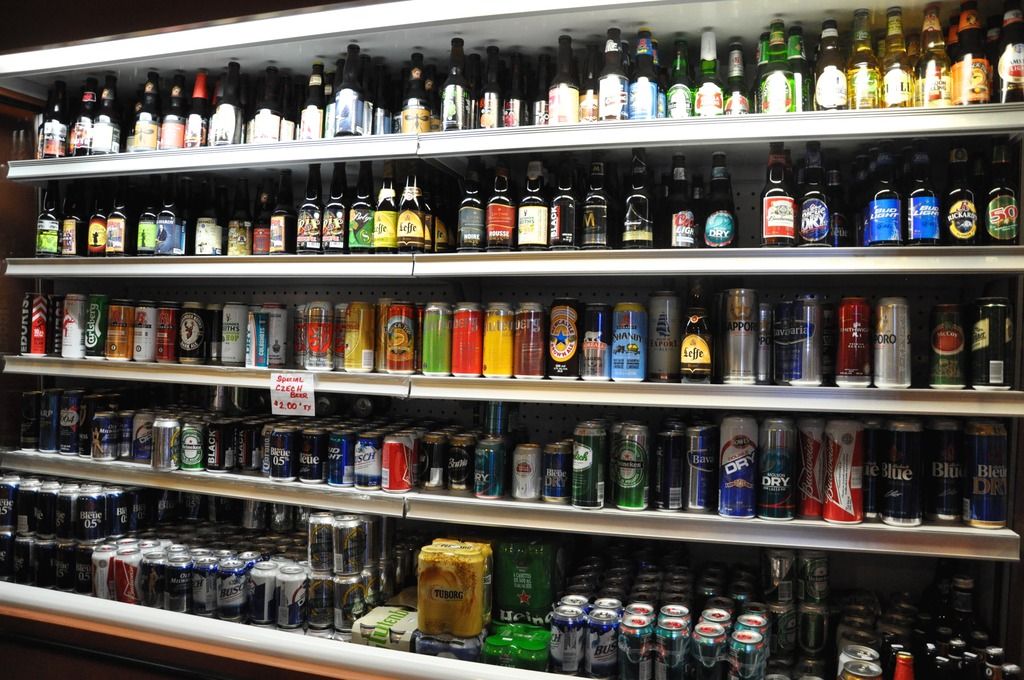 This convenience store was packed with stuff! It had a lot of character to it too. Near the back was the "wall" of beers. Pretty impressive, I'd say.
This is what he ended up picking (with suggestions from me). The two beers not available in Toronto are the Black Label and Vieux Montreal. The Mister really enjoyed these two.
We also dropped by Starbucks so that I can get a drink too. I got my favourite drink, Vanilla Bean Frappucino.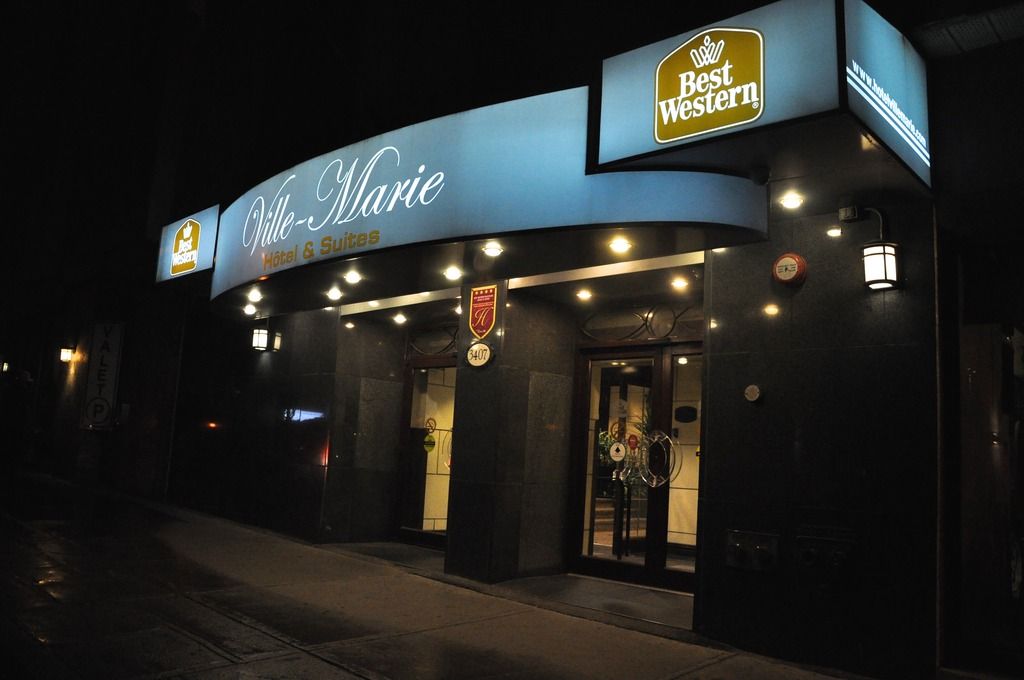 Then it was back to the hotel for a good night's rest before we hit the city again the next day!
"Look forward with hope. Not backwards with regret." -Unknown