The month of March marked mine and the Mister's 2nd Anniversary. Time has flown by. On our
1st Anniversary
the Mister wanted to take me to the CN Tower 360 Restaurant, but unfortunately he didn't have the budget for it at the time. Although he was disappointed, I reassured him that we'd go there for our 2nd Year Anniversary instead; and so we did :)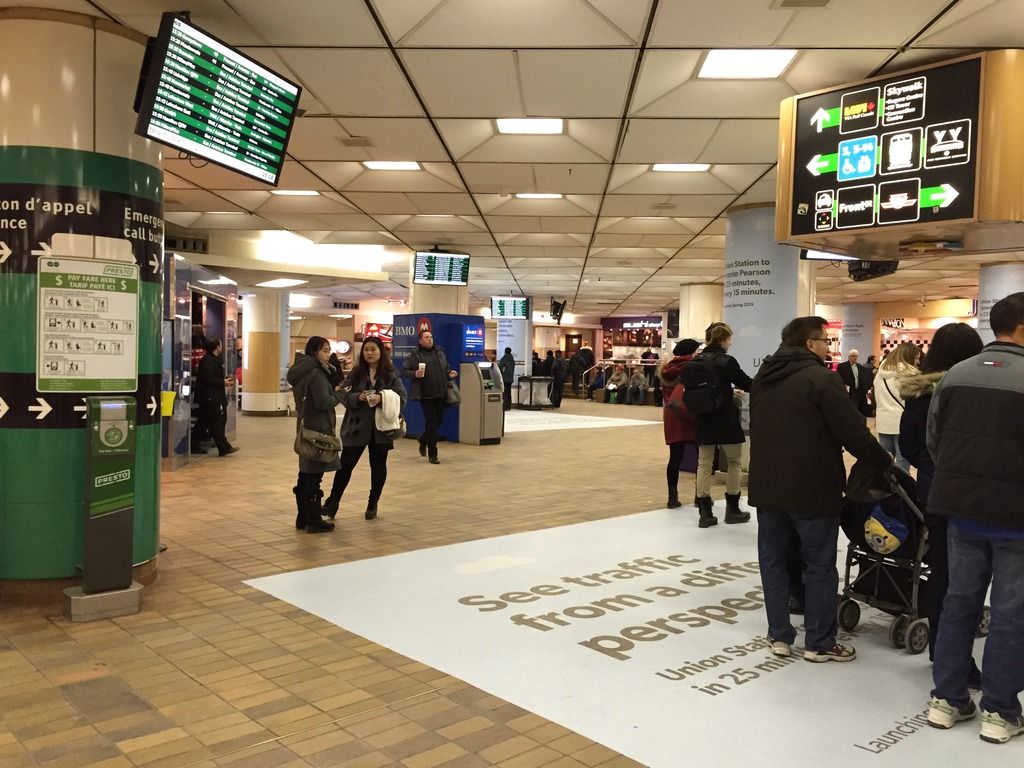 We got off at Union Station and headed towards the Skywalk to get to the CN Tower.
The Skywalk was under construction but we did get a peek of the CN Tower from inside.
The glorious CN Tower.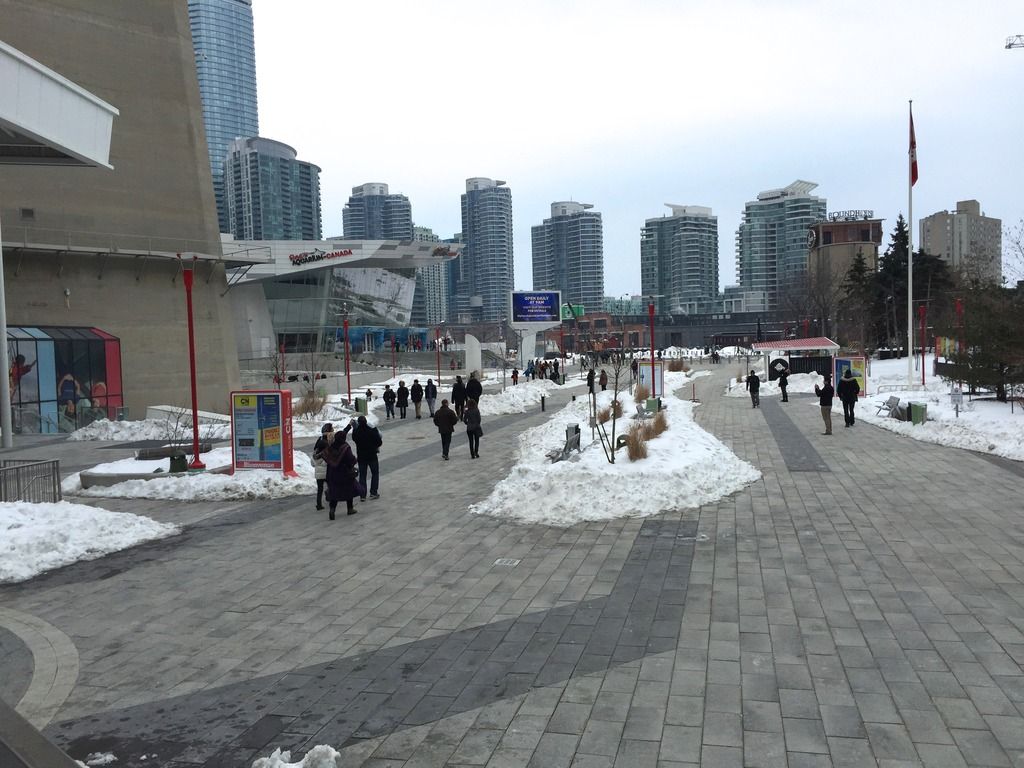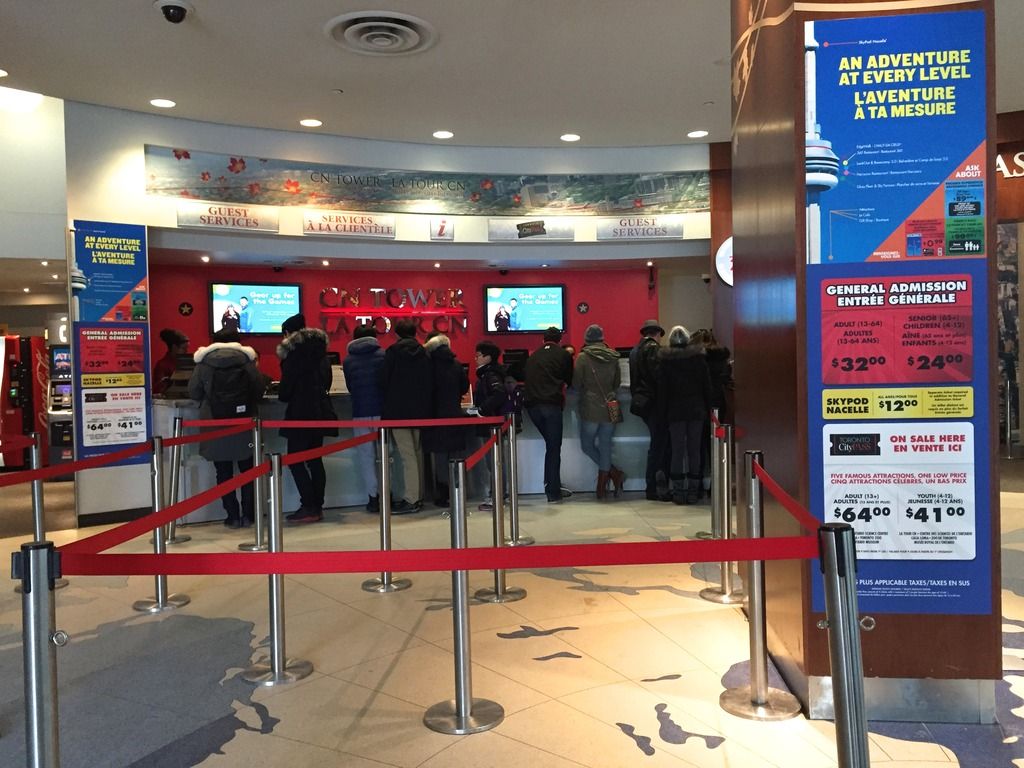 We thought we had to buy tickets to go up but we learned that elevation and access to the lookout and glass floor levels of the CN Tower are complimentary when you dine at the restaurant. Neat! We came early so we sat in their waiting area which had a useful charging dock for all devices.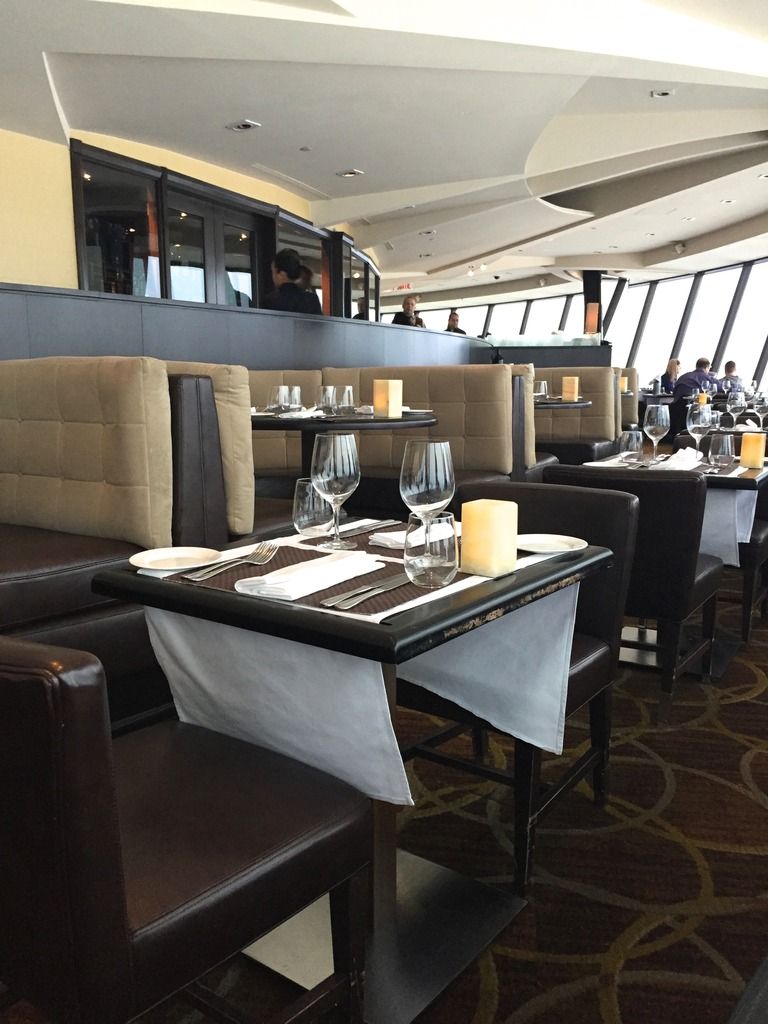 CN Tower 360
301 Front St. W, Toronto, ON M5V 2T6
Taken from the site:
"360 The Restaurant at the CN Tower, one of Toronto's finest, features unforgettable food combined with a magnificent revolving view of Toronto more than 351 metres (1,151 ft) below. 360 offers market-fresh cuisine, featuring regional ingredients to ensure an incomparable culinary experience.

360 also features an award-winning wine selection of over 550 international and Canadian wines from its "cellar in the sky". 360 is the recipient of several awards and wonderful place to celebrate any special occasion."
The
CN Tower 360 restaurant
looked amazing- mostly because of the view! The place was nice and fancy but not so fancy that you feel intimidated. The ambience of the place felt like I was sitting in a plane; something about the colour scheme and ceiling- regardless of the view and how high up we were.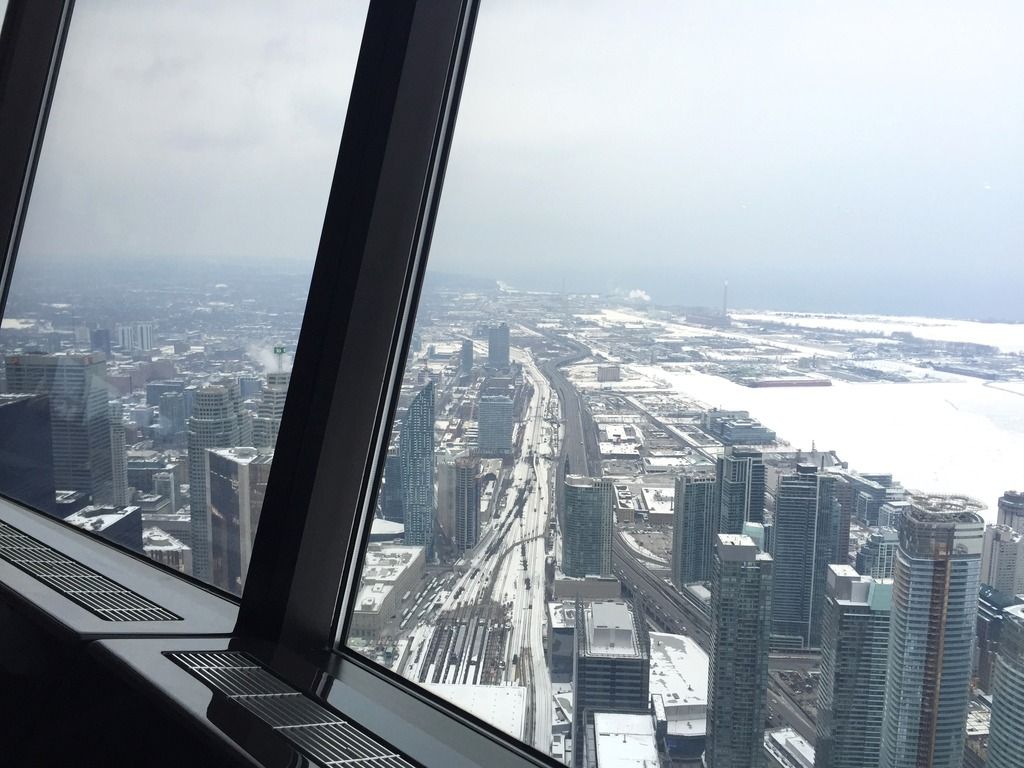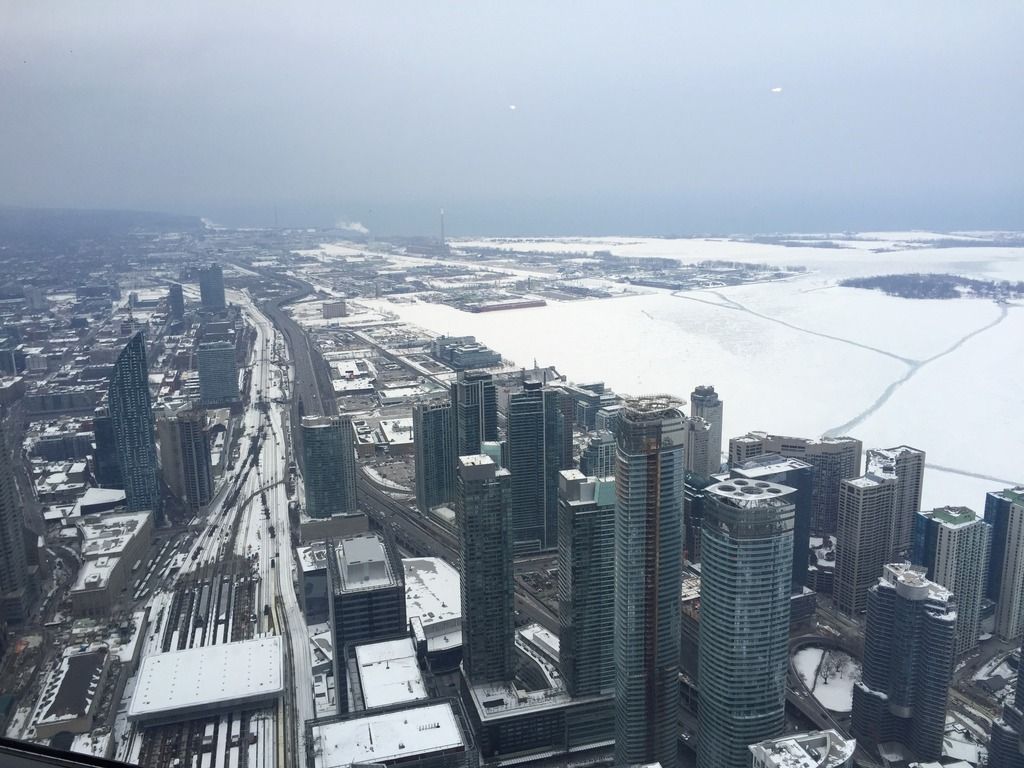 The view was
spectacular
. What's neat about this restaurant is that the whole place slowly revolves around while you dine. Everyone is able to get a full 360 view of Toronto from where they're sitting (hence why the restaurant is called 360).
The table setting was nice too. The wine glasses they had were made by Spiegelau- the same brand that I wanted to buy wine glasses from!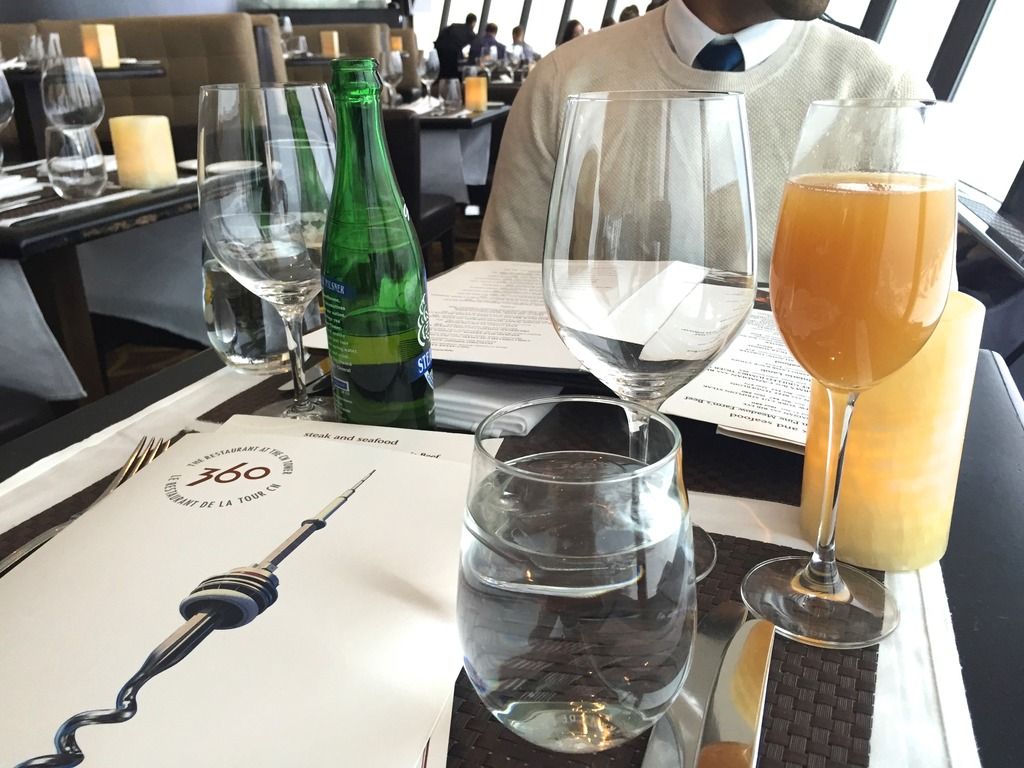 First we ordered drinks. The Mister got Steam Whistle beer while I got the Bellini. The Bellini was good, although my all time favourite is still from Milestone's.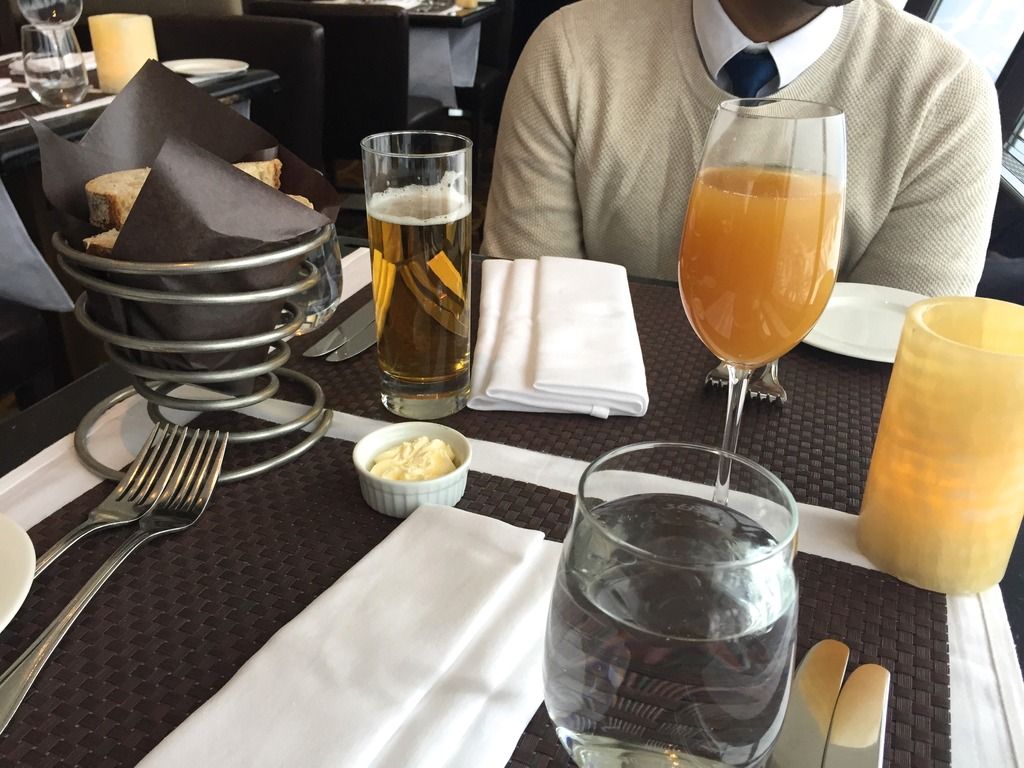 I got the prix fixe meal ($65) because my choices for main and dessert were both in there, and the Mister's choice of appetizer was in there too. So, all we had to do was have the Mister order the appetizer I wanted and switch! After we ordered they sent us a basket of bread and butter our way.
We enjoyed the view while we waited. This is my favourite photo.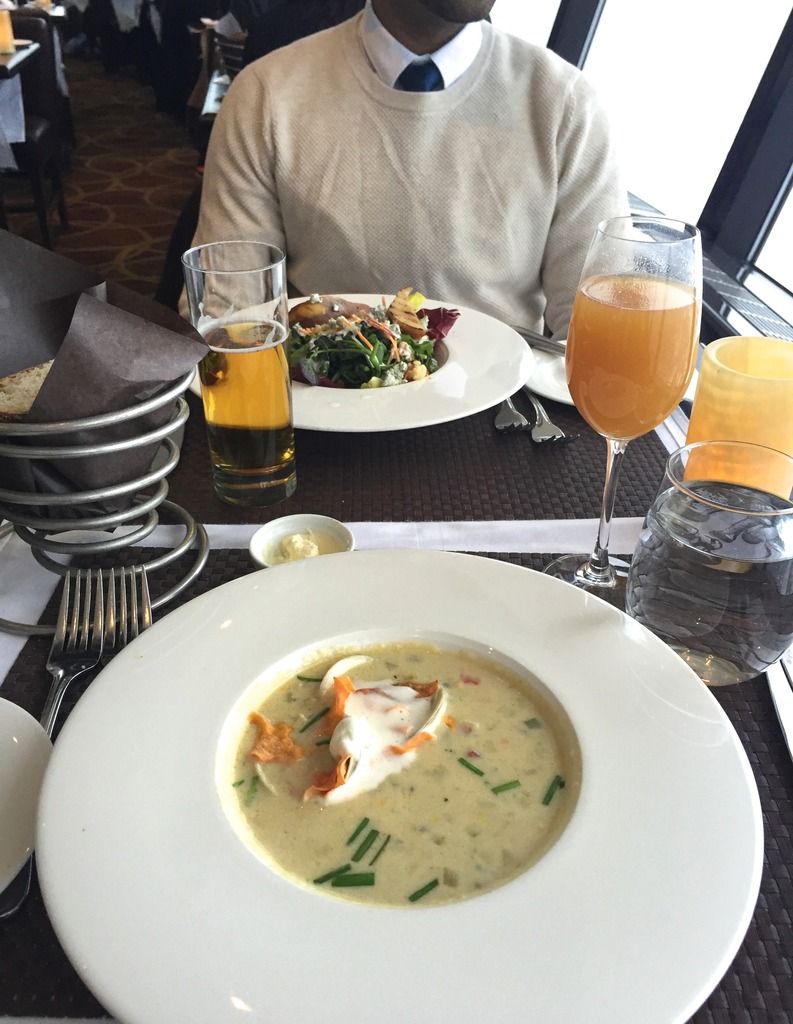 For my appetizer, I got the East Coast Clam Chowder- it was creamy and delicious! The Mister ordered the Smoked Blue Ermite and Endive Salad and sadly didn't like it that much (then again he doesn't like salad so we both don't know why he ordered it LOL). After we finished, our server thought that I didn't like the salad and switched with my boyfriend. Hey! I'm not that evil... hmph.
At one point it got really foggy with flurries, but thankfully it stopped shortly after.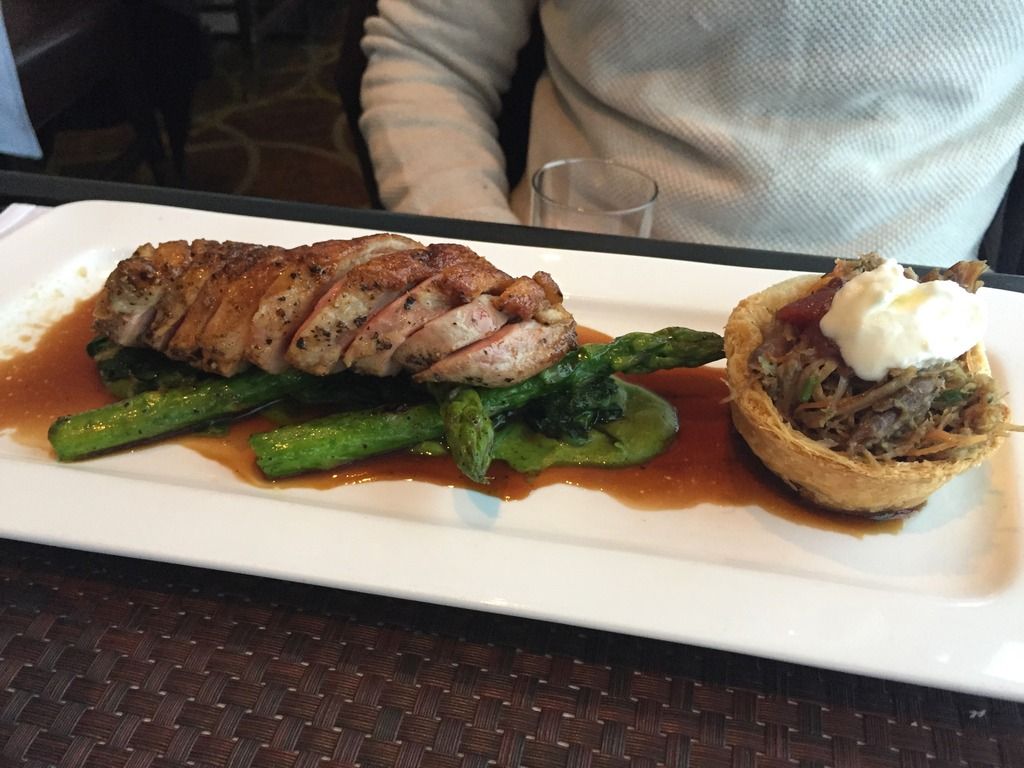 For our mains, I got the Braised Ontario Lamb Shank with Buddha Hand Lemon; while the Mister got the Maple Glazed Wentzel Farm's Duck Breast with Duck Confit Tart. This was my first time eating lamb. It has an interesting taste and I'm glad I waited to try it at a nice restaurant. The lamb was very tender and moist. I tried the Mister's duck and it was really really good. Very tender and juicy. Presentation was on point.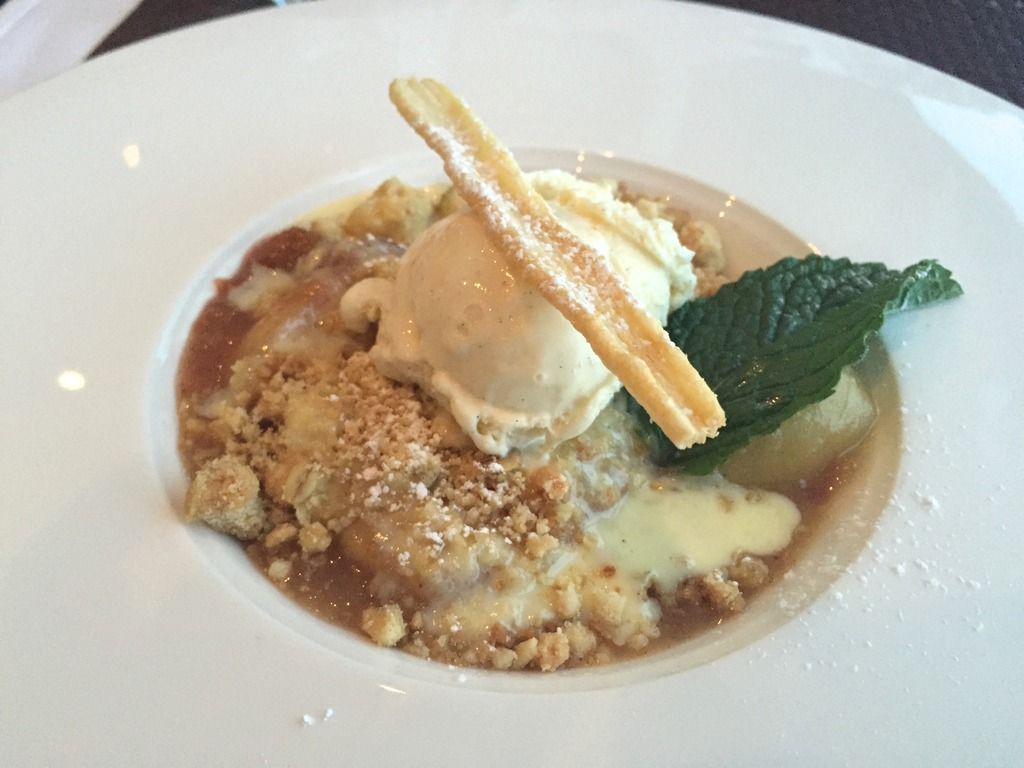 For dessert we shared the Warm Apple Rhubarb Crumble. It too was scrumptious, and the presentation was superb.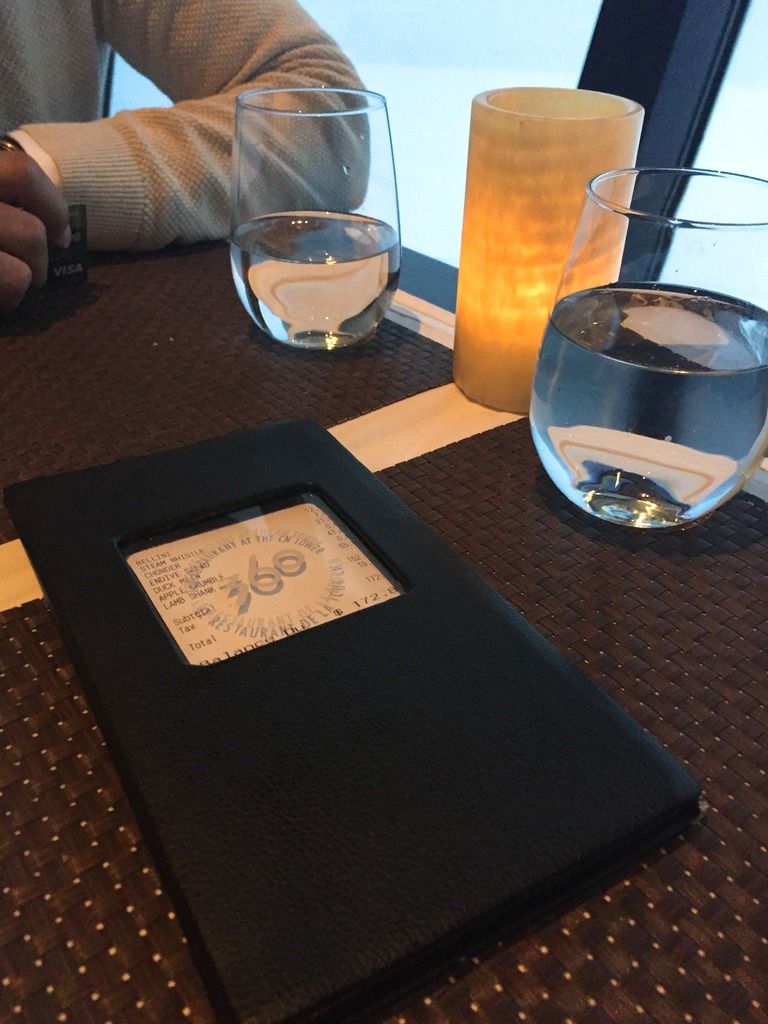 The service we experienced from the ticket counter, to the workers in the elevator, to our server was great. In order to receive an A+ from me, the service has to be impeccable. The service was great but it wasn't nearly as good as the one I got from The Shore Club. Those servers knew how to serve!
The 360, although expensive, you really get what you pay for. Good food, great view, and great service. It is now marked down as one of our favourite restaurants.
Overall: Ambience A+, Food A+, Service A.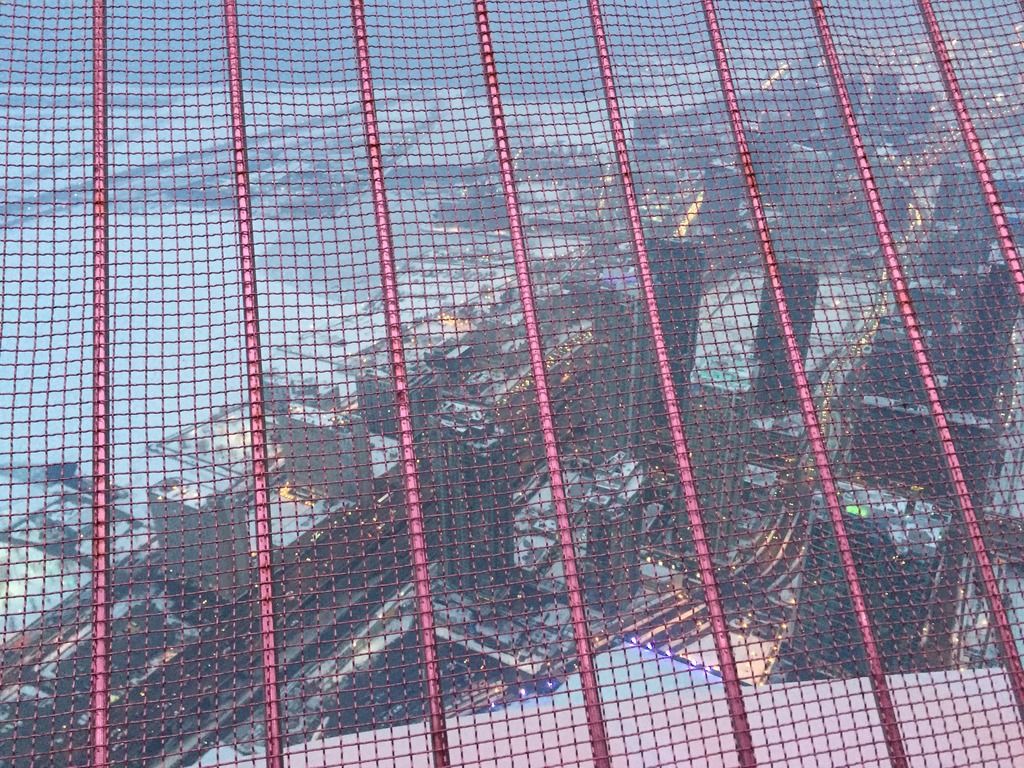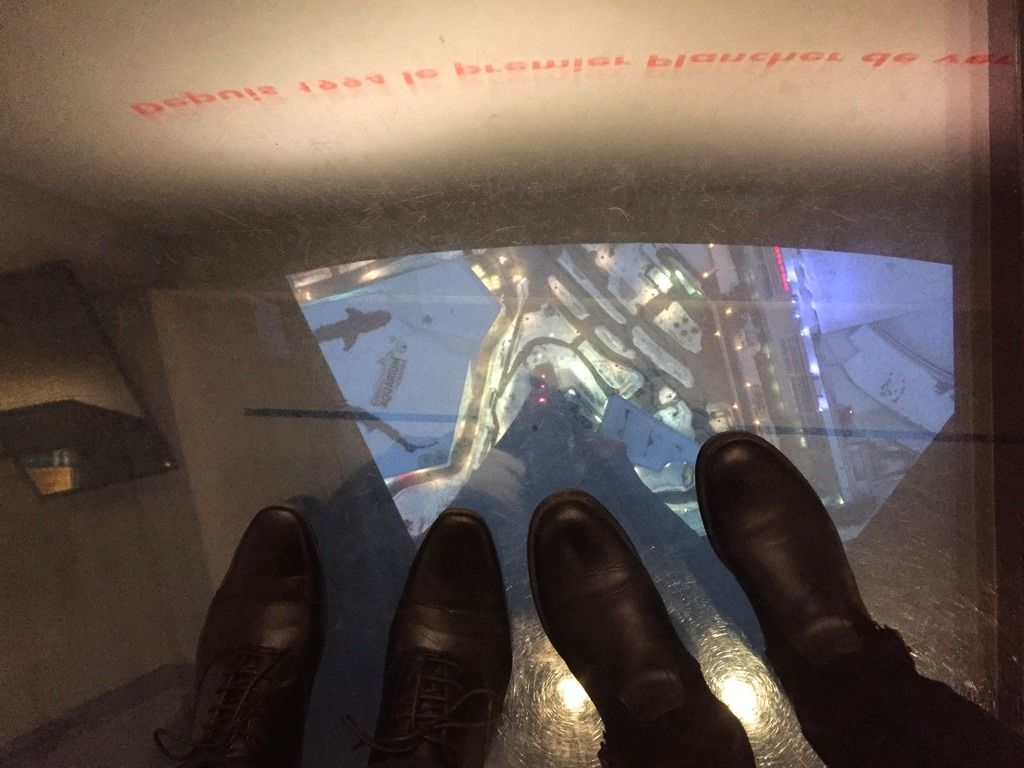 After dinner we went down to the observation level. This was the Mister's first time coming up to the CN Tower. We went outside and we stood on the glass floor. It was great because there was hardly anyone there. In the Summer it just gets crazy packed and you can't even get a nice picture on the glass floor without someone's head, hand, or feet in the picture.
I've been up here a few times in my lifetime, but not once have I actually read the facts written on the wall. I read some this time but it was getting late and we had to go!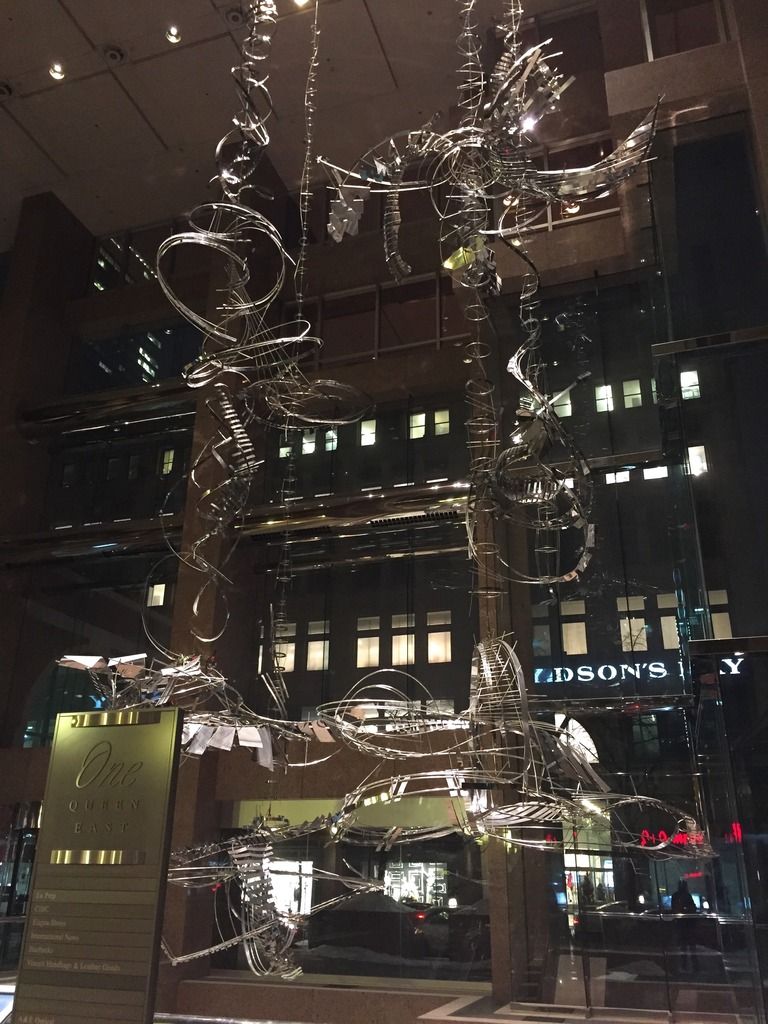 I might be weird but I wanted to drop by the Eaton Centre just to walk around a little before we headed home. We got off at Queen's Station and ended up taking an exit into this building with cool art sculptures hanging from the ceiling. Toronto has a lot of subway entries within buildings that I'm not even aware of. There's a whole other word out there that has yet to be discovered by me.
And just as we were heading into Queens Station again to go home, a snapshot of one of my favourite stores, Swarovski. Love love love their earrings.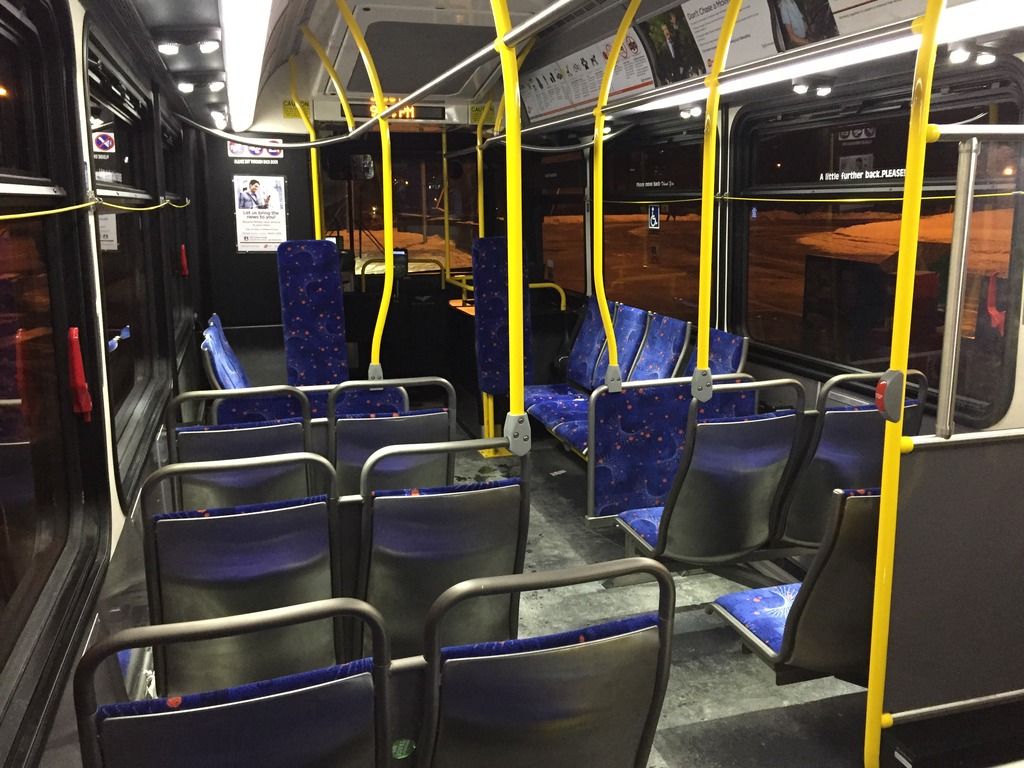 The bus we were on to go home was an Express one? Didn't know they had these kind of buses.
"One day someone will walk into your life and make you see why it never worked out with anyone else." -Unknown