Finally! The time has come for me to blog about my long overdue Montreal vacation. The Mister and I went on our first vacation to Montreal for a week back in August 2014 and experienced many great things. It's been a few months since that time but honestly, after the trip was over, I experienced major post-vacation blues. I didn't want to go back to work and I didn't want to jump back into same old mundane routine again. Blogging about the trip right after I got back was definitely not something I wanted to do- not at least until I got it together again. Then after I got over the blues, I got busy with life which explains why it took me so long to finally blog about it.
I really enjoyed our time and learned a lot about planning a trip/vacation. About a month before we went, I bought and read
Lonely Planet's Montreal guidebook
. However, I didn't leave enough time to plan an itinerary prior to the trip. The one I have is the 3rd edition, but I just checked and saw that they will be coming out with a
4th edition
. I highly, highly recommend these Lonely Planet travel guide books because they give you some insight about the history and culture of the place you're visiting, as well as a long list of hotels, restaurants, shops and places to visit. I plan to get the 4th edition too because some restaurants and shops mentioned in the 3rd edition are no longer around, plus it'd be nice to see the new places they recommend. Now, without further ado, on with the first day of our week long trip!
We chose to go to Montreal by train with
VIA Rail
because neither of us own a car and we didn't want to rent one either. Traveling by train seemed more interesting, less stuffy and quicker than traveling by Greyhound (bus). I traveled on the Greyhound bus twice in my life before; once with my grandma, sisters and cousins when we were little and another time with my gr.8 classmates on a Montreal/Quebec 3-day school trip. All I remember from those rides was
hell
. It was so stuffy and long and I definitely did not want to go through that again.
*FYI: I took a lot of pictures during the trip and I'll be writing a lot about everything. I want to remember the trip in as much detail as possible.*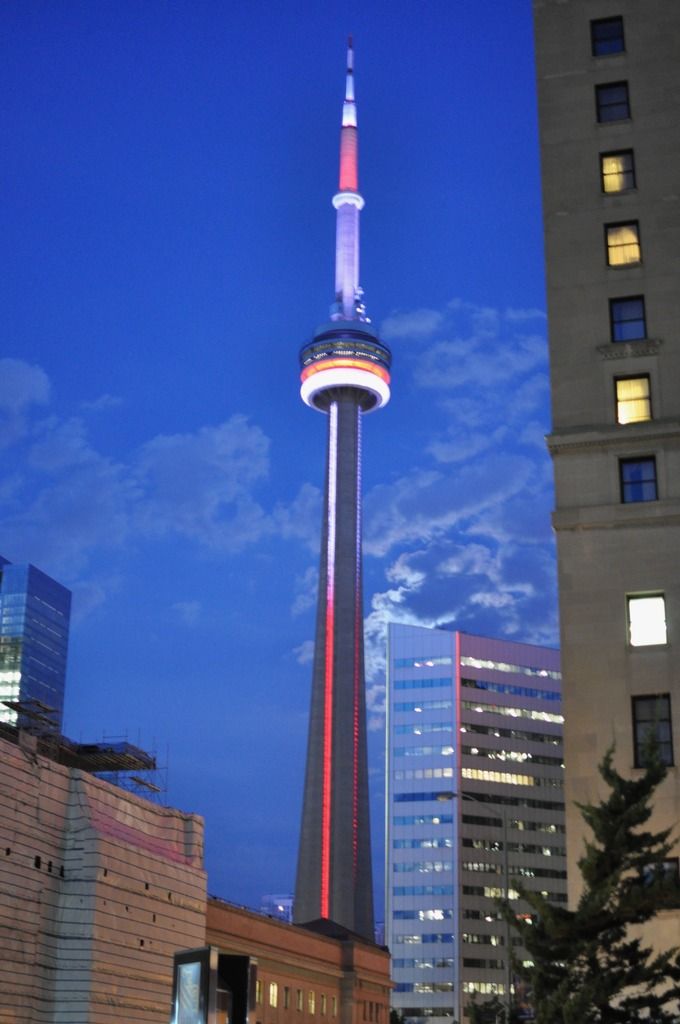 Our train was to depart Toronto Union Station at 6:40am on the Monday, and we were expected to arrive at Montreal Central Station at 1:18pm. My mom thought it to be a waste of money to take a taxi to the station so she drove us there in the early morning (thanks mommy!).
We arrived early because we didn't want any trouble about the train leaving us behind. Union Station was completely dead; I've never seen it like that before. We were a bit hungry so we got some pastries from Michel's Baguette. I brought along my suitcase, Michael Kors Selma bag and my Puma backpack- the same one I used when I was in first and second year of University (sigh, so long ago).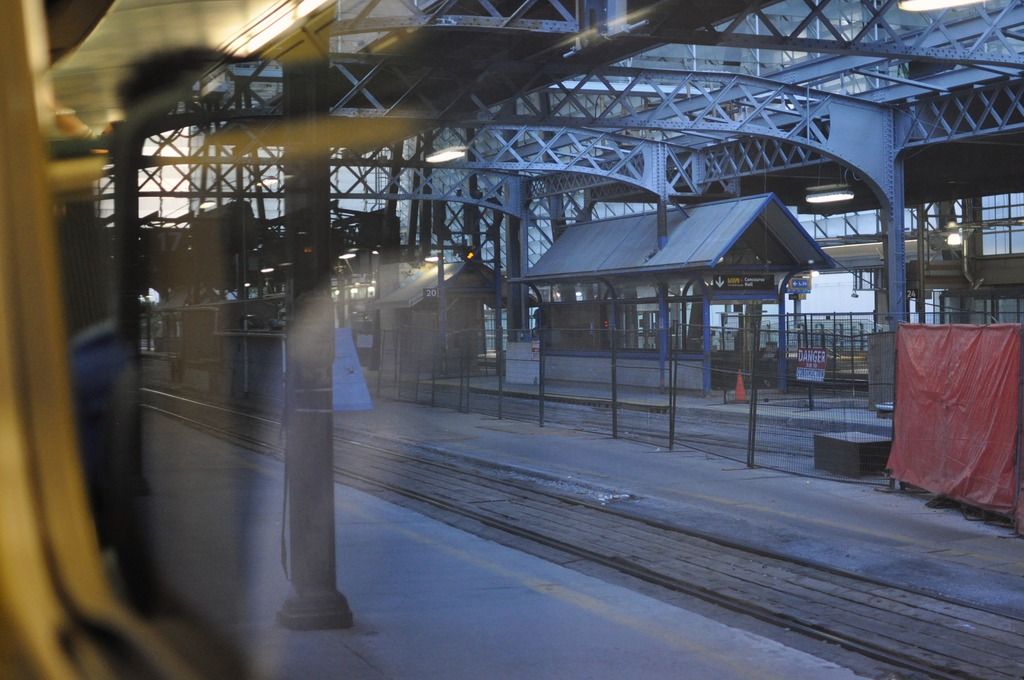 When we got on the train, it really wasn't what I was expecting. The seats felt a bit stuffy and slightly uncomfortable after a while; plus the car we were in looked really dated (we rode economy). I bought a Bodum Travel Mug prior to the trip so that I can drink homemade coffee on the way there. It holds quite a bit and it was quite handy to have.
Because I didn't leave enough time to plan the itinerary, I had to do some of it on the train :( Wifi was pretty slow and sometimes non-existent at times. Halfway through the ride I got thirsty so we bought apple juice from the snack/beverage cart. We watched some Big Bang Theory and a bit of Ted until we realized how inappropriate some of the scenes were (oops, didn't know it was that kind of movie!).
Finally landing in Montreal's Central Station. We kind of got lost and had to figure out how to get to our hotel from the station. At the time the Mister didn't own an iphone or have a good working gps on his phone so we had to do it the old fashion way by looking at a map. From the very first day I realized just how bad I was with direction... we seriously got lost so many times it wasn't even funny.
After lugging our luggage through the streets like crazy lost tourists, we finally arrive at our hotel,
Best Western Ville Marie
.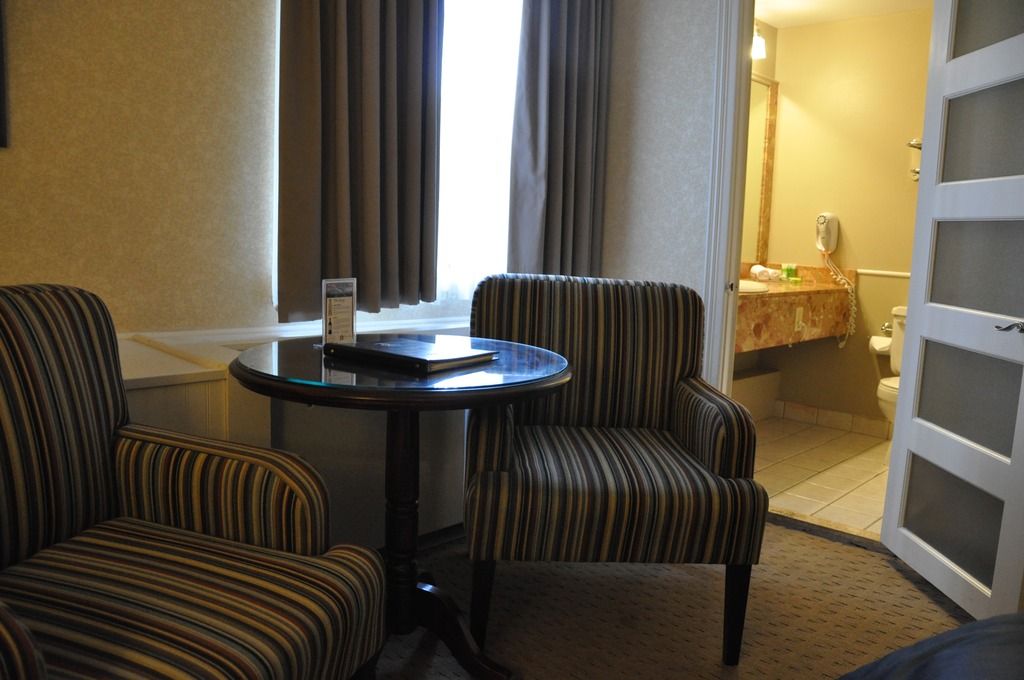 We booked through
Expedia
so we didn't paying full price and I used
Ebates
as well so I got some money back. The room was your average hotel room- with the exception of the king size bed. Throughout our stay the service was mediocre. There were times when our towels weren't folded as nicely, things not cleaned to the highest standard, and some things not being refilled (ie. cups, tissue, toiletries etc). There was even a couple occasions when things were left behind like this weird bent out of shape wire coat hanger.
We unpacked and settled in for a bit and then headed downstairs to check out their cafe.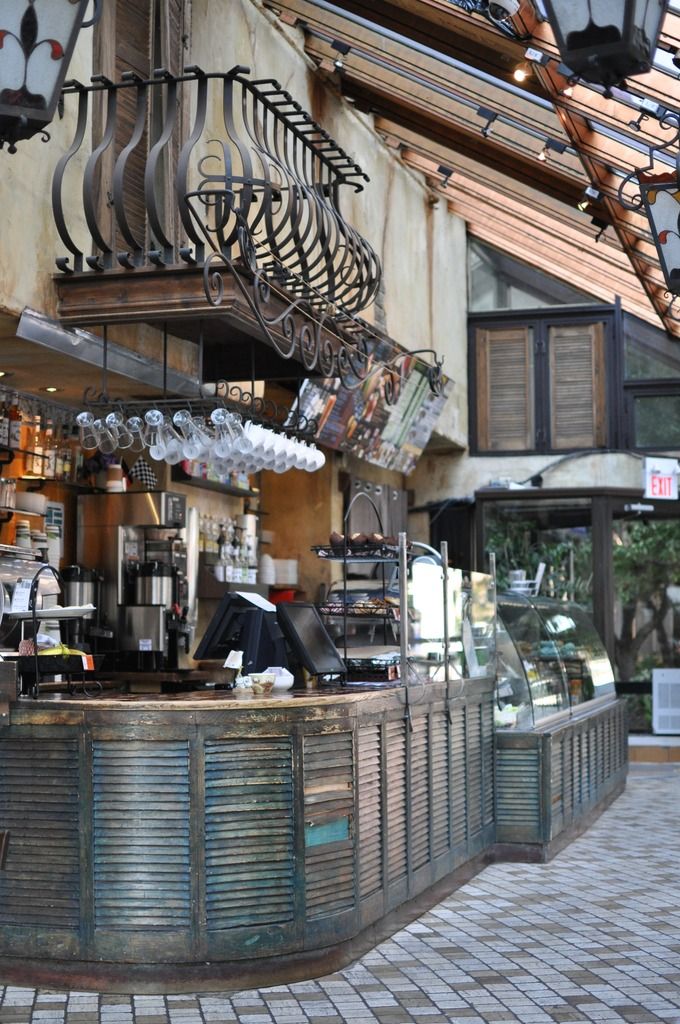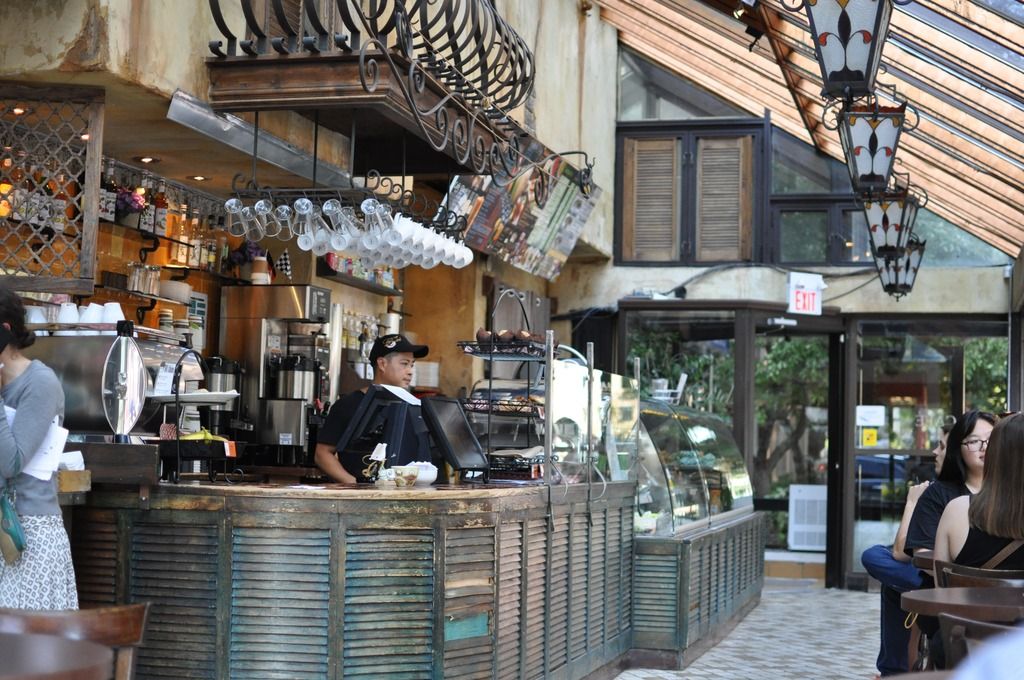 Cafe Castel
1015 Sherbrooke St. W., Montreal, QC H3A 1G5
Oh boy did we ever love the decor and ambience of this place. It was quaint and completely inviting with their sun roof and walls that are windows that they could open up on warm days to let the breeze in.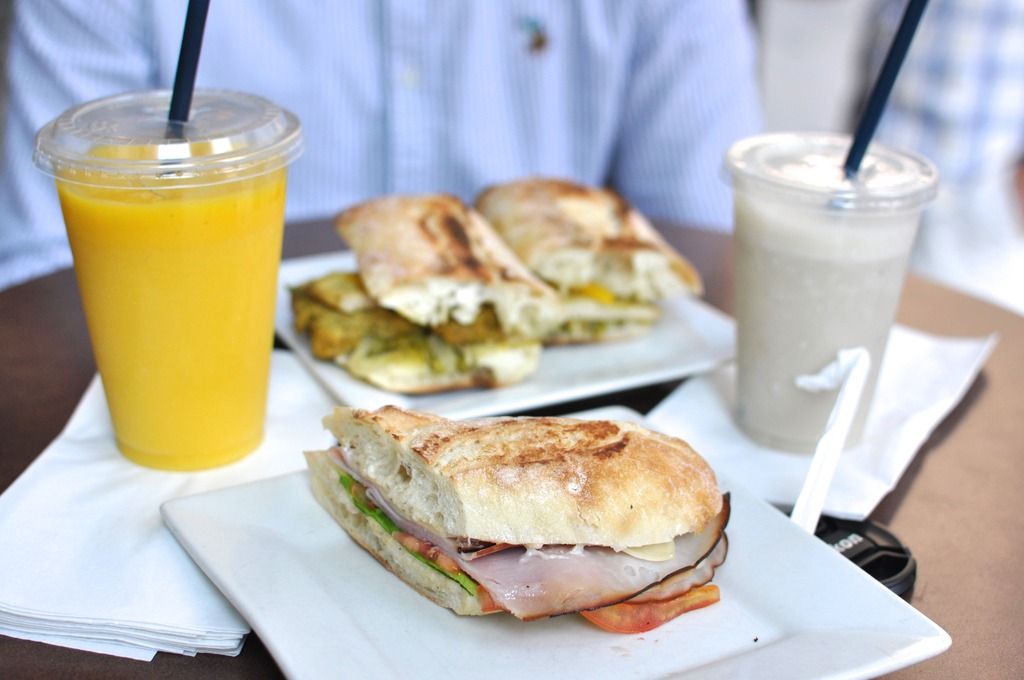 The man behind the counter who served us was a bit hasty that day. He seemed a little stressed out because he was short-staffed. We both got sandwiches and drinks; unfortunately our first meal here wasn't that great. My mango drink wasn't pureed enough so that I had weird strands of mango coming up in my straw. The sandwiches tasted just okay, they were nothing spectacular. But fret not! Cafe Castel turned out to be great (one of our favourites!) and you'll see why in upcoming posts.
We didn't do much on our first day because we were a bit exhausted from our train ride here and from lugging our luggage around in the hot summer sun. We mainly just stuck close by our hotel and walked a bit here and there. I couldn't believe there was a mall called Eaton in Montreal; I thought Eaton's was only in Toronto.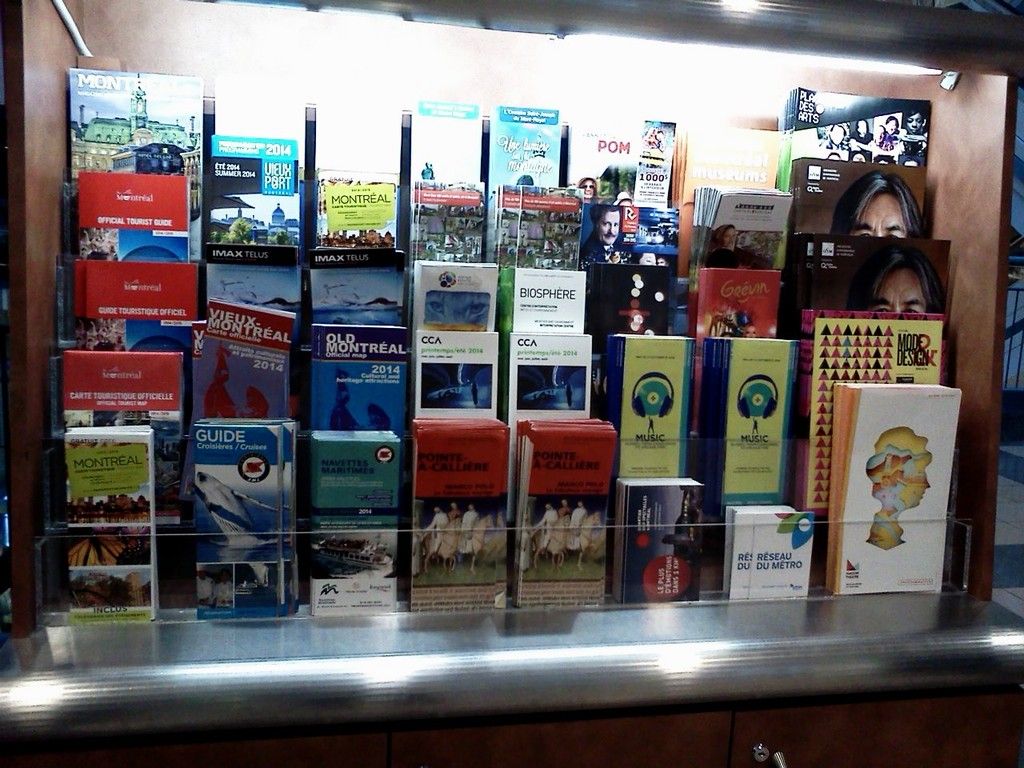 It was there in Eaton Centre that I found maps and useful travel information. The Montreal "Official Tourist Guide" was hands down the best map I've ever used anywhere. The map was easy to read and I especially loved the little tabs that make it easy to go to which section of the map you want to view without opening up the whole thing, genius! It was a total life-saver and I don't know how else we would have roamed Montreal without it.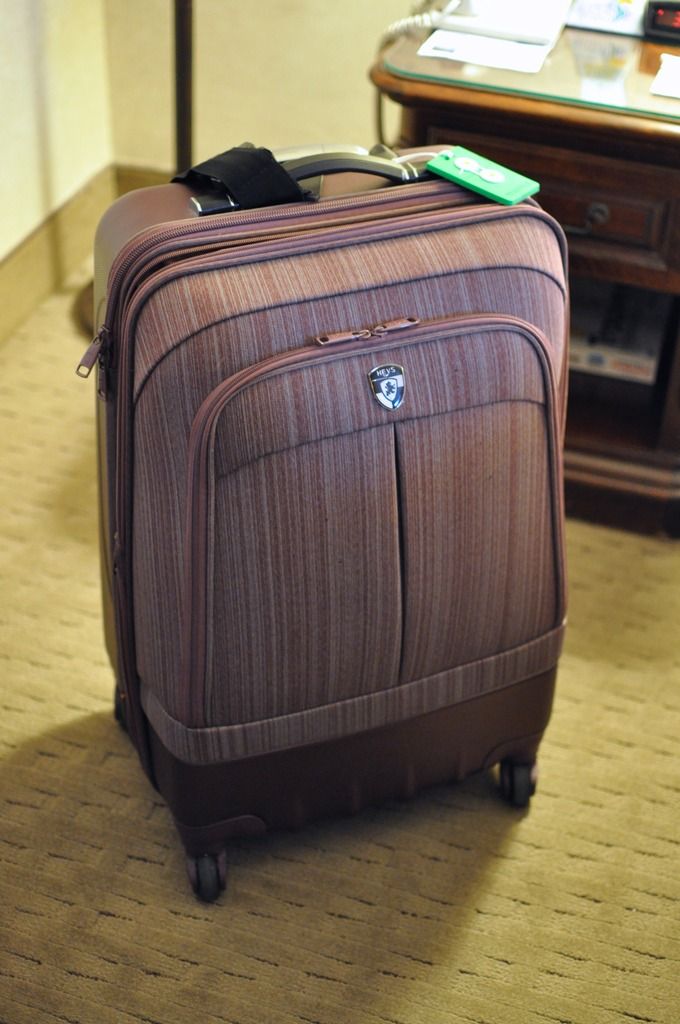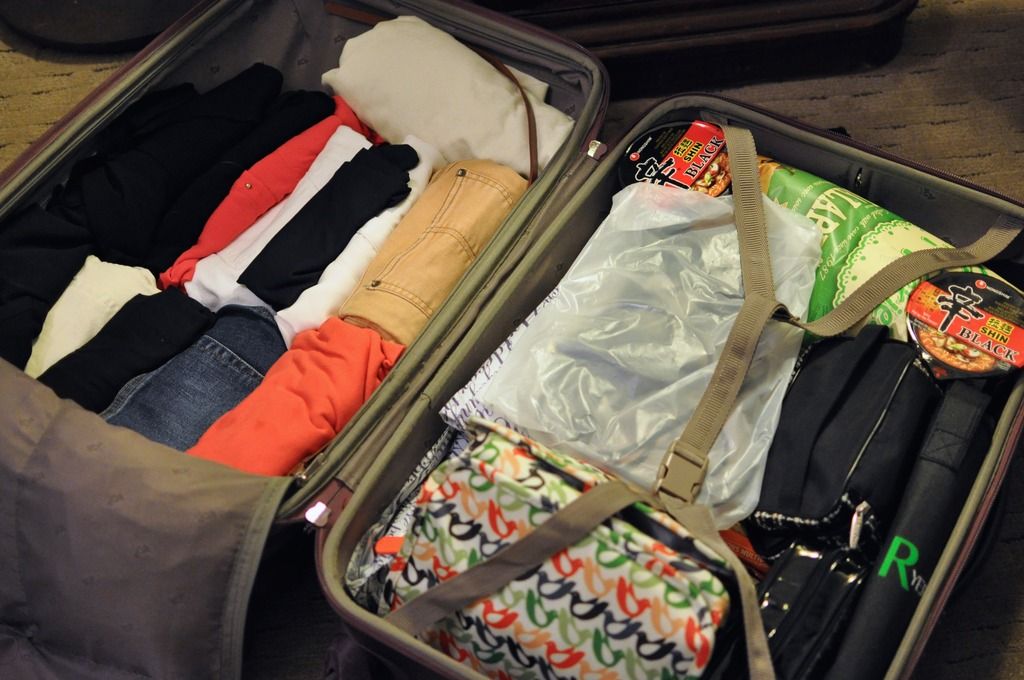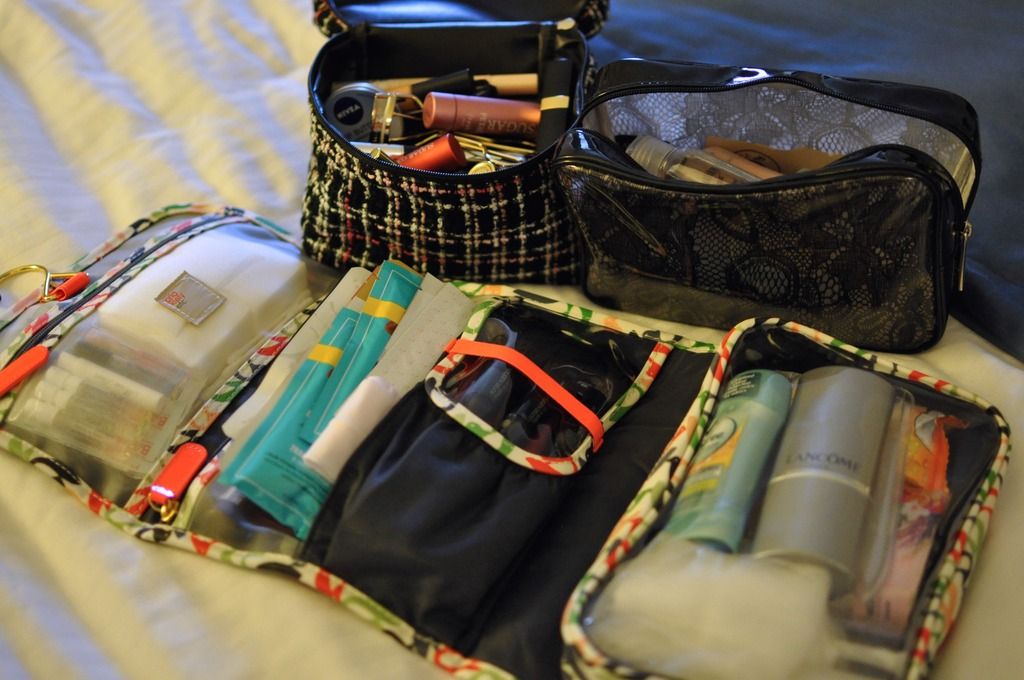 This is my suitcase and what I brought along with me. I made sure I had lots of options because I really wanted to enjoy me week there in Montreal.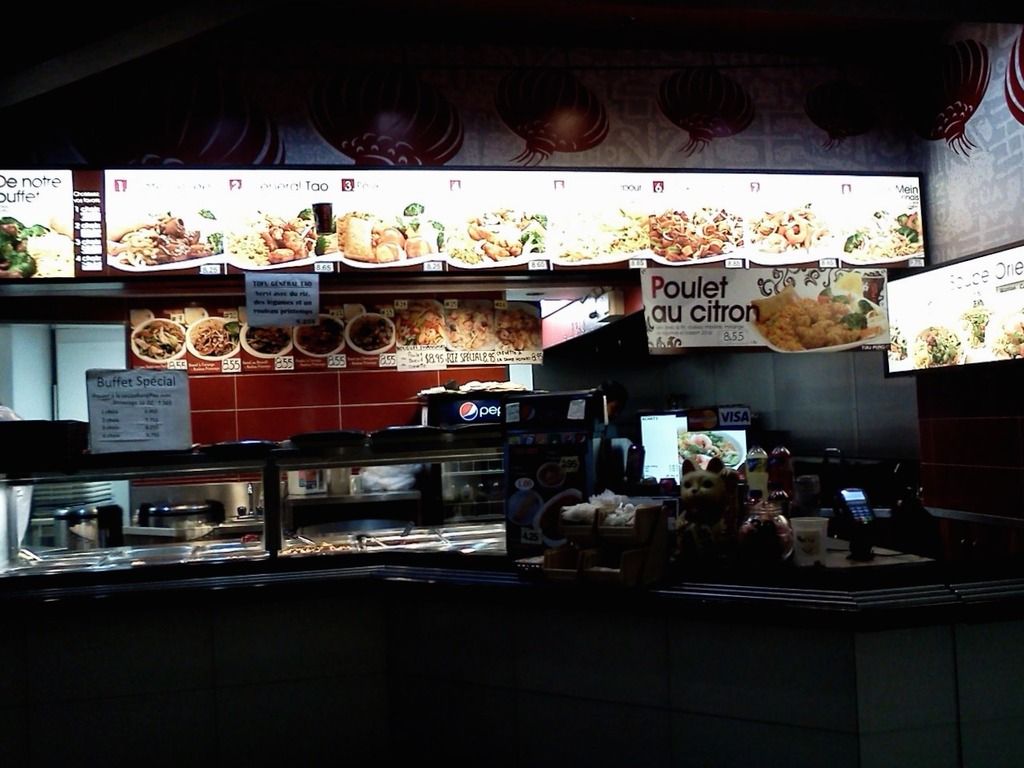 When dinner time rolled around, we were still too tired and lazy to go find a nice place to eat at so we went to Tiki Ming (one of the few vendors still open in the food court) and ordered a couple things to bring back to our hotel room. Worst. Idea. Ever. We should have taken the hint that no one else was around... I'm not even sure why we even came to this place (I guess I was craving Chinese and there was no Manchu Wok around). One, the food was just an oily mess, bland, dry, absolutely nothing exciting to say about it; and two, we got diarrhea the next morning (
TMI
but it's the truth!). Definitely do not, I repeat, do come eat at this place ever.
And that, ladies and gentlemen, concludes our first day in Montreal.
"We all have good ideas... The trick is to be brave enough to say them out loud. To be unafraid of input. To be willing to let your idea grow from good to great. But to do that, you first have to accept that you are capable of greatness." -Arlene Dickinson