I'm not a Valentine's kind of gal, but to those who are celebrating, I wish you a Happy Valentine's Day! It seems Valentine's this year has taken more of a hold. I hear and see more Valentine's Day promotions and love-in-the-air stuff than I have in previous years. Perhaps because it occurs on a Saturday this year? Restaurants are probably booked solid and on top of a Valentine's Day weekend, this Monday is Family Day, so even more reasons to celebrate. As you may remember, February 14 also marks 6 years of blogging for me! I can't believe I'm actually going on my 7th year of blogging already; soon enough it'll be a decade and that's just crazy to think I would be blogging for that long. It would've been better if I had the same original blog I started with, but things happened along the way so it didn't turn out that way. It's okay though because it can't always be picture perfect; I'm just grateful to have some posts from my second blog still here.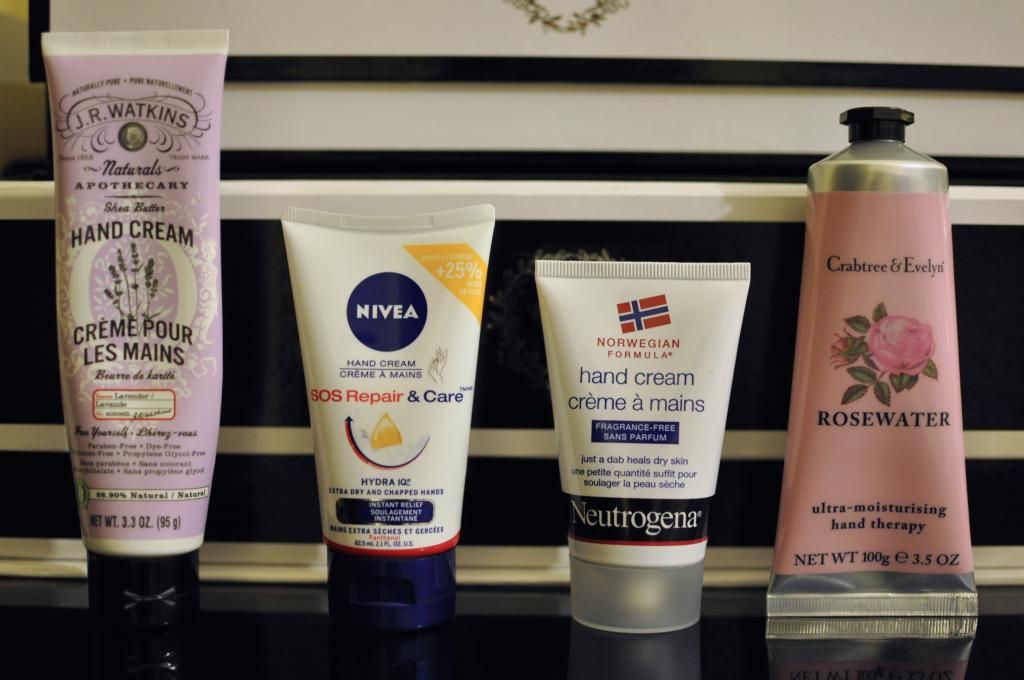 These are my favourite hand creams. I'm sure there are more great ones out there but these are the ones I like out of the ones I've tried so far.
J.R. Watkins Shea Butter Hand Creams are, for the most part (98.90%), made from natural ingredients. Their hand creams feel rich and creamy, absorbs great, and are very moisturizing. The only potentially downfall about them is that they are
heavily
fragranced- those who are sensitive to smells should avoid these. I've only tried the Lavender and the Lemon Cream so far and I like them both. The Lemon Cream smells really good, like a lemon dessert. As for the Lavender hand cream, I only apply it before bed because the fragrance is so strong. It all works out though since lavender is known for its positive effects on relaxation and sleep, thus keeping it at my bedside ends up being beneficial.
Nivea's S.O.S. Repair and Care Hand Cream is by far the best overall drugstore hand cream. It's thick and creamy, yet absorbs well, and is incredibly moisturizing. It spreads well and gives you that ultimate instant relief you want to feel when your hands feel extra dry and chapped. As the name says, it's my S.O.S., my go-to hand cream for when my hands are screaming for moisture. I also like that it's in a small tube and is non-scented so it's not a problem to carry around in your bag or to share with other people (especially men).
Neutrogena's Norwegian Formula Hand Cream is a heavy duty hand cream that moisturizes extremely well, but it's a bit different to your typical hand cream. For one thing, it's extremely thick. When applied, it does not easily sink into the skin, but rather turns into a white film as you try to work it in. But after it absorbs (takes a few seconds), it does a good job providing moisture. However, if you're experiencing extremely chapped hands and feel like you want to dip your hands into the ocean, this hand cream will not give you that instant "hydration relief" you're looking for- I'd turn to the Nivea S.O.S. for that. What is great about this hand cream though, is that it doesn't leave a greasy residue like other hand creams do. You either like it, or you hate it.
Crab Tree & Evelyn hand creams are a luxury buy. They smell nice, they're moisturizing, and they feel lighter so it's very easily absorbed. The Rosewater is my favourite because I'm obsessed with anything rose scented. These hand creams are great for maintaining the hands, but when it comes to heavy duty hydration, I prefer to use any of the aforementioned above.
"Once you've accepted your flaws, no one can use them against you." George R.R. Martin