Winterlicious
is Toronto's culinary celebration in the winter that offers a great opportunity to indulge in diverse cuisine at participating local restaurants for a fraction of the normal price. My sisters wanted to dine out together and picked
The Shore Club
as our choice of restaurant. I've never participated in
Winterlicious
or
Summerlicious
(summer version) before so this was new and exciting for me.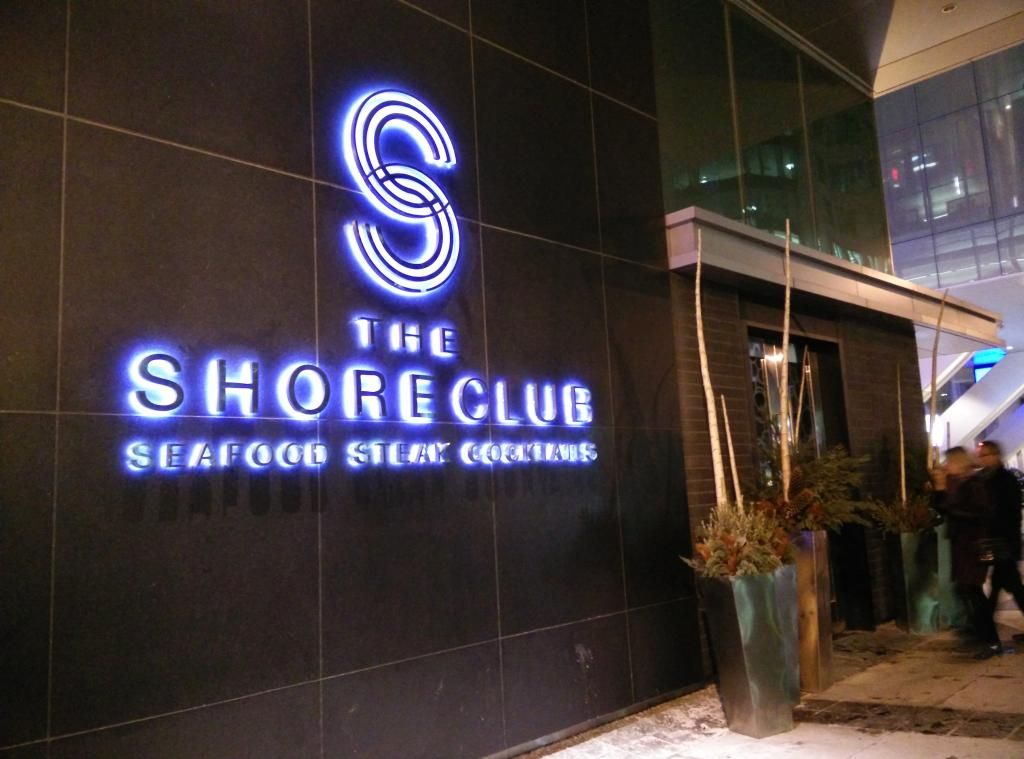 The Shore Club
155 Wellington St. West Toronto, ON
Taken from the site:
"A vibrant restaurant and cocktail bar offering up lively ambiance. The Shore Club is memorable for its atmosphere, professional service and outstanding cuisine.
With its luxurious, contemporary décor, The Shore Club elevates dining to a true feast for the senses. The interior, curated by renowned designer Elaine Thorsell, pays homage to art deco ocean liners, boasting soaring ceilings, a palette of cool blue and green hues and stunning original artwork."
When we walked into the place, the hostess checked in our coats (we found out at the end that the place they stored our coats was heated!! How neat!).
The place looked very nice, professional, and fancy. After we were seated and ordered what was available on the Winterliciuos menu, an older group of people were seated to the table next to us. The lady wore pearls and they seemed like they were wealthy people. I have to admit, I kind of felt cool haha.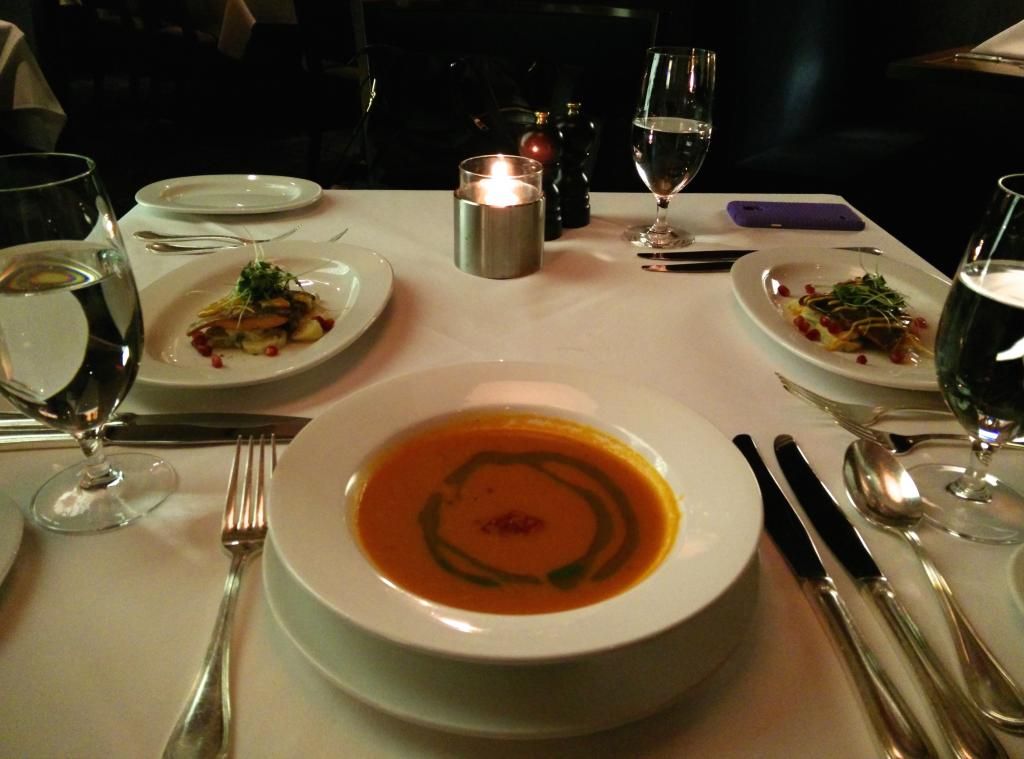 For my starter, I ordered the Roasted Tomato Soup with Sundried Tomato Pesto while my sisters ordered the Smoked Trout with Fingerling Potatoes, Mustard Greens, and Ancho Aioli. My soup was really good.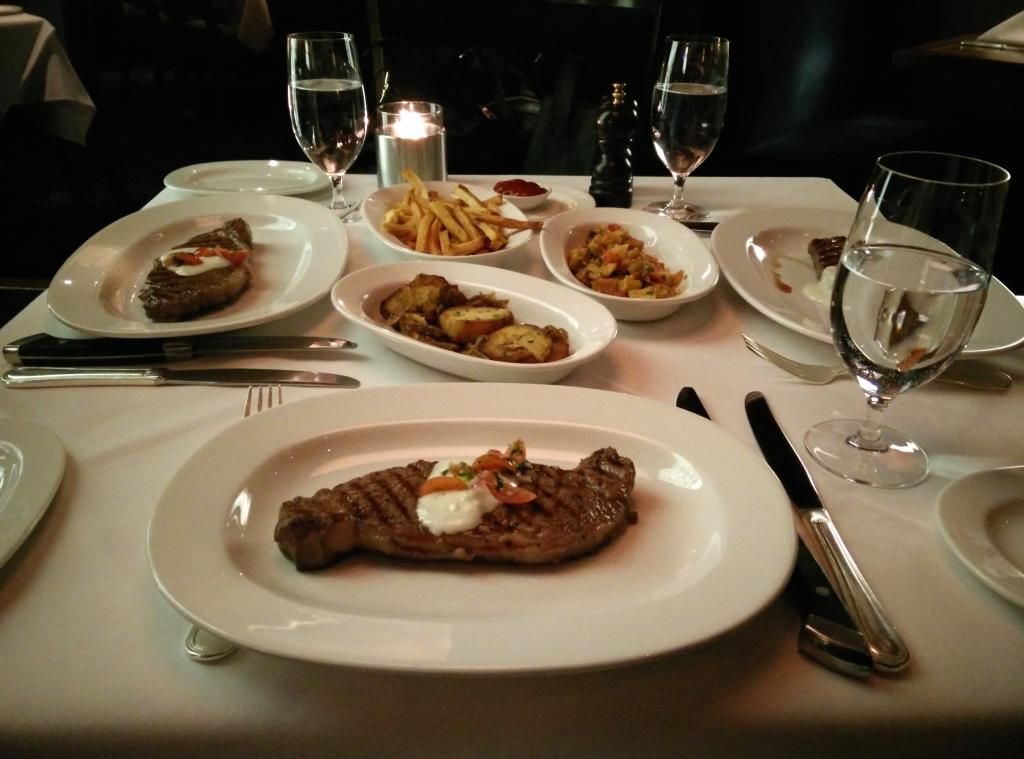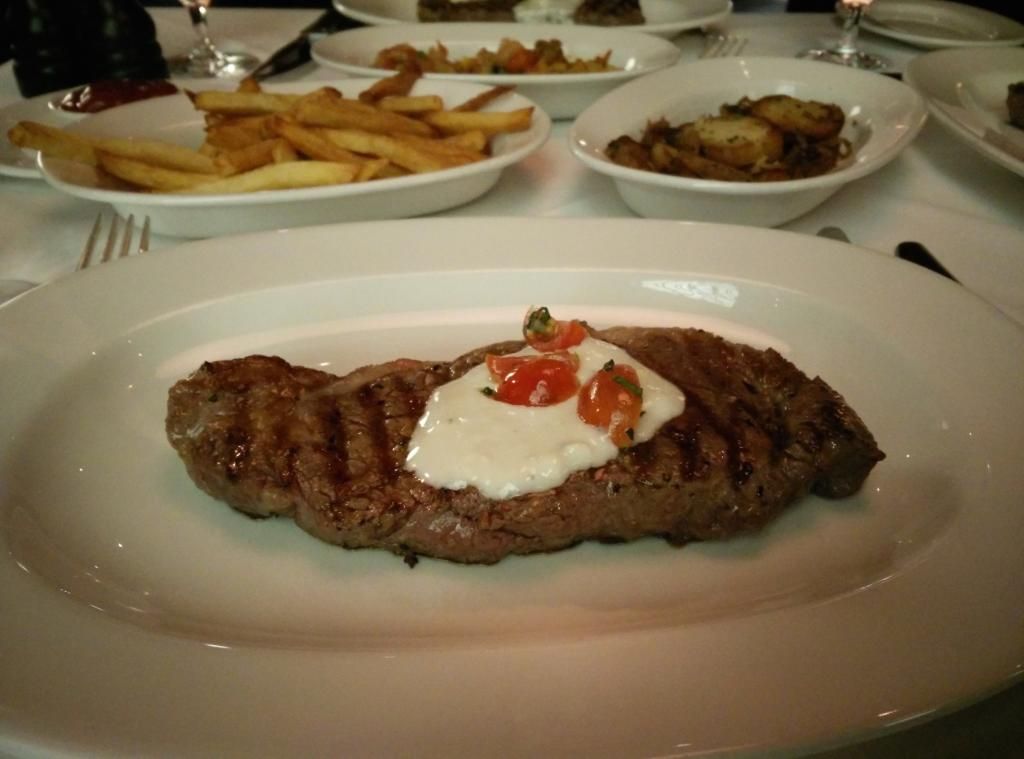 For our main we all got the New York Striploin with Blue Cheese Emulsion. And for my side I got the Lyonnaise Potato while my sisters got the Steak House Fries and Ratatouille. I'm not sure why they didn't put our sides on the same dish as the steak. Presentation was lacking in my opinion and I don't think it helped that the steak was sitting all by it's lonesome self. However, the steak was beyond delicious. It was buttery, tender, and absolutely scrumptious.
For dessert we all ordered the Sticky Toffee Pudding with Vanilla Ice Cream and Caramel Sauce. My readers would know that the Mister and I have Sticky Toffee pudding all the time at Swiss Chalet, so you bet I was comparing. The dessert, in my opinion, was a bit dry. The one at Swiss Chalet is so moist and it melds well with the caramel and ice cream. The Sticky Toffee Pudding here at The Shore Club was good but not outstanding.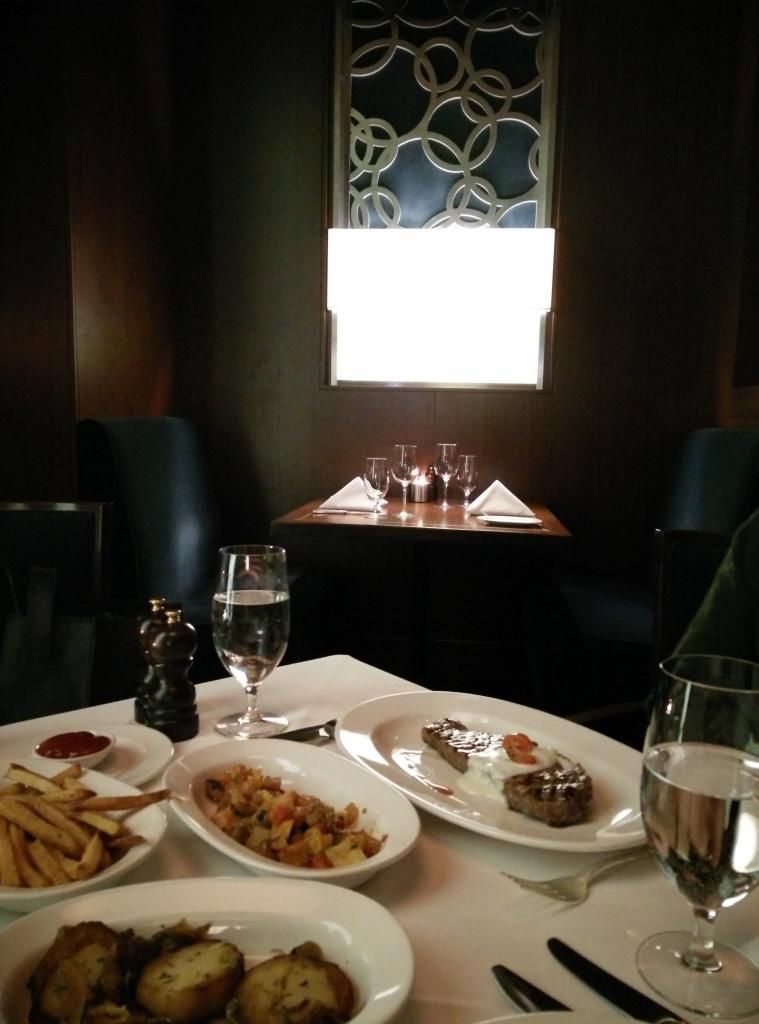 Other than the food, I really loved the ambience and the service was
impeccable
. We were fully tended to, and it was always more than one server who would come serve us and take our food away. Because of Winterlicious, my whole meal was only $45 (roughly $60 after tax and tip). Regardless of the normal price, I would definitely consider coming back to The Shore Club one day. I also really like the concept of @liciousTO, and I definitely want to participate when Summerlicious rolls around.
Overall: Ambience A+, Food A, Service A+.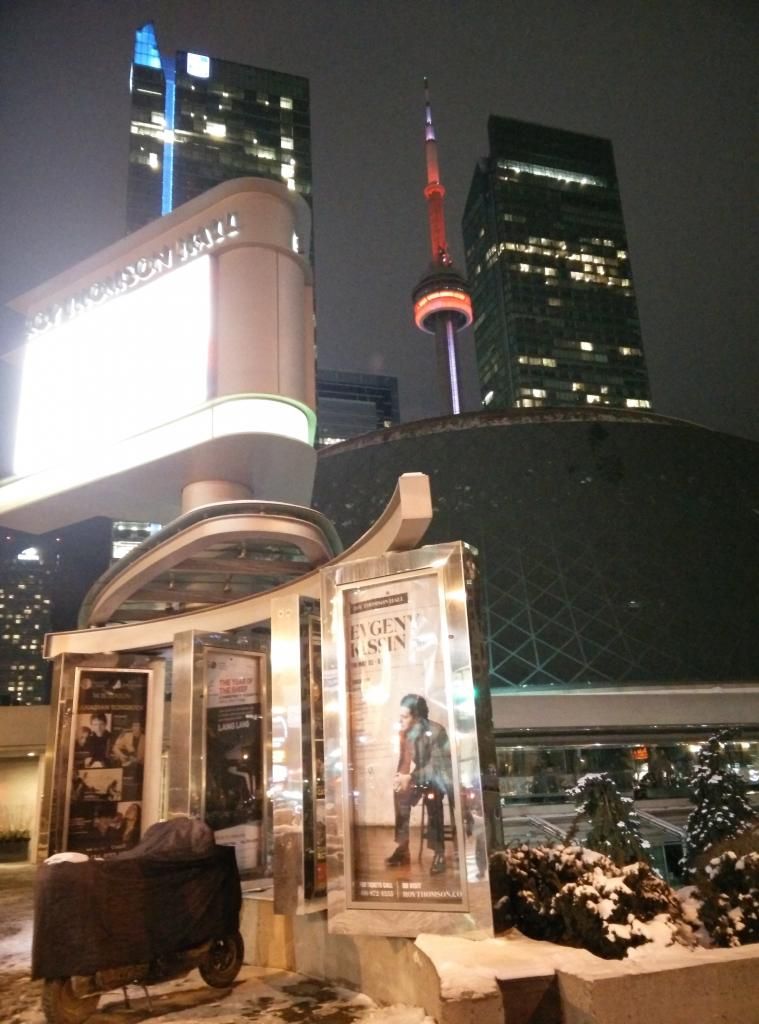 After dinner, we then headed off to hang out a bit at my sister's condo. We drank some fruit tea she got from Teavana. I don't think I've mentioned that I finally got myself into tea. I am so proud of myself!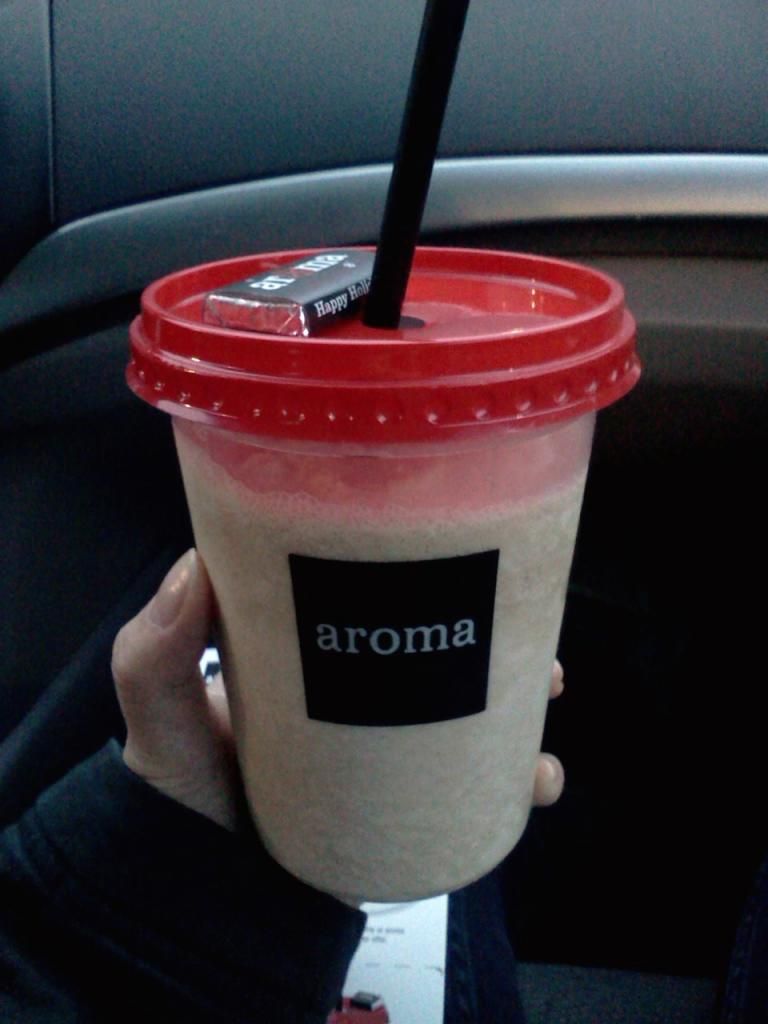 By the way, have any of you tried
Aroma
? My sister loves the place and bought me the Ice Aroma and it's seriously creamy and really really good.
"Everything you want is on the other side of fear." -Jack Canfield