As you may remember from previous years, January is my birthday month. My birthday fell on a weekday this year so I spent my day stuck at work, boo-hoo.
My younger sister lives downtown so we celebrated my birthday a few days earlier.
We went to DQ and she bought me an ice cream cake. I love Oreo cookie cakes and DQ makes one of the best ones!
So good!
Her present to me was this thoughtful card; a day to spend with her anytime, doing anything I want!
When I got home late at night on the day of my birthday, I was completely surprised by what my other sister did to my room while I was at work.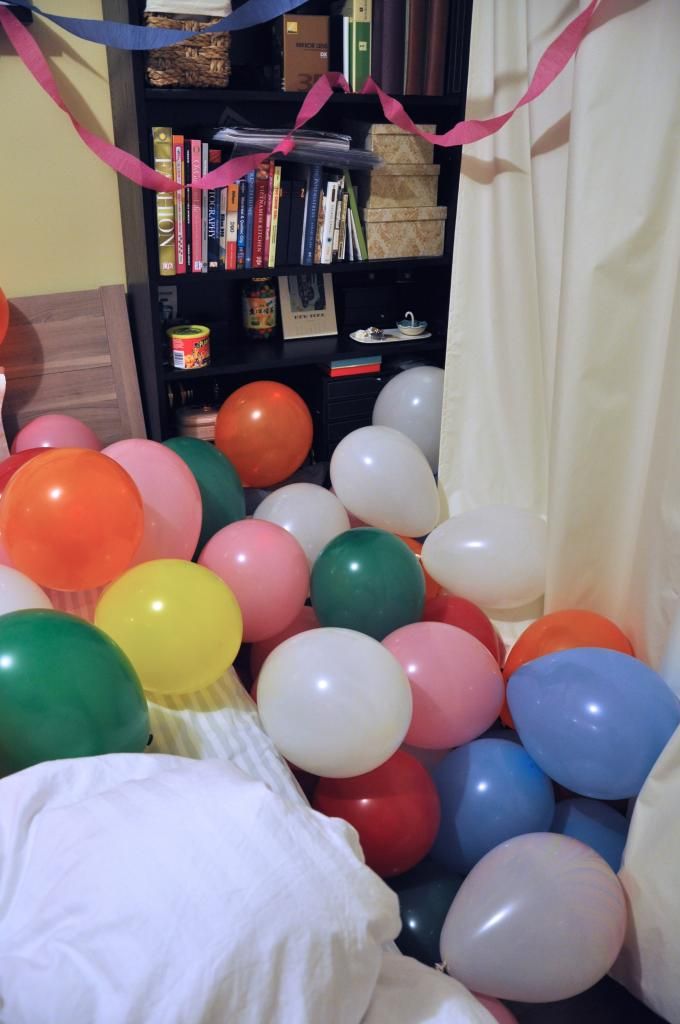 I cannot imagine how much work it took to blow up all those balloons and place all those streamers all over my room!! Apparently she had planned to blow up two more bags of balloons, but my brother told her it started to smell like rubber so she stopped. What she did really meant a lot to me. My family is not big on birthdays, so this was the best birthday surprise I've ever had in my life.
On the floor of my closet underneath the balloon were these coffee beans that she got for me. A while back I bought a coffee bean grinder that I never shared on my blog (will do very soon). I got into grinding my own coffee because it's more fresh than buying ground coffee.
She also got me a software called
You Need A Budget
. She remembered how I used to use
Mint.com
, but I didn't like that website much because it didn't give me enough control over how I wanted it organized; plus the Canadian version didn't have all the banks and credit cards listed. She's also seen my excel spread sheets that I use to handle my finances and thought that this software would be really helpful for me. I haven't used it yet, but when I do, I'll update you guys and let you know if I think it's any good.
This is what the Mister got me, Chloe's new perfume called Love Story. You girls know that I LOVE perfume, and this is the first bottle he has gifted me. The reason why he never bought me perfume before is because he believes in a superstition that it's bad luck to give perfume to the person you love. But because he knows how much I love perfume, he put that aside and bought one for me anyway. This gesture meant a lot to me as well.
And for myself, I bought this Zara scarf that I had to hunt down on Ebay because it sold out online and in-stores. It's the same scarf Wendy has on
here
and
here
. The listing on Ebay was overpriced, the shipping was high,
and
I had to pay customs... but it was totally worth it. It's such a soft and cozy beautiful scarf, and it keeps me really warm during these cold winter months. It's perfection and I absolutely love it!
I also got me a couple of Ted Baker items. I've seen their stores around but have never walked into any of them before. I finally decided to when I saw my cousin post a picture of how he accidentally brought along his wife's Ted Baker tote she uses as a lunch bag for work. My cousin's wife has good taste in fashion, so I decided to browse Ted Baker's website and immediately took a liking to the pink jewelry case and the black wash bag (both shown above). Luckily they were both on sale when I went in-store to find them. The jewelry case is perfect for traveling, and the wash bag is something I've been trying to find to replace my current one that carries my essentials in my handbag. I know it's silly, but I thought I was too old for bows- apparently not.
I picked up my Sephora birthday gift and this year it's by Nars. Since I'm VIB Rouge, I also got the eyeliner along with the lip pencils. They all seem to be very creamy by swatch.
I redeemed my free drink at Starbucks. I got a Vente Vanilla Bean Frappuccino because the Mister told me to get the largest size available haha. Don't worry, we shared.
Surprise, surprise! Swiss Chalet birthday dinner!
The Mister's birthday isn't far from mine so the next weekend we celebrated his day. He decided to spend his weekend by bringing us to Bramalea mall and eating at Wok of Fame for dinner. I like Brampton's Zum transit system because it's fast.
I've never been to Bramalea before so this was a new experience for me. They had a lot of stores that I did not know still existed or existed at all! I saw stores like Ecko, PJ's pet store, Point Zero, the smallest H&M store I've ever seen, and a bunch of stores I've never heard of in my life.
The Hudson Bay store hasn't been upgraded so it was like a blast from the past. They even had these shopping baskets that I think I remember them having, but then again not really.
And a Yankee candle store?! I did not know they had a free-standing store here in Canada.
Then after we were done exploring the place, we got back on the bus and went to Wok of Fame.
It was perfect because we starving by the time we got there and there's an assortment of food to choose from. Plus, we like the decor here, it's so much more than just your average buffet. Sushi, fried food, mussels, chicken, beef roast, crab legs, fruit, cake, ice cream, and a ton of creme brulee. Albeit still not good creme brulee, it's better than the one we had
last time
we were here.
My birthday gift to the Mister was Target's brand Threshold 6-Shelf Hanging Organizer. I also bought drawers for him to put in it too. A while back he saw me buying one for my closet and even though I offered to buy it for him, he told me he'd pick it up some other day. Well, that never happened, and it wouldn't be possible if I didn't get it for him since Target is closing down. He was so happy when he got it.
"We make a living by what we get, but we make a life by what we give." -Winston Churchill