I'm going to be totally honest with you and say that I'm throwing this post together as quickly as I can because I'm not in the blogging mood these days. I have a few things lined up but I'm hooked on watching Gilmore Girls on Netflix. During the Holidays my younger sister started on the series and I caught a few episodes when I was hanging around in the living room. The show seemed very interesting and very relatable, so, I took it upon myself to start it from the beginning and I've been hooked ever since. More about the show some other time.
Today, I need to get this monthly product post out; and as a reminder, this is the last of its kind. But no worries, I'll still feature products worth mentioning in my other posts. Random posts are more fun to read than these monthly posts anyway- in my humble opinion.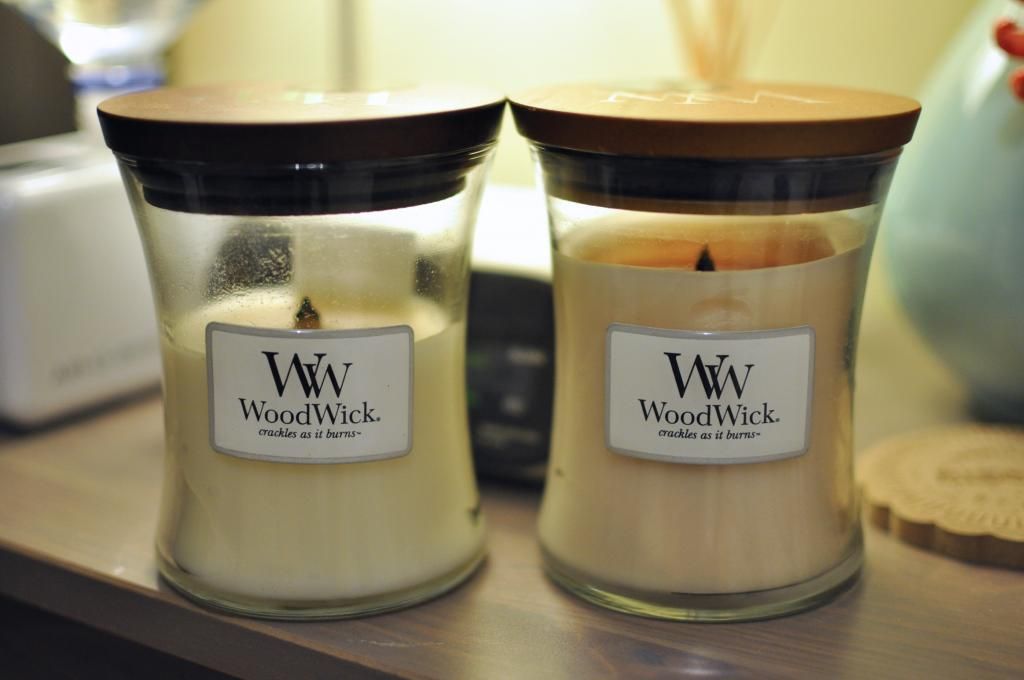 I love burning a candle when it's cold outside and as I'm sitting in my warm bed all cuddled up in my comfy blanket watching something on Youtube or Netflix. The candles I have been burning are by WoodWick in "Peppermint Cocoa" and "Rose Blossom". "Rose Blossom" is pictured on the right and is suppose to be pink but the colour has faded because it was sitting on my windowsill for quite some time. Both candles burned a little funny in the beginning. The wood wick didn't crackle as loud and didn't burn as bright either. Once the candles burned a third of the way, the wick finally started burning like how it should be. Both candles are very fragrant and, as always, WoodWick candles are lovely and enjoyable to use.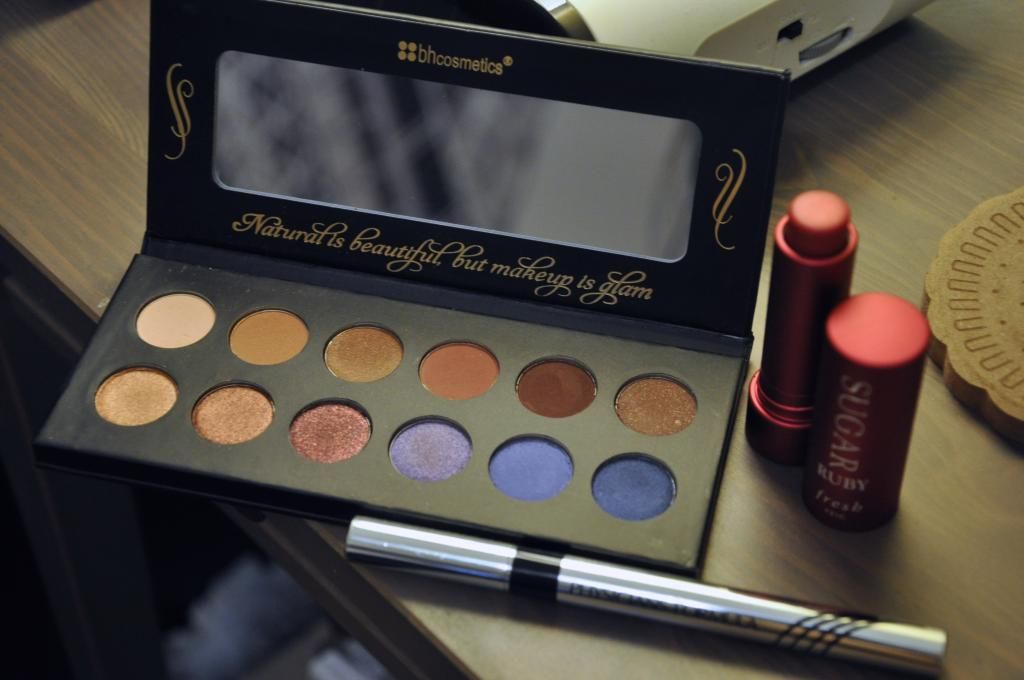 Itsjudyslife Palette is a great palette to have, but especially great for beginners like me. It has a decent variety of colours to choose from and narrows down the basic colours that complement each other to create a complete eye look.
I love Fresh's Sugar Lip Balms. The one I used most in December was "Ruby". It gave me a beautiful tint of Ruby Red colour on the lips- not too bold- which was perfect for the Holiday season.
I have featured Physicians Formula Eye Booster 2-in-1 Lash Boosting Eyeliner before but I thought I'd mention it again. This eyeliner is amaze-balls. It's precise, doesn't lose it's fine tip overtime, and is pigmented if you do a few strokes over. It's a no-fuss liquid eyeliner and I've even recommended it to my sister whom loves it too. Best bet is to go with "Ultra Black" as "Black" probably won't be as pigmented and I've heard the "Brown" isn't any good.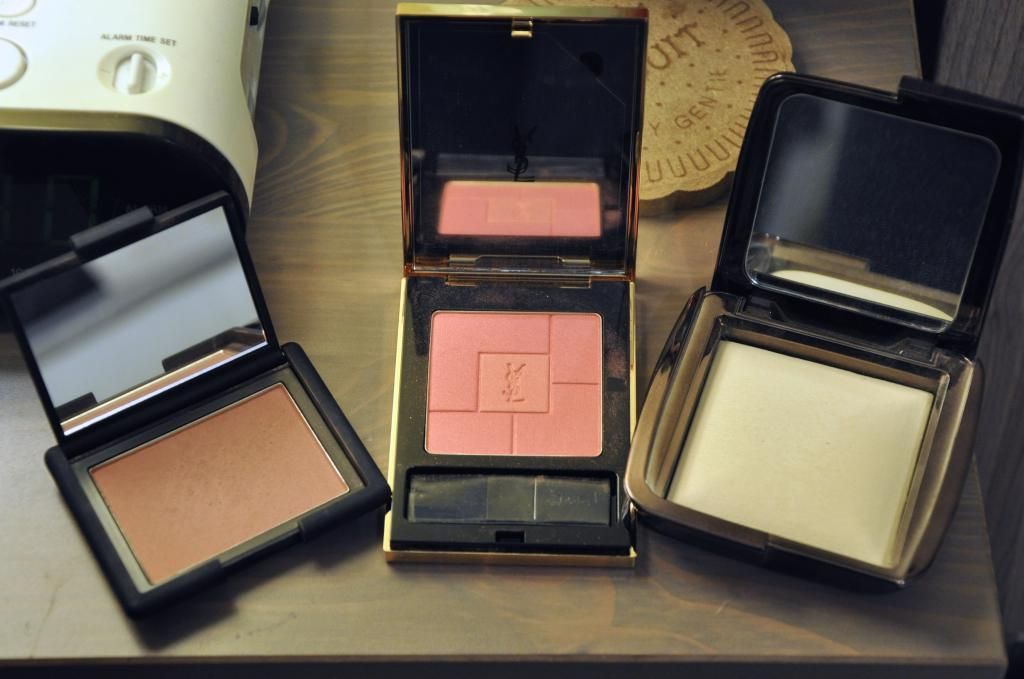 Nars Doucer Blush is very pigmented so you need a light hand. It's a beautiful dusty pink on the cheeks so its perfect for winter when you don't want your blush to be so vibrant. It's also very nice to use to create the illusion of a contour without using bronzer to do it.
YSL Blush Volupte in "Passionnee" #6 is a mid warm-toned pink with gold shimmers. The colour is pretty on the cheeks but I do find it a bit powdery. It also doesn't have a good balance between the pigment and shimmer; the shimmer shows more than the colour itself. If I apply more to try to get more colour, the shimmer and colour ratio stays the same, making my cheeks rosy but a bit too shimmery. My favourite blush with gold shimmers is still my discontinued Dior Blush in "Passion Fruit". It has the perfect balance of pigment and shimmer, and it's more pigmented too so I don't have to dig my brush in or reapply. I haven't purchased one of the new Dior blushes because I'm not a fan of the packaging. I'm unsure if I'll buy any other YSL Volupte blushes but for now I'll just keep playing with the one I have.
Need I mention this Hourglass Ambient Lighting Powder in "Diffused Light" again? Yes, because it's wonderful! Micro-barely-there shimmers, it gives an appearance of an inner glow- which is unlike the shimmer that other highlighters give.
Hopefully I will get back in the swing of things soon! It's always the starting that's hard!
"The problem is not the problem. The problem is your attitude about the problem." -Jack Sparrow (Pirates of the Caribbean)