The weather has been up and down and up and down here in Toronto. One week it's freezing, then snowing, then raining, then warm, then really windy! I hope this Saturday won't be too cold and that it won't be raining or snowing because the Mister and I are hoping to go to the Christmas Market at the
Distillery District
. Speaking of Christmas, I have been Christmas shopping like a crazy lady. I'm done with my younger sister's present, my brother's, and my mother's. All I have left to get is a gift for my other sister, my nephew and niece, and something for the Mister. Him and I have been going nuts over Marshalls and Winners because there are so many good finds there! The Mister enjoys Marshalls more because he finds it more organized than Winners (referring to both locations that are downtown on Yonge).
| | |
| --- | --- |
| | |
We first started off the day by dropping by Square One so that I can go to Walmart to pick up a few essentials. I got a few things that I've been meaning to get such as my beloved Hask Macadamia Oil for my hair, a backup of my beloved Milani lipliner in "Nude", back ups of my Nivea moisturizers because they were on sale, an Essie polish in "In Stitches" (which is beautiful by the way), candy canes because I told myself I'm totally getting them this year, Wet Ones Antibacterial Wipes because it's great to have in your purse, and house slippers for both me and the Mister. The slippers I got for myself were the cutest pair I found at Walmart, and they were only $12 too! They're very warm and comfy. My last pair of slippers were gifted to me by my brother two years ago by the same brand, George, so I know that they'll last for a long time.
I also walked into Target and found this adorable little Christmas Tree. This is my first Christmas decor purchase that isn't from the dollar store lol. I wish my wall colour was different now since the room would be more cohesive if the wall colour wasn't so vibrant. It's not that I don't like the colour, it's just that I've realized that I gravitate to cool blue/purple/grey colour tones when it comes to picking out decor for my room.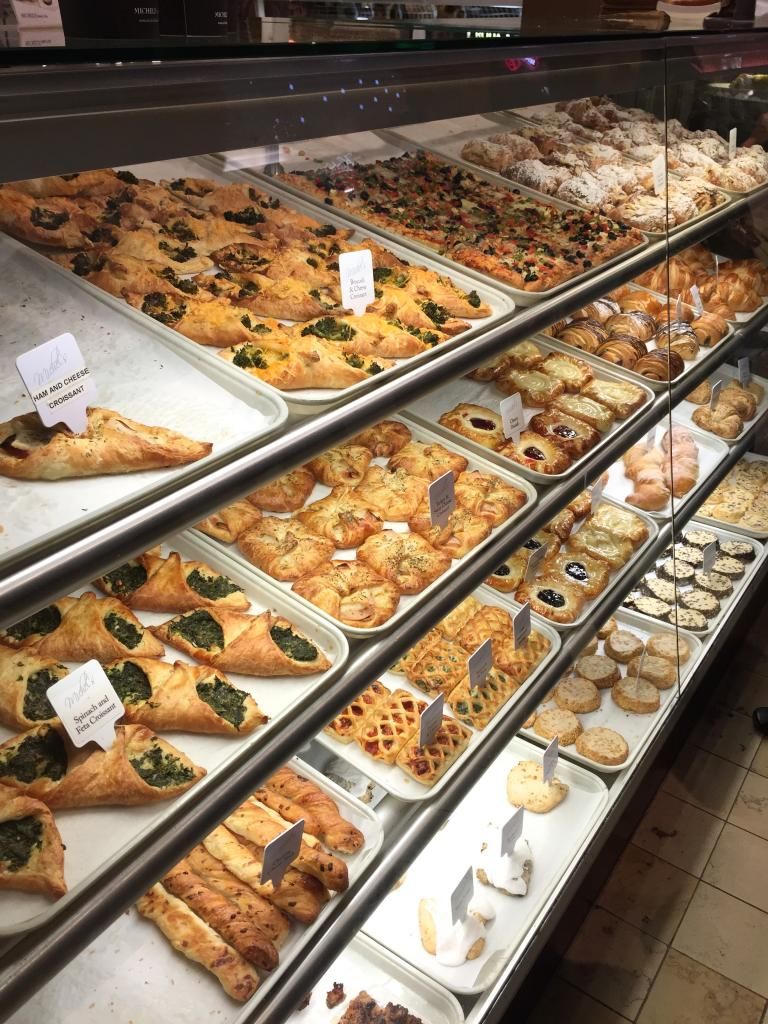 Grabbed a bite to eat at one of our favourite bakeries/cafe, Michel's Baguette. I really like the Spinach and Feta Croissant, but any of their Croissants are the bomb!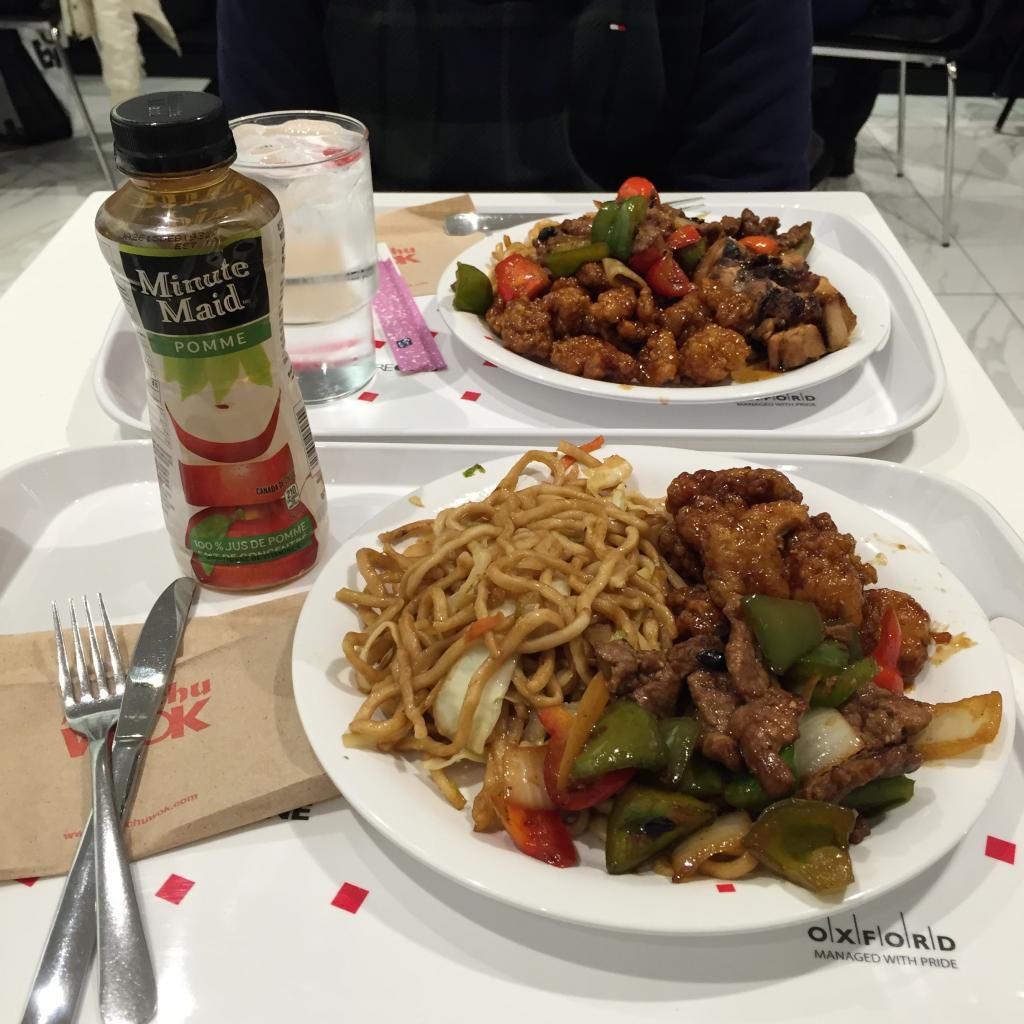 On another shopping trip to Square One we ate at Manchu Wok, which I haven't eaten in a very long time. When the Mister and I started dating, we would go to Square One every Friday (our day off at the time) to shop and go watch a movie. I remember going to the food court and eating Manchu Wok while he stuck with Bourbon St. Grill because he was hesitant to eat Chinese food since he never had it before. How far he has come :) I like the Honey Garlic Chicken and the Sweet and Sour Pork (not shown) the best from them.
Then we headed downtown and went straight to Winners and Marshalls. Check out these designer goods I found at Winners. Valentino? Fendi? Say what?! The Winners on Yonge is always so packed which is why the Mister doesn't enjoy it as much. I agree that it doesn't make the shopping experience that great with so many people in a space that seems to be crammed with tons of stuff... but I'm willing to sacrifice that for some good finds, and good finds I did find :)
Obessionnnnn
. I found the candle to the farthest left on a previous trip to Marshalls but I added it in this photo to show you how much I love
WoodWick Candles
. My younger sister gifted me a candle for my
birthday last year
and I've been obsessed ever since. I'm still actually burning that one that she gave me because I was saving it all this time. But now that I finally found some more WoodWick candles at Marshalls and Winners, I'm just going to burn and enjoy them all I want. From left to right the scents are: Linen, Baked Apple (good for Winter), Peppermint Cocoa (great for Holidays and Winter), and Lavender. They're much cheaper to find them at Winners and Marshalls because if Canadians
buy online
they go for around $25+ each and that doesn't include shipping.
Taken from the site:
"Woodwick Candles are one of a kind candles made with a premium soy blend of waxes and beautiful fragrances from essential oils, from its feminine hourglass shaped glass container to its handcrafted wooden lid. Of course, all Woodwick Candles have a wooden wick that crackles just like a wood fire always setting the right ambience and atmosphere.

Ribbonwick Candles create a mesmerizing ribbon-like flame. As the candlelight dances across the pool of highly scented wax it creates an intriguing ambiance unlike any other candle on the market. This distinctive effect, coupled with elegant new home décor vessels, results in a stunning "centerpiece" focal point that will transform any room."
And here are
some
of my candles. I admit I have a problem. I wonder just how many candles I have altogether :x But seriously, WoodWick is one of my favourite candles of all time. They're just so different and unique! It's like having an instant fireplace in your room. I love the crackling sound that campfires and fireplaces make and these WoodWick candles make that same crackling sound. I highly and most definitely recommend them.
Then... there's Marshalls. They have some really nice home decor things and a lot of Christmas decor too!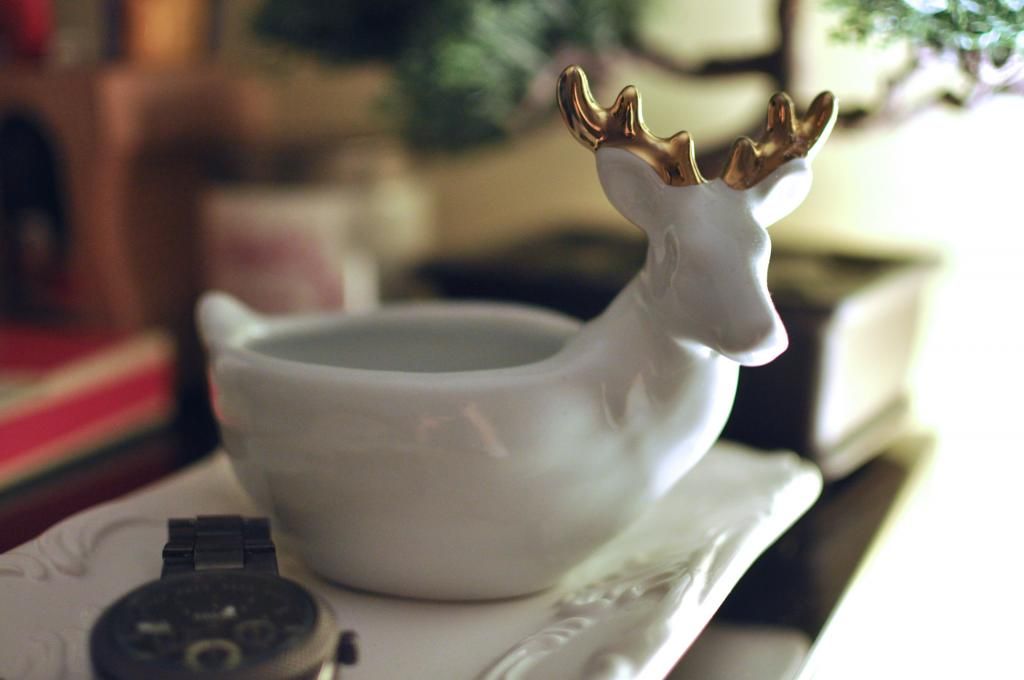 I found this little gem in the decor section. I've mentioned before how I love skulls and antlers, right? Well I found this little deer holder with golden antlers that I totally love. It's so cute!! I'm on the hunt for a silver deer head with nice antlers (non-realistic looking otherwise I find it creepy) to hang on my wall. Can you tell how much I love antlers?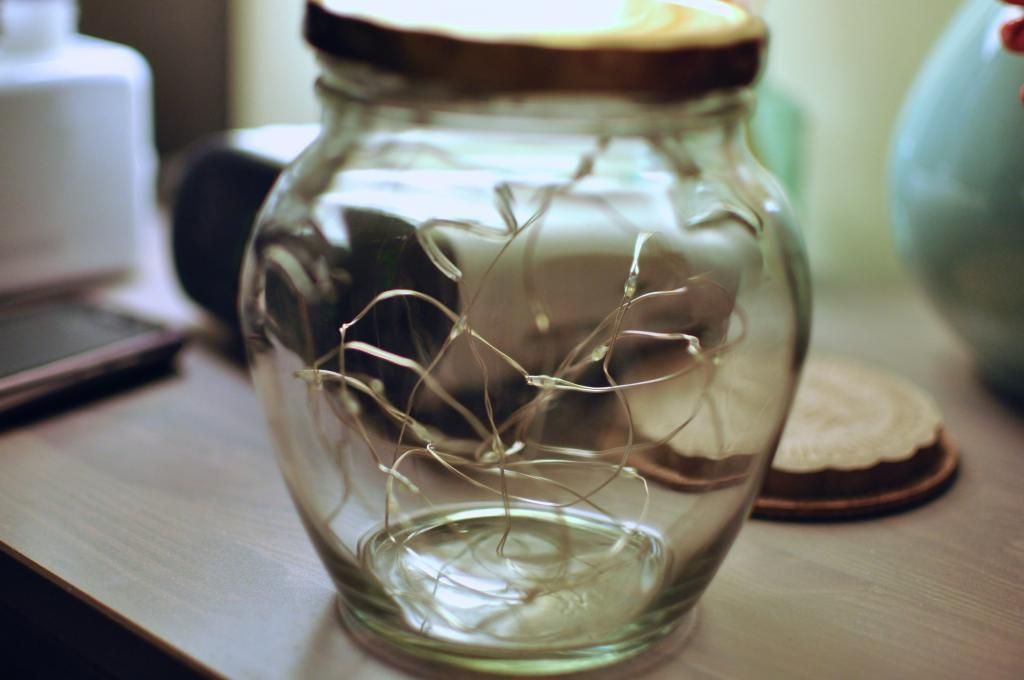 I got these
LED lights
at Chapters. I wanted to make one of these jars with these lights in them that I often see used at weddings and other events. The lights in the jar is so whimsical and magical almost.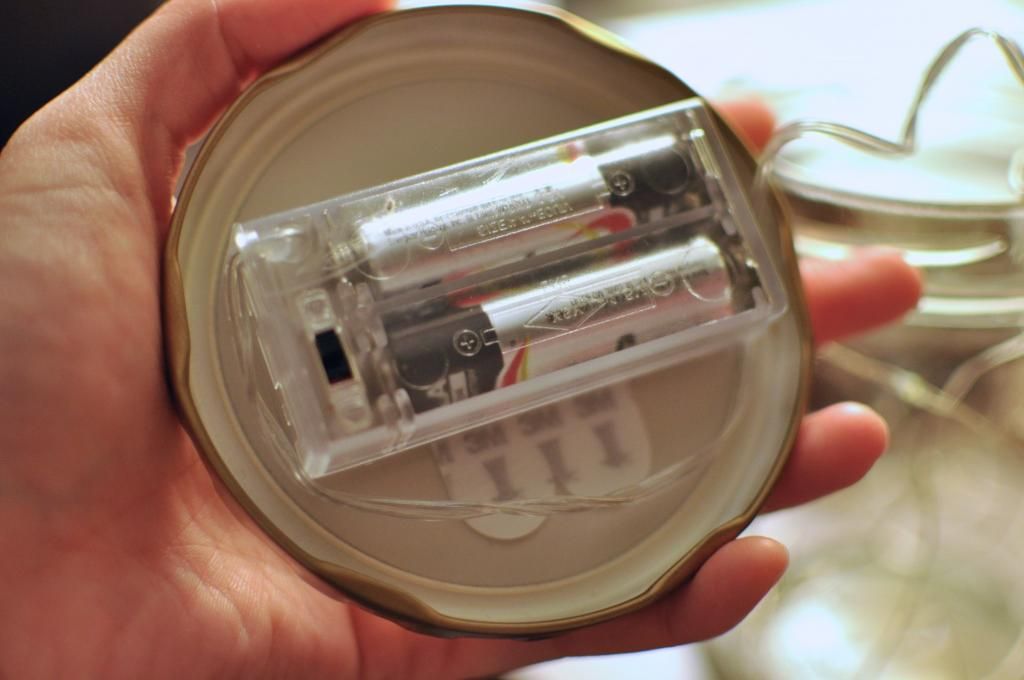 It runs on battery so you can place it anywhere. All I did was get two 3M poster tape (you could use one) and stuck it on the lid of the jar. I used 3M poster tape because I know it'll hold the weight of the batteries and it'll be easier to remove when I need to change them out.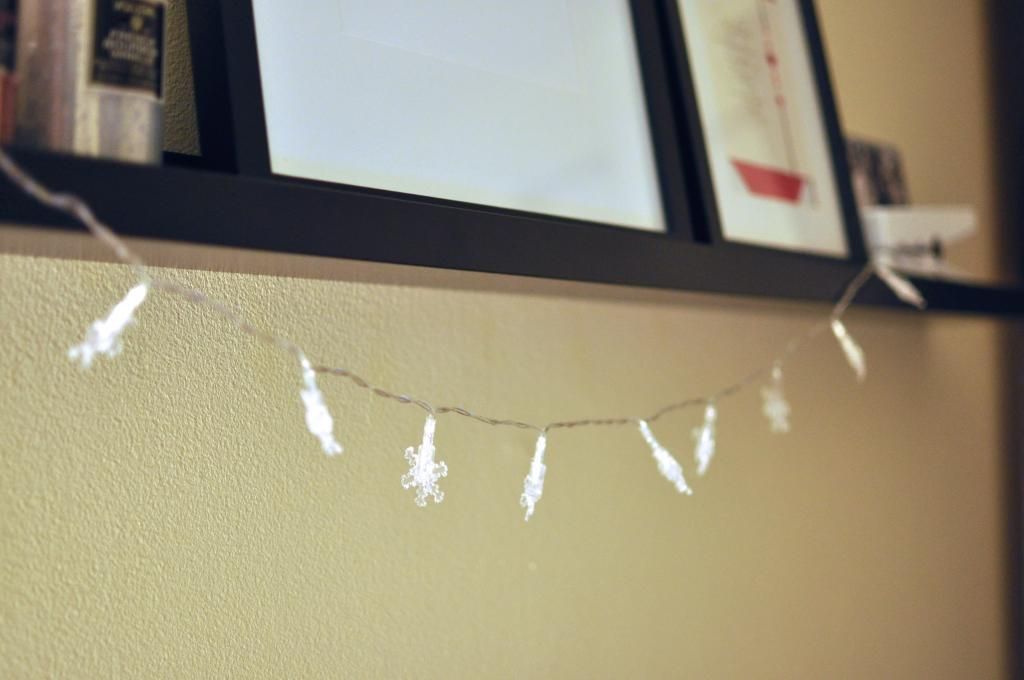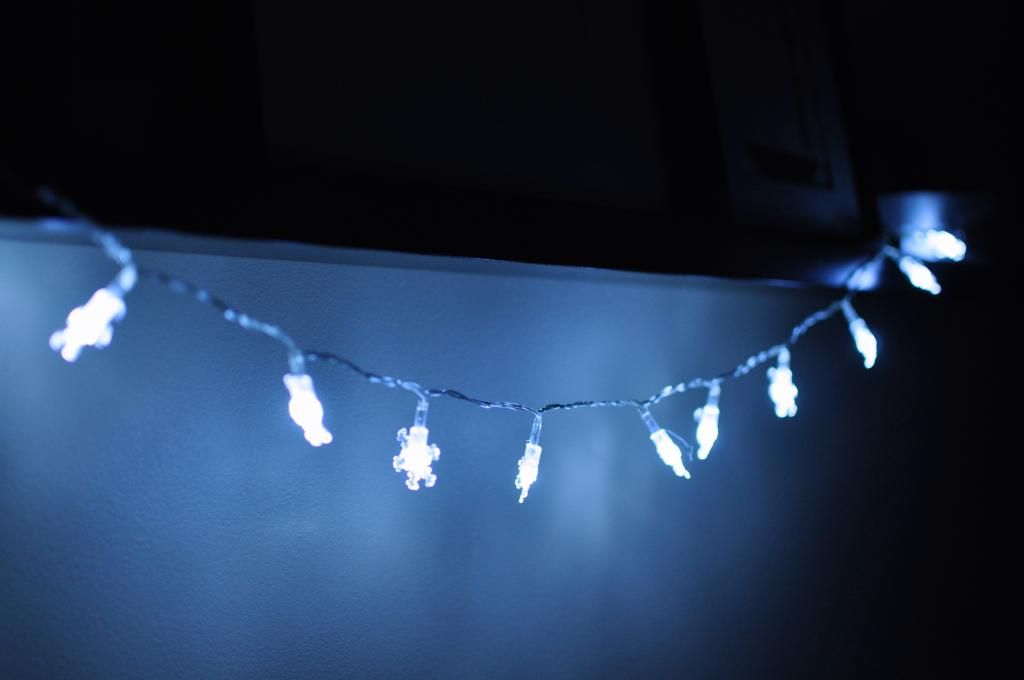 If you want lights to decorate your room for the Holidays but find $10 too steep, I would suggest going to Dollarama to get a string of lights for only $1.25!! The ones I got are the snowflakes but there are other designs to choose from too. These ones cast a blue white light than a true white light.
Then it got dark. But these days it gets dark when it's 5pm. Other than the cold, that's the other thing that sucks about winter. You just get the feeling that the day is over much quicker when the sun goes away. At least the Christmas lights make up for it a bit :)
On two separate weekends, we did pretty much the same things by shopping at Winners and Marshalls but ended the day off differently.
One week we ate at dun dun dun... Swiss Chalet :) I can never say no to Swiss Chalet. They're Rotisserie Chicken, Sweet Potato Fries, oh, and this time I got their succulent Ribs too. I swear we're going to go again if we can... haha. It's just too addicting!! Especially during these cold winter nights!! At least it's cheaper than going to Pickle Barrel, Moxies, or Milestones; and better than going to McDonald's, A&W, or KFC. Yup, those are the places we love. I keep telling myself that we should try other places that aren't chain restaurants... but it's seriously so convenient to just pop in at one of these places and not have to think about it or look up reviews.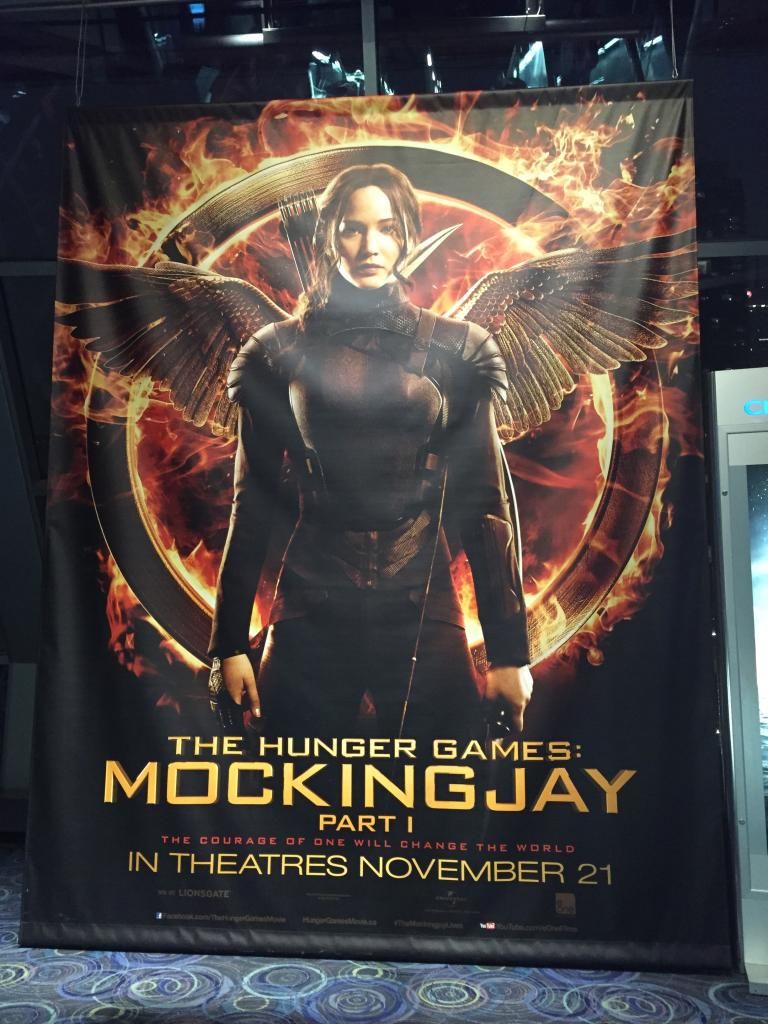 Then last week we went to go see The Hunger Games MockingJay on opening day! We went to the one at Scotiabank Theatre and it wasn't that crowded. I found the movie a little dragged out, which isn't surprising since they made the last part into 2 parts. Had they made it into one movie I think it would have been really great. I just can't wait for The Hobbit coming out in December. That's the one I'm most excited for!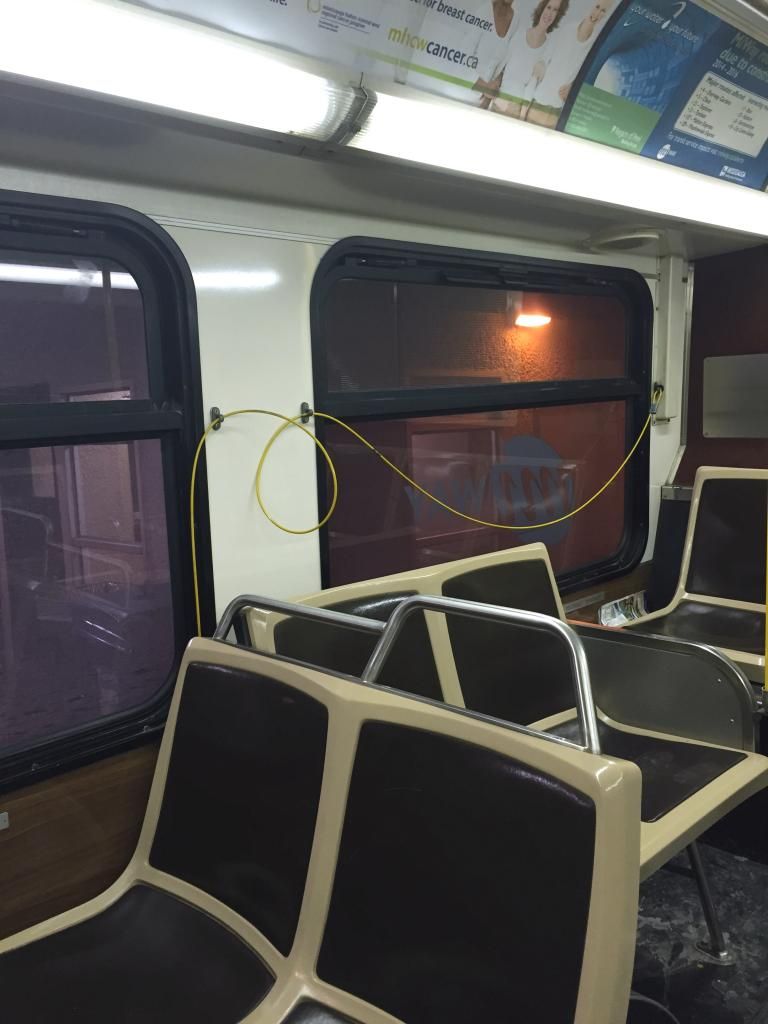 On our way home I see this. I think someone pulled a little too hard on the string there... maybe eager to get off the bus?
This was taken a while back but I never got around to sharing it. This was in Fossil's store front window and I thought it was quite hilarious. I think we girls would all agree that this checklist is on point, right?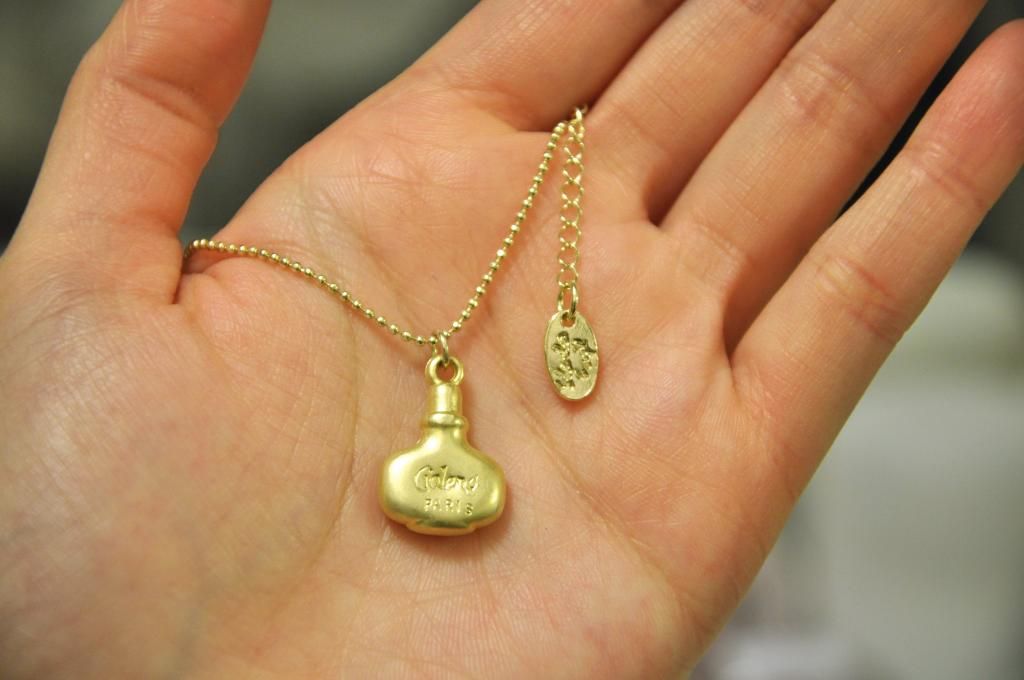 And a little random but I did want to share this Sheila Fajl perfume necklace with you. I bought it off of Lisa's web store. I expected a more antique gold colour but I like it anyway. It's very light and I love perfume so I thought the necklace was fitting.
I bought red wine by Naked- one of my favourite makers for white wine. I gave up on trying to ween myself into alcohol through white wine because I obviously can't drink the whole bottle and white wine needs to be finished within a week. I only have a little bit in my glass because that's all I can take haha. But this red wine takes pretty good though. I just need to get used to the taste of alcohol. We have been ending our Sunday nights with watching Walking Dead. This Sunday he has to work though =( So no Walking Dead for us until next week.
"Throughout life people will make you mad, disrespect you and treat you bad. Let God deal with the things they do, cause hate in your heart will consume you too." -Will Smith