Today I'm backtracking a bit. These events happened back in May.
Yes, it's true. In the month of May I made my final payment to OSAP, and ever since then, I've been a free woman. Yippee!!
And of course, you know me... a celebratory self-gifting was in order for this special achievement.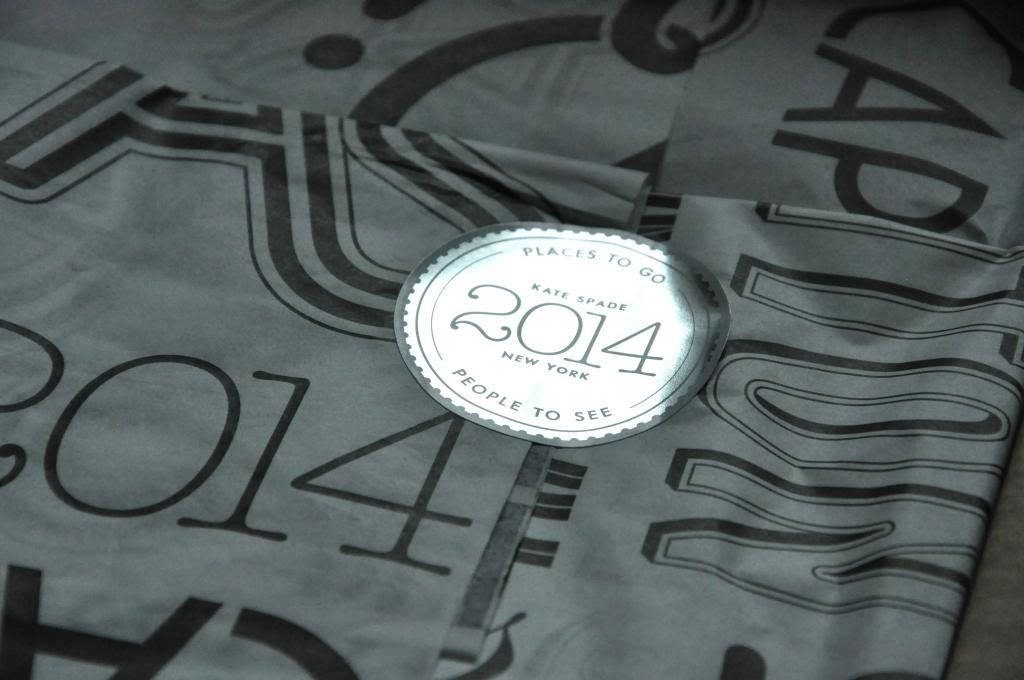 Dun dun dun! Kate Spade!
Everything was packaged really nicely and thoroughly.
And there she is,
Kate Spade Cedar Street Maise
in the colour "Ballet Slipper". It's made of saffiano leather and the logo is embossed with gold with a spade stud above it. I actually wish it wasn't embossed because I would have preferred it to have more of a presence. Plus I'm afraid that the gold embossing might rub off over time.
I haven't bought a bag in a long while and I've had my eye on this bag for some time. The first colour I had my eye on was the "Robin's Egg" but that sold out. Not long after this Ballet Slipper colour came out and I was in awe with it. The story is, I was watching
Bubz's What's In My Handbag video
and completely fell in love with her pink Prada bag. But obviously, because it's Prada, the bag is totally out of my price range (we're talking about $2000). In comes the new pink colour of the Cedar Street Maise bag that I've been eyeing. And perfect timing too because I was wondering what I should gift myself with!
It comes with a shoulder strap and a dust bag.
The bag is smaller to what I'm used to but still holds all the essentials I need. It has one zipper compartment on one side and two pockets on the other.
The bag has feet so it helps protects the leather from scratches and dirt when you place it down somewhere.
Overall, the bag is nice. Because it's a light coloured bag, I do have to take more precaution when using it though, especially when it comes to colour transfer from clothes. Also, when I first got it I noticed some slight wrinkling in the leather in the front which still has not gone away (if you look closely at the pictures above you can see it). And my only other issue is that the straps are now drooping a bit because of gravity. Other than that, I like it. It's not my favourite bag but I'm glad I have it. Still, I'm totally dying to get my hands on a Prada bag one day!!
And right around when I paid off my student loans, the Mister graduated from his post-grad program.
We went with his friends and we had to drive 5 hours there and 5 hours back because his convocation ceremony was at his school's main campus. It was the third time in my life (excluding childhood) that I wore a dress. I know, I should wear casual dresses in summer but I don't own any lol.
After a successful ceremony, we started to head home but got hungry since we pretty much didn't eat much of anything the whole day because we were on the road. The only food we ate was a couple hashbrowns at McDonalds and some snacks at Tim Hortons.
I'm not sure why but his friends were pretty adamant about eating pizza at Pizza Pizza. So while we were on the road on the way home, they kept searching for a Pizza Pizza location that we could stop by at. We made a couple exits but weren't able to locate it both times so back on the road it was. At one point there was a Pizza Hut (my favourite) but because they were so adamant on Pizza Pizza, we passed on it. Then, they gave up the idea of pizza all together and decided to eat KFC (the Mister's favourite). But when we finally located one we came to learn that they didn't have any drumsticks left (wth). So back on the road it was.
Then finally we found a Pizza Pizza, but guess what? We couldn't find a parking spot! At this point I seriously felt like we were Harold and Kumar, but instead of White Castle, it was Pizza Pizza.
Then finally... we found a location with parking space, food, and all that jazz. And that was my little story of that day. I was dead tired by the time we got back. The Mister, me, and a friend were squished in the back because the car we were in was a BMW. You know how the inside of those are... small. So I had to endure about 8-10 hours of discomfort, which was why I was so happy to be back home after the day was done.
"Over every mountain there is a path, although it may not be seen from the valley." -Theodore Roethke