I can't believe Christmas is in 1 day!!! Where has the time gone?! I honestly didn't feel the Christmas cheer until I went to work today. People were smiling, coming together to wish everyone and their families a Merry Christmas, gifts were exchanged, and the company hosted a Christmas dinner for the employees. It was great! The food this year was much better than last year, I enjoyed the pasta and chicken and the desserts were delish.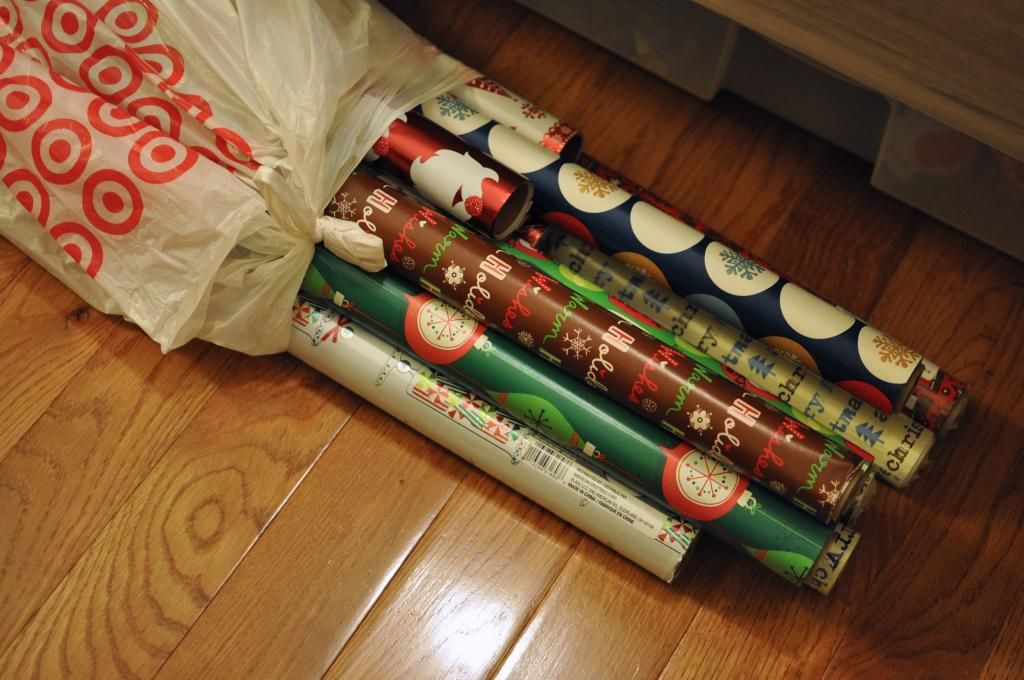 This is the awesome rolls of wrapping paper I got from Target last year for 75 cents each ($2 for the premiums) if I remember correctly.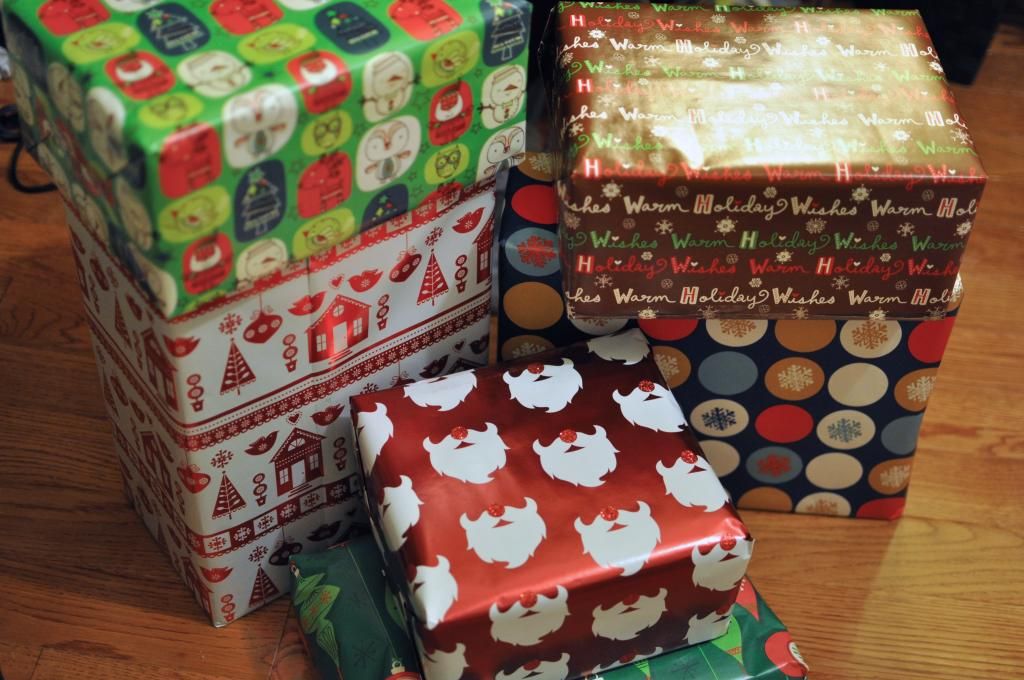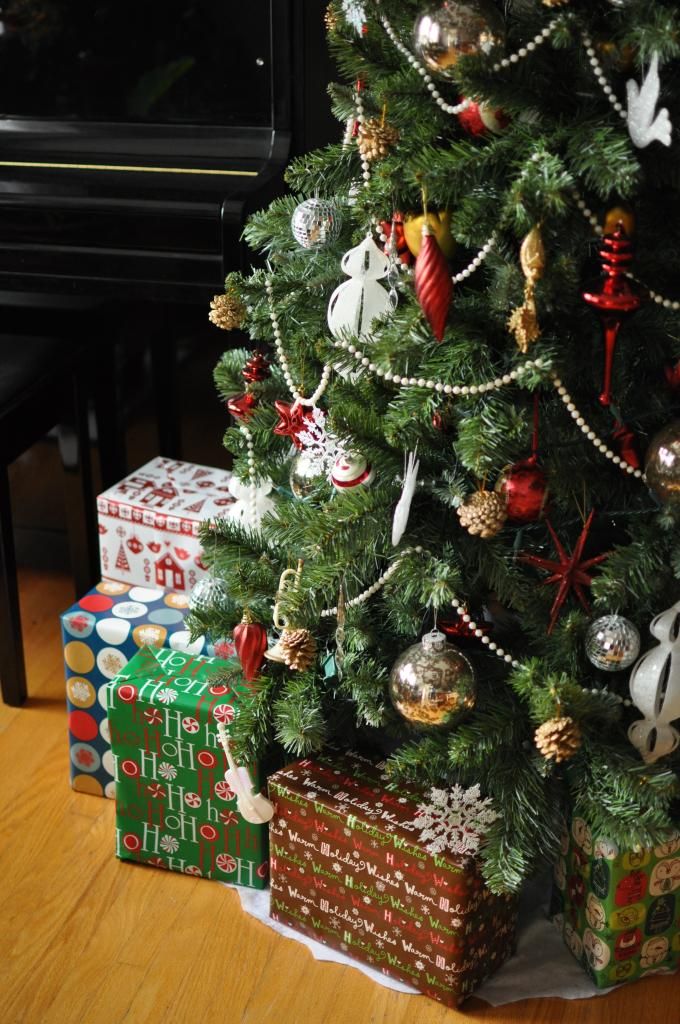 I was done my Christmas shopping and wrapped all of my presents before December even came :D I think that is my best record yet.
I thought I'd share my Christmas decorations in my room. It's just a touch but I'm sure in the coming years it'll get a little out of control...
Here is what it looks like on top of my dresser. I have my little Christmas tree I've shown you before, the little deer holder on the plate, and this beautiful new addition, my Stag Head!
I was watching ThatsHeart's makeup collection video and saw that she had this beautiful Stag Head in her room. You guys know how much I loveee antlers. I've been trying to find the perfect pair of ceramic antlers or deer head that I can hang on the wall (preferably something that didn't look realistic). When I saw hers in the video my jaw dropped as she mentioned she got it from Target. Problem is, she's in the U.S., and a lot of times the things that are available to them are not available to Canadians. I've been to Target before and looked through their Christmas decor and saw no such thing. So I quickly go to the American Target site and saw that they had it on there. Unfortunately they don't ship to Canada so my dream of having it was quickly squashed. About a couple weeks later the Mister and I are at Target and lo and behold, I see the Stag Head on the shelf!! I was so determined to have it that we bought it even though we would have to carry it all the way downtown (we were at Square One in Mississauga and we were suppose to head to downtown Toronto afterwards).
We made it through the whole day...
...until the Mister knocked the ceramic Stag Head twice as we were getting off the last bus to go home. Not going to lie... I was really upset. I only found out the ear got broken off after he left my house. I gave him a pretty hard time... that poor bear. I can get a little intense sometimes, and let me tell you, it's not pretty. I know that it's stupid to get worked up over something like this, especially since he even promised to buy me another one (I was just afraid that it was going to be sold out). It didn't help that I was getting frustrated at trying to fix the ear with craft adhesive glue- which, not surprisingly, ended up not working. I know it's not the right type of glue (you're suppose to use epoxy glue) but it was late at night and I just wanted it fixed.
Thankfully he did end up finding another. He even asked a sales associate to check the back and to get him two just in case one had a deformity (he knows how picky I am when it comes to getting something in perfect condition).
He's such a sweetie bear, I honestly don't know how he deals with me sometimes. I admit, I'm not the easiest person to be with, that's for sure. I'll be fixing the other stag head and I think I might paint the antlers gold on that one.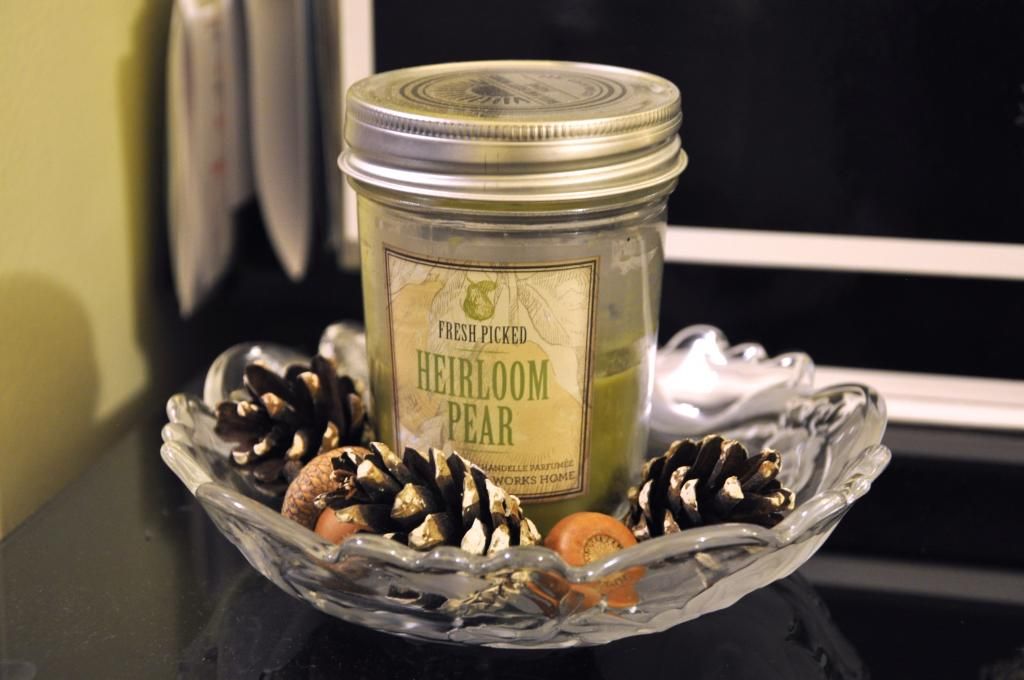 Also on the dresser is my mason jar candle from Bath and Body Works. I spruced it up for fall/winter by adding acorns and pinecones.
Next to my dresser is my night stand. I bought the colourful Christmas lights at Dollarama for $2.50 I believe. These lights scream Christmas for me, I really love it. I hope next year to extend the lights so that it goes across my bed board or hang some on my curtain rod.
Above my bed on my picture ledge is the
snowflake lights
from Dollarama that I've shown you before. I also hung candy canes on it to make it more festive.
The card in the picture frame this month is a Christmas card I got from the Mister last year. It's seriously such a pretty card. Cards can act as a beautiful art piece if you just frame them. I like changing them out according to the time of the year (ie. Christmas, Birthday, Valentines, etc). I also have a couple of beautiful black and white Christmas cards from Coach and my cousin that I have sitting on the side.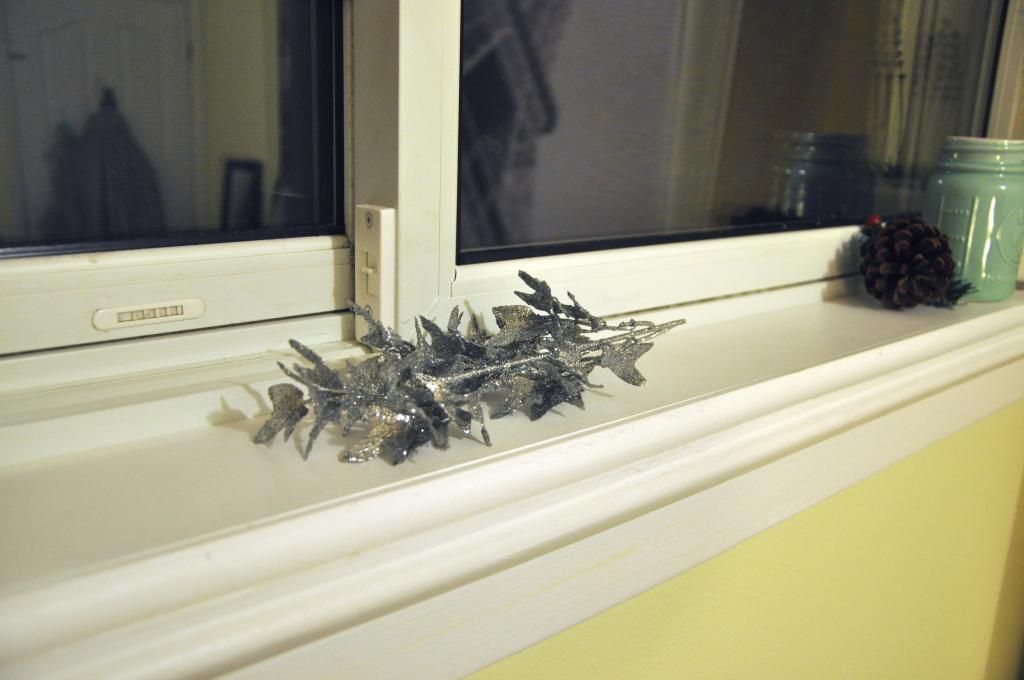 Then on my window ledge I bought this silver glitter small leafy branch from Dollarama. I also have a festive pinecone at the far end.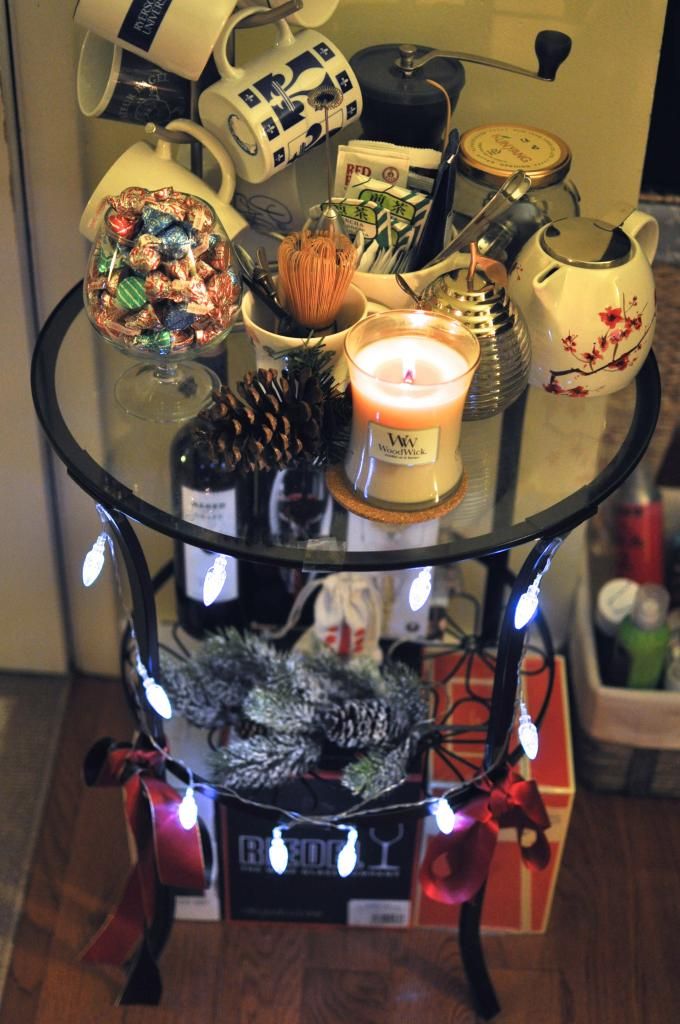 Then back round full circle, my super cluttered table located beside my closet. I have my WoodWick candle burning and another festive pinecone.
I also have this glass filled with yummy kisses and hugs. It's so festive looking that it makes me happy when I look at it haha.
Then I have the snow covered pine branch that I love and got last year from Dollarama, and the new additional Christmas lights from Dollarama too ($1.25!!).
And since we're on the topic of decor, check out this super cute bird dish I found at Marshalls! I had no idea what I was going to put in it when I saw it (still don't have a clue) but it was too cute to pass up. I seriously need to stop buying decorative dishes and bowls because I think I have enough as it is.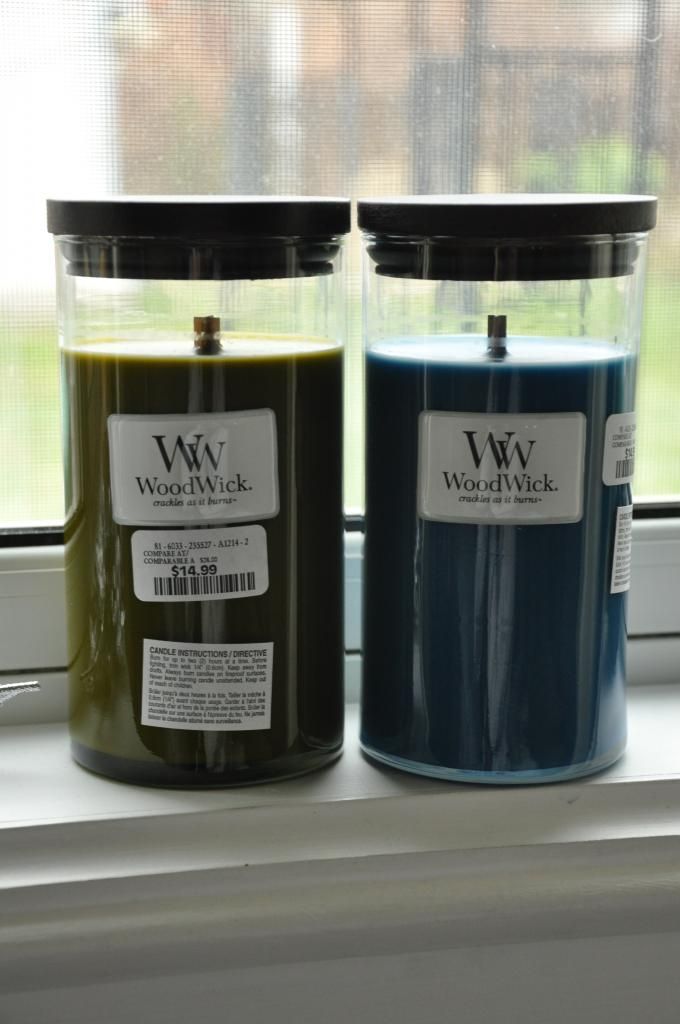 What can I say... I have a weak spot for WoodWick Candles :S They're seriously my addiction. But these smelled so good!! "Tea time" and "Afternoon Rain".
Merry Christmas and Happy Holidays to everyone. I hope you surround yourself with family and friends and enjoy as much as you can.
"Those who truly love you will support you no matter what. Those who don't, are not worth changing for anyway. It's what we do that defines what we are." -Ben Michaelis