This year the Mister and I visited the
Christmas Market at the Distillery District
the second day it opened (Nov 29th) because we wanted to avoid the freezing cold weather. We learned our lesson
last year
when we went too late in December. There was hardly anyone around because it was so cold and we really couldn't do anything except try to keep warm by huddling under the heat lamps and darting in and out of the stores.
This time however, it was a much different story. It was a nice cool evening with lots of people and tons of food to be eaten. We were determined to try quite a few.
Can we just take a moment and just be in awe of the beautiful Christmas lights?
These two are my favourite shots of the night.
The Christmas tree is always a sight to be behold. Apparently there are a lot of proposals that happens under this tree :)
The first stand that caught our attention was this one which served Drambuie Hot Apple Toddy. Unfortunately the drink wasn't that hot or it cooled down relatively quickly... but it was really good. I can't take my liquor but this one I could drink! I might have to make this one day.
And then... this. A gigantic Turkey Leg. Need I say more? We were curious when we saw the sign and a bit bewildered when we saw people carrying it in their hand. It was crazy, and we knew we needed to try it or else we might never come across it again. Taste-wise... meh. Our leg was a bit fatty. We couldn't even finish the whole thing because it started to get cold and there was just way too much.
But,
I'm glad we got to try it because I've never seen or come across anything like this before.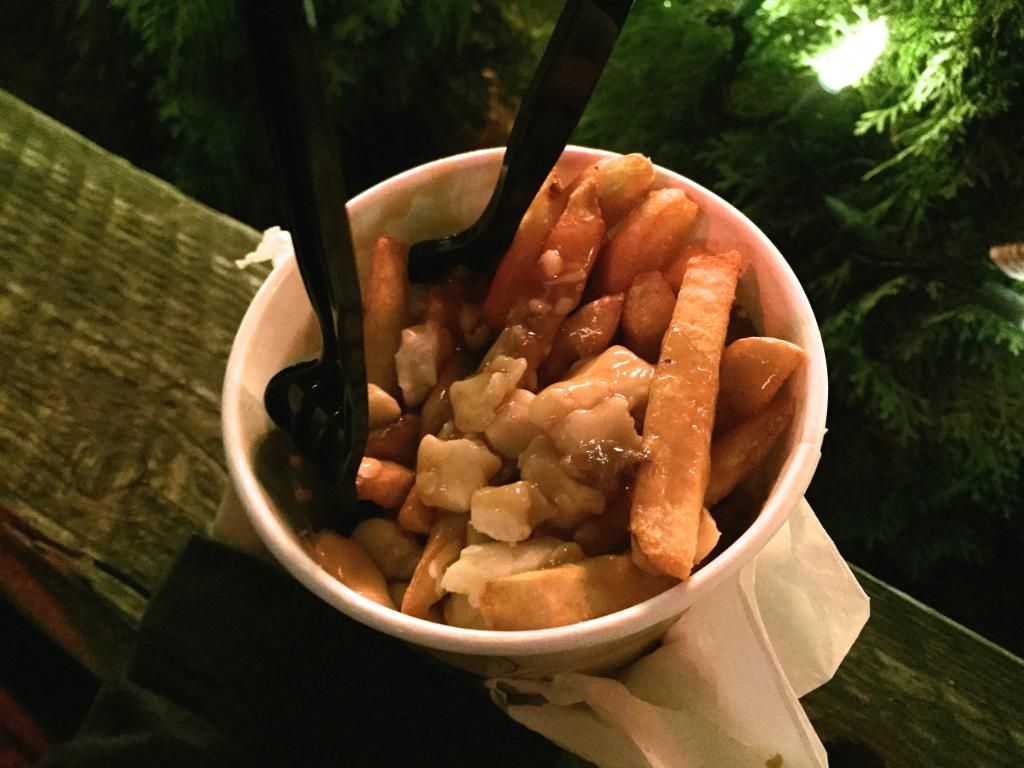 You don't even need to say Poutine... I'm already there. We saw the stand and it was like a force that instantly got us in line. This was really good. It was hot and gooey and pure yummy in my tummy.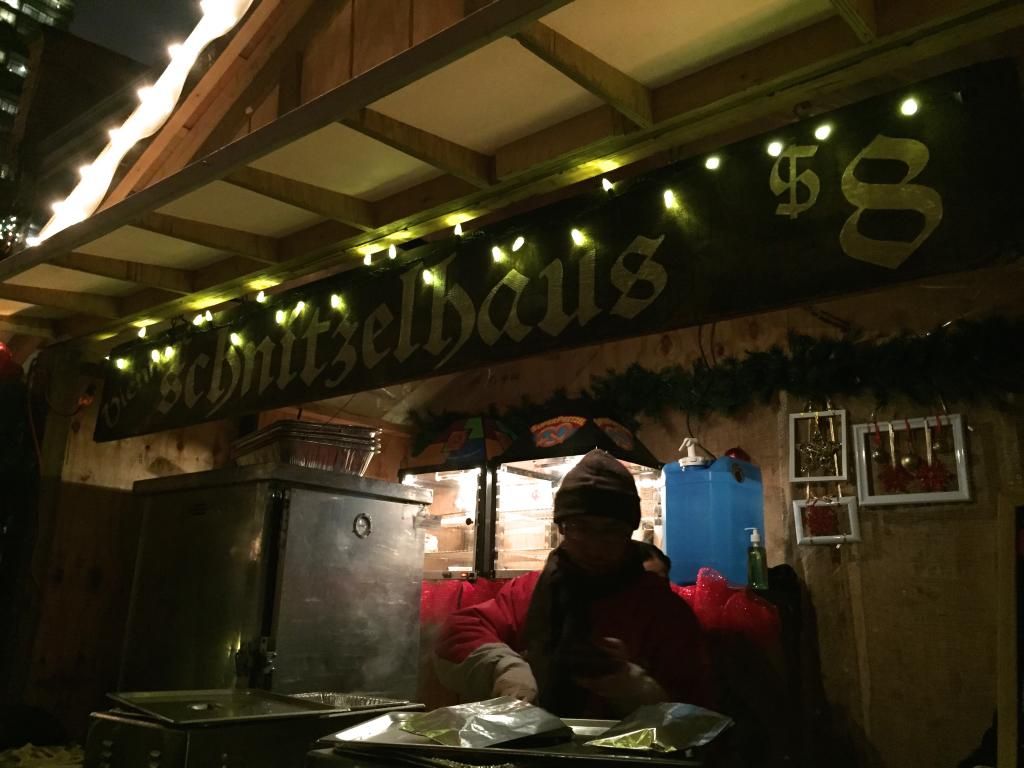 I had never tried Schnitzel before in my life and neither had the Mister. We saw this huge line in front of it and assumed that it was for the Schnitzel line. Then we realized that the big line was for the Artisan Grilled Cheese but decided to try some Schnitzel anyway. It was good! I really liked it and so did the Mister.
Then because we were curious about why the Artisan Grilled Cheese sandwich was so popular, we got in line with the rest of the crowd. I'm going to be brutally honest, I don't think it was worth the money or the wait. It tasted like any ordinary grilled cheese sandwich to me and it was so overpriced for what it was. The Schnitzel was so much better than this.
And that concludes our evening at the
Distillery District Christmas Market
. I was so glad that we went early this year because we got to do so much and enjoy so much more than we would in freezing minus degree weather.
Along one of the streets as we were going to our streetcar stop, I spotted these beautiful lights in a store front window. I bet it costs thousands of dollars but omg, if I ever could afford such a thing, it would be a dream to have in my house. So pretty.
"Spend time with those you love. One of these days you will say either 'I wish I had' or 'I am glad I did.'"-Zig Ziglar