Cringe. Sometimes I go back and read my old posts just to see if there were any spelling mistakes or grammatical errors. 8 times out of 10, I'm writing a post really late at night (like now) because that's the only free time I have to blog, and because of that, sometimes I'm sleep deprived and make a few errors here and there.
Work has been steady overall with the exception of Mondays when the order is huge and work gets super crazy. I have been getting tired because I have been getting home later than normal hours. I have a few posts in mind but I'm not sure if I'll even get to them let alone blog about my vacation in Montreal o__o That's been put off since forever because I haven't had the chance to go through all of the photos. I was hoping to blog about it in the same year, but I guess I'll just have to wait until January when work is slower to be able to do it. It's not as if it's relevant anymore anyway, so putting it off some more won't hurt.
This
Nuxe Youth and Radiance Revealing Fluid
did not interest me at all. The serum was beige in colour which was a little weird to me. I didn't like the scent, and it didn't feel like it did much for my skin, even in terms of hydration.
This
Avene Serenage Serum
was a really nice hydrating serum. I used it as part of my day skincare routine and really like the smell and feel of it. I might actually buy the full version depending on the price point and whether or not I find another serum I like better.
This
Smashbox Photo Finish Hydrating Under Eye Primer
was a deluxe sample I received last year during Shoppers Drug Mart's Spring Bonus- eep! As you know, I'm not good with using up samples but I've been a lot better as of late. I have this whole under eye concealer routine pat down that I do daily for when I leave the house, so when I found this in my sample stash, I thought it would be beneficial to add as the first step in my routine. I wasn't aware that primers specifically made for the under eye existed so this was quite a revelation for me. The primer provides a nice base for my corrector and concealer to spread over so it doesn't feel drying and helps prevent caking. I also found that my concealer blends better and lasts longer too. After I'm done with this sample I'll be purchasing the full size.
I have burned this
WoodWick Candle
in "Orange Sorbet" to it's last burn. My sister got this for me for my birthday last year and I've been trying to use it sparingly. Well no more! Since I found a bunch at Winners :D These are the perfect candles to light during winter because they create the coziest atmosphere when they crackle and burn like a fireplace or campfire. Albeit it's not the same exact sound, it still crackles so it's really lovely to enjoy in the background.
I've mentioned
L'Oreal Volume and Collagen Shampoo and Conditioner
in a monthly post before but they repackaged and reformulated it since then. The packaging is much better and I still like the product itself. Although I still have to work a little bit to get more volume, this shampoo and conditioner doesn't weigh my hair down and does help give me some lift.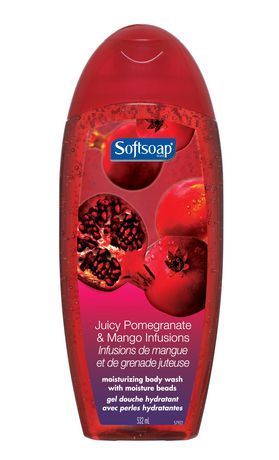 I honestly thought I was going to love
Softsoap Juicy Pomegranate & Mango Infusions
body wash, but as it turns out, I didn't like it all that much. The scent wasn't that invigorating or exciting to me. I actually couldn't wait to finish the bottle when I was using it.
This
Softsoap Black Orchid & Velvet Hibiscus
is one of my favourite body washes. Mainly because the scent is divine. It suds up like any other regular body wash, so unfortunately it's not one of those luxurious body washes with thick rich foam. But like I mentioned, I really like the scent and it gets the job done.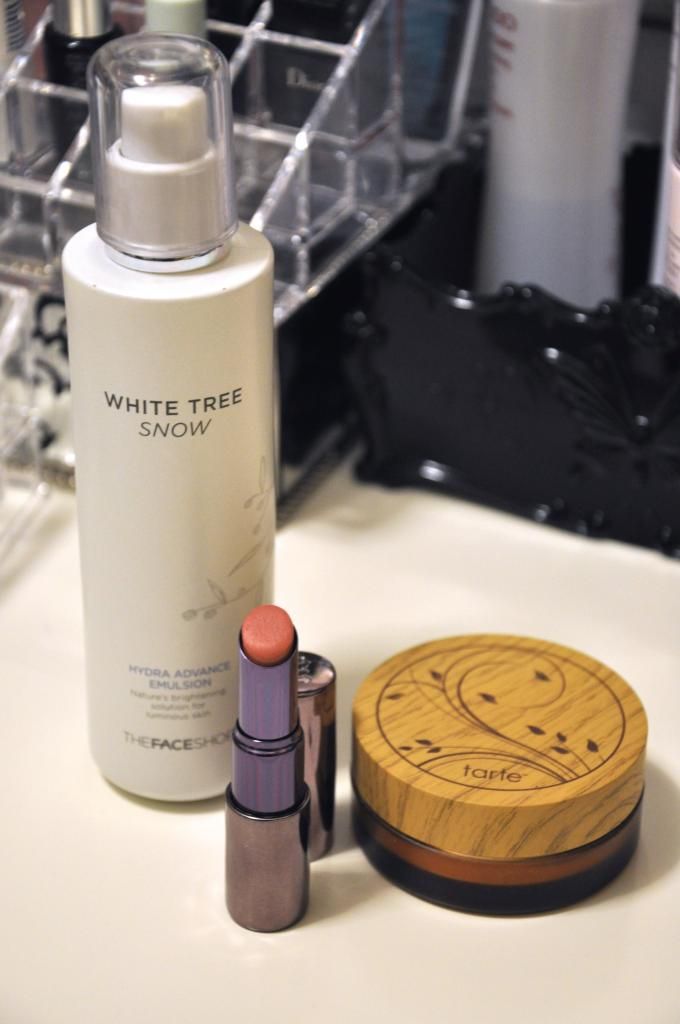 I have been using this
TheFaceShop White Tree Snow Emulsion
for a few months now and I can say that I like it. It's not a life-changing product for me or HG status, but it's nice to use for that extra hydration before applying my day cream. Unfortunately I didn't notice much of a difference with whitening or brightening. But for $24 some odd dollars, I'll take it!
Urban Decay Revolution Lipstick "Liar"
was a favourite in October. Fall = deeper darker lips, you know the drill. I bought this on a recommendation from someone whom I was watching a makeup collection video of. She said that it was the type of colour that Kylie Jenner wears on her lips that everyone and their mom has been lusting after. I'm not really a Kardashian fan, but you have to admit that Kylie looks really amazing these days. I occasionally check her Instagram just to see her makeup. I am in love with her lips (sometimes she overdraws too much though) and her eyelashes. I want the Soar lipliner by MAC that she uses because the colour looks really good.
I can't use
Tarte's Amazonian Clay Airbrush Foundation
in "Fair Light Neutral" as an all over foundation powder anymore because it's a tad dark for me (it was fine in the summer). But what I have been using it for lately is for a
very subtle
bit of contouring. It's the most natural looking way to give my face a little bit of colour and sculpting. I only do this for work (I use actual bronzers when I go out) because my workplace is an environment where makeup isn't necessary at all. It's perfect because it's literally the no-makeup makeup look.
[Not pictured] I have also been loving this
Fresh Sugar Lip Balm in "Rose"
for work because it gives a very natural flush to the lips (I'm going for a totally natural look for work people). It also look great for daytime when you want a hint of colour on the lips. I have to repurchase this actually, not because I used it up, but because I accidentally threw it in the wash D: Devastating... I know.
"Remember the tea kettle, it is always up to its neck in hot water, yet it still sings." -Unknown