I love when it's cold and I'm inside all toasty and warm, but when it comes to being out in the cold for an extended period of time... no thank you. The part I really dislike is when my legs get red and start to tingle and itch from the coldness. Don't get me wrong, I love all seasons, even winter, but sometimes it gets to freezing temperatures, that just kills me.
But with the cold comes Christmas and the Holidays!! I am so excited!!! O-m-g. My most favourite time of year!! I must relish in the moment before it's gone. I've been doing some early Christmas shopping- the malls are totally packed this time of year- and unsurprisingly, I've also been doing some shopping for myself :x November is always the month of the year that kills my wallet to no end. There are so many sales that happen! For instance, I took part in the Hudson Bay Days sale, the Shiseido warehouse sale, and the Sephora VIB sale. In this post I will share my Shiseido warehouse purchases as well as my Sephora VIB sale.
I haven't been to the
Shiseido Warehouse sale
since 2011(!!). Yes, it's been a while- mainly due to schedule interference and just being plain busy. But this November I was determined to go because I was in dire need of some skincare essentials replenishments! I should do a post on my skincare routine but right now I'm trying to finish up skincare samples so I don't have a set routine to share yet.
The first time my mom and I ever went to the sale, we went super early and had to wait 2-3 hours before we got in. Then we learned it's better to just go later so that we don't have to deal with the long line. If you go near closing there's no line at all, but there might not be any good stuff left. This time we got there around 1:00-1:30pm and honestly it's the best time. The wait in line was about 5-10 minutes and best thing was... pretty much all the things we wanted were still available!!
Prior sales I had to deal with the
crazies
. And I mean like shoving and pushing crazies. This time it was totally relaxed and peaceful. No shoving or pushing. There was an abundant amount of product and everyone was able to get what they wanted. I even got to the front at all the places I wanted to look at, and had lots of room to look at the makeup section (thank goodness). I liked how they had tables where you can look at the things you've picked up in your bag and drop off anything you don't want. That way, it prevents products from going everywhere and it can go back on the sales floor quickly.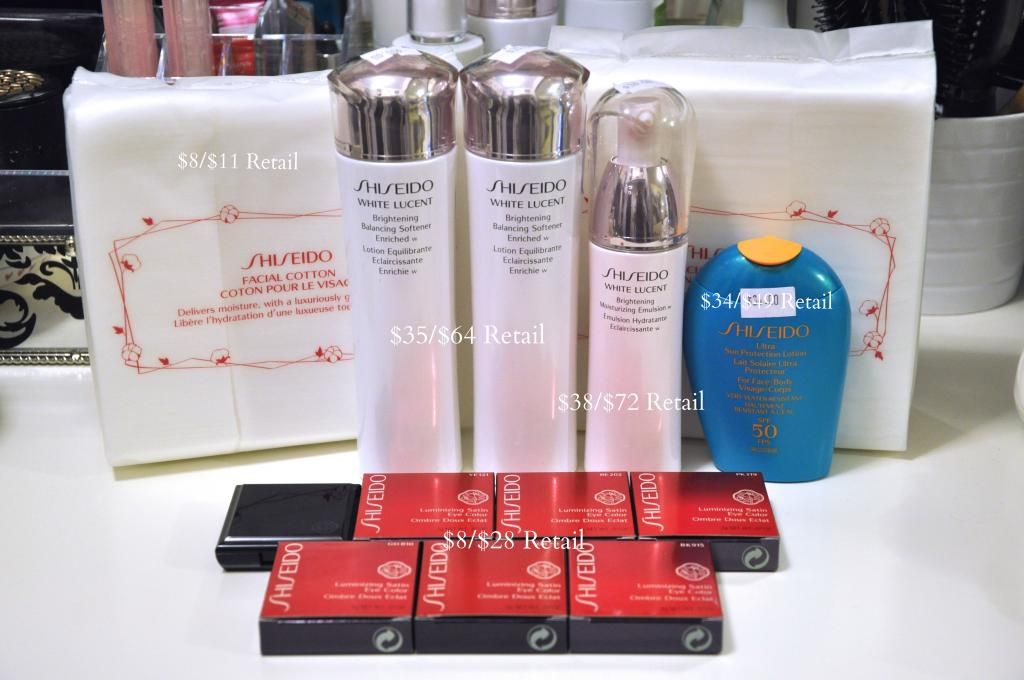 And this is my haul. Hecks yeah they still had
Suncare Ultra Sun Protection Lotion
left!! I wonder if it's because people picked up some bottles and saw an expire of 01/14.
But,
if you take the time to look and browse, you would be able to find ones that had an expiry of 10/16- which is what I picked up! I'm in love with the White Lucent line which is why I stocked up. I got two
Brightening Balancing Softeners (Enriched)
, and the
White Lucent Brightening Moisturizing Emulsion
. I also picked up two
Shiseido Facial Cottons
. I love them because they're so soft so they're worth the money to me. It was a
really
good sale this time around- the best I've been to. My mom picked up a lot of skincare. It was amazing how much they were selling for. She and I both saved a lot of money.
I kind of went crazy over the single eyeshadows. I love Shiseido's eyeshadows. They're pigmented, they don't have fallout, and they're buttery smooth. The greenish yellow one was a mistake. Under the warehouse lighting it looked more like a forest brown green but in reality it just looks unwearable for me. The rest, however, are perfect!
And as a treat, here is my whole collection of Shiseido eyeshadows! Two of them I got for $6 at a previous sale and the rest are $8! That's high end eye shadows for drugstore prices! You seriously can't beat that.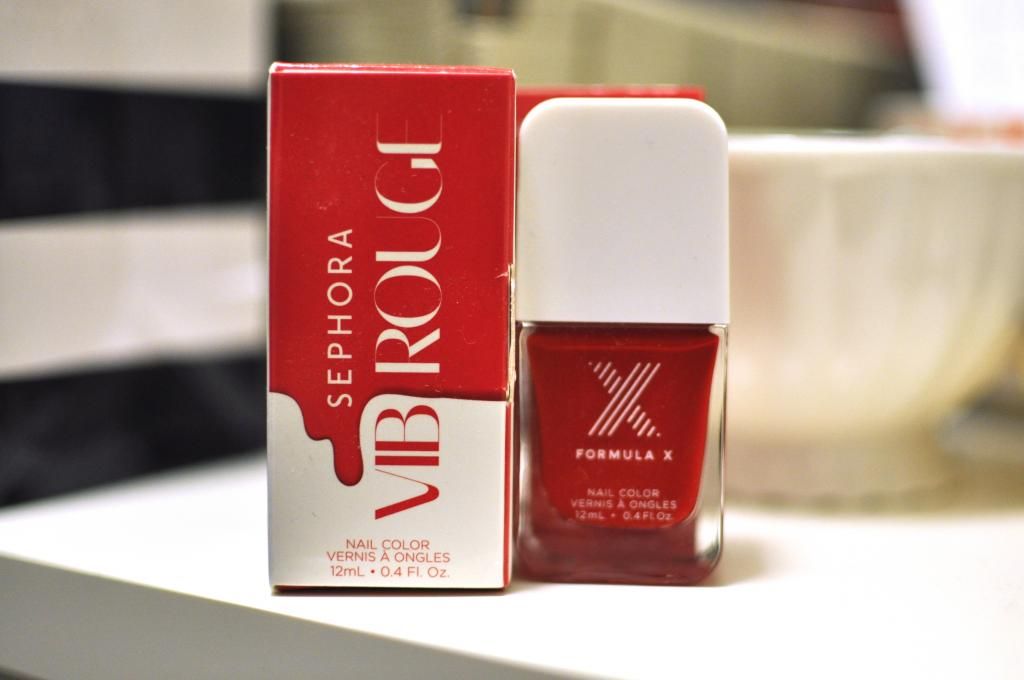 And then there's Sephora. Seriously all in the same day I bought from Shiseido and Sephora... can anyone say, #broke? FYI, I feel a bit ashamed that I qualified for VIB Rouge again...
I behaved this time around... because I went to the Shiseido sale earlier in the day and because I don't need any more lipsticks :x I got the Shu Uemura cleansing oil because it's amaze balls. I bought a small duo set a few years ago that lasted me forever and I've been meaning to repurchase the full size bottle. And, need I say anything about the Marc Jacobs foundation? I heard and read so many raves on it, so I had to, I just had to... Also, I've been thinking about doing a review on all of the liquid foundations I currently own. I'll need some time to collect my thoughts, but what do you think? Good idea?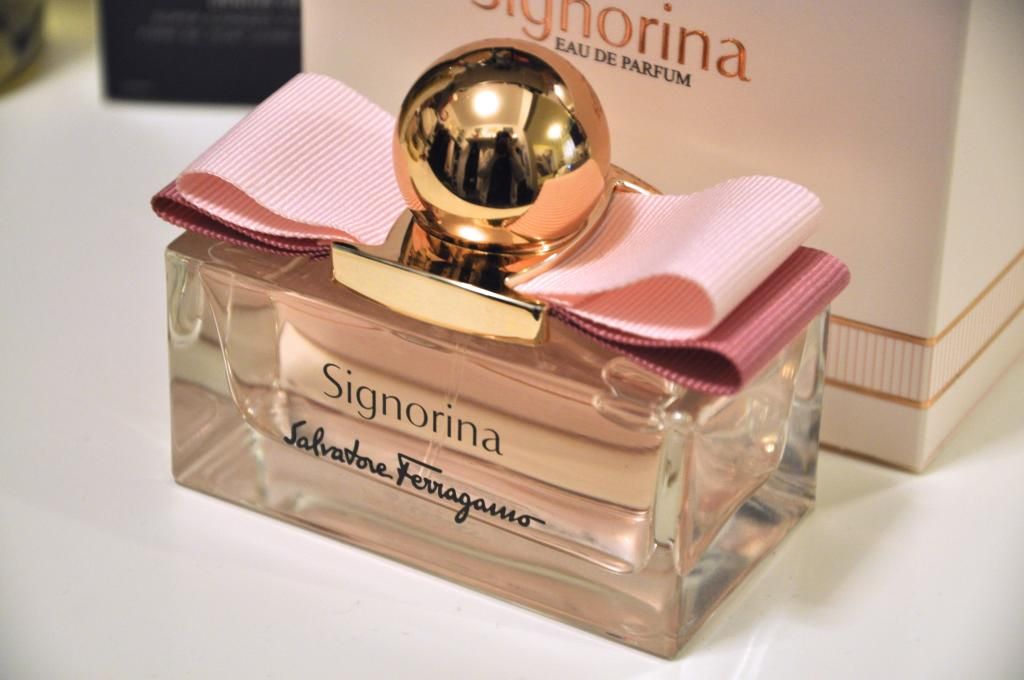 And of course perfume- one of my addictions. I've been eyeing this
Salvatore Ferragamo Signorina
eau de parfum ever since by chance I came upon it months ago while browsing the perfume section in Sephora. I've been waiting patiently for this 20% off sale to get it. Isn't the bottle so pretty?! I want to eventually share with you my perfume collection, but there's one more perfume I want to add before doing so.
And I couldn't resist an online order a couple days later. I was in-store debating on whether or not to get the Givenchy Teint Couture foundation
Lisa
raved about and the
YSL Blush Volupte
(I got the "Passionnee" #6) that everyone keeps talking about. As you can see, I caved in the end. I was already going to do an online order since I couldn't find
NARS' blush
in "Doucer" in-stores. It's a pinky nude brown blush and I was determined to get it because I recently started to watch
Chloe Zadori
(Canadian represent!) who used that blush to contour/sculpt with in one of her videos and it looked beautiful! She's a natural beauty too and she does
gorgeous
makeup looks. I like how she explains what she's doing in her tutorials, and because she's super pale it helps me to know what colours would work for me since I'm pale too (albeit not as pale as she is). Oh, and did I mention she has a wonderful accent? As for the cologne samples, they're for the Mister obviously.
A closer look at what I got online. I really hope the YSL blush is as good as it looks. I haven't had time to play with these yet except for the NARS "Doucer" blush that I got to dabble in a couple times. So far, so good.
"Happiness comes from within and is found in the present moment by making peace with the past and looking forward to the future." -Unknown