Lately I've slowly been trying to branch out when it comes to my wardrobe. I'm fascinated with fashion but I can't quite put together outfits like how
Wendy
,
Claire
, or
Shirley
do (they also have blogs!). I admire them all, they are my inspiration. They make it seem so simple but there's this whole technical process behind it that I can't seem to grasp... yet.
Statement jewelry are one of those challenges I face. There are so many beautiful pieces out there and when paired correctly, they can make an outfit look effortless chic or bold and edgy. I can do smaller statement pieces but I can't do the larger ones as they are more intimidating. However, I am willing to try.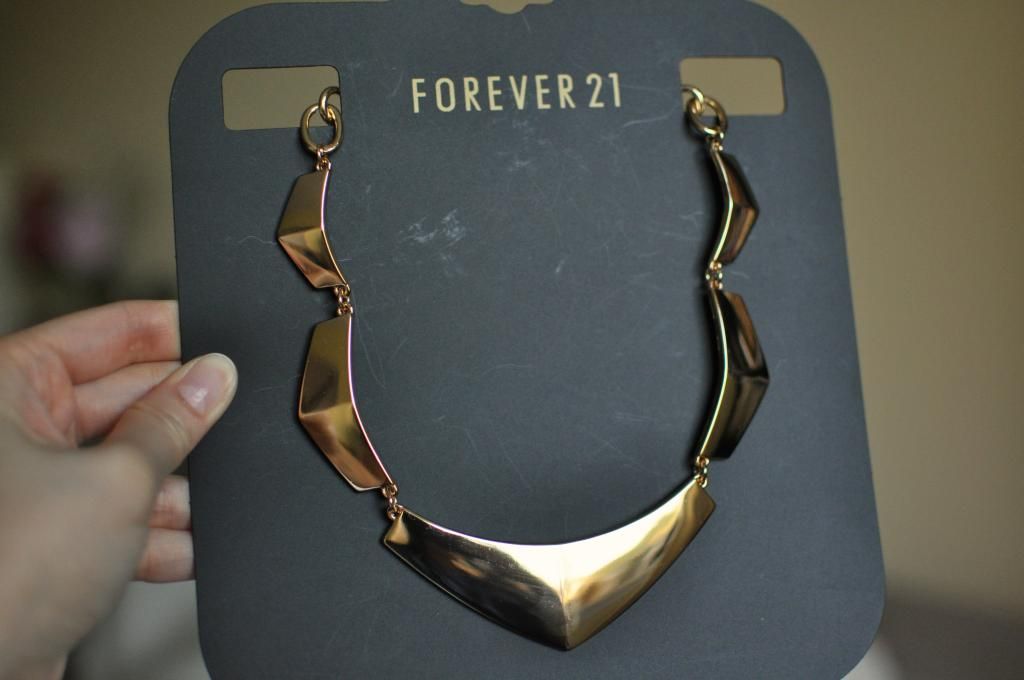 This Forever 21 piece was one that I saw that day while shopping with my coworker. Because I didn't have someone who I'm more familiar with, I didn't have a second opinion. I passed up on it but ended up picking it up when I went back with the Mister. I think it's a good starter piece as it's more simple.
Then I saw this gorgeous piece. I admit, this is a little intimidating, but I'll take on the challenge. I like Forever 21 statement necklaces because they're not that expensive costing around $10.
The last necklace I found was this one. I like bar necklaces and this one is interesting because it's in the form of a twig/stick.
And my favourite piece of all... J Crew. Yes, I bought a J Crew necklace finally. Their jewelry is amazing but have a hefty price tag to them which is why I didn't purchase any before.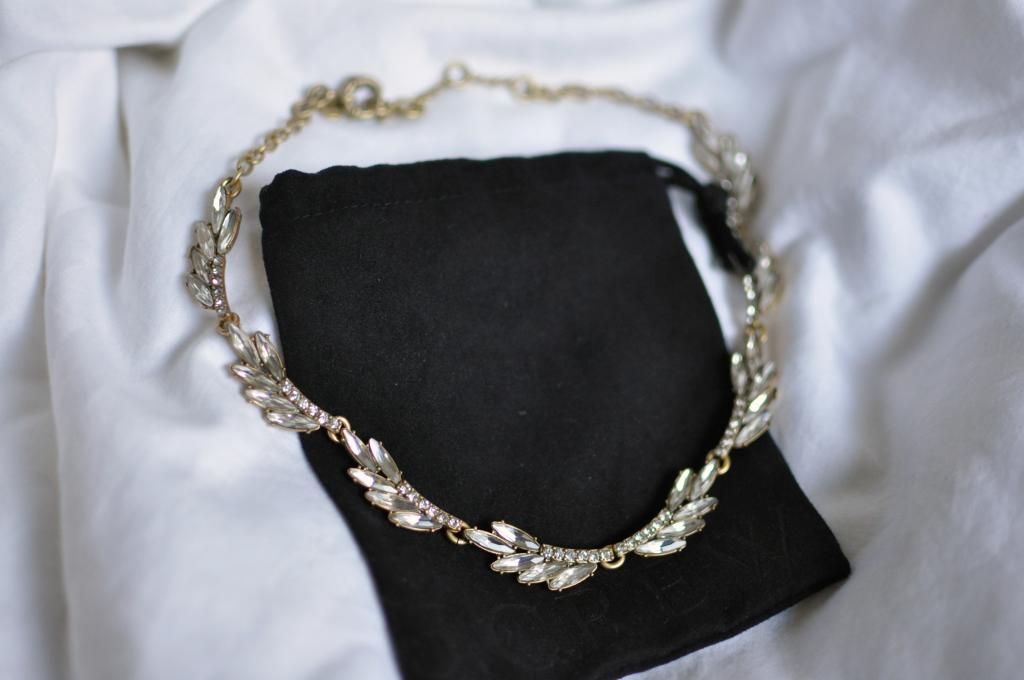 I saw this necklace,
Crystal Feather Necklace
, in-store and immediately fell in love with it. It's by far my most favourite statement necklace. It's a gorgeous piece but yet something about it is more simple than the typical rhinestone statement necklace. I am not intimidated by this necklace by any means, I even wore it out already! What's great was the the store was having a 25% off sale that I wasn't aware of until I got to cash (best feeling ever). The original price was $66 but it went down to $49.50 and in the end I paid $55.94 after taxes (it's on sale right now too!).
After a little bit of shopping the Mister and I ate at Swiss Chalet because I was craving their sweet potato fries that comes with their yummy dip.
And Sephora... I'm trying to hold off purchases until the they have their 20% off sale... but I couldn't help this one as they had a great promo code for VIBs where if you spend $35+ you got this generous eye sample bag kit.
This is what I received in the mail. I got an Urban Decay Revolution Lipstick in "Liar", because I'm obsessed with Kylie Jenner's 90's inspired look, and Fresh's Sugar Lip Balm in "Ruby", their latest addition (just got to have it, you know what I'm sayin'?). Top swatch is "Liar", bottom swatch is "Ruby".
And this is what was in the VIB eye sample bag. What got me was the Lancome waterproof eye makeup remover, because I don't see why I should buy one if I can always get it for free, the Benefit They're Real Push Up Liner, which I've heard great things about, and lastly and best of all, Nars Smudge Proof Eyeshadow Base, something I've always wanted to try. The reason why I never purchased the Nars Primer was because years ago I bought the Too Face Shadow Insurance and didn't find it to make that big of a difference since I wear light makeup anyway. I've heard great things about the Nars though and seeing that I'm trying to get myself to use eyeshadows more, I hope that this will make them last longer, and I get to try it for free!
"Someday is not a day of the week." -Janet Dailey