This week didn't start out so great for me. Yesterday (Monday) I felt like I was coming down with something. I think it had to do with the day before when the Mister and I went out for some pizza and got caught in the rain on a chilly night.
We were starving by the time the Mister came to my house. I was craving some pizza after seeing a vlog of Judy and Benji eating some lol. I took some medicine last night though so I felt better today.
I've also been dealing with a mix-up on my order from Stevemadden.com. It's giving me a headache having to deal with the company's mistake which might have me out $67! They said they would reimburse the boots and let me keep them (no use to me as they are not my style nor my size) but I have yet to hear back about the taxes and duties I paid for the boots. *Fingers crossed* but I'm feeling a bit hopeless to be honest.
Anyway enough with my little rant of the day... let's talk about something else. On Saturday I did something a bit different. I had plans to go shopping with a coworker of mine. She loves shopping, I love shopping, so it seemed like a good idea to go shopping together #shopaholicsunite! Little did I know just
how much
she loved shopping. I mean, not to say anything negative, but I never knew what it was like to be on the other side where I'm not the one spending the most. I've never shopped with someone who could pick so many clothes in such a short amount of time and make a quick snap decision to purchase it. Although I admit I do tend to buy a lot overall, I can't grab a bunch of clothes and not take some time to justify or think about my purchases. I'm the type of person who is only comfortable buying a couple of pieces at most at one time. I guess what I'm trying to say is, I couldn't believe that someone actually beat me at shopping haha. We laughed about it too though, she just tells me that she can't help herself. I understand that feeling.
I just picked up a few things that day that I've been meaning to get (with the exception of the scarf).
We first walked into The Gap because she wanted to buy some sweaters for work. I was just looking around and saw this
gorgeous
blue scarf on the scarf shelf. I didn't see any other one like it so I believe it was the last one in the store. It feels so soft, like cashmere! Luckily the whole store was having 30% off everything, so I scored this wonderful scarf for only $25. I am absolutely in love with it and I love love love the baby blue colour. Believe it or not, it's actually my first blue scarf!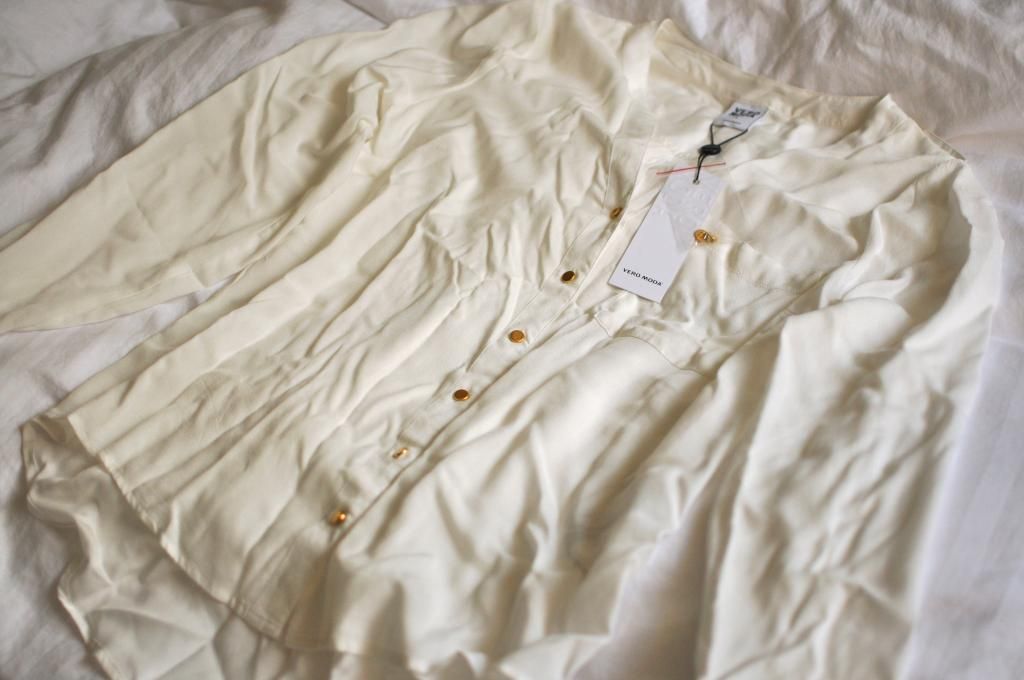 Okay, ignore the wrinkles in the shirt. The saleslady wrapped it up in tissue but I forgot to take it out of the bag the same day when I got home and I was too lazy to iron it before taking this picture. The Hudson Bay was having their F&F sale- 20% off everything, which isn't much but it's better than buying at the original price. I bought this same shirt in blue and pink that I showed you in my
Fall Haulin'
post. At the time I was contemplating on getting the white too but thought that if they ever had a sale it'd be better to get it then. I really love the feel and weight of the fabric; I don't have anything like it.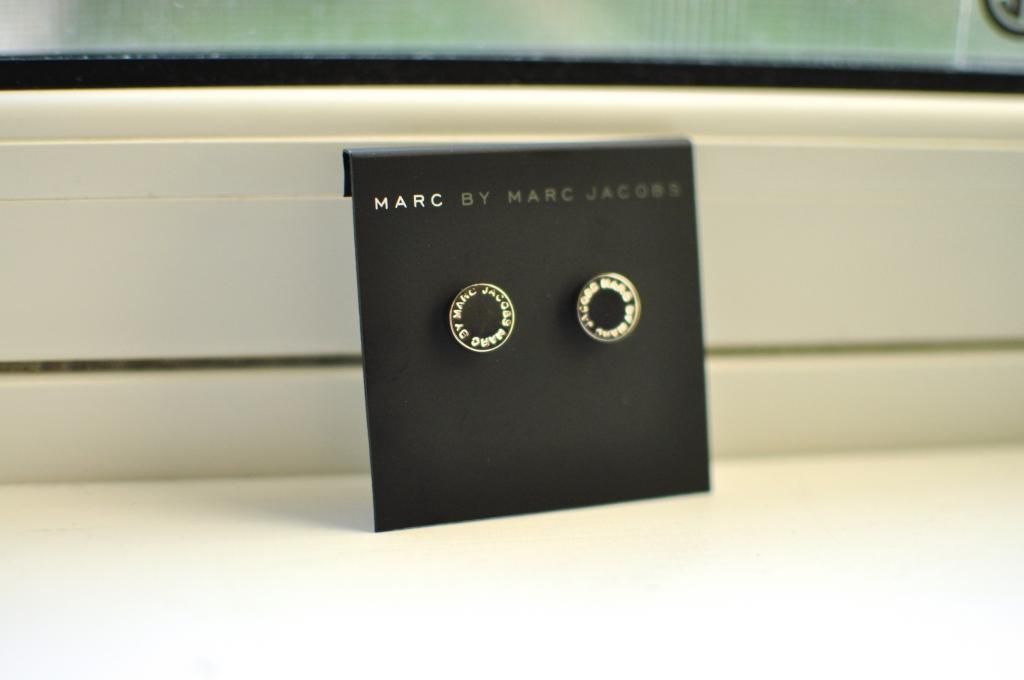 Then I got these beautiful stud earrings by Marc by Marc Jacobs. I had been eyeing them a couple weeks before when I went with the Mister but they were $50 and I wanted to buy them on sale. I love simple jewelry like this because it's what ends up lasting the test of time.
And last but not least... Dior's newest foundation, Diorskin Star foundation! I bought it from Shoppers Drug Mart because I had a 20x the points if I spent $50+. I got it in the shade 010 because I have the Diorskin Nude foundation in 020 that I find it a bit dark for me. I've read some really good reviews on it and I'm excited to try it. The other foundation I really wanted to get too was the YSL Fusion Ink Foundation. I'm waiting on the VIB sale to get that one.
And a little personal but my blog is a bit personal anyway. Lately the Mister and I have been having arguments (as any couple does), but the things we are arguing about is really pushing us to the edge. Both of our nerves are completely shot. I guess I'll just leave it at that.
"Do not allow people to dim your shine because they are blinded." -Lady Gaga