Goodness... it's practically mid September and only now I'm able to put this post out #worstbloggerever. The months of July and August were too busy for me to do a separate post for each month- especially August since I went to Montreal. It was a bit tough trying to remember all the products I used but I think I got all of them.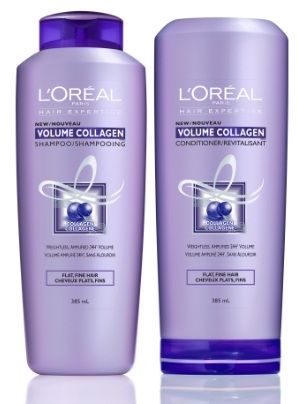 I picked up this duo,
L'Oreal's Volume Collagen Shampoo and Conditioner
from the
L'Oreal sale
back in April. After having used up my other shampoos and conditioners, I finally was able to use these. The bottles now have new packaging but I'm unsure if the formula itself has changed. Usually volume shampoos and conditioners don't really work for me. This duo, however, surprised me because it really did help with volume. It's not necessarily instant magic in a bottle, I still have to blow dry my hair upside down and do all the tricks to help volumize my hair. But, when I use this shampoo and conditioner in conjunction with those methods, I can see a difference as opposed to using any other ordinary shampoo and conditioner.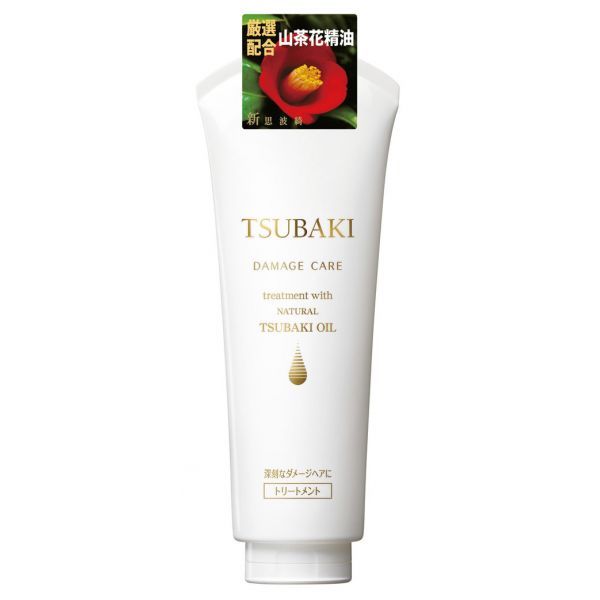 Tsubaki Damage Care Treatment
has been a favourite of mine for years now. It's a nice conditioning treatment to apply to your hair on a weekly basis. After shampooing I skip my ordinary conditioner and go straight to this treatment. I like to apply it mid-way down to the ends of my hair. It leaves my lightly scented, silky, and hydrated. A little TLC midweek is a must.
I was shocked and excited when I finally found this shampoo and conditioner duo,
Herbal Essence Smooth Collection
, at Target. I saw an advertisement in a magazine months ago but could not find it in stores anywhere! This shampoo and conditioner is like taking a stroll down memory lane. I remember how Herbal Essence shampoos and conditioners used to smell, look, and feel like before they repackaged and revamped their whole entire collection. I loved the old school botanical Herbal Essence
"Oh yes, oh yes!"
And it really was an
oh yes
moment in the shower once I lathered and applied this duo in my hair once again. The bonus is that it's rose scented because that's just my favourite scent ever.
I've been using up soap like crazy. Now I'm onto the
Boutique Wild Fig and Pink Cedar
. I love Boutique liquid soap because it isn't drying to the skin and they smell really good. Whenever I find these at Marshalls or Winners, I always make sure to stock up. In fact, I recently picked up Vanilla Blush and Peony and it smells divine in the bottle!
There are some things I buy that I never get the chance to share on my blog. This
Dove Pure Care Dry Oil Nourishing Treatment
was one of them. I first heard of this from
Hollyannaeree
in her
Quick Hair Tip video
. At first I used it like her, as a pre-treatment, which worked out great. But then I started using it as a hair oil on my towel dried hair which also worked well. It left my hair feeling nourished, moisturized, and silky. It is made with African Macadamia oil which drew me in because I love using macadamia oil for my hair. The product is more thin and oil-like than what I'm used to (the other hair oils I use have a thicker consistency). It claims that it doesn't leave your hair feeling greasy, which is true, but, it does have a tendency to
look
oily if you apply too much. Just be mindful of this- which isn't hard since the pump only dispenses a small amount. A little goes a long way which is why this oil is budget friendly.
Shiseido's Ultimate Sun Protection Lotion SPF 50+
is my most favourite sunscreen to use. I like sunscreens in lotion form as opposed to cream because it doesn't feel as thick and heavy and it's so much easier to apply and spread. I like this sunscreen because it doesn't smell like your typical sunscreen lotion and it has a high SPF. I tried Neutrogena's, which I liked, but it's not available year round so that's unfortunate. I also tried Shiseido's Japanese sunscreen UV 50PA+++ which I liked, but I found it a little too watery and oily feeling.
Tah dah! These
Ray Ban Aviator Flash Lenses Sunglasses
is another item I never got the time to show you guys. I actually got these at the end of summer (how unfortunate, but there's always next year!). The reason why I got them so late was because I got a
really
good deal on them! I was never into the aviator look but the Mister insisted that I looked good in them, plus he's totally obsessed with aviator styled sunglasses (specifically Ray Ban).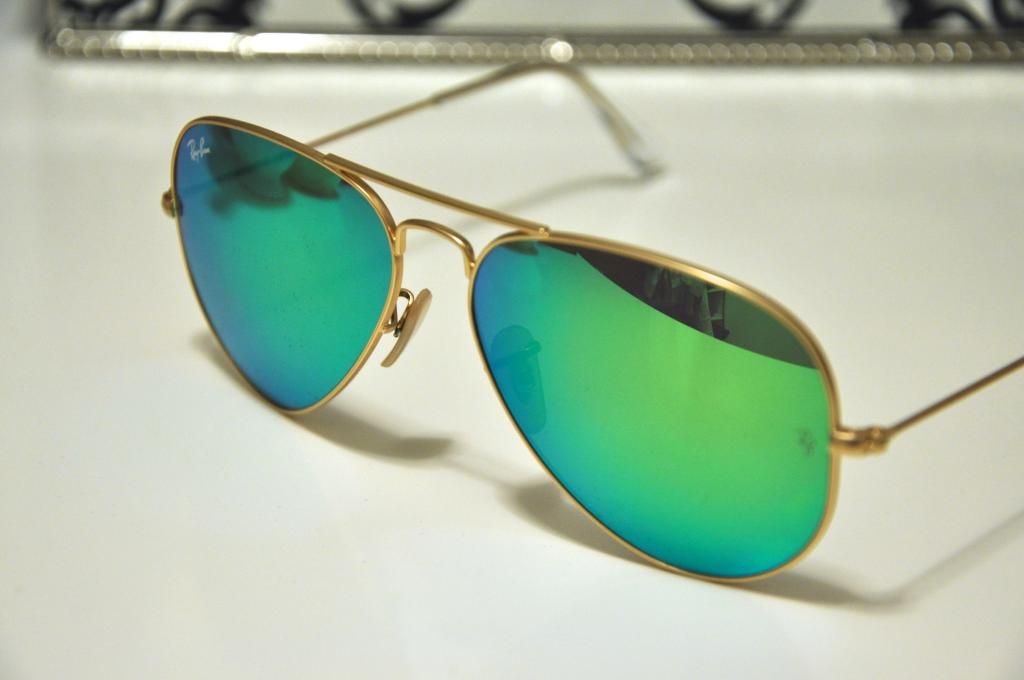 The green flash lens was all me, well, to be fair
Claire Marshall
had an influence on me hehe. Summer just isn't Summer without colourful mirrored sunglasses, right?!
From left to right:
YSL Volupte Sheer Candy #3 "Juicy Grapefruit"
,
YSL Volupte Sheer Candy #4 "Succulent Pomegranate"
,
YSL Rouge Volupte Shine #13 "Pink in Paris"
,
Fresh Sugar "Tulip"
, and
MAC "All Fired Up"
.
I brought all of these (and a couple more not shown) to Montreal with me. I also found myself reaching for them prior to that in July as well. I found myself more drawn to pink than coral this summer. I didn't do swatches because I took pictures at night and didn't have access to good lighting. If you still want them just let me know in the comments.
The only eye palette brought on my Montreal trip was my
Itsjudytime Eyeshadow Palette
. I didn't have a chance to really play with it prior to my trip, but I knew that if Judy made it, then it should be a good palette to bring along with me. I also liked it because it was super slim and had 10 colours to choose from which made it super travel friendly. I only ended up using the first 5 top neutral shades. They applied smooth and were nice and pigmented.
My love, my
Diorskin Nude Compact
in #20 Light Beige. Long time readers would remember how much I loved the discontinued loose powder version of this compact. I think I went through 3 of those. This is still a lovely compact to use and does give a similar look and feel of my beloved loose powder form. It gives a natural finish and glow with light-medium coverage.
These two
MAC blushes, "Pink Swoon" and "Peaches"
were the blushes I went to this Summer. Some days I felt for the pink blush, other days I felt for a peachier look. These two are perfection because there's no second guessing if it's a pink or orange. They are what they are, no questions asked. They also contain no shimmer which is great if you want a more natural look or if you don't want the extra pizazz.
And my beloved discontinued
Dior Bronze Matte Sunshine Bronzer
in #002 "Honey Matte". I have a couple more other bronzers, a Nars and discontinued MakeUpForever, but this Dior one is my favourite. It's just the right balance of colour, not ashy yet not too orange or brown, just perfection. I also love how it's super matte which makes it great for contouring. I haven't bought a bronzer in a long time and I'm contemplating on whether I should.
September is going by fast. Hopefully I'll be better at posting with that month than I was for this post. Truthfully I have more products I wanted to show in this post but I excluded them because I haven't done my Montreal post yet. I can mention though that I became completely obsessed with coffee (I now can drink it with just milk and sugar!) and I like tea! Well, Chrysanthemum at least so far. And that's all I'll say until I get going on those posts...
"When you make a decision to do something, make the decision to do it well." -Unknown