I never got time on the train to write up this post, plus it didn't help that the internet connection sucked. So, I'll just try wrapping up this post now but keep in mind that I still have one more post to wrap up too before I blog about my trip to Montreal.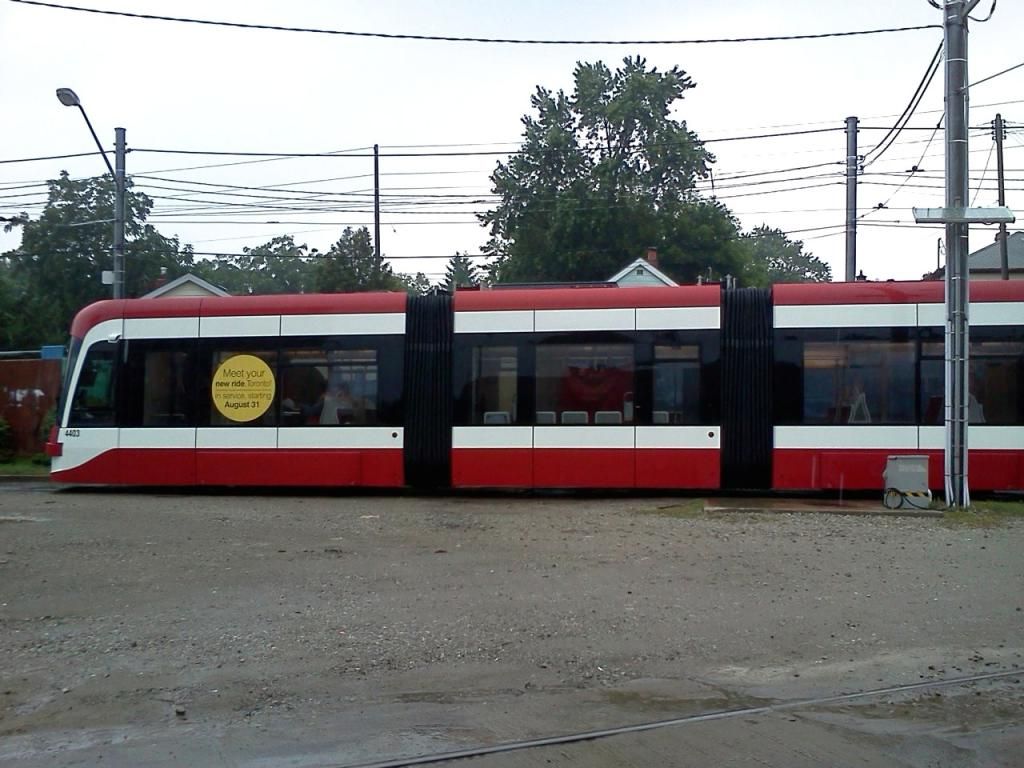 Before the Montreal trip the Mister and I visited the mall a couple times to get things that we needed for the trip. One time as we were waiting for the bus, we spotted the new TTC streetcar being tested for performance on the tracks. Doesn't it look like a subway out from underground?
Although not trip related, I spotted some furniture pieces of interest. I want a small cabinet to replace my small round table that was left behind by my grandmother when she left. It has always been my temporary "bar" but I want something with a door so that it looks more neat and I don't have to dust as much. This one at Target looked nice but I saw the metal parts were rusting a little. The wine rack was also really neat. It's nice because you can store the wine above and store glasses on the bottom.
Went to the travel section and bought a couple things for the trip.
I watched
Anneorshine's
Summer Packing Video
and saw that she had this awesome travel bag for toiletries that she found at Target. I wanted the same one but I couldn't find it,
but
I did find an even better one more suited to my needs!
This thing was awesome to have. It can hold so many things. It has two flat zipper compartments, another sleeve compartment, a compartment for your brushes, and a bigger zipper compartment. Plus it closes magnetically and has a hook so you can hang it on the bathroom door in the hotel. It was about $20 and it was well worth the money. There were also another smaller size available but obviously made differently.
Then we went to Walmart and visited the travel section here and got a few items. The important item was the toothbrushes. We got a two pack for $2. Much better than buying no brand name from Colgate $2 for one.
And of course I always browse the $5 dvds to see if any of my favourite movies are there. Turns out there were, 4 of them! Do any of you guys remember Pagemaster?
Got thirsty so the Mister got me to try Tim Horton's new Oreo Iced Capp. It was pretty good but I still love my Starbucks Vanilla Bean Frapp.
Then we headed to H&M and I found a couple necklaces (bought the silver one on a separate visit). I bought two of the letter necklace so I could spell my name and other things if I needed more than one of a letter.
Then I went to Lush because I totally got obsessed after watching several videos including
Claire's
. Because we were going to stay in a hotel I wanted to take advantage of having my own tub and space to soak and relax myself in a bath.
Sex Bomb (really popular) smells so good and floral. Dragon's Egg smells pleasant and citrus-y. Both of these are my favourites.
Amandopondo is smells of roses. Brightside is very citrus and is amazing at creating bubbles.
Then after watching a few videos of people making Lush cocktails, I went back to the mall another day and got a couple bath melts, another bath bomb, and another bubble bar.
You've Been Mangoed and MMM Melting Marshmallow Moment. I realize it's not necessary to buy bath melts, I feel like you can do without them. I personally think it's just money down the drain.
Rose Queen smells of wonderful roses but surprisingly it's not my favourite. The Comforter smells more like soap and it's less powerful smelling so I thought it would be better to mix with the light rose scented melts and bombs.
It doesn't look like I bought too much but it all adds up. I saved some money though by cutting the bath melts and bubble bars in half. The baths were nice and very fragrant. It would have been better in a nicer tub but it was better than nothing.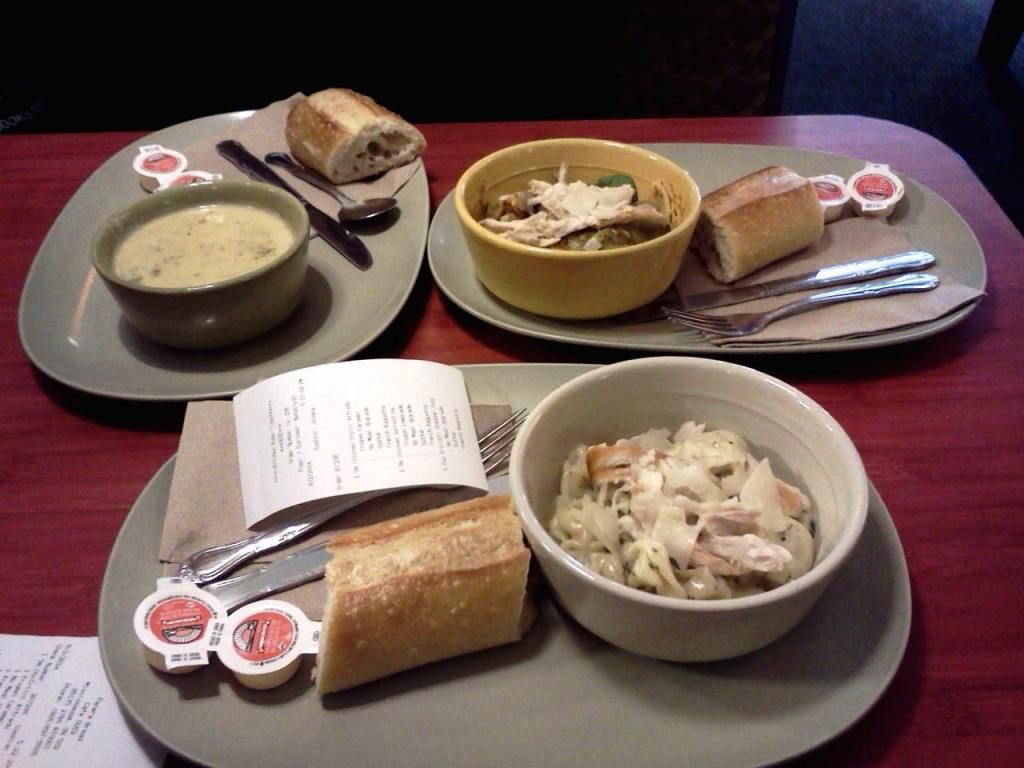 Than we went to a favourite of ours, Panera Bread. I got the Chicken Tortellini Alfredo, the Mister got the Chicken Sorrentina Pasta, and the Broccoli Cheddar Soup to share. For drinks I got the Frozen Lemonade and the Mister got the Frozen Caramel. For dessert I got the Cobblestone and the Mister got the Chocolate Pastry. Everything tasted good. Panera Bread has not disappointed us so far.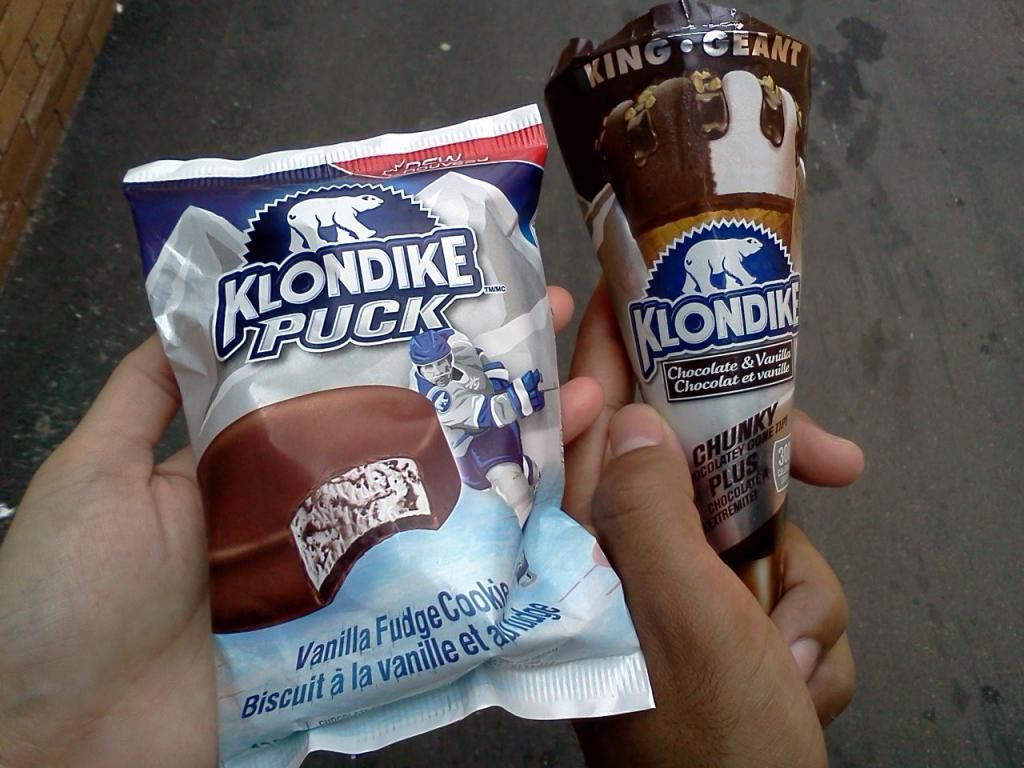 And the day before our trip, Sunday 10th, we dropped by Shoppers Drug Mart in the evening and grabbed a couple ice creams just like we said we would do in the summer. I got the puck and the Mister got the cone. Yum.
"Show me your friends and I will tell you who you are." -Unknown