Believe it or not, this is the post that I've been dreading to do. Any post that requires more effort and more thinking are ones that I want to avoid these days because I just want to enjoy Summer and I have a lot of plans. But, I put it off in May so I must force myself to do this post otherwise it'll never get done!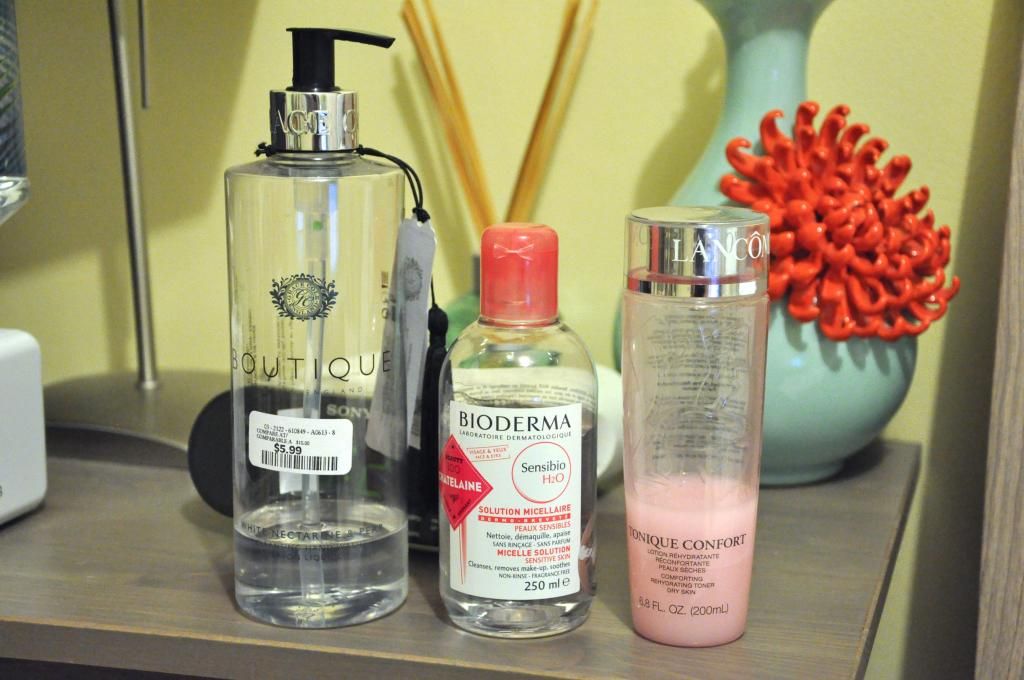 Since using up my Bath and Body Works soap I bought, I have been using (and using up) the
Boutique White Nectar & Pear Hand Soap
. I really like the smell of this and I like how it doesn't dry out my hands like the Bath and Body Works soap do (due to their anti-bacterial attributes). It's very pleasant to use and you'll soon see how much I love Boutique soap because I bought some more!
Back to my love for
Bioderma Sensibio H2O
makeup remover since I finished up my Caudalie cleansing water. I love this because it's so gentle and does the job of removing my face makeup and non-waterproof eye makeup. It's also non-scented but light fragrant skincare doesn't bother me anyway. This Bioderma and Lancome's cleansing waters are my favourite.
I'm not sure what they hype is surrounding this
Lancome Tonique Comfort Toner
. I actually hate it. Whether I apply it directly to my face with my hands or use it with a cotton pad, it doesn't absorb well into my skin. It doesn't feel comforting or hydrating; rather it stings my face most of the time. And forget getting it anywhere near your eye, it'll only sting like a motherf***er. So really, what's the point of this toner? Nothing for me at least. Plus, it has alcohol in the ingredients which will only dry out my skin than benefit it. Thumbs way down.
The
FaceShop Real Nature Masks
are total
love
. They're so hydrating and comforting. I love how the serum actually sinks into my skin. My favourites are the Pomegranate and Blueberry. I've mentioned these before but I had been using them quite frequently in the last couple of months. I have another haul to show!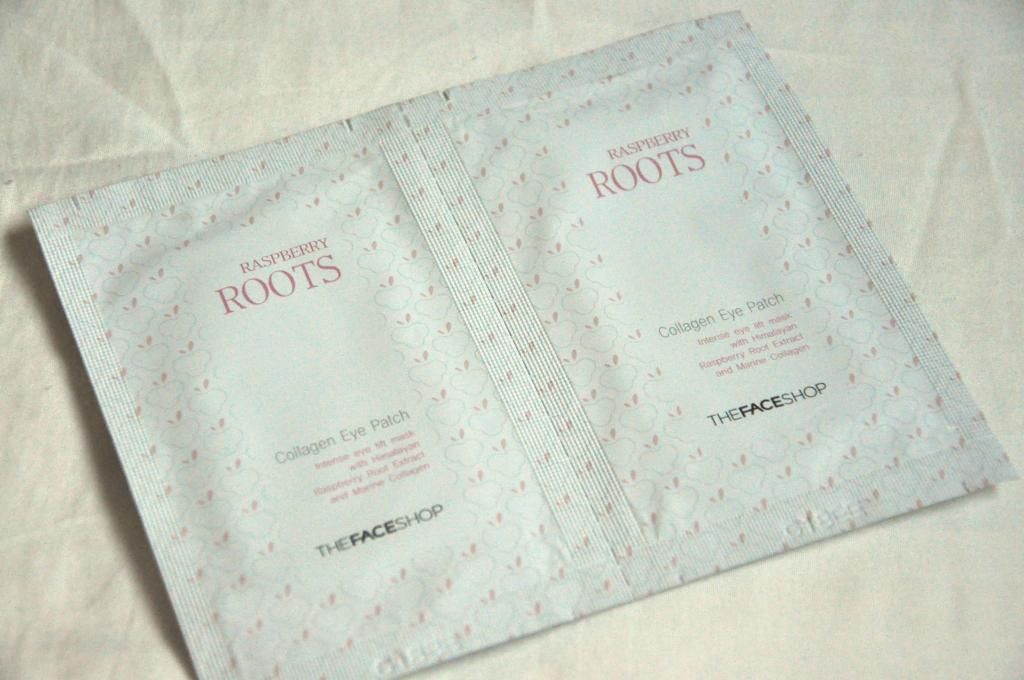 I may love their face masks but their eye masks kind of disappoint me. These
Raspberry Roots Collagen Eye Patch
are gel-like and stick to your undereyes with no problems of slipping off. They also had this unusual meshing and I wasn't sure whether that part was suppose to be on the inside or outside as the package never gave any indications. These are the second gel-type eye patches I've tried from the FaceShop and quite frankly I'm not a fan of them. Perhaps I don't like gel eye patches in general, but honestly, I felt like these did nothing for me.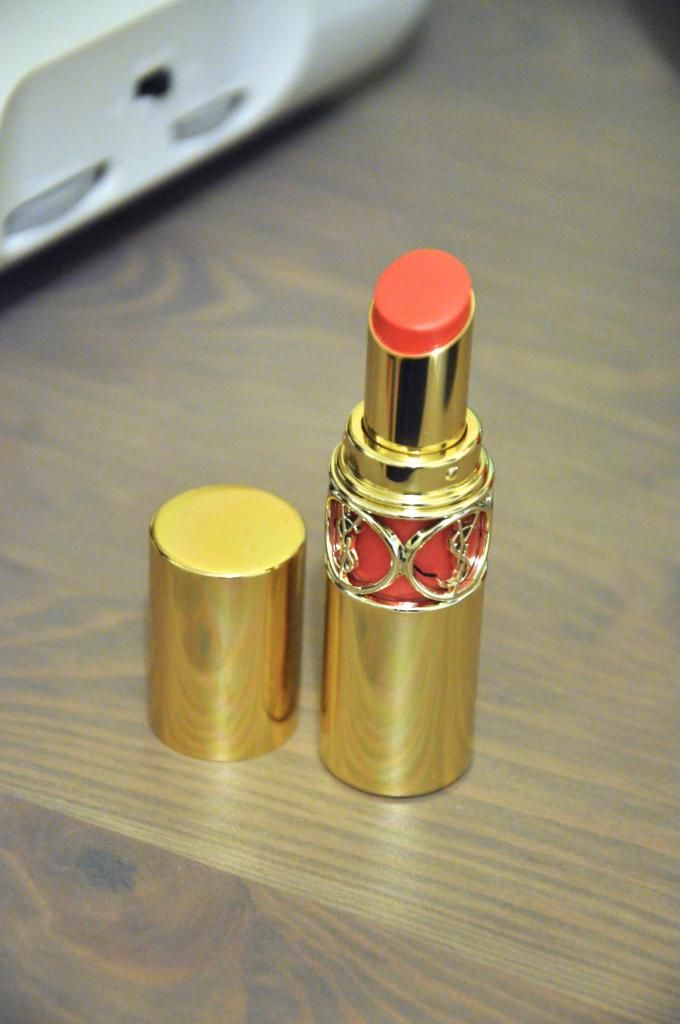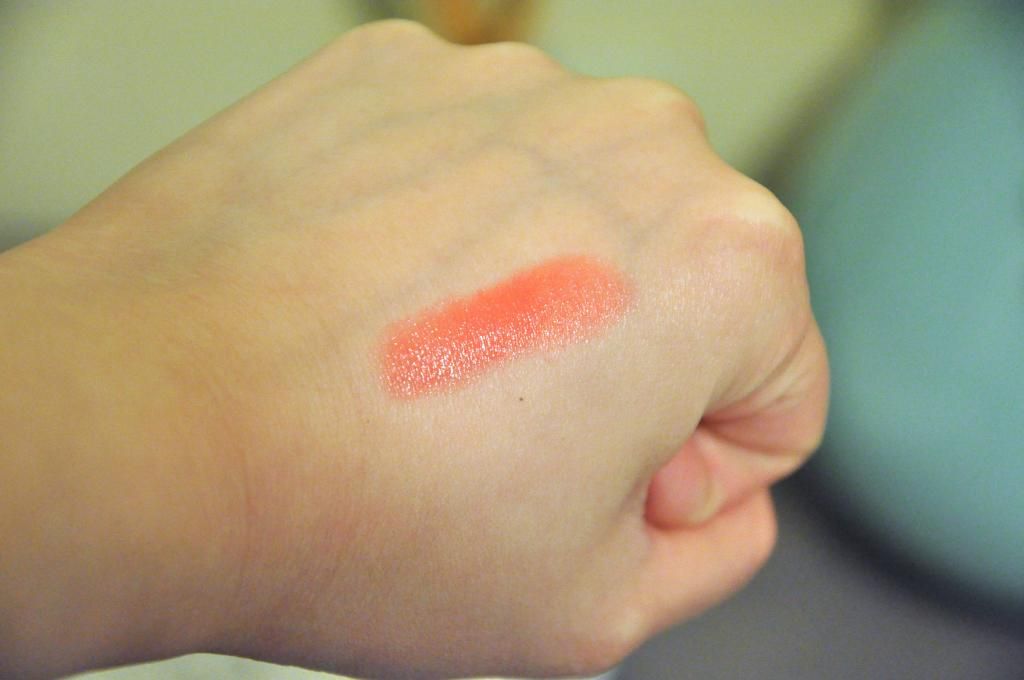 You would think I would have more lipsticks to show but nope.
YSL Rouge Volupte Shine in "Orange Impertinent"
isn't the only lippie I used in May and June but I didn't think the others were worth mentioning. This is a beautiful orange lippie and is one of few oranges that I own. It was nice to have a nice pop of bright colour on the lips.
From this picture, do you guys get how much I love these
Hask Hair Oils
? I have all of the 4 oils that are available:
Macadamia Oil
,
Argan Oil
,
Monoi Oil
, and
Keratin Protein Oil
.
I don't really notice much of a difference between the Macadamia, Argan and Monoi except for the smell. My most favourite oil is the Macadamia one because it smells good and makes my hair uber soft, silky, smooth and hydrated. I also really like the Monoi oil too as it does pretty much the same thing. The Argan Oil is great for days when I need more TLC (seems a bit more oily) but it doesn't smell as nice as the Macadamia and Monoi so I don't prefer it as much. As for the Keratin Protein Oil, I don't use it often enough to see if it works to strengthen my hair. I don't like it that much so I won't be repurchasing that one. The main purpose of the oils is to keep my hair from getting dry (which causes tangles) and keeps my hair looking healthy.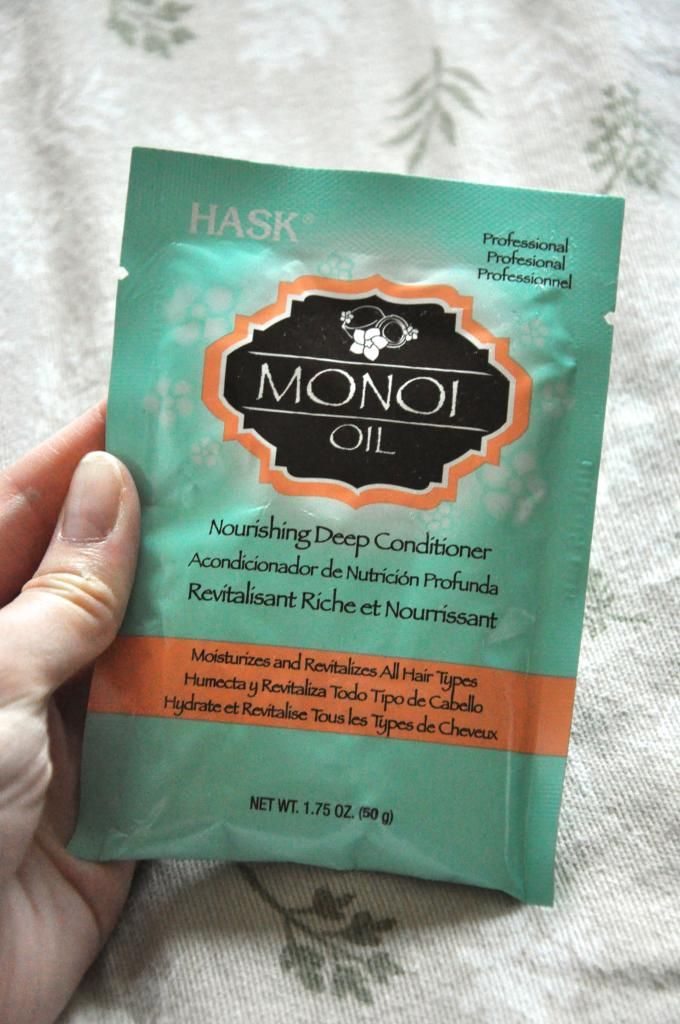 This
Hask Monoi Oil Hair Mask
is bomb. It deep conditions just as it claims and afterwards my hair felt so soft and hydrated. I basically apply it to my damp hair after I'm done showering and then put it in a shower cap. I leave it in for 10 minutes and then rinse out.
My hair was falling out like crazy in May and June. So I went back to
L'oreal's Arginine Resist X3 Shampoo and Conditioner
that I bought from the
L'Oreal sale
since it helped the last time my hair was falling out like crazy. You can see my review
here
. This time around it didn't help as much. I think maybe it's more of an internal thing because my nails are also breaking and chipping more than usual which is driving me nuts. I had the
huge
bottle ones (750mL) and surprisingly managed to use them up in May and June. I have really long hair right now so that's probably why.
I already finished this bottle of
Boutique Wild Fig & Cedar Shower Gel
. I didn't like it as much because the scent wasn't as pleasant for a body wash. It also didn't sud up as well so I'll be avoiding their body washes from now on.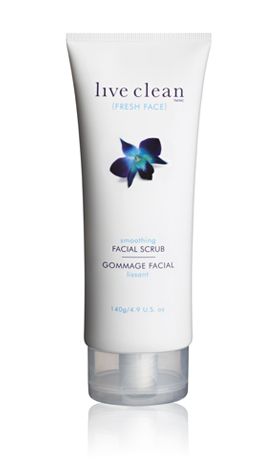 Oh Live Clean. Although I love their company mission of being all natural, most of their products just don't cut it for me. The products I've been showing are items I bought before I knew that their products would generally be downhill for me. This
Live Clean Smoothing Facial Scrub
was a dud. I remember reading a blog about someone liking it but it just doesn't cut it for me. The smell isn't pleasant and it's very thick- something similar to a mud mask. I thought it would be an affordable version of the
Fresh Soy Face Exfoliant
but it's far from it. It doesn't leave my face nearly as polished as the Fresh one does. I didn't enjoy using it and I can't wait to use it up.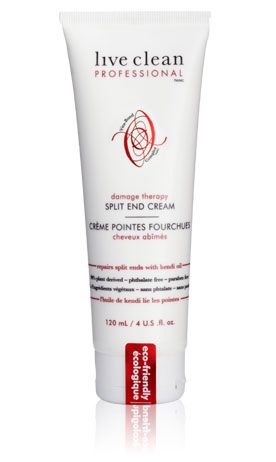 I'm not sure what on earth possessed me to buy this
Live Clean Damage Therapy Split End Cream
because I don't believe anything can mend split ends. I guess I just wanted something that could possibly prevent it? In any case, I don't find it does anything for my hair. This is almost gone too, good riddance.
To recap, I've tried 9 Live Clean products. I liked 3/9 of them. That's a pretty bad ratio. The main reason why I bought them was because I liked how they're more natural and because I had coupons. But unfortunately they didn't perform as well as I'd hope. The 3 products I liked were Apple Cider Clarifying Shampoo, the Fresh Face Foaming Cleanser, and the Fresh Face Wipes.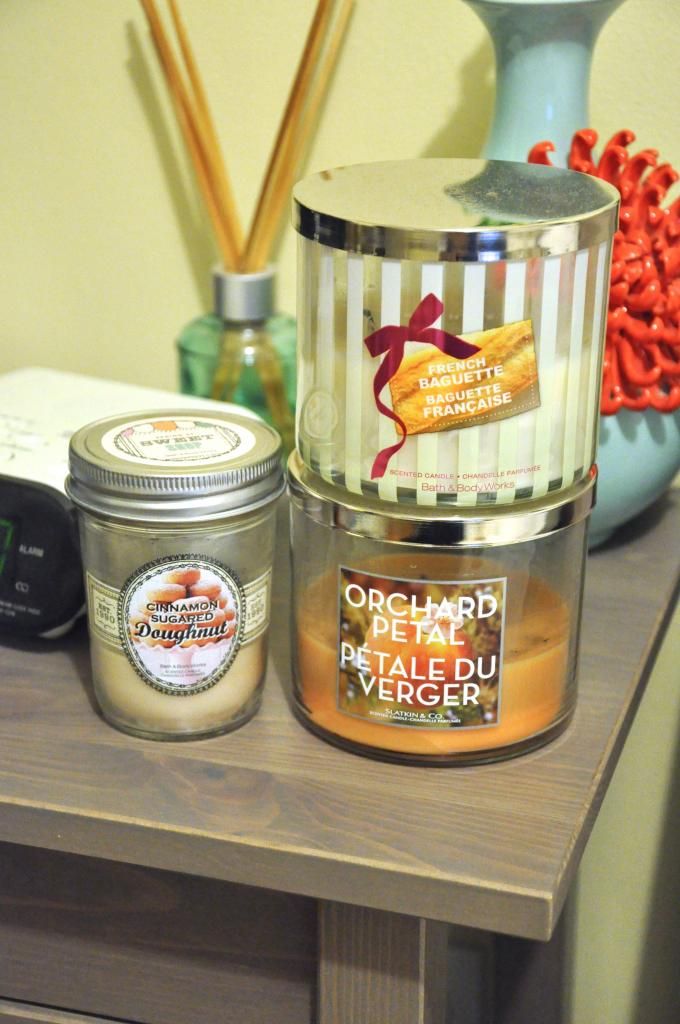 I haven't been as diligent with burning candles but I've been trying to use these ones up. They're all
Bath and Body Works Candles
. The
Cinnamon Sugared Doughnut
smells
so good
. I wish I had another. I found these little mason jar candles are better to light in my room than the bigger candles since it isn't as overwhelming. The bigger candles I like lighting outside my room. I'm kind of over
French Baguette
because it's so strong at times. I have been enjoying lighting
Orchard Petal
though.
I didn't realize when I bought the
Illy Espresso Ground Coffee - Dark Roast
that it's meant for an Espresso machine (duh..). But I just brew it the same but with less ground coffee and less time. It's pretty good and I've been using it to make ice coffee.
I was obsessed (and still am) with the
International Delight Coffee Whitener in French Vanilla
. It's so good!!
I am also obsessed with these limited edition
KitKats in White & Milk and Orange
. The White & Milk is my favourite. So addicting. I wish they weren't LE!!
Have you tried
Grill'ems
? I like these ones that have the cheddar inside. The only thing is that you need to be extra careful because the cheddar inside will be super hot when you bite into it. It's way better than any ordinary hot dog, yummm.
"My mind is clear but my heart is unable to understand." -Gong Ah Jung (Lie To Me Korean Drama)