My workplace has decided to gradually change the night shift's start time. Instead of working at 4pm we now work at 3pm and eventually they want to move it to 2pm then 12pm if all goes well. I work at 1pm currently because I do the labels which is needed before the line starts. It's nice because I get to go home earlier and I have the option of clocking in my full 8 hours.
Since I haven't updated in 2 weeks, you're in for a treat! I thought I'd do something different and share with you how I store my lip products. I have a fairly large lipstick collection now after going through a YSL lipstick craze (you might remember all those Sephora hauls- don't judge) so I figured getting Muji drawers to store them in would be a great investment. Not only will my lipsticks have a home, it allows me to see what I have and makes it easier for me to pick from them.
Shipping for Muji drawers is expensive for Canada $30+ depending on your order. I made two different orders during different times. The first order was specifically made for my lipstick collection (got one
5-drawer unit
and a
large 2-drawer unit
). But after using it I realized that the 2-drawer wasn't very useful for storing lipsticks so I made a second order (got one
3-drawer unit
and a large
2-drawer unit with lid
). The end result? I used the two 2-drawer units together to store my jewelry and the 5-drawer and 3-drawer units together for my lipsticks. I hope that wasn't too confusing. Muji shipping is fairly fast, took only 4 days to get to me. Everything was packed really nicely and nothing was damaged.
And now, here is how my lipstick drawer unit looks like!
It sits on the corner of my vanity in my closet. The lipstick holder on top of the units is from Winners. I've also found it at Marshalls and Bed Bath and Beyond.
I really like it because it looks cohesive with the Muji drawers. It's also unique because it curves which make the lipsticks look more presentable and the whole unit more fancy. Here I have Dior Addicts, Too Faced La Cremes, Urban Decay Revolution, YSL Rouge Pur Couture, Chanel Coco Shines, Dior lip balms, and Dior Addict Extreme lipsticks.
And now for a closer look at what's inside the drawers!
The top drawer houses my high-end lip glosses. I don't wear lip gloss that often so I'm not obsessed as I am with lipsticks and lip balms. Here I have Paul & Joe, Fresh Sugar Shine, YSL Gloss Voluptes, Dior Lip Glow, Dior Lip Maximizers, Dior Lip Polishes, mini Buxom, and mini Nars. I love Dior glosses by the way, they're amazing.
The second drawer has drugstore: Revlon Super Lustrous and Essence Stay With Me lip glosses. I had a little obsession with collecting the Revlon lip glosses at one point :x
Then I have this miscellaneous drawer with lip glosses and liquid lipsticks. Mini Benefit Posietint, mini Lise Watier, Mark, Maybelline The Elixir, L'Oreal Colour Caresse Stain, L'Oreal Extraordinaires, and Rimmel Apocalips (which are totally underrated because they are amazing).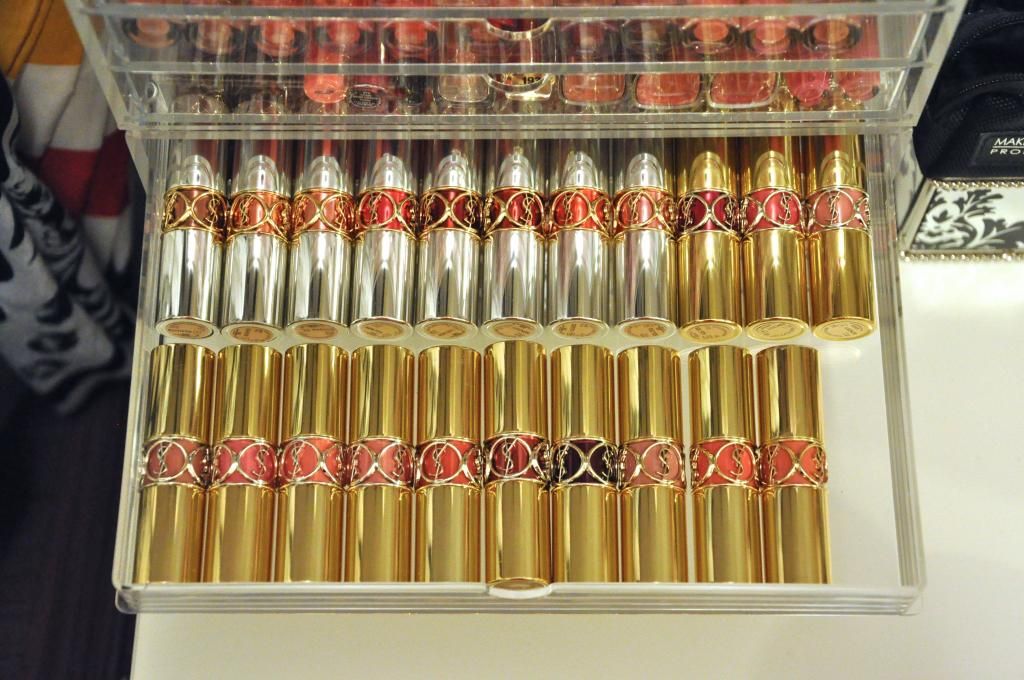 Then we have my favourite drawer... YSL! I love love love YSL lipsticks. I use them the most out of my collection. Volupte Sheer Candies, Volupte Shines, and Voluptes. My all time favourite lipstick formulation are the Volupte Shines. It's the exact reason why I have so many. It's a cross between a lipstick and lip balm, it's total love.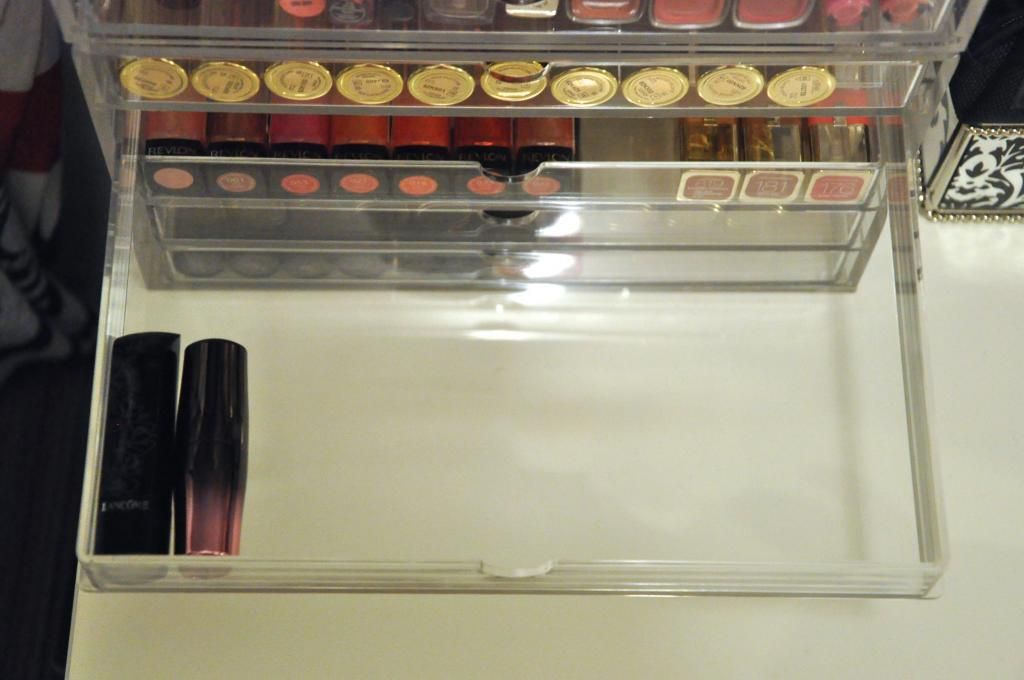 This is a sad drawer, only two lipsticks. Lancome L'Absolu Nu and Shiseido Shimmering lipstick.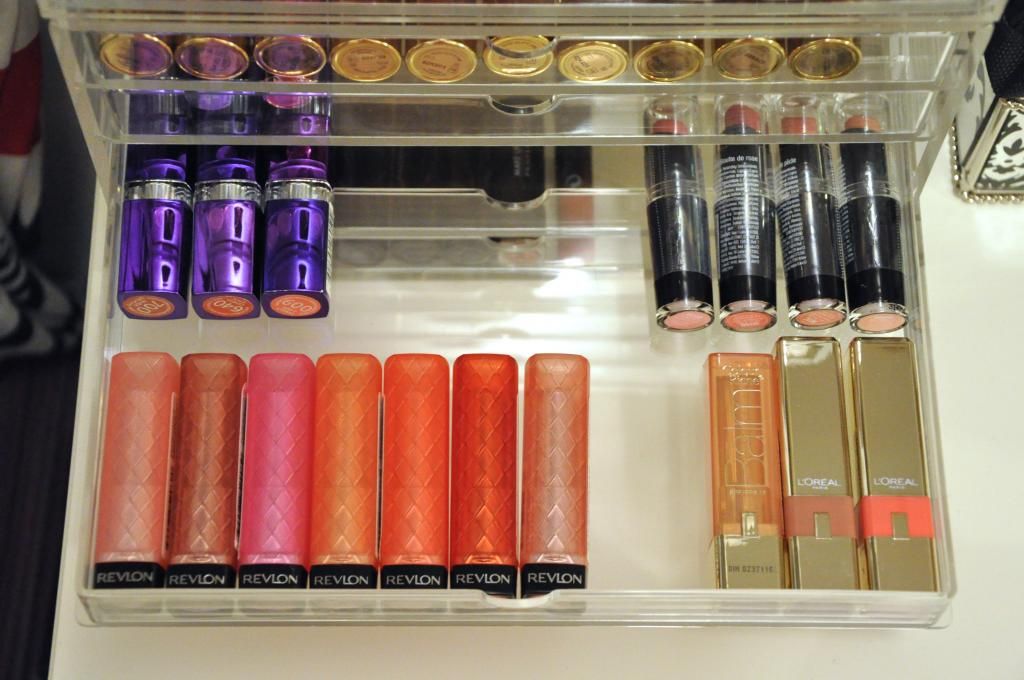 This drawer houses all of my drugstore lipsticks. I have Rimmel Moisture Renews, Wet 'n' Wilds, Revlon Lip Butters, L'Oreal Colour Riche Balm, and L'oreal Colour Riches.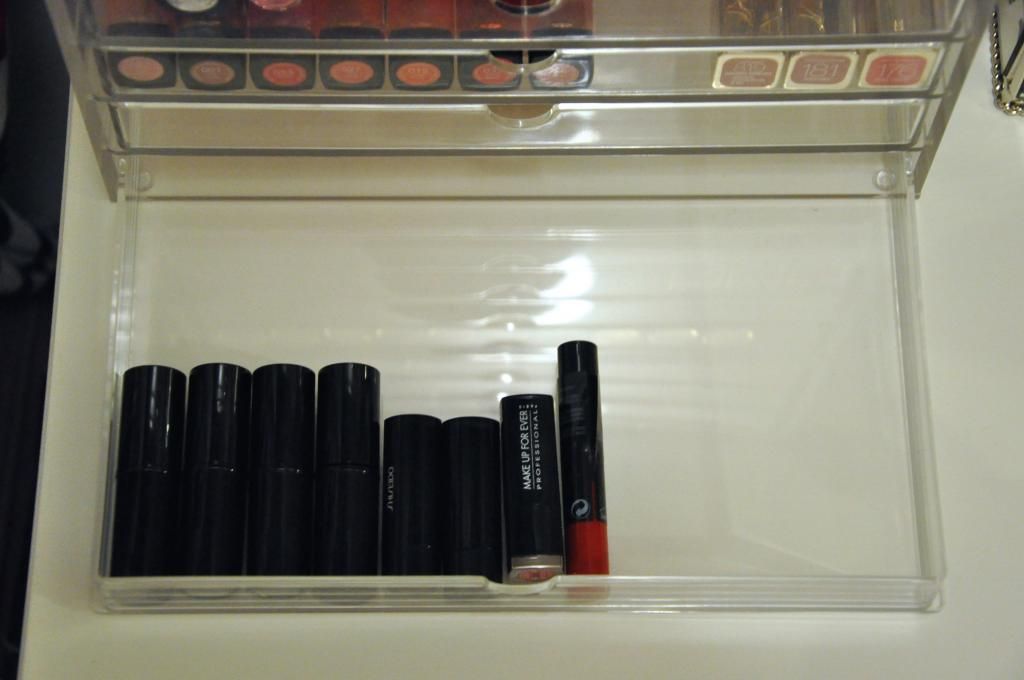 Then we skip a drawer because it's empty and come to this. Just some samples and gift with purchase lipsticks from Lancome, Shiseido, and Make Up Forever.
In front of my lipstick drawer unit is this super cute bowl I got from Target that holds most of my lip balms- with the exception of the Nivea lip butters I keep by my bedside and my higher-end lip balms.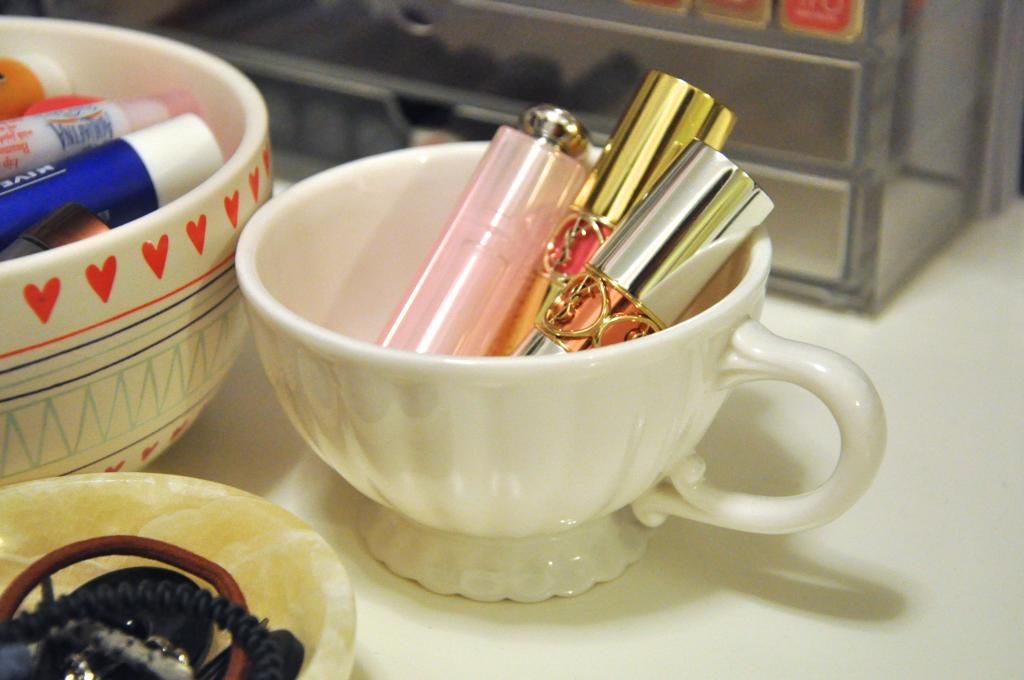 Next to that is this adorable little tea cup I found at Marshalls (I got two and gave one to my sister) that holds lip products that I'm currently using or ones that need to be put back in its place.
And last but not least, I can't forget about my Fresh Sugar lip balms which are also a favourite of mine. I love collecting these and I currently have all of them- I need to share the latest addition soon!
I realize this is a lot of lip products for one person to use, especially for someone who isn't a beauty guru. I was a bit hesitant to do this post but I wanted to share how I store my lipsticks and my love for lip products. I always carry at least 3 lip products in my bag at all times and I always switch them up. I never thought I would be a lippie person but I guess that's what I came to be =)
Now it's off to bed for me. It's 1:30am right now and I'm dead tired (see what I do for blogging?!). Good night everyone!
"Catty girls is a fact of life; they're of a minority, yet they stand out." -Wilkie_89