I've been working through some hair products I've had for a while and that includes this
Live Clean Professional Damage Therapy Restoring Spray
. It's more of a natural product made with 96% plant derived ingredients and is phthalate and paraben free. It claims to repair split ends with kendi oil. Now I know that once your hair has split at the end, the damage is irreversible. You can only mask it but it can never be fully repaired. The only way to rid of split ends is to get a hair trim. The reason why I bought this anyway was because I was hoping that it would be nourishing in some way. Alas, this product does nothing for my hair. It doesn't feel any different and I haven't noticed any difference.
I have been using
St. Ives Mineral Clay Firming Mask
for a long time now (not this particular tube, I've repurchased a few times) and I've always come back to it. It's a simple clay mask that you put on and wait to dry before washing it off. Made with kaolin clay, it deep cleans while it firms and tightens the skin. I like using this when I want to deep clean my face- it's a part of my deep clean regimen. I believe they have repackaged this but you don't need much to cover the entire face which is why I still have this tube.
I got this
Caudalie Cleansing Water
in some sort of perk package from Sephora (I believe it was the 500pts). It feels more like a skincare product than just a cleansing water. It does a good job of removing my face makeup and I like the light smell and how refreshing it feels.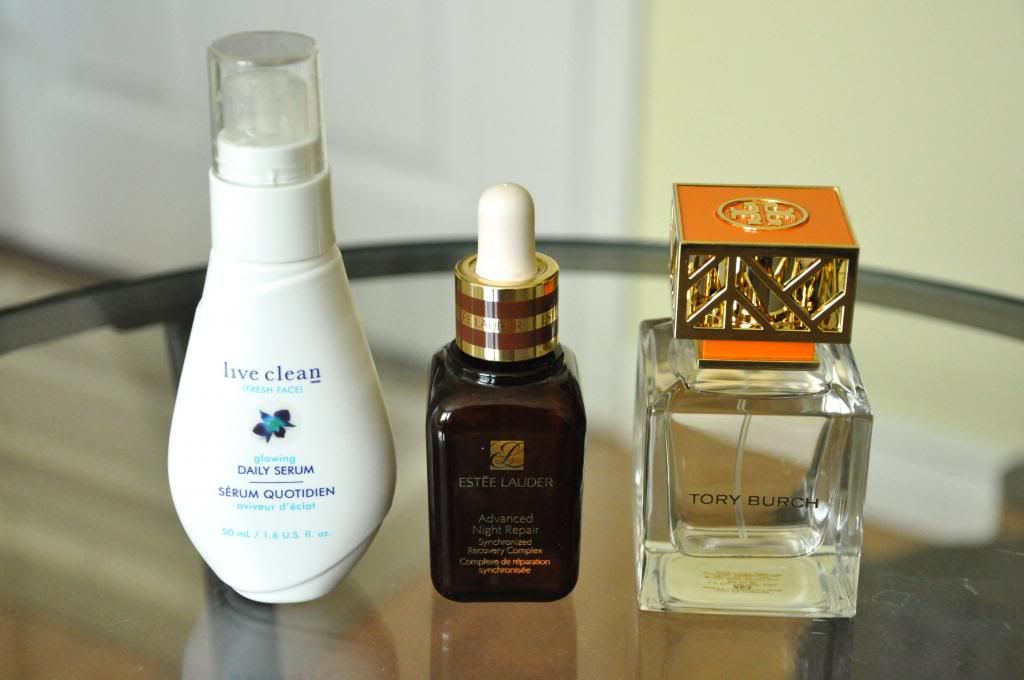 Another Live Clean product, this time it's the
Live Clean Glowing Daily Serum
. The reason why I tried so many Live Clean products was because they use more natural based ingredients. The serum is more of a light lotion type of serum and it has a light fragrance. I actually don't enjoy using this serum and I don't really care for the product itself. It basically doesn't do anything for me. There's really not much to say about it except that I don't like it. I guess Live Clean products are a hit or miss for me- and most of them are misses.
I've been thoroughly enjoying using up my
Estee Lauder Advanced Night Repair Synchronized Recovery Complex Serum
(phew long name!). Light yet rich feeling serum and a pleasant smell makes this lovely to use at night before my night cream. They have a new formula out already but I won't be purchasing until I finish up my other serums (that includes samples). This serum gets rave reviews and I totally can see why. Definitely a winner and I won't say no to a product that provenly prevents and fights wrinkles!
I don't usually get obsessed with just one perfume as I like to spray on whatever I'm feeling that day but for the month of April I found myself completely obsessed with
Tory Burch Eau de Parfum
. I really like the citrus notes and how fresh it smells. The only downside to this perfume is that it doesn't last on me.
I got this
Physicians Formula Eye Booster Eyeliner
in a swap package from
Ichigobunnie
a while back when we used to send each other packages. I don't do eyeliner every time I go out so that's why I didn't open this until now (after I finished my other liquid liner). I really like this liner! I like how the tip is
super
fine and pointed so that it gives me incredible precision when applying (especially when I do the flick at the end). The formula isn't as intense as other ones I've tried but the colour is buildable. I also like that it doesn't have a super glossy finish- although it's not to say it's matte. It's a 2-in-1 eyeliner because it has lash serum in it but I don't use it often enough to see results.
I got this
Tarte Lights, Camera, Flashes Mascara
in a 100pts perk at Sephora. I like it okay. It's an average mascara for me, average at length and volume, nothing any other drugstore mascara can't do. Bottom line, I wouldn't spend $28 on it.
YSL Rouge Volupte Shine #5 "Fuchsia in Excess"
is a bright fuchsia pink and it looks
gorgeous
on the lips. The Mister absolutely loves this lipstick on me. Without saying, I
love
the formulation of the Volupte Shines, they're moisturizing, they go on smooth, and the pigmentation varies per individual lipstick in the line.
It's an intense coloured lipstick. It's very bold and makes a huge statement. Very beautiful for Spring and Summer!
And lastly, non beauty items includes this
Van Houtte French Vanilla Ground Coffee
which I'm almost done with (I didn't realize the French side was facing when I was taking this picture lol. It's a lighter coffee so I like it when I don't want something strong. French vanilla is one of my favourite flavours so this goes without saying.
I've been busy burning up my candle and I couldn't have been more proud of myself when it came to this
Bath and Body Works Midnight Pomegranate Candle
. This was a new candle at the beginning of April and I managed to burn up the whole thing by the end of the month *so proud*. If you're not familiar with BBW candles, they have this safety mechanism so that the wick dies before it can reach all the way to the bottom (so that glass doesn't get super hot and crack- which I've witnessed in another non BBW candle). That's why there's always a layer of wax at the bottom. So far I've used up three 3-wick BBW candles and more is on the way!
Life Lessons: Sometimes there's just something about someone that turns my insides. Although I know not everyone gets along, there were times when I felt crazy for feeling this way because everyone else seemed fine with them. But after some time I came to learn that there were others who felt the same way I did. It's not about choosing sides but the idea that the not so great attributes in people will eventually be known to others. Sometimes it's just on the surface that makes it seem like no one notices, but remember that people aren't blind to these things either.
"No one wants to be the villain, everybody wants to be the victim." -Swoozie