"It's okay, you can admit it if you bought an item or two or ten for yourself." Not sure if everyone has seen that
video
last December but seriously it applies to me all year round.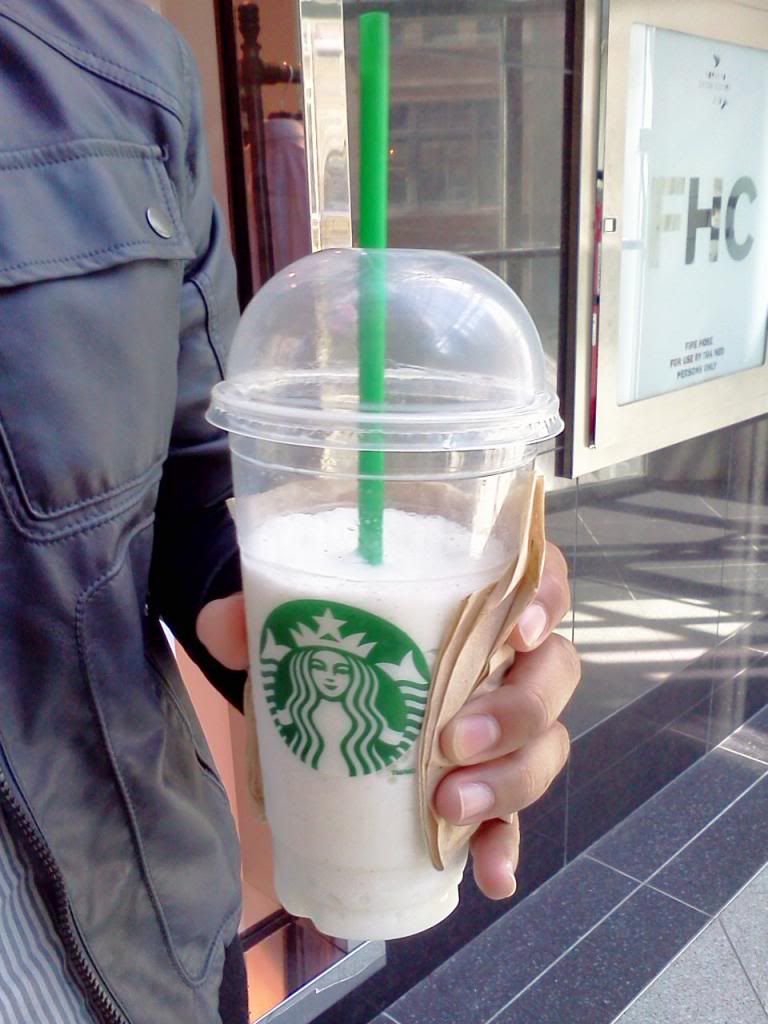 First Starbucks Vanilla Bean Frappuccino of the season!
So the weekend before the last the Mister and I went to go see the Heaven is for Real movie. We haven't been to the theatres in ages and it was quite nice to be back. I liked the idea of the movie and how it was based on a true story but I didn't like how they executed it. The movie overall was okay (below average to be quite honest) because there were a few boring scenes and not enough depth to story. The Mister gave it a 4/10 and I gave it a 5.5/10.
Pho Orchid
124 Chestnut St. Toronto, ON M5G 1T3
After the movie we finally went to try the pho restaurant,
Pho Orchid
, that we were suppose to go to
last time
. It's located in a basement and there are pretty orchids by the windows. It looked pretty interesting from the outside (minus the missing R on the sign)... but then that all changed when we got to the entrance located on the side- which looked so
ghetto
as f*ck (excuse my language and I should have snapped a pic). I think it should have been our first sign to just walk away... (and I should have checked reviews before going).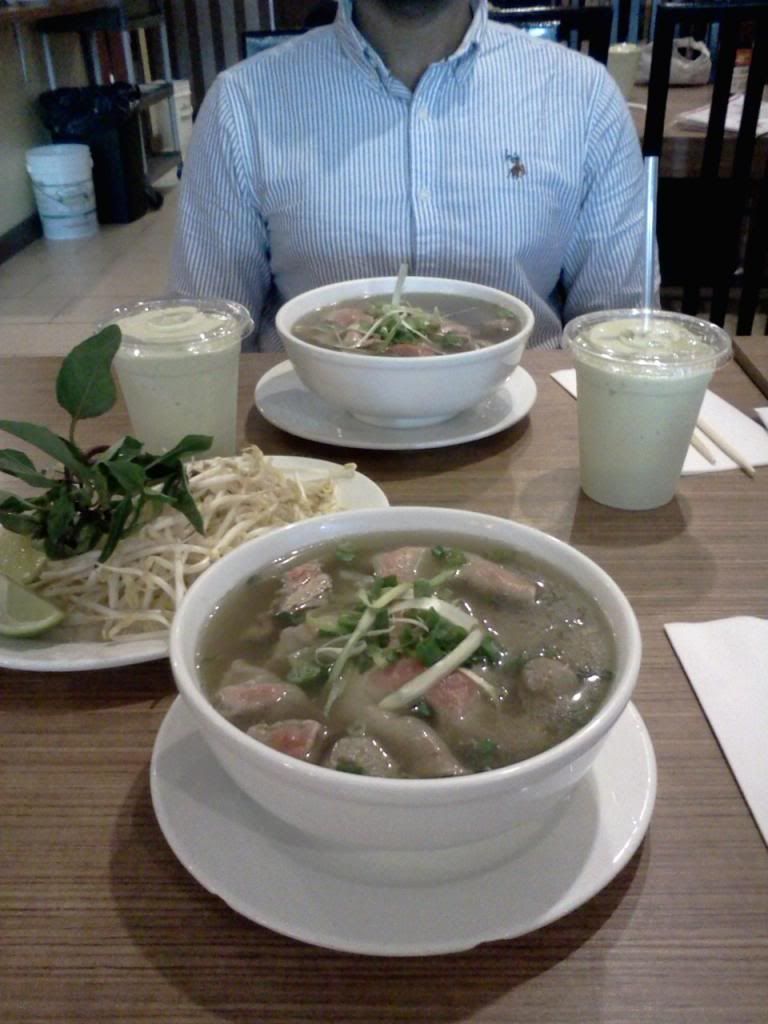 Inside... also looked ghetto. I could see a huge stain on the ceiling, dirty a** air conditioner that was in desperate need of some cleaning, outdated furniture, semi-unkept front desk... it just felt dirty to us. This was also the first pho restaurant- or any restaurant for that matter- to serve their food with those disposable wooden chopsticks. It was so weird! Is this a restaurant or am I at a convenient store? I also noticed an oil stained make-shift cardboard to hold in the utensils from falling from the gap in the plastic holder where the soup spoons would usually go. We also had to ask for a spoon because our table only had one spoon in stock
and
we had to ask for the sauce dishes because our table didn't have any (not sure if the other tables had any either). Service was quick but poor. I'm 85% sure the guy workers were talking about me thinking I wasn't Viet and didn't understand what they were saying. Something about how I'm probably Chinese and that I had plastic surgery because there was no way I could naturally look like that (wtf...). If I was 100% sure they were talking about me I would have spoken up but they were indirect so it was hard to tell. Food was less than mediocre, noodles were a little undercooked, broth was okay, meat was plenty but a bit tough, and they gave very few beef balls. And to top off a great meal, our avocado shakes tasted like water, yay. By the time we were done, we called for the check only to be told to wait 2 minutes. He went right by us to go clean a table even though there were hardly any customers and plenty of empty tables around for that to be necessary. Food and service was poor. Needless to say, I'd rather walk all the way to Chinatown rain or shine or starve than come back here. Thumbs way down.
So that weekend turned out to be not so great but at least I didn't leave downtown with nothing to cheer me up =)
After weeks of eyeing this Prada Candy perfume at Marshalls (discount!) I finally got it. I was hoping that they would still have it by the time I had the budget for it, and luckily they did. The scent us very sultry and very different to what I already own. I think you guys can tell that I've been a little addicted to collecting perfumes... my collection is expanding!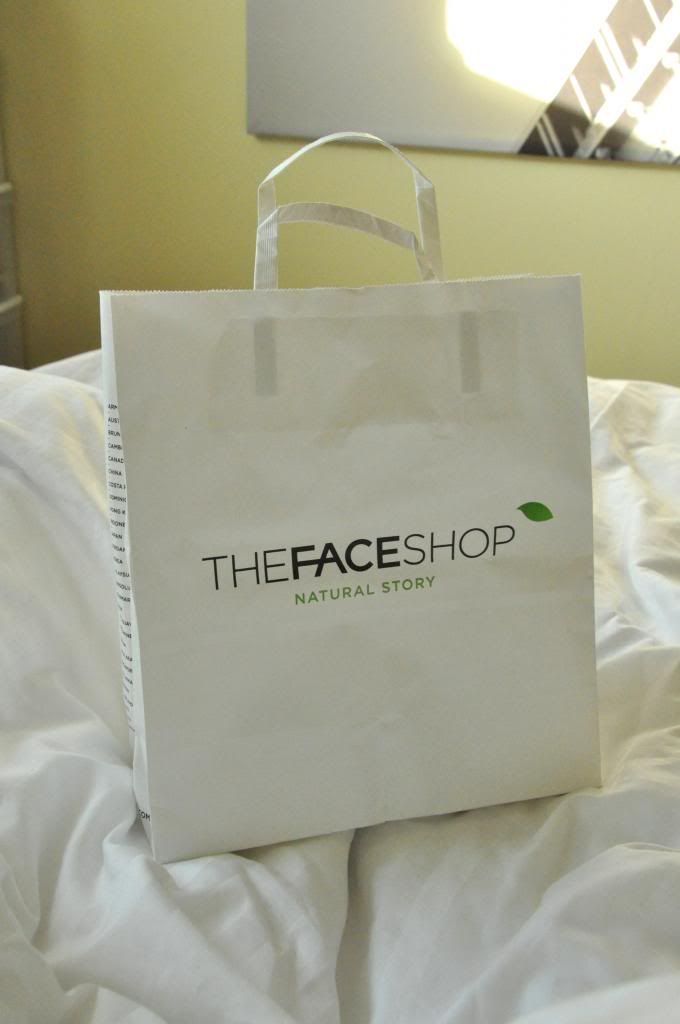 I also picked up a few more things from The Face Shop. I hope their store at Eaton's never closes!!
I don't think I need to mention again how much I love their sheet masks. I picked up the Black Seed mask for the Mister to try and a few under eye masks for me to try as well.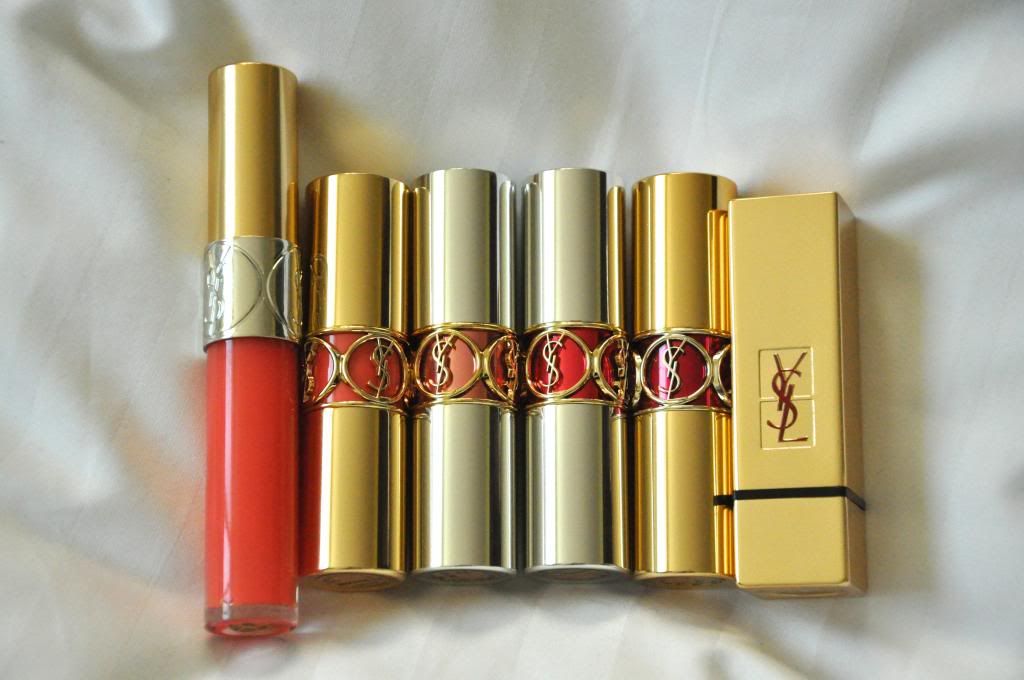 And like I said, I did make an online order from Sephora during their last day of the 15% off VIB sale. I couldn't help myself after thinking that by the time the 20% off sale comes in November I might already have quit my job, and the lipsticks I want would no longer be wearable because they're all super bright for Spring and Summer. YOLO I thought =P Oh and I had to return the
Guerlain foundation
I got from my previous Sephora purchase because it was the wrong shade for me.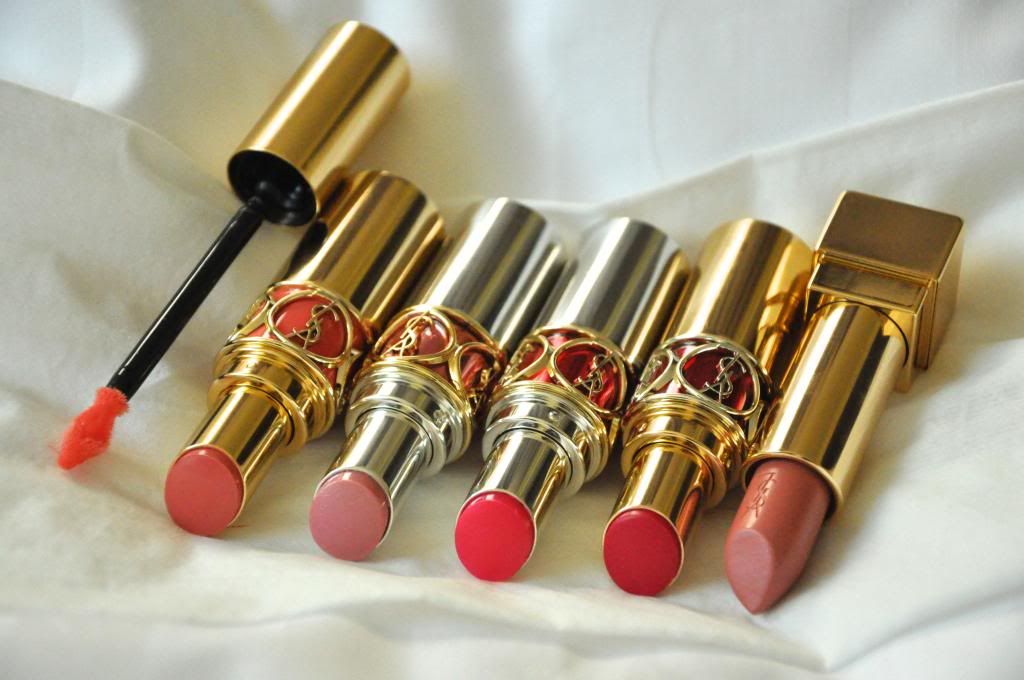 I got all YSL because I can get Dior at Shoppers Drug Mart FYI. From left to right: YSL Gloss Volupte "Corail Trapeze" #204; YSL Rouge Volupte "Peach Passion" #13; YSL Volupte Sheer Candy "Tasty Raspberry" #12, "Succulent Pomegranate" #4; YSL Rouge Volupte Shine "Fuchsia in Excess" #5; YSL Rouge Pur Couture "Rouge Bergamasque" #6 (bottom swatch).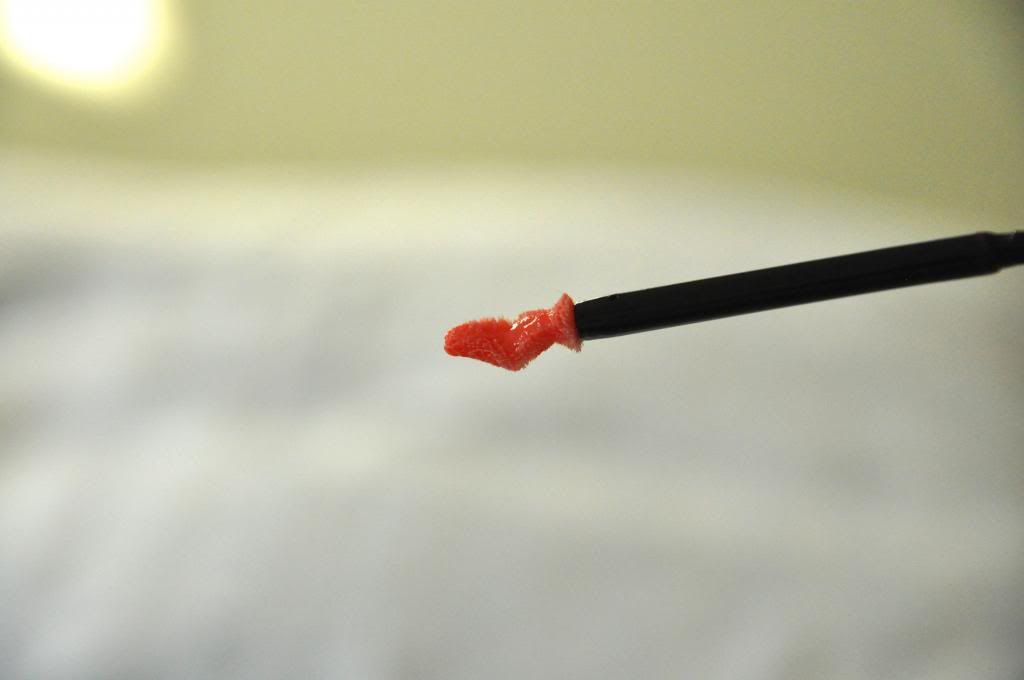 The gloss applicator is interesting and my favourite out of everything I've tried. It's supposed to be in the shape of lips but that's not what wins me over. Just the shape of it makes it easy to apply and the gap in the middle takes up the excess and makes it easier to spread evenly on the lips.
I also hit the drugstore a couple of times. You'll see these coming up in my monthly product reviews.
And a few other purchases I made but never got around to sharing.
These Swarovski earrings were a pair that I've been coveting after. They're so beautiful to wear even during the daytime which is a great addition to my jewelry collection.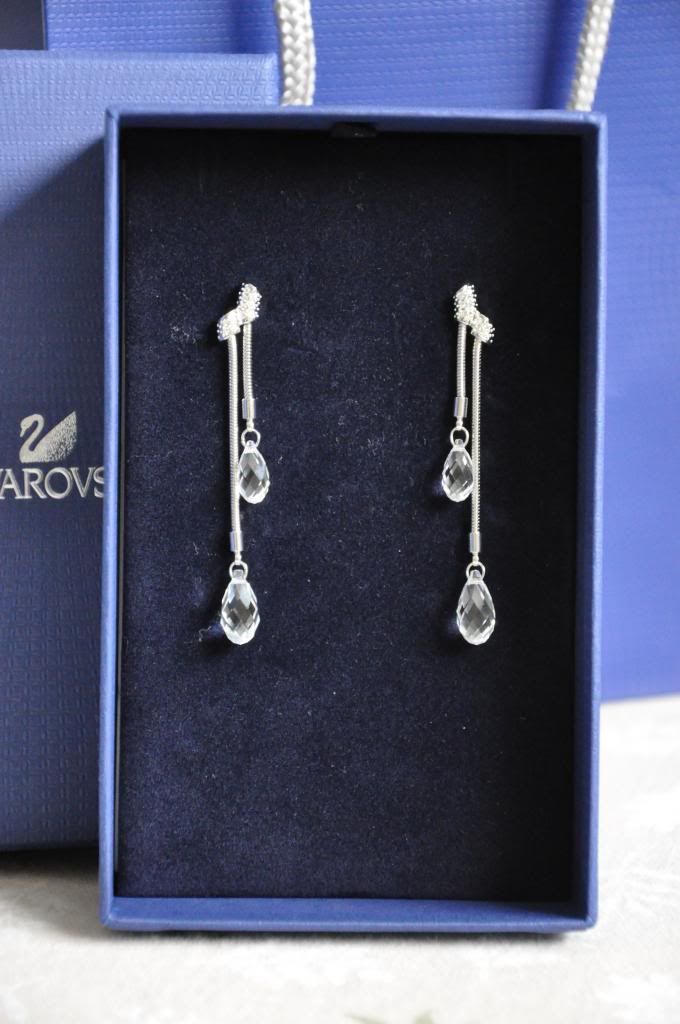 I love the part where it meets my ear. It looks like it's beautifully cascading down. Swarovski makes some of the best earrings. I really am a huge fan.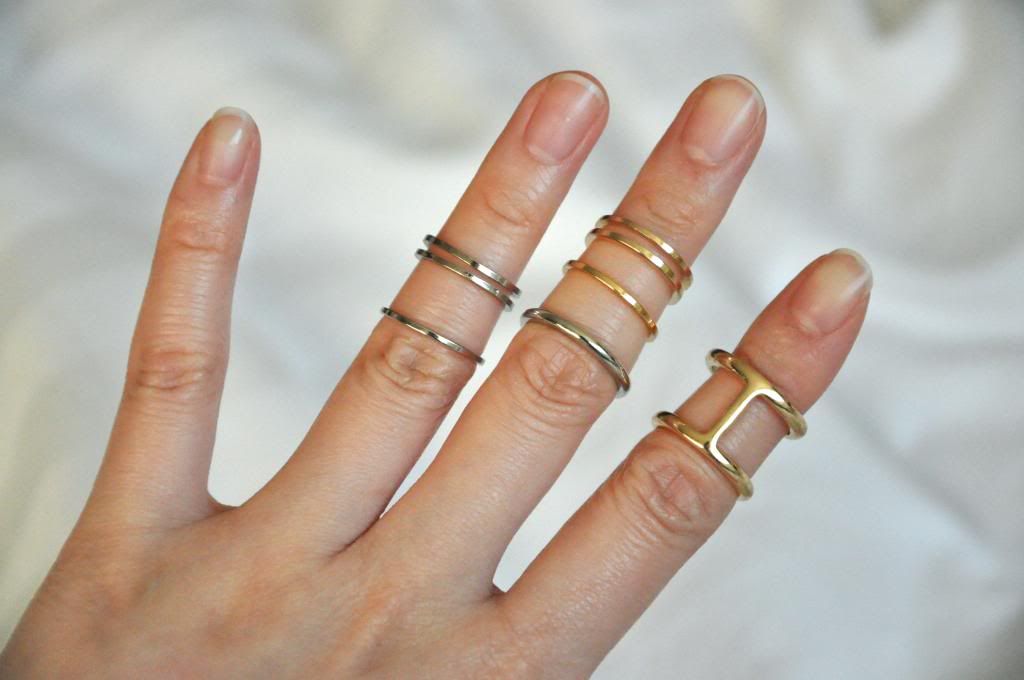 Because of
Heyclaire
, I got obsessed with midi rings. I picked up a few different ones that came in packs and also ones that were sold individually from Forever21. Shown above are some of them (fyi I don't wear them all like this at once).
And lastly, I picked a few pair of leggings from Zara.
I love the look of the faux leather patch leggings (I'm not much of a fan of full-on pleather leggings). This is the closest I've come so far to finding a pair that has the
simple faux leather
running down on the side of the leg. These Zara leggings have faux leather on the inside of the leg and real suede on the outside.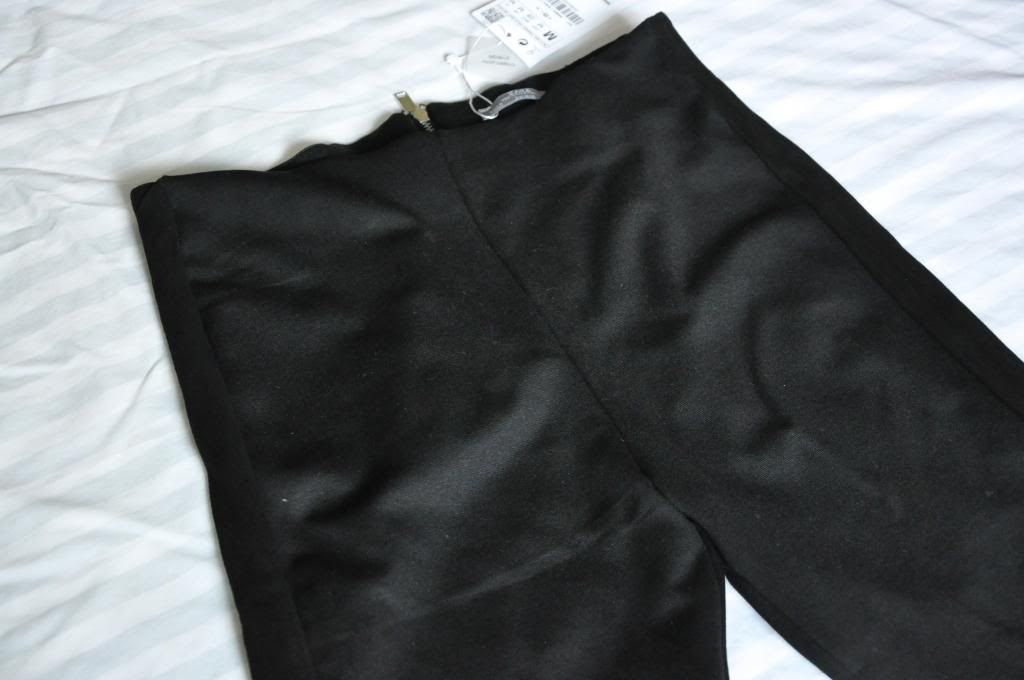 I also picked up these leggings with a real suede stripe going down the leg. These look really good on me.
And so that concludes all my purchases so far. On another note, today (Friday) will be the day that I pay off all of my OSAP debt! Hoorah! Celebrations will have to hold off as the Mister and I have plans for the next couple of weeks.
Life Lessons: I have dealt with feeling envious two times in my life so far. This doesn't include when I simply admire people or make casual statements like "I'm so envious of you". I'm talking about feeling real envy, the kind that makes you feel inadequate, something you want to go away but can't help but sort of obsess over. The hard part is knowing that your thoughts are completely irrational yet can seem so believable. What helped me through it was to remind myself that what that person has does not take anything away from me. I am what I am and they are what they are. The only reason I saw them as above me is because I placed them on a pedestal in my head. It was my thoughts alone that were getting the better of me.
"Jealousy is no more than feeling alone against smiling enemies." -Elizabeth Bowen