I know... it's been a long time coming, I apologize. I promised this post ages ago but I couldn't get myself to take pictures and write it up. I hope I didn't keep anyone in anticipation and that somehow you forgot about it all together somewhere along the way. But now it's here so let's get on with the post =)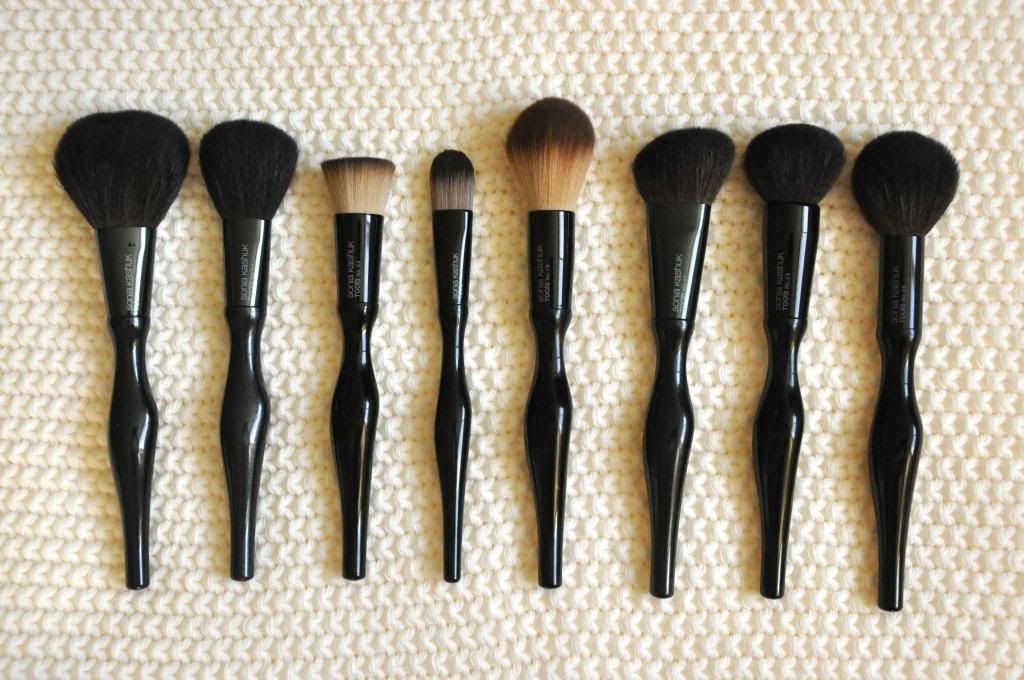 Here are all the Sonia Kashuk face brushes I own. I had to make several trips to Target over a few weeks (possibly a couple of months) to get all the brushes (they kept selling out). Why get them all? Because I came to realize how amazing the brushes were after my first purchase. Sonia Kashuk brushes are incredibly soft to the touch and at the price point they sell them, it's a total steal in my opinion.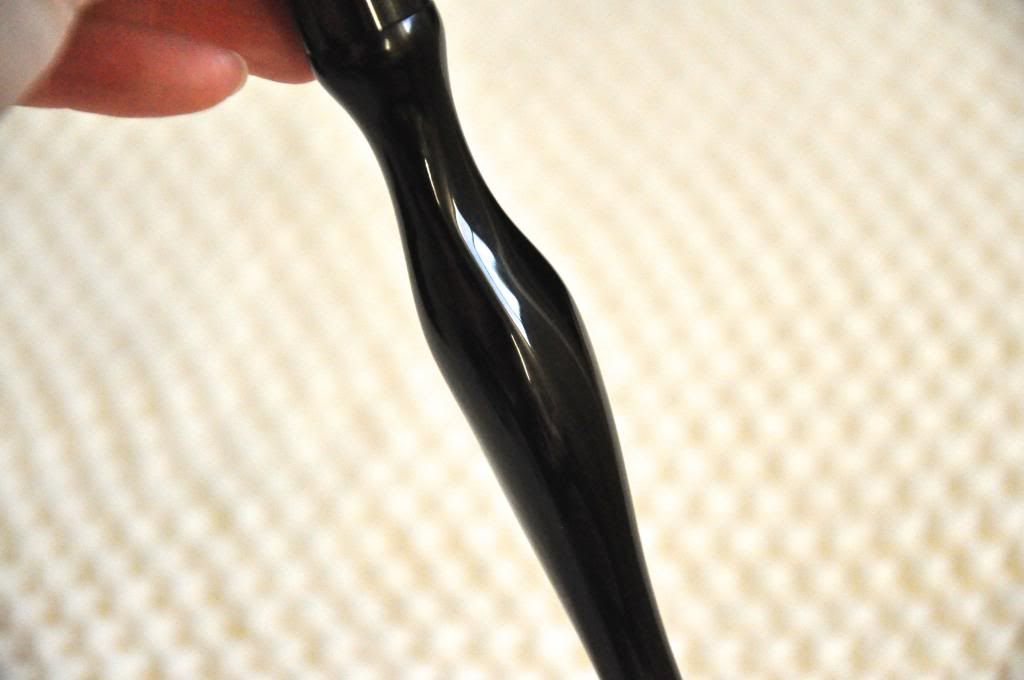 Before I go into the brushes individually, I wanted to point out how unique the handle of the brushes are. It's shaped in a way that fits perfectly into the hands when in use. It's comfortable to hold and I find the design very neat.
This Large Powder Brush #1 was one of the first brushes I picked up. "Delivers a light dusting of bronzer or powder in one sweep." This is one of my favourite brushes I own and it's also one of the softest. It's not too big nor too dense or sparse, it's just the perfect size and density to use for powder application. I use this mainly for setting powders or if I want light coverage from powder foundations.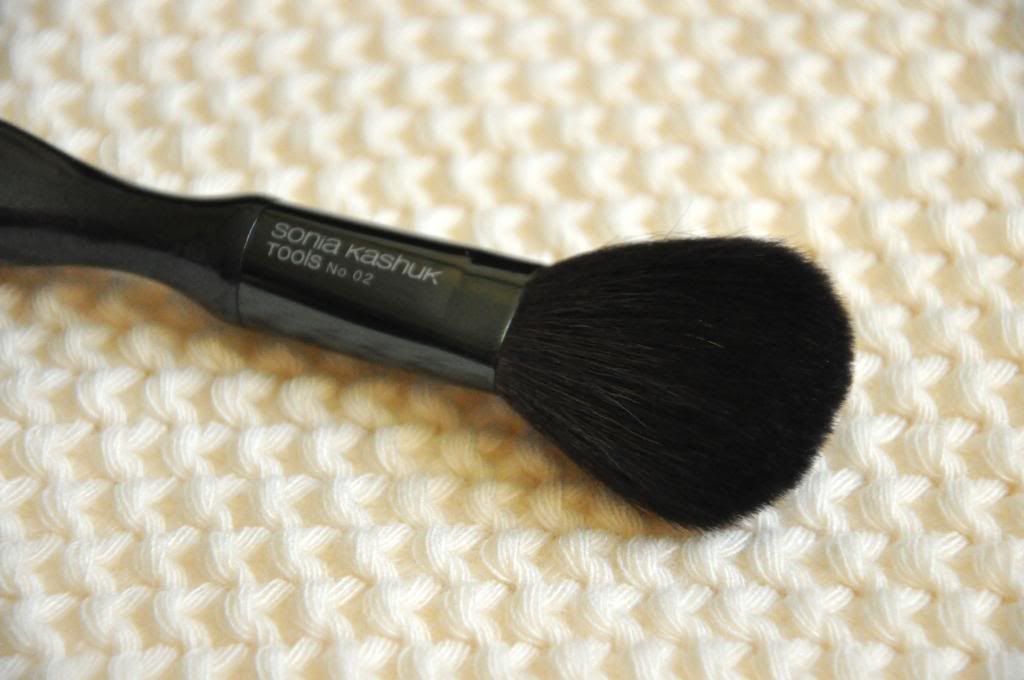 This Blusher Brush #2 was the other brush that I first picked out from the line. "Sweep blush on the apples of the cheek for a natural-looking flush." I've mentioned before that I prefer tapered brushes to apply my blushes. It's also the perfect size and density for blush application in my opinion. I like to pat my blush onto my cheeks and this brush doesn't prick my face one bit because of how super soft it is.
This Synthetic Flat Top Multipurpose Brush #4 ended up being last face brush I got because it was always sold out. "It applies, it blends, and it buffs. It does it all for the creme product." When I first got this brush I thought it would be perfect for liquid foundation application, but it turned out it wasn't. I didn't read the description until now so it makes sense why it recommends it for cream products. With liquid foundations the brush absorbs too much of the product and doesn't spread the foundation well, but with a denser product like cream foundations it performs extremely well. The brush is short and dense which keeps the cream product at the tip of the brush and gives you the ability to buff the product onto the skin. It's also feels super silky and soft to the touch.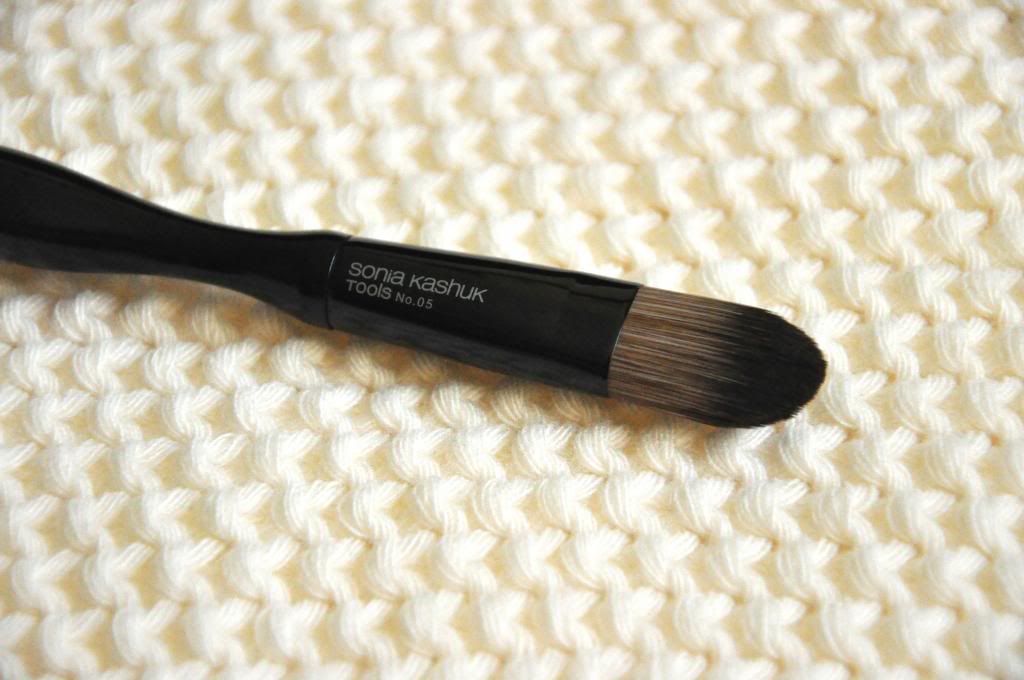 Synthetic Foundation Brush #5 is a brush that I'm on the fence with. "For flawless foundation application." Before I even used it I could already tell that the brush seemed a little small and a bit stiff for flawless foundation application. Because the brush head is shorter and smaller, the bristles aren't as long and flexible to effortlessly apply liquid foundation (especially if the foundation is more watery). What ends up happening is that it leaves streak marks and it also takes longer to apply. It could possibly do better for precision application for hard to reach areas or used with denser products like cream concealers and cream foundations.
Synthetic Domed Multipurpose Brush #16 is also another brush I'm on the fence with. "Ideal for any creme or powder product; for application, buffing or blending." I find the brush too flimsy to use for buffing or to work with cream and liquid products. It's okay with powder but doesn't pick up powder as well as the #1. Overall, it's kind of an awkward brush because synthetic normally works well with liquid and cream but this brush just doesn't.
Medium Angled Multipurpose Powder Brush #17 is a wonderful brush to use for contouring. "Partner with any powder, pressed or loose for a more precise application and sculpting." Although it says it's a multipurpose brush, I mainly enjoy this just for contouring because it has the perfect density and brush head size, and because the bristles are super soft so it doesn't prick me when I pat or swipe it on my skin.
Dense Blush/Powder Brush #24 is a very versatile brush. "Ideal for any type of powder application, blending and buffing out any harsh lines." I love using this for powder foundation application because it's dense and short enough to apply and buff with. Without saying, the bristles are super soft so it doesn't irritate my skin especially if I'm using it for all-over application. I've tried it with liquid foundation and it performs okay with it but I prefer using my Sephora brush over this one for that. It's also great to contour with because the brush head is small and dense enough to buff out any harsh lines. I personally have not used it to apply blush because I find it too dense, but if you like to apply your blush heavy-handed I'm sure it would be great for that too.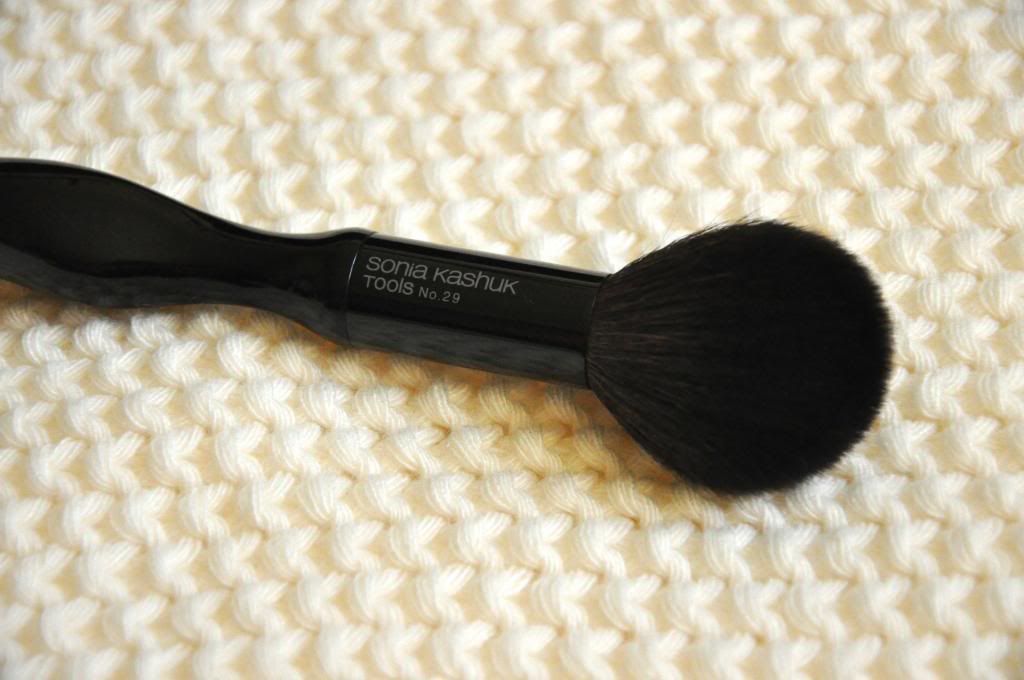 Domed Blusher Brush #29 is my favourite brush out of them all. "The domed bristles of this blusher brush are the perfect shape for swirling blush on the cheeks for a flawless flush." Surprisingly it's quite hard to find a nice domed brush head that is small enough to fit my petite face. I love using this to contour with because it's small enough to sweep and fit nicely just below my cheek bone to give me the perfect contour. It's also great to use for blush, face powders, and even powder highlighters! As you can probably tell, it too is a very versatile brush.
Life Lessons: I recently had a conversation with someone about dealing with unfairness in the workplace. It can be very frustrating when you find yourself working harder than those around you while they slack off seemingly unnoticed. But interestingly enough, they told me a tale about their own experiences with working with lazy coworkers. Although at first glance it may seem like lazy workers are benefiting from doing less work and taking their own mini breaks, their own unproductiveness does affect them in the long run. When it came time to renewing their contracts, they didn't have it as easy (or at all) as the person who always put in the effort to do their job. And when it came to being recommended for other work positions, only those who showed great work ethics were recommended. So in reality, you don't have to look too hard to see that eventually hard work pays off. They may not be doing anyone any favours, but they're also not doing themselves any either.
"I cannot formulate an expression using tangible words from any language that would even begin to express just how much you piss me off." -Unknown