View from outside Marshall's store downtown.
Is it weird that I feel more productive when I blog? The same goes for cleaning my room every week but at least that makes sense. Today is my day off but tomorrow I have to go to work... at 7am. It's a major time switch and it'll probably shock my body and mind. Feeling sleepy at work is the worst.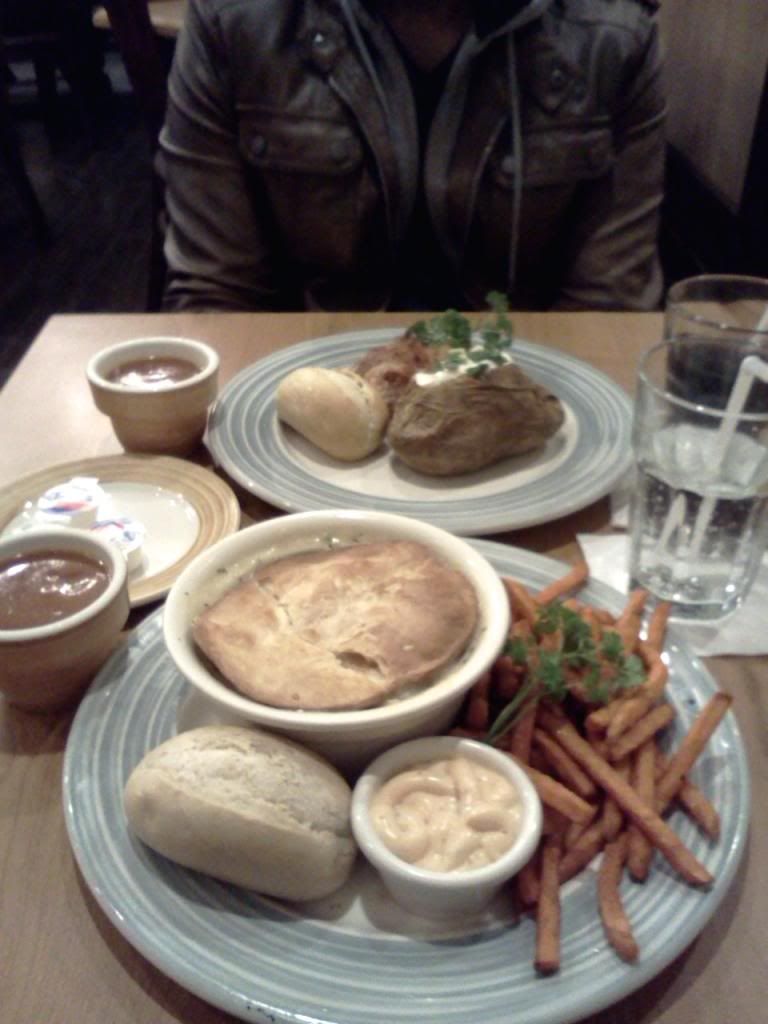 Last week (or maybe it was the week before?) the Mister and I ate at Swiss Chalet [apologies that the photo is blurry]. The original plan was to go have some pho but because my feet were killing me after being on my feet for hours (I was wearing heeled booties), I suggested we head into Swiss Chalet which was closer than walking to the pho place. The Mister had never been to Swiss Chalet before. I suggested he order something with their famous Rotisserie chicken. He ended up getting the Quarter Chicken Dinner with an oven-baked potato as his side, I ordered the Chicken Pot Pie (which I've never tried before) with sweet potato fries as my side. The Mister ended up loving it and straight up said that we'd be coming back often for sure.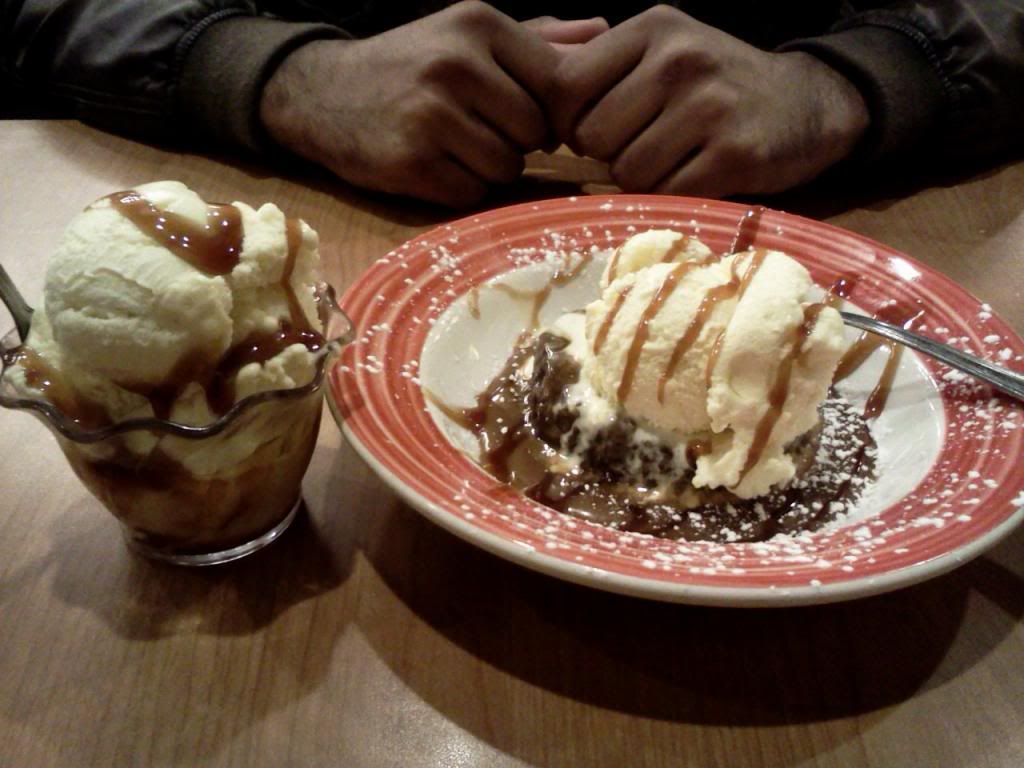 For dessert the Mister got the Sticky Toffee Pudding (which was so good) and I got a simple Vanilla Sundae with butterscotch sauce drizzled on top.
That same day we dropped into the LCBO to pick up some beers and whiskey for the Mister (I picked up a bottle of white wine too). This might sound funny but I like buying drinks for him. I told him to pick three beers he's never had before because I wanted him to try some new ones. As always, he was stubborn and unwilling to cooperate because he didn't want me paying, so I had to help him pick. He was appreciative in the end though.
I made these cute little breakfast in a ramekin one day. I got the idea from
this website
although I didn't use the same ingredients. In mine I had homemade hashbrown, bacon, onion, cheese, and egg. One day I hope to bring back my recipe posts but for now I'm too busy to put them together. Funny enough I still have old photos for recipe posts that I never got around to doing.
Remember how I mentioned my memory card died on me? I got a new replacement. This one hold much much more and it processes faster too!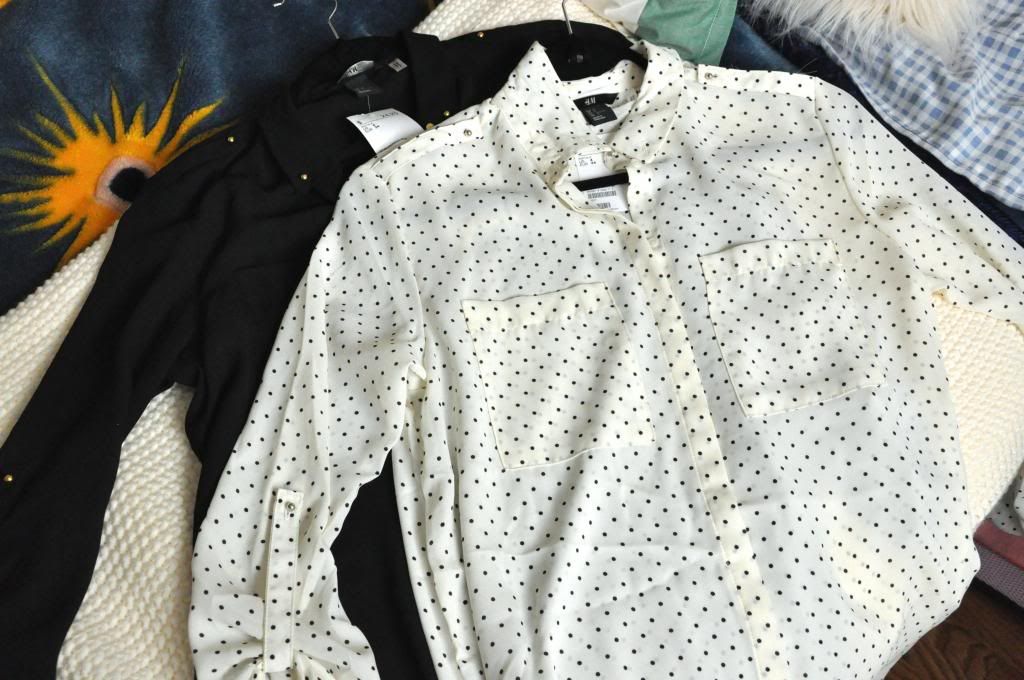 I got these shirts from H&M not long after I got my other
pink one
. They're the same style just in different colours. The polka dot shirt is my first patterned top. I'm branching out guys, I'm definitely trying =)
I also picked up this cute H&M statement necklace. I don't own anything like this so it's a first.
Surprisingly I don't have a good ol' pair of plain denim jeans (that fit nice and comfy) in my closet. I thought it was time to get myself a pair. Lisa always mentions Gap so I thought I'd give the store a go after obtaining a 40% off coupon. I haven't shopped there in ages.
I managed to find the perfect pair after some help from an associate. It was pretty daunting staring at a wall full of jeans (they all start looking the same after a while). She suggested I get the ankle cut since I'm shorter, and sure enough, she was right. I haven't had jeans fit me lengthwise so well. Finally a pair made for petites like me!
These pair of booties I bought online from Aldo. I kept my eye on the black pair for so long hoping it would go on sale but it never did. This colour, however, did go on sale for an amazing price of $34.95 down from $90. Not only am I on a mission to inject more colour into my wardrobe as a whole, I couldn't have been more in love with the burgundy colour; it's unlike anything I own (then again, I have a very small shoe collection lol).
And that's all I have to share for today. I have a few more things to share but I didn't take pictures yet (which includes another Sephora order hehe). On the "life" front, work has been super busy (I'm talking finishing work at 3am, 4am, 5am to even 7am one day) all because of the Easter weekend. The Mister has been busy preparing for his exams so we haven't been making plans and I've been lazy about gardening so I haven't even planted down my seeds yet. Eeps! Oh and I'm currently watching a Korean Drama,
Heirs
, and I'm totally addicted. Haven't watch Kdramas in so long! They're still as good as I remember them to be.
Life Lessons: I once had a conversation with someone about life and relationships. They shared their philosophy with me and it's something I could never forget to this day. They said that life is about creating moments and memories so we should never forget to keep making them. And it's true. When you look back on your life, that's all you have. The "things" don't matter because it's not what's important. The things you do remember are people, experiences, moments, and the memories. So don't forget what's truly important in life and keep on creating.
"Just because someone doesn't love you in the way you want them to doesn't mean that they don't love you with all they've got." -Unknown