This year I was lucky enough to be able to go to the L'Oreal Warehouse Sale. My sister's boyfriend's mother had tickets and gave them to her which she then so kindly invited me and our mom along.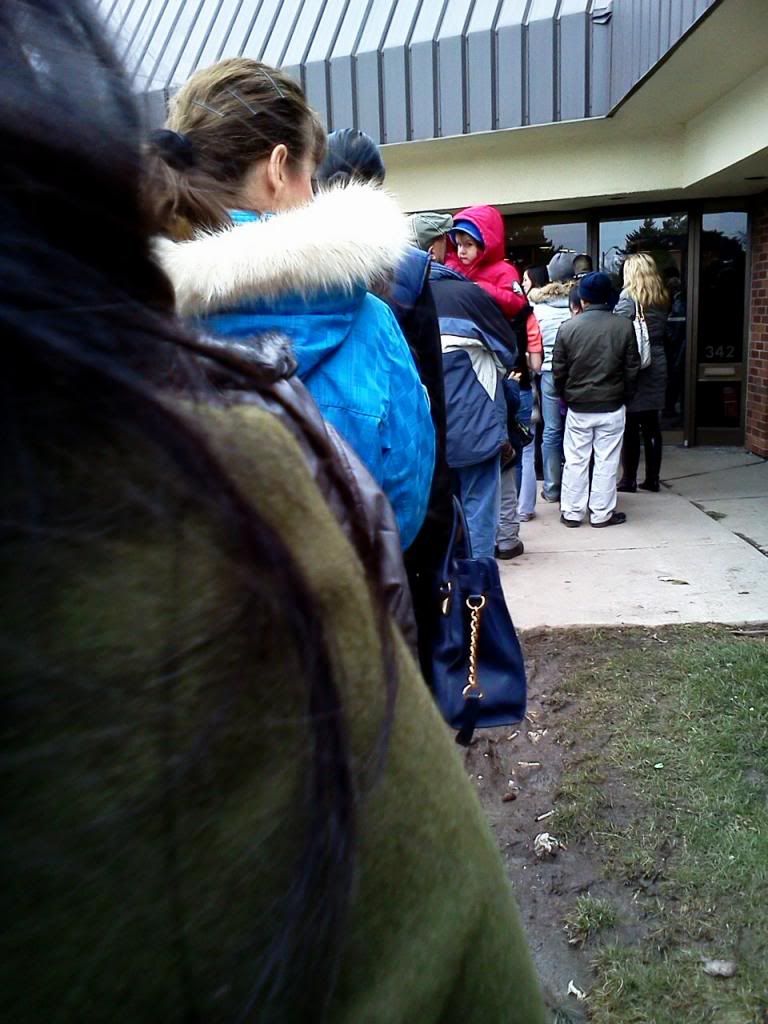 We went on the second last day so most of the good stuff was probably gone but at least we didn't have to wait in line for too long. It was about a 2 minute wait.
To be honest it wasn't exciting as I thought it would be. It could be because we went so late in the sale but there really wasn't that much there to be excited for. I expected more from a sale that is invitation only.
This is what I ended up getting (minus the serum and nail polishes shown below). The shampoo and conditioners were $4.50 and $3.75 each. Pretty good deal.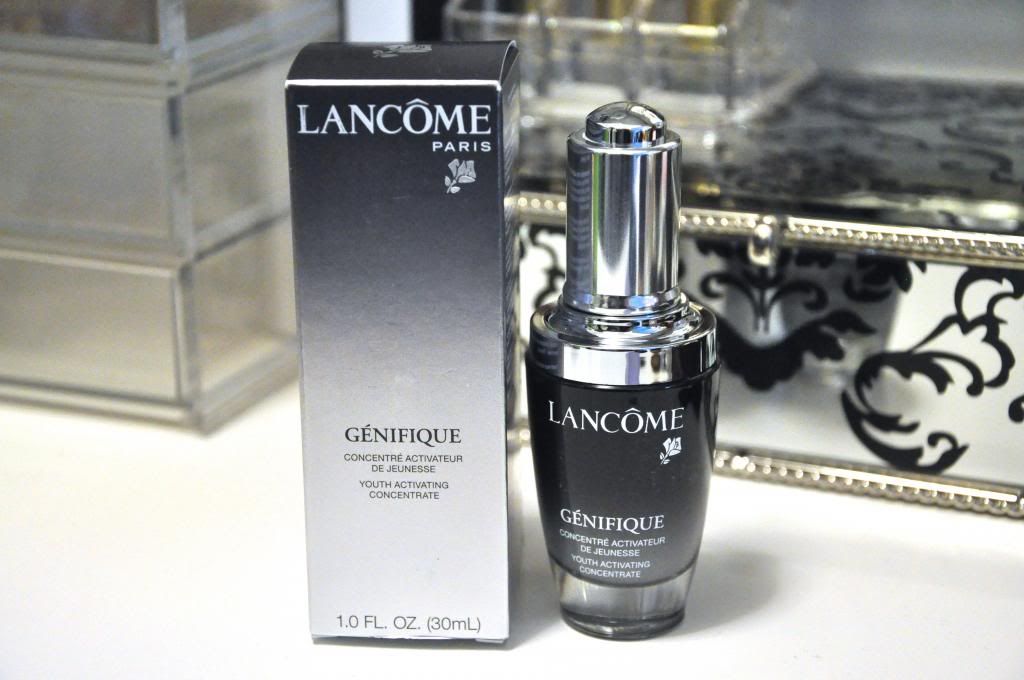 I forgot to include this in the above picture. I picked up this Lancome Genifique serum because it was only $28.75 after further reductions. Quite a steal, no?
I also forgot to include these Essie polishes (I'm forgetting everything that I bought from the sale lol). There weren't many interesting colours left but these were totally up my alley. These were only $4.75 each. The cobalt blue "Bouncer It's Me" is unlike any other colour I have- perfect for Spring and Summer! And I got the gun metal "Over The Edge" because I love the gun metal colour.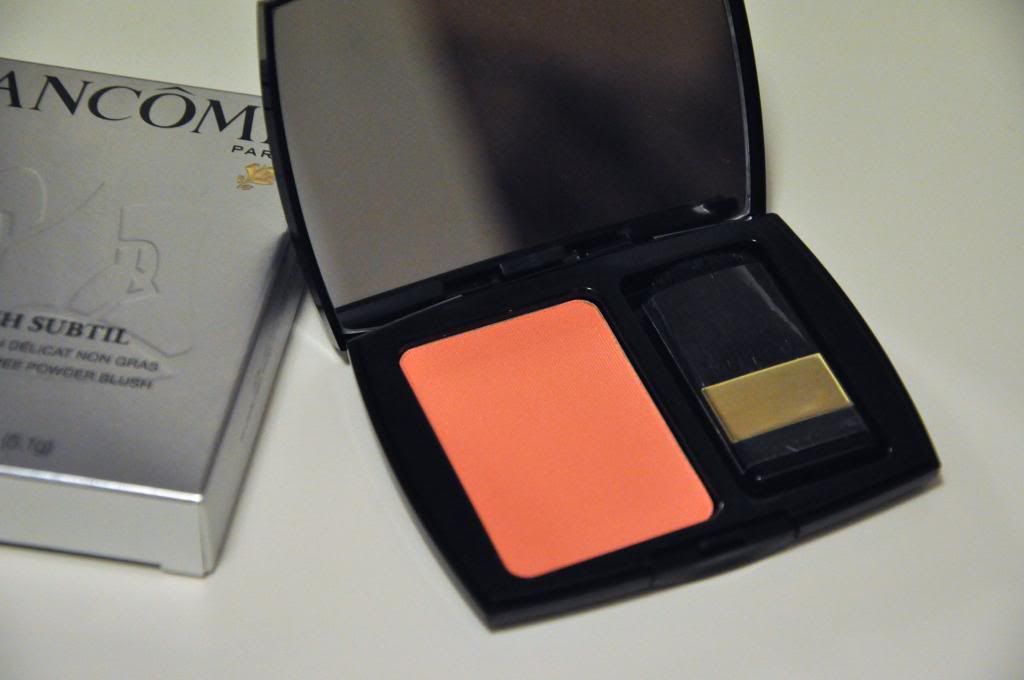 I'm most excited for this out of my whole purchase. It's a blush called "Tangerine Tint" #134 and it was $22.75. I try not to buy blushes unless it's unique because I have so many already. This looked different to what I have so I figured it was okay. It looks perfect for Spring and Summer.
This was the only lipstick colour, "Beige" #203, left that I found suitable to wear. I was quite surprised that they still had this colour left because the other lipsticks were totally not for me.
Sephora has their VIB 15% off sale going on right now (I have two bags because I shopped on two separate occasions #shopaholic). But before their official sale, they had their VIB Rouge Spring Social which I RSVP'ed to but couldn't make it. I was hoping to snatch the cute free makeup bag they were giving out but was bummed that I couldn't participate.
But then
, Sephora brought back the free makeup bag offer for one day only for all VIBs. I was afraid that they might run out (silly me) so I went early in the morning to get mine. Of course when I was at checkout I saw that they still had plenty bags left. I'm such a beautyholic that I assume most people are crazy like me and would run to their nearest Sephora right when they open to snatch up a free makeup bag. Free + Makeup, those two words will get me running anywhere haha.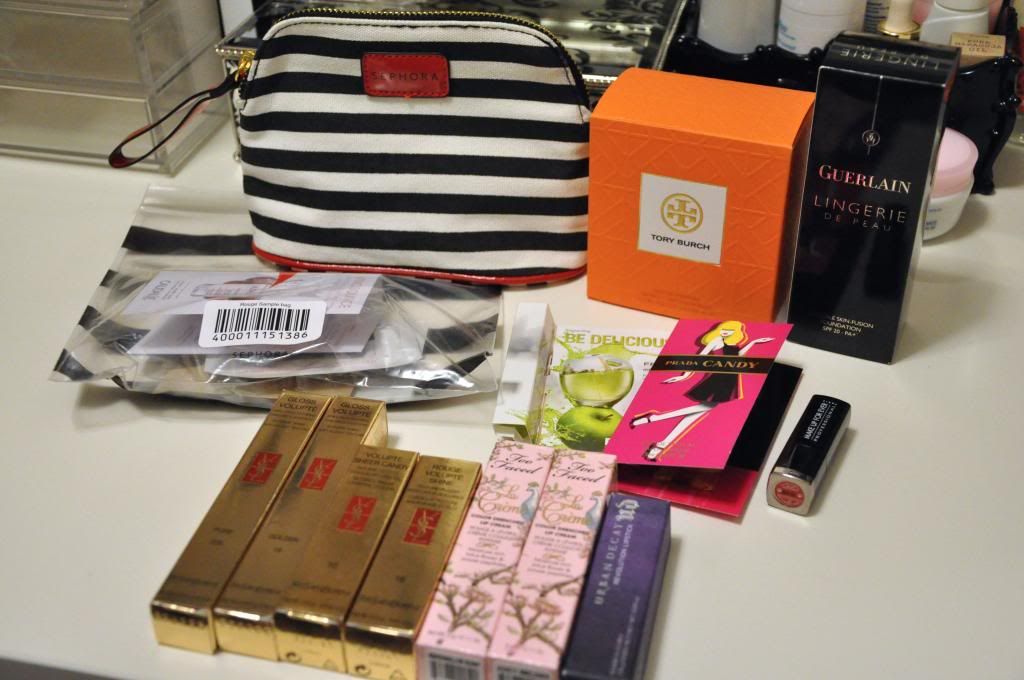 Isn't the little cosmetic bag cute?! I went a little lippie crazy this time around. At least I spent less this time than what I did during the last 20% sale. I think it's because I didn't buy any skincare items- which can be very costly.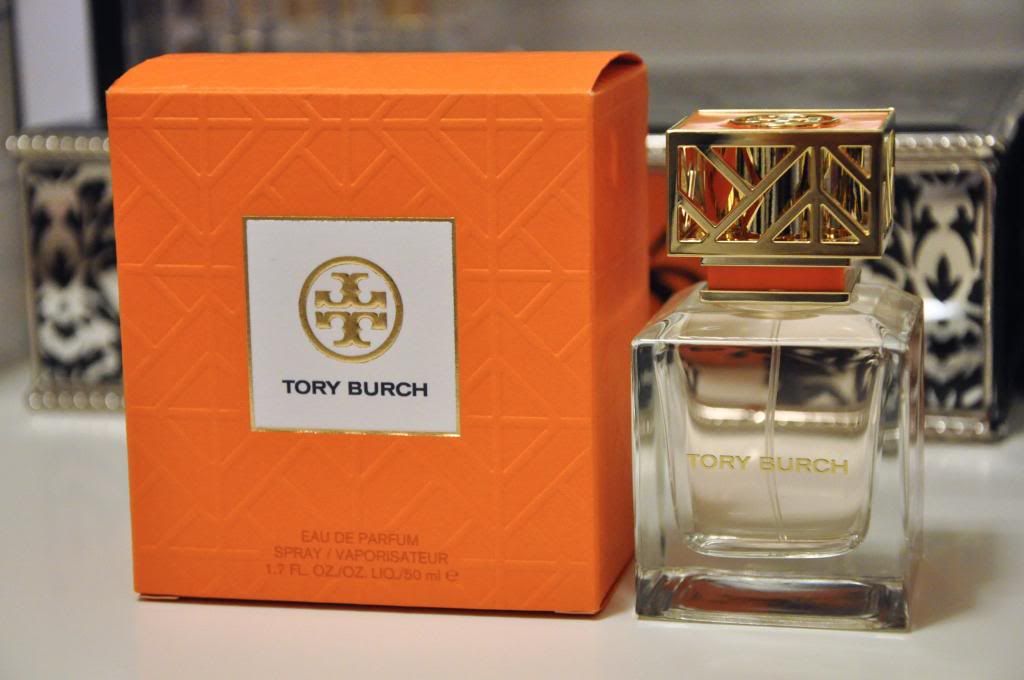 I
finally
got my hands on the Tory Burch perfume that I've been eyeing. They were sold out at my local Sephora so I had to get it during my second trip to the sale. I have been eagerly waiting to get this!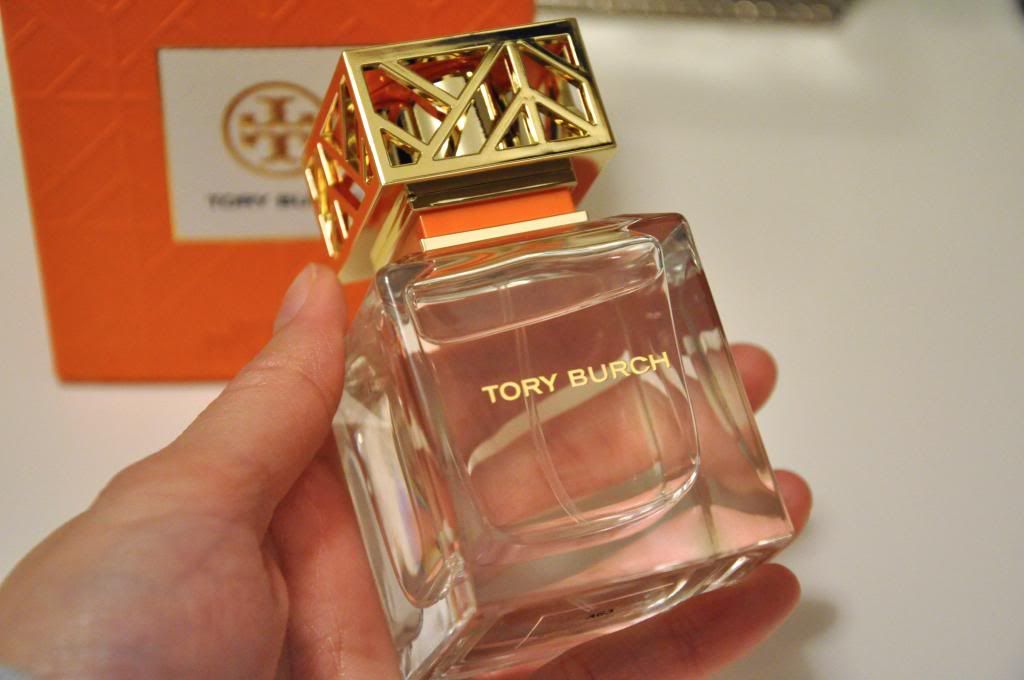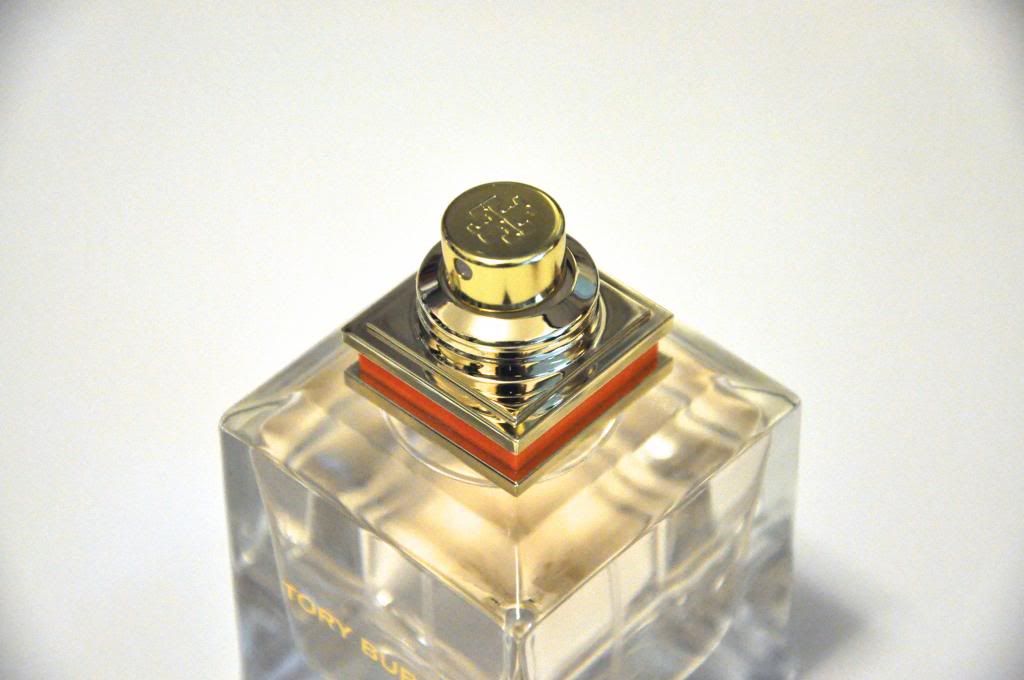 Isn't the bottle sublime? The scent is light and fruity. I love it. The only thing though is that I find it doesn't last very long on me. Still, I'm happy to have it in my collection.
I have also been waiting to get my hands on this Guerlain Lingerie De Peau foundation. It would have been a better deal to get it at Shoppers Drug Mart during one of their 20x the points event but I couldn't help it and picked it up anyway. I heard really great things about this foundation so I hope I got the right shade for me.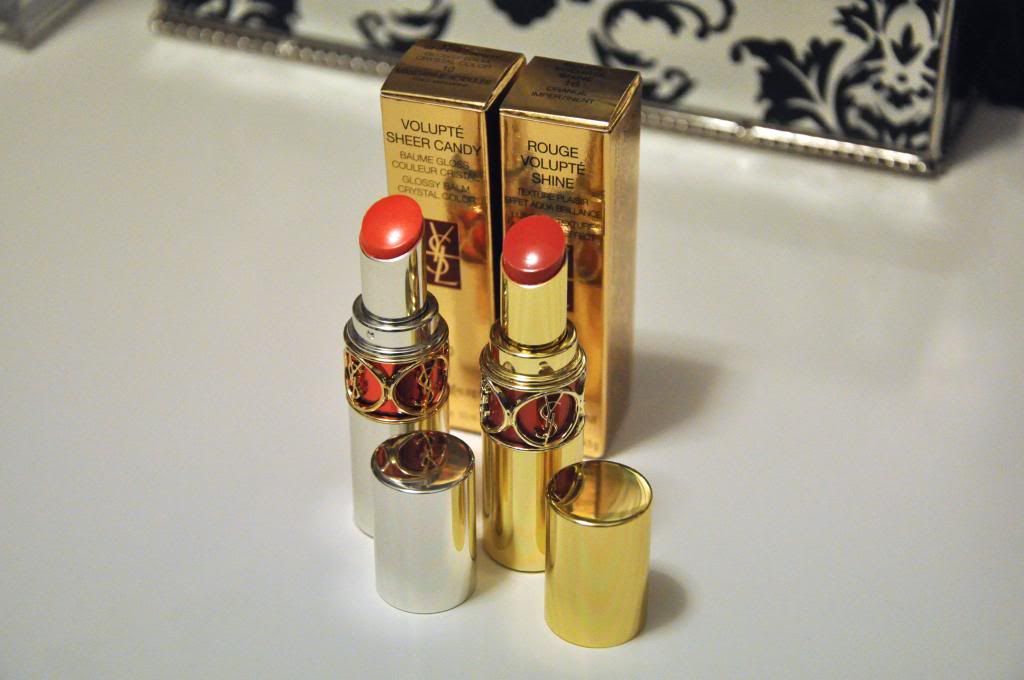 Yes, more YSL lippies. No surprise here because I'm totally obsessed with them. I got the Volupte Sheer Candy in "Tangy Mandarine" #10 and Rouge Volupte Shine in "Orange Impertinent" #16. I think you can tell I was leaning towards the oranges for Spring and Summer. I'm so excited for warmer weather. Can't wait to wear these out soon.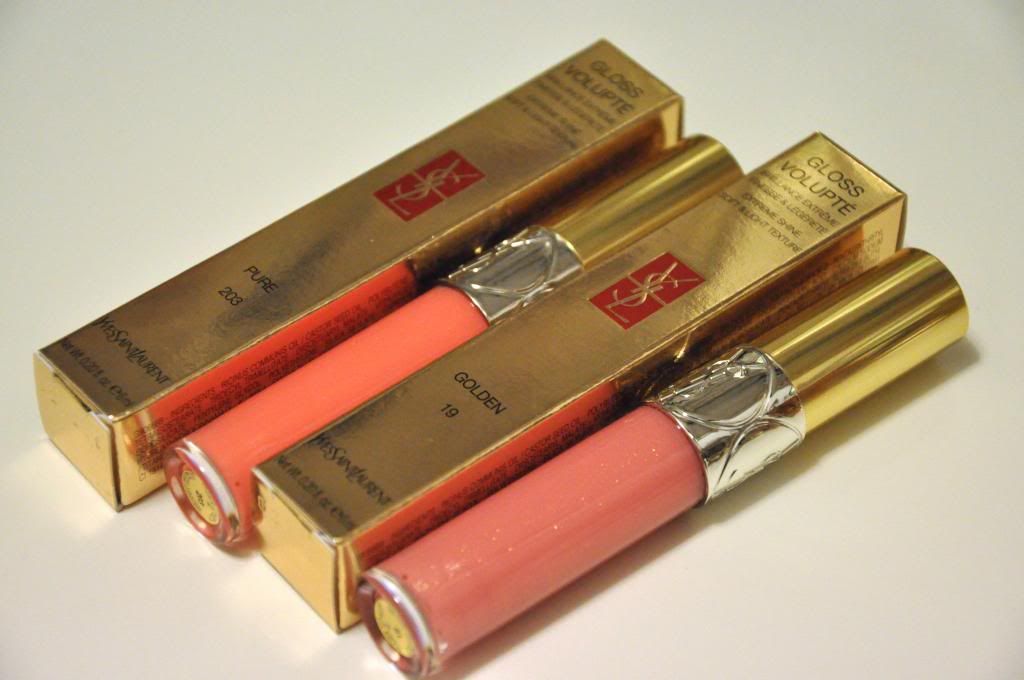 And I also got a couple of YSL's newest creations, Gloss Volupte. I was so excited when I found out about these. I got "Corail Gandoura" #203 and "Rose Orfevre" #19. I also wanted the popular shade "Rose Jersey" #202 but it was sold out online and at the stores I went to. The applicator wand on these is so lovely and unique. It makes application a cinche.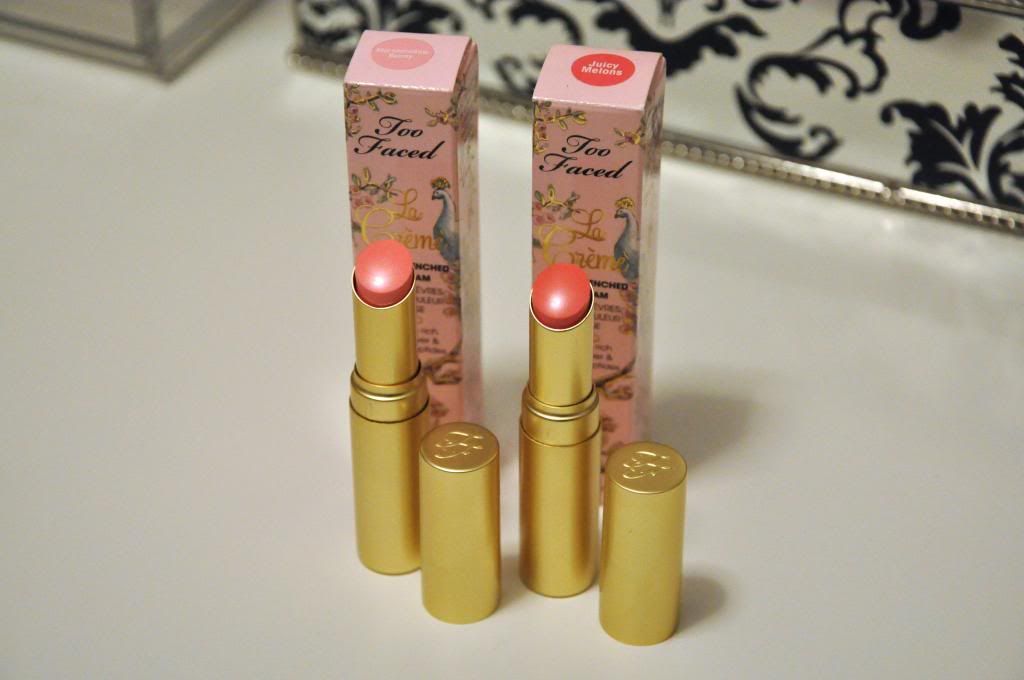 I heard good things about these Too Faced La Creme lipsticks too so I wanted to give them a try. I picked up "Marshmallow Bunny" and "Juicy Melons". These were $26 each which is less expensive than what I normally buy high end lipsticks for.
And lastly, I got an Urban Decay Revolution lipstick in "Native". I too heard great things about this lipstick line. This also retails for $26 which isn't bad in my books.
The aftermath after all the picture-taking. I don't know why I always get so surprised at how easily these "small" purchases can add up. It doesn't look like much, 9 products, but boy does it do a number to my wallet. Nonetheless, I'm super excited to try all of these out in the upcoming months. You'll probably slowly see them in my monthly used products posts.
"The heart has reasons that reason does not understand." -Jacques Benigne Bossuel