When the new year came I had planned to do a "favourites" post each month but was unable to do one in January because of how busy I was with work. So, in this post I paired both January and February products together to make up for it. I also thought it would be better to not limit myself to only "favourites" because I think it's important to mention other products I've been using that didn't work out. If this all works out and I'm able to keep up with it, it will be a great way for me to start sharing my thoughts on products I've shown you guys in my haul posts. The products shown aren't the only things I've used but more so things that stood out to me.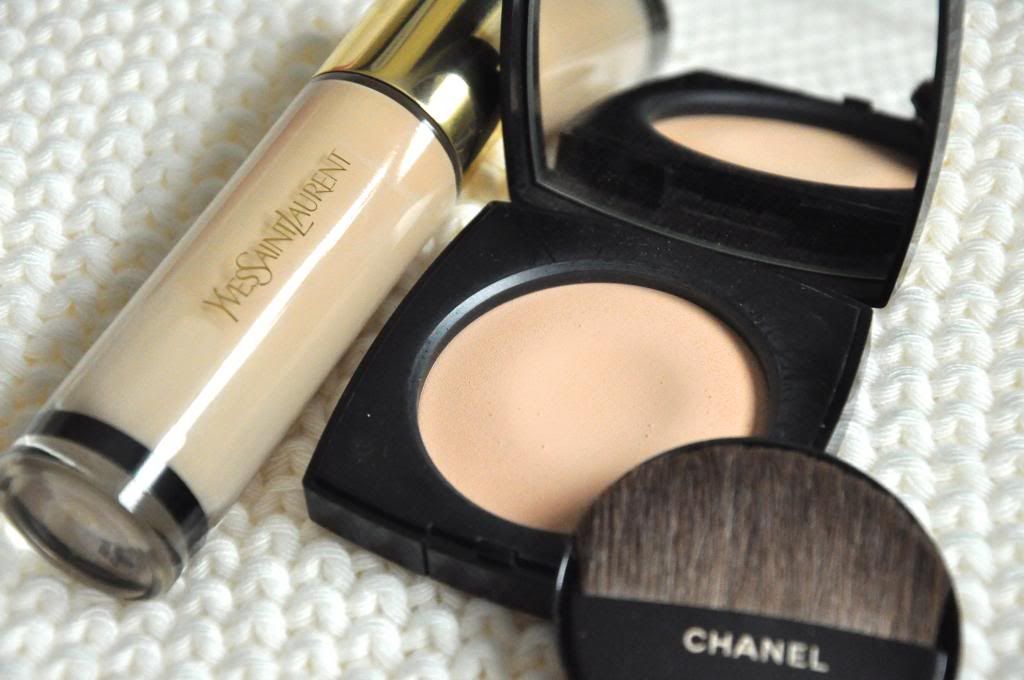 I prefer to use liquid foundation in winter because it feels less drying than powder. The foundation I found myself gravitating towards was the
YSL Le Teint Touche Eclat Foundation
. My colour is "Beige Dore 10." It has a lot of rave reviews and for good reason. My skin looks flawless and incredibly radiant when I put this on. It has a very glowy and dewy finish and it looks very natural. Definitely a really great foundation and I highly recommend it.
The other face product I have been using a lot is the
Chanel Les Beige Healthy Glow Sheer Powder
. You can actually see how much I've been using it evident from the dent in the powder. I have it in the colour N20 because N10 is a little more on the pink side which doesn't suit my skintone. At first I used it like most people would, as a foundation powder, but I found that it was a little dark and too peach for my light neutral coloured skin. After putting it aside, I came back to it and started to use it as a contour powder to sculpt, define, and give an ethereal glow to my face. The result is subtle but beautiful. Bronzers can be a little harsh for me but this gave me the perfect sun-kissed glow. The powder itself is very finely milled and the finish looks very natural.
From left to right:
Chanel Rouge Coco Shine #78 "Interlude
",
YSL Rouge Volupte #1 "Nude Beige
",
YSL Rouge Volupte Shine #9 "Nude in Private
", and
Dior Addict Lipstick #222 "Beige Casual
".
For the months of January and February I was obsessed with nude lipsticks. All of these four lipsticks are beautiful but if you're looking for a simple natural nude I would definitely recommend Dior "Beige Casual". It's the kind of lipstick that I can rely on to work anytime; a my-lips-but-better lipstick, it's also nice because I don't need a mirror to apply it.
I've mentioned this
Macadamia Healing Oil Treatment
before in my
winter essentials post
and it still remains a staple in my haircare routine. I'm more than half way finished and will need to replenish it soon. Still works great and protects my hair from the dry elements.
As for body moisturizer, the
Olay Silk Whimsy
still is the best in my books. The lotion is creamy and it makes my skin feel
so
silky smooth and keeps it moisturized all day and night long. The scent is light and very pleasant.
I've been using the
Bath and Body Works Anti-bacterial Gentle Foaming Hand Soaps
from the Sweet Shop Collection vigorously ever since I got them. They are a joy to use as the scents are wonderful to take in every time I wash my hands. I like how they come out as foam so it's easier to lather and wash. The only downside is that I find them a bit drying probably due to their anti-bacterial properties.
I've been trying to burn up the
Target candle
I bought (left) because it does nothing as far as scent goes. So far I've had no luck with candles at Target so I'm hesitant to purchase any more. I've also been burning the
Bath and Body Works French Baguette
. It smells exactly like baguettes and every time I burn it my room smells like a bakery. It's definitely among one of my favourite candles.
And that's the products I've been using a lot in the months of January and February. I hope to keep this up for March! Hope you enjoyed.
"An idea that is developed and put into action is more important than an idea that exists only as an idea." - Buddha