Sometimes I go through phases of feeling "unpretty". It doesn't happen often but it does happen. Most recently I went through this feeling of insecurity and it all began because I compared myself to another girl. From there it whirlwind into this whole negative idea that I was not good enough, which the Mister of course thought I was insane for evening thinking that. But after some convincing and caring words from the Mister and a little pampering with sheet masks and a focus on taking care of myself, I got over it. One day I would love to be at a place in my life where I won't feel that I lack in any way. And to start, I should stop comparing myself because nothing is more damaging to my self-confidence.
Sherway is one my of favourite malls if not my favourite of them all. It's undergoing a $350 million renovation right now and I'm pretty sure this food court will be changed too. Yes, it's outdated (check out the neon sign), but there's something about it that I love despite the less than comfortable garden chairs.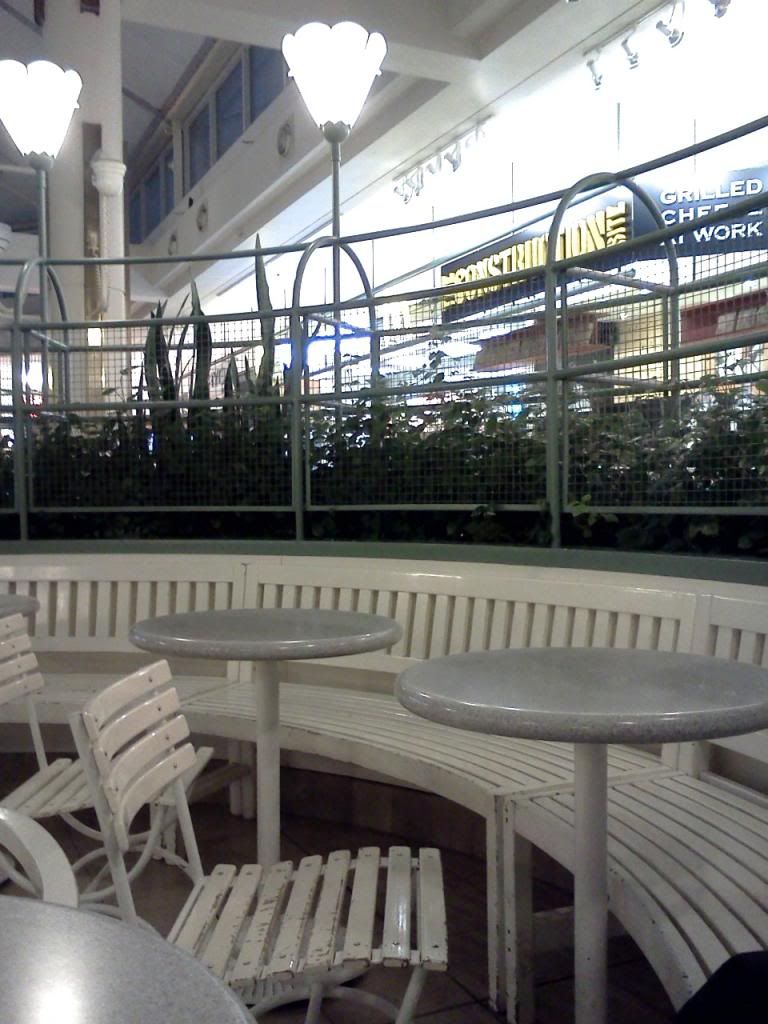 It must be the old school vibe that I cling onto, because lets face it, who doesn't love their childhood memories? I remember sitting and eating at this food court with my family when I was younger. I remember this place had a little more green but the rest remains pretty much the same. That's why I want to enjoy this old gem with the Mister before its all gone.
The Winter Olympics are well underway, and being a huge Olympic fan, surprisingly I have not watched a single tournament. Heck, I didn't even watch the opening ceremony because I was unaware of when it was going to show. I don't know what it is this year but maybe it's because of all the crazy stuff I've been hearing about Russia and the Olympics or maybe it's because I have no time to keep up with the programming anyway.
I know... I've been showing McDonald's a little too much lately here on my blog. But I couldn't help it because McDonald's is having this really great deal right now called the 20-piece Chicken McNuggets Fan Pack!! It's only $13.99 and it includes so much in it! And if you know how much McNuggets usually are, then you would know that this meal is a total steal.
It's a meal for two and also comes with two cookies.
The collector's item of this meal is the pin. You can collect them all to make a coke bottle (left pin). I got the miniature Olympic gloves from The Bay and the other pin is from Canadian Tire which I got for free at the checkout. They all hang on my bag currently. Go Canada!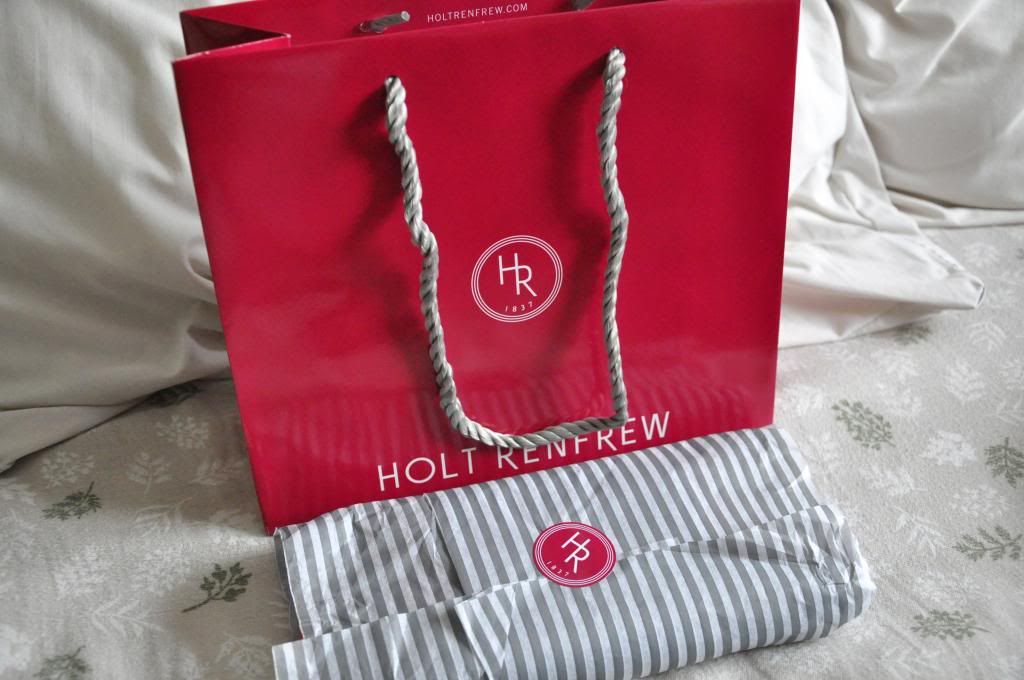 The main reason why we went to Sherway that weekend was because I wanted to get something that I saw at Holt Renfrew the week before.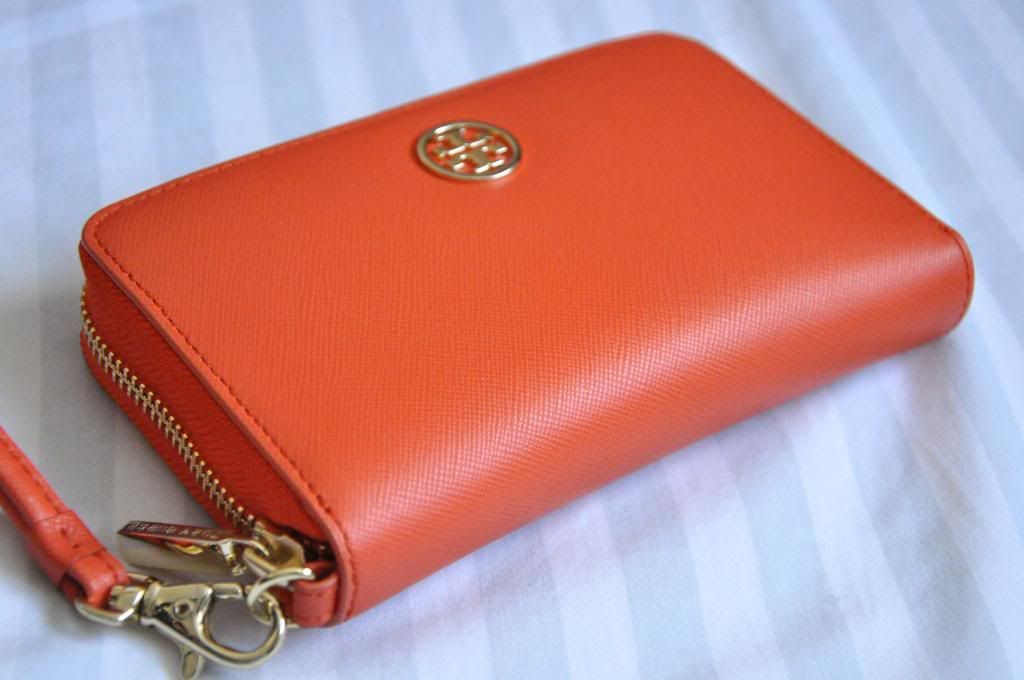 May I introduce my first Tory Burch item. When I first came upon it while browsing I immediately fell in love. I didn't buy it that instant though because I didn't want it to be an impulse buy. It's pricey, $190, so I didn't feel comfortable dropping that amount without having some time to think it about it.
As the week went by, I kept thinking about it and how it would be super convenient to have on days when I didn't want to carry a bulky bag or even a small shoulder bag. This Tory Burch wristlet was different. And the main reason why it was different was because it's a smartphone wristlet which has a special slot for my phone and has enough room left over for cash, cards, coupons etc. Plus I couldn't have been more in love with the colour, the Saffiano leather, and the style of it. So, my mind was made and it was sold. I'm so happy I got it! Perfect for Spring right? :D
Then there was some shopping to be done at The Bay which I haven't done in a long time.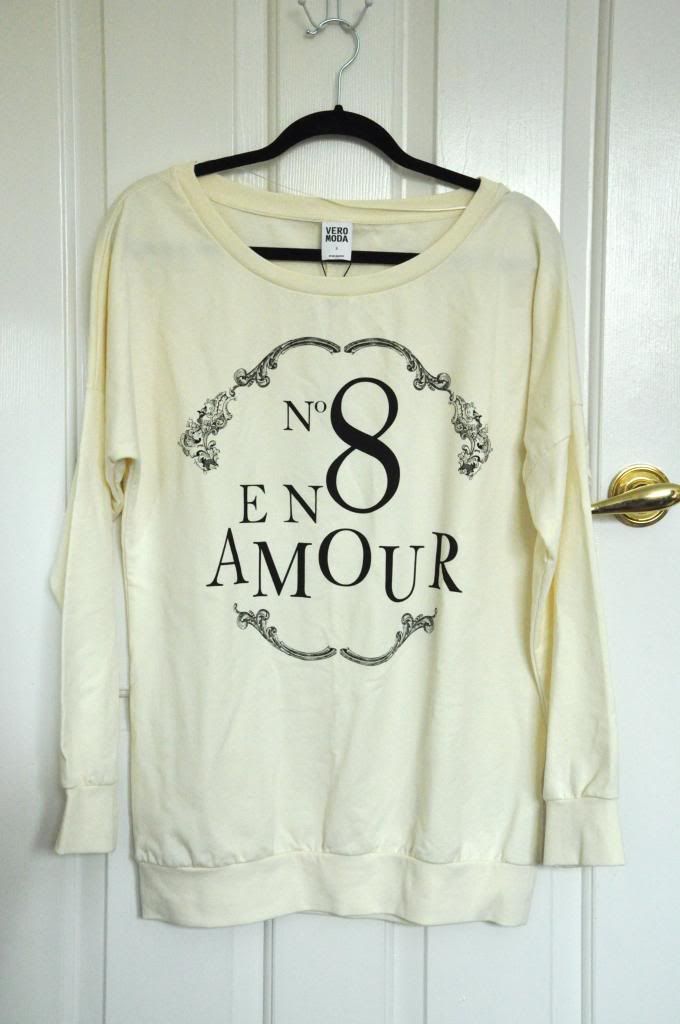 I found this cute Vero Moda sweatshirt for only $20 on sale! What a deal.
Then I found these (very-me) Vero Moda tops which is from the Spring collection for $39 each. And although they weren't on sale, the fit is perfection and they're less expensive than Zara tops which go for about $50 each.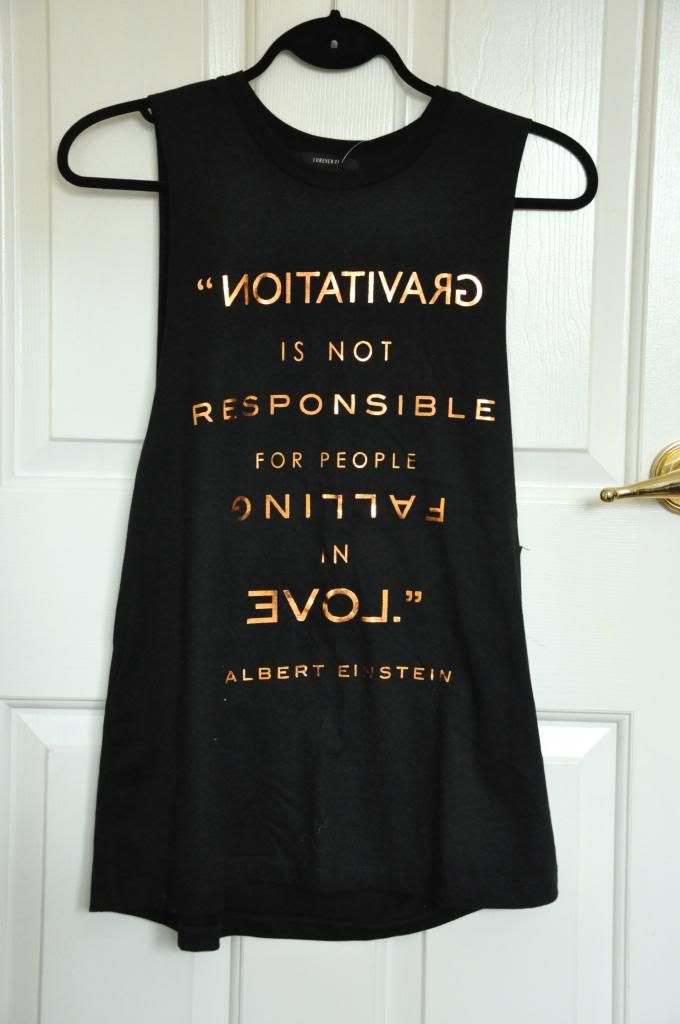 And last but not least I stumbled upon this interesting piece at Forever21. The sides dip very low but I don't plan to wear it alone anyway. I figure it would look great under a cardigan or blazer.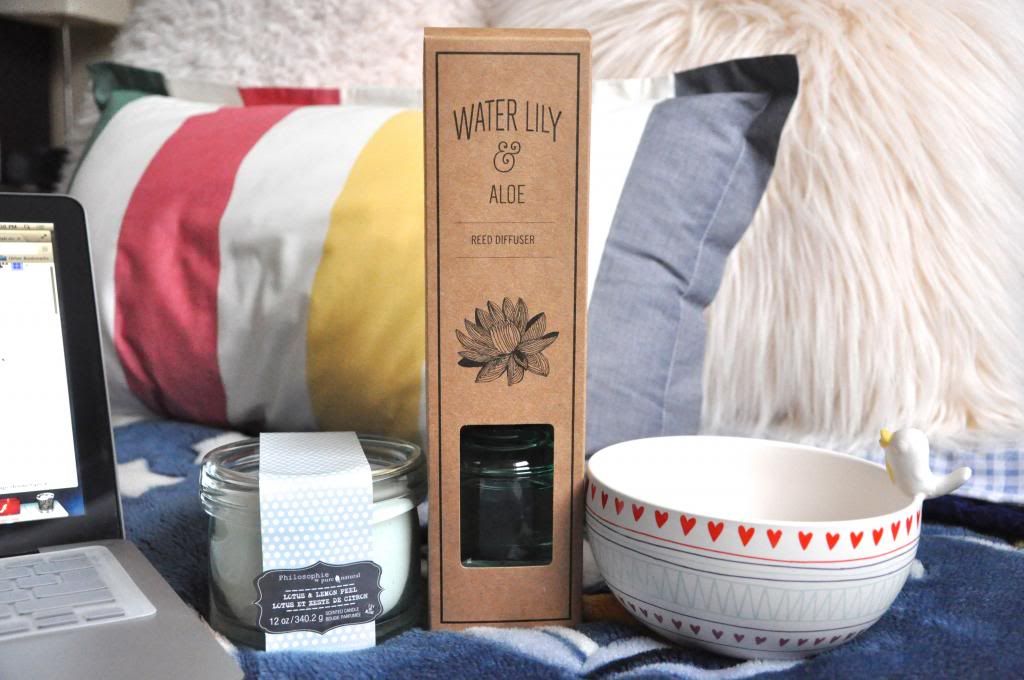 And on another shopping trip, I went to Target with my sister and picked up a few things. FYI, their candles may look nice but of the two that I've bought so far, neither gave off any fragrance when burned. The diffusers on the other hand are great. I'm almost through with
the first one
I bought last year so I got this to replace it when it's done. The scents of the diffusers they carry smell really lovely. The bowl I found in the kitchen area and thought it was too cute to pass up. I currently use it to store my lip balms and not surprising, it's overflowing.
Pho Dau Bo
1125 Dundas St. E #11, Mississauga, ON L4Y 2C4
And to catch you up-to-date, my most recent outing with the Mister was at
Pho Dau Bo
, my favourite Vietnamese and Pho restaurant!! I know I recently blogged about pho but that was an old post in January.
I was so happy that I finally was able to take the Mister here to eat some really good pho, the best in my opinion. I always order the Pho Tai Bo Vien because I love to eat rare beef and beef balls, yum. Just talking about it now makes me want to eat some. And I also ordered us Avocado shakes, which was delicious of course- best around, and an appetizer because I wanted the Mister to try the Ban Beo which is a Vietnamese steamed rice cake/rice pancake. The whole meal was absolutely delicious, just as I remembered it to be. The Mister really enjoyed it as well. The service is typical of Vietnamese restaurants, they do their job but they're not going to go out of their way to please you. I will give them points for lightning speed service though, the food came when the Mister went to the washroom (he left right after we ordered). I can't speak upon the chain as a whole but this restaurant that I go to is the best for Viet food.
And the haul of that day were these gems. If you're wondering what that thing is in the box, it's a wine aerator by
Vinturi
. I got it at Chapters at an amazing price on sale for only $24.50! It retails for around $50 or $36 on Amazon. I basically want to get into drinking wines and you know I love contraptions like this. I'm planning to get the aerator for white wine and spirits as well, and when I do, I'll try to make a post about them. The Juicy Couture makeup bag was an awesome find at Marshalls. It was only $20 and it's the perfect size in my opinion, plus the inside is coated so it's easy to clean.
Now let me talk about this plate that I also found at Marshalls. I was pleasantly surprised to find a small section in Marshalls with plates made in Italy and handcrafted pieces from Portugal for only around $10-$15!! I wanted to buy more but I resisted myself since we had quite a few things to carry back home already. I forgot to take a picture but there was this beautiful big teal serving plate handcrafted in Portugal that was only $12.99. If I can this weekend, I hope to go back to get it. I allotted myself one item to get and this plate was the one I ended up sticking with because of how gorgeous it is. I have it sitting on my dresser right now to put knick knacks and jewelry I've worn for the day, but a part of me is tempted to use this to put my favourite perfumes on.
"I can't think of many things more attractive than a beautiful person whose beauty isn't what actually attracts you." -Unknown