Sheesh, would you look at all the snow out there? As predicted, this winter has been a pretty brutal one full of snow and winter storms. Today I share what I consider essentials for the cold season.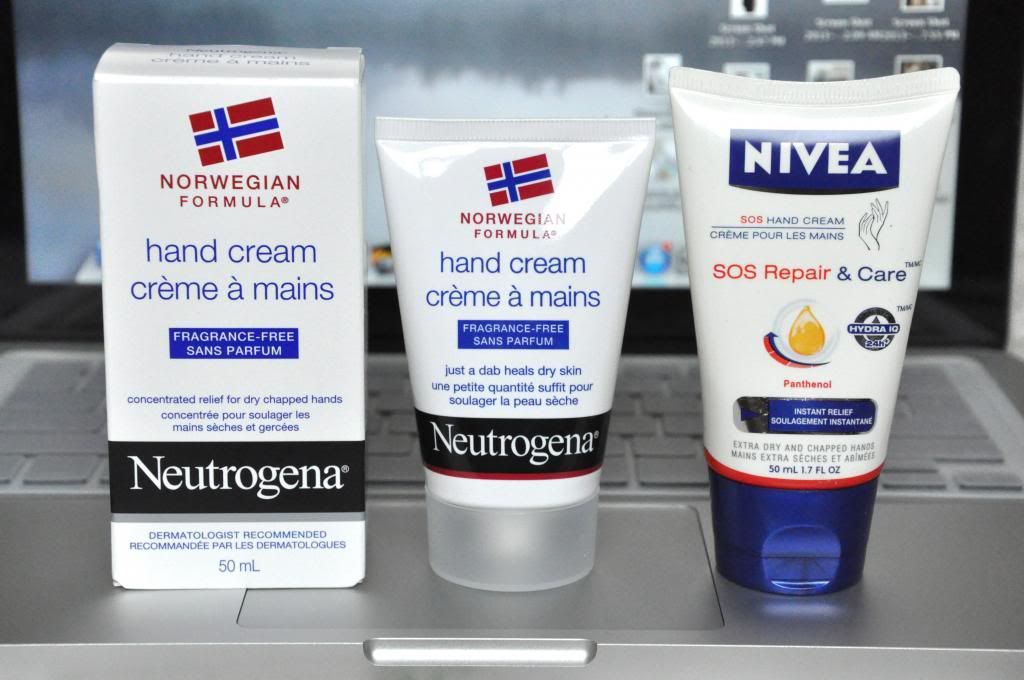 Hand creams are a necessity for my hands during the cold dry winter months. They keep my hands hydrated and prevent them from being chapped.
Neutrogena Norwegian Formula Hand Cream:
This is an
amazing
hand cream for
really dry hands
. If there ever was an award for best industrial-strength hand cream, this would be it. The texture of the cream is
very
thick, similar to those really thick over-the-counter special creams to relieve specific skin concerns. You only need the tiniest amount. After you rub your hands together it absorbs immediately and doesn't leave your hands feeling slick or sticky.
Nivea SOS Repair & Care Hand Cream:
This is also a really great hand cream for really dry hands. The cream is also on the thicker side but absorbs immediately and doesn't leave your hands feeling slick or sticky either. This Nivea hand cream is by far the best hand cream I've tried of all the Nivea hand creams. It's just shy of first place but being in second place isn't so bad either.
Left swatch is Neutrogena, right swatch is Nivea. Don't be deceived by how it looks like both creams are "dripping". It looks that way because I squeezed the product in that direction. In actuality, both creams do not move on their own because of how thick they are.
Lip balms are a total must for me all year round, especially in winter.
Nivea Lip Butters:
Now I'll be the first to tell you that I have a lot of lip balms, but because I want to keep this post simple, I'll just share you these Nivea lip butters that I use at bedtime (the U.S. has more flavours, one being raspberry rose which I'm so jealous of...). I normally don't like lip balms that don't come in a tube because of sanitary reasons, but there are cases where I make an exception, one being Nivea and the other being Korres. There's not much to say but that these lip butters work great to keep my lips well moisturized. Nivea lip balms overall work great, I definitely recommend them.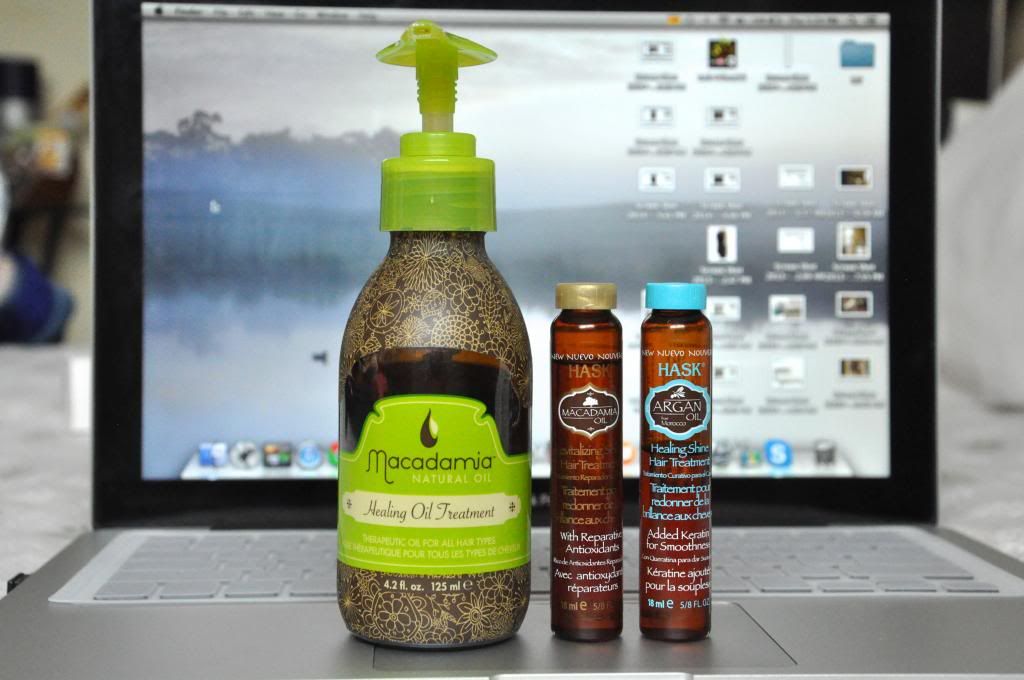 Hair oils for my hair is to creams for my face. I use hair oils year round but they are most effective during the cold season. I only have 3 oils at the moment but I also wanted to mention Chi's Silk Infusion which is another favourite hair oil of mine.
Macadamia Healing Oil Treatment:
I really like Macadamia hair oils in general because the smell is pleasant and they work well to keep my tresses hydrated. This macadamia oil treatment is fairly expensive at $36 but I don't mind the splurge since it works well. I apply it to damp hair and after blow-drying, my hair feels soft, smooth, and hydrated which prevents tangles and split ends.
Hask Hair Oils in "Macadamia" and "Argan Oil":
These little tubes of oils are great. They're about $2.50 a piece at Walmart which makes them quite affordable. I would highly recommend these as they work really well at keeping my hair hydrated. My favourite is the macadamia oil but the argan oil works just as well.
[Insert picture- I forgot to take a pic will insert soon]
When you're faced with living in dry conditions, the last thing your hair needs is a cheap hair dryer.
T3 Featherweight Dryer:
I have had this dryer for about 5 years now and it has never failed me. I don't know why but I never really raved about this dryer on any of my blogs before; I guess I kept thinking I would dedicate a blog post to it but never got around to it. But let me tell you, this is an
amazing
hair dryer. And even though it's an old model, I'm sure the newer models work the same if not better. It has tourmaline which is infused into the internal tools to emits negative ions and infrared heat for fast and healthy drying, ionic which reduces frizz and helps hair retain moisture and enhance shine, and ceramic which heats hair evenly inside out for faster drying. It speeds up my drying time by more than half (I used to take 15 minutes now I only take 5), it gets super hot because it actually
dries
my hair instead of just blowing useless warm air, and despite the heat, it
does not
damage my hair and never has. Instead, I get more time on my hands, and my hair is shinier and healthier than it was when I was using a regular hair dryer (it dramatically prevents split ends). And as its name states, it really is lighter than any ordinary dryer and it's more quiet as well. It's worth the splurge in my opinion, especially if you have long hair like me. You can read more about the T3
here
.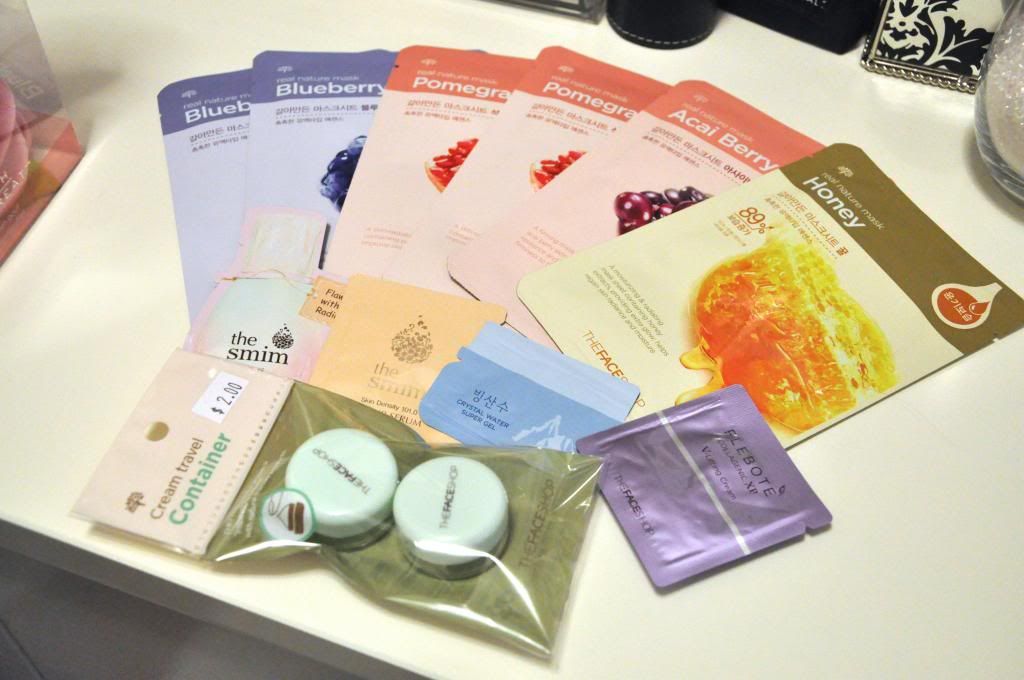 I love using sheet masks for a little pick-me-up. I use these on a weekly basis to boost hydration and to maintain beautiful skin.
The FaceShop Sheet Masks:
The FaceShop has always been my most favourite brand of sheet masks. I remember I got a couple of samples from winning a giveaway on blogger years ago and loved them (especially the grape one which is discontinued). Ever since then I was constantly searching for a way to get my hands on them again. Miraculously, the FaceShop recently opened at the Eaton's Centre and I couldn't be more ecstatic. I've already tried the blueberry and pomegranate and I really like them both; my favourite is the pomegranate. The reason why I like the FaceShop sheet masks so much is because they come with a lot of serum, and unlike other sheet masks I've tried (including MBDM), I can actually tell that the serum has absorbed into my skin because there is little remaining afterwards, plus it feels like a true serum. Other masks leave so much serum behind from not being absorbed that it's hard to even pat or rub into my skin afterwards. The serum from these masks are the only ones I like to pat into my face whereas with others I tend to want to wash it off. These sheet masks moisturize my face like no other I've tried; that is why I highly, highly recommend these sheet masks. They go for $2 a piece which is totally worth it in my opinion.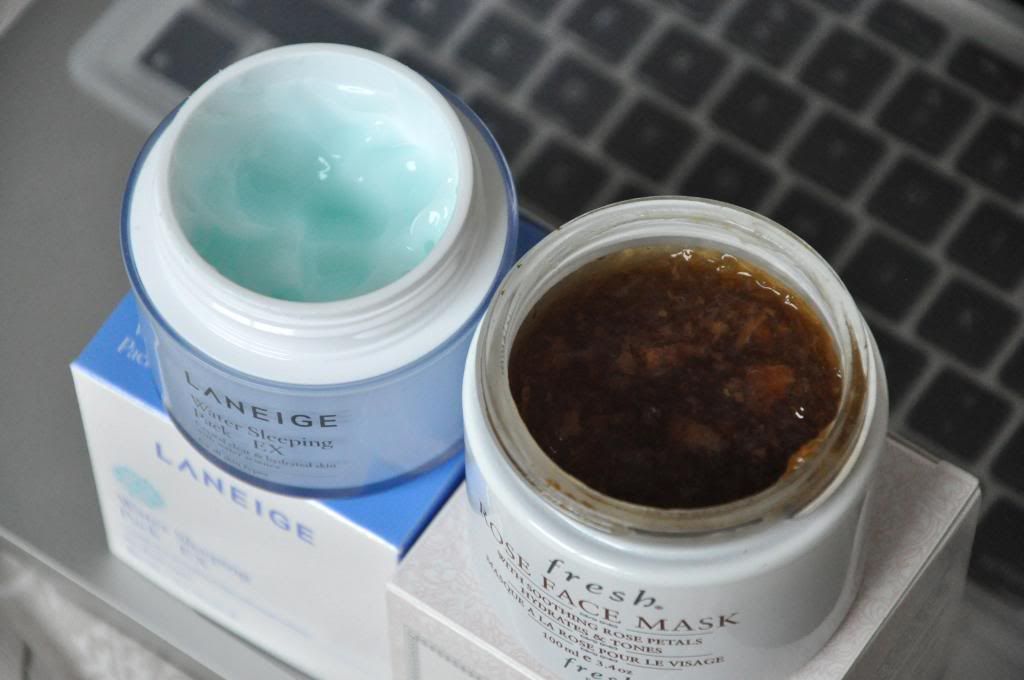 Face masks are another great way to boost skin hydration.
Laneige Water Sleeping Pack:
Some nights the air is so dry that just using my main nighttime skincare routine doesn't cut it. On these nights I slather this mask all over my face just before I go to bed and by morning my face feels comfortable and hydrated. This is a miracle product for when my face feels super dry.
Fresh Rose Face Mask:
This mask is more of a luxury skincare product. I like using it to soothe my face when it gets irritated from being too dry. It's also a great mask to maintain my skin as it leaves my face feeling refreshed. One of the reasons why I splurge on this mask is because of the rose petals that's incorporated into the mask. I
love
rose scents. It smells so good and feels so good on the skin!
I remember having a humidifier in my shared room as a child; it was humongous. This, on the other hand, is tiny.
Air-O-Swiss:
I first saw this humidifier in one of Judy's vlogs in her hotel room when she was in Japan. I had to pause the video and then search up on google to find out the maker of this humidifier. It's so neat because it's so compact and travel friendly, plus it even comes with its own travel bag. All you need to do is add a water bottle, plug it in, then turn the dial to how much you want to flow out. I re-use a Fiji bottle (after I drank it of course) because it looks more appealing and the plastic is stronger than other water bottles. I didn't want a bulky humidifier since my room isn't that big so this was perfect since it's small enough to fit right onto my nightstand. Having a humidifier is great during the winter months when you're stuck inside a heat conditioned space which leaves the air super dry. A humidifier will help put moisture back into the air.
It was last year that I discovered these wipes and I've been hooked onto them ever since.
Aldo Cleans Rescue Wipes:
These are amazing to have and use during winter when your boots get dirty from the snow and have salt stains on them. I like to use them right after I get home to remove fresh salt stains to prevent them from ruining my leather boots. The wipes smell like vinegar and works like a charm. I love this because it's safe to use on suede and leather which is what my boots are made of. This is a must for me because water alone won't cut it to remove salt stains, trust me. If you cherish your boots, invest in wipes that specifically work to remove salt stains. I highly recommend these.
And that, my friends, is my winter essentials. Work has been a little hectic which is why I haven't been able to update much. I have a few posts in mind that I've been meaning to blog about, this being one. Until next time!
"Let your past make you better, not bitter." -Unknown