Maybe some of you remember, maybe you don't, but January is my birthday month. This year was quite eventful since normally my birthday is celebrated quietly in the comfort of the home. Typically in the evening a store-bought or homemade cake is presented in the kitchen, shortly after the candles are blown out the opening of gifts occurs. My celebrations normally last only for about 15 minutes and then off we go about continuing our day. In short, birthdays in my family are not as big of an occasion like Christmas. We don't make that much of a deal out of it. This year, however, I had the Mister to celebrate a birthday dinner with, and my mom decided to take the family out to a buffet in honour of my birthday! Since my birthday was more eventful this year, I will split it into two posts so it isn't as lengthy.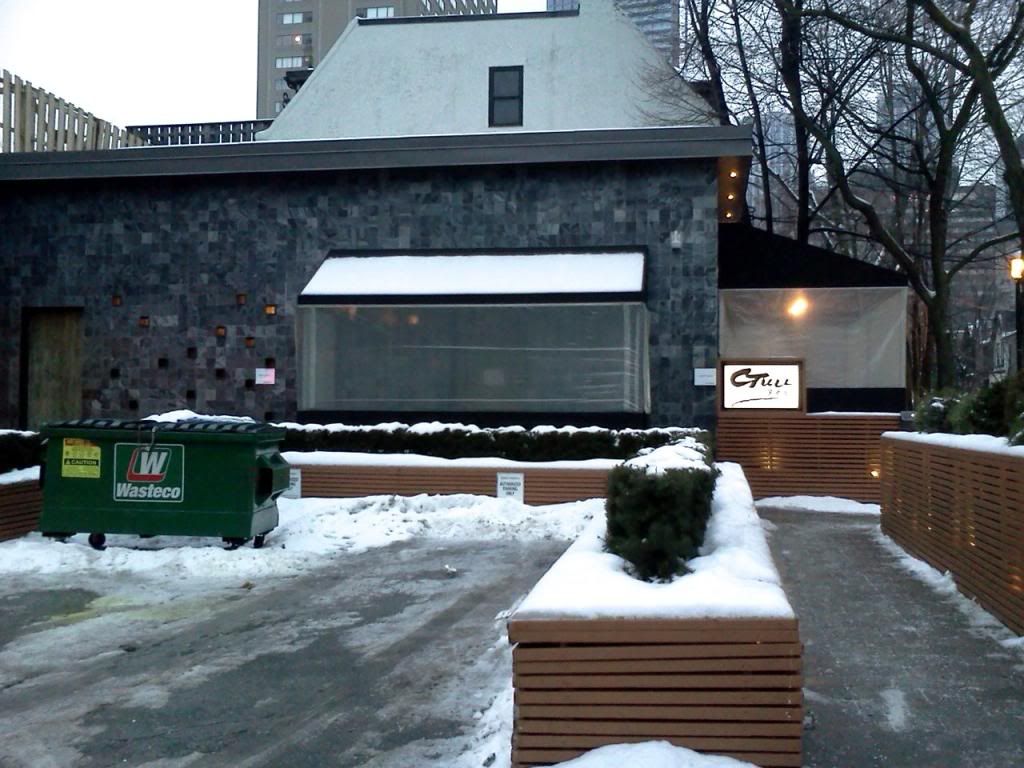 I haven't been to Guu since my sisters took me for the first time for my
graduation dinner
(I had better pictures of the food then because I brought my DSLR camera along). The food at Guu is
delicious
and since it was my birthday and the Mister has never been, I suggested that we have my birthday dinner there.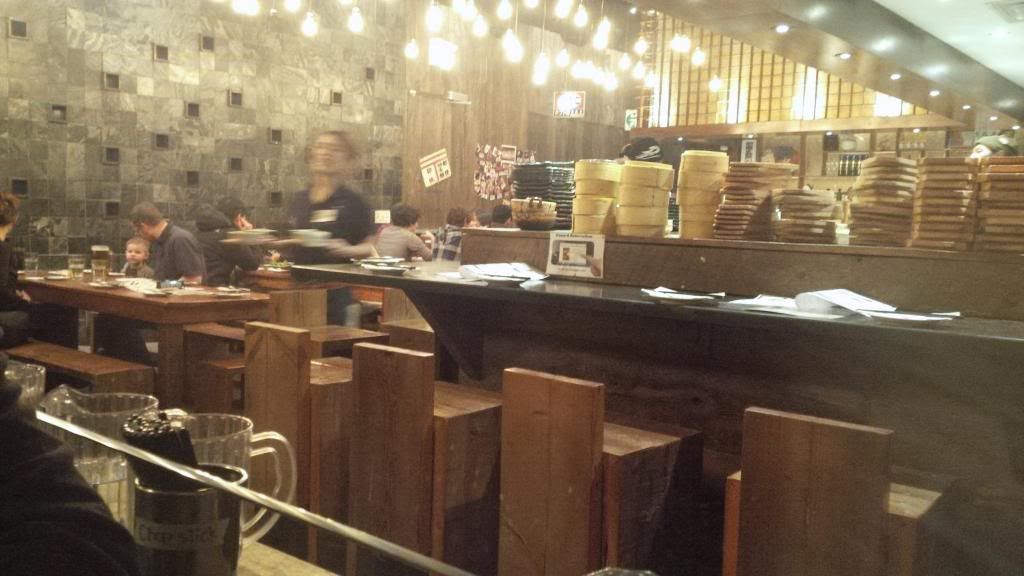 We ended up ordering a lot of the same things as what my sisters did during my grad dinner because they're too delicious to pass up and I wanted to eat them again!!
For drinks, I got the Cassis Nama Orange again (
like last time
) and the Mister got the Bamboo. The Cassis Nama Orange didn't taste as nice this time around probably because of the orange. When I ordered it during my grad dinner it was in the summer and the orange was very fresh and orange in colour.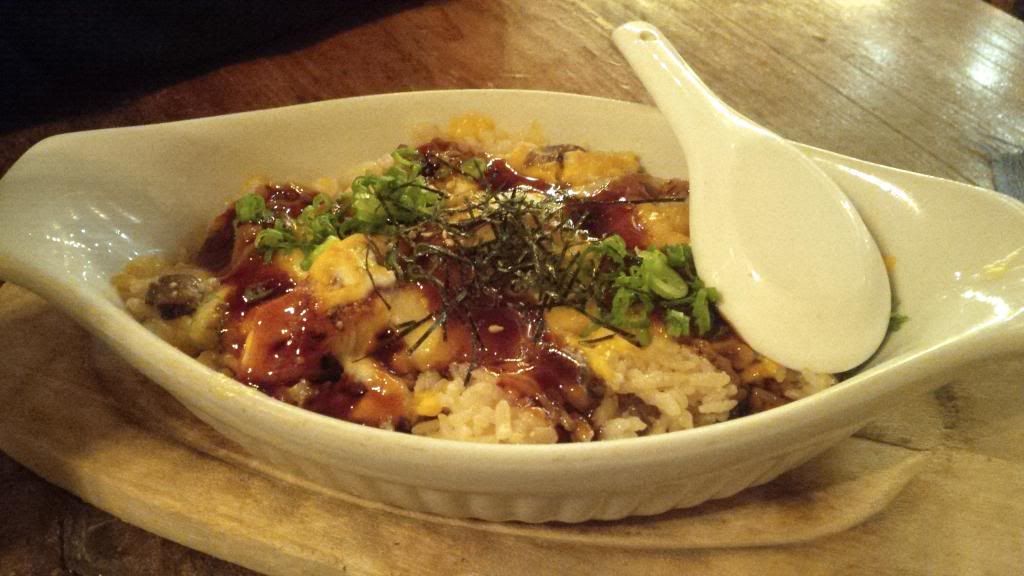 Unagi Doria (eel with mushrooms and cheese on rice). Always has been and always will be scrumptious.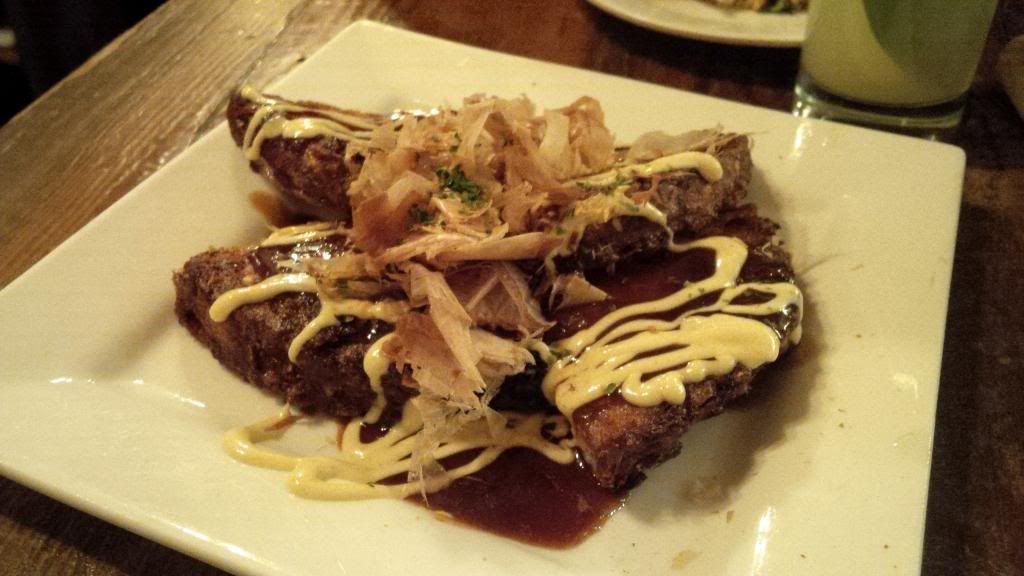 Okonomiyaki (Japanese pancake). Never tried this before here but it was good too. A girl from another table asked us what it was because she wanted the same too.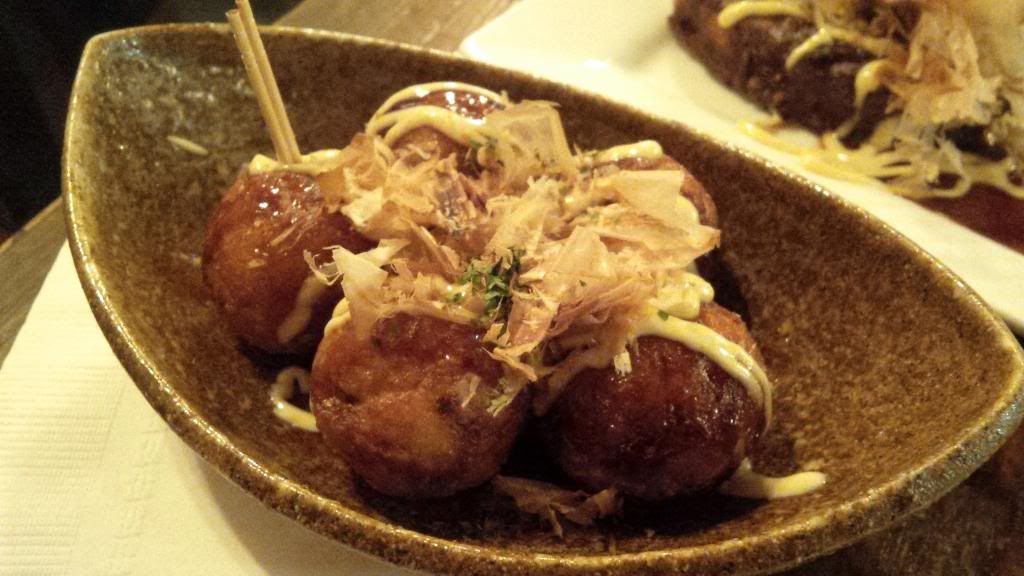 Takoyaki (octopus balls). One of my all time favourite dishes that I ordered the
first time
I came here. Same as I remembered it, absolutely delicious.
Kakimayo (baked oyster). Another yummy dish.
This was on their special menu and I don't remember what it's exactly called but it's basically a pizza. The server recommended it but to be honest it wasn't that great.
B.B.Q Pork. I love bbq pork in ramen so of course I wanted to eat some. It was so tender.
And lastly, the Mister wanted to try Karaage (marinated chicken). It was really good with the garlic mayo.
Overall a successful and tasty dinner. I want to come back again soon haha.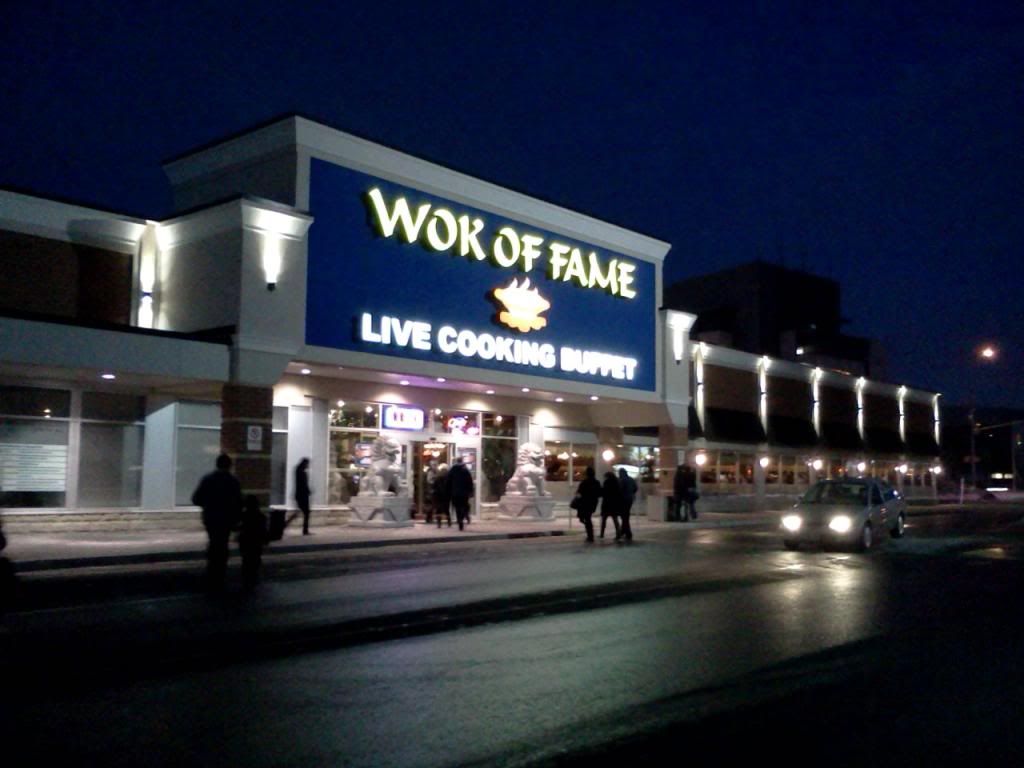 This year my mom decided to take us all out to a buffet she went to for a party. She described it as a really fancy place unlike any other buffet we've been to. That place was
Wok of Fame
located in Brampton.
Wok of Fame
7700 Hurontario St #602, Brampton, ON L6Y 4M3
Taken from the site:
"At Wok of Fame, our crew of all-stars is dedicated to entice you with pleasure for both your eyes and taste buds. Located in the City of Brampton, Wok of Fame is a unique all you can eat live cooking buffet restaurant. You can enjoy the finest and freshest collage of Western and Oriental cuisine prepared right in front of your eyes. Our collage of fine food consists of sushi, wok dishes, teppanyaki, hot dishes, soups, pastries, salads and desserts. Help yourself to soft drinks and juices at our drinks stations, or order from our breadth of alcoholic beverages."
The restaurant looked mediocre from outside... but inside... it was amazing. Like most Asian restaurants, there was koi fish in the front as you walk in.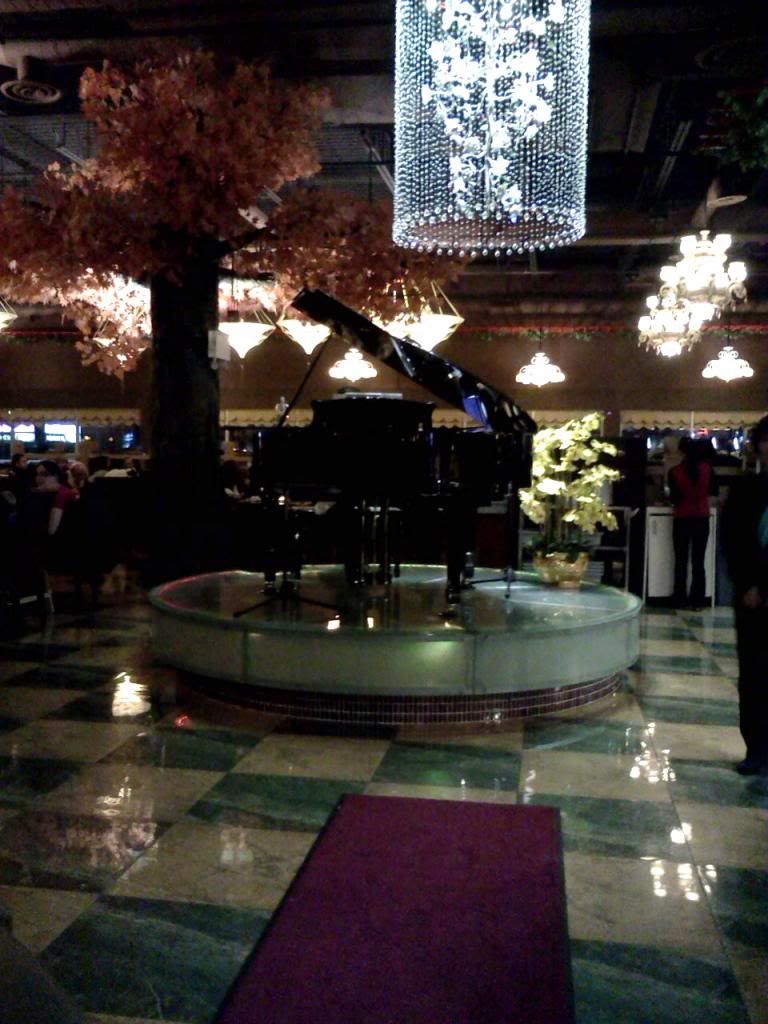 What's different about this place is that it has a pianist playing the piano while you eat. It's a very nice touch that makes this buffet experience more like fine dining.
The decor is beyond wonderful with artificial lit up trees and beautiful light fixtures.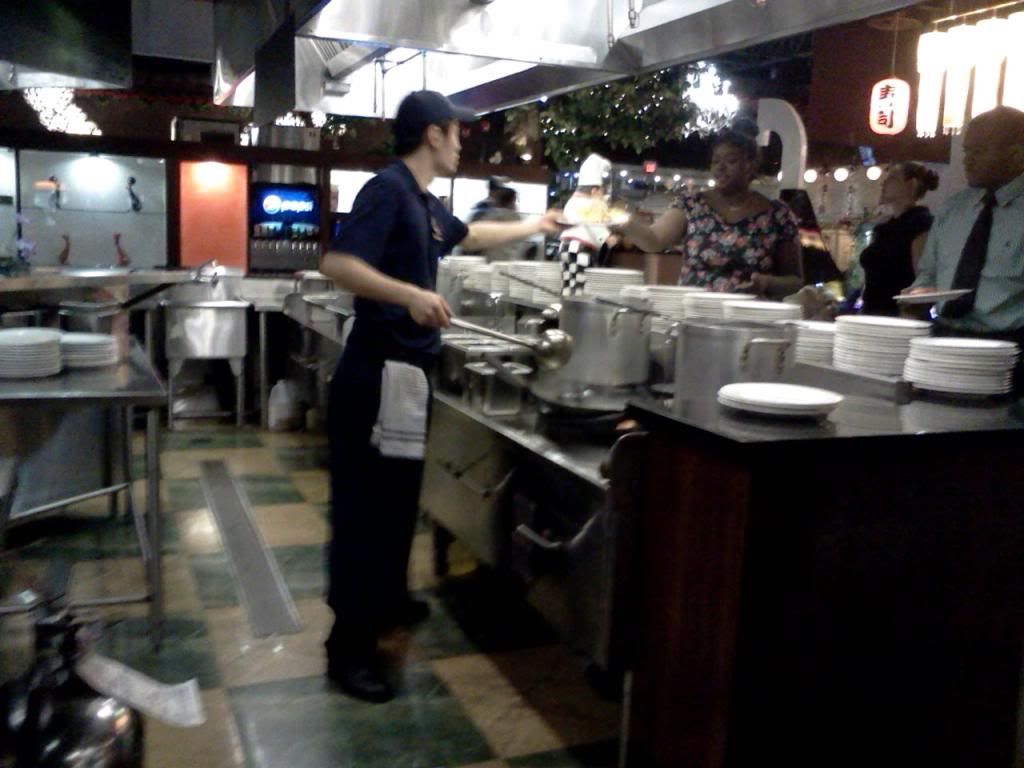 This buffet also has a section where chefs cook your food right in front of you. There's small menu above of food that you can request the chef cook for you. There's also another station where you take raw food up there and hand it to the chef to cook for you.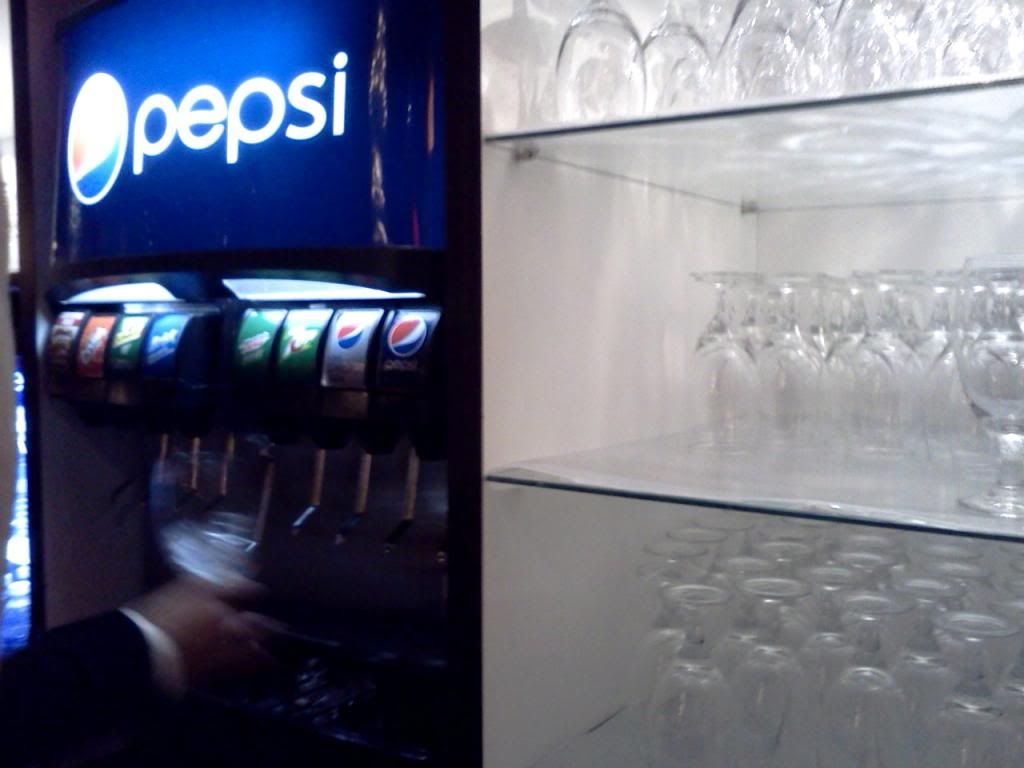 And if that wasn't enough, it's all you can drink too. Other buffets only offer water, but this place offers bottled water and unlimited soda fountains, plus there are juice fountains located on the other side.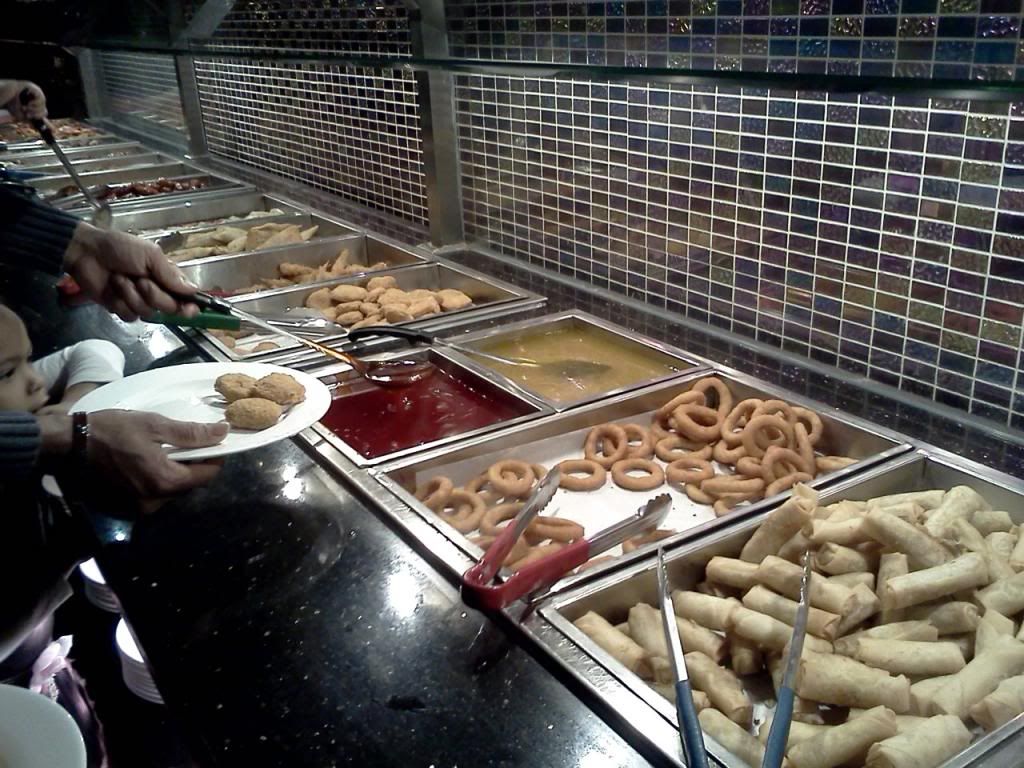 There was quite a few stations of food: hot dishes, seafood bar, salad bar etc.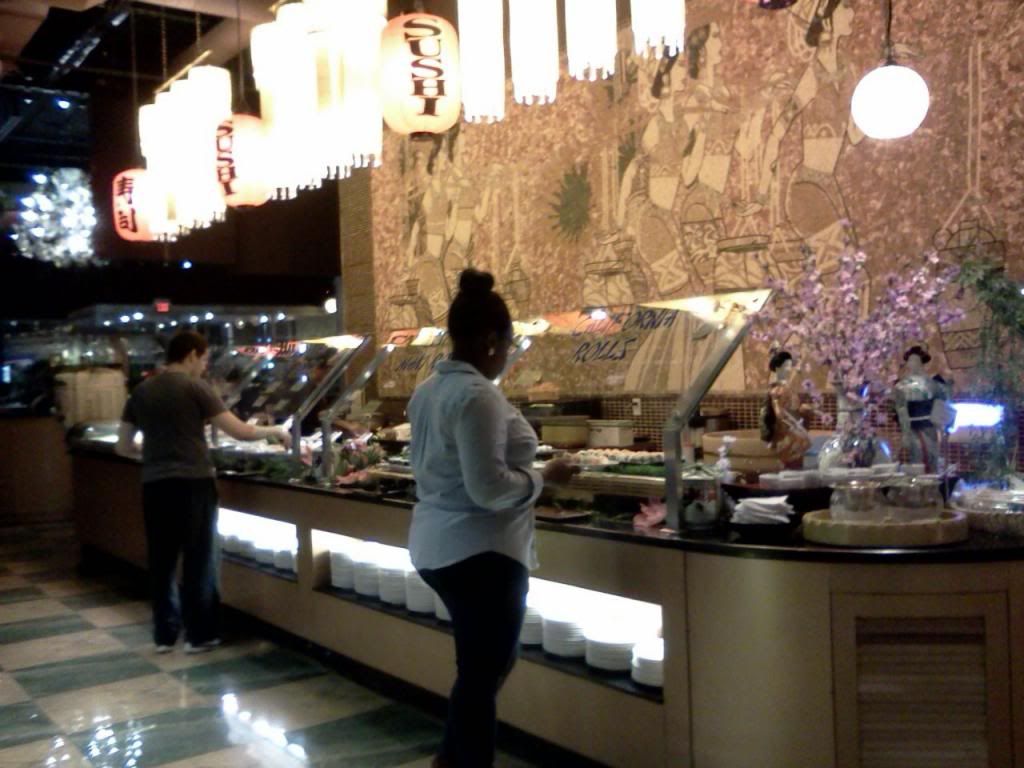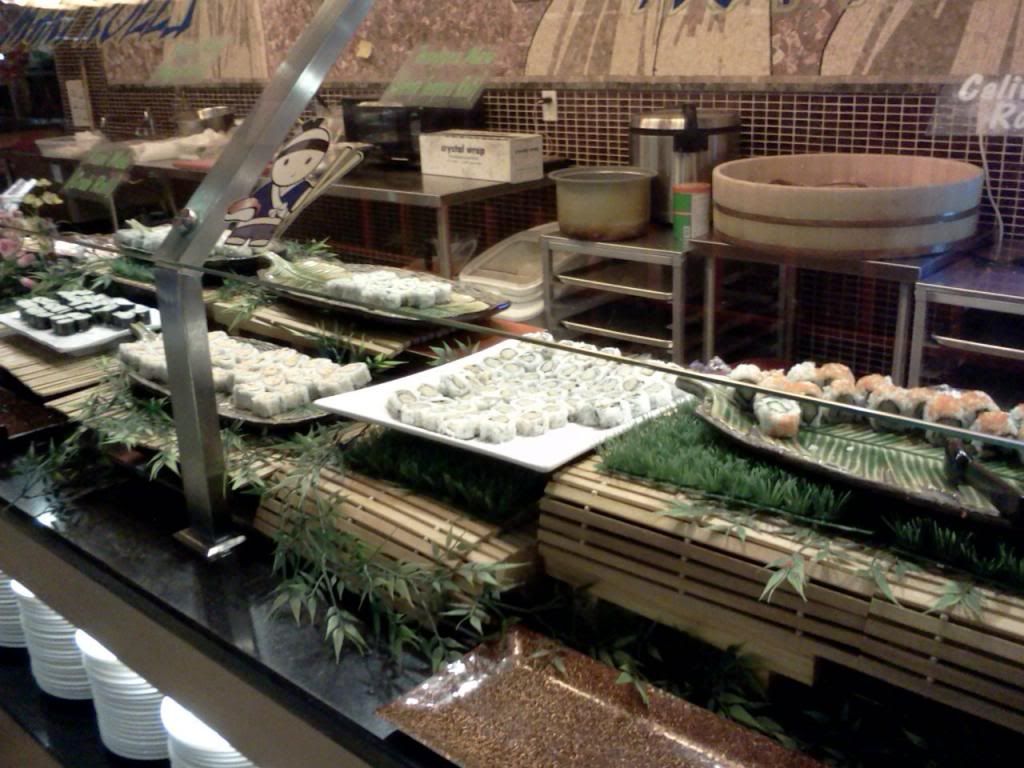 All you can eat sushi. And they weren't skimpy with it by offering just one of two selections, there was a good variety! I'm no expert in sushi but it tasted good to me (by the way, I have gotten used to eating sushi! :D).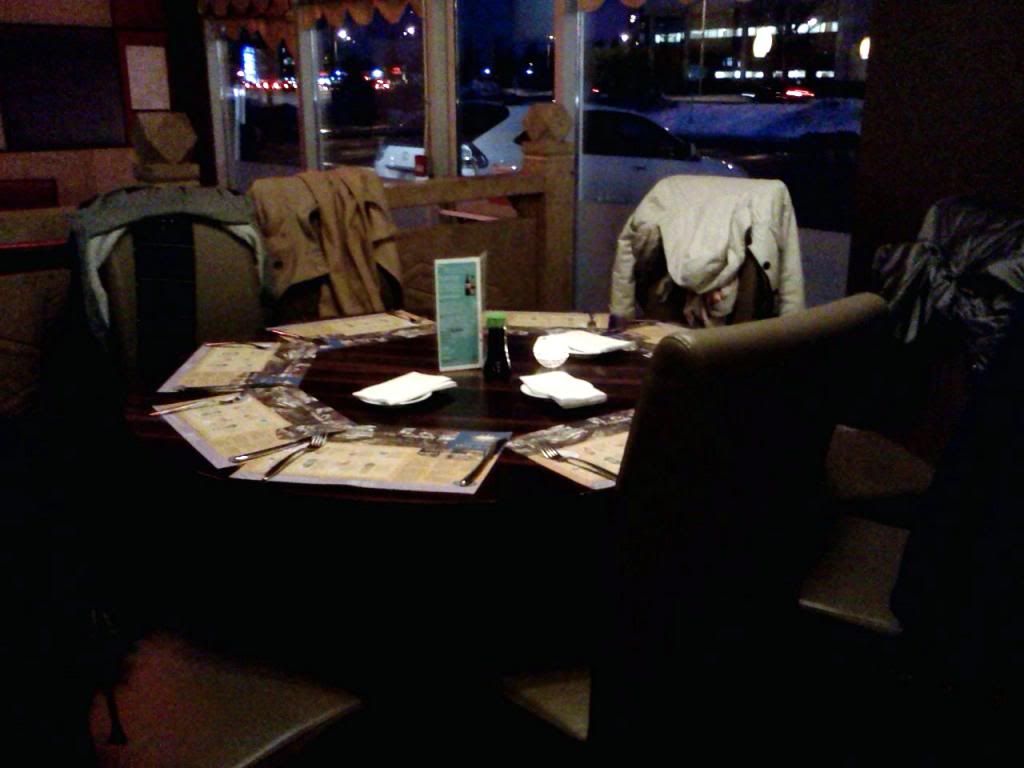 Our table was located in a nice spot where there isn't any traffic and few people surrounded us.
I ate a lot more but here is a closet look at one of my dishes. The food was pretty good for buffet (better than any other buffet I've been to), and the food that was cooked in front of me was especially yummy. I loved the mussels.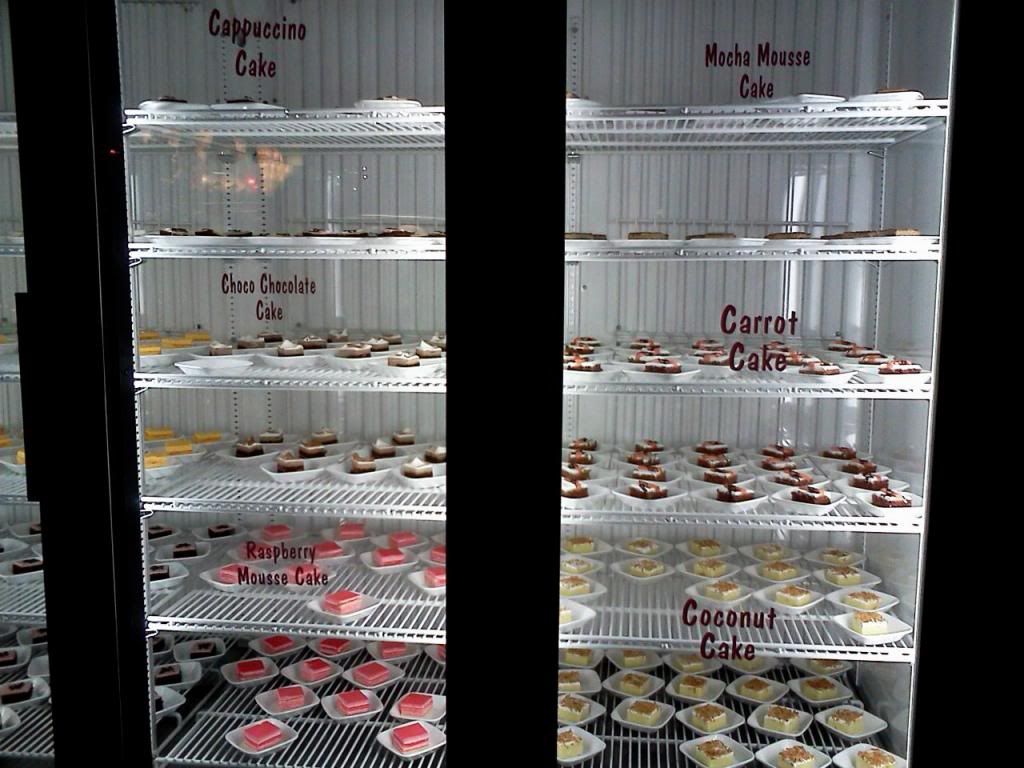 Desserts. There was quite a few stations of desserts. This main one that also has a chocolate fountain with marshmallows and strawberries to coat with, a creme brulee and waffle station, an ice cream station with many flavours to choose from complete with an ice cream machine(!!), and fridges with little desserts.
I always go a little crazy over the dessert section but the dessert here were mediocre. The tiramisu was alright, the creme brulee was a little weird for me, the scooped ice cream was okay but the ice cream from the ice cream machine was good and much better. And I didn't like any of the desserts from the fridges except maybe the coffee mousse or something. None of those tasted good enough to even finish. So the dessert wasn't that great but the other food were.
Overall,
great
experience and the food is good for a buffet. I highly recommend coming here. It's a wonderful place to celebrate your birthday (by the way I got to eat for free because my birthday was that day!!) or have a family outing if you're planning to eat at a buffet. Head over to
their site
to see more pictures because I didn't take as much as it was a little awkward to do.
"You don't always have to say something. Let your life be your message." -Rev Run