Blogging about beauty again is something I've been thinking about for a while. However, I no longer have enough free time to make the commitment to be a blog that people can turn to for beauty related posts. That's why I mainly just blog about my life now.
But
this year I will *try* to incorporate more beauty posts. I still watch a lot of youtube videos about beauty and sometimes do go out to buy the latest thing but I never had time to blog about my thoughts on them. Fortunately, today that is not the case.
I was watching
Hollyannaeree's haul video
on drugstore makeup and was instantly fascinated with the new L'Oreal and Maybelline lip products that just came out.
That same day the Mister and I went to Walmart and Shoppers Drug Mart to run some errands and to get a couple of the lip glosses I was momentarily obsessing over.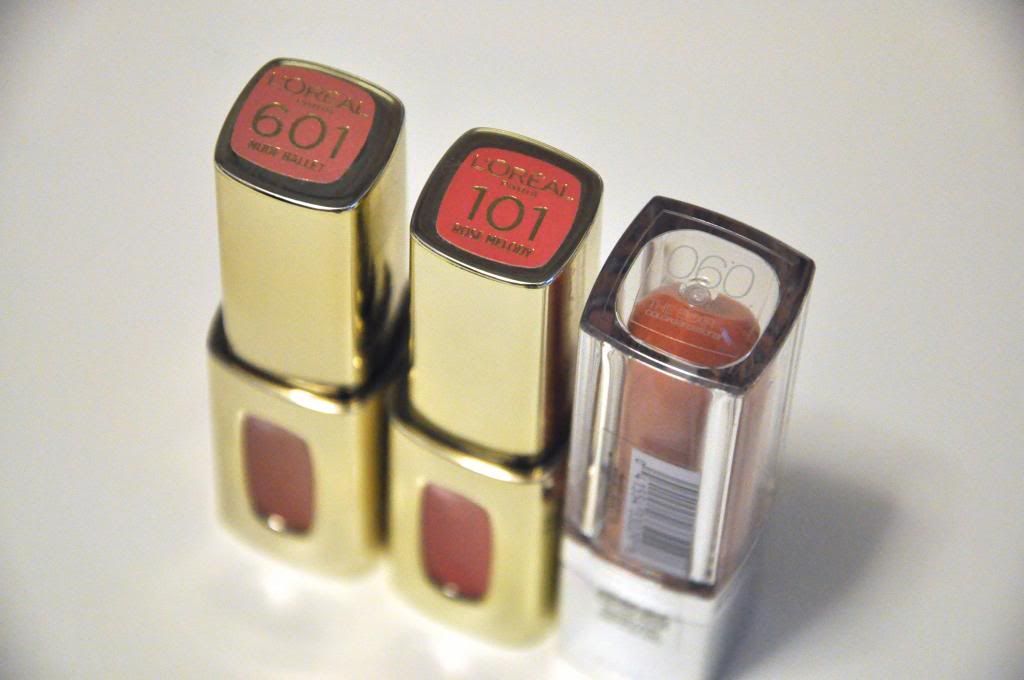 I got two L'Oreal Colour Extraordinaire lip colour in
"Nude Ballet" #601
and
"Rose Melody" #101
and one Maybelline Color Elixir lip gloss in
"Nude Illusion" #060
.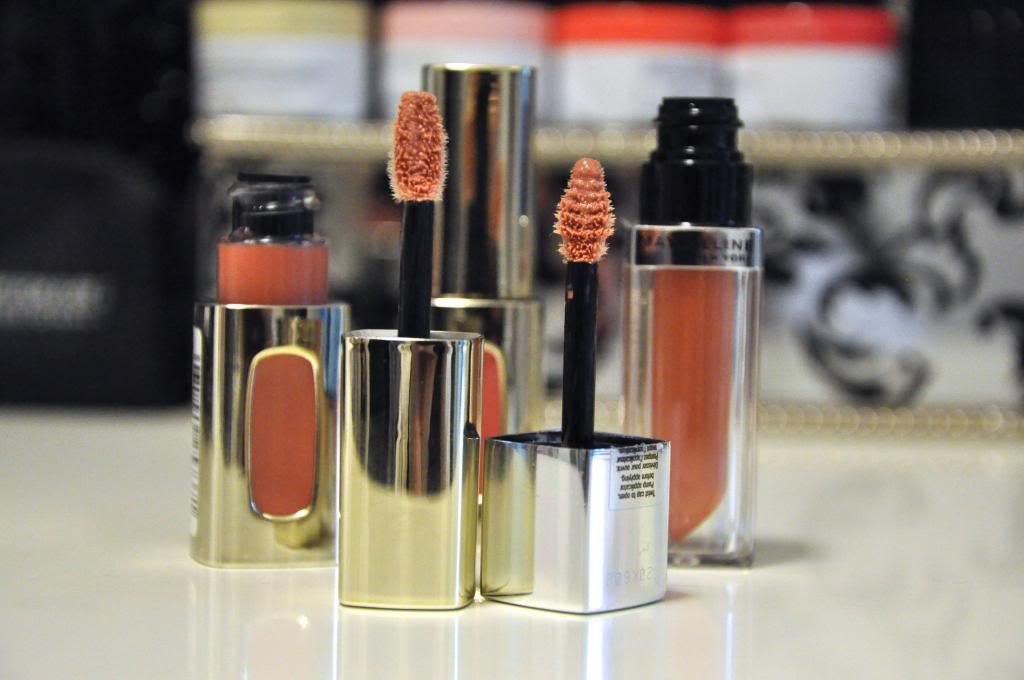 Here is a look at the wand applicators. They're both doe foot applicators but they're flat to make for easier application. Left side is L'Oreal, right side is Maybelline.
L'Oreal Colour Extraordinaire by Colour Riche:
(Taken from the
site
)
"Lustered. Magnified. Dramatic. Lips become extraordinary with new Extraordinaire by Colour Riche™. The new vision of lip colour features luxurious micro-oils that infuse each pigment for ultimate colour richness."
And it's true. The colour pay-off on these are
amazing
(somewhere in between a lipstick and a lip gloss). It doesn't say that it's a lip gloss so I assume it's similar to a liquid lipstick. The formula is thicker in consistency which don't make them feel slick nor sticky. They feel plush and blend well on my lips. They make my lips look juicy and they have great shine which lasts. The colours available are also most appealing. My favourite out of the two is the
"Rose Melody"
. I'm sure I'll be going back for more!
Maybelline Color Elixir by Color Sensational:
(Taken from the site)
"Mesmerizing shades, ultra-cushiony feel. The new hypnotic lip sensation. Try it to believe it. The secret potion? A trio of concentrates delivers colour, care, & shine."
The Maybelline lip gloss is nice too but I do have an issue with the application. If you refer to the picture showing the wand applicators, you'll notice that the doe applicator on the Maybelline one has ridges. When applying, I notice that the ridges causes the lip gloss to streak on my lips when applying. The formula is a thicker consistency and doesn't blend well so I find it's best to blend with my finger to prevent the streak marks. Pursing my lips together does not blend the product well and I notice that when I do, I can see the gloss's stickyness right where my lips open. Also, the product starts to accumulate where my mouth opens if I apply too much. But with all that said, the result after application is pretty good. The gloss makes my lips look
so
juicy and plump
- in the sense that it's almost as if my own natural lips are juicy and plump. After the initial application, the gloss loses its shine as though it absorbs and blends into my lips after a few minutes. The interesting thing about this is that it doesn't look like I'm wearing a typical gloss. It feels very comfortable to wear and the colour looks beautiful on my lips. If you don't mind the application, the result is amazing. I got it in the nude colour and it looks so natural on my lips. I'm unsure if I'll buy any other shades, but you never know. Oh, and if I might add, the packaging is so neat- like a lipstick inside the tube!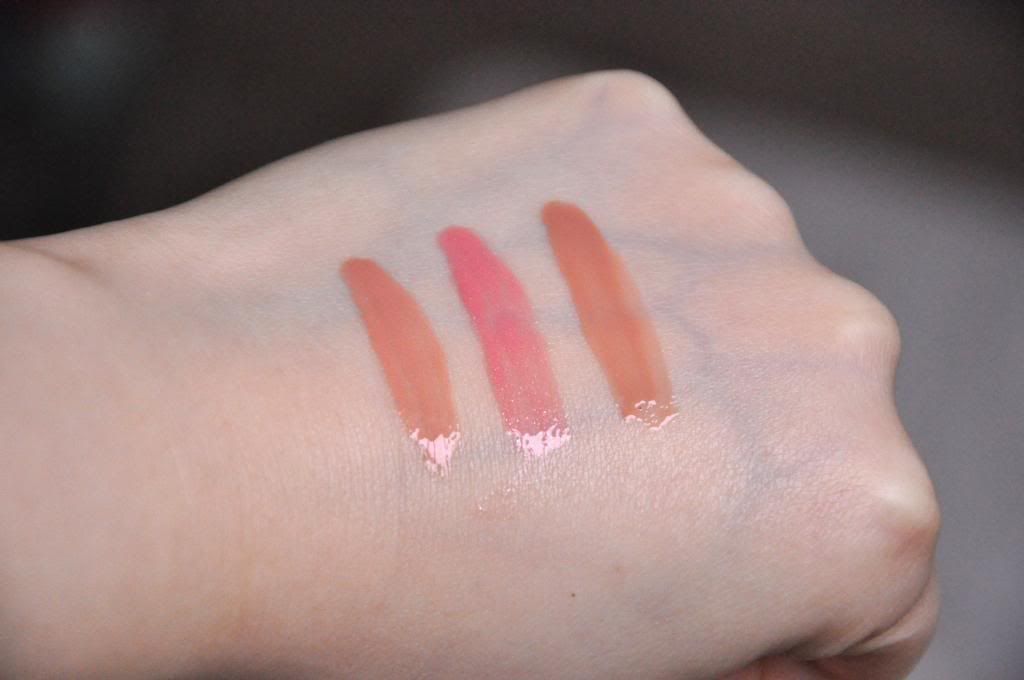 From left to right: L'Oreal Colour Extraordinaire
"Nude Ballet" #601,
"Rose Melody" #101
and Maybelline Color Elixir
"Nude Illusion" #060.
Be sure to check these out and grab your favourite colours before they sell out! Although I'm sure all the shades will be available later if they're sold out now. I had to go to Shoppers Drug Mart to get the L'Oreal Nude Ballet colour because it was sold out at Walmart. Good thing I had a $10 voucher which I only had to pay about $4 for it (SDM is pricier).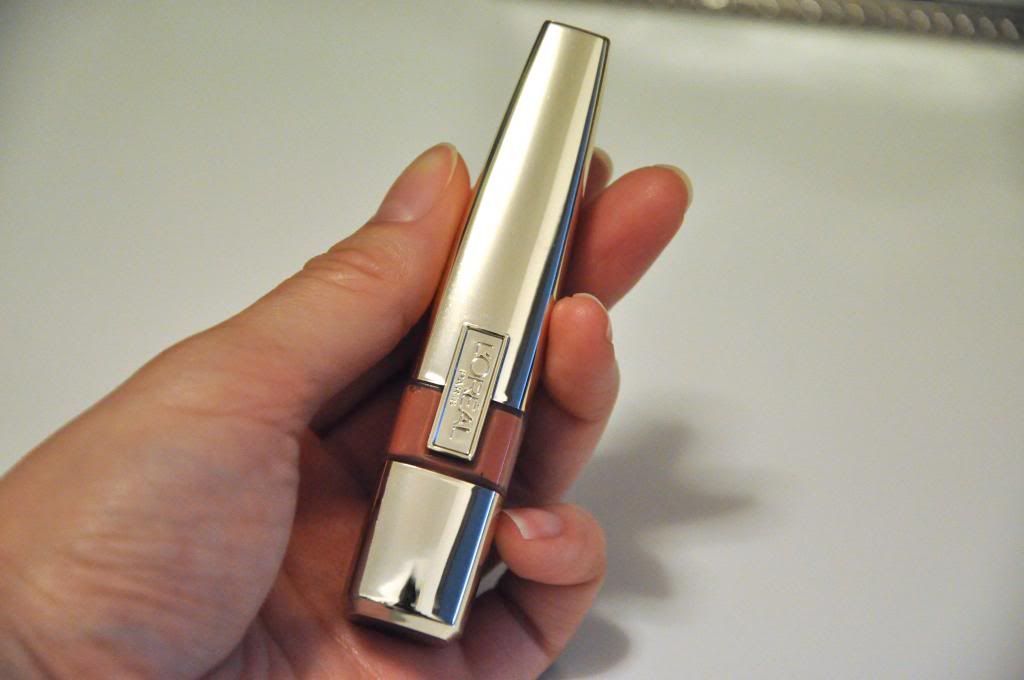 And because I bought it when it first came out and never talked about it, here's my one and only
L'Oreal Colour Caresse Shine Stain
in
"Eternally Nude" #193
.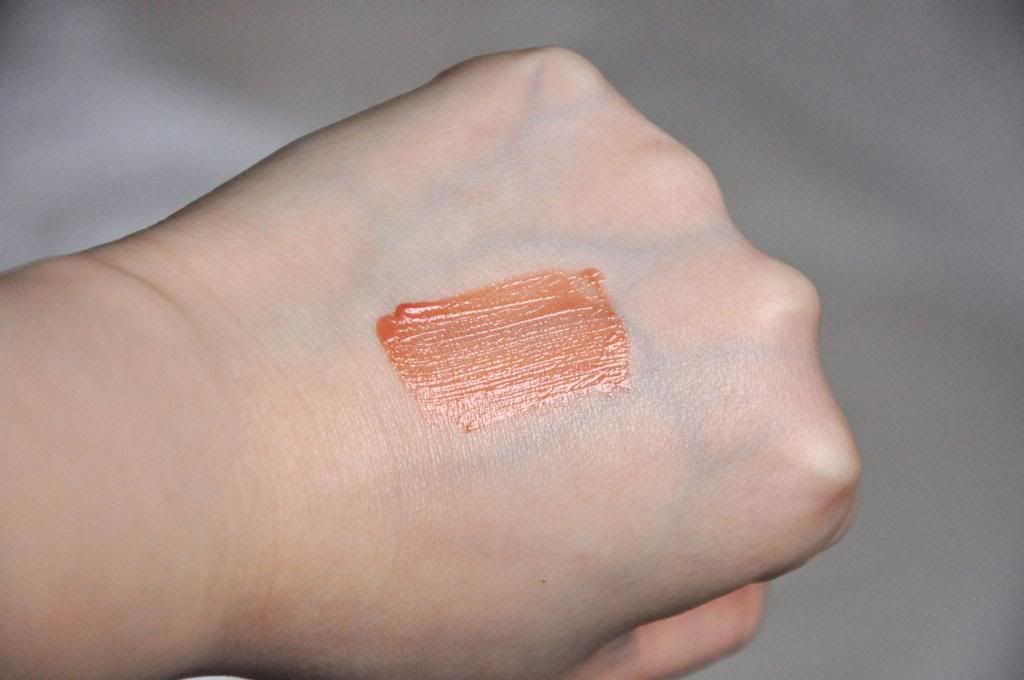 I actually never liked this much. The formula is very watery and I'm not sure why I even bought it because I'm not a fan of lip stains. I'm the type of person who likes to carry around 3-5 lip products in my bag so I can change up my lips to whatever I feel like throughout the day. This gloss also doesn't last on me and the colour doesn't look great either which is why I only bought one and never looked back.
"When you are with the right person, you will not have to 'just make it work', pieces will fall in place." -LisaLisaD1