Happy New Years Eve! I know what you're thinking... why am I posting a blog post instead of getting ready for New Years?? Well, it's because this New Years, I've decided to spend it in the comforts of my own home. It'll only be me since the family all have plans, but the Mister will swing by in the evening after he's done work. My game plan is to have take-out pizza, champagne, and a movie.
I hope that everyone had a lovely Christmas and Holiday Break. I'll be sharing my Christmas post at a later date. Today, I thought I'd share a dinner the Mister and I had with a friend, a coworker of ours, since he will be leaving to visit his home country for a couple of months. I also have collective haul dating back to October which includes sales from Bay Days, Black Friday, and random purchases.
We ate at Guu since our friend has never been.
We ordered the usuals: Unagi Doria, Okonomiyaki, BBQ Pork, Karaage, Takoyaki, Kakimayo... and a couple of new things for us was the Karubi, which was a bit odd because of how they cut the short ribs, it was also a bit tough too, and the pork belly which was on the specials menu.
We also ordered the Bamboo Sake. I tasted it, and woah... too strong for me. The dinner was nice, we thoroughly enjoyed ourselves.
After dinner, we walked ourselves over to Nathan Philips Square to check out the gigantic Christmas tree (the lights on one side weren't working). We also saw the ice rink with plenty of people skating on it. We didn't have time to skate though, as we had to head home. Dinner was nice and I'm glad we got to take him out.
And now onto the collective haul portion of this blog post.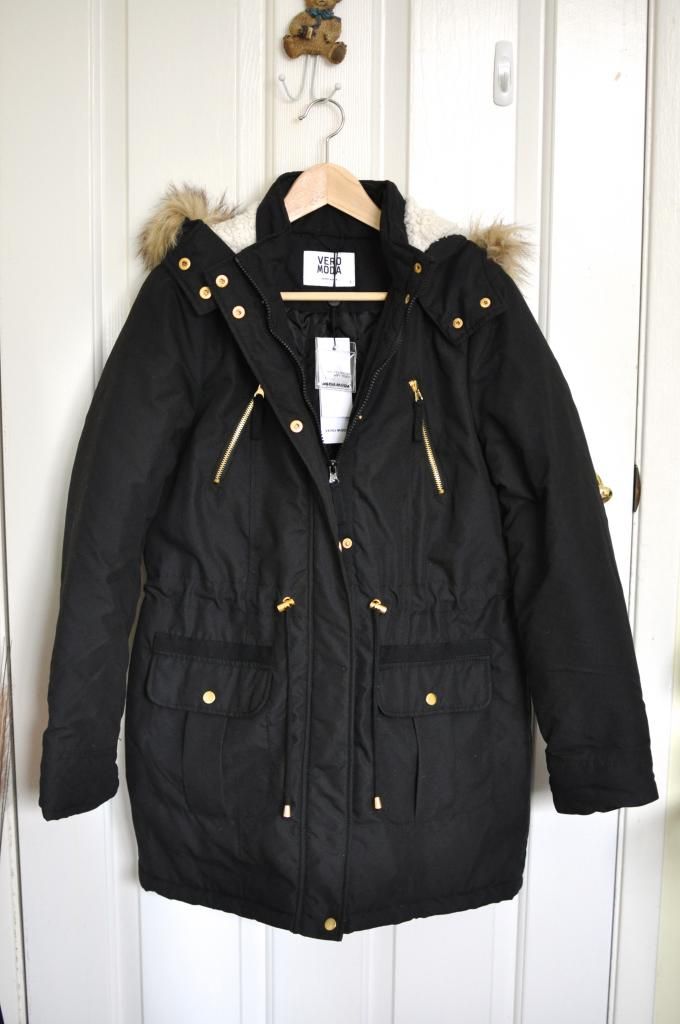 This Vero Moda coat looks a bit funny in the picture, but trust me when I say, it looks better on. It's nice and warm, and the best part was that it was only $70!! I got it on sale during the Bay Days at The Hudson Bay. Actually, there's a little story that goes with this coat. I first saw it being hauled in a youtube video and immediately thought that the coat looked really nice for a great price. Unfortunately they were sold out of my size online so I ordered the medium hoping that it might fit. It turned out to be too big, so I returned it. I was pretty sad, even the saleslady even asked me why I was returning such a beautiful coat. Luckily, the coat was back in stock online for a brief period before it sold out completely. I was sooo happy because I was in the market for a heavy duty winter coat.
Along with the Bay Days sale, I got these super adorable HBC toques with the fur pom pom. When we visited the Distillery District, I saw a couple of girls wearing toques, one with an Olympic toque matching with her boyfriend, and another wearing this HBC toque (shown right). These toques were on sale for $20 each, and so, I bought them in both colours... because I'm insane.
And then there was a great Black Friday sale at Aldo's. I have been eyeing these shoes for quite some time- since summer! I remember shopping with my cousin hoping that one day they would go on sale.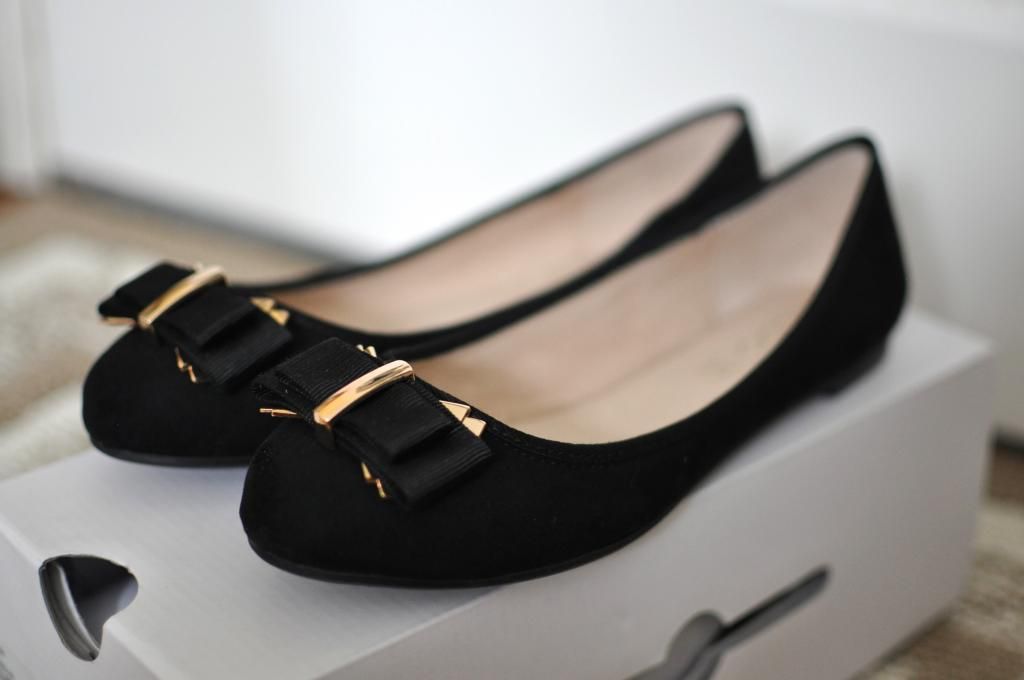 This pair of flats is called "
Rozen
". Super cute on the feet, very classy looking. The stock photo on the website doesn't do it any justice as it looks more cheap and less elegant than it actually is.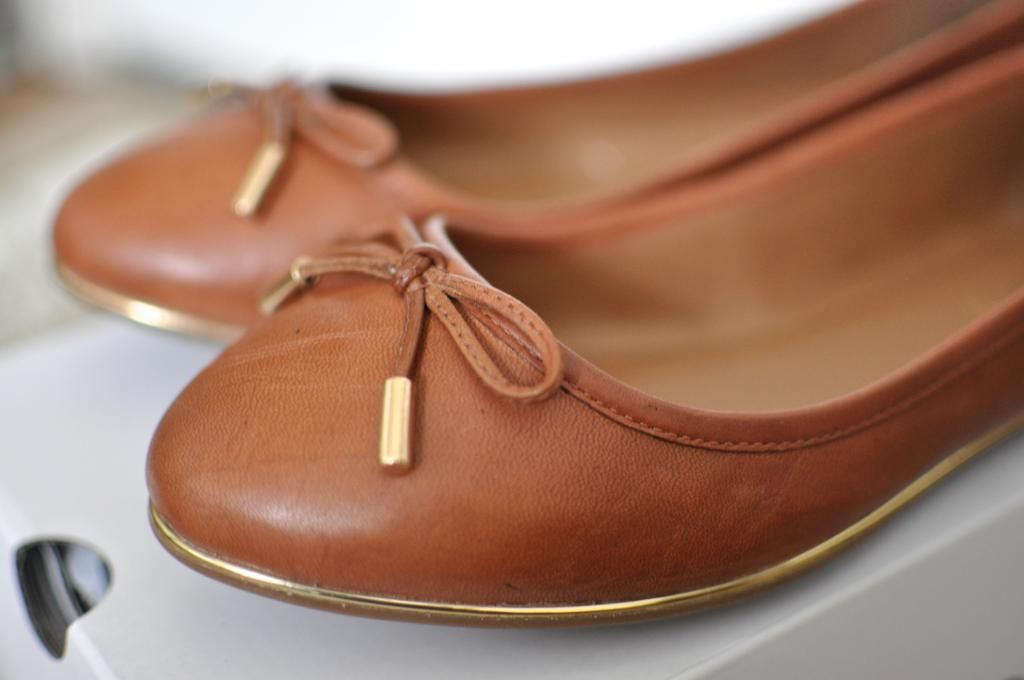 This pair of flats is called "
Olyvia
". The Mister
loves
these, as do I. They're made of leather, which is a total plus in my books because they last longer and feel more comfortable. What makes these pair more special is that it's my
first
brown anything... I've never owned a pair of brown shoes, boots, not even a bag! I was just never attracted to the colour brown, but I see the potential now.
These Zara jeans were not on sale, but they were way too nice not to get. I only own one other pair of Zara jeans that I really love, and I started to wonder why I didn't own more Zara denim. These pair are unique in that it has a double seam going down both legs that make them super flattering. I love the colour, the back pockets, the fit, and the zipper at the bottom. It's pure perfection.
Another non-sale Zara item are these leggings. I like them because they have this bandage detail where the knee is which I thought was nice. FYI, I'm obsessed with Zara leggings because I like how substantial the fabric is and the detail and design that goes into them.
I got this
BKR glass water bottle
at Blossom Lounge when I visited the
Distillery District
. I first came to know about this water bottle through Michelle Phan's
Desktop Favourites
video. I've been looking for a glass water bottle that was safe and small enough to carry around in my bag for when I'm thirsty on the go. This seemed perfect.
I spotted this Gwen Stefani Collection nail polish set at Winners and was totally mesmerized by the glitter nail polishes. I don't own a gold polish "Rollin' in Cashmere" so that was a nice addition, the white glitter nail polish "Snow Globetrotter" reminds me of a winter wonderland, and the dark glitter nail polish "Comet in the Sky" reminds me of the cosmos. They're so pretty!! I can't wait until the day I quit my job and can wear polish on my finger nails again.
I took advantage of 20x the points at Shopper Drug Mart and got these new Dior lip balm hybrids. I got "Lili" #558 and "Coquette" #660. Being a cross between lip balm and lipstick, they seem to have a really nice balance. They have great colour pay off and they feel moisturizing. One day I will do a comparison between these and the YSL and Chanel ones I have.
As a VIB Rouge member, I got the $30 off a $50 purchase promo at Sephora. I decided to get something that I could really use in my makeup collection. So, I got the Hourglass Ambient Lighting Powder in "Diffused Light". There were so many raves on these Ambient powders, and for the longest time, I could not figure out for the life of me which one to get! But after
Claire
and
Chloe
mentioned in their videos about loving the Diffused Light, I was finally sure which one was for me. On a side note, I also redeemed 100 points for the Deborah Lippmann glitter polish.
You guys... I totally get the obsession over these Ambient powders.
It's such a beautiful powder!
I love using it as a highlight because it has
the
tiniest most micro shimmers I've ever seen, that when applied, is more of a glow than a shimmer. I can also use it all over for an overall glow. It's such a unique makeup product and is a must in every makeup collection.
And that concludes my collective haul for now! Have a Happy New Year and please remember to drive safe.
"Tomorrow, is the first blank page of a 365 page book. Write a good one." -Brad Paisley