Don Don Izakaya
130 Dundas St W., Toronto, ON M5G 1C3
A couple weeks ago my sister invited her boyfriend, my other sister, me and the Mister out for a little get-together for drinks. The plans changed a bit so that we ended up having dinner instead, but we did order drinks too (with the exception of me because I forgot my ID at home). She suggested we go eat at
Don Don Izakaya
, which was a great idea since none of us has ever been.
To be honest the
menu
didn't look that promising (especially compared to Guu) even with all the pictures they provided of the food.
Before I go on, I will tell you now that we all agreed Don Don Izakaya gets two thumbs
down
. The service was so slow and the food portions were ridiculously small- I mean
really small
(don't be fooled by the angles of my pictures).
Everyone literally felt like they were just tasting samples of food and I never once felt the slightest bit satiated (and neither did anyone else). The prices for each dish was not justifiable for what we got. A lot of the prices were unbelievable for something so petite and not that appetizing either. In my opinion, if the food portions are going to be small, the very least I expect is for the food to be mouth-watering to justify forking the money over for it. As you read, just compare the price the food.
My sister (the one who invited us out) and her boyfriend were running late after being caught in some traffic so my other sister, me, and the Mister ordered drinks and the Takoyaki Pizza ($8.00) and the Salmon and Egg Salad ($6.90) to start. Takoyaki takes a long time to make so that didn't come until much later (too late in my opinion). The Atlantic Salmon and Egg Salad which was supposedly a popular item was not good. The texture was a bit strange and the filling was just too much and not tasteful. Thumbs down.
When this Steam Shabu-Shabu ($8.20) came out I couldn't believe how bland it looked. And in fact, the looks weren't deceiving at all because it really was bland and boring. There were only a few pieces of meat and the rest was just steamed cabbage aka boring. This was a popular item and I don't even know why. Not worth the money.
This Deep Fried Pork Belly ($8.00) was also another boring dish. To be honest I don't even really recall what it tasted like because it was not memorable at all. All I know is, it didn't taste great.
The Ginger Fried Chicken ($8.00) I actually did like (finally!). It was crisp enough and tender, I enjoyed dipping it in the sauces. This was also deemed a popular item.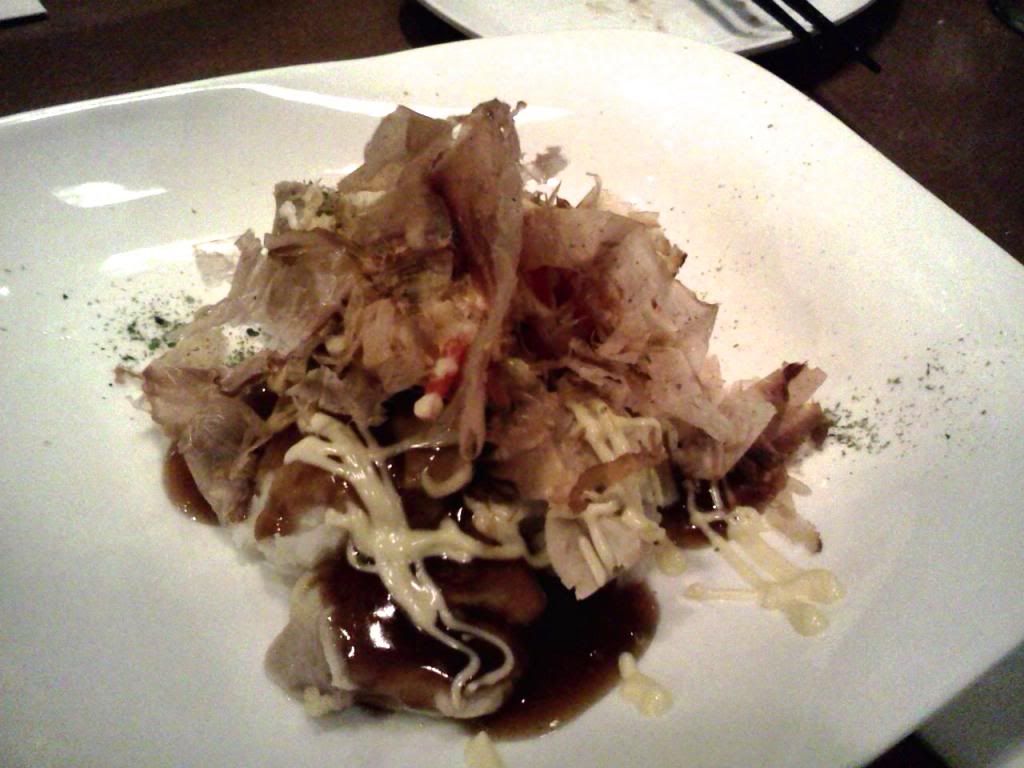 I liked this dish too, Hoppeta-Yaki ($8.50). It was quite yummy and I liked everything about it. This was a popular item and I would cast for my vote for that.
This, Beef Tataki ($5.99), was my favourite dish out of everything we ordered. The only thing was how RIDICULOUSLY small it was. I know the picture makes it seem like it's bigger but just imagine the meat as the size of your thumb. That's how small they were. Thumbs up for quality, thumbs down for quantity.
This Smoky Hay Salmon ($11.90) was okay. It wasn't amazing or anything which is why I don't think it's worth the price. Plus, there was a lot of onion for some reason... maybe to make the dish seem bigger?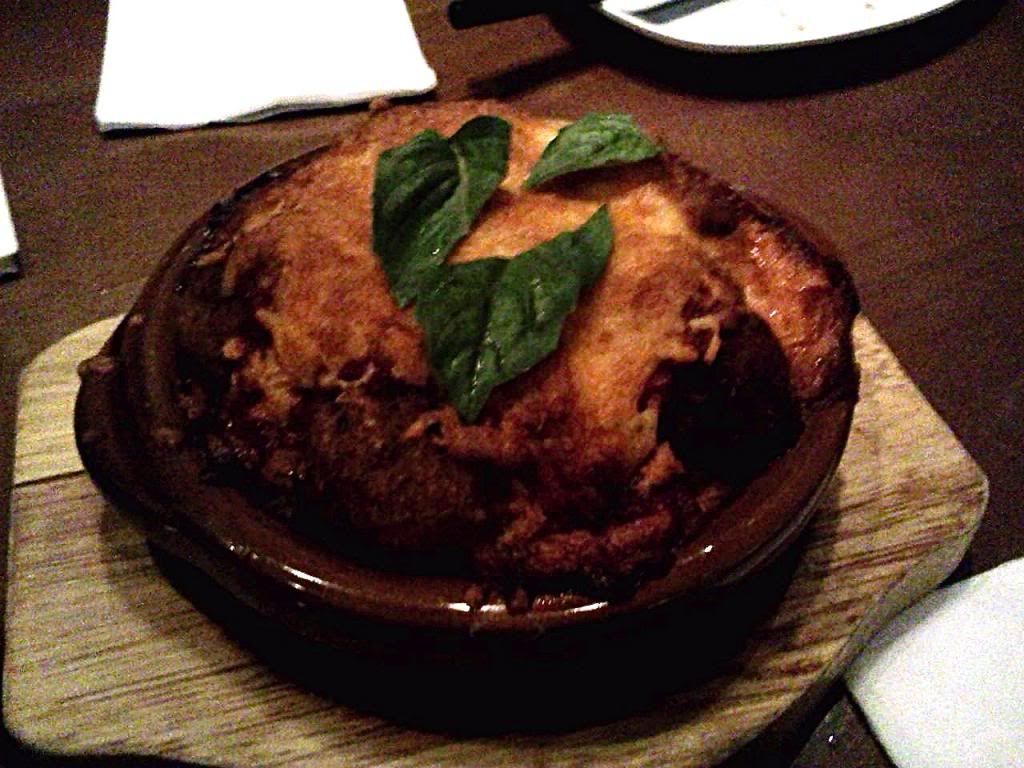 I was really looking forward to this Takoyaki Pizza ($8.00), the one we ordered in the
beginning
, since it looked good and was a popular dish. But it seriously was not worth they hype. The taste was okay although not mouth-watering, and the portions were tiny if you're going to share it in a group. The wait was totally not worth it.
This Jaja-Beef (14.90) was a fun dish because it gets you involved in the cooking process. It was nice but totally not worth the money for what we got. The amount was so little I was baffled at the price.
These Steamed Mussels with White Wine ($7.50) was something I ordered. I liked it and for once I think the price was alright for this dish.
Overall, my experience with Don Don Izakaya is pure disappointment. The food was not that good, the food portions were unbelievably small, the food is overpriced, and although the staff were nice and friendly, the service was super slow. Our total bill came to $143.83 for 6 people- $87.89 for food; $39.90 for 6 drinks. This is the first and last time I'm visiting Don Don Izakaya. I wouldn't risk another chance when I know Guu is just around the corner. At least at Guu I could justify the price because the food is mouth-watering and I actually got full.
"Speak your mind even if your voice shakes." -Maggie Kuhn